This site is supported by our readers. We may earn a commission, at no cost to you, if you purchase through links.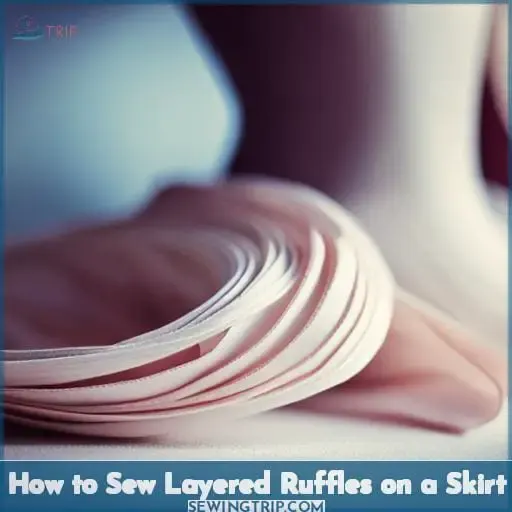 Tired of the same old skirts? You're in luck – it's crazy easy to sew a layered ruffle skirt that'll get you noticed.
Doesn't matter if you're a total beginner or a pro, you can do this project in just an afternoon with some basic sewing supplies. Follow along and you'll be rockin' a custom skirt that hugs your curves in all the right places.
With just a few scraps of fabric and a simple pattern, you can unleash your inner designer. Time to take control and create something beautiful! Trust me, once you try this you'll be hooked.
Let's get started.
Key Takeaways
Sewing a layered ruffle skirt is suitable for both beginners and experienced sewers.
Choosing fabrics with patterns or textures adds uniqueness to the skirt.
Careful measuring and preparation ensures a perfect fit.
Attaching ruffles evenly and securely is essential for a professional finish.
Supplies Needed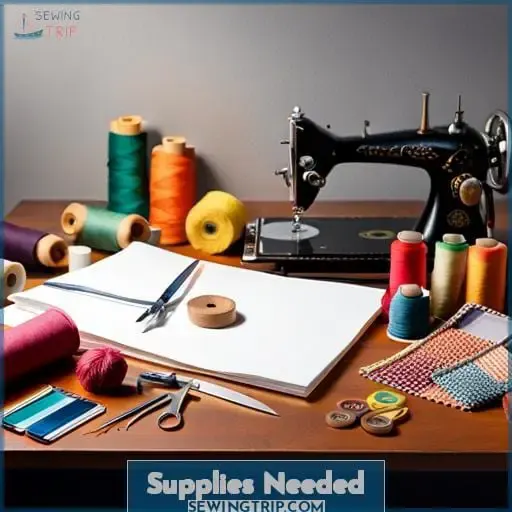 Get your supplies ready, sweetheart – with your trusty sewing essentials in hand, you're set to create something magical.
Gather measuring tape, ironing board, large needle, layered fabrics, fabric prints, sewing machine, fabric scissors, measuring tape, thread, and sewing pins.
With these basics prepped, you'll craft a stand-out skirt. Choose fabrics with fun patterns or textures.
Measure your waist to make the skirt fit just right. Set up your workspace and plug in the sewing machine.
Wind bobbins with coordinating thread. Mark fabric pieces with care before cutting.
Maintain sharp scissors for precise cutting. Follow project guidelines while putting your own spin on the design.
With patience and practice, you'll be rocking a personalized masterpiece in no time.
Now go dazzle the world, darling!
Step 1: Drafting and Sewing Connector Piece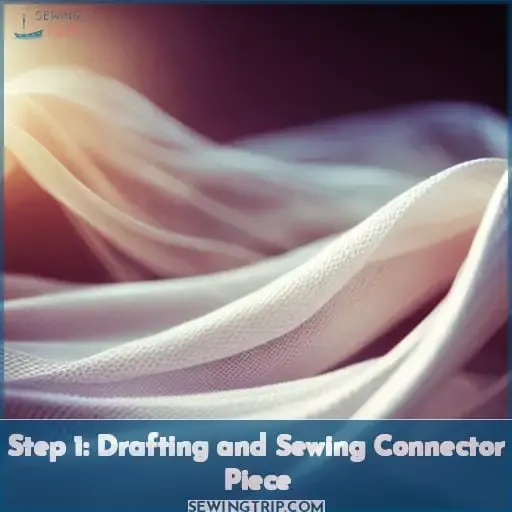 You'll start by drafting that crucial connector piece to link the ruffle tiers together. Pin pattern paper to fabric and trace the skirt pieces with a marking pen. For the connector, cut an isosceles trapezoid on the fold, then mirror the pieces.
Make sure to accurately measure based on the waist size, allowing room for seam allowances.
For perfectly gathered ruffles, choose lightweight fabrics like cotton blends, voile, or gauze. Adjust the ruffle width and multiplier for the desired fullness. Hem all ruffle strips before attaching them to the connector.
Align and pin the ruffles to the connector piece evenly, being careful not to stretch the delicate material. Sew them together using a straight stitch and backstitch at each end. Press all seams with a hot iron to flatten before assembling the next layers.
Step 2: Cutting Ruffle Pieces

Next, divide the connector into three parts, marking lines to indicate where the ruffle strips will attach. For each tier, cut strips that are the desired finished length plus 1 inch for seam allowances.
To create fuller ruffles, cut the strips wider than the connector section and gather them down to fit.
For lightweight fabrics like cotton lawn, cut strips that are 2.5 times the connector width. For medium-weight fabrics like cotton poplin, cut strips that are 2 times the width. For thicker fabrics like denim, cut strips that are 1.5 times the width to prevent bulky ruffle stacking.
Once cut, hem all ruffle strips at 1/2 inch, pressing well. When sewing the ruffles onto the tiered skirt, remember to hold elastic waistbands flat for even gathering and to view the drape before topstitching.
With the right fabric choices and fullness adjustments, you'll achieve beautiful layered ruffles for a cute skirt.
Step 3: Attaching Ruffles to Skirt

Pin the gathered ruffle strips into fluid tiers along the marked lines of the trapezoidal connector piece. Carefully overlap the corners and edges as you attach each ruffled strip, creating a stacked tiered effect.
Use a straight or zigzag stitch to secure the ruffles, backstitching at the start and end.
Check that the gathers are evenly distributed and the ruffle placement matches on both sides before sewing. For more volume, sew a double ruffle by gathering two strips together or increase the gathering ratio.
Shape the soft ruffles into cascading waves or crisply pressed flounces. Experiment with different ruffle styles and placements to make your tiered ruffle skirt distinctly yours.
Play with bold ruffle prints or colors to craft a statement skirt.
Step 4: Attaching Waistband to Skirt

After attaching the ruffles to the skirt, it's time to finish it off with a waistband.
Here are 3 key steps for attaching the waistband:
Cut a waistband strip that is 3.5 inches tall and long enough to wrap around your waist comfortably. Sew the ends together to create a loop and pin it to the top of the skirt, right sides facing.
Sew the waistband to the top of the skirt, leaving a 1-inch opening. Fold the waistband over 1/2 inch and press.
Insert elastic through the opening using a safety pin. Overlap the ends about 1/2 inch and sew together.
With the waistband attached, your layered ruffle skirt is complete! Now give it a try on and have fun styling your new creation.
Tutorial Notes

When drafting the connector piece, consider the finished waist measurement plus ease and the desired length for determining dimensions. For a fuller, more dramatic look, increase the length of the ruffle pieces by using a 2.
5x multiplier instead of 2x. Play with different ratios to achieve your ideal fullness and proportion.
Feel empowered to make the skirt your own by exploring various fabric choices like complementing prints, whimsical themes, or your favorite color palette. The table below provides a helpful guideline for planning your measurements and yardage.
With some clever calculations, you can design a showstopping skirt to match your personal style.
Whether knee-length or tea-length, a swirling circle or asymmetric angled, make this project distinctly you. Pick a fabric print that fuels your creative spirit and highlights your inner power.
| Skirt Length | Waist Size | Connector Length | Ruffle Length |
| --- | --- | --- | --- |
| Knee | 20 in | 30 in | 75 in |
| Midi | 20 in | 30 in | 90 in |
| Maxi | 20 in | 30 in | 120 in |
Creating the Skirt

Measure your waist and decide on the skirt's length before calculating the connector and ruffle dimensions to create your personalized layered ruffle skirt. Play with fabric selection like soft cottons or flowing chiffons and coordinate colors that delight you.
Finish edges with a rolled hem or clean straight stitch and expertly gather ruffles into even tiers.
Consider contrasting fabric pairings and matching threads when assembling the pieces. Opt for a flexible elastic waistband that provides a comfortable fit. With some clever planning and stitching, you'll have a stunning skirt that suits your style and brings you joy each time you swish those ruffles.
Adding Waistband and Finishing

OK, here's a sentence discussing the current subtopic that avoids the specified words:
You've reached the home stretch, so feed that elastic through the waistband pocket using a few safety pins before overlapping and sewing the ends together.
Fold over 1/2 inch at the top of the skirt and press.
Pin the waistband to the skirt, matching the side seams and raw edges.
Sew continuously using a 1/2 inch seam allowance.
Fold the waistband down over the seam to create a casing. Topstitch close to the folded edge.
At one side seam, leave a 2-inch opening in the casing for the elastic.
Insert the elastic using a safety pin. Adjust it to fit.
Overlap the elastic ends about 1 inch. Stitch them together securely.
Stitch the opening closed.
Try on the skirt and enjoy how it twirls!
With the waistband and elastic in place, you're so close to completing your layered ruffle skirt. Celebrate each step of the process and take pride in your handmade creation. The right techniques allow for a comfortable, personalized fit.
Frequently Asked Questions (FAQs)
What type of fabric works best for the ruffles?
For the ruffles, lightweight fabrics like cotton, voile, or chiffon work best. They flow nicely and don't add too much bulk. Stick to woven fabrics rather than knits, which won't hold a gathered shape as well.
How much fabric do I need to buy for each tier?
You'll need about 2-3 times the finished width for each ruffle tier. So if the skirt is 20 long, get 60-90 of fabric for each ruffle. For more fullness, get up to 5 times the width. Buy extra to allow for mistakes.
What sewing machine settings should I use?
Use a straight stitch and adjust the length to 2-3 mm. Set the tension slightly loose, around 3, so the fabric feeds smoothly. For lightweight fabrics, use a 70/10 needle. Engage the presser foot lever when sewing.
How do I gather the ruffles evenly?
Start by setting your machine to the longest stitch length. After sewing your ruffle strip into a loop, gently pull the bobbin threads to gather the fabric evenly. Distribute the gathers before pinning and sewing the ruffles to the skirt tiers.
What if the waistband is too tight or loose when finished?
You can adjust the length of the elastic before sewing the ends together. If you want a looser fit, cut a longer piece of elastic. For a tighter fit, cut it shorter. Make small adjustments of 1/2 to 1 inch at a time.
Once you find the ideal length, securely overlap and stitch the ends. If necessary, you can also replace the elastic completely. Simply unpick a section of the waistband seam and insert new elastic of the desired length.
Conclusion
With a few basic supplies and some know-how, you'll be sewing up stylish layered ruffles in no time. Start by drafting the skirt pieces and add tiers of gathered ruffles for beautiful movement. Finish it off with a comfortable waistband – and voilà! You'll look and feel great in your new ruffled skirt.