This site is supported by our readers. We may earn a commission, at no cost to you, if you purchase through links.
Are you in the market for a computerized sewing machine that offers convenience and high-tech abilities, yet is simple to use? The Bernette B37 may be just what you're looking for. This review will cover its features, ease of use, and durability so that you can make an informed decision on whether it fits your needs.
With 50 stitches available, low noise operation, and plenty of accessories included, this model has many benefits – but there are some drawbacks too! Read on to find out more about this popular Bernette sewing machine.
Key Takeaways
50 built-in stitches
Easy to use
Durable metal frame
Start/stop function
Bernette B37 Sewing Machine Review
View On Amazon
You'll appreciate the Bernette B37's easy operation and stable sewing, though some buyers have faced issues like missing accessories or malfunctions that may require contacting customer support.
This compact computerized sewing machine boasts an impressive 50 built-in stitches, making it suitable for a wide range of sewing projects. Whether you're a beginner or an experienced seamstress, its user-friendly features ensure a smooth sewing experience.
These features include the start/stop function, needle stop up/down control, and adjustable sewing speed.
Crafted from durable metal, the Bernette B37 provides stability even at medium to high sewing speeds, ensuring flawless execution of your creations. The bright LED light illuminates your work surface, making it easier to work on intricate details.
It even includes a built-in thread cutter and an additional foot for added convenience.
However, some users have reported issues with missing accessories upon delivery, such as the extension table attachment. Additionally, a few customers have experienced malfunctions and difficulties with navigation.
It's essential to consider these factors and the 10-year warranty when purchasing this machine.
Easy to use
Heavy and stable at medium to high sewing speeds
Flawless execution
Includes built-in thread cutter and additional foot
Durable
Doesn't handle heavy fabrics like fleece and denim well
Missing accessories in some cases
Reports of malfunctions and difficulties with navigation
SINGER 7258 Sewing Machine Review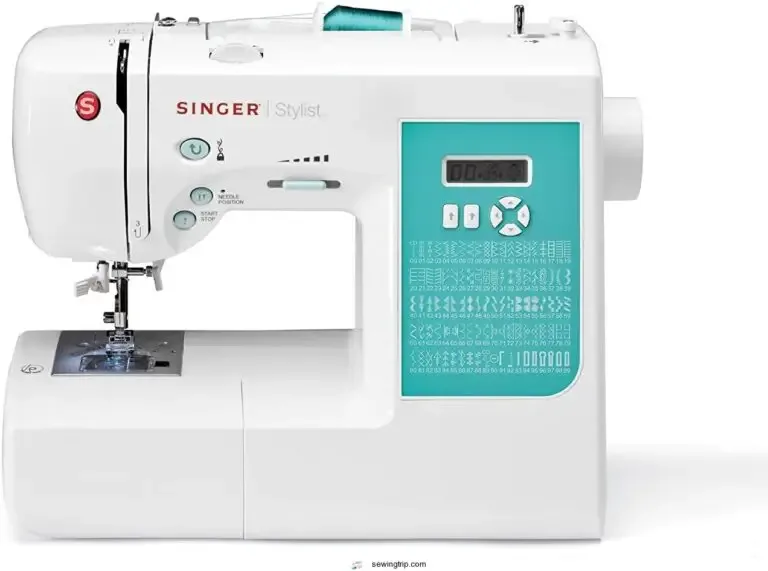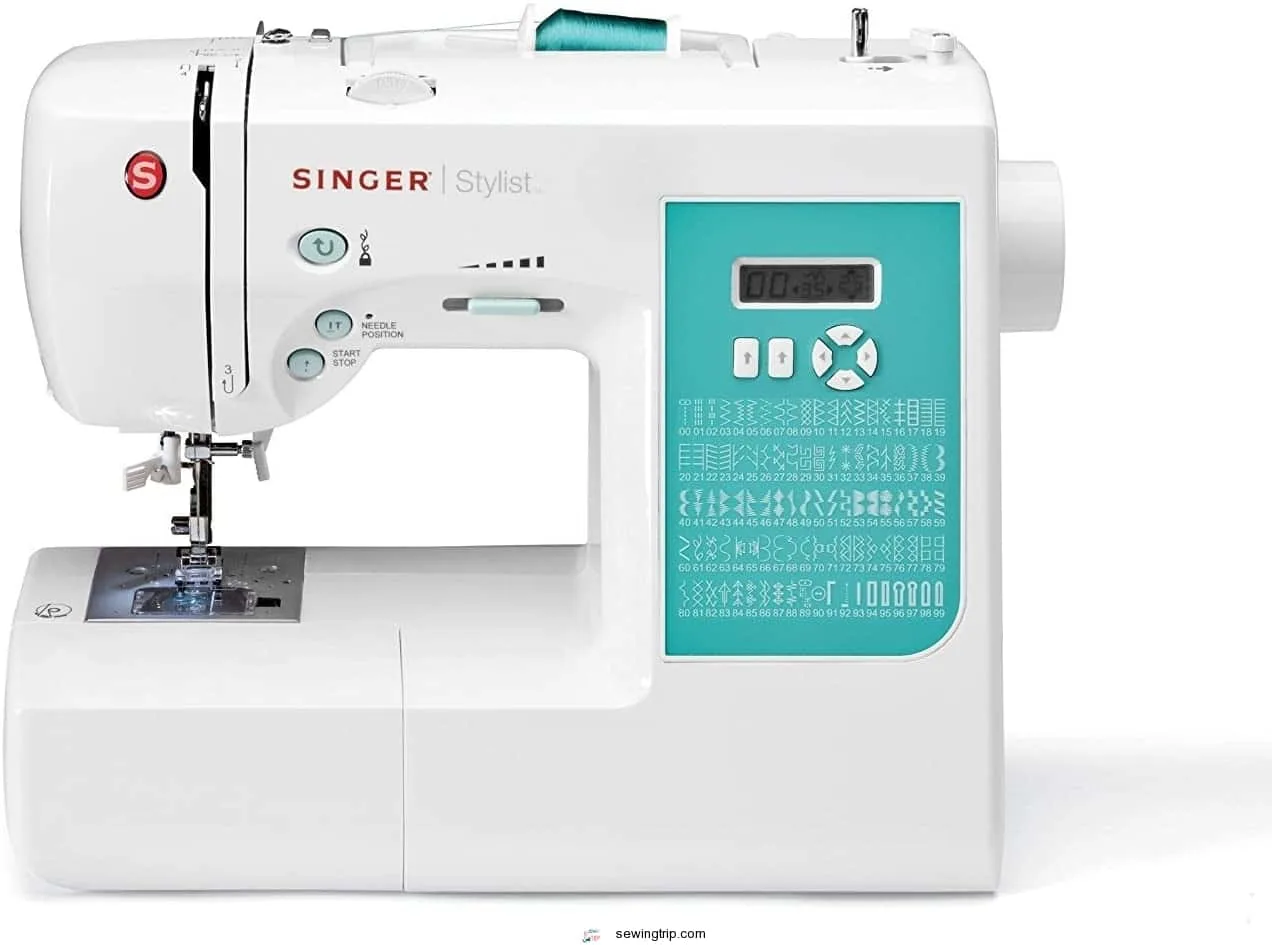 View On Amazon
You've toured through the features and strengths of the Bernette B37. Now let's explore the SINGER 7258, a versatile computerized sewing machine packed with handy functions.
This budget-friendly machine boasts 100 built-in stitches to accommodate your every project. The heavy-duty metal frame provides stability as you sew, while the LCD screen makes selecting stitches effortless.
You'll appreciate the automatic needle threader, saving frustration and time. The adjustable stitch length and width enable you to easily customize stitches.
With handy features like automatic reverse, programmable needle up/down, and more, sewing is smooth sailing. While some users reported issues with fragile needles, the 7258 garners praise for its quiet operation and ease of use.
With StayBright LED lighting and included accessories, this machine empowers your creativity. If you seek reliability without breaking the bank, the 7258 hits the sweet spot.
100 built-in stitches
Heavy-duty metal frame
LCD screen simplifies use
Automatic needle threader
Adjustable stitch length/width
Quiet operation
Some issues with fragile needles
Limitations with thicker fabrics
Brother CS7000X Sewing Machine Review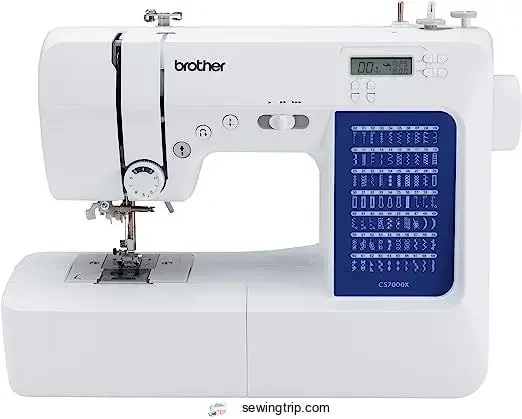 View On Amazon
The Brother CS7000X comforts sewers with its user-friendly LCD display, jam-resistant bobbin, and handy sewing table that'll upgrade your projects. Equipped with 70 built-in stitches for embellishing garments, quilts, and crafts galore, this machine makes easy work of buttonholes, decorative accents, and stretch seams.
Its wide needle-to-arm design provides ample space for sewing cuffs or arranging quilts, while the fixed needle bar lends stability when maneuvering multiple fabric layers.
With a metal body and a host of helpful attachments, the CS7000X reassures all levels of sewing enthusiasts. Accessorized with a free arm, needle threader, presser feet, and an expansive quilting table, your creative abilities are unleashed to fashion original blankets and apparel.
And thanks to its protective case, you can transport this portable companion wherever inspiration strikes.
Though predominantly praised for its thoughtful utility, be mindful the CS7000X has limitations on heavy materials like leather or denim. The helpful LCD screen simplifies selections, but button pushing grows tiresome for repetitive tasks.
And while mostly hushed, this isn't the quietest model when running at full speed. However, if desiring a versatile sidekick to broaden your sewing skills, the value and quality of this Brother machine may prove worthwhile.
User-friendly LCD screen
70 built-in stitches
Jam-resistant drop-in bobbin
Limitations on heavy fabrics
Can be loud at high speeds
Repetitive button pushing
Conclusion
In summing up, the Bernette B37 Sewing Machine is a great option for anyone looking for a reliable and easy-to-use sewing machine. Its 50 built-in stitches, adjustable sewing speed, start/stop function, and needle stop up/down control make it suitable for a wide range of projects.
Its durable metal frame and improved needle-to-arm workspace provide stability and ensure flawless execution of your creations. The bright LED light illuminates your work surface, making it easier to work on intricate details.
The SINGER 7258 offers excellent value for the price with its 100 built-in stitches, 6-segment feeding system, and 10 presser feet. While it may struggle with heavier fabrics, it's an excellent choice for novices and experienced sewers alike.
The Brother CS7000X is another reliable option with its 70 unique built-in stitches, 7 1-step auto-size buttonholes, and helpful accessories. All three machines are suitable for a wide range of sewing tasks, making the Bernette B37 an ideal choice for crafting garments, home decor, and quilts.