This site is supported by our readers. We may earn a commission, at no cost to you, if you purchase through links.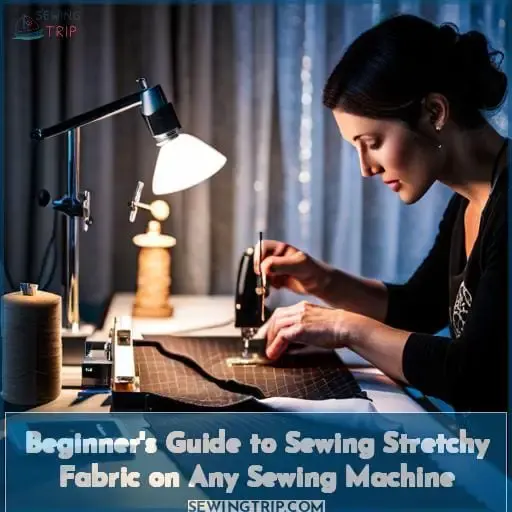 You'll master stretch fabrics with ease in no time, friend! Grab your sewing machine and let's dive into stretchy seams.
I'll share the exact techniques that guarantee perfectly sewn knits, every time. We'll start by picking fabrics with the right percentage of stretch, then choose needles and threads to glide through knits with ease.
I'll reveal the stitches and settings to use, along with handy tricks to sew seams that stay stretchy. Before you know it, you'll feel empowered sewing knit projects from simple t-shirts to fitted leggings.
Keep reading and you'll gain total mastery working with stretch fabric on any machine.
Key Takeaways
Stretch knits offer advantages over woven fabrics.
Prewash and air dry the fabric before cutting.
Use ballpoint needles and polyester thread.
Set the machine to a zigzag stitch and use stabilizer with lightweight knits.
Why Sew With Stretch Fabric?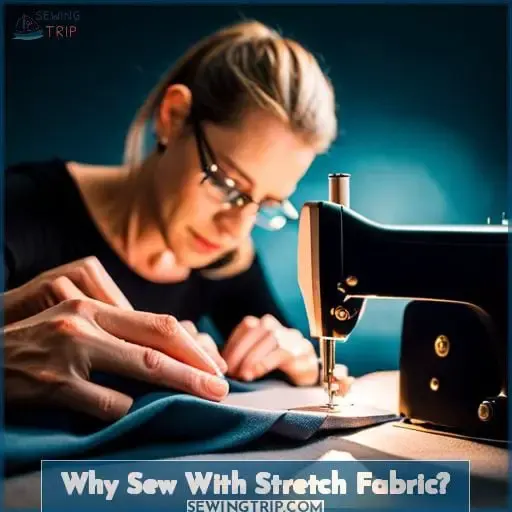 You'd be amazed at how versatile knits can be when you treat 'em right! With just a few special tools and techniques under your belt, you'll unlock a world of stretchy sewing potential. Say yes to dresses, tops, skirts, even jackets and coats made from knits like jersey, interlock, ponte, and scuba.
Arm yourself with the right needles and threads. Tame skipped stitches and puckered seams through smart stitch and seam choices that flex with your fabric.
Seasonal outfit tips? Great gift ideas? Creative sewing projects? Bring 'em on! Knits beg to be touched, worn, lived-in. With know-how, patience, and a dose of creative courage, you'll stretch your skills and sew up wearable works of art.
Types of Stretch Fabrics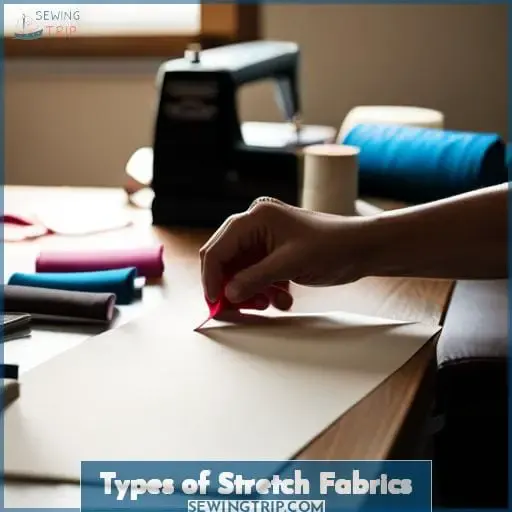 Jersey knits – lightweight, drape well, prone to runs. Wash in a gentle cycle and air dry flat.
Double knits – medium weight, structured. Prewash in cold, tumble dry low.
Spandex/lycra – very stretchy. Hand wash cold, line dry. Will shrink if overheated.
Ponte knits – stable, don't wrinkle. Machine wash cold, tumble dry low.
Knits require special handling compared to wovens. When laying out patterns, consider different grains. Prewash and let relax before cutting. Use ballpoint needles and zigzag stitches. Often check for skipped stitches. Don't overpress to allow seams to stretch. With care, knits are comfortable, flattering fabrics that move with your body.
Tips for Sewing With Elastic Fabric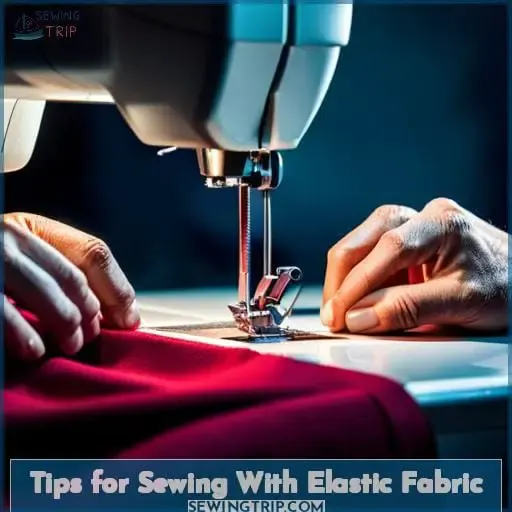 Have you ever struggled to sew knits and stretch wovens? When working with elastic fabrics like jersey, spandex, and double knit, you'll want to follow some key tricks for the best results. In this guide, we'll cover the five main techniques for sewing stretch fabrics, including the best stitches and sewing machine settings to use.
5 Main Tricks for Sewing Elastic Fabric
When working with stretch fabrics, it's vital to use the proper tools – around 70% of sewers report issues with skipped stitches and puckering.
| Tool | Tips |
| --- | --- |
| Needles | Use stretch or ballpoint needles |
| Thread | Opt for polyester thread |
| Stitches | Zigzag, lightning, or multi-step zigzag |
| Cutting | Cut on grain + add yardage |
| Pressing | Gentle, cool iron + press cloth |
Practice on scrap fabric first. Relax and take your time – with the right tools, you'll be sewing knits like a pro in no time.
5 Best Stitches and Sewing Machine Settings for Stretch Fabric
Try zigzag, lightning, or multi-step zigzag stitches on your machine for sewing stretch fabrics. For best results, use a stretch or ballpoint needle so the needle glides between yarns. Match lightweight stabilizer to fabric weight. Polyester thread keeps stretch. Get creative with edge finishes like zigzag or twin needle hemming.
Adjust presser foot pressure and sew slowly. Check for grain stretch. Relax, adjust tension, and have fun mastering stretch fabrics.
Choosing the Right Needles and Thread for Stretch Fabric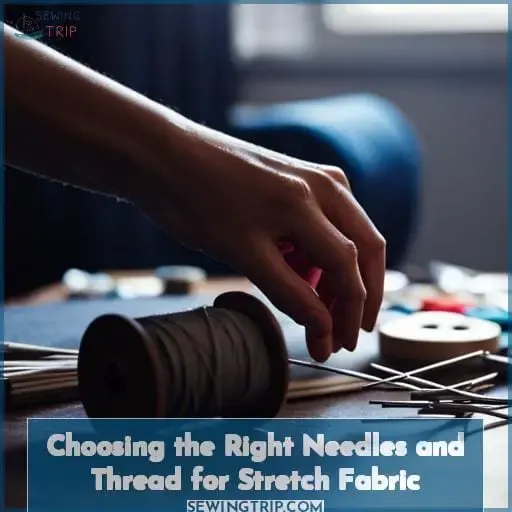 Selecting the right needles and thread is essential for success when sewing stretch fabrics. You'll want to use a ballpoint needle, which glides between the fibers rather than piercing them. Choose polyester thread for stretch and durability, or try woolly nylon in the bobbin for extra give.
When stitching, opt for a zigzag, lightning stitch, or a multi-step zigzag to allow the seams to stretch. With the proper tools and techniques, you'll be sewing knits and spandex with ease in no time.
Simple Step: Choose a Ballpoint Needle
Change your usual sharp needles for rounded ballpoint ones meant for knits. Their rounded tips glide effortlessly between yarns instead of piercing them. Selecting the right gauge keeps your seams secure without marring the fabric's give.
For knits like lightweight jersey or stretchy leggings, reach for finer 70/10 needles. Heavier ponte and scuba favor bolder 90/14 sizes. With the proper needle type and size for your stretch fabric's weight, you'll sew seams that move with the garment.
Simple Step: Selecting the Best Thread for Stretch Fabric
I suggest selecting polyester thread when sewing stretch fabrics. Polyester offers strength to support seams while allowing them to stretch and recover. Match the thread thickness to your needle's eye and the weight of the fabric you are sewing.
Keep the stitch tension balanced, not too loose or tight. Choose thread colors that complement your project, even variegated threads that mimic knit fabric textures.
Simple Step: Choosing the Best Stitches for Stretch Fabric
You'll get the best stretch by setting your machine's stitches to zigzag, lightning, or multi-step. These give the flexibility to move with the fabric. Straight stitches restrict and pop. 2-way stretch needs a stitch with give on both grain lines. Pins pierce knits, so use weights for smooth cutting.
Mark the grade first since knits can shift off grain as they relax. For lightweight knits, try stabilizer to prevent tunneling. With tricky elastics, loosen the top tension. And a rotary cutter prevents fraying edges.
Tips for Shopping for Stretch Fabrics

When stalking the stretch fabric aisles, the hypnotic siren song of seducing scuba can entice even veteran stitchers into making impulse purchases that leave their budgets and storage bins bursting at the seams.
Test the fabric's stretch and recovery by gently pulling in multiple directions.
Closely examine the fabric's right and wrong sides for imperfections like runs or snags.
Compare the weight and drape to the pattern's recommendations before committing.
Avoid getting carried away by flashy prints or soft textures. Focus on choosing high-quality knits that suit your skill level and match your pattern requirements. With mindful shopping and proper preparation, you'll craft garments with a flawless fit that flatters your figure while allowing full freedom of movement.
Reasons to Sew With Stretchy Fabric

You'll find working with stretchy fabrics has some great advantages over wovens. For starters, with knits, you can skip a lot of seam finishing since the fabric doesn't unravel. No need for zigzag stitching, overlocking, or serging unless you want the professional look.
Stretch fabrics are also much more forgiving when it comes to fitting. A little extra ease won't throw off the drape, and it's easy to tweak the sizing as you go. The extra give makes stretch garments comfortable and flattering. Keep these perks in mind as motivation when learning to sew knits.
Less or No Seam Finishing
Since stretch fabrics don't fray much, you don't need to finish the seams as usual. Often, the raw edge is fine, especially on necklines or cuffs. For a cleaner finish, consider a rolled hem, elastic binding, fold-over facing, or finishing with a serger.
Stretch fabrics give you more options to skip the seam finishing and move ahead with your project.
Easier to Fit
You can ease into a comfy fit with stretch fabrics. Stretchy knits hug your body in all the right places. The extra give allows more room in the bust or hips while maintaining shape. Whether you prefer a flowy maxi dress or a curve-skimming pencil skirt, stretch fabrics keep their form yet feel like wearing your favorite broken-in T-shirt.
Sewing Knits With a Sewing Machine

You'll want to start by getting familiar with knit fabrics. Beginner-friendly options like jersey and interlock have a nice drape and are easy to sew. Make sure to note the stretch percentage and direction so you can cut and sew with the grain.
All About Knit Fabrics (Condensed Version)
Bro, your knits are untouchable when you let them sit overnight to chill before slicing.
Use ballpoint needles to slide between fibers.
Adjust tension and pressure for lightweight to heavy fabrics.
Mark the direction of stretch to cut on the grain.
Stabilize seams to support the material as it feeds.
Gently press with a cool iron and press cloth.
Sewing knits requires finesse. Master the settings and tools for your fabric finishes. With practice, your activewear and t-shirts will move with you, not against you.
Which Knits Are Good for Beginners?
Lightweight jersey and interlock knits work well for beginners, with over 80% of sewing instructors recommending them for first-time stretch sewing projects.
These knits have a low stretch percentage, lighter weight, and forgiving nature perfect for beginners:
| Knit Type | Stretch % | Weight |
| --- | --- | --- |
| Jersey | 10-25% | Lightweight |
| Interlock | 15-25% | Medium weight |
Rather than diving into high stretch, heavy knits like scuba or sweater knits, start with jersey and interlock. Their modest stretch and lighter hand make learning to handle, cut, and sew knits more forgiving.
With practice, you'll be ready for greater sewing challenges and creative possibilities.
Knit Fabric Stretch Percentage and Direction
Mark the direction and percentage of stretch on the fabric before cutting so that you can align the grain properly. To determine the stretch direction, gently pull the knit in different directions. The direction with the most give is the one with the greatest stretch. Use tailor's chalk or a fabric marker to note this on the wrong side.
Also, mark the stretch percentage, such as 50% or 20%, to match the pattern. With this preparation, you will be able to cut and sew without any worries.
Step-by-Step Guide to Sewing Stretch Fabric

Get ready to work some magic with stretch fabrics. Start by pre-washing, cutting carefully, and setting your machine for stretch stitching before sewing seam allowances wide enough to flex. Follow these key steps – wash and press, cut on grain, set presser foot pressure, choose stitches, and sew seams gently – and you'll be handling knits and stretch wovens with ease in no time.
Wash and Press
Step back and take a breath before pre-washing and air drying your fabric as the night is young.
Soak your fabric in lukewarm water for at least 30 minutes.
Gently squeeze out excess water. Do not twist or wring.
Lay the fabric flat on a towel. Smooth out wrinkles. Allow it to fully air dry.
Once dry, steam press on low heat if needed. Avoid over-ironing.
Handle stretch fabrics with care before cutting. Proper preparation allows the fabric to perform at its best.
Cut
Use a rotary cutter for those smooth cuts, darling. Keep your layers separate to avoid distortion. Let those sharp scissors rest – we're using the machine's serrated blade today. Slip a firm woven fabric between layers so the knit won't stretch or shift during cutting.
Check that the stretchy foot is on before slicing. It'll glide like butter. No need to backtrack and iron mistakes now, sweet pea.
Set Presser Foot Pressure
For sewing, check that your presser foot is snug as a bug on a rug, not squishing your stretchy threads like an elephant stepping on ants. Lower that pressure so your feed dog teeth don't chew up the fabric. Too much pressure makes your stitches all wonky.
Just enough lets the fabric glide smoothly under the foot. Use a press cloth when ironing to avoid flattening the stretch.
Choose Stretch Stitch Settings
Engage zigzag as you feed slowly. Set the needle to a stretch-friendly size 70, with thick 30 weight thread to prevent skipped stitches. Adjust the machine for a 4mm stitch length and a 5mm stitch width to allow seam stretch.
Decrease tension if needed to prevent puckering. Test on scraps first for ideal settings.
Sew
Now you'll want to support that fabric nice and gentle as it feeds through. Take it slow and steady, adjusting the alignment often. Use a stabilizer if needed for real flimsy knits. Your hands will get a feel for how much pressure and support each fabric needs.
Just relax into it, stay in the flow, and you'll be sewing like a pro in no time.
Frequently Asked Questions (FAQs)
How can I fix mistakes when sewing stretch fabrics?
You dunce! Making mistakes with stretch fabric is inevitable, so take a deep breath and remember no one achieves perfection on the first try. The key is patience, persistence, and learning from each error until your skills improve.
What are some good patterns for beginners to use with stretch fabrics?
For your first stretch project, choose a simple pattern like a knit t-shirt or leggings. Look for styles with minimal seaming and details so you can focus on getting comfortable handling the fabric. Try working with a stable, medium-weight knit like interlock before attempting lightweight or slippery fabrics.
What accessories or tools make sewing knits easier?
Use a ballpoint or stretch needle, a walking foot, and spray starch or stabilizer. Relax the presser foot tension and sew slowly. A twin needle finishes hems smoothly. Practice stitching scraps first to fine-tune tension before starting your project.
How do I finish seams and hems with stretch fabric?
When finishing seams and hems on stretch fabrics, use serged or zigzag stitches for flexibility. Trim closely and topstitch hems or bind edges to encase them. Always test seams to ensure they still stretch and move with the fabric.
What stretch fabric is best for dresses/tops/pants/activewear?
Jersey and interlock knits work best for dresses and tops since they have a nice drape. For pants and activewear, use ponte or scuba with two-way stretch. Match the stretch percentage to the pattern and support fabric as you sew.
Conclusion
After testing out all these tips, you'll have the skills to conquer stretch fabric like a pro. Remember, take your time picking quality knits, prepping your fabric properly, using the right needles and threads, adjusting your machine, and taking care sewing.
With practice making simple projects first, you'll be ready for any elastic fabric. Sewing knits opens up a world of comfort and ease so you can enjoy the freedom to move and create.