This site is supported by our readers. We may earn a commission, at no cost to you, if you purchase through links.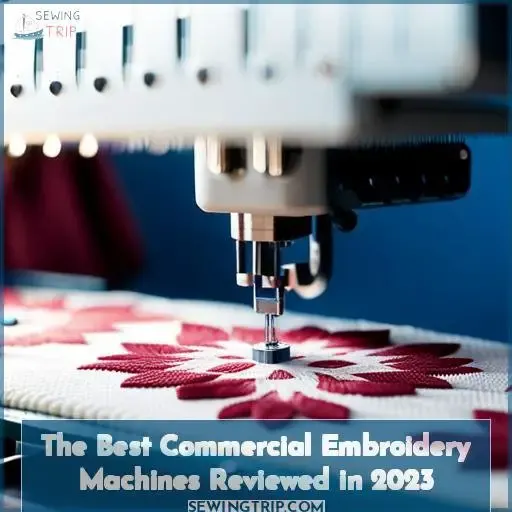 You're ready to take your embroidery business to the next level. Picture this: multiple needle heads operating at lightning speed with a massive embroidery field and smart features that make the impossible possible.
The only thing between you and making your vision a reality is choosing the perfect heavy-duty embroidery machine.
We've reviewed the best commercial models and have everything you need to find the innovative gear to master lucrative large-scale projects. From built-in camera systems for precision placement to stitch capacity that blows home models out of the water, we'll walk you through key factors like format compatibility, speed, and file storage.
Ready to wow customers and stand out from the competition? The future of your business starts now. Let's dive in and find the commercial embroidery machine that's the ideal match for your ambitions and workload.
Key Takeaways
Janome Horizon 12000 lacks extra features but offers delicate embroidery, stitches, and designs.
Brother SE1900 provides a touchscreen, a wide range of designs and stitches, and is lightweight.
CamFive CFHSHT1501 offers a large embroidery area, high speed, and an LCD touchscreen with lettering capabilities.
Juki Tajima SAI provides a spacious embroidery area, an auto thread trimmer, high speed, and various fonts.
Top Commercial Embroidery Machines Reviewed
Looking to upgrade your embroidery projects with a commercial-grade machine? Models like the feature-rich Janome Horizon Memory Craft 12000, the Brother Embroidery SE1900 with 138 built-in stitches, and the fast, versatile BAi Automatic Commercial machine are well-reviewed options to consider.
From single-head machines ideal for monogramming and custom work to multi-needle models built for high production, the marketplace offers a range of commercial embroidery machines with advanced capabilities to take your sewing projects to the next level.
Janome Horizon Memory Craft 12000 Sewing Machine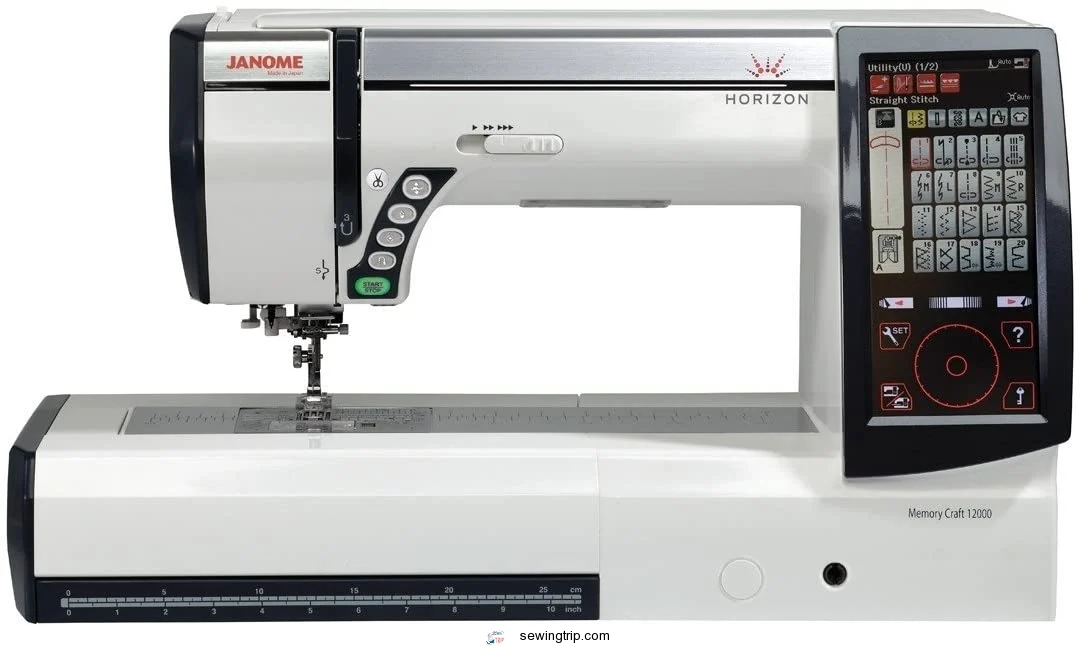 View On Amazon
You'll love embroidering delicate designs on the Janome Horizon Memory Craft 12000. This feature-rich electric sewing and embroidery machine lets you create intricate embroidered patterns with ease. The multiple built-in stitches, fonts, and designs provide ample options for your projects.
While it lacks some extras like the bundle shown, its excellence in sewing and embroidery make it a dream machine. Get creative and take your embroidery skills to the next level with this quality Janome model.
Excellent sewing capabilities
Beautiful, delicate embroidery
Multiple built-in stitches and designs
Lacks extras shown in product picture bundle
Rated 4 out of 5 stars
Brother Embroidery Machine SE1900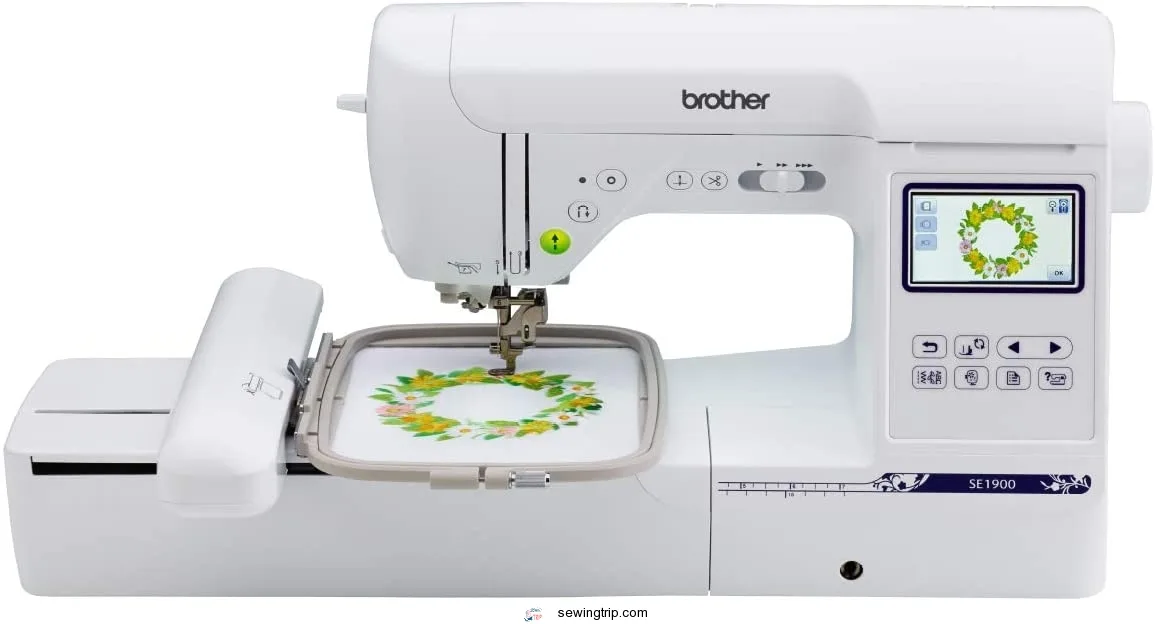 View On Amazon
You've got the Brother SE1900 machine that rocks the embroidery scene with its 3.2-inch touchscreen, 138 designs, and 240 sewing stitches – it's a compact powerhouse for the creative quilter and embroiderer.
This user-friendly electric sewing and embroidery machine comes loaded with features to unleash your inner artist. The large color touchscreen makes selecting and editing designs intuitive. With 11 built-in embroidery fonts and a 5 x 7 inch hoop included, monogramming and personalization are a breeze.
The 138 built-in designs give you endless creative options without buying extra packages. Pair that with 240 built-in stitches, an advanced needle threader, and 8 presser feet, and you've got functionality galore in one streamlined machine.
User-friendly touchscreen interface
138 built-in embroidery designs
240 built-in sewing stitches
Advanced needle threading system
Lightweight and portable
Small 5 x 7 embroidery field
May require software for editing designs
Accessory bundles cost extra
CamFive Single Head Commercial Embroidery Machine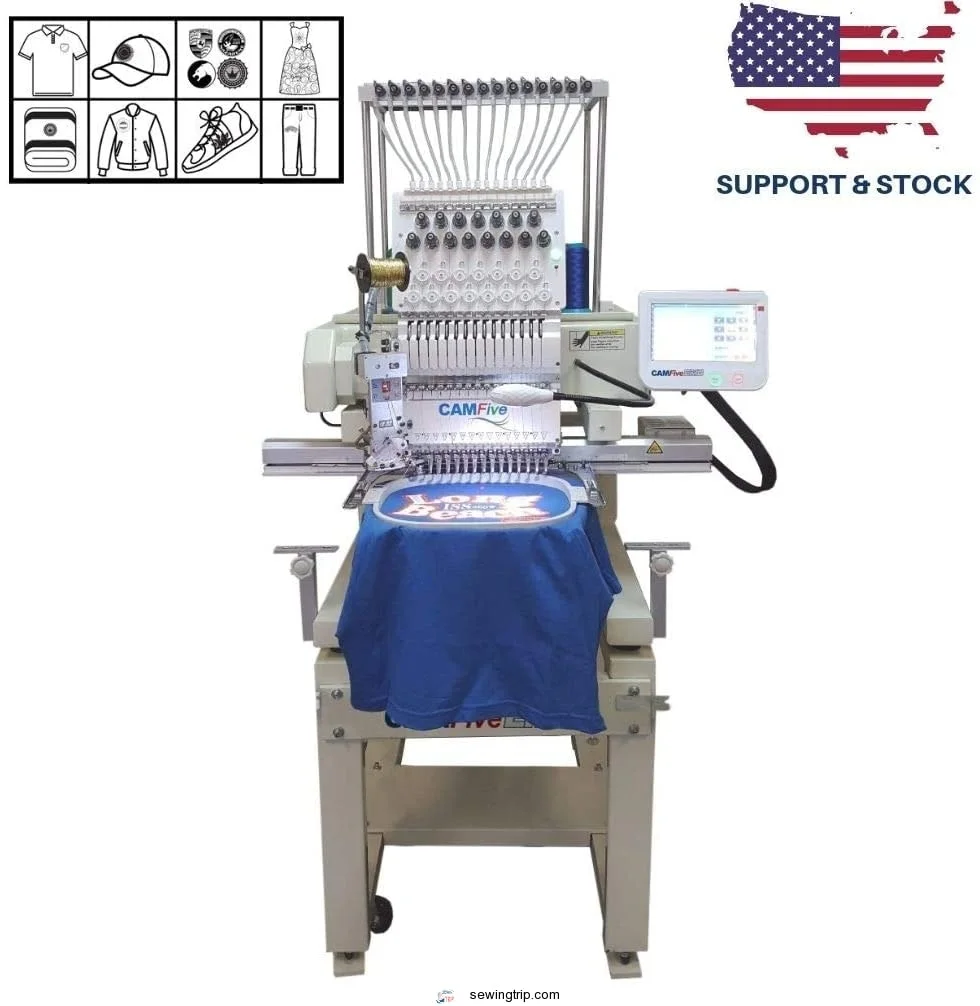 View On Amazon
The CFHSHT1501 semi-compact design ain't for nothing; this embroidery machine, providing small businesses with crafty customization capabilities, comes packed with everything but the kitchen sink. It has a generous 22 x 14 working area and a fast 1200 stitches per minute speed, allowing you to embroider detailed designs on shirts, caps, jackets, and more.
The easy-to-use 8 LCD touchscreen lets you preview placements, edit on-screen, and instantly punch in names/letters. This versatile machine empowers your creativity and productivity, making it perfect for entrepreneurs seeking professional-style embroidery with robust support.
Large 22 x 14 working area for big designs
Fast 1200 SPM speed for efficiency
Compact size, good for small spaces
LCD touchscreen for editing and previews
Instant name/letter punch feature
Only semi-compact, quite heavy at 551 lbs
15 needle limit, upgrading is difficult
Shipping damage issues reported
Expensive for very small businesses
Brother Innov is NQ1700E Embroidery Machine Grand Slam Bundle
View On Amazon
This feature-packed Brother bundle outfits your embroidery projects with thousands of designs, editing software, threads, hoops, and more. Equipped with a generous 6 x 10-inch hoop size and a 4.85-inch LCD touchscreen, you can import designs or use the 258 built-ins to embroider anything from monograms to landscapes.
Automatic thread trimming and wireless capability provide convenience. Included extras like the 50,000 design library, Polystar thread set, BES editing software, and cap frame maximize your creative potential.
Large collection of designs included
Generous hoop size
Convenient automatic thread trimmer
BES editing software
Smaller embroidery field than some machines
Reported software issues
Juki Tajima SAI Embroidery Machine
View On Amazon
Your embroidery projects will absolutely thrive with the unrivaled quality and capabilities of the Juki Tajima SAI machine. This high-quality single-needle embroidery powerhouse delivers stunningly detailed and precise stitchwork.
Packed with built-in fonts and design patterns, the user-friendly LCD touch screen makes editing a breeze. Unleash your creativity with the expansive 17.7 x 17.7-inch embroidery area – the possibilities are endless for monogramming, logos, and custom designs.
At blazing fast speeds of up to 1,000 stitches per minute, the SAI zips through projects while the automatic thread trimmer saves time.
While pricier than basic machines, the SAI's impressive durability and features cater to the discerning embroiderer seeking quality results and mastery of technique.
Large embroidery area enables bigger, more intricate designs
Automatic thread trimmer increases efficiency
Built-in fonts and patterns inspire creativity
High max stitches per minute speeds for productivity
Easy to import custom designs via USB
Higher price point than entry-level machines
Advanced features have a learning curve for beginners
Bulkier footprint than some portable machines
BAi Embroidery Machine Clothing Automatic Commercial
View On Amazon
You'll get capable production power with BAi's competitively-priced commercial machine, though some quality issues have required decent customer service response. The aluminum body and fast 1200 SPM speed allow handling large, complex designs like a pro.
An engaged online community of users provides tips and assistance for beginners to excel. With reliable support and professional-grade functionality at an accessible price, it empowers small studios and home embroiderers.
Large 350x500mm embroidery area
Fast 1200 SPM speed
Competitively priced
Good customer service
Active user community provides tips
Some shipping damage issues
Quality control could be improved
May require extra guidance for beginners
Choosing the Best Commercial Embroidery Machines—Buying Guide

When choosing a commercial embroidery machine for your business, there are three key features to consider: the embroidery field size, file format compatibility, and memory capacity.
The embroidery field size determines the maximum area you can embroider. It is recommended to go with at least a 6×10 inch hoop size to accommodate most projects.
Make sure that the machine accepts.dst and.exp file formats to avoid corrupted designs.
It is also important to aim for at least a few megabytes of built-in memory so you can store designs without constantly needing an external drive.
For efficient operation, look for a machine with a speed of at least 650 stitches per minute.
Many commercial machines also include starter kits with helpful accessories like hoops and thread trimmers.
To maximize productivity, it is crucial to evaluate your workflow needs and select the right commercial embroidery machine.
Embroidery Field
The embroidery field size determines the maximum design area you can create. Larger hoops allow for bigger, more intricate designs but require quality stabilizer to prevent fabric shifting during stitching.
Consider your business' needs – if focusing on garments, a mid-size 6×10 inch field accommodates most designs. For special projects like blankets or jackets, invest in a machine with an extra-large hoop and work area.
File Format
The.dst and.exp formats yield the best embroidery results while avoiding potential design corruption. Compatible with most embroidery machines, these file types reduce errors during file transfers. Other formats like.pes can distort designs when resized or contain fewer editing features.
For flawless embroidery, opt for.dst or.exp and utilize machine trimming tools and multiple hoops to achieve your vision. Carefully set bobbin tension and select quality needles and hoops that fit your workflow and designs.
With the right file format and machine settings, your embroidery will impress customers while showcasing your support and expertise.
Memory Capacity
Having more internal memory on commercial embroidery machines allows you to store hundreds of design files without needing external drives. With ample onboard memory, you can skip the flash drive shortcut that limits total design storage.
Seek long-term stability from expandable memory options or ample hard drive compatibility through a handy USB port. Choosing machines with robust memory capacity prevents workflow slowdowns, giving you uninterrupted LED-lit embroidery area access to complete embroidery work.
Stitches Per Minute (SPM)
You really gotta get yourself one of these fat-stitchin' contraptions with some serious SPM if you want to embroider like a boss, homeskillet.
Make your machine spit stitches faster than Eminem spits rhymes with these essential speed stats:
1000+ SPM for lightning-fast logos and lettering
750-1000 SPM provides pro-level production pace
500-749 SPM handles most designs efficiently
Under 500 SPM best for beginners learning the ropes
Calibrate speed for material thickness and complexity
Crank it up for simple designs, lower for delicate fabrics
Test settings to avoid puckering, distortion, and thread breaks
Let 'er rip once dialed in, your machine won't quit!
Attachments Included
When starting a business, don't forget the often overlooked hoops, software, and editing tools that bring designs to life. Ensure your machine includes hoops to handle multiple fabric thicknesses like pockets or jackets.
Digitizing software converts artwork into embroidery-friendly files, scaling designs and optimizing stitch counts. Look for built-in design libraries, fonts, and editing features or plan to purchase software.
Distribution channels impact included bundles—specialty dealers often provide the most support. With quality hoops, software, and digitizing, your embroidery machine unleashes profitable potential.
BUY NOW: From US$2,650, Alibaba
Though pricier, inspecting one firsthand helps gauge the BAi machine's quality and durability for your studio. Beyond online specs, see the commercial-grade construction and stitching up close before buying.
Test drive its user interface and sturdiness during long runs, plus evaluate built-in designs and editing tools. While reports of shipping damage have surfaced, BAi's customer service can quickly resolve issues.
Still, hands-on experience gives the best idea of whether its professional-level embroidery and tech support merit the investment for your business.
Frequently Asked Questions (FAQs)
What maintenance is required for commercial embroidery machines?
For you, keeping your machine embroidering smoothly is like caring for a prized rose bush. Trim errant threads often to prevent tangling, and lubricate moving parts regularly to avoid rust. Clean under the needle plate periodically, and double-check tension settings each time thread is changed.
With attentive, gentle care, your machine will continue producing vibrant blooms for years to come.
How noisy are commercial embroidery machines compared to home models?
Compared to home embroidery machines, commercial models run significantly louder due to their industrial-strength motors and high-speed operation. Expect noise levels around 80 decibels, similar to a garbage disposal. The vibrations and hum may surprise you if you're accustomed to quieter home models.
Using commercial machines long-term without hearing protection risks permanent hearing damage. Look into sound-dampening products like acoustic panels to make prolonged commercial embroidery more comfortable.
What software is compatible with different commercial embroidery machine brands?
Many embroidery software programs like Embird, Floriani, and Brother's PE-Design are compatible with leading commercial brands like Tajima, Barudan, and ZSK regardless of the operating system. The key is having the proper file formats like.DST for the brand's onboard software.
Choosing user-friendly digitizing software enhances your design experience, like a paintbrush to canvas, across machine brands. Test before purchasing to ensure seamless integration from design to production.
What training or certifications are available for learning to operate commercial embroidery machines?
Master machine operations through manufacturer-led workshops. Visit dealerships for hands-on guidance tailored to your device. Embroidery businesses like The Embroidery Coach offer multi-day boot camps covering digitizing, production, and sales.
Achieve certification in sectors like apparel decoration or fashion technology via organizations like IQAS and Fashion-Enter. Seek experienced mentors within embroidery networks who coach startups. Attend trade shows to network with pros and experiment on new models.
Partner with distributors like ColDesi for unlimited training on purchased equipment. Invest time practicing designs and techniques until machine operations become second nature.
What factors determine the commercial embroidery machine price ranges?
You'll find commercial embroidery machines ranging widely in price based on the number of heads, maximum embroidery field size, built-in design capacity, and stitch speed. Selecting the features you require for your volume and project types helps identify the appropriate price point.
Discuss your business plan with a knowledgeable dealer to determine the ideal machine.
Conclusion
Finding the ideal commercial embroidery machine for your purposes may seem like searching for a needle in a haystack. But rest assured, options abound to suit your precise needs – whether you're a startup or a more established business.
The machines reviewed excel across key criteria like the maximum embroidery area, stitch speed, and bundled designs. Focus on the features that align with your volume, budget, and goals. With an astute selection process, you'll soon be stitching up profits with the best commercial embroidery machine for you.