This site is supported by our readers. We may earn a commission, at no cost to you, if you purchase through links.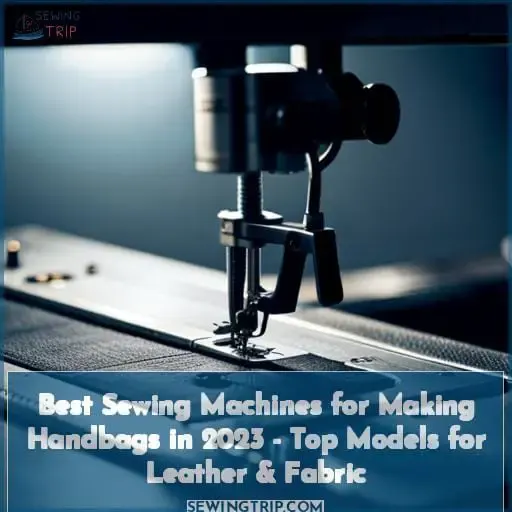 The hum of your sewing machine is a siren song, beckoning you to unlock your creativity and craftsmanship. You yearn to master the art of bag making, to stitch durable yet stylish leather and canvas handbags.
I know that gleam in your eye when you envision handbags of your own design! But the dream dies when your rinky-dink machine jams on thick fabric. Don't despair, friend. You're holding the key to liberation in your hands right now.
Let me take you on a journey to find the best sewing machine for handbags. We'll navigate the maze of domestic and industrial machines to uncover top models for stitching leather and fabric. I'll impart the wisdom from years of testing machines so you can confidently create handbags beyond your wildest imagination.
So plug in your machine and get ready to sew, because we're about to find your perfect best sewing machine for handbags.
Key Takeaways
Motor power is important for heavy projects.
Presser foot lift should accommodate thick layers.
Stitch length should be long to reinforce seams.
Durable metal build quality prevents skipped stitches.
Key Factors to Consider When Choosing a Leather Sewing Machine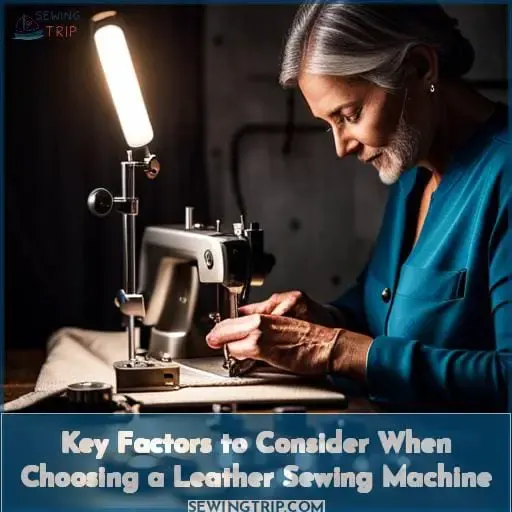 When investing in a leather sewing machine, you'll need to determine the best type and features for your projects. Whether choosing a domestic or industrial machine, consider the thickness and weight of the leather you'll use most often.
Domestic models provide adequate results for small pieces and garment leather at a more reasonable cost. However, for saddles, furniture, heavy bags, or volume production, an industrial machine with a compound walking foot prevents wrinkling and offers superior stitching on heavyweight hides.
Research key factors like motor strength, presser foot lift, stitch length, and included accessories to select a machine that will elevate your leatherwork.
Choosing a Domestic Leather Sewing Machine
You'd select a heavy-duty domestic model with a strong motor and high lift presser foot for entry-level leatherwork. Look for metal parts like the needle plate, auto-threading, and top-loading bobbins for easy use.
A blind stitch foot gives flawless hemming, while a Teflon foot prevents sticking.
Check that built-in stitches like straight and zigzag properly penetrate the material without damaging needles or leaving perforations. Strive for smooth feeding so seams stay flat. With practice, patience, and the right machine, you'll gain mastery crafting smaller leather goods at home.
Choosing an Industrial Leather Sewing Machine
When deciding on an industrial leather sewing machine, consider your production needs and workspace before committing to powerful equipment.
Handwheel size for control
Table attachment for support
Walking foot to grip leather
Built-in storage for organization
Maintenance costs add up
Small details like needle size and stitch length settings equip industrials for thick seams and reinforcements. Test driving models demystifies the options and fits the machine to your hand size and habits.
Tips for Selecting the Best Sewing Machine for Bag Making

When choosing the best sewing machine for bag making, consider the motor strength, maximum stitch length, presser foot lift height, overall build quality, and availability of a free arm. A powerful motor and the ability to sew longer stitches with thicker threads will allow you to work smoothly through heavy-duty bag fabrics like leather or canvas.
Also, seek out a machine with an extra-high presser foot lift to easily accommodate multiple fabric layers and 3D shaping. Stability from a heavy, durable metal frame prevents skipped stitches. Access to free motion functions via a free arm makes it much simpler to sew tubular pieces like straps or rounded bases.
Keeping these attributes in mind will set you up with a sewing machine ready to master professional-looking handbags and totes.
Motor
Check the amperage on the motor to ensure it can handle thick fabrics like leather.
Motor power of 1+ amps is ideal for leather.
Torque provides strength to punch the needle through.
Listen for excessive noise indicating strain.
Metal frames prevent motor overheating.
Vibration dampening reduces fatigue.
Your machine's motor is crucial for sewing heavy fabrics. Adequate power prevents burning out while sewing for long periods. Sturdy metal housing safeguards the motor and muffles noise. With torque to spare, the motor will breeze through layered leather using the right needle and feet.
A hard-working motor in a heavy-duty machine gives you the strength to create exactly what you envision.
Stitch Length
Look for a device with extra-long stitches for maximum strength on those tough bag fabrics.
| Machine | Max Stitch Length | Best Fabrics |
| --- | --- | --- |
| Singer HD | 5mm | Canvas, Denim |
| Janome MC | 4mm | Cotton, Linen |
| Juki TL | 4mm | Leather, Suede |
Longer stitches like 5mm deliver reinforced seams without perforating. Adjustable tension prevents puckering on heavy materials. Quality parts allow adjusting pressure and lift for smooth sewing. Proper tools liberate your bag making potential.
High Presser Foot Lift
You'll appreciate a high presser foot lift for easily maneuvering multiple layers of leather through tight spaces when crafting that buttery soft handbag. The presser foot clearance allows sewing heavyweight fabrics like vinyl and upholstery leather up to 12mm thick.
Adjust the foot pressure down for slippery synthetics or up for stubborn denim when constructing trendy hobo bags. With clearance and control, you'll achieve professional results on any material.
Weight and Build Quality
Metal bones and joints weld a sturdy stance, so heft reveals hardy stock like Atlas shouldering your aspirations. The ideal machine withstands marathon sessions without buckling under bolts of leather or canvas.
Let sturdy shoulders bear the daily grind without complaint or jam. A smooth glide conveys quality engineering. Withstand duress, and capacity expands to encompass any vision demanding form. Test the mettle before purchase to feel its readiness to partner in your journey.
Free Arm Sewing
Stitch sleeves and trim curves without flipping around your bag using the built-in free arm.
Access narrow seams and edge stitching.
Attach zipper feet to sew clutch openings.
Sew curved corners on handbags.
Adjust thread tension for varied fabrics.
Use domestic machines with specialty feet and accessories.
Free arms permit sewing tubular sections like sleeves or pant legs. This cylindrical bed makes bag construction easier by providing access to tight spaces. Quality machines include accessories to maximize functionality. With practice, create professional-looking bags, clothes, and crafts.
Top 6 Best Sewing Machines for Handbags
Let's dive into some of the best sewing machines for handbags. I've tested and compared many models to identify which machines can handle the thicker fabrics and reinforced seams that high-quality handbags require.
Models like the Juki DX5, Singer Heavy Duty 4452, and Brother ST371HD stood out for their durability, stitch versatility, and user-friendly operation. Keep reading to learn more about these machines' specialized features and see why I recommend them for handbag construction over basic, lightweight models.
With one of these heavy-duty sewing machines, you'll be equipped to create designer-quality handbags that will hold up through years of use.
Juki DX5 Sewing Machine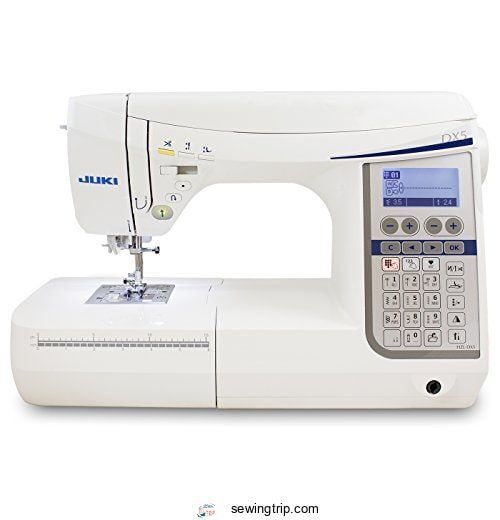 View On Amazon
The Juki DX5's automatic needle threader and versatile stitching make it a user-friendly option that's ideal for crafting handbags with thicker fabrics. This corded electric sewing machine offers various stitches, adjustable foot pressure, and a free arm that makes sewing sleeves or curves easy.
Reviews mention that the DX5 beautifully stitches all fabric types right out of the box. Its white plastic body provides good throat space for handbags while keeping the weight of 21.
Though an instruction manual in German would be ideal, the machine's easy controls, automatic threading, and buttonholer simplify use even for beginners. With proper accessories like Teflon feet to prevent sticking, the DX5 can handle delicate materials like leather for elegant handbags.
Its 120V electric power does require a transformer for use outside North America. However, for crafters and small business owners focused on high-quality stitches, the Juki DX5 gives professional results on an accessible home machine.
Automatic needle threader
Adjustable foot pressure
Carrying case for portability
Good for thick fabrics like leather
Manual not in German
120V needs transformer outside North America
Not for large-scale production
Sewing Machine Black
View On Amazon
You'd adore this darling black beauty for tackling thicker fabrics like a champ. With an aluminum body and 18 built-in stitches, this Janome heavy-duty sewing machine can handle multiple layers of canvas, leather, and quilting fabrics with finesse.
The removable free arm provides flexibility to sew sleeves, pant legs, and curved bag seams, while the 5-piece feed dog and drop feed system ensure control and precision on your project.
Though compact in size at just 16 inches wide, it packs a punch in performance. Easy to thread right out of the box, its versatility and decorative stitches will satisfy both beginners and experienced sewers.
With the hardcover and accessory kit, you'll be equipped to create small and medium-sized masterpieces on thicker fabrics.
Aluminum body is great for heavy-duty fabrics
Removable free arm is convenient for bags
Decorative stitches and overall ease of use
Mixed reviews on buttonholes and tension
Not ideal for large or very heavy projects
Warranty limitations through Amazon
Singer Heavy Duty 4452 Sewing Machine Gray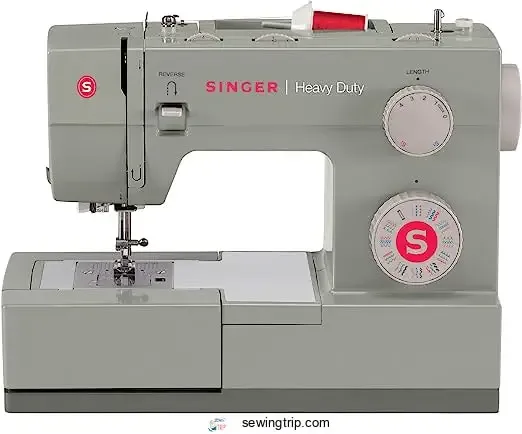 View On Amazon
You'll love its sturdy metal build for handbag handles because this workhorse powers through heavy fabrics. I've sewn many handbags and can vouch for the Singer Heavy Duty 4452's performance on thick materials like leather and canvas.
The 60% stronger motor and heavy-duty metal frame provide the muscle you need to sew multiple layers without hesitation.
With sturdy construction, automatic features, and 32 versatile stitches, this gray beauty makes light work of any handbag project. The built-in thread cutter saves effort finishing seams, while the drop-in bobbin loads with ease.
Though an instruction manual isn't included, handy storage keeps needles and threads organized.
Count on this Singer for handbags that handle hard use thanks to uncompromising durability.
Powerful motor and heavy-duty metal frame
Automatic needle threader
Drop-in bobbin and built-in thread cutter
Sturdy for thick fabrics like leather
Handy storage compartment
No instruction manual included
Possible inconsistent auto-threader
Not for complete beginners
Brother Sewing Machine ST371HD 37 Stitches 6 Feet Free Arm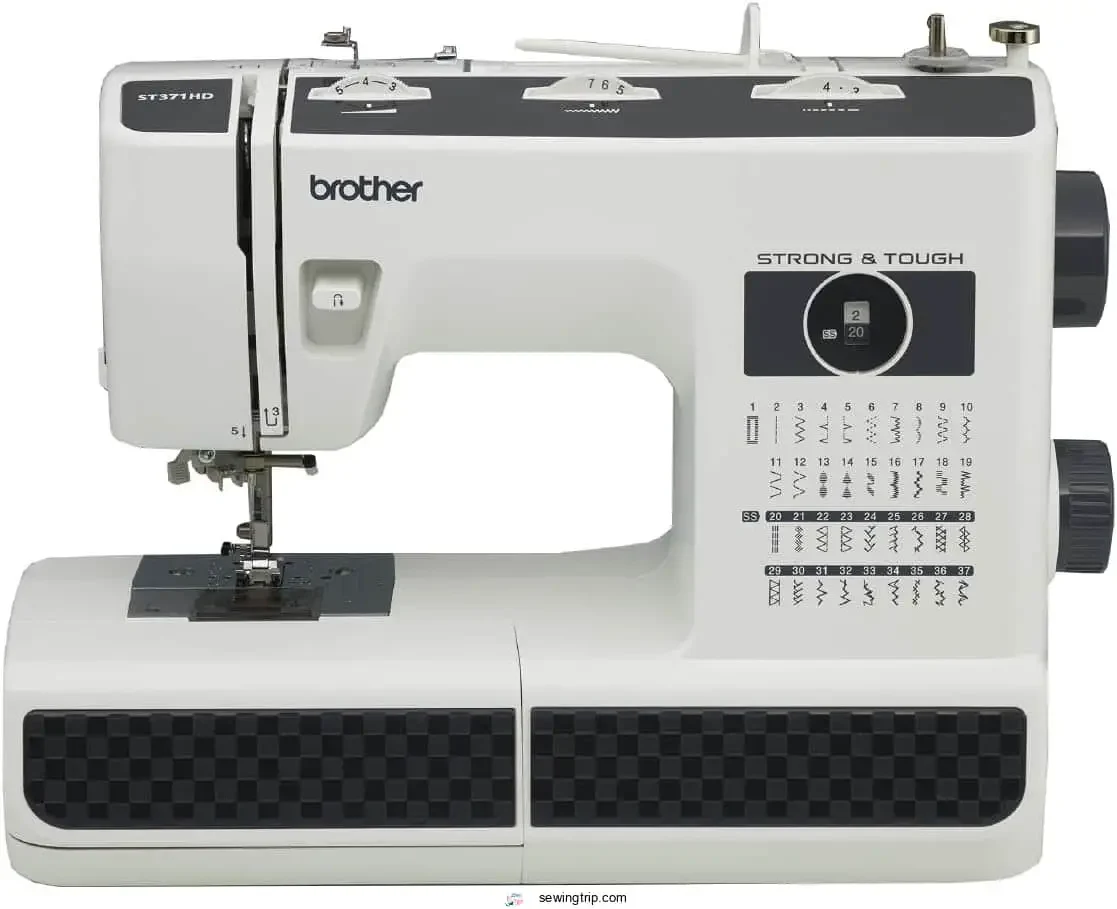 View On Amazon
With 37 built-in stitches and 6 presser feet, you're equipping yourself to handle most sewing tasks with the Brother ST371HD. The sturdy metal body provides durability for projects using heavier fabrics like canvas or leather.
Automatic features like the needle threader simplify setup so you can start sewing faster. While it may not be the best for absolute beginners, the free arm design and variety of feet offer versatility for sewing bags, quilts, clothing, and everyday mending jobs.
Sturdy metal construction
37 built-in stitches
Automatic needle threader
Free arm good for sewing sleeves and bags
6 included presser feet
Not the easiest for beginners
Some issues reported like noise and smell
Made for North America only
Bernette Thirty Eight Swiss Computerized Sewing Machine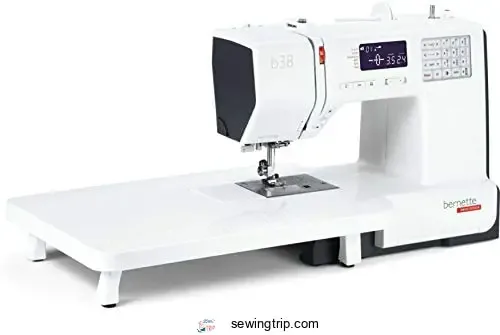 View On Amazon
Embrace the ease as Janome's HD3000 computerizes your sewing. With just a touch of a button, select specialized stitches to adorn your handbags with precision and artistry. The HD3000 becomes an extension of your creativity, seamlessly executing your vision on any material with fluid grace.
Feel liberated by technology that amplifies your skills and mastery over sewing.
394 stitches
Adjustable speed
Lightweight
8 presser feet
Expensive
Learning curve
Noisy
FamYun Hand Cobbler Shoe Repair Machine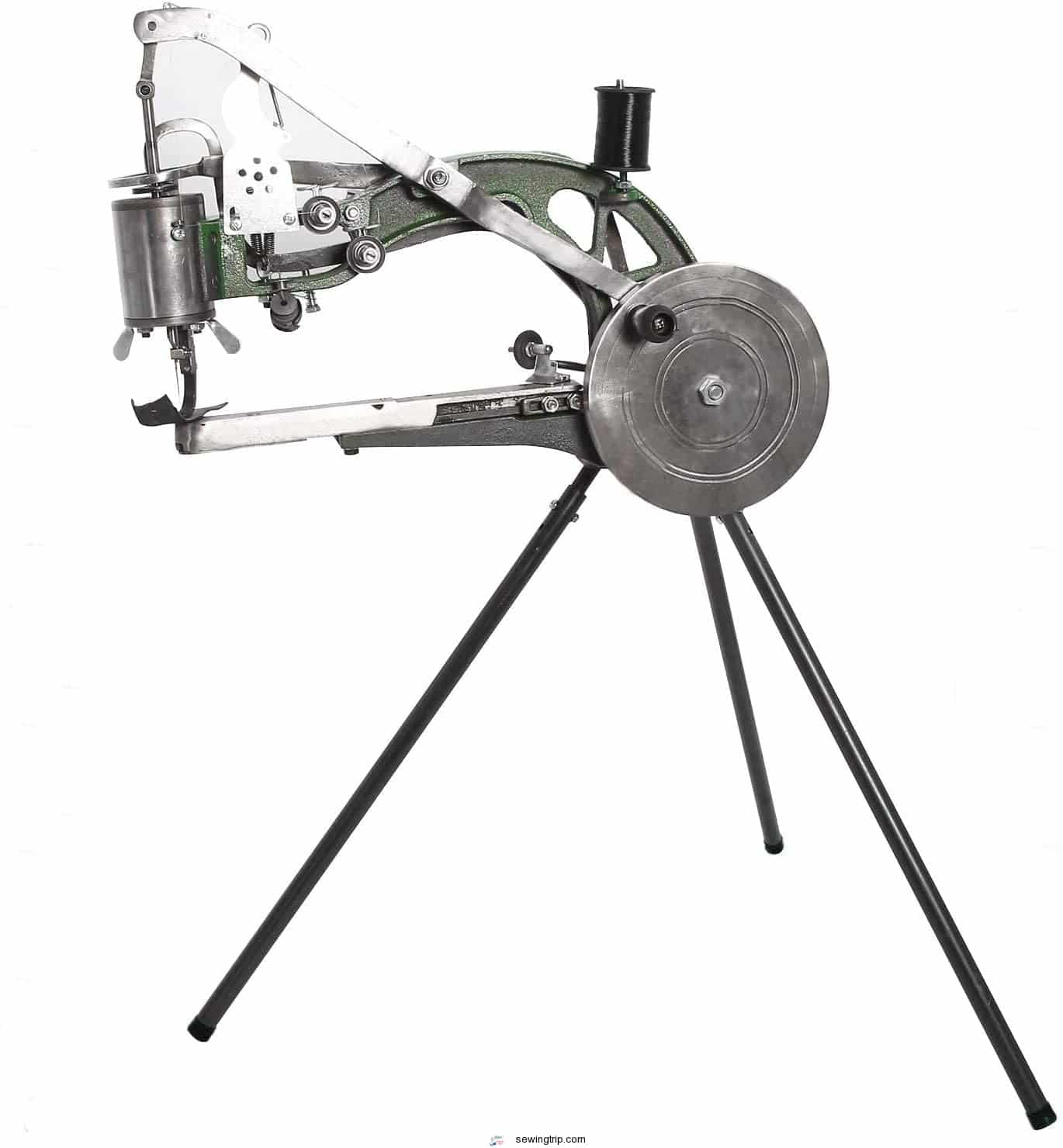 View On Amazon
The FamYun shoe repair machine is a handmade iron giant that stitches shoes and bags with thick cotton. It wobbles on unsteady legs that could use a steadying bench. The simple cast iron construction allows this vintage-style cobbler to puncture leather up to 5mm thick, which is enough for most handbags or casual shoes.
You can adjust the needle's distance to a maximum of 6mm for wider seams. Although it is marketed as a cobbler, it can also repair bags, canvas, and rubber when threaded properly.
This old-world tool requires extra finishing – don't expect a polished product. You'll need to tame its crude nature by filing burrs, cleaning out metal bits, and properly lubricating the apparatus. With some extra elbow grease, it reliably handles small jobs without industrial investment.
However, the tiny bobbin capacity and shaky base reveal its limitations. Instead of viewing it as a lifelong companion, consider it as temporary training wheels before investing in a purpose-built machine that secures both your craft and your shop's long-term success.
Affordable price
Stitches thick leather
Adjustable needle
Wobbly unstable base
Small bobbin
Requires cleaning and finishing metal parts
Frequently Asked Questions (FAQs)
What accessories come with the sewing machines?
You'll receive multiple feet and bobbins that allow for sewing intricate details. Change presser feet to handle thick seams or lightweight silks. Stock up on quality needles to avoid thread jams and broken tips.
Use the seam ripper often to undo mistakes in critical points. The included case keeps tools within reach during each project.
Do I need to buy additional feet for sewing bags and leather?
Yes, specialized feet optimize sewing bags and leather. Most machines include basic feet, so purchase a Teflon foot for leather and a zipper foot for finishing handbags.
How do I maintain and clean the machine for longevity?
You'll want to clean the bobbin area frequently. Use the manual to oil moving parts regularly to prevent wear.
Where can I find tutorials, classes, or projects for beginners?
You'll find plenty of free sewing tutorials on YouTube to help you get started on handbag projects as a beginner. With over 100,000 handbag tutorials uploaded, there's guidance for any style you want to make.
What thread types and needles do I need for different fabrics?
You'll want polyester or cotton threads for fabrics like cotton, linen, and rayon. Use nylon or polyester for spandex and synthetic blends. For leather and vinyl, polyester thread prevents puckering. Match lightweight thread to delicate fabrics, and use heavier threads for denim or canvas.
Choose the right needles too – ballpoint for knits, sharp for wovens, and leather needles for thicker hides.
Conclusion
Choosing the perfect sewing machine for handbag making is an art form that requires understanding your unique needs. With the right model, you'll stitch gorgeous leather and fabric bags effortlessly. Weigh the build quality, stitch options, and user-friendliness as you narrow your search.
Test drive domestic brands like Janome and Singer, which offer versatility and value, and invest in specialized industrial machines for professional work.