This site is supported by our readers. We may earn a commission, at no cost to you, if you purchase through links.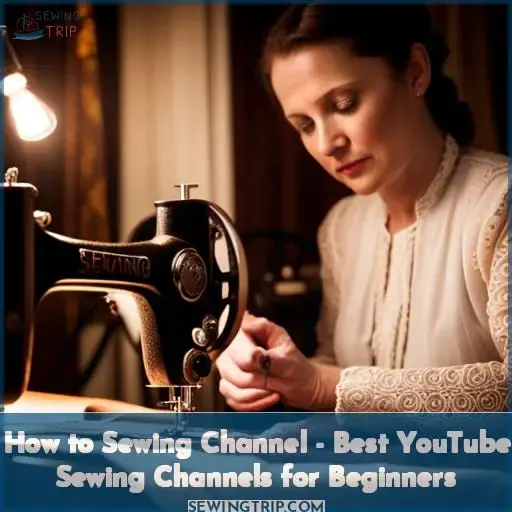 Are you ready to take on learning how to sew? The online sewing community has made it much easier for people of all skill levels and interests to learn the basics – and beyond. From beginner tutorials, free lessons, YouTube channels and more, there's plenty of great resources out there.
To help get you started off right, we've rounded up some of the top-notch YouTube sewing channels that offer everything from tutorial videos for beginners through advanced techniques – perfect for honing your skills at home.
Let's dive into the best ways to start learning how to sew with these awesome outlets!
Key Takeaways
Learn sewing online with the help of YouTube sewing channels.
Subscribe to YouTube channels like The Crafty Gemini, Made Everyday, and Style Sew Me.
Join online sewing groups for tips and encouragement.
Celebrate small victories in your sewing journey.
Learn Sewing at Home: Tips for Beginners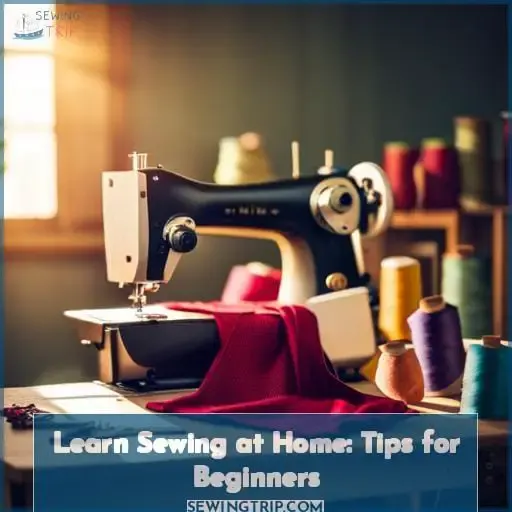 Y'all could get off your keister and learn how to stitch, but sittin' on the couch watchin' YouTube ain't the same as actually makin' somethin' with your own two hands. Start with simple projects like pillowcases or aprons to gain confidence in your skills.
Don't expect perfection right out the gate. Join sewin' groups online to get tips and encouragement when you're stuck on a project.
Set realistic expectations for your learnin' pace so you don't get discouraged. Work on one technique at a time till you feel comfortable movin' on. Celebrate every little win and soon you'll be stitchin' up a storm! Embrace the imperfections as markers of your growth.
With practice and persistence, you'll be sewin' like a pro in no time. So get to it and let that needle fly!
Best YouTube Sewing Channels for Beginners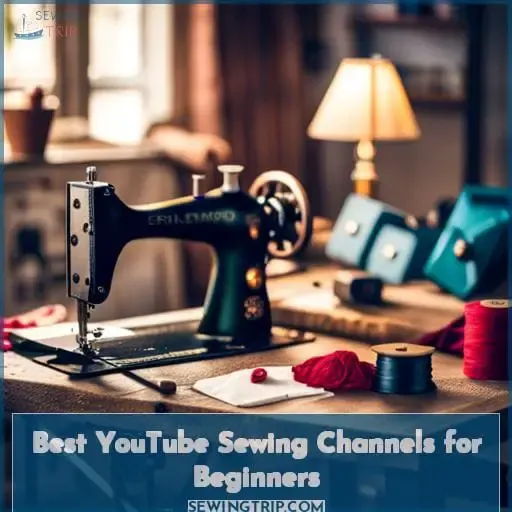 Start your sewing journey off right by utilizing YouTube. The wealth of sewing knowledge shared on YouTube will set you up for sewing success. Subscribe to channels like The Crafty Gemini, Made Everyday, and Style Sew Me to learn beginner tips, build confidence with your sewing machine, and perfect skills like straight stitching.
MADE Everyday: Building Confidence With a Sewing Machine
You can build confidence with a sewing machine by watching MADE Everyday's YouTube channel. Their tutorials focus on basics like threading, winding bobbins, and straight stitch sewing so you feel comfortable behind the machine.
Through their beginner-friendly videos, you'll gain sewing machine confidence by practicing skill-building projects and finding support in an encouraging YouTube sewing community.
Style Sew Me: Perfecting the Straight Stitch
Wonderfully, watching Style Sew Me arms viewers with perfect straight stitch superpowers, so keep practicing those stitches to feel empowered. Master straight stitch techniques like stitching precision, fabric handling, and needle control.
Troubleshoot your stitches to conquer sewing mistakes. Hone invisible stitch skills. Feel the thrill of straight stitch mastery with every perfect prick of the needle.
Withwendy: Creative DIY Sewing Projects and Upcycling
On the WithWendy channel, you'll discover creative DIY sewing projects and upcycling ideas to inspire your sewing journey. Her videos share imaginative upcycling inspiration for giving textiles new life in innovative ways.
Wendy's DIY apparel concepts, sewing patterns, and project tutorials motivate you to repurpose fabrics sustainably. By observing her instructional videos, you'll gain confidence to upcycle old clothes into exceptional circle skirts or understand techniques like inserting invisible zippers.
Melly Sews: Making Simple Skirts Without a Pattern
Originally, Melly Sews simplifies sewing by guiding you through making easy skirts without patterns, empowering beginners to craft chic outfits from scratch.
When making skirts without a pattern, focus on:
Selecting soft, flowy fabrics like cotton, jersey, or rayon.
Measuring your waist and desired skirt length.
Cutting fabric rectangles for the skirt panels.
Attaching panels at side seams and sewing on a waistband.
With Melly's pattern-free techniques, you'll gain confidence sewing chic skirts to showcase your personal style.
Conclusion
Sewing channels on YouTube are a great way to learn everything from beginner sewing tips to mastering invisible zippers and sewing terms. Start with simple projects and use YouTube and online sewing communities when you need help.
Take a look around YouTube. With all the great sewing channels out there, you can learn the craft with just a click.