This site is supported by our readers. We may earn a commission, at no cost to you, if you purchase through links.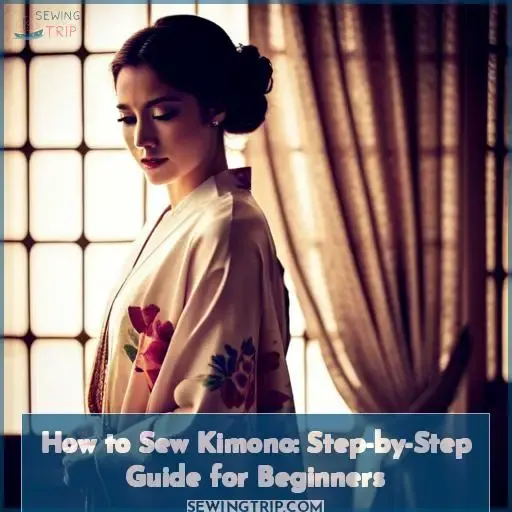 Hello friends!
Are you ready to drape yourself in timeless Japanese elegance? I'm gonna teach you how to sew a kimono that flatters your figure and radiates your unique spirit.
We'll start simple with a no-frills DIY kimono jacket so you can get the hang of it.
This project is gonna make you feel so powerful, like you could rule an empire while looking fly as hell. Trust me, rocking a kimono you made yourself boosts confidence to expert levels.
Now take a deep breath, and let's dive in. I promise you've so got this.
Key Takeaways
Lightweight, drapey fabrics are ideal for sewing a kimono.
Accurate body measurements and adding ease are important for a proper fit.
Cutting the fabric to twice the body height and calculating wide sleeves are necessary steps.
Construction involves sewing shoulder and side seams, inserting sleeves, and finishing the neckline and hems.
How to Make a Simple Kimono Jacket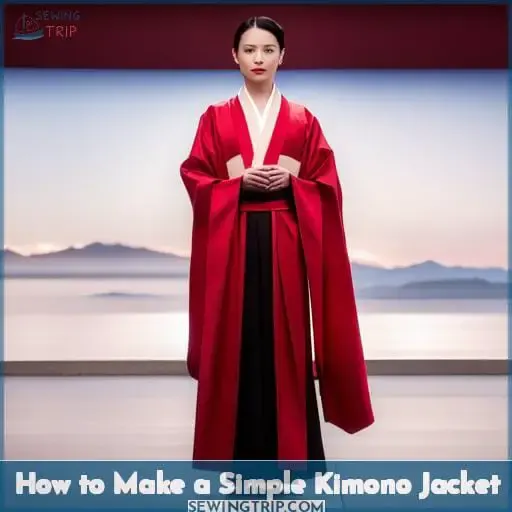 Let's dive right into this fun and easy sewing project! You'll need some basic supplies like fabric, thread, and scissors to get started. Then we'll measure and mark the fabric, cut out the pieces, sew the seams, and finish the raw edges to create your own stylish kimono jacket.
With just a few steps, you'll have a lightweight layer ready for lounging, travel, or pairing with your favorite outfit.
What You Will Need
You'll need lightweight fabric, sewing tools, and some coordinating thread to get started on your simple kimono project. Choose a soft cotton or knit fabric that drapes nicely. Measure twice, cut once when marking your fabric pieces.
Fold the fabric in half, wrong sides out, to cut matching sleeves and side seams. Pin pattern pieces before cutting – don't forget 1.3cm seam allowance! Hand stitching takes patience, so allow extra sewing time.
Step 1: Measure
Gather your materials first, then carefully measure your fabric before cutting. Accurate measurements ensure a proper fit. Wrap a soft tailor's tape snugly around the chest, waist, and hips. Note the measurements.
Measure the fabric width and cut it to fit the body. Allow extra fabric at the bust and hips if using non-stretch fabric.
Step 1: Mark the Fabric
Ladies, behold the fabric like a blank canvas, yearning for the liberation of creative markings. Lay it flat and envision the possibilities. Mark the fabric with care, precision guiding your hand. Let intuition flow as you trace imagined lines. The fabric transforms under your visionary touch.
Step 2: Cut Out Your Kimono
Carefully cut along the marked lines to cut out your easy kimono pieces. Ensure a comfortable fit and personalized length while cutting the fabric for your DIY kimono robe project.
Step 3: Cut Out the Front of Your Kimono
You shape the front of the kimono with gentle curves, resembling the branches of a beautiful flowering tree swaying in a soft breeze.
Slanted neckline
Thick cuffs
Long belt
Drapey fabric
Fabric options
The kimono top emerges, ready for sewing lines. Use midweight polyester or any other fabric suitable for cutting. Consider stitch direction and options for a slanted neckline. Thick cuffs and a long belt complete the look.
Step 4: Sew the Seams
Pin closed the side seams and stitch along the markings to join the front and back panels. Choose lightweight, fluid fabrics such as silk or cotton that drape nicely for your custom-length kimono.
Step 5: Stitch the Raw Edges
Next, press open the side seams and stitch each raw edge with a zigzag or overlock stitch to tidy up and prevent fraying.
Fabric Options for Your DIY Kimono Robe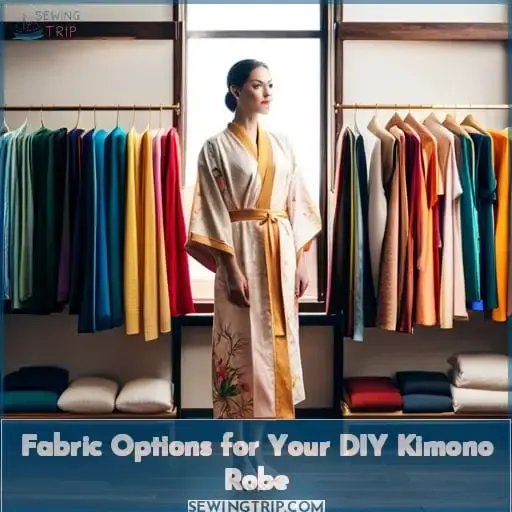 As a kimono maker, I'm here to guide you in choosing the perfect fabric for your DIY kimono robe. We'll discuss measuring and cutting the fabric, sewing the side seams, finishing the neckline, and hemming the sleeves and bottom edge to complete your custom creation.
Step 1: How Much Fabric Do You Need?
Once you've figured out the perfect fabric for your dreamy kimono, make sure to buy enough so you don't run out when cutting. Set aside twice your height if you're using a pattern or prefer longer lengths. Standard measurements will work for basic hip or knee designs without any trim.
Also, calculate the wide arm spans, knot ties, lining, and hem allowances. Having enough yardage will help you avoid mistakes.
Step 2: Cut Out DIY Kimono Robe Outline
Now that you have the perfect lightweight fabric measured and cut, carefully trace the outline of your dreamy design before delicately cutting along the lines. Follow the marked guidelines to cut squares and trim armholes. Securely pin, ensuring each fold is centered.
Step 3: Sew the Side Seam of the DIY Kimono Robe
You'll sew the side seams next using a 1.3 cm allowance for a precise fit. Careful stitching keeps edges from fraying. Test fit the sleeves, avoiding bulky seams. Match the underarm notches for a custom look.
Step 4: Cut and Sew the Neckline
Craft a curved neckline by carefully cutting and neatly stitching the fabric's cut edges. Shape the neck opening for comfort and style. Reinforce seams to prevent fraying.
Step 5: Fold and Sew the Sleeves
Fold the sleeves in half lengthwise with wrong sides facing out, then sew down each side. Keep seam allowances even. Match sleeve lengths if desired. Finish seams as planned.
How to Make a Kimono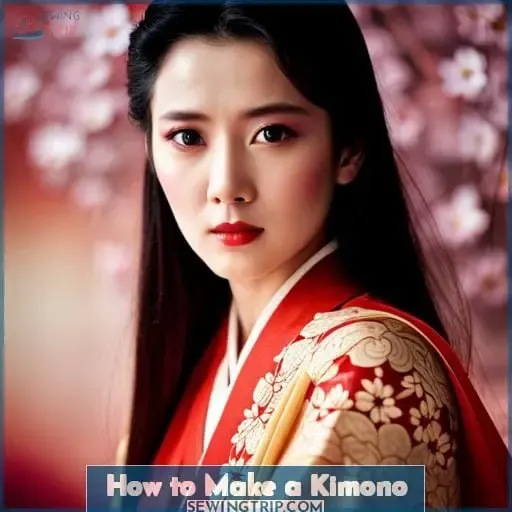 After carefully measuring and cutting your fabric, simply follow the sewing steps to stitch the side seams and neckline before hemming the sleeves and edges for a DIY kimono in just 3-5 hours.
Use a lightweight, drapey fabric like silk or cotton for the perfect flow.
Adjust the sleeve width and length to your exact measurements.
Add fun details like patchwork, embroidery, or trim for a unique look.
For a modern take, play with bold cotton patchwork, foil embroidery details, or vintage piping trims. Or opt for subtle fabric dye arts as a nod to kimono history. However you choose to make it your own, a handmade kimono is the ultimate versatile wardrobe staple.
DIY Kimono Top Supplies and Tools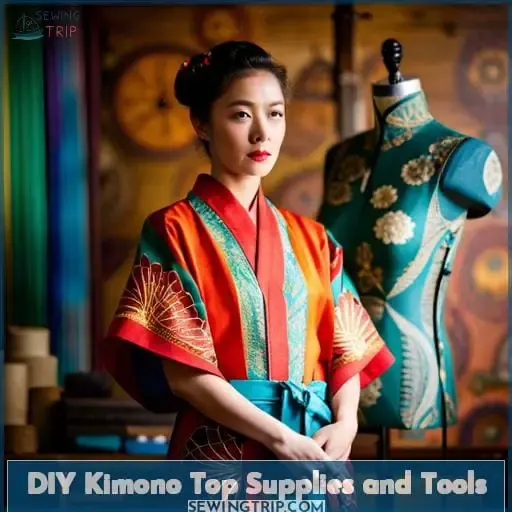 Grab some lightweight, drapey fabric to start your easy breezy kimono. Brilliant fabrics like silk, cotton, or rayon will drape gracefully for that timeless kimono style. Focus on finding a fabric with a nice handfeel and exotic silhouette when it moves.
Must Have Supplies:
Measuring Tape
Sharp Scissors
Pins & Clips
Needle & Thread
Optional Extras:
Decorative Trims
Contrasting Thread
Embellishments
Belt or Sash
For the perfect flow, cut flowing sleeves and a wide graceful cut through the body. Mark and cut your fabric slowly and carefully. Take your time hand sewing for hidden stitches. With practice, you'll master this exotic silhouette and unlock your inner power with each kimono you create.
How to Sew a Kimono Cardigan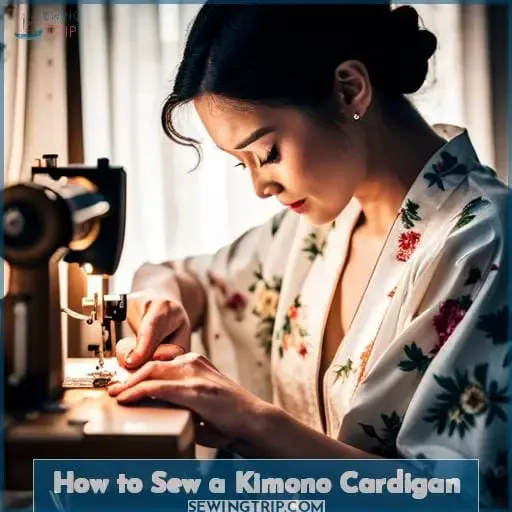 Before threading your needle, prepare and mark the fabric for this straightforward, minimalist design. First, fold the fabric in half lengthwise with wrong sides together, then carefully measure and cut the front opening and neckline.
KIMONO TOP INSTRUCTIONS
Wow, did you know that kimono sales have increased by over 75% in the past 5 years as people discover how comfy and chic they can be? Slip the pre-cut fabric around your shoulders and feel gorgeous in this flowing garment.
With the fabric cut to size, pin the shoulder seams first. Match the notches, easing any fullness. Use a 1.3 cm seam; backstitch at the start and end. Press seams open. Insert sleeves next, matching notches and gathering fullness.
Sew side seams continuously from hem to sleeve. Finish the neckline last. Press well.
STEP 1: Prepare the Fabric and Draw the Kimono Sewing Pattern
Cut your lightweight fabric to the proper length and width, then fold it in half and start marking the pattern pieces. Prepare the sleeves, cut the fabric width, add side slits, choose the fabric pattern, and mark the seam allowance when prepping for sewing this liberating kimono.
STEP 2: Fold the Fabric
After preparing the fabric, fold it lengthwise with the wrong sides facing out. Next, envision the custom embroidery placement and coordinate the sash attachment. Then, mark the sleeving, match the belt loops, and create inside pockets for a stylish finish.
STEP 3: Cut Out the Front Opening
Refold the fabric with the markings facing out; then carefully slice the neck opening so you have a cozy wrap to throw on. Use those fabric scraps creatively as you mark and cut carefully. Plan ahead for sizing and how to undo mistakes with helpful sewing tips.
STEP 4: Measure and Cut Out the Neck Opening
Measure the neckline carefully before slicing open a V-shaped opening. Cut a deep V, leaving room for movement, to frame your face comfortably. Let the back drape open, keeping ties loose for effortless style. Shape the future with flowing confidence.
KIMONO HEMMING OPTIONS
You've got options when finishing those hems – keep it simple by hand sewing a quick straight stitch or have fun playing with your machine to add some flair.
Fringe trim
Curved neckline
Contrasting fabric
Belt loops
Express yourself through creative touches. Make it a special gift or everyday wear.
Frequently Asked Questions (FAQs)
How much fabric do I need to make a kimono?
You'll need about 5 yards of lightweight fabric to make a classic kimono. Cut wisely and sew mindfully for a flowy comfort.
What are the best techniques for hemming a kimono?
When hemming your kimono, hand-stitch using small, even stitches and matching thread. Keeping stitches barely visible inside the garment creates a clean finish. For straight hems, turn up the raw edge twice before sewing.
On curved hems, clip seam allowances so the hem lies flat. Practice on scrap fabric first. Take your time and remember – perfectly invisible hand-sewn hems are the mark of fine craftsmanship.
What kind of interfacing should I use when sewing a kimono?
Use the thickest, heaviest interfacing available. Don't skimp or your kimono is doomed to fail miserably! Only quality interfacings will ensure the structural integrity your stunning creation demands. My dear, we must transform your vision into reality through meticulous construction.
Select interfacings with care and confidence, then watch your kimono blossom into a true masterpiece.
What is the best way to clean and care for a homemade kimono?
Have you considered how to properly care for your cherished kimono? Hand wash it gently in cool water with a mild detergent, reshaping and smoothing while damp. Allow it to fully air dry on a padded hanger to maintain the shape. Your artistry and spirit shine through this garment, so handle it with care to preserve its beauty and your memories.
What sewing machine settings should I use when sewing lightweight kimono fabrics?
To sew lightweight kimono fabrics, select a short stitch length between 1-2mm on your machine to prevent puckering. Use a ballpoint needle and lightweight thread like polyester or cotton to prevent fabric damage.
Reduce your tension slightly and use a presser foot with a smooth bottom. Test settings on scraps first to ensure smooth feeding.
Conclusion
As a kimono maker, I encourage you to muster up the courage to create your own beautiful kimono. Though it takes time and patience, sewing a kimono is tremendously rewarding. Remember to carefully measure your fabric and mark it correctly before cutting.
Practice neat, even stitches as you sew the sleeves, side seams, and neckline. Most of all, take pride in wearing your handmade kimono. With some creativity and perseverance, you can fashion a flowing kimono to treasure.