This site is supported by our readers. We may earn a commission, at no cost to you, if you purchase through links.
Ready to make a statement? Unleash your inner designer and create a stylish kimono that will show off your unique style. With this step-by-step DIY guide, you'll have everything you need to know about how to make a kimono for the perfect addition to any wardrobe.
From gathering the supplies and tools needed to learning how to sew an on-trend cardigan or jacket, we've got it all covered in our comprehensive tutorial.
Key Takeaways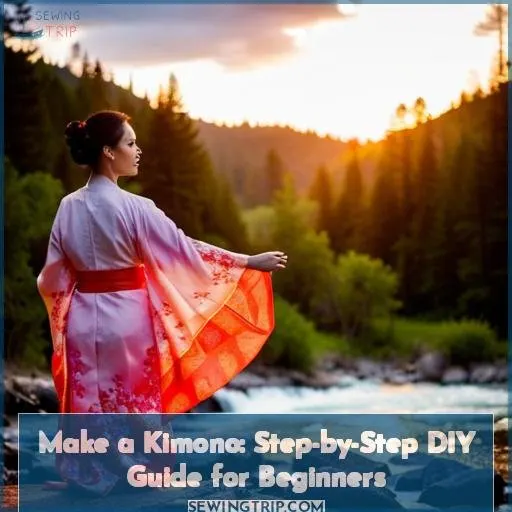 The right fabric choice is crucial for a comfortable and stylish kimono, with options such as silk, chiffon, cotton, satin, and rayon.
Sewing techniques and tools like hemming, stitching, and using a sewing machine are essential for creating a well-made kimono.
Precision cutting tools can be used to create intricate designs on the kimono, adding a unique and personalized touch.
Pressing out wrinkles and ensuring a neat finish through hand or machine sewing hemming options are important steps in the kimono-making process.
DIY Kimono Top Supplies and Tools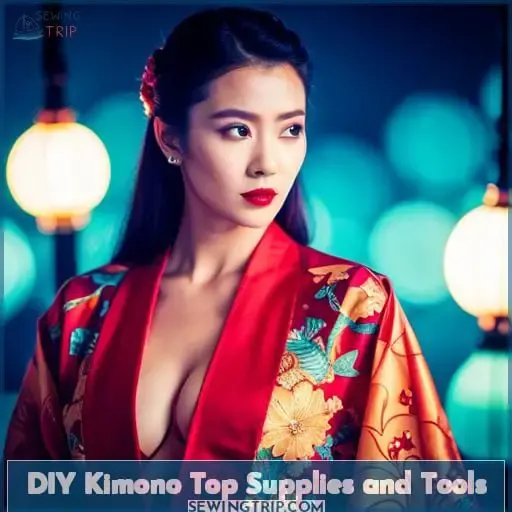 To create a stylish, comfortable kimono top for the summer season, you'll need some supplies and tools – from floral satin silk scarves to professional gold tailor scissors.
Start by selecting your DIY fabric; choose lightweight materials such as mulberry satin silk or polyester that can be easily washed and ironed.
Once you have chosen your fabric, select thread in colors that match well with it.
Professional Gold Tailor Scissors will come in handy when cutting out the raw edges of the fabric.
GUTERMAN 26SP Multi Thread Sewing will provide sturdy stitching for keeping all edges together neatly after hemming them up using either rolled hem foot or serger techniques.
For more intricate designs found on Extra Large Floral Satin Silk Scarf options, an OLFA Rotary Fabric Cutter RTY-2DX is recommended along with MumCraft Multipurpose Sewing Clips to hold fabrics firmly during sewing without needing pins.
Finally, finish off this fashionably DIY Kimono Jacket project with Precision Self-Healing Cutting Mat 12×18 accompanied by Rowenta Pro Master Iron DW8080 set at medium heat setting before packing into elegant gift packaging ready for gifting occasions!
How to Sew a Kimono Cardigan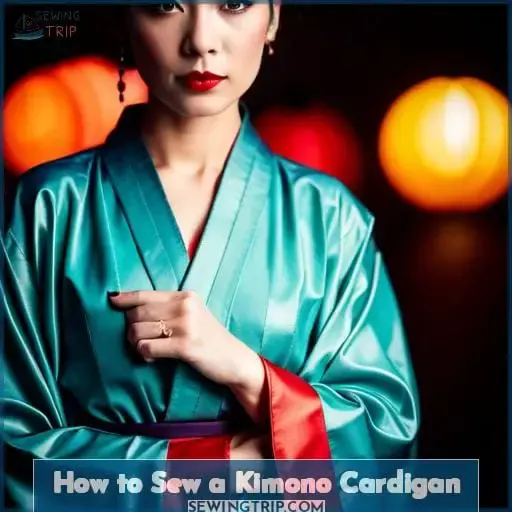 Ready to make a stylish kimono cardigan? Follow these steps for an easy and fun project. First, prepare the fabric of your choice and draw the desired pattern on it. Then, fold the fabric in half before cutting out a front opening.
KIMONO TOP INSTRUCTIONS
Follow these step-by-step instructions to construct your own kimono cardigan and stay stylishly comfortable this summer! Begin by folding the fabric in half lengthwise, then horizontally. Mark the neck opening, draw a line 1/2 inch from the edge for seam allowance, cut the sleeves according to the sketch pattern, and stitch the sides and underarm seams.
STEP 1: Prepare the Fabric and Draw the Kimono Sewing Pattern
Get ready to create a stylish kimono cardigan! Gather up your fabric, thread, scissors, and other supplies. You'll soon have an amazing piece of clothing that will keep you cool in the summer months. Mark measurements on the fabric, select hemming options for a custom look, choose from various fabrics, and add sewing clips as necessary.
These steps are all part of this project. Gift packaging makes it perfect for any occasion, while creating a full-blown kimono pattern or simply following traditional instructions gives it a unique triangular shape at the front of the kimono.
STEP 2: Fold the Fabric
Fold your fabric in half widthwise and then vertically to prepare for the kimono cutout. Choose a favorite drapey fabric, iron it carefully, and ensure you mark seam allowances before cutting. For a neater finished hem, use a rolled hem foot or manually stitch the short edges – whichever method works best for you! When creating your own fashionable DIY kimono jacket, keep an eye on fashion trends and choose your pattern wisely.
Pay attention to details such as color choice, texture, and weight of fabrics. This will guarantee excellent results that align with current trends.
STEP 3: Cut Out the Front Opening
Using a ruler and your measurements, mark the fabric to cut out an opening on the front of your kimono cardigan. Choose a flattering fabric and get creative with sleeve fitting, hemming techniques, sewing clips, and more! Consider using bathing suit materials for extra stretch or mock serger stitches for sleek edges.
Remember to place the middle cut line at half of the fabric width and then trim away any excess material.
STEP 4: Measure and Cut Out the Neck Opening
Measure the neck opening of your kimono cardigan, then cut it out to create a flattering fit. Use measuring techniques and cutting tips for accuracy and precision. Choose fabrics that are lightweight with good drape, such as cotton or silk.
Hemming options include using a rolled hem foot on your sewing machine or making hems by hand so that short edges meet perfectly when sewn together.
What You Will Need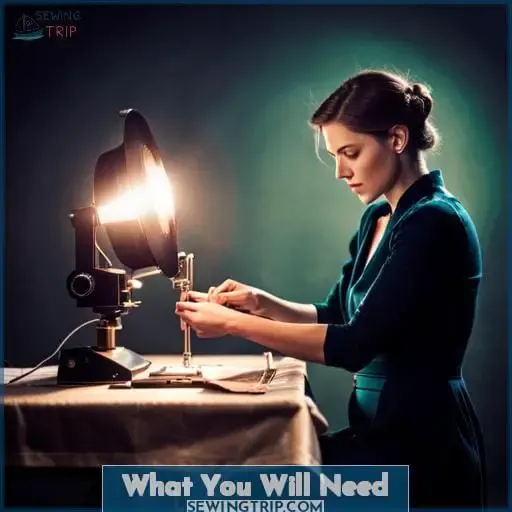 To make your kimono, you'll need a scarf or fabric, thread that matches the fabric's color, scissors, and a ruler for cutting the fabric accurately. You'll also need an iron to press out any wrinkles in the material before beginning work on it.
Additionally, you should have hemming techniques such as a rolled hem foot or making hems yourself at hand. When selecting your fabric, choose one with elements of liberation and power, like tank tops and lightweight flowy materials that give off mastery vibes.
You will also need quality cutting tools, such as precision self-healing mats and the Olfa Rotary Fabric Cutter RTY-2DX, which provides accuracy when measuring lines perpendicular to each other. In addition, professional gold tailor scissors that cut through almost all fabrics with ease are recommended.
To top it off, get GUTERMAN 26SP Multi Thread Sewing for sewing techniques, along with mum craft multipurpose clips (100 pack) and matching gift packaging for friends who appreciate handmade items.
Lastly, don't forget about pressing feet from Rowenta Pro Master Iron DW8080, which offers a dual-action safety lock and integrated grooves for improved finger control while creating new folds right sides together.
With these supplies, you're now ready to start crafting this stylish look!
How to Make a Simple Kimono Jacket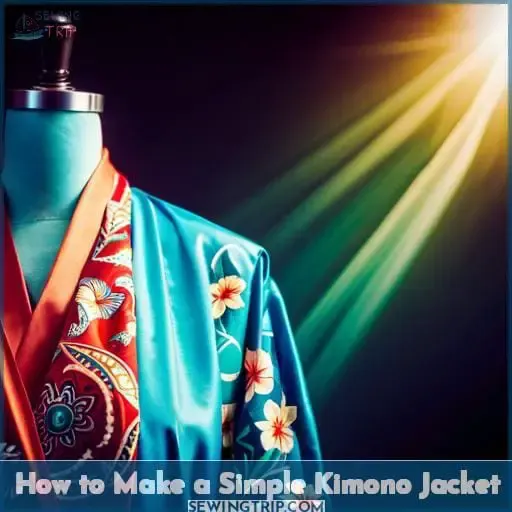 Gather your supplies and let's get started on creating a stylish kimono jacket that is sure to turn heads! For this project, you'll need:
Extra Large Floral Satin Silk Scarf
GUTERMAN 26SP Multi Thread Sewing Set
Professional Gold Tailor Scissors
OLFA Rotary Fabric Cutter RTY2DX
To start off, choose a lovely floral fabric for your kimono. When selecting the fabric, it should be lightweight but breathable since comfort always comes first in summer weather. It also needs to be washed and ironed before starting the project so that it looks its best when finished.
After that, follow along with written steps or watch tutorials online for guidance on cutting out pieces of material according to measurements taken from the Peabraindiy.
Hemming options such as a rolled hem foot are great if you're not into making hems yourself.
This DIY can easily take up about an hour tops, which makes this simple kimono jacket project one of those top priorities if you want something fast yet stylishly comfortable at the same time without sacrificing style over comfort during the hot days ahead in the spring/summer season.
So don't wait any longer, make sure things are done faster than expected by following the step-by-step instructions given above and create a beautiful garment designed uniquely only by you today.
Frequently Asked Questions (FAQs)
What fabrics can be used to make a kimono?
Lightweight fabrics, such as polyester and satin silk, are perfect for DIY kimonos. For a luxurious feel, try mulberry satin silk or cotton. As an example, one can use the Extra Large Floral Satin Silk Scarf to make an elegant kimono with ample fabric for draping around the body.
Is it possible to make a kimono without a sewing machine?
How much fabric is needed to make a kimono?
You'll need at least two yards of fabric to make a striking kimono! With such an ample amount, you can craft a breathtakingly beautiful garment that is sure to turn heads.
How can I customize my kimono?
Customize your kimono by selecting a vibrant fabric, beautiful gold scissors, and silky sewing thread.
What accessories can I add to my kimono?
You can accessorize your kimono with a variety of items such as colorful scarves, beaded jewelry, statement bags, and belts. Add an extra element of style to your look by mixing and matching different patterns or textures.
Conclusion
Creating a kimono jacket is a great way to stay stylish and cool during the summer. With the right supplies and a bit of creativity, anyone can make a stunning kimono jacket in just an hour. Just imagine the confidence you'll feel when you show off your own unique creation.
And with the average kimono costing around $100, you can save money by making one yourself. So don't be afraid to get creative and make something that shows off your style.