This site is supported by our readers. We may earn a commission, at no cost to you, if you purchase through links.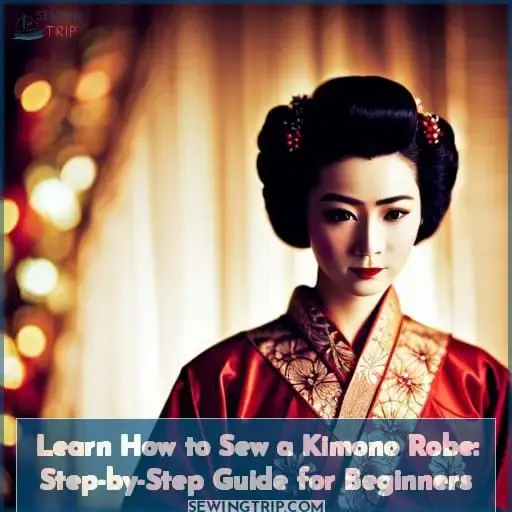 Ready to explore a new DIY project? Look no further than learning how to sew a kimono robe! With our step-by-step guide, you can create your own beautiful and comfortable garment from the comfort of your home.
We'll start off by discussing different fabric options that are suitable for making kimonos. From there, we'll move onto the steps required to actually construct this project – including cutting out the outline, folding, and sewing sleeves.
To ensure success with this beginner-friendly project, we'll also provide an easy checklist designed specifically for those just starting out in sewing projects like these! Plus, when it comes time to put together your top pieces into one complete outfit piece, you will find instructions on how to best approach creating a stunningly finished product that is sure to make heads turn!
So let's get started with exploring everything needed for mastering how to sew a kimono robe today.
Key Takeaways
Fabric options for making kimonos include silk satin, cotton, fleece, and terry cloth.
The steps to sewing a kimono robe include fabric measurement, cutting out the outline, sewing the side seam and neckline, and folding and sewing the sleeves and bottom edge.
Optional details that can be added to the kimono include pockets, fringes, double-sided satin ribbon, and a matching belt.
To ensure accuracy and neatness, use a measuring tape, tailor's chalk, matching thread, and a good pair of scissors.
Fabric Options for DIY Kimono Robe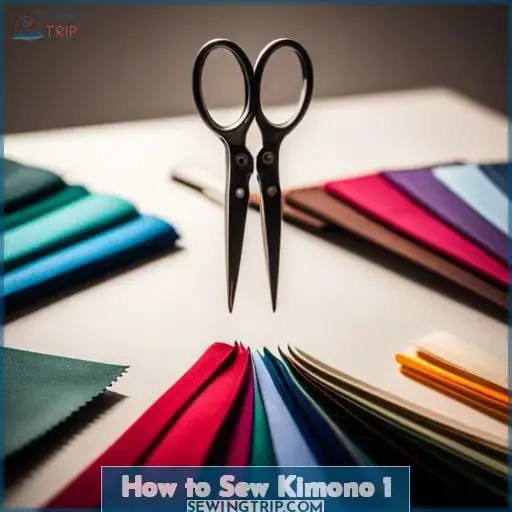 Choosing the right fabric for your DIY kimono robe is essential to ensure it looks and feels perfect. With a variety of fabrics available, such as silk satin, cotton, fleece, and terry cloth, you can create something that will fit any occasion or style preference.
To pick the best option for you, consider how comfortable it should be when wearing and also determine if extra features like pockets or fringe would suit better with one material over another.
Silk Satin
For a luxurious and sophisticated look, you could opt for silk satin to make your DIY kimono – perfect for special occasions like Valentine's Day or birthdays. The silk properties give the fabric an elegant drape that is ideal when creating sleeve details and hem options.
With its lightweight nature, it allows for pocket designs with ease using the rolled hem foot attachment of your sewing machine. A top project choice among new sewers, this DIY kimono robe can be made quickly by following simple instructions, including how to use the double fold method for full hip measurement accuracy.
Cotton
You can opt for cotton when making your DIY kimono robe, offering a lightweight and breathable look perfect for everyday comfort.
With raw edge finishes completing the neck width and sleeve width, this fabric type is ideal to follow step-by-step instructions from our beginner checklist.
Sewing tips include marking an inch line on each side of the fabric to maintain accuracy when folding over the edges.
Gather all supplies needed such as matching thread, scissors, straight pins, and tailor's chalk before starting your project with confidence!
Follow along with detailed photos in our guide that will have you creating a beautiful kimono robe in no time – without ever having used patterns before!
Fleece
Fleece provides a cozy, comforting feel that makes your DIY kimono perfect for any occasion. Sewing with this fabric type requires cutting techniques and measurement tips to keep the piece accurate. Use a sewing machine or mock serger stitch along the tank tops on each side of the presser foot in order to sew through the middle of the fabric width.
Utilizing these methods will create beautiful seams while keeping you warm and snug! You'll be able to customize it further by adding pockets, fringe, belt loops, or double-sided satin ribbons without compromising its comfortability as well as style.
Terry Cloth
If you're looking for a fabric option that's super soft and absorbent, terry cloth is the perfect choice! It requires minimal sewing techniques to create your DIY kimono jacket and can be used with optional details such as pockets or fringe.
Beginner sewers will need basic supplies like fabric, thread, scissors, pins, and a tape measure.
To begin the project, cut two pieces of terry cloth in double width. Then, fold one edge over for easy hemming. The next step involves measuring out an appropriate amount of material according to size requirements.
Enjoy creating your own unique DIY kimono robe!
Steps to Sewing the DIY Kimono Robe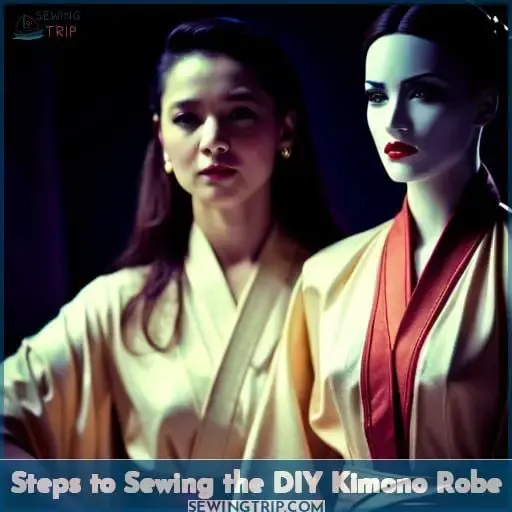 Creating a DIY kimono robe is an easy-to-follow project that can be tailored to any occasion or style. To make your own, you will need to begin with fabric measurement and cut out the outline before sewing the side seam.
Finally, add finesse with steps such as cutting and sewing the neckline, folding and sewing sleeves, and folding and sewing at the bottom edge for a polished finish.
Fabric Measurement
Measuring the fabric for your kimono robe is essential to achieve a perfect fit – use a measuring tape and tailor's chalk to mark out its outline. Consider both body measurements and hemming options, then cut along the marked lines.
Pay attention when cutting around curved edges of the fabric, as well as sections you'll need to sew twice such as on the front of the kimono or sleeve widths.
Cutting Out the Outline
Cut out the kimono outline with your scissors, using a measuring tape and tailor's chalk to mark it. Select fabric carefully for precise cutting and ensure you have enough material folded in half for the two right sides of your kimono.
Mark guidelines along curved edges or locations of our side seams, as well as sleeve widths and neckline of your robe – easy measurement! Zigzag stitch around each edge before sewing together, then clip corners at the armpit for an even finish.
Sewing the Side Seam
Once you have marked the guidelines and zigzagged your edges, it's time to sew the side seams of your kimono together – like two puzzle pieces! Sewing with a machine ensures smooth seam lines. Choose from various fabrics, hem options, sleeve length, and neck opening for a fashionable DIY Kimono Jacket.
With a measuring tape, mark the sleeve width point and the left short edge, then fold the fabric in a triangular shape for a finished look.
Cutting and Sewing the Neckline
Cutting and sewing the neckline of your DIY Kimono Robe is the next step to creating a beautiful masterpiece! Make sure to measure both sleeve widths, as well as the neckline opening before zigzag stitching around edges.
Don't forget to clip corners in the armpit for comfort. For a professional two-fold finish, sew along the neckline with care and attention.
Folding and Sewing the Sleeves
Fold the fabric for both sleeves and then sew them securely to create a comfortable fit. Use sewing techniques that match your chosen fabric type, such as seam allowances, sleeve length, and hemming options.
For Valentine's Day or any special occasion, try a very basic 2-fold finish – an upside-down L-shape of short edges! Check out our DIY Kimono Jacket video for an easy tutorial on how to make yours look great.
Folding and Sewing the Bottom Edge
Next, measure the bottom of your kimono and create a hem along the edge for an extra polished touch. Choose from various fabric choices to design your own unique look, while using appropriate sleeve seams and hemming techniques.
Get creative with sewing tools like scissors or tailor's chalk to add details such as fringe or double-sided satin ribbon! Carefully fold and sew the bottom edge for a perfect finish on your custom kimono.
Adding Optional Details to the DIY Kimono Robe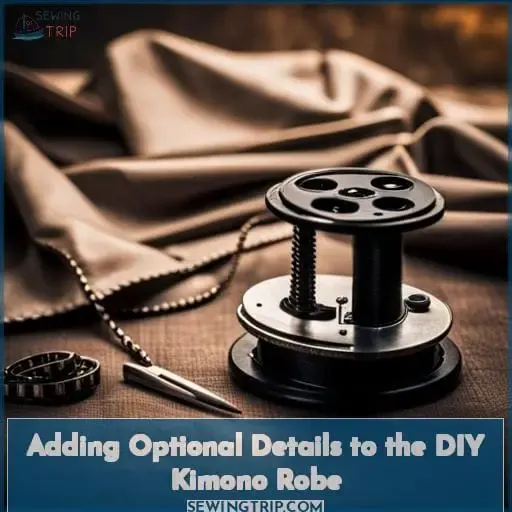 By adding extra details like fringe, double-sided satin ribbon, and pockets or a matching belt to your DIY kimono robe, you can elevate the look of this simple sewing project. Incorporating these elements into your design is easy to do with the right supplies and instructions.
Fringe
Adding a little extra flair to your DIY kimono robe is easy with fringe – you just need some scissors and a bit of creativity!
Selecting the right type of fabric for attaching the fringe will depend on what kind of look you're going for. If you want that traditional kimono style, choose a favorite drapey material like silk satin or cotton.
For something more modern, go with fleece or terry cloth fabrics, which also provide added warmth and comfort.
To attach the fringe, make sure to cut two strips in mirror image so they match when sewn together – this helps create an even pattern along both sides of your sketched out kimono sewing pattern.
Finally, sew around each end twice using strong thread colors similar to those used in creating your DIY Kimono Robe – this allows for secure attachment without having to worry about fraying edges over time.
Double-sided Satin Ribbon
For a polished look, consider adding double-sided satin ribbon to your DIY Kimono Robe. It'll give you an extra touch of luxury and shine! Not only can this be used for the perfect finishing edge on doll's kimono robes for Valentine's Day or birthday presents, but also as a stylish accent on adult-sized kimonos.
To start, measure out where you would like the ribbon placed along the fabric and cut two strips in a mirror image so they match when sewn together. Sew around each end twice with strong thread colors similar to those used in creating your garment.
With pockets or matching belt accents added too, you'll have an effortlessly chic robe that will be sure to turn heads!
Pockets or Matching Belt
Complete your DIY Kimono Robe with custom pockets or a matching belt for an extra pop of style – the perfect finishing touch to your beautiful creation!
To add these details, you'll need to measure the fabric, cut out the outline, sew around neckline edges, and attach a ribbon.
You can also create unique body measurements based on random Tuesday sizes if you're making doll's kimono robes.
For full-blown kimono patterns, use professional tailor techniques like darts and gathering threads for those more intricate design elements!
With just a few simple steps and some creative stitches, you can make any occasion extraordinary by completing this special garment with pockets or belts that show off one-of-a-kind skillful craftsmanship.
Tips for Beginners: DIY Kimono Robe Checklist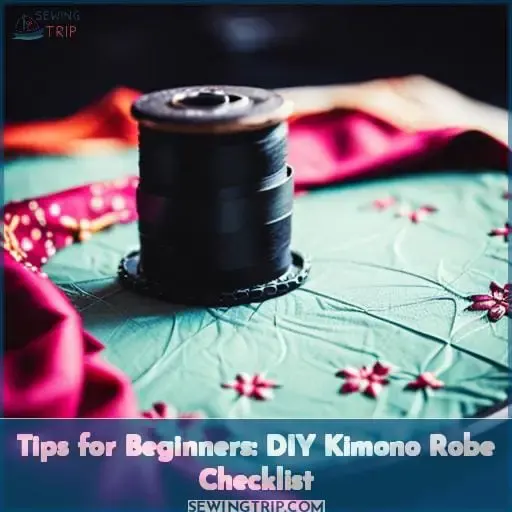 Are you looking for an easy sewing project that is beginner-friendly and provides comfort and confidence? Look no further! DIY Kimono robes are the perfect way to show your personality with a unique garment.
You can find a free checklist online specifically designed for new sewers, plus instructions that work for all sizes.
Free Checklist Available for New Sewers
Ready to start your first sewing project? Our free checklist provides new sewers with the essential steps needed to craft a beautiful kimono robe, so you can confidently show off your custom-made creation!
From fabric choices and budget planning for Valentine's Day or any other special occasion, all the way through design options and time management for a doll's kimono robe – our guidelines cover it all.
Drawing an inch line perpendicular from the neckline is one of those top priorities when constructing this very simple garment.
The comprehensive list allows you to get started quickly while ensuring that no crucial step gets overlooked in creating your masterpiece!
Instructions Work for All Sizes
You can create a one-of-a-kind kimono robe for any body size with our simple instructions – no need to worry about customizing the pattern! Whether it's for making sizes, sizing measurements, or fabric choices, all of these are taken into consideration when sewing your own DIY kimono.
With expert levels of comfort and ease in mind, follow our guidelines. Start by folding the fabric in half to draw an outline. Then, mark off sleeve widths as well as body widths on the raw edge side of your fabric.
Follow along with step-by-step instructions provided online to make sure you get every detail right with confidence and pride.
Beginner-friendly Project for Comfort and Confidence
With our easy-to-follow instructions and guidance, you can create a unique DIY kimono robe in no time – giving you the confidence to swathe yourself in style! Sewing your own garment is a great way to find comfort, celebrate special occasions like Valentine's Day or birthdays, and unlock creative potential.
Our beginner guides make it simple: choose from fabric options such as silk satin or cotton; follow the steps for folding and cutting out an overall shape; then add fringes or double-sided ribbon if desired.
How to Make a Kimono: Step-by-Step Guide

Crafting a kimono is an easy and enjoyable way to create your own unique garment. Start by preparing the fabric with measurements for the pattern; then fold, cut out the front opening, measure and cut out neck openings before hemming it up.
Prepare the Fabric and Draw the Kimono Sewing Pattern
Begin by gathering fabric of your choice, such as silk satin, cotton, fleece, or terry cloth, and lay it out to draw a kimono sewing pattern. Fold the fabric in half to create an outline, then measure the sleeve width and body width on the material before connecting them with side seams.
Cut out the outlines and finish any desired hemming options before putting together an actual stitch line.
Fold the Fabric
Fold the fabric in half to create a kimono outline; it should take 10 minutes. Use a measuring tape and tailor's chalk to mark off widths and lengths for accuracy. Choose your fold type, seam placement, fabric selection, and hem length carefully for the best results.
Mark patterns on the material with photos as a guide if needed; then finish hems neatly so they look cleaner when done. Your first option is when short edges meet – topstitch two rows of sewing lines along each side edge where possible.
Cut Out the Front Opening
Measure and cut the front opening of your kimono, making sure it's wide enough for you to easily slip in and out. Consider adding pockets as a second option if desired. Choose hemming options that best fit with the fabric choice.
Use a sewing pattern or look up written steps on how to make this particular piece of clothing.
When cutting, be sure all measurements are accurate – no one wants their kimono looking like a bathing suit! Take extra care when fitting the neckline so everything looks neat once completed.
Measure and Cut Out the Neck Opening
Next, you'll need to accurately measure and cut out the neck opening for your kimono. Make sure it fits comfortably around your neckline when selecting fabric and hemming options. Get creative with stitching techniques or design choices as well! Measurement accuracy is key here; double-check all measurements before cutting to ensure a stylish yet comfortable fit.
Kimono Hemming Options
Once you've measured and cut the neck opening, finish your kimono by selecting from a variety of hemming options. From adding fringe to changing up seam finishes, there are countless ways to customize your look.
Consider fabric choices as well as thread colors for the best results when measuring the hems and choosing between different types of fabrics.
DIY Kimono Top Supplies and Tools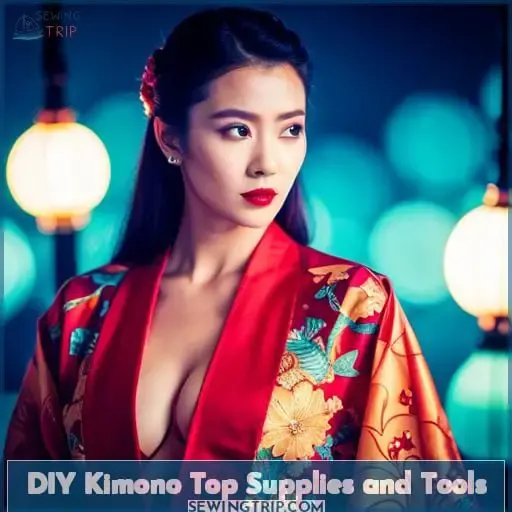 Creating a DIY kimono top is an easy and rewarding project that requires the right supplies and tools. To get started, you'll need matching thread, scissors, straight pins, measuring tape for accurate measurements of your fabric pieces, as well as tailor's chalk to mark those areas.
Finally, a sewing machine will be helpful to quickly stitch together all the parts of your kimono top! With these simple items in hand, you can easily make this unique garment that expresses your individual style.
Matching Thread
Picking the perfect matching thread for your DIY kimono is like finding the missing piece to a puzzle – it's essential for giving your finished garment a polished and professional look! When selecting fabric, consider thread types, color, seam finishing techniques, and sewing tips.
Scissors
You'll need a good pair of scissors for accurate and clean cuts – essential when creating your DIY kimono robe. Consider scissor selection, cutting technique, thread types, seam finishes, and fabric types to ensure the best results.
Each element should work together for an eye-catching masterpiece! Invest in sharp blades that will glide smoothly across the fabric without snagging or leaving jagged edges – perfect for delicate silk satin or thick terry cloth fabrics alike.
Straight Pins
Straight pins are essential for securing fabric when stitching your DIY kimono robe. Make sure you have a pack on hand! Pinning can be tricky, so use Straight Pin Tips for accurate measurements and the basics of pinning techniques.
Experiment with tricks like using two pins together or separate measurements for perfect placement.
Measuring Tape
Accurately measure your fabric with a measuring tape for the DIY kimono robe – you'll want to get it right! To achieve accuracy, make sure the measuring tape is parallel to both sides of the fabric. Consider factors like the type and weight of the material when selecting fabric.
Make use of sewing tips such as cutting corners on curves or using two pins together during the pinning process.
Tailor's Chalk
Mark your fabric with tailor's chalk for easy reference when cutting and sewing the DIY kimono robe – you can easily make adjustments if needed! Tailor's Chalk Uses include:
Fabric Trimming
Kimono Styles.
Select a chalk that best suits your needs; it should be soft, smudge-proof, and fade-resistant. With this tool in hand, create a unique style of kimono to fit any occasion!
Sewing Machine
For the perfect finish, use a sewing machine to join fabric pieces and create a beautiful DIY kimono top. Choose from various fabrics like silk satin or cotton. Sewing techniques include a zigzag stitch, a 2-fold neckline finish, and clipping armpit corners.
For added flair, add buttonhole attachments – maintenance and troubleshooting tips are available online for extra help! Make sure to invest in quality supplies for the best results.
Frequently Asked Questions (FAQs)
What fabric is best for a DIY kimono robe?
Get creative with your DIY kimono robe and choose fabric that speaks to you! Whether it's luxurious silk satin, soft cotton, cozy fleece, or absorbent terry cloth, the possibilities are endless. Pick a material that will make you feel confident and comfortable for any special occasion.
How long does it take to make a kimono?
Making a kimono can take as little as three hours and up to five, depending on your fabric selection and skill level. With the right materials and some help from our free checklist, you'll be able to create an unforgettable piece for any special occasion.
Do I need a pattern to make a kimono robe?
No, you don't need a pattern to make your own kimono robe. With the correct supplies and instructions, you can create it in no time! Follow our checklist for an easy-to-follow guide that works for all sizes.
How much does a DIY kimono robe cost?
Crafting a DIY kimono robe can cost anywhere from $25 to $55, depending on the fabric and supplies you choose.
Are there any additional supplies needed to make a kimono robe?
Yes, other supplies are needed to make a kimono robe. You'll need scissors, straight pins, measuring tape, and tailor's chalk for cutting the fabric. You will also need a sewing machine and threads for stitching. Additionally, you may want to use double-sided satin ribbon or fringe if desired.
Furthermore, you may want to have some extra fabric to create pockets or a belt.
Conclusion
You can easily make your own DIY kimono robe with the right supplies and tools. With a bit of patience and practice, you'll be able to whip up kimonos in no time! This simple yet elegant project is great for any occasion, from Valentine's Day to birthdays.
Plus, the free checklist can help you get started with confidence. So, don't be afraid to take the plunge – sew your own kimono and watch your efforts bloom.