This site is supported by our readers. We may earn a commission, at no cost to you, if you purchase through links.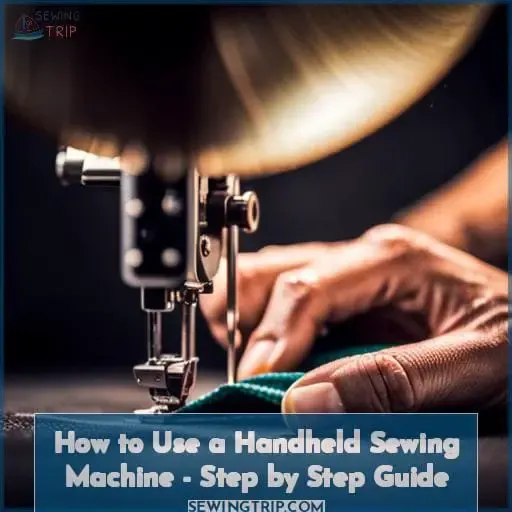 Are you looking for a way to make quick repairs on the go? A handheld sewing machine may be just what you need. Portable and lightweight, these mini machines are perfect for creative types who want to work on intricate projects from anywhere.
With this guide, we'll give you step-by-step instructions on how to use your new handheld sewing machine so that you can get started right away! We will also discuss different kinds of models available as well as tips for threading and changing needles in your portable device.
So if it's time to upgrade your hand stitching skills with a handy tool like a handheld sewing machine, stick around – our guide has all the information needed to help get those stitches done quickly!
Key Takeaways
Handheld sewing machines are portable and lightweight, making them ideal for quick repairs and small projects.
They are versatile and suitable for a range of fabrics, including lightweight and medium-weight fabrics.
Threading and needle replacement are essential skills for using a handheld sewing machine effectively.
Handheld sewing machines are user-friendly with straightforward controls, making them suitable for beginners and experienced sewers alike.
How to Use a Handheld Sewing Machine Step by Step Instructions

As you embark on your sewing journey, think of the handheld machine as your trusty sidekick, ready to lend a hand and sew up repairs in a jiffy. Start by selecting a lightweight fabric compatible with the machine's limitations.
Thread the spool through the guide, tension disks, and needle eye. Refer to the manual for the proper threading pattern. Once threaded, turn the machine on and insert the fabric under the presser foot.
Gently hold threads taut and begin slowly stitching the material by pressing the foot pedal or power switch.
Allow the machine to feed the fabric – forcing it will break the thread. For quicker fixes, opt for the high-speed setting.
With practice, you'll be handling repairs and crafts on the go. So grab your handheld helper and get sewing – it's the perfect travel companion for mending mishaps in minutes.
How to Use Hand Sewing Machine Step by Step

Looking to tackle some basic sewing projects with a convenient handheld machine? You can use a handheld sewing machine to easily make a chain stitch for quick fixes, such as hemming pants or mending tears.
The Chain Stitch
The chain stitch gives your sewing a neat, clean finish, but it can unravel if you don't knot the threads. Mastering chain stitch techniques, such as consistent tension and securing the threads, will prevent frustrating unraveling.
This versatile stitch has variations. For example, the blind stitch is used for invisible hems, and the blanket stitch is used for edging fabrics. While the chain stitch is more prone to unraveling than a lockstitch, it allows excellent stitch length control.
To prevent ripping, it is important to take care when securing the threads at the start and end.
The speedy chain stitch excels in temporary basting, but for permanent seams, alternate stitches are stronger. With practice, mastering the chain stitch will provide clean and durable results on any portable sewing project.
Use This Sewing Machine to Hem Pants
You'll stitch up pant hems swiftly with this portable gadget. Simply feed fabric under the presser foot, lower the lever, and guide the material through. Adjust the tension to prevent loose stitches. For straight hems, align the fabric edge and sew parallel lines.
Or make blind hems by catching just a sliver of the fabric edge. If skipping stitches, slow down your speed. Lightweight and medium fabrics work best. Avoid heavy denim and leather. Master quick alterations by following the threading diagram and practicing on scrap material first.
With precision and mobility, repair hems in a snap wherever inspiration strikes.
How to Thread a Handheld Sewing Machine

Before you start stitching, thread the handheld swiftly using the guide on its side.
Load the bobbin first. Place the bobbin case inside its housing and pass the thread through the slit.
Bring the top thread through the hole from the spool. Pull it under the take-up lever and thread guide.
Lead the thread down through the tension discs. Adjust them if needed.
Pass the thread through the last guide and needle eye from front to back.
Lower the presser foot. You're ready to sew!
Troubleshooting tip: Adjust the tension if stitching is uneven. For shorter stitches, increase sewing speed.
Threading takes practice, but gets quicker with experience. Refer to the threading diagram for guidance. With the bobbin and top thread set up properly, you can handle basic repairs and projects wherever inspiration strikes! Remember to use an appropriate needle size and thread weight for your fabric.
Mastering the swift threading process lets you fully utilize the convenience of handheld sewing.
How to Use a Handheld Sewing Machine
Looking for a convenient sewing solution for minor repairs and small projects? A handheld sewing machine allows you to stitch on the go, thanks to its lightweight, compact size, and battery-powered operation.
From mending tears to hemming pants, these portable wonders make sewing accessible whether you're at home or on the road.
Handheld Cordless Sewing Machine – White
View On Amazon
Embrace freedom while stitching anywhere with this portable white wonder. Experience the pure liberation of cordless sewing with its sleek handheld design. Powered by handy batteries, it goes wherever you wander, unleashing creativity in the park or mending a tear at the cafe.
Quick fixes and simple stitches are a cinch with easy controls tailored for convenience. Portable, lightweight, and battery-powered, it simplifies on-the-go alterations. Stitch unconstrained by outlets and delight in the simplicity of minor mending tasks.
Cordless and portable
Lightweight and easy to carry
Battery-powered for unlimited mobility
User-friendly controls
Ideal for minor repairs and alterations
Not suitable for heavy-duty sewing
Batteries may not be included
Manual dexterity required for setup
Ensure fabric compatibility
Handheld Mini Sewing Machine
View On Amazon
Pack this mini sewing machine for quick stitches anywhere. Small but mighty, this handheld wonder is your new best friend for minor repairs and easy sewing tasks. Simply load the bobbin and thread, select your tension, and off you go. Hem, mend, craft – the convenience fits in your palm, battery-powered for total freedom.
Dialed for beginners but handy for all, mini yet loaded with logical features like adjustable tension and onboard thread cutting. Why labor over hand stitching when portable precision is at your fingertips? Embrace the simplicity and take your sewing savvy anywhere.
Forget the cords and discover just-in-time stitching for life's little mending emergencies.
Portable and compact
Battery-operated for cordless convenience
User-friendly for beginners
Limited functionality
Not suitable for heavy fabrics or big projects
May require practice initially
Quick Stitch Portable Mending Machine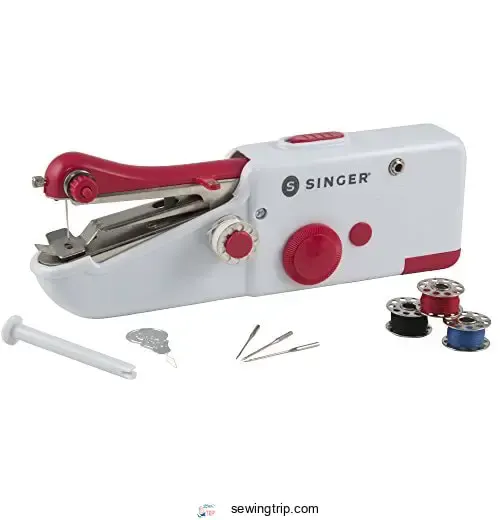 View On Amazon
Keep this handy portable mender with you to swiftly patch up tears on the fly. The Quick Stitch Portable Mending Machine lets you mend rips and tears instantly, no matter where you are. Thanks to its cordless, handheld design, you can stitch up damage the moment it happens – in the car, at the park, even on an airplane.
Just load the bobbin, thread the needle, select your stitch length, and you're ready for on-the-spot repairs. The single thread feed keeps things simple yet effective. It's ideal for quick fixes and temporary basting on lightweight fabrics.
So don't let a split seam or dangling hem ruin your day. With the Quick Stitch in your bag, you'll fix it fast and keep on going.
Portable and cordless for repairs anywhere
Quick and easy to use
Single thread for fast stitching
Includes threads, bobbins, and needles
Only suitable for lightweight fabrics
Not recommended for heavy-duty sewing
Batteries not included
Beginner Mini Sewing Machine Kit
View On Amazon
You'll love how this mini sewing machine makes learning to sew a breeze! The Beginner Mini Sewing Machine Kit has everything a novice needs to start stitching right away.
With its compact size, double thread capability, and 42-piece accessory set, you can tackle simple sewing projects with ease. The built-in bobbin winder and sewing light provide added functionality in this user-friendly machine.
While ideal for beginners, it may lack features needed for large or complex projects. The lightweight plastic body keeps it portable but less durable for heavy use. Still, it's a cost-effective way to explore sewing without investing in a full-sized machine.
Let your creativity flourish with this entry-level kit designed to empower your sewing journey.
Compact and portable
Double thread stitching
42-piece accessory kit
Built-in bobbin winder and light
Beginner-friendly
Not suitable for heavy projects
Lightweight plastic construction
Limited features compared to full-size machines
Mighty Mini Sewing Machine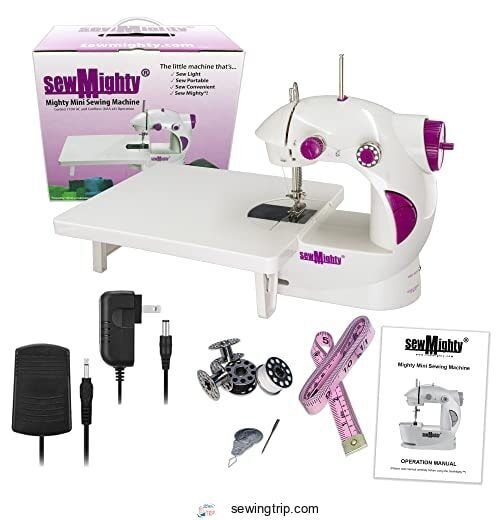 View On Amazon
You can conveniently repair and craft lightweight fabrics with the Mighty Mini's integrated tools and handy portability. This two-speed sewing marvel is designed for beginners and those eager to explore the world of sewing.
Its automatic bobbin winder, coupled with the integrated work light, ensures your stitches are on point.
The cuff notch feature simplifies cuff alterations, while the thread tension controller guarantees even stitching. You have the option to use the included foot control pedal or operate it without for added flexibility.
Whether at home or on the move, the Mighty Mini's compact design and battery power capability give you the freedom to sew wherever you please.
Beginner-friendly features cater to new sewers.
Compact and lightweight design for easy transportation.
Two-speed motor allows you to adjust stitching speed.
Battery power option provides on-the-go sewing convenience.
Integrated work light enhances visibility for intricate work.
Limited to lightweight fabrics and basic projects.
Not suitable for heavy-duty sewing or thick materials.
Battery and AC power cannot be used simultaneously.
White Handheld Sewing Machine
View On Amazon
In the realm of portable stitching companions, the White Handheld Sewing Machine emerges as a featherweight contender, tipping the scales at just 0.8lbs. This petite powerhouse, driven by 4 AA batteries or a DC 6V power source, dances along seams and hems, stitching with the grace of a swift breeze.
Its compact and lightweight design belies its ability to handle basic sewing tasks with ease, making it a perfect choice for travelers and light sewers. With a simple thumb-activated on/off switch, you'll find yourself effortlessly maneuvering this mini marvel to repair seams, hems, and more.
Pros:
Portability: Weighing only 0.8lbs, it's an ideal companion for those on the move, ensuring you're ready to sew whenever the need arises.

Power Options: The flexibility of using either 4 AA batteries or a DC 6V power source grants you the freedom to sew anywhere, whether you're out and about or stationed at home.

User-Friendly Design: The thumb-activated switch and uncomplicated functionality make it accessible even for beginners, giving you the power to master simple stitching tasks.
Cons:
Limited Stitching Options: With single-thread, single-speed stitching, this machine is best suited for basic projects and repairs. It might not handle complex sewing tasks or heavy fabrics.

Accessories: While a thread bag is included, the machine's capabilities are tailored towards simplicity, so it may not come with a wide range of additional accessories.

Power Source Not Included: The DC 6V power adapter is not included, which means you'd need to have your own power source if you opt for this method of operation.
How to Change the Needle in Mini Hand Sewing Machine
Transitioning from understanding how to use a handheld sewing machine, let's delve into a crucial aspect of maintenance and versatility: changing the needle in a mini hand sewing machine. This skill is vital for maintaining stitch quality and ensuring smooth sewing experiences. By mastering the process of replacing needles, you're taking another step towards sewing liberation and mastery. Here's how to do it:
Replacing Needles: Maintaining Stitch Quality
Select the Right Needle Size: Different fabrics and tasks require specific needle sizes. For finer fabrics, opt for a thinner needle, while heavier materials need thicker ones. This choice greatly impacts stitch quality.

Threading the Mini Machine: Before changing the needle, ensure you've threaded the machine correctly. Refer to the manufacturer's guide for threading instructions tailored to your mini sewing machine model.

Needle Replacement Steps: Follow these steps to replace the needle:
Power Off: Turn off the machine and unplug it if applicable.
Loosen Needle Screw: Use a small screwdriver to loosen the needle screw.
Remove Old Needle: Gently remove the old needle by sliding it down and out.
Insert New Needle: Insert the new needle into the needle holder, ensuring the flat side faces the back.
Tighten Screw: Carefully tighten the needle screw without over-tightening.
Check Needle Position: Manually rotate the handwheel to confirm that the needle doesn't hit any parts of the machine.
By understanding these steps and incorporating them into your mini sewing machine routine, you're taking control of your sewing experience. Troubleshooting needle issues and maintaining your machine will empower you to tackle a broader range of projects and materials with confidence.
Remember, small actions like changing a needle contribute significantly to your sewing mastery, enhancing both your skills and the quality of your creations.
Other Handheld Sewing Machines to Consider

Exploring further options in the realm of handheld sewing machines, you'll find two noteworthy contenders worth considering: the IRuntek Handheld Sewing Machine and the Singer Stitch Sew Portable Sewing Machine.
The IRuntek model boasts a range of features designed to cater to your on-the-go sewing needs, while the Singer Stitch Sew Portable Machine stands as a testament to the brand's legacy of quality and innovation in the sewing world.
IRuntek Handheld Sewing Machine
Discover the IRuntek handheld marvel, stitching freedom into your palm with unmatched portability and convenience, making creative urges tangible. Seamlessly navigate stitching techniques with this battery-operated compact sewing machine, designed for beginners and sewing enthusiasts alike.
Sewing on the go is a breeze, thanks to its lightweight build and compatibility with various fabrics. Unleash your mastery over diverse stitch varieties while the included sewing accessories enhance your experience.
Troubleshooting tips ensure uninterrupted creativity, and easy maintenance practices prolong its life. Embrace the power this IRuntek handheld sewing machine brings, liberating your sewing aspirations from limitations.
Singer Stitch Sew Portable Sewing Machine
Picture yourself effortlessly creating intricate designs with the Singer Stitch Sew Portable Sewing Machine, a true game-changer in the realm of DIY projects and quick clothing fixes. This lightweight sewing machine is your ticket to sewing confidence on the go. Its portability and battery operation considerations make it an ideal travel companion for sewing enthusiasts.
When it comes to stitch quality advice, the Singer Stitch Sew Portable Sewing Machine delivers reliable results. With user-friendly controls and a compact design, it's perfect for beginners and seasoned sewers alike.
Whether you're working on a simple repair or a creative project, this handheld sewing machine ensures precision and ease of use.
So, embrace the freedom of travel-friendly sewing with the Singer Stitch Sew Portable Sewing Machine. Unlock the power to tackle sewing tasks wherever inspiration strikes. Your mastery of DIY projects and clothing fixes has just reached a whole new level with this trusty companion.
Reasons for Using a Handheld Machine

Consider embracing the practicality of opting for a portable stitching companion that effortlessly tackles quick fixes and minor alterations, making your sewing endeavors more accessible and hassle-free.
The advantages of a handheld sewing machine lie in its versatility and convenience, catering to small sewing projects, travel needs, and crafting ventures.
With its compact design, the handheld sewing machine becomes a liberating tool, granting you the power to sew wherever creativity strikes. Its portability ensures that whether you're at home or on the go, you can easily address stitching emergencies and unleash your mastery over fabric.
This crafting tool stands as a testament to innovation, embodying the desire for liberation from the constraints of traditional sewing setups. It opens doors to a world of possibilities, giving you the ability to take charge of alterations and repairs with efficiency.
The handheld sewing machine transforms what might have been a cumbersome task into an experience of empowerment, allowing you to take control of your garments and projects.
Embrace its practicality and witness how this device elevates your sewing journey by providing a newfound sense of freedom and mastery in every stitch.
What Stitch Does a Hand Held Sewing Machine Make?

Engage with the stitching process as the handheld sewing machine effortlessly creates a precise straight stitch or chain stitch, offering versatility for various fabric types.
Navigating through the world of threading techniques, this portable wonder presents a unique experience compared to traditional sewing machines. To embark on your stitching journey, load the bobbin, thread the hole, adjust tension, fix the needle, and secure the presser foot.
Notably, the straight stitch excels in simplicity, making it perfect for quick clothing repairs, while the chain stitch grants strength and flexibility to more intricate projects.
As you delve into the realm of stitching, it's essential to grasp the nuances of changing needles and thread, ensuring consistent stitch quality and fabric compatibility. Unlike its larger counterparts, the handheld machine's stitch durability can vary, with the chain stitch possibly needing knots to secure it from unraveling.
If issues arise, a touch of troubleshooting expertise with your sewing equipment can keep your journey smooth.
In the realm of sewing liberation, the handheld sewing machine offers a unique form of power, granting you mastery over quick fixes and DIY projects on-the-go. With every stitch, you're not just sewing fabric, but weaving a tapestry of confidence and self-sufficiency.
What Are the 5 Best Handheld Sewing Machines in 2023

Delve into the realm of handheld sewing machines with a seasoned perspective on the top contenders for 2023. Discover the unparalleled convenience of the SINGER 01663 Stitch Sew Quick Portable Mending Machine, the compact prowess of the KPCB Tech Mini Sewing Machine, the enduring quality of the SINGER Stitch Quick + Handheld Mending Machine, the agile Sew Mighty Mini Sewing Machine, and the budget-friendly reliability of the MICHLEY ZDML-2 Handheld Single-Thread Sewing Machine.
SINGER 01663 Stitch Sew Quick Portable Mending Machine
Imagine effortlessly bringing your fabric creations to life with the SINGER 01663 Stitch Sew Quick Portable Mending Machine, a compact wonder that swiftly handles your stitching needs. Whether you're a novice or a seasoned sewist, this handheld gem simplifies quick repairs and projects.
Its user-friendly interface, complemented by battery or adapter power options, ensures portability without compromise. Master handheld sewing techniques with the Singer 01663, your liberation to create and mend with ease.
KPCB Tech Mini Sewing Machine
Explore the KPCB Tech Mini Sewing Machine, which offers compact and portable convenience for your stitching needs. Master DIY projects effortlessly with this two-speed mini sewing machine designed for beginners.
Discover its versatile accessories and troubleshoot any issues with the KPCB Mini.
SINGER Stitch Quick + (Two Thread) Hand Held Mending Machine
For a quick and reliable solution, consider the SINGER Stitch Quick+, a handheld mending machine that offers the convenience of double-thread stitching, with a significant 30% reduction in repair time compared to single-thread devices.
Experience the Freedom of Effortless Mending:
Efficient Double-Thread Stitching: The Stitch Quick+ harnesses the power of dual-thread stitching, ensuring stronger repairs and faster results.
Seamless Threading: Threading this powerhouse is intuitive, thanks to its user-friendly design.
Versatile Fabric Compatibility: Tackle a range of fabrics effortlessly, from delicate materials to sturdier textiles, thanks to the Stitch Quick+'s adaptability.
Low Maintenance Demands: With regular cleaning and occasional lubrication, this machine stays in peak performance, requiring minimal upkeep.
Troubleshooting Made Easy: Encounter an issue? The Stitch Quick+'s troubleshooting guide empowers you to swiftly resolve common problems, restoring your sewing flow.
Unleash your mastery with the SINGER Stitch Quick+ – where efficiency, versatility, and mastery converge.
Sew Mighty Mini Sewing Machine
Unleash creativity with the Sew Mighty Mini – your gateway to effortless, on-the-go stitching, igniting a spark of inspiration for quick, satisfying projects. Master threading techniques for various stitch varieties. Discover portable stitching tips and essential accessories.
Maintain your Sew Mighty Mini with easy-to-follow guidelines, ensuring continuous, hassle-free sewing support.
MICHLEY ZDML-2 Handheld Single-Thread Sewing Machine
Delve into the features of the MICHLEY ZDML-2. This affordable option boasts distinct characteristics, offering simplicity without compromising on essentials. Master threading tips and stitching techniques for various fabrics. Overcome troubleshooting issues effortlessly.
Experience the liberating power for emergency sewing needs, exceeding expectations.
Conclusion
On average, people repair or alter over 40 pieces of clothing a year using a handheld sewing machine. These portable tools are lifesavers for quick fixes and minor alterations, and they're a great alternative to traditional sewing machines.
Investing in a handheld sewing machine can make all the difference when it comes to tackling small projects and repairs, whether you're a beginner or a pro. With the right model and accessories, you can work on a variety of fabrics with ease.
Our guide offers insight into the best handheld sewing machines for 2023. We also provide step-by-step instructions on how to use a handheld sewing machine. From threading to needle replacement, we've got you covered. Now, you have the knowledge to make the most of your handheld sewing machine.