This site is supported by our readers. We may earn a commission, at no cost to you, if you purchase through links.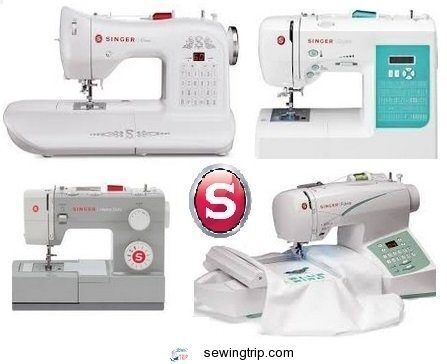 Best Singer Sewing Machine
That's the best singer sewing machine? Well, we are here to help you in your search for the top 3 singer sewing machines. We've made the task easier for you by listing and reviewing the 3 best singer sewing machines.
Keep in mind that for buying a sewing machine, thorough research to compare pros and cons, features and rates.
In addition, your personal requirements and budget can make it even more difficult.
Singer Sewing
Machine
Singer 9960
Singer 7528
Singer 4411
Presser Feet
24 (Extras)
–
Number
Built-in stitches
600 stitches
850 stitches / min
130 stitches
750 stitches / min
11 stitches
1100 stitches / min
Weight
17.8 lbs
14.6 lbs
14.5 lbs
Drop Feed
(Free Motion)
Yes
No
Yes
Sewing Font
5 Fonts
None
None
Shop Here!
Top Rated Singer Sewing Machine
Below we list the top 3 best singer sewing machines you can choose from:
1). Singer 9960/9970 Quantum Stylist Sewing Machine
Singer 9960/9970 Quantum Stylist Sewing Machine makes sewing simple with one-touch controls and automatic speed control. It has a great sleek style, which reminds me of the Futura series in which they place most of the controls at a lower level on the curved panel.
Here's The Kicker:
The unit even boasts one of the largest and perhaps the largest LCD screens at such an affordable price. You can opt for the cheaper model (Singer 9960). The only difference is the bonus feet (chenille stitching foot, edging foot, gathering foot, non-stick foot, parallel presser foot, seam guide foot).
Anything else?
Singer 9960/9970 Sewing Machine has everything you need and more. There are 600 built-in stitch patterns; including 13 one-step automatic buttonholes and 5 alphanumeric fonts. It comes with an exclusive buttonhole under the plate. The stitch elongation and mirror image effect gives you the freedom of your projects.
The weak points!!
The lack of an automatic bobbin winding system placed the 9960/9970 in a not-so-complete position. The inability to save the sequence of decorative stitches further complicates the problems. Singer 9960/9970 comes with multiple sewing functions.
Summary of functions:
600 built-in stitches and Reference card
Digital Information Advisor
Automatic stitch length and width
Sewing Editing Capabilities
Large Backlot LCD Screen
2 Stan Wright LED Light
Heavy metal frame
Read our detailed discussion of the Singer 9960/9970 sewing machine
2). Singer 7528 Fashion Mate Stylist Automated Free Arm Machine
Like any other Singer sewing machine, Singer 7528 is synonymous with style, elegance, precision and performance. Packed in the sewing machine is a combination of brains and strength.
The Juicy Part:
Singer 7258 sewing machine will be a hot delight with its 100 built-in stitches covering different stitches offer on many fabrics. You can expect a professional result with heirloom, craft sewing, fashion and decorative sewing, along with beautiful quilting.
To The Icing!
The machine stays still while you sew and you can easily control the speed. Some features of this machine are steel construction, first-class power control when sewing different fabric layers, automatic pressure and automatic bobbin winding.
The defects!!
For a sewing machine that has so much to offer, a plastic pedal is nothing but a weakness. Not to mention that although the presser foot pressure is automatic, it cannot .
If you start with Singer 7258 as a newbie, you will get straight into the ivy sewing.. Forget the plastic pedal and what not and enjoy its many functions. Singer 7258 makes sewing easier with every press of the pedal.
Summary of functions:
100 Built-in stitches
Speed Control
Programmable Needle Up / Down
Automatic Needle Threader
Reverse sewing
Straight stitch automatic button functions
LCD screen
3). Singer 4411 Heavy Duty Sewing Machine
Last but not least on our list of top 3 Singer sewing machines, we have the Singer 4411 Heavy Duty Sewing Machine. This machine is fast and will help you sew in an instant.
The Real Deal
This machine is simple and easy to use. I can easily perform common tasks with this machine. Threading the machine and winding the bobbins is easy, as is changing the needle and presser foot. The device is just great for beginners who want to do basic sewing.
The Bad!!
For a Seam of this format, computer connectivity would have been a pleasant addition. Beware of slow speed when also cornering and cornering.
Singer knows done their homework with the 4411, as it lives up to expectations beyond the lack of computer connectivity. You get your money's worth thanks to the impressive features and quality of the sewing machine.
Characteristic summary:
11 stitch options
1100 stitches per minute
Three needle positions
Backstitch
Adjustable stitch length and width
Free arm
Drop-in Bobbin
Read our detailed reviews of the Singer 4411 Heavy Duty Sewing Machine
Finally, let's look at what to look for when buying a Singer sewing machine.
What to Look for When Buying a Singer Sewing Machine
It is important to know that a machine comprises various parts such as the foot pedal, belts, Pike and crutches and each unit has its own task for which it is suitable.
So you can determine the type of machine based on the type of work or sewing you wish to do or according to the design you wish to make.
Some sewing machines are perfect for quilting, while others are great for just making garments. Singer electric sewing machines can make a lot of stitches, so it's perfect for embroidery tasks. The standard manual sewing machine provides the basic stitches.
So the selection of the best singer sewing machine actually depends on your budget
] and Needs
References
bestsewingmachinereviewspot.com