This site is supported by our readers. We may earn a commission, at no cost to you, if you purchase through links.
new plaid quilt designs blew
Recently away.
It gave me a great idea, and after consulting with fellow quilters, I realized how easy it is to work with this fabric and make an overly worked-looking quilt. To get.
So, does this mean, can we safely claim throws or flannel as modern quilting art? Maybe. In this day and age we have many responsibilities and quilting is a time-consuming job.
By putting small pieces together to create a checkered-like pattern, the project can , canceled, or stowed high in storage boxes.
That said, I included a few pictures below for inspiration.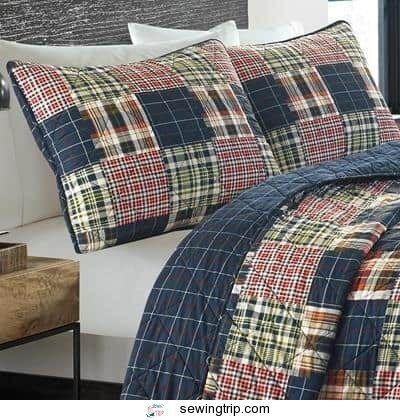 Imagesus: bedding style .com
This photo shows a carefully crafted quilt; But if you look closely, you can see it is a plaid fabric. The quilter has intelligently worked on the stitch to give it the look of a well-crafted quilt.
Advantages of Using Plaid Fabric for Quilting
First, it gives a quality and heavily crafted look of a quilt.
Apart from that, it saves time. You can complete a quilt for 3 days or on the weekend. Henceforth it has turned out to be a great time saver.
Financially, it has proven to be a pocket-friendly option for quilters.
It is strong enough to be used for many years. No criticism of the traditional quilting method here; but let's face it – stitches usually open up, making the quilt look worn out. One-piece plaid or chunks of large pieces of fabric hold the quilting stitches more efficiently and for longer.
A few ideas that came to mind are:
A reversible plaid quilt.
Checkered Table Runners
Chevron Print Quilts
Baby print quilts.
Lately I have been eyeing the idea of using one base fabric and attaching elements to it. Rather than cutting and sewing the pieces together and getting lost, I'm not looking for.
A Few More Money and Time Saving Quilt Ideas
Reversible Quilt:
The name says it all. Use two fabrics for each side to make it easier to use.
Recycling Quilt:
I'm sure many of us donate or recycle our quilts to others. However, if you are a beginner, let me give you a brilliant idea. Recycle Your Worn, Torn Quilt – How? Well, fix your torn quilt first by adding a patch (s).
Use a plaid or flannel fabric or any other fabric of your choice and sew the edges before creating a stitch design with your quilting machine.
This saves you the hassle of layering. It also prevents you from spending more money. Let's be practical, quilting a brand new quilt takes more time, and this is a great idea. You can also use two fabrics to create a reversible look. Perfect for winters.
Table runner or a throw
If your old quilt is out of date and recycling of the full quilt is not possible; then cut the damaged parts of the quilt and keep the good parts.
You can cut into triangles, large squares or rectangles; or diamond or star shape and add to a new piece of fabric to make a table runner or a plaid.
Baby Blankets
Especially in winter, blankets are never enough for infants or newly toilet trained toddlers. You can use plaid or cartoon print fabric to make a quilt, or if you have an old quilt, you can upgrade it by adding a new cartoon print fabric.
Denim Quilt
We all have worn-out denim, and the fashion to wear worn-out denim is taking hold of that I think. However, you can use old denim to make a heavy quilt.
You can play with jeans a lot. If you are short of jeans, ask your friends and family to donate you their old jeans. I'm sure everyone has old jeans.
Pillowcases and old bedding
Pillowcases can be very useful besides old bedding. You can use them as quilt layers to make a full-fledged quilt or table runner or quilted rug.
Old Towels
Many quilters I know regularly use towels to make a thick layer for a quilt. It sure holds and makes for a warmer quilt than others.
Trim the towel edges and if you have different sized towels, cut and sew all the towels to the same size to make a long piece. You can also purchase towels from backyard sales or bulk vendors. They will prove quite useful.
Specifically, if you plan on making a rug, there is no better shape of the sheet than a towel. Towel forms a thick, immovable layer for the carpet. Just add a non-slip layer to the bottom of your rug to turn it into a fluffy rug.
This brings me to the end of this blog; I'm sure I missed some important ideas. If you remember another idea not mentioned here, don't forget to share in the comments below.
Related:
Quilting Tips
Machine Quilting Techniques