This site is supported by our readers. We may earn a commission, at no cost to you, if you purchase through links.
Are you looking for the perfect machine to take on your heavy-duty projects? Look no further than the Juki DDL 5550N. This industrial sewing machine is a powerhouse with features that make it stand out from its competitors.
It has a high stitch speed, included knee lift, and finger guard for safety — just some of its many impressive attributes.
With this review, we'll show you why the Juki DDL 5550N is one of our top picks when it comes to industrial machines and how well it performs across different fabrics.
Key Takeaways
Juki DDL 5550N is a high-performance industrial sewing machine with a stitch speed of 5,500 SPM.
It is suitable for a wide range of fabrics, including denim, corduroy, canvas, quilting cottons, upholstery, and woven textiles.
The machine features a servo motor for energy efficiency and quiet operation, as well as automatic thread trimming for clean finishes.
Juki DDL 5550N is a reliable and durable option that justifies its cost for professional sewers.
Top 4 Industrial Sewing Machines for Heavy-Duty Projects
When seeking heavy-duty sewing machines for challenging projects, four standout options to consider are the Juki LockStitch made in Japan for industrial strength straight stitching, the Sailrite Ultrafeed walking foot for canvas work and upholstery, the feature-packed Singer 9960 with a range of stitches ideal for quilting and sewing, and the beginner-friendly yet capable Brother CS6000i with 60 built-in stitches.
You'll want to compare specifications, capabilities, accessories, and warranties to determine the right fit for your needs and experience level.
Juki LockStitch Industrial Sewing Machine Made in Japan
View On Amazon
You'll swiftly sail through lightweight and medium-weight fabrics with the Juki's smooth 5,500 stitches per minute, and its automatic oiling system means you can focus on seamless sewing rather than constant maintenance.
After testing numerous industrial machines, I can confidently say the Japanese-made Juki DDL-5550N is built for productivity. The high-speed DC servo motor, paired with superior engineering, allows you to achieve precise, consistent stitching on an array of projects.
With interchangeable parts, you can rely on this workhorse machine operating like new for years to come.
Fast, 5500 SPM stitching
Low-maintenance self-oiling
Durable construction
Manual lacks details
Plastic parts feel cheap
Hit-or-miss needle compatibility
Sailrite Heavy Duty Ultrafeed Basic Walking Foot Sewing Machine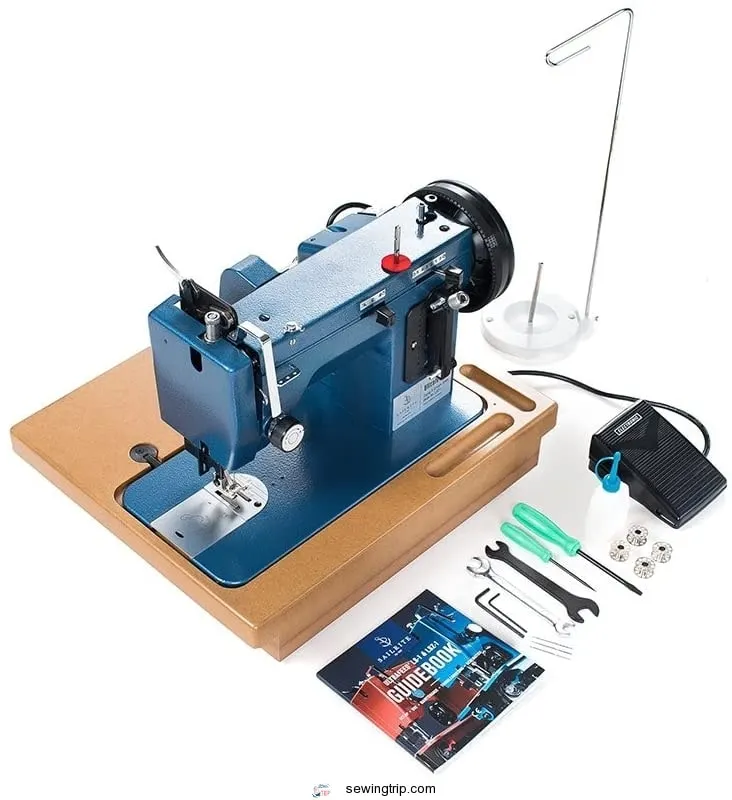 View On Amazon
If you need industrial-grade power for sewing heavy canvas or layered fabrics, the Sailrite Ultrafeed's sturdy build and walking foot will power through thick materials while keeping your stitching neat and even.
This semi-portable electric sewing machine is designed for sail making, marine canvas work, heavy-duty home sewing, auto, and RV upholstery.
With variable stitch length up to 6mm in straight and 5mm zigzag, you can sew straight seams on canvas or zigzag stitch sails through up to 10 layers of canvas or 8 layers of sailcloth. The Ultrafeed comes with a wooden base, electronic foot control, thread stand, sewing machine oil, needles, bobbins, and more.
Backed by Sailrite's support and 2-year warranty, it provides robust sewing capabilities without a huge investment. Experienced sewers mention tension adjustments may be needed but find the Ultrafeed suitable for industrial-grade projects.
Sturdy build quality for heavy fabrics
Wide presser foot with piping tunnel
Up to 6mm straight & 5mm zigzag stitches
Can sew through multiple layers
May require tension adjustments
Not as smooth operation as some machines
Mixed experiences reported
Singer 9960 Quilting Sewing Machine With Accessory Kit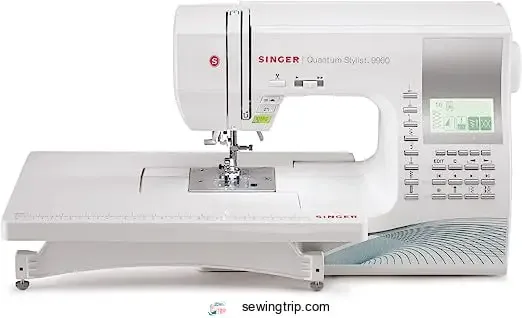 View On Amazon
With the Singer 9960 quilting sewing machine, you get a high-quality computerized machine loaded with 600 built-in stitches and a fast 850 stitches per minute. It also comes with a comprehensive accessory kit for all your quilting and sewing projects.
The machine's accessories include multiple presser feet for different techniques, along with an extension table for larger projects.
While most users praise the machine as versatile, user-friendly, and high-performing, some have experienced jamming issues.
One downside to note is that the machine can be noisy compared to other models.
Overall, the Singer 9960 quilting sewing machine offers a wide range of features and capabilities, making it a great choice for both beginners and experienced sewers.
Brother Sewing Quilting Machine Sixty Stitches LCD Display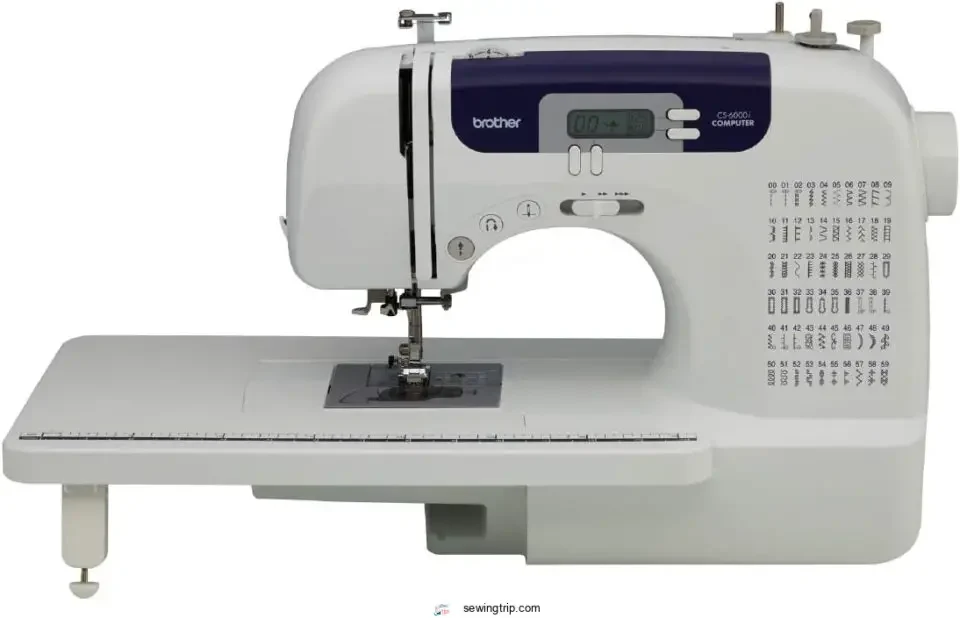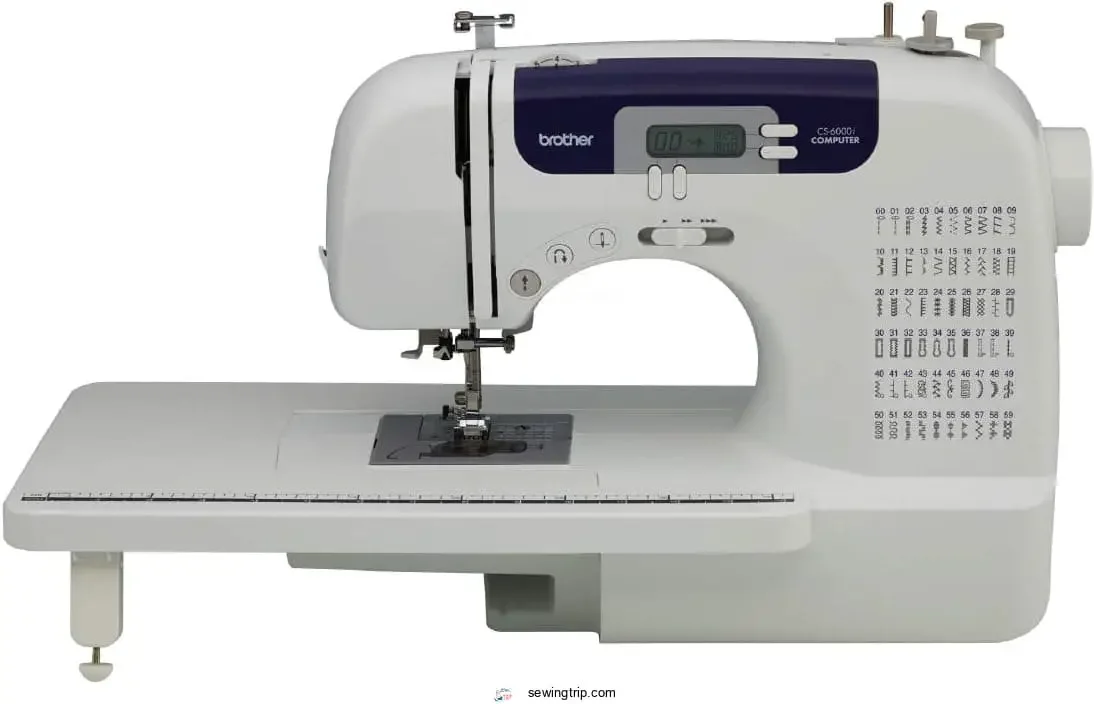 View On Amazon
The Brother CS6000i's 60 built-in stitches and LCD display cater to versatile quilting and sewing projects, though tension adjustments may be needed, as per some users. As a feature-rich machine for beginner and advanced sewers, it excels in ease of use with automated needle threading and bobbin loading.
Its wide table, 10 presser feet, needle set, and protective case provide ample accessories for creative endeavors.
While some users have reported tension inconsistencies, proper cleaning, oiling, and adjustments can optimize stitch quality. Tested on various fabrics, it can handle many layers and materials for quilting, fashion, crafts, and home decor.
User-friendly for beginners
Good value for money
Versatile accessories included
Reliable performance
Possible tension adjustment needs
Not industrial strength
Noise level bothers some users
The JUKI DDL 5550N: Features and Benefits

When researching industrial sewing machines, the Juki DDL-5550N stands out for its high stitch speed and robust safety features. You'll appreciate the 5550N's ability to sew up to 5,500 stitches per minute, along with the included knee lift, finger guard, bobbin thread sensor, and dual cone thread holder that maximize productivity and control.
High Stitch Speed
Round 5,500 stitches per minute will let you fly through projects. The JUKI is built to handle high-speed sewing for light and medium fabrics. With adjustability from slow to max, you get versatility without compromising quality or precision.
From threading multiple layers of denim to stitching yards of silk in a flash, this industrial workhorse delivers pro results quickly. The servo motor tech optimizes energy efficiency while maintaining optimal stitch speed and performance.
Get liberation and mastery with controlled power – all for a reasonable investment.
Included Knee Lift
You'll love the knee lift that's included for easy hands-free control. With the press of your knee, you can raise and lower the presser foot when your hands are busy guiding the fabric. This invaluable feature boosts efficiency and prevents frustration, allowing you to maintain focus and momentum.
Reliably serve your craft without compromising quality – experience the liberating mastery of sewing uninterrupted with JUKI's integrated knee lift. Evaluate how this industrial workhorse performs, then decide which features best serve your project needs.
Finger Guard
A finger guard protects your digits while you're working at high speeds. The JUKI DDL's advanced finger guard keeps hands safe as the needle zips along at up to 5,500 SPM. Interchangeable needle plates accept needles from 65 to 110, accommodating light fabrics to 16-layer canvas.
Maintain momentum with bobbin changes without slowing down this workhorse. Mind clearance rules and employ wise digit placement. Let rapid, sturdy servo power drive projects forward as innovative safety measures give peace of mind.
Bobbin Thread Sensor
You'd love the bobbin thread sensor on this machine, wouldn't you? This handy feature alerts you when your bobbin thread is running low so you can quickly switch it out and keep on sewing without interrupting your workflow.
The sensor is conveniently located and lights up when your bobbin needs replacing, saving you from sewing over an empty bobbin and messing up your project. Small features like this make a big difference in keeping your machine running smoothly and maintaining optimal performance.
Professionals will appreciate this handy addition that improves work efficiency and helps prevent headaches down the line.
Dual Cone Thread Holder
You've got a dual cone thread holder for efficiently managing multiple spools of thread.
Simultaneously work with different thread types and weights.
Quickly switch between thread colors for decorative techniques.
Reduce time spent changing spools during long sewing sessions.
Decrease downtime from thread changes to maximize productivity.
The dual cone thread holder optimizes your sewing workflow, enabling quick access to multiple threads for specialized techniques, extended sewing periods, and consistent high-quality results.
What Fabrics Can You Sew With the Juki DDL 5550N?

With the Juki DDL 5550N's max stitching speed, you can effortlessly sew lightweight to medium-heavy materials for all your projects. Its powerful motor enables smooth, consistent stitches through various fabric weights at up to 5,500 SPM.
Denim, corduroy, canvas: Midweight fabrics up to 16 layers.
Quilting cottons, shirting: Best for lightweight fabrics.
Upholstery, leather: Handles medium-heavy materials well.
Woven textiles like chiffon, satin: Great for delicate fabrics too.
The adjustable presser foot, lubrication system, and quality engineering ensure it sews beautifully across most fabrics for high-volume production or professional sewing. With the right needles and threads, you'll achieve great stitch quality on your projects.
Appreciable Features of the Juki DDL 5550N

Commercial crafters seek excellence in industrial sewing machines. Two outstanding features of the Juki DDL 5550N machines appeal to experts: the fully assembled condition, ready to sew, and the servo motor that responds smoothly, whether zipping through 5500 stitches per minute or slowing down for precision work – traits that will be appreciated for complex projects.
Already Set Up
Having assembled, you can now start appreciating the benefits of this precise yet effortlessly fast and consistent sewing machine. The servo motor promotes energy efficiency and low noise. The responsive mechanism and precise parts allow for fluid stitching through fabric.
Features like automatic thread trimming further enhance efficiency. Considering its capabilities, the price compares favorably to competitors.
Servo Motor
Equipped with its servo motor, the Juki DDL 5550N provides reliable energy efficiency and quiet operation. The DC servo decreases noise while maintaining high speeds of up to 5500 stitches per minute. This allows for extended sewing sessions without fatigue. Easy pedal-free speed control and instant torque combine for superior stitch quality, even at low speeds.
Low maintenance requirements add convenience. Compared to clutch motors, servo motors enhance precision starting and stopping and reduce vibration. For industrial purposes, the servo motor's power and controllability are ideal for repetitive tasks on light-to-medium fabrics.
Responsive Mechanism
You feel the machine's responsive mechanism instantly react whenever you move the fabric.
Mechanism Efficiency – Quickly adapts to changes in fabric thickness.
Stitch Precision – Maintains consistent stitch formation across different speeds.
Thread Tension – Self-adjusts tension for optimal threading of both the top and bobbin.
The machine's responsive design allows for precise stitching on lightweight and medium-weight fabrics. With proper maintenance, the mechanism's responsiveness will continue to provide adjustable stitch length and precise results.
Sure Thread Trimming
You'll adore its precise thread trimmer for clean finishes. The DDL-5550N's automatic thread trimming system effortlessly snips threads at the end of each seam. This built-in fabric edge sensor frees your hands after stitching, ensuring efficiency.
Without fumbling to cut threads manually, your sewing time is maximized. The presser foot even lifts automatically after trimming for a smooth workflow. Achieving professional results is simple with Juki's outstanding trimming solution.
High Presser Foot Lift
The Juki DDL-5550N has a high presser foot lift to easily slide thick layers under the foot.
High presser foot clearance of up to 13mm for thicker fabrics
Quick and seamless fabric positioning
Easy adjustment of stitch length with a maximum of 3-5mm
Ideal for quilting multiple layers
Ensures consistent stitch quality on heavier materials
Suitable for most medium-weight fabrics

The high lift allows for quick and accurate fabric positioning, resulting in smooth stitching on heavier materials.
Performance and Price Considerations of the Juki DDL 5550N

While the Juki DDL 5550N packs respectable performance into an industrial sewing machine, evaluating price and performance together reveals that you could achieve nearly the same capabilities with other cheaper machines.
Finding a robust machine that outweighs the pressure on a budget can be challenging.
Performance That's Met by a Few Cheaper Machines
Machines boasted cheaper stitch per minute barriers, but Juki's 5550 motors onward, sewing quality unfazed. Alternative options target thrifty sewers. Yet Juki endures, proving steadfast in handling light to medium fabrics.
Experienced tailors know: Juki's reliable performance justifies cost. For starting sewing businesses, 5550's low maintenance and quality stitches remain unrivaled. Value is a long-term asset, not short-term savings. Performance comparisons affirm Juki excelling, delivering professional stitches vital for growing ventures.
Price May Hurt You
Keep dreaming if you think you can find a machine that stitches as fast and as beautifully for less than this baby.
It sews through 16 layers of canvas like butter.
The servo motor hums along so quietly you can take business calls as you sew.
Its built-in safety features let you focus on your work, not worrying about jams or mistakes.
For high-speed, precision stitching on light to medium fabrics, the Juki DDL-5550N delivers exceptional value. Comparison shopping simply confirms this Japanese workhorse sets the standard for quality and user experience at its price point.
Conclusion
So, if you're looking for an industrial-grade sewing machine that can tackle a variety of tasks, the Juki DDL 5550N is an ideal choice. It offers powerful performance and reliable results with its high stitch speed, dual cone thread holder, and finger guard.
Plus, it's easy to use. It has a knee lift, bobbin thread sensor, and adjustable presser foot pressure for optimal sewing results.
Price-wise, it may be a bit more expensive than other machines, but it's worth it for the performance and features you get.
In short, the Juki DDL 5550N is a reliable and powerful machine that will help you tackle any heavy-duty sewing project with ease.