This site is supported by our readers. We may earn a commission, at no cost to you, if you purchase through links.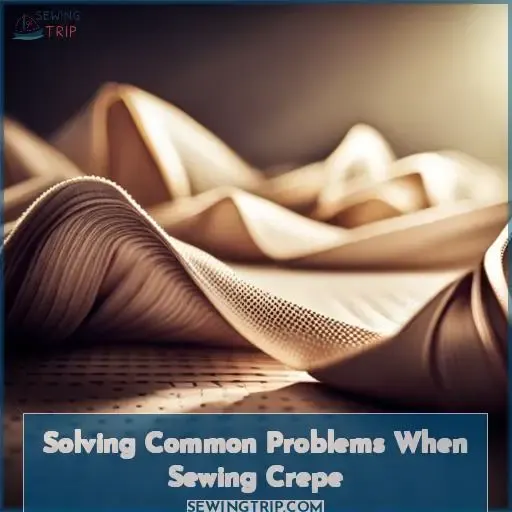 Surprise! Sewing with crepe fabric doesn't have to be a challenge. Despite its slippery nature, sewing crepe can actually produce stunning and professional-looking garments – if you know how to tackle the common problems that come with it.
From puckering and stretching, skipped stitches, difficulty hemming or unraveling seams, there are solutions for each of these issues when working with this delicate material. With some tips on choosing the right needle, overcasting techniques, and seam types for working with crepe fabric – your project will go smoothly so that you can look forward to wearing something made by yourself! The key is being prepared to handle the unique properties of crepe fabric.
With the right tools and techniques, you'll find that sewing crepe can be enjoyable and rewarding.
Key Takeaways
Puckering, stretching, skipped stitches, and tricky hems are common challenges when sewing crepe fabric.
To prevent puckering, use a sharp needle, fine thread, and stay-stitch curved seams.
Skipped stitches can be avoided by utilizing Microtex needles and adjusting thread tension appropriately.
Difficulty hemming crepe fabric can be overcome by selecting proper needles and threads and applying suitable hemming techniques.
Common Issues When Sewing With Crepe Fabric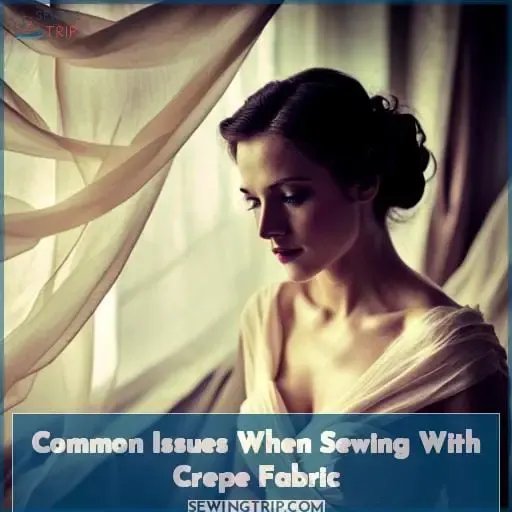 Sewing with crepe fabric presents some unique challenges. You'll want to watch for common issues like puckering, stretching, skipped stitches, tricky hems, and unraveling seams when working with this delicate and temperamental material.
Crepe is prone to puckering, so use a new sharp needle and fine thread. Stay-stitch curved seams to prevent stretching. Lengthen your stitch length to avoid skipped stitches on the bias. Finish hems with a narrow rolled hem or hand stitching to control fraying.
Reinforce seams with French or flat-fell seams to stop unraveling. Work slowly and handle the fabric gently to avoid snags and tears. Test stitch settings and thread tension on scraps first. With care, crepe can make lovely garments with beautiful drape.
Puckering and Stretching
You'll want to lay your fabric on the cross grain or cut on the bias and use a narrow zigzag stitch to minimize puckering when sewing that temperamental crepe. Selecting the right needle is key to preventing skipped stitches and puckering. Try a sharp microtex needle and lightweight silk thread for best results.
Properly preparing the fabric by starching and cutting on-grain is also essential to reduce frustrating puckers and stretching when sewing tricky crepe fabrics. Varying your stitch length can help, as well as using an appropriate presser foot, quality thread, and the proper needle for your fabric.
Taking your time and handling the fabric gently will go a long way toward a smooth finish without puckers. Test different stitch settings and thread on scrap pieces first to dial in the best combination for the crepe you're working with.
With care and patience, even persnickety fabrics can be tamed for a perfectly smooth finish.
Skipped Stitches
Try switching to a Microtex needle to stop skipped stitches when sewing silk crepe. These needles have an acute point and a narrow shaft that can penetrate the tight weave and spongy texture.
Use the following needles for crepe fabrics:

Microtex sharp 80/12
Microtex sharp 90/14
Ballpoint 80/12
Carefully pull a thread when laying out fabric to keep the grain straight. Lightly starching crepe also helps stabilize the weave to prevent skipping as you sew. With the right needles and preparation, you can minimize frustrating skipped stitches.
Difficulty in Hemming
Attaching your soul to hemming this devilish crepe will test the very limits of your sanity. Select needles and threads that glide effortlessly through the fabric's weave. Tame the slippery beast with starch, steam, and weights before attempting to press open the seam allowances.
Stitch carefully, easing the layers together rather than wrestling them into submission. Allow for extra seam allowances; finish them neatly to prevent ravelling. Press gently and thoroughly.
Unraveling Seams
When finishing seams on crepe, a zigzag stitch or overlock stitch before cutting helps prevent unraveling. Seams finished with a serger limit fraying for silks like crepe. Clean finishes also help. Consider french seams on lighter weight crepes – this encases the raw edges entirely.
For stability, flat felled seams are best, as they keep the seam allowances tucked in. Prevent problems with crepe seams by using the right stitching. Thread and needles suited to the fabric make seams lie flat and resist fraying.
Tips for Sewing With Crepe Fabric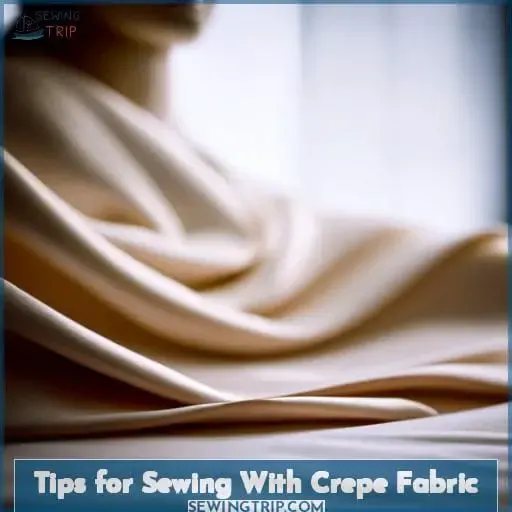 Stay-stitch curved seams and necklines right after cutting to stabilize the fabric's grain. Use a dual feed foot or tissue paper between fabric and feed dogs to prevent shifting. Switch to sharp microtex needles and a straight stitch throat plate to pierce the threads cleanly.
Utilize an edge-stitch foot when hemming to keep the fabric flat. Sew a line of staystitching near the hem fold before pressing to prevent stretching the hem edge. Press seams flat before pinning darts or intricate areas to avoid unwanted creases.
Hand-baste problem spots like zipper openings or buttonhole areas that need extra stabilization.
Stay-stitching for Stability
Stay with us and rose tattoos as you firmly stitch the facing edge for shape retention. Stay stitching crepe de chine prevents stretching, puckering and distortion. After cutting out pieces, stitch 1⁄4 from facing edges, using a shortened stitch length.
Microtex needles glide smoothly. Lightly pull fabric taut lengthwise while stitching. Stay stitches guide the fabric grain, providing stability as you sew. Test stitch tension on scraps first.
Using a Foot With Dual Feed
You'd have more control when sewing a finicky crepe like gossamer under moonlight if you use a dual feed foot that grips the fabric like a mother bear hugging her cub.
A dual feed foot ensures the top and bottom feeds move in sync.
It prevents fabric layers from shifting while stitching.
Dual feed feet are compatible with most household sewing machines.
They are ideal for slippery, stretchy fabrics.
A dual feed foot provides more precise stitching on delicate fabrics.
With a dual feed foot, you can easily handle the trickiest crepes and viscose, preventing puckers for smooth seams.
Using Sharp Needles and a 0mm Plate
Use a 60/8 sharps point or microtex needle on silk crepes to ride the waves in the fabric and cut through cleanly with a firm pressure setting. With a zero needle plate to support the fabric, tensions may need adjusting for skip-free silk sewing, but a fine thread like 100-wt helps immensely.
Care in layout, pressing, and anchoring slippery silks are key to smooth sailing on your crepe project.
Using Woven Interfacing
Smoothly fuse the woven interfacing along the fabric's grain to get a soft drape. The pliability of woven fusible reduces puckering on silks when matched to fiber content. Low to medium heat prevents crushing the weave. Choose lightweight tricot-backed interfacing to move gracefully and support seams, but not stiffen silk.
For sheer silks, rely on spray starch or hairspray to stabilize cut edges before cutting final pieces. Select sharp, fine machine embroidery needles in sizes 70/10 or 80/12 for best penetration without snagging threads.
Utilizing an Edge-stitch Foot
The serger stitches silk crepe, chiseling through creases like a medieval mason crafting cloistered cathedrals with an edge-stitch foot. Precision is essential when stitching slippery crepe fabric edges. Utilize an edge-stitch foot for superior control, guiding the fabric precisely under the needle while maintaining accurate seam allowances.
This specialized presser foot hugs the edge, preventing deviations. Master crepe's tendency to creep with this vital tool's help. Stitch flawless seams effortlessly on the raw edge without impedance by engaging your machine's edge-stitch foot.
Sewing a Line of Stitching Before Pressing a Hem
Machines jitter like they've had one too many when you sew those pesky crepes, my friend. Try sewing a line of stitching before pressing your hem, it might help the fabric lie nicely. Sewing a straight line of stitching along the hem's fold before pressing preps the bias-cut edge beautifully.
The stitching guides the finicky fabric; pressing then sets the shape. A universal needle suits most fabrics, but sharp needles handle slippery satins best.
Pressing Seams Before Pinning
You're finger pressing seams open before pinning sections together, smoothing layers together gently. Pressing seams flat prior to pinning and stitching allows the fabric's fibers to relax into the intended shape.
This pressing step helps the fabric behave and eases stitching by preventing shifting and distortion. Proper pressing techniques prepare fabrics, support desired results, and yield polished finishes. Thoughtfully pressing at each stage creates professional outcomes even with tricky fabrics like crepe.
Hand-Basting Tricky Areas
Hand-Baste Tricky Areas
Try hand-basting tricky areas like curved seams or darts on silk crepe before sewing to ensure smooth stitching. Hand-basting with a contrasting thread color allows for visual guidance when machine stitching.
Take your time and focus on precise placement of basting stitches. Proper preparation prevents puckered seams and ensures quality construction on slippery, delicate crepes.
Choosing the Right Needle for Crepe Fabric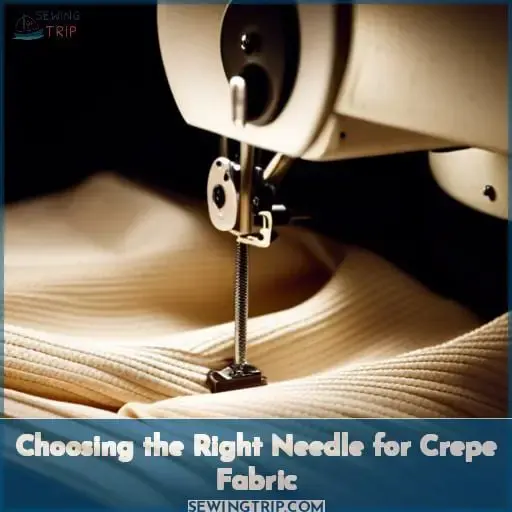 When sewing with delicate crepe fabric, you'll want to choose your needle carefully. To start, try a sharp microtex needle to pierce the fabric cleanly. Adjust your feed dogs higher to help grip the fabric.
If skipping persists, switch to a ballpoint needle or experiment with 100+ weight silk thread for smoother stitching.
Microtex vs. ballpoint needles
When stitching slippery crepe de chine, a sharp microtex needle grips better than a rounded ballpoint needle. The microtex's acute point pierces the yarns neatly to form strong, smooth stitches. Ballpoint needles part fibers to slide between them without piercing. Ballpoints suit knits, not slippery wovens.
For crepe, pick microtex needles to pierce cleanly. Adjust tension if needed and use lightweight silk thread.
Adjusting feed dogs
Lifting the feed dogs may prevent your machine from skipping stitches along the silk.
Thread tension is critical with silk fabric.
Check and adjust tension settings frequently.
Utilize the appropriate needle – a sharp point for woven silk.
Continually test on scraps first.
When stitching slippery or fragile textiles like silk crepe, modifying the feed dogs can assist in properly grabbing and moving the material for smooth stitching without skipped stitches. Try slight adjustments and examine on scraps to calibrate the perfect settings. Suitable thread tension and needle choice are also vital.
Trying silk thread
Your heart sings as 100-weight silk thread glides smoothly through the fabric, calming frustration from skipped stitches. Silk thread offers sublime benefits for sewing slippery or delicate fabrics like silk crepe.
The smooth surface and finely-spun fibers prevent friction, skipping, and thread breakage. Match lightweight thread to lightweight fabric. Adjust tension since silk thread requires less tension than cotton.
Consider a lightweight sharp needle to pierce the fabric without tearing. Test stitch quality on a scrap first.
For bias-cut or slippery fabrics like crepe:
| Thread Type | Needle Type | Tension | Presser Foot |
| --- | --- | --- | --- |
| Silk | Sharp | Low | Teflon |
| Cotton | Sharp | Medium | Straight Stitch |
| Polyester | Ballpoint | Medium-High | Open Toe |
Silk thread sings as it flows smoothly through silk crepe, calming skipped stitches with quality stitches.
Techniques for Sewing Straight Seams With Crepe Fabric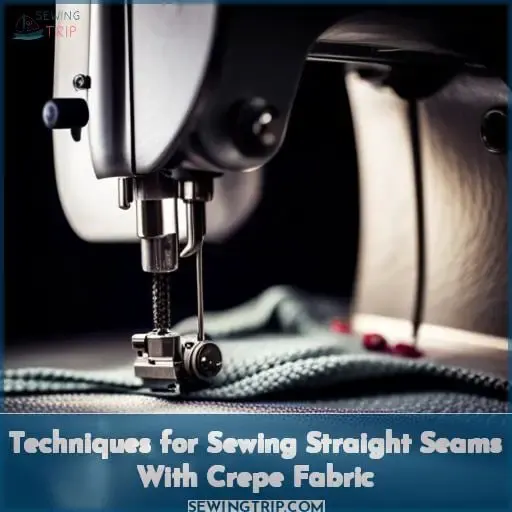 Stay focused on keeping those seams straight by gently guiding the fabric through as you engage your presser foot.
Pre-shrink your fabric before cutting to prevent later distortion.
Stay-stitch curved edges and bias seams to stabilize.
Use lots of pins perpendicular to the seam line as you sew.
Press open each seam with steam as you go for flat, crisply pressed seams.
Gentle guidance of the fabric with minimal handling will result in straight, accurately sewn crepe seams. Proper pressing is vital to prevent stretching out of shape. Take your time and mind the details.
Overcasting Techniques for Crepe Fabric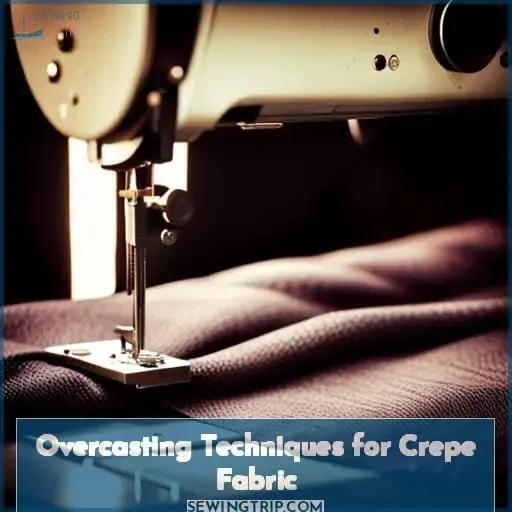 You'll find overcasting crepe seams with a narrow zigzag stitch helps prevent fraying while maintaining drape. When finishing crepe garment seams, choose a lightweight machine embroidery thread in a matching or neutral hue.
Set your machine to a narrow zig-zag stitch with a 2.5 length and 0.5 width using the 1.0mm stitch plate. Carefully guide the fabric edges under the presser foot to encase them with small zig-zag stitches.
Take care not to stretch or distort the fabric edges as you sew. Overcast all seam allowances in this manner, trimming excess close to the stitching when finished. This will neatly enclose the raw edges of your fine crepe fabric for a clean inside finish while keeping the outside drape smooth.
Different Seam Types for Working With Crepe Fabric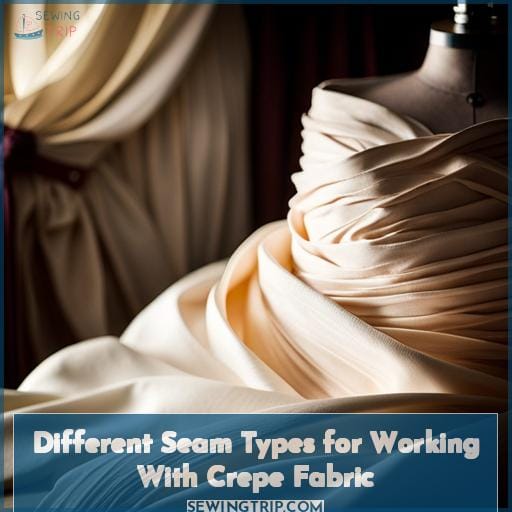 You'd do well to choose French or felled seams when sewing crepe fabric. Enclosing the raw edges prevents fraying. The seams neatly contain the fabric's tendency to unravel. Rolled narrow hems also restrain raveling.
Flat felled seams provide durability and manage fraying through multiple fabric layers. Zigzag finishing does control fraying but may not withstand repeated laundering. Bias binding encases raw edges attractively while restraining fraying, although applying it takes time.
For longevity, opt for felled or French seams on garments. Use rolled hems for frilly blouse edges.
Match the seam style to the garment design and care required.
Preparing Your Fabric Before Sewing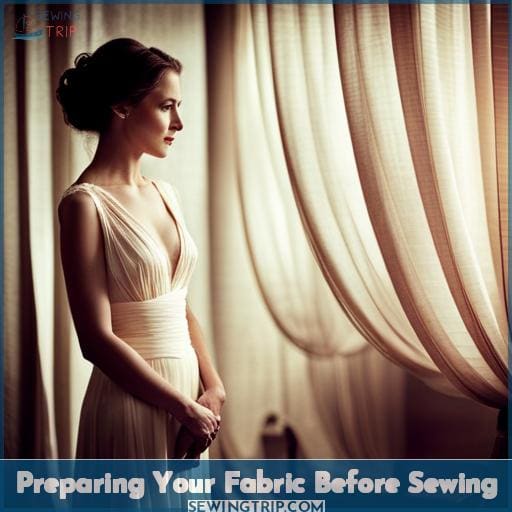 Roam the grain lines by fingering a thread, tearing gently as you prep your fabric before stitching. Dart the needle eye downward and press your fingertip, checking the right side is smooth. Claire Shaeffer counsels choosing a microtex sharp version ten for frictionless puncturing.
Align the grain perpendicular using printed lines beneath to establish straight direction. Consider cotton embroidery series twenty thousand for reduced pulling. Cut bias-wise across forming angles to avoid warping unstable weaves.
Microscopic yarns slide past each other puckering seams running parallel straightforwardly. Spray starch coaxes obedience from temperamental textiles, yet fusible interfacing tames twills. Handling slippery fabrics demands diligence in determining direction, darting seams diagonally despite difficulty.
Ballpoint needles part fabrics cleanly, stitching knits without snagging. Sharp points pierce densely woven cloths effortlessly, gliding through tautly twisted threads.
Tips for Sewing With Rayon and Crepe Fabrics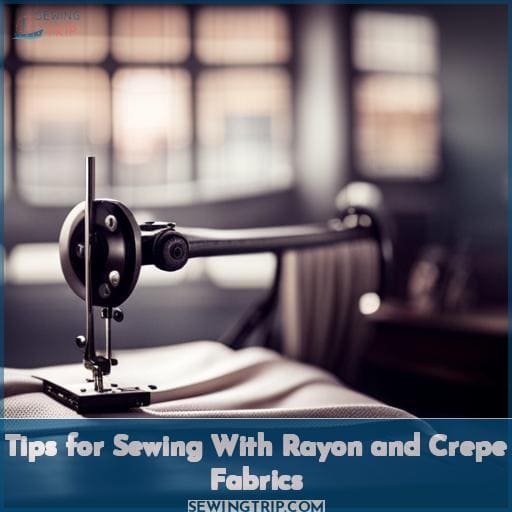 When working with slippery rayon or temperamental crepe, keep those fabrics under control by spraying starch before cutting.
Use fine machine embroidery needles for best results.
Interface collars, cuffs, and hems to add body.
Staystitch curved seams and necklines to prevent stretching.
Crepe and rayon can frustrate sewing enthusiasts, but a few simple tricks will tame these fabrics. The right needles glide through the fabric easily without snags. Interfacing provides structure so seams and edges don't distort.
Staystitching curved areas secures the fabric's shape. With the proper preparation and tools, even temperamental fabrics become a joy to sew. Master slippery rayon and temperamental crepe fabrics with small changes that make a big difference.
Troubleshooting Common Sewing Issues With Crepe Fabric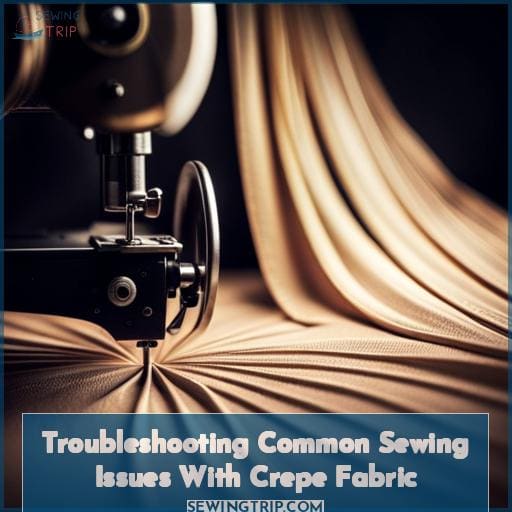 After reviewing the shared insights, adjusting machine tension and needle choice helps counter skipped stitches when stitching slippery crepe de chine. Select a sharp needle like a Schmetz Microtex size 70/10 to pierce the tightly woven fabric.
If skipping continues, increase upper tension slightly to grip thread better. Stabilizing the fabric's grainline with fusible stay tape prevents distortion, keeping feed dogs engaged.
Tension adjustments and needle suitability for the fabric structure make all the difference when precision stitching's needed on temperamental textiles like crepe.
Final Tips and Recommendations for Sewing With Crepe Fabric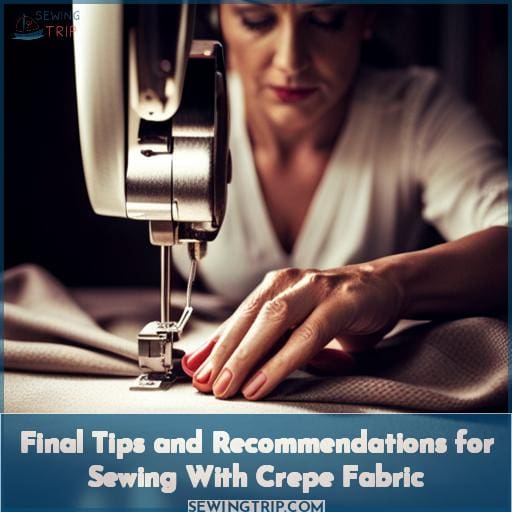 Yes my friend, embrace the dance of your crepe creation like a butterfly emerging from its chrysalis.
Use silk thread for smooth stitches without puckering.
Choose sharp needles like Microtex to pierce fabric cleanly.
Lightly starch fabric before cutting for stability.
Consider cutting bias grain for fluid drape.
Attach an edge stitch foot for seams without distortion.
When sewing delicate or temperamental fabrics like crepe, having the right tools and techniques makes all the difference. Arm yourself with sharp needles, lightweight threads, and the right grain. Tame unruly fabric with starch before cutting.
Master the peculiarities of crepe, and you'll create garments as elegant as a butterfly in flight.
Conclusion
Sewing crepe can be tricky, but with the right tools and know-how, you'll be sewing it like a pro. Crepe's delicate nature means it can easily pucker, stretch, lead to skipped stitches, and unravel seams.
Start by using the right needle and thread. A sharp needle helps pierce the fabric cleanly. Go with a fine thread like polyester or silk in a tight stitch length. This keeps seams from puckering and holds stitches in place.
Get familiar with techniques like staystitching, clipping seams, using a walking foot, and hand basting. These help control stretching and skipped stitches. Staystitching stabilizes seams before construction.
Clipping inner curves releases tension. A walking foot prevents shifting layers.
Consider the type of seam you use. French and flat-felled seams enclose raw edges neatly with no fraying. Stabilize shoulder seams with stay tape. Finish necklines and armholes with lightweight binding or Hong Kong seams to prevent ravelling.
With know-how on needles, threads, seaming techniques and finishes, you can sew crepe confidently. Proper tools and methods will help you avoid problems like puckering and unraveling. Take it slow and steady. With some care and patience, you'll get professional results.