This site is supported by our readers. We may earn a commission, at no cost to you, if you purchase through links.
The sewing machine market is huge and varied, with many options for both interesting features and quality prices. But you may have noticed that finding a great embroidery machine isn't easy.
Do you feel you've tried everything and still came up short? We are here to help.
Today we look at the Janome MB-4S Embroidery Machine. It has a range of built-in designs, an external computer screen and comes with everything you need to get started. That said, you may find the price tag unappealing. Is it worth clicking'buy'now, or . st pass it by?
Let's inspect the Janome MB-4s embroidery machine. The ,ll story lets you decide for yourself!
Janome MB-4S Embroidery Machine: The Details
The Look
The Janome MB-4S Embroidery Machine offers a unique look. Instead of the traditional, long build, it is much shorter. The hoop and base of the machine are where you will work your magic.
This MB-4S is all white with metal interior. Similar to a large microwave, it is substantial but does not take up too much space.
Specs
Weight: 45.2 lbs.
Dimensions: 14.4 x 25.2 x 20.5 in.
Designs: 50 designs.
Speed: 800 bpm.
Automated/Mechanical: Automated.
Bobbin: Front Loading.
Warranty: 25 years.
Accessories
Spools.
Needle.
Needle threader.
Felt ring (large).
Felt ring (small).
]
Hope M1 (240 x 200).
Hope M2 (126 x 110).
Hope M3 (50 x 50).
Hope Supporter.
Coil caps.
Spool net.
Spool pin.
Spool support.
]
Spool Stand.
Fluff Brush.
Thread Guide Rail.
Wire guide.
tweezers.
Seam ripper.
Scissors.
Offset screwdriver.
Screwdriver (large).
Screwdriver (small).
Setting screw.
Accessory box.
Oiler.
Power Power cord.
Instruction book.
Instruction CD-ROM.
Janome: The Company
Founded in 1921 by Josaku Osem, Janome was first referred to as the Pine Sewing Machine Factory. It wasn't until 1954 that it grew into the Janome Sewing Co name. as we know it today.
Currently, Janome has branches in the US, Canada, Mexico, Europe, Australia and many more countries. Their stated mission is to make sewing machines and overlook machines that are easy to use, reliable and made from quality materials. They want to ensure that their users " can get the most out of their creativity."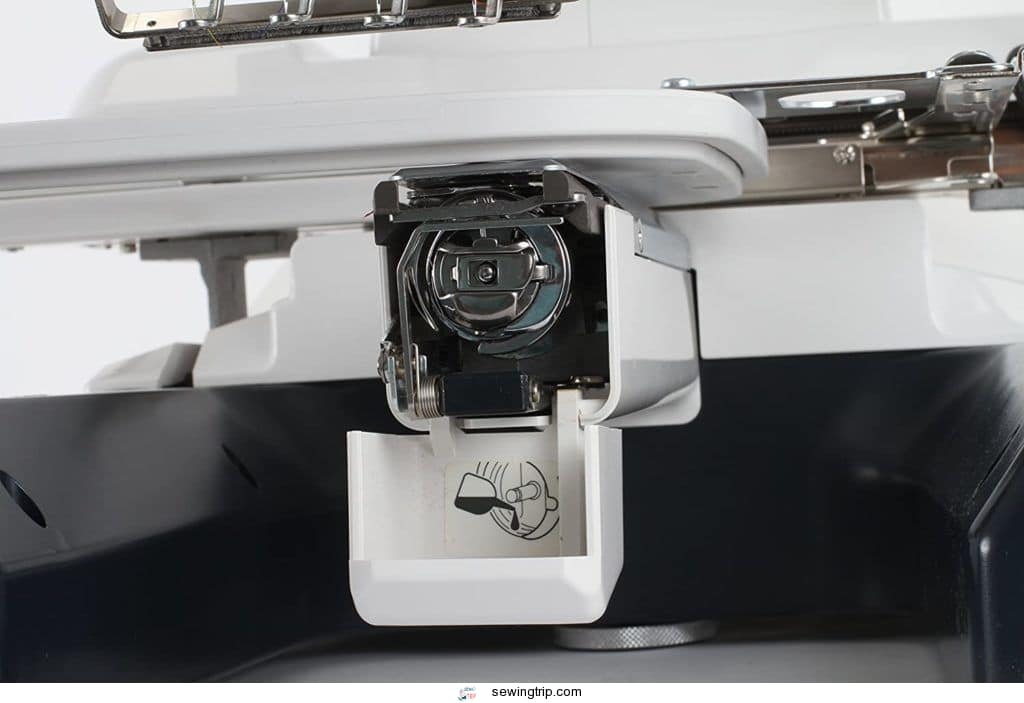 The Warranty
The Janome MB-4S Embroidery Machine comes with a 25-year limited warranty. The warranty covers all problems with the "materials or workmanship, except for electrical/electronic equipment, which is guaranteed for two years from the original date of purchase."
During the first year of ownership, you can receive replacement parts that are defective and receive all labor for free. After that first year, it can replace defective parts free, but you have to pay for the labor. The warranty covers nothing that occurs because of poor maintenance or lack of repairs, nor does it cover damage caused by "normal wear and tear."
This warranty to applies to machines purchased through an allowed Janome dealer.
Features
Design
The Janome MB-4S Embroidery Machine comes with almost everything you need. You get fifty unique designs built into the machine, ten different fonts for monograms and two and three letter monograms. Whether you're looking for a floral design or a formal design, you'll find it here. As a bonus, if the machine doesn't have your favorite embroidery, you can upload it to memory.
You can use different formats to upload your own embroidery designs. The machine accepts. Java format,. jefe format and. dot format.
You can also edit designs on the remote computer screen. Capabilities include resizing, rotating, flipping the design, dragging and dropping, re-editing, zooming, arcing, and combining. Most of these ,nctions can in small increments of one percent, so you can really create the exact embroidery you want for your project.
External computer screen
This Janome MB-4S also comes with a 5.7-inch External Computer Display (RCS), which serves as the main hub for this machine. From here the designs can , edited and added – with a choice of up to 65,536 colours. As a plus, this RCS can control multiple machines should you need to link more.
This allows you to select designs and view the patterns, as well as how to edit and save new patterns.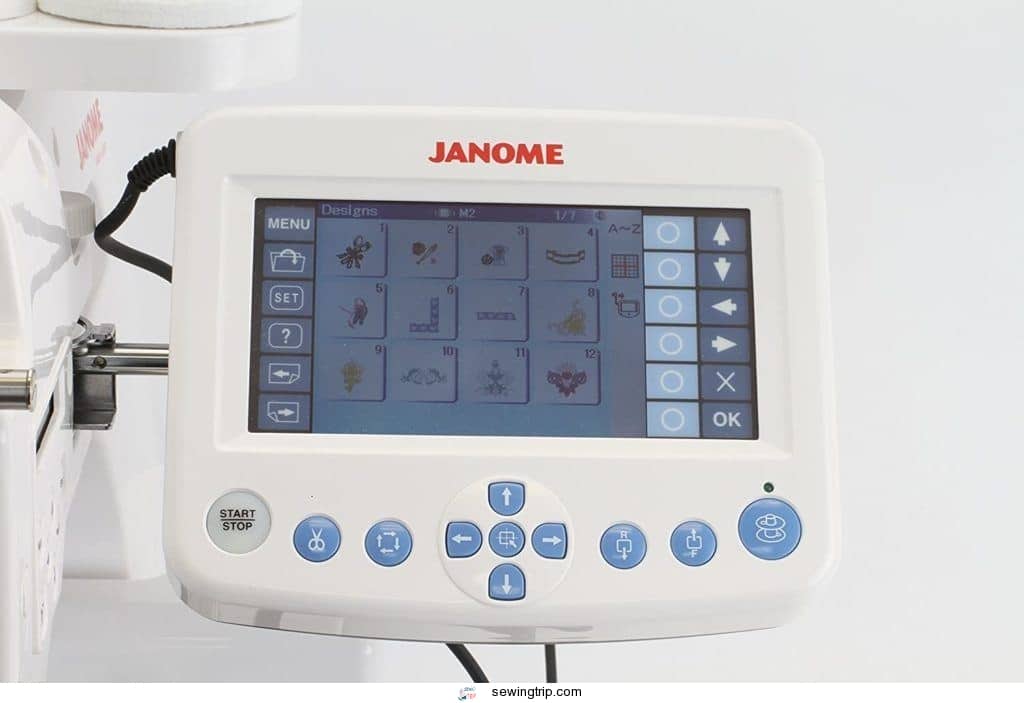 LED Light
This Janome embroidery machine also has four LED lights . st above the needle, so that you have a magnificent view of the work area. Allows you to embroider at night, place the machine in a dark corner without a light or have more general precision with your stitches.
Automatic Thread Cutter
A use,l feature of this machine is the automatic thread cutter. As the name implies, it automatically cuts . mp wires or wires between letters in monograms. This saves you time and eliminates the need to cut each thread individually.
Automatic Needle Threader
Speaking of automatic convenience, this Janome also has an automatic needle threader. This makes setting up the machine for daily use even easier. No more effort with your fingers, sight or patience!
Memory storage
This embroidery machine also comes with its own memory unit, which can store an impressive number of stitches and embroideries. In total it can hold 3MB – or approximately 1,500,000 stitches and up to 100 embroideries. They do not limit you to the built-in choices on this machine.
Oversized spool
Running out of thread can frustrate, but the bobbin on this machine is 1.4 times larger than a regular bobbin. This allows you to complete larger pieces of embroidery without having to rewind the bobbin.
Quick sewing options
The Janome MB-4S can sew up to 800 embroidery stitches per minute, so you can fly through large projects with ease. This machine can sew three times faster than single-thread embroidery machines.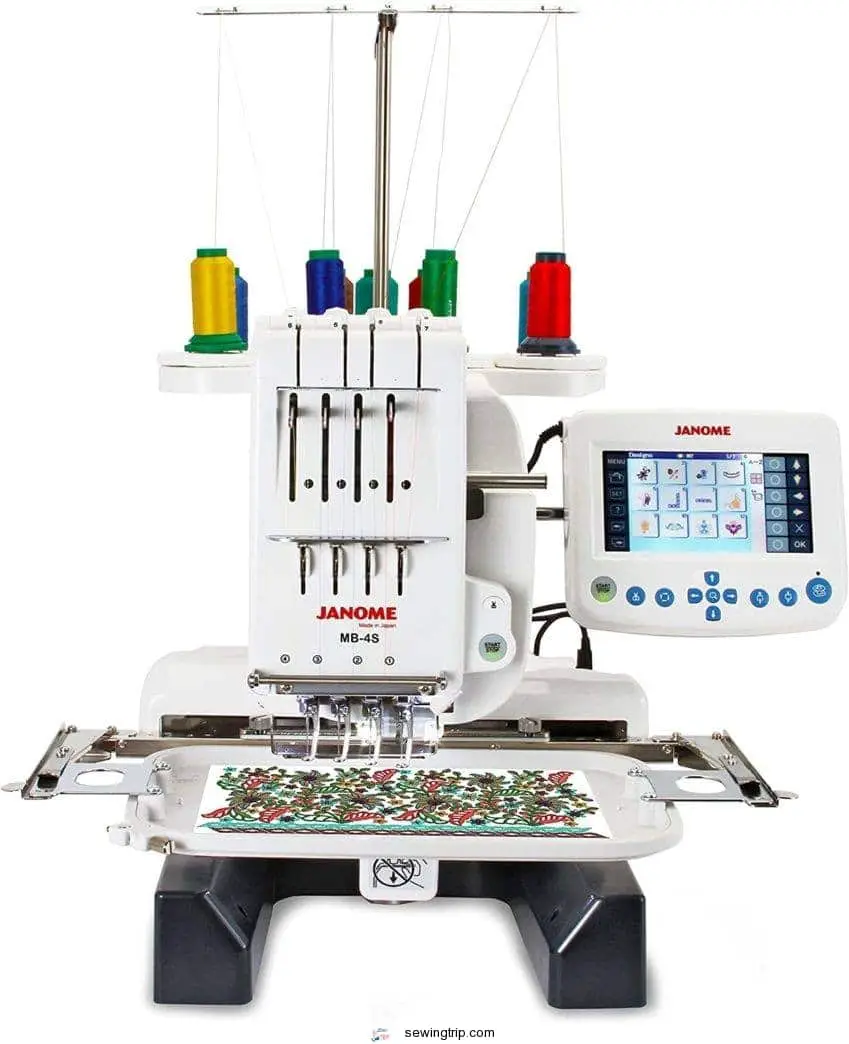 Spool-winding motor
Not only does the machine have a larger than average coil (1.4x larger than a regular one), it has a motor specifically for winding the coil. That means, while the machine is sewing, you can also simultaneously wind a bobbin and have it ready to change if necessary. The bobbin winder rotates at 2,000 revolutions per minute.
Instructions
This embroidery machine comes with both an instruction booklet and also an instruction CD-ROM to ease the learning curve on these advanced, professional-quality machines. Some users also found great installation and tutorial videos on YouTube that can help make it easy to take the machine straight from unpacking to creating beauti,l embroidery projects.
Built-in computer memory
The Janome MB-4S comes with many designs already programmed into the machine, but it also can save imported designs. To make that process easier, you can connect your PC directly to the machine and it has 3 megabytes of memory. That can save about 1,500,000 stitches! That equates to about 100 original designs.
The machine to come with fifty unique designs, but with some custom computer work your machine could have more up to 150 designs saved and ready to be embroidered in instant.
Hoop size categories
The ring size categorizes fifty built-in designs so you know exactly what you should use for your project. It spread the fifty designs over seven different screens in the machine's computer. I made page 1 and page 2 of the designs for Hoop M2 (MB Hoop126 x 110). Page 3 through 6 for Hoop M1 (MB Hoop 240 x 200) and page 7 for Hoop M3 (MB Hoop 50 x 50).
Once you are familiar with the order of the designs and the size of the hoops, it is a piece of cake to find and select exactly the design you need for the project you are working on.
Janome MB-4S Embroidery Machine Review
The Positives
Easy Setup
Although many steps , the Janome MB-4S Embroidery Machine is quite easy to set up. It should take between 20-30 minutes, or less time if you with the machine. The instruction manual provides clear directions with help,l charts and images to help you through the process step by step.
Once it's set up, you can embroider right away.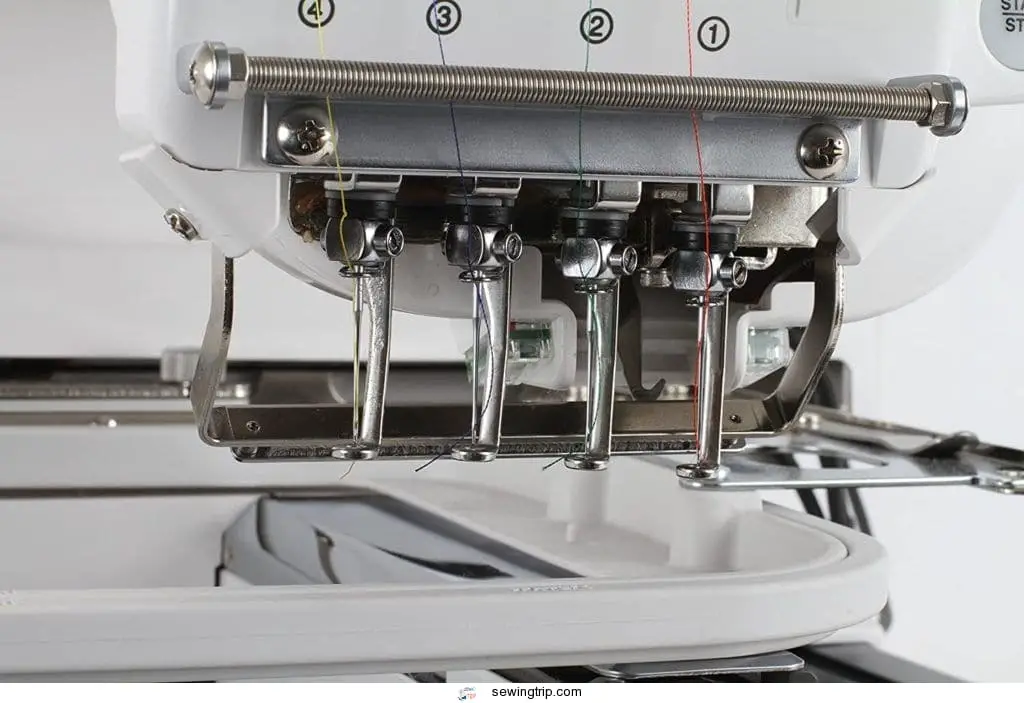 Easy to use
Although this machine may look complicated to use, it is very simple. To begin with, make sure the bobbin and placed in the compartment. Let the automatic needle threader do its job and navigate the computer screen. Choose the design or lettering you want here. Then place your fabric under the needle and in the embroidery frame and let this Janome do its work. This all takes a few minutes or less!
Versatile
With fifty unique designs and ten different fonts, the's easy to think of this Janome as versatile. It contains most of the patterns you could need, and if you find it's missing a certain design, I can easily upload it to memory. Just connect the machine to your computer and send the design. This allows the machine to expand with your embroidery ambitions.
Convenient
With automatic ,nctions, built-in patterns, an easy-to-use computer screen, lighting and connectivity to your personal laptop or desktop, it's easy to see: this machine is very handy. As a plus, the huge accessory pack means you never have to make secondary purchases; everything . Once this Janome , all you need to do is buy the fabric and dive right in.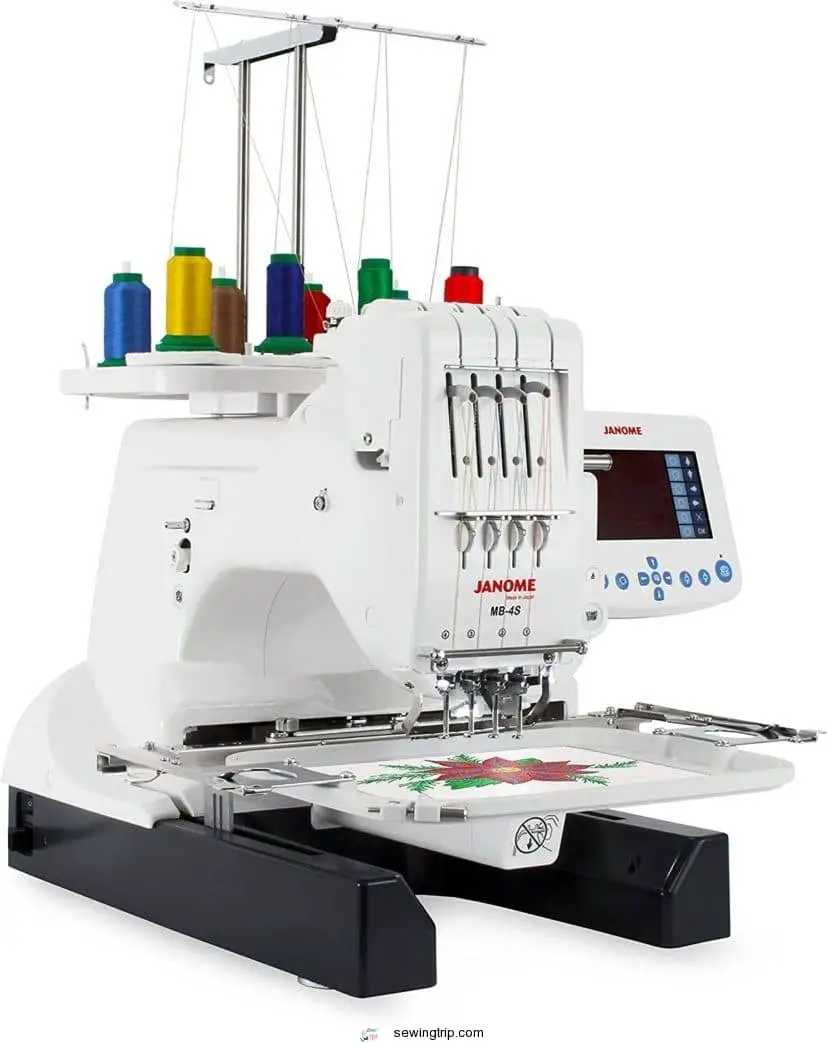 The Negatives
Very Duration
A wide range of features, bonus accessories and handy design are great. However, they do come with a price. This machine costs . st under $5,000 on Amazon. That is a hefty amount, which may not suit hobbyists or novice embroiderers. Those who are professionals, embroidery experts or tackling many projects will find this price tag reasonable for the high quality they receive.
Overall verdict
After going through all the positive and negative points, we recommend the Janome MB-4S Embroidery Machine. With the array of use,l features and included tools, it's hard to spot flaws in this model. While beginners may dislike the high price tag, if you're looking for a high-quality machine for large, long-term projects, this one could be the perfect fit.
Where to find it Buy the Janome MB-4S embroidery machine
The Janome MB-4S embroidery machine is available from a few different online retailers.
Janome ($7.999)
Sewing Machines Plus ($4,999.00)
Sew Vac Direct ($4,999.00)
Sewing More ($4,999.00)
And of course, the Janome MB-4S is available on Amazon.

---
So that's our review of the Janome MB-4S. Are you going to add it to your craft room?
Not sure if this is the model for you? Browse the rest of our sewing machine reviews.