This site is supported by our readers. We may earn a commission, at no cost to you, if you purchase through links.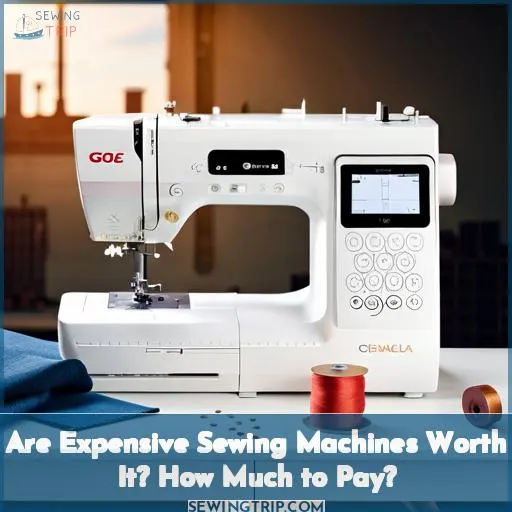 I know you've stood there in the craft store aisle, eyeing those shiny new sewing machines. The fancy computerized ones with all the bells and whistles. They seem so sleek and modern compared to your Grandma's old mechanical model.
Part of you is itching to bring one of those high-tech beauties home. But then you glimpse the price tag. Yikes! Your practical side kicks in. There's no way you can justify spending that much, right? You don't even sew that often.
Do you walk away feeling unsatisfied though, like you're missing out on the sewing machine of your dreams? I've been there too. For the longest time, I made do with a cheap beginner's model. It worked okay, but deep down, I yearned for more versatility and ease of use.
I just wasn't sure if splurging on an expensive sewing machine would be worth it.
Eventually, I took the plunge. Let me tell you, investing in a premium model was one of the best decisions I've made for my sewing hobby. The difference is astounding. With high-end features like automatic thread cutting and hundreds of built-in stitches, sewing is a breeze.
Projects that used to take me hours now take minutes. For me, the juice was absolutely worth the squeeze.
Key Takeaways
Computerization and embroidery capabilities are standard on expensive sewing machines, making them a worthwhile investment for frequent and creative sewers.
Well-known brands like Bernina and Janome offer quality components, longevity guarantees, and global repair services, ensuring the durability and reliability of expensive sewing machines.
Specialty machines with advanced engineering features like laser guides, multi-directional sewing, and commercial strength cater to the specific needs of professionals in the sewing industry.
Beginners can start with basic and affordable sewing machines before deciding to invest in more expensive models.
Why Are Sewing Machines So Expensive?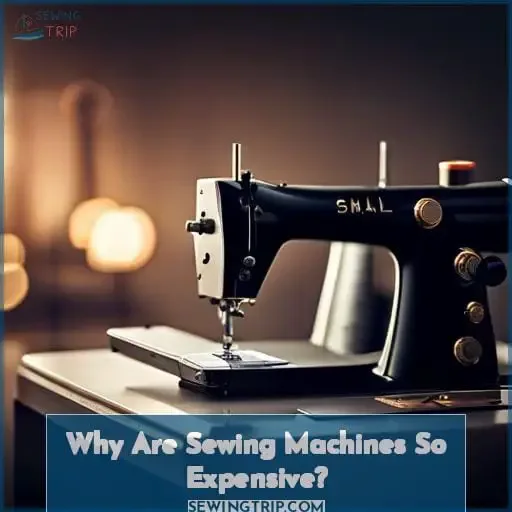 You'd be surprised at the high prices since they serve avid sewers with premium features, not just basic stitches. Many pricey machines offer computerized features like automatic thread cutters, hundreds of built-in stitch patterns, adjustable speeds, and embroidery capabilities.
These automate tedious tasks, customize settings, and add creative options – worth the investment for frequent sewing.
Brand reputation also factors into cost. Well-established names like Bernina and Janome are known for high-end construction. Their longevity guarantees, quality components, and global repair services justify the expense for serious hobbyists and professionals.
Additionally, specialty machines accommodate advanced skills with features like laser guides, multi-directional sewing, and commercial strength.
For new sewers, basic machines under $150 meet needs. But frequent, creative, or business sewers will appreciate the advanced engineering of high-end computerized sewing machines.
Expensive Sewing Machine Brands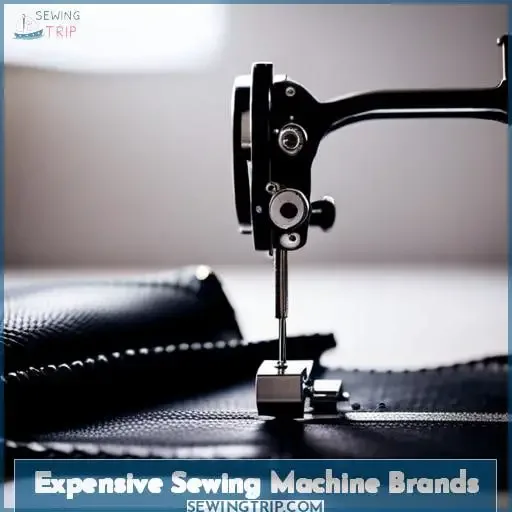 Premium brands like Janome and Bernina offer advanced features that save time and prevent problems, though beginners may prefer more affordable options to start.
Janome – Known for high-end computerized sewing and embroidery machines. Top-of-the-line models boast superior stitch quality, easy navigation screens, and hundreds of built-in stitches and designs.
Bernina – Swiss precision engineering makes Bernina a luxury brand. Computerized options allow programming custom stitch settings. Premium models offer embroidery, quilting capabilities, and serger functions. Expect to invest $1,000 to $15,000.
Juki – Juki caters to high-volume, industrial sewing with their premium machines. Durable steel frames and high-speed sewing make them ideal for businesses. Pricing ranges from $2,000 to $6,000.
Vintage machines still fetch high prices when condition merits investment. For home sewers, carefully match machine features to your skill level and project needs. Beginners may start with basic, affordable options until ready for advanced capabilities found in pricier models.
Most Expensive Sewing Machines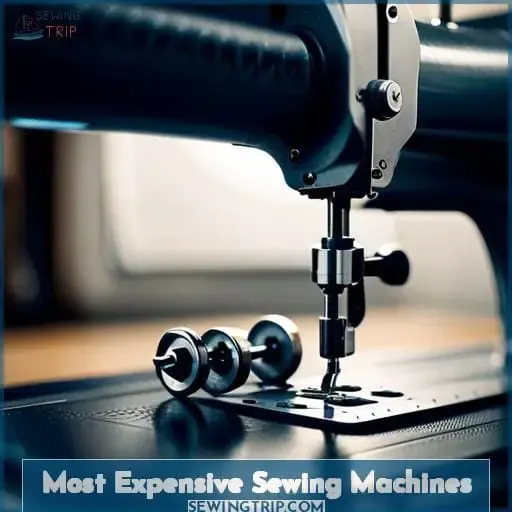 The hand-selected Janome, even at full retail, combines its whisper-quiet operation, 20-stitch digitized panel, programmable needle up/down, auto threading, 200-stitch capacity, and artisan solid-metal construction into a sewing feat your gran might've struggled to fathom.
Top-tier sewing areas, needle systems, built-in stitch designs, and masterful thread management justify prices nearing five figures.
Industrial brands like Juki and Janome build semi-pro rigs with luxe special attachments and stitches numbering in the thousands.
While ordinary projects won't leverage this Cadillac level of quality, for the cognoscenti seeking to elevate couture, tailoring, and quilting pursuits nearer to fine art, investing in the prestige and engineering of elite sewing machines makes sound sense.
Best Inexpensive Sewing Machines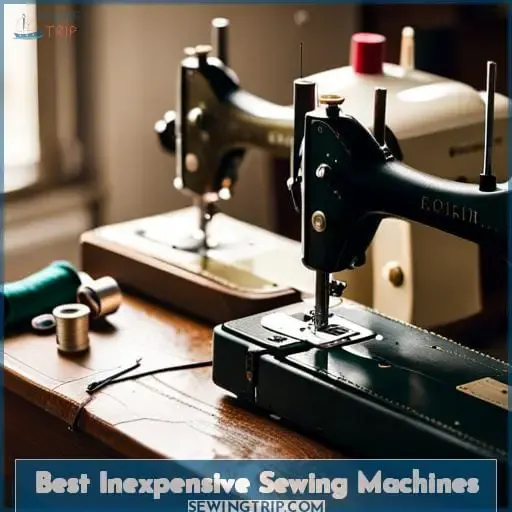 For stress-free sewing, snag a simple starter machine. When starting out, a basic model allows you to learn technique without fussing over complex features. Affordable options abound, like the versatile Brother CS6000i with 60 built-in stitches or the portable Janome New Home for toting projects on-the-go.
Quality entry-level machines deliver essentials like straight, zigzag, and buttonhole stitches to handle simple garments and crafts. Look for user-friendly features like easy threading, top drop-in bobbins, and printed guides.
Compact miniature machines work for small spaces, quick mending, and portable sewing. While inexpensive models lack advanced settings, they provide a solid foundation for beginners on a budget. Focus on finding a trusted brand that suits your space, portability needs, and intro skills.
Once you master the basics, you can always upgrade for specialty techniques down the road.
Factors to Consider Before Purchasing a Sewing Machine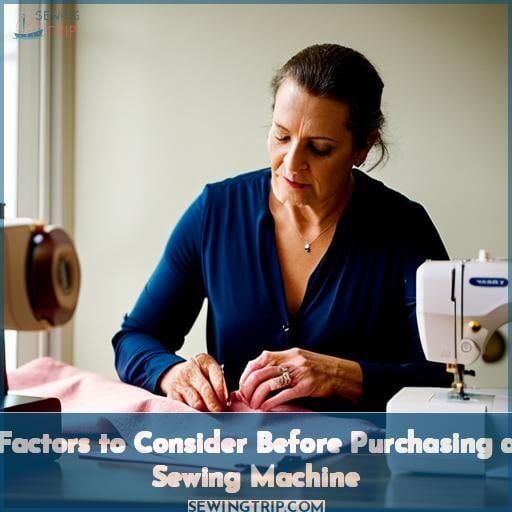 When shopping for a sewing machine, consider your skill level and sewing needs before deciding between a full-size or miniature model. Also, weigh the benefits of computerized features versus mechanical operation, the number of included presser feet, built-in stitches and buttonholes, and automatic needle threaders.
These key factors will help determine which machine matches your budget and projects.
Full-size Vs. Miniature Sewing Machine
Before making the big investment in a full-size sewing machine, you'll want to test out a mini to see if it can handle your projects.
Sewing area – Full-size machines offer more workspace for large projects.
Stitch settings – More options on full-size allow for creative stitches.
Built-in lighting – Illuminates the work area better on full-size.
Pedal sensitivity – Finer foot control on full-size helps with seams.
Tension adjustment – Full-size lets you customize for different thread types.
Though miniature sewing machines are portable, their limited features may frustrate you if you tackle complex projects frequently. Test stitch settings, tension, lighting, and workspace to decide if an investment in full-size is worthwhile.
Computerized Vs. Mechanical Sewing Machine
You'll speed through projects like a NASCAR driver with a high-tech computerized model, but a trusty mechanical machine keeps pace with precision like a classic stopwatch. Consider your experience level and project types. Computerized machines automate tedious tasks like tension adjustment and stitch selection, saving time for sewing businesses.
However, inexpensive mechanical models provide the essentials for beginners starting out. Match the machine's capabilities to your needs – computerized for efficiency with multiple fabrics and settings or mechanical for mastering basics at your own pace.
Included Presser Feet
The presser feet included with a machine will let you tackle different types of projects right off the bat. Singer, Bernina, Janome, and other top brands offer several snap-on feet for tasks like zipper insertion, hemming, quilting, and buttonholes.
Installing presser feet is a cinch by following the manual. Consider clearance size, pressure adjustability, and specialty attachments to handle any fabric. Buying models with extra presser feet opens up more project possibilities from the start.
Stitches and Buttonholes
You'd benefit from a machine offering both utility and decorative stitches to handle various projects.
Look for options like straight, zigzag, and stretch stitches for clothing construction.
Specialty stitches like buttonholes take care of finishing details.
Decorative stitches add embellishments, monogramming, appliqué, and quilting options.
More built-in stitches provide versatility for different fabrics and techniques.
Automatic Needle Threader
Imagine spending 20 seconds threading each needle manually on lengthy sewing projects when an automatic needle threader simplifies the task in seconds. This handy feature effortlessly guides thread through the needle eye with the push of a lever, preventing hand strain and frustration.
The time savings add up, letting avid sewers focus their energy on their project instead of fighting with complex threading. For tackling large quantities of needles, auto threaders boost efficiency. They make threading as easy as pressing a button.
How Much Should You Spend on a Sewing Machine?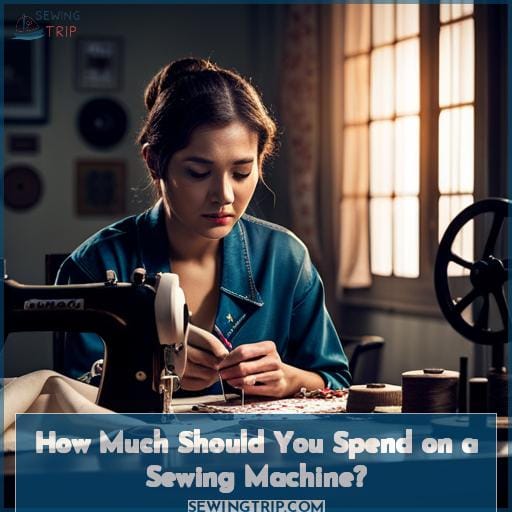 You're better off investing in a quality machine within your budget than overspending on fancy features you may not need as a beginner.
Consider how often you plan to sew. If it's just occasional small projects, an inexpensive starter model will suffice.
Match the machine capabilities to the complexity of your planned projects. Avoid unnecessary computerized options if sewing simple items.
Research machine types for durability and ease of use based on your skills. Reliable brands have better reputations.
Test drive machines if possible to determine the right balance of features and price.
Purchasing a sewing machine is an investment. Carefully evaluate your needs and buy the highest quality model you can afford. With the right match of machine to your budget and projects, you'll be happy with your purchase for years to come.
Are Expensive Sewing Machines Worth It?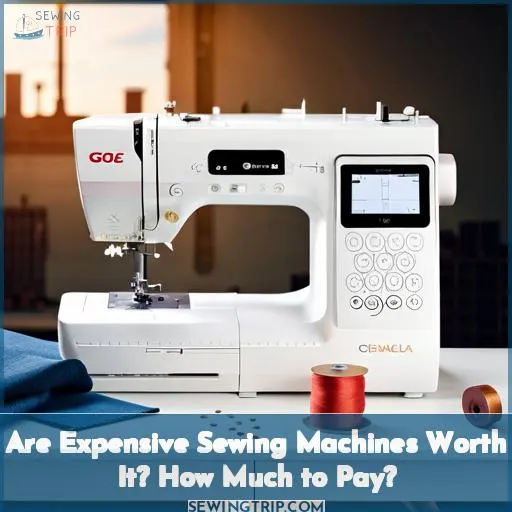 Your creative passion deserves the best. When investing in a sewing machine, don't just consider the price tag. An expensive, high-end model offers invaluable features that can enhance your sewing experience and unlock greater creativity.
Sturdy build quality stands the test of time, while computerized functions automate tedious tasks so you can focus on the joy of sewing. Precision stitching adapts to any fabric for flawless finishes. Intuitive controls and customizable settings let you customize projects to your exact vision.
While beginners can start with an affordable basic model, upgrading to a premium machine is worthwhile if sewing is integral to your life. The satisfaction gained from easier sewing, professional results, and unlimited creative potential makes high-end models a wise investment for devoted sewers.
Frequently Asked Questions (FAQs)
What accessories come with expensive sewing machines? More advanced models often include a wide range of presser feet, specialty needles, quilting guides, embroidery attachments, and other accessories.
You, my fickle friend, seek excessive attachments for that overpriced appliance. Foolishly, forget that function follows frugality. Lavish livelihoods lust for unneeded luxuries, yet avarice attains dissatisfaction's depths.
Wisdom walks simpler paths, finding fulfillment through fortitude and modest means.
Can you find deals on high-end sewing machines? Yes, you can sometimes find sales, bundle deals, refurbished/used options, and coupon codes to get discounts on premium sewing machines.
You can find deals on high-end sewing machines. Check manufacturer websites for sales and bundle offers. Search online retailers for coupon codes and discounted prices on premium models. Consider buying refurbished or used from reputable sellers. With some hunting, you may find significant savings on advanced sewing machines.
How long do quality sewing machines last? Well-made sewing machines from reputable brands can easily last 15-20 years or more with proper care and maintenance.
You can get over 15 years of reliable use from a quality sewing machine if you maintain it properly. Clean and oil it regularly, replace worn parts when needed, and have it serviced by an authorized dealer periodically.
With proper care, a solid brand like Janome or Bernina will serve you well for sewing and crafting projects for years to come.
What maintenance does an expensive sewing machine need? High-end computerized models may require specialized service from an authorized dealer for software updates, calibration, and troubleshooting issues.
You'll need to have expensive computerized sewing machines serviced regularly by an authorized technician for software and calibration updates to maintain optimal performance. Schedule preventative maintenance checks as recommended by the manufacturer to identify and resolve minor issues before they become major problems.
Can you trade in or sell an old sewing machine? Yes, you may be able to trade in an old model or sell it secondhand to help offset the cost of a new sewing machine. Vintage machines can have resale value for collectors.
Look into sewing machine dealers or local sewing/craft shops – some will buy used machines or give credit towards a new purchase. Try selling on Craigslist, Facebook Marketplace, eBay, or apps like OfferUp. Vintage models may generate interest from collectors on resale sites.
Compare trade-in values by researching current resale prices for your make and model. Consider donating less valuable models and getting a tax deduction. Selling an old machine can offset costs when upgrading.
Conclusion
You may be hesitant, thinking a pricier sewing machine isn't necessary. However, investing in a quality machine is worth it if sewing's a hobby or creative outlet for you. With the right features, an advanced model saves time, prevents frustrations, and enables exciting new projects.
But focus on your needs – don't overspend just for extras you won't use. Whether splurging on a top brand or finding a budget-friendly option, test models thoroughly and choose one fitting your skills.
If buying new equipment would truly improve your sewing experience, a higher price could be justified.
Ultimately, are expensive sewing machines worth it to you?