This site is supported by our readers. We may earn a commission, at no cost to you, if you purchase through links.
Finding a sewing machine for beginners is harder than you might think.
There are countless sewing machines that offer a range of stitches and different buttons, but there are few options for the true beginner.
That's where the Shendian Mini Beginner Sewing Machine comes in. It has only one stitch, is compact, and is very affordable. Based on user feedback, it's also simplistic to use and great for beginners.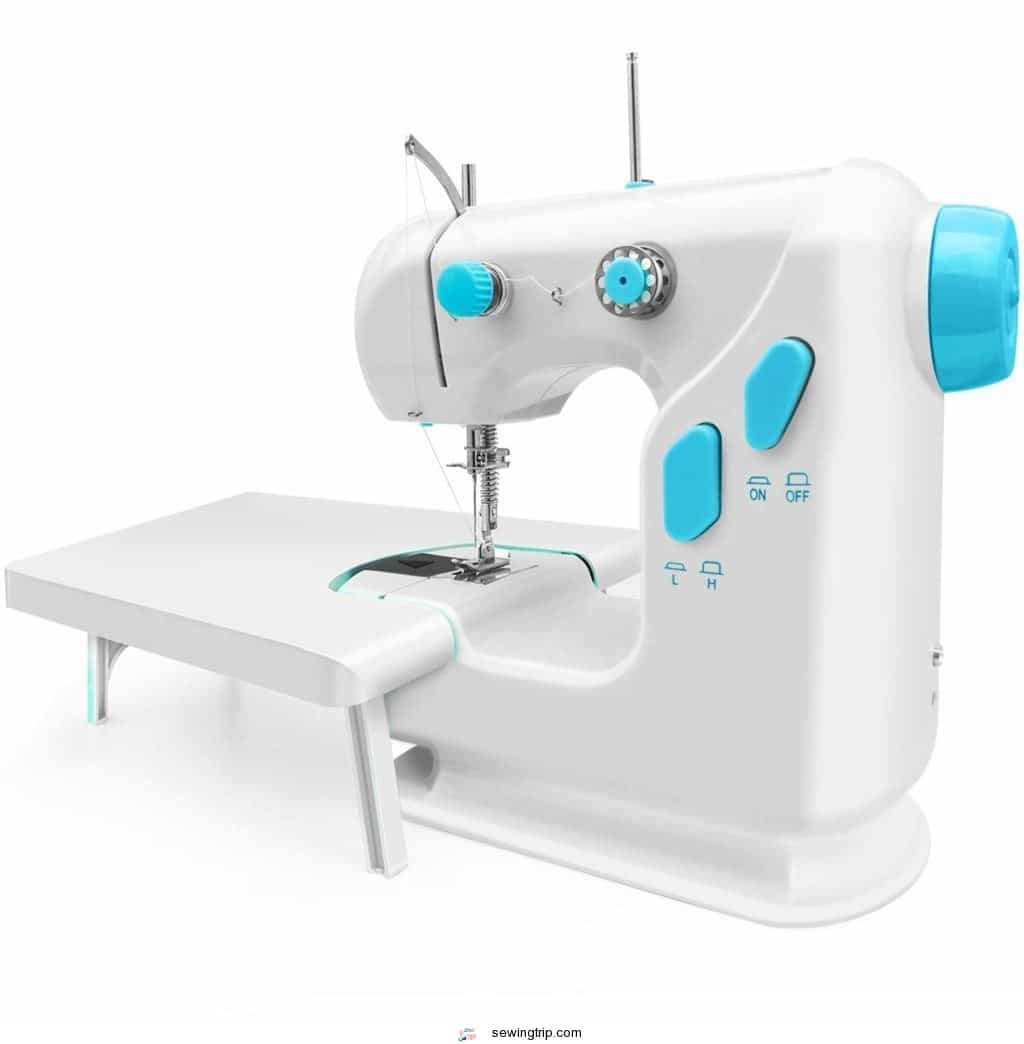 That said, not everyone had offch a wonderful experience. Some testers wanted some more features, while others found the stitches it produced messy.
Was this a rare complaint or the overarching opinion? Let's inspect the Shendian Mini Beginner Sewing Machine and find out.
Shendian Mini Beginner Sewing Machine: The Details
The Look
The Shendian Mini Beginner Sewing Machine offers a fairly basic look.
The exterior is predominantly white, with aqua blue accents on the manual dial, speed dial, on/off switch and voltage control.
The We mainly made exterior of plastic, while the needle plate and needle are both made of stainless steel. The sewing machine is about the size of a large hardback book.
Specs
Weight: 3 lbs.
Dimensions: 8.6 x 8.6 x 4.3 inches.
Stitches: One stitch.
Speed: Low or high.
Automated/Mechanical:
] Technician.
Spool: Drop-in coil.
Accessories
Expansion table.
Needle.
4 x bobbins.[196590]Needle threader.
Adapter.
Foot pedal.
Shendian: The Company
There is little to no information about Shendian online. They don't have a website or a place to contact them. All that exists is their seller page on Amazon, where you may ask them questions.
They may also sell under different names. Some companies sell their products under different or multiple brands on Amazon. However, nothing else is easy to find about it.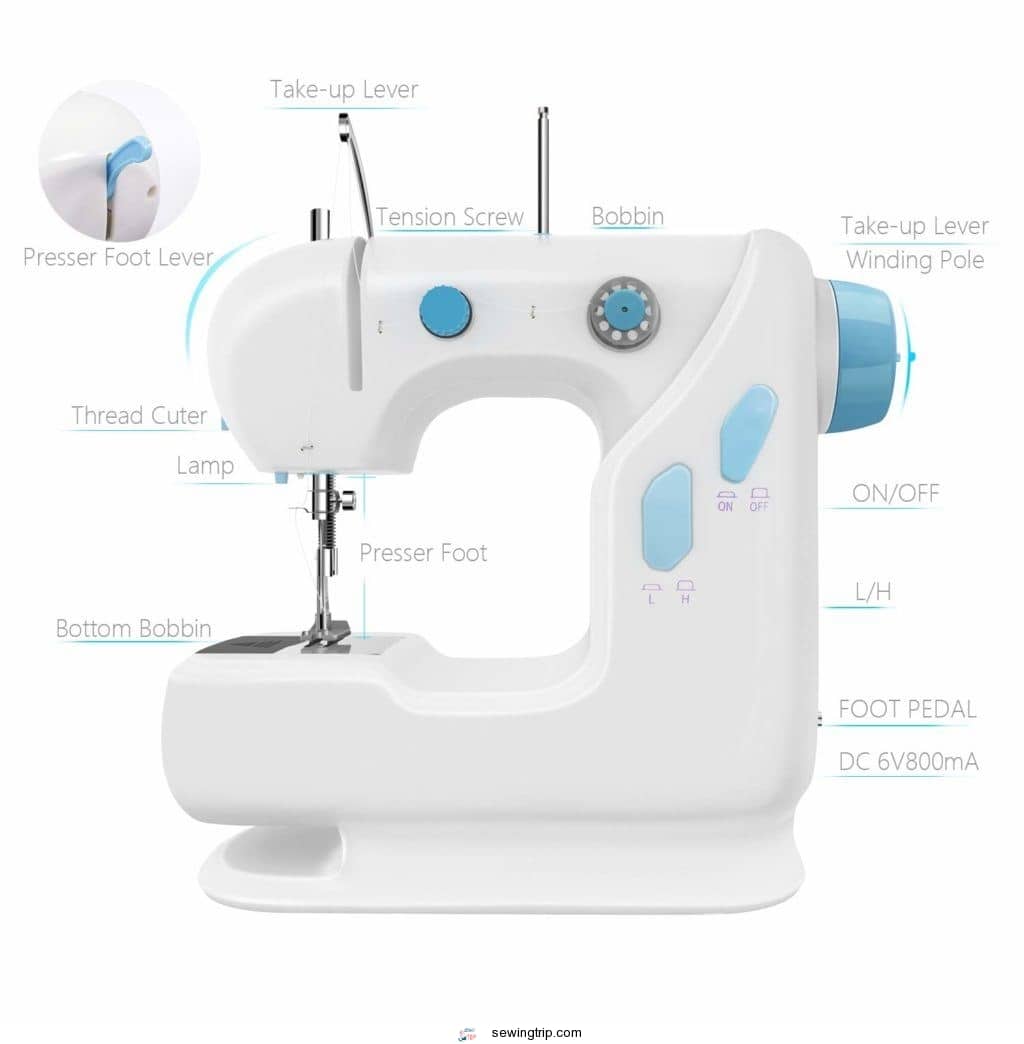 Features
One Stitch
Since this is a beginner machine and quite small, it contains only one stitch: the straight stitch. However, that doesn't mean you can't handle many projects with this machine.
Easy, easy projects all use a straight stitch. ,ether you're steaming pants, pinning up a shirt sleeve or doing a small craft project, this stitch will go a long way.
Speed
]
Although this sewing machine does not have many functions, it has a speed dial. Press it once if you want the machine to run at low speed and press it again if you want to go faster.
If you prefer more control, you can connect the food pedal and apply the amount of presoffre you need to achieve the speed that works best for you. The pedal connects to the port on the back of the sewing machine.
Bobbin
The Shendian beginner mini sewing machine comes with a top loader. I store this means that the coil near the stThe sheet instead of in a compartment underneath.
Once you have threaded the bobbin, simply slide the cover open and insert the bobbin. and slide it shut. This makes it much easier to reach the coil if something goes wrong or you need to re-thread it.
Expansion table
This sewing machine also comes with an extension table, giving you extra room to play.
Although you will not be making quilts or clothes on this machine, the extension table will increase your work space, which is a nice addition, especially considering the extremely small sewing area you normally have.
Lamp
You don't always have to find the light with the Shendian beginner sewing machine. I equip it with a right on the body of the machine!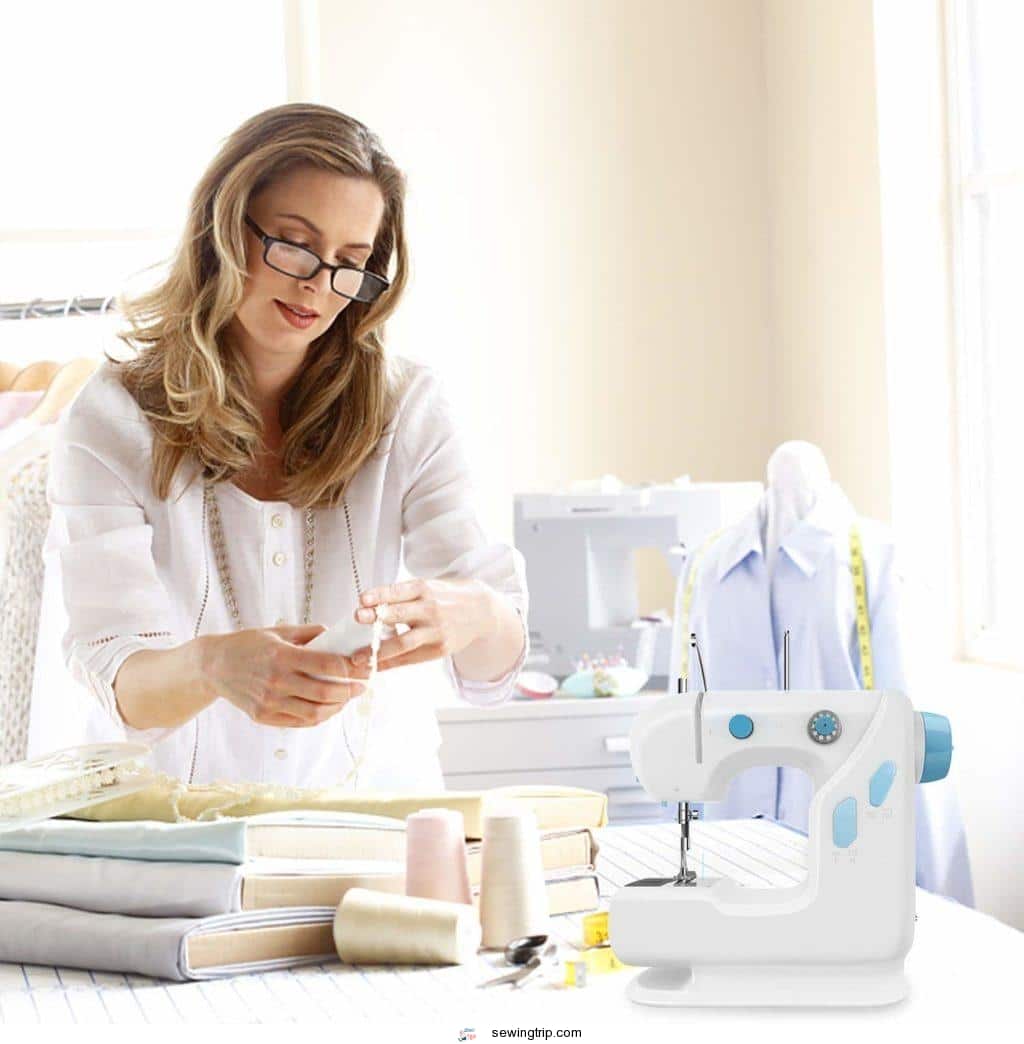 ,ile this may seem like a small addition it means you don't have to squint to see what you see. working in a dimly lit room. You can see all the fine details with no problem.
Wire cutter
Another useful feature of this machine is the thread cutter. This makes it easy to continue sewing without having to grab a pair of scissors.
Small features like these make the sewing process all the easier.
]
Shendian Mini Beginner Sewing Machine Review
The Positives
Easy to set up
Based on feedback from testers, this machine couldn't be easier to install and use.
Once the bobbin has , simply place it in its designated compartment and pull it out long enough for the upper thread to hold.
Now, you just need to thread the top line. Place your thread spool on the machine and pull the thread through the handles and holes until you reach the needle.
Thread the needle and turn the manual knob on the back of the machine. the machine counterclockwise. The upper thread catches the bobbin thread and brings it up through the stitch plate.
That's it! You are ready to sew. a small learning curve you can sew a variety of projects in no time.
Compact and portable
Sewing machines don't get more compact or portable than this Shendian. It's called mini for a reason!
Weighing three pounds and about the size of a large hardback book, you'll have no problem taking this machine anywhere. to salvage. If you're short on space, this is .QQP4F44JGzhk.
In addition, its lightweight makes it easy to take with you on the road. If you like to sew at a friend's house or regularly attend sewing classes, this is an ideal model to throw in your car.
Thanks to the size and weight of the Sendian, don't worry if you have to store this machine in a closet or closet until you need it.
Great for beginners
This sewing machine is extremely easy to use and offers some functions and stitches. Hj.tjQW63i's the perfect item for aspiring seamstresses learning the ropes.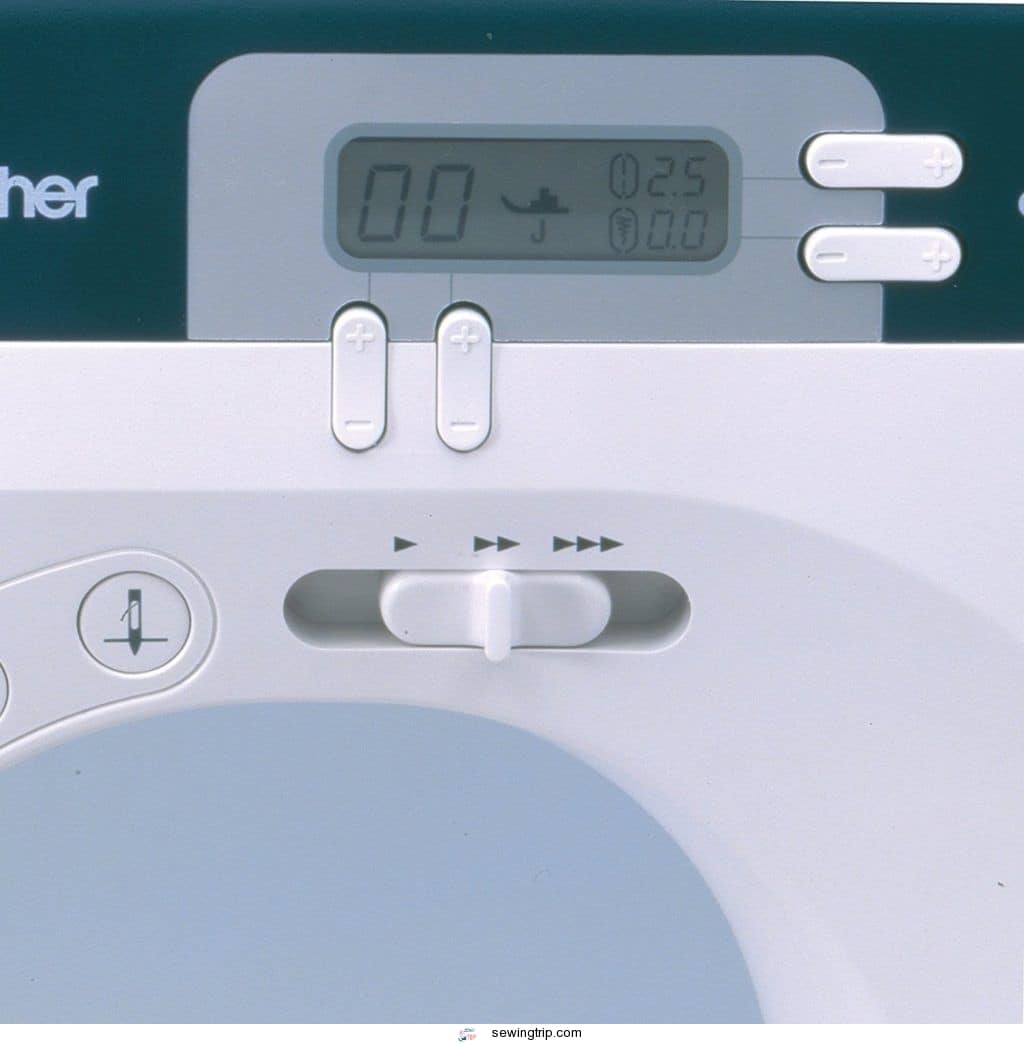 You don't have to worry about choosing the wrong stitch, setting the off stitch length and width, or all the details associated with larger, more complicated machines. You just thread it in and get started.
If you need to complete simple tasks or get your craft feet wet, then it's great to keep learning. Then you can switch to a more complicated machine.
In fact, this machine is so easy to use that the company recommends it even to younger sewers. Thanks to the minimalist design, they are safe and far from being overwhelmed by the Shendian.
Affordable
Finding a sewing machine under $100 can be difficult, but finding a sewing machine under $50 is nearly impossible. Luckily, you can find Shendian Mini Beginner Sewing Machine on Amazon for under $50.
As a beginner machine, that's a great price, especially for an item with extremely basic features. You don't have to break the bank to own a sewing machine anymore.
,ether you're on a budget or need a spare machine, the Shendian will be a superb choice given the affordable price. Because the basic design opens up to a wide variety of sewers, the beginner mini sewing machine also makes a magnificent gift for hobbyists of different ages.
Shendian includes a 6-month warranty on this sewing machine. And as a bonus, since you're probably buying through Amazon, their excellent customer service 'll back you at no extra cost.
,ich is best? An affordable machine means you have a lot of money left over to spend on fresh materials and patterns to try out with your new machine!
Versatile
Don't by the basic design of this sewing machine. It still stands as a versatile machine ready to tackle a variety of projects. ,ile we limited you in stitches, it does not limit you in the designs you can create!
From clothing to curtains to purses, this machine can inspire you to create a variety of projects with original materials.
Although this machine may be too minimalist for heavy leather or quilting projects, it can also handle layers of denim or similar fabrics with no problem.
Thanks to the double thread function, this machine will not be overwhelming, nor will it slow you down to get creative and crafty.
The Negatives
Messy Stitches
A few testers had problems with the operation of the sewing machine. They found the offtures came out very messy and not of the quality they expected.
Some offtures were loose, others . This could be a case of "you get what you pay for," but this wasn't a complaint most testers had, either. It could be a manufacturing defect or even a user error.
Basic Machine
A few testers wanted this too. machine to have more functions. They were angry that there was only one stitch, and that there were no more specific choices.
This is a very simple machine. It's no frills, especially for quilting or heavier fabrics. With that in mind, temper your expectations and be absolutely offre of the projects you want for it.
A sewing machine with more stitches will certainly cost more than what we advertised this machine at; they can only sell it at this price because it is so simple.
If you are an intermediate or experienced sewing machine, the Sendian Beginner Sewing Machine will probably prove too simple for you.
Overall verdict
After going through all the positives and negatives, we recommend the Shendian Mini Beginner Sewing Machine. Most testers had nothing but good things to say about this model.
It's easy to use, affordable and compact. ,at more could you want from a beginner sewing machine?
As long as you understand it's for beginners or people who want to do simple everyday tasks, you should have no problem with this mini machine. It is definitely worth a try.
,ere to buy the Sendian Mini Beginner Sewing Machine
As mentioned, the Shendian brand seems to be exclusive to third-party retailers like Amazon.
Even with items like the beginner sewing machine proving to be a popular option, this means you can must find products from this. brand can be difficult.
So while it's uoffally best to check out craft and sewing stores, you'll have better luck finding the Shendian Mini Beginner Sewing Machine on Amazon.
]

---
That's the end of our Shendian Mini Sewing Machine review. Were you tempted to sew this machine?
Find more of our reviews here.