This site is supported by our readers. We may earn a commission, at no cost to you, if you purchase through links.
Now it's time for us to review one of the most popular machines on the market: the Singer 7258 Stylist Sewing Machine.
This is one of our favorite craft sewing machines that will serve you well most of the time will be. Sewing projects, and are suitable for beginners too much more experienced hands.
Enjoy making clothes or quilting from time to time? The Singer 7258 is the machine for you!
Sure it's not perfect — heavy use it's not —but it's a cracking machine at a reasonable price. No wonder it's so popular.
Wonder if this sewing machine is right for you? We have all the details, pros and cons to help you make the best decision for you.
Singer 7258 Stylist Sewing Machine: The Details
The Look
With its automated interface and clear finish, this machine has a contemporary and modern look.
The metal frame provides a sturdy and durable appearance. It's relatively the size of an average laptop, in length, and weighs about as much as a cat, making it the perfect size for any desk or table to work on (that is, if you can get your cat to move first).
Let's circle the functions: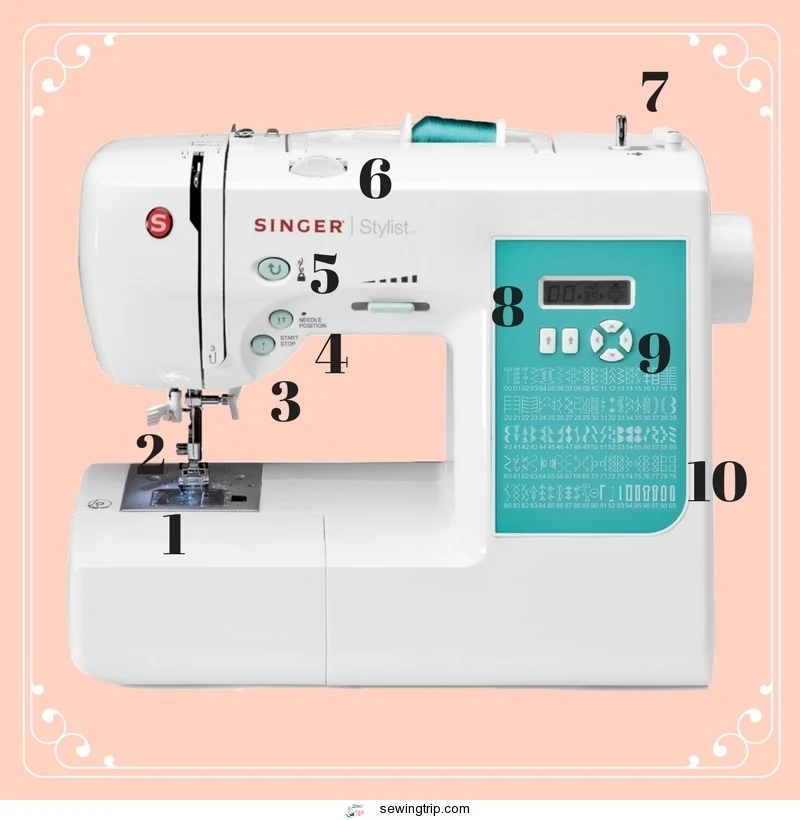 Drop-in coil with clear lid
Automatic Needle Threader
Start/Stop Button
Up/ Down needle knob
Auto-locking straight stitch function
Automatic tension knob
Automatic bobbing winder
Stitch selector
Stitch size change buttons
Stitch menu
Specs
Weight: 19.2 lbs
Dimensions: 14.5 x 7.5 x 12 inches
Stitches: 100 built-in stitches and 7 fully automatic buttonholes
Speed: Speed control of the autopilot up to a maximum of 750 per minute
Automated/ Mechanical: Automated
Spool: Easy-to-load drop-in flushing system with clear cover
Warranty: 25 year limited warranty
Accessories
The Singer 7258 Sewing Machine comes with class 15j bobbins, darning plate, extra spool pin, spool caps, spool pin felt, seam ripper, needle plate screwdriver, lint brush, a pack of needles, power cord, foot pedal, an introductory DVD (English, Spanish, French) and an instruction manual.
It also includes a variety of presser feet, such as universal foot, zipper foot, buttonhole foot, blind hem foot, satin stitch foot, overcasting foot, darning and embroidery foot, gathering foot, rolled hem foot and a quarter inch foot.
Singer: The Company
Singer has been innovating in the world of sewing since 1851. They produced the world's first electronic machines and first zigzag machines. Besides providing quality sewing machines, they also sell all kinds of accessories such as presser feet, bobbins, needles, dress forms, totes and sewing machine software.
Singer is a global company and their products and trusted in dozens of countries around the world.
You know exactly what you get with a Singer sewing machine: quality and reliability.
Singer 7258 Sewing Machine: Features
Electronic Autopilot and Stop/Start Button
Anything sewing a little easier and less of a multitasking nightmare is a huge WIN in our books.
The Singer 7258's built-in electronic autopilot allows you to sew without using the foot control, and allows you to control the machine's speed and adjustable to the respectable maximum of 750 stitches per minute.
And the stop/start button does exactly what it says on the can!
Automatic Needle Threader
Another bonus to make life easier is the automatic needle threader.
Threading the needle can annoying and inconvenient with some machines. Beginners may find that sewing is a total deterrent, while older hands have suffered too much from eye strain to reject a machine that can perform this task automatically.
The automatic needle threader accessible on the Singer 7258 Stylist sewing machine takes the hassle out of threading the needle. I thread the faster the needle, the more time you have to focus on your projects.
Top Loading Bobbin System with Clear Cap
The drop-in coil system allows for quick and easy coil replacement. they don't have to guess when to change it.
Twin needle capacity and thirteen needle positions
Although this machine is certainly suitable is for beginners, it remains popular with more experienced sewers because it has so much potential for more adventurous projects.
The twin needle function, for example, is perfect for beautiful hems and sleeves, and can also in more decorative embroidery projects. Please note that the Singer 7258 sewing machine does not come with twin needles, so you will have separately.
It also has a staggering 13 different needle positions, meaning you can actually sew your stitches more or less wherever you want.
If you want to learn more about using different needle positions, check out this helpful guide to understanding the positions
].
100 built-in stitches
The Singer 7258 Sewing Stylist machine offers 100 pre-stamped stitches to choose from, including 7 automatic 1-step buttonholes. This is quite impressive and very generous considering its mid-market price.
It also highlights how much you can do with this machine, and how useful it can be in a variety of sewing projects. Not just your everyday sewing needs, but also more decorative and hobby sewing — such as clothing making, crafts and quilting.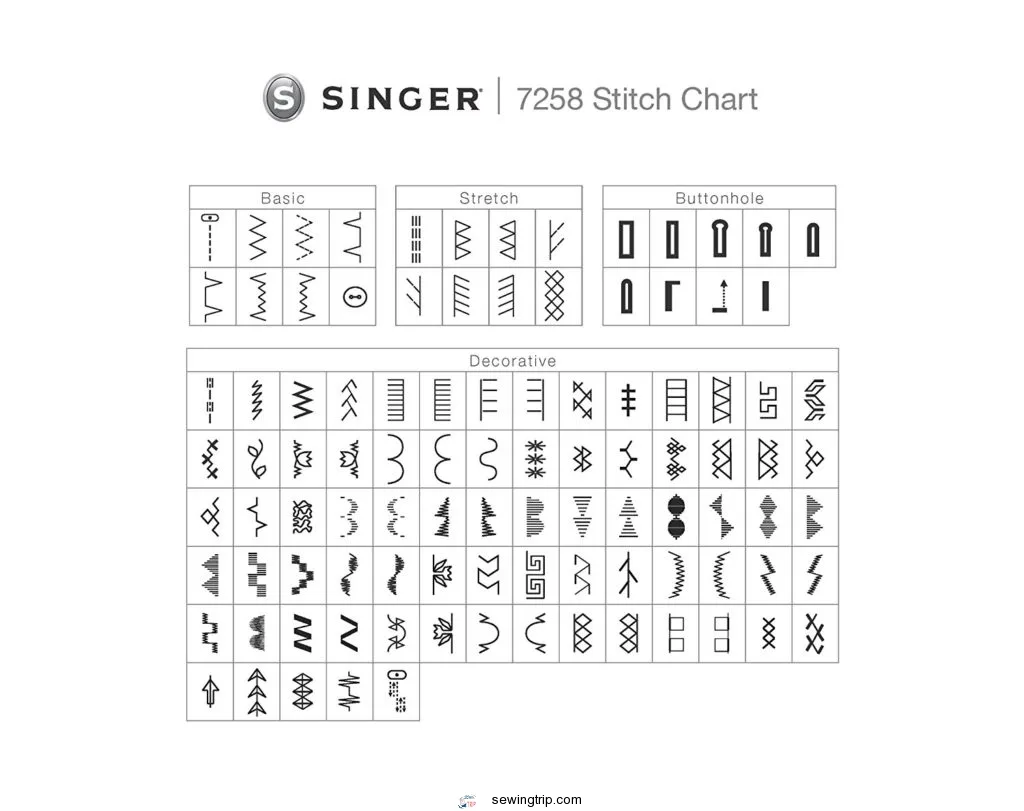 Heavy Duty Metal Frame
The durable metal frame is a feature usually found on more expensive models of sewing machines. The heavy-duty frame keeps the machine stable while sewing to minimize errors.
Programmable needle up/down
This feature allows the user to program whether you want the needle to rest all the way up or down when you stop sewing. Ideal for fabric processing and quilting where you need more room to move.
This I can change function simply by pressing the button. You'll never have to check wheel alignment again!
Singer 7258 Review
We think the
] Singer 7258 Stylist Sewing Machine is fantastic, but it's well worth looking into the details to see whether it's the right machine for your needs.
This is what we love about the machine…
The Positives
Easy to use
The first and most important thing to say about the Singer 7258 is how easy it is to use and get started. It is one of the best machines for beginners.
It has all the bells and whistles to make life easy for you. Here's what we're talking about:
Stop/Start button
Automatic needle threading
Built-in thread cutter
Automatic tension
Top loader system
Speed control and electronic autopilot
Automated LCD display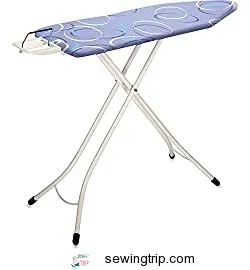 Ambitious beginners looking to get a real foothold in sewing will find that getting started with this machine is a breeze. It comes with a very detailed manual plus a video tutorial DVD if you're looking for a little more direction.
Here's a great, quick video on how to should string the coil, for example:
Even more experienced sewers will love how easy it is to embark on more ambitious projects.
Great for artisans and dressmakers
We love our Singer 7258 for craft sewing, and it for creating unique garments.
There are 100 built-in stitches available plus 7 automatic 1-step buttonholes. The twin needle function is ideal for hems and sleeves, while the huge 13 different needle positions allow you to get really creative with this machine.
Plus, the programmable up/down needle gives you the extra space you need to manipulate your fabric around the machine. There is also a convertible free arm for sleeves. a sewing machine is how well it sews.
We are pleased to report that the Singer 7258 is a gem of sewing quality.
Not only is it easy to sew with this machine, but thanks to its sturdy and well-thought-out construction, you won't have any problems such as jamming or skipping.
And it sews quietly
For those of us who are insomniacs who occasionally like to get up in the middle of the night for some late sewing, don't worry: will wake no one else with this machine.
The heavy metal frame ensures that the sewing is stable – none of these dances across the table because of the sheer power of the vibrations!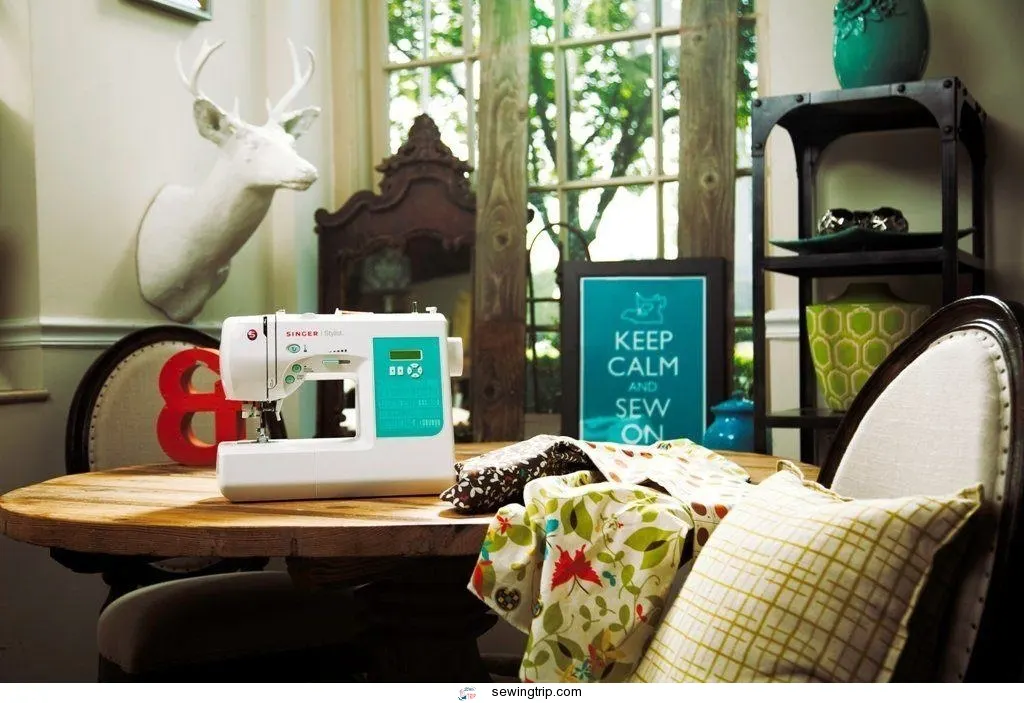 Other little things we love:
It looks good
StayBright LED light is bright and stays cool
Comes with many accessories
Many online support available
25 year limited warranty
The negatives
But of course, as you would expect from any mid-market sewing machine, there are some trade-offs to consider when buying the Singer 7258 machine.
These are the issues we identified you should know before purchasing.
Thick material is a challenge
This machine is not a heavy sewing machine and should not – you are only asking for trouble.
Multiple layers? Not good. Thick denim? Not with the 7258.
Despite, all its expert uses, the machine can trip through too thick material. I intended the machine for projects such as hemming, making clothes and other crafts; it's just not made to cut through really thick material.
So unfortunately you have to disregard those projects.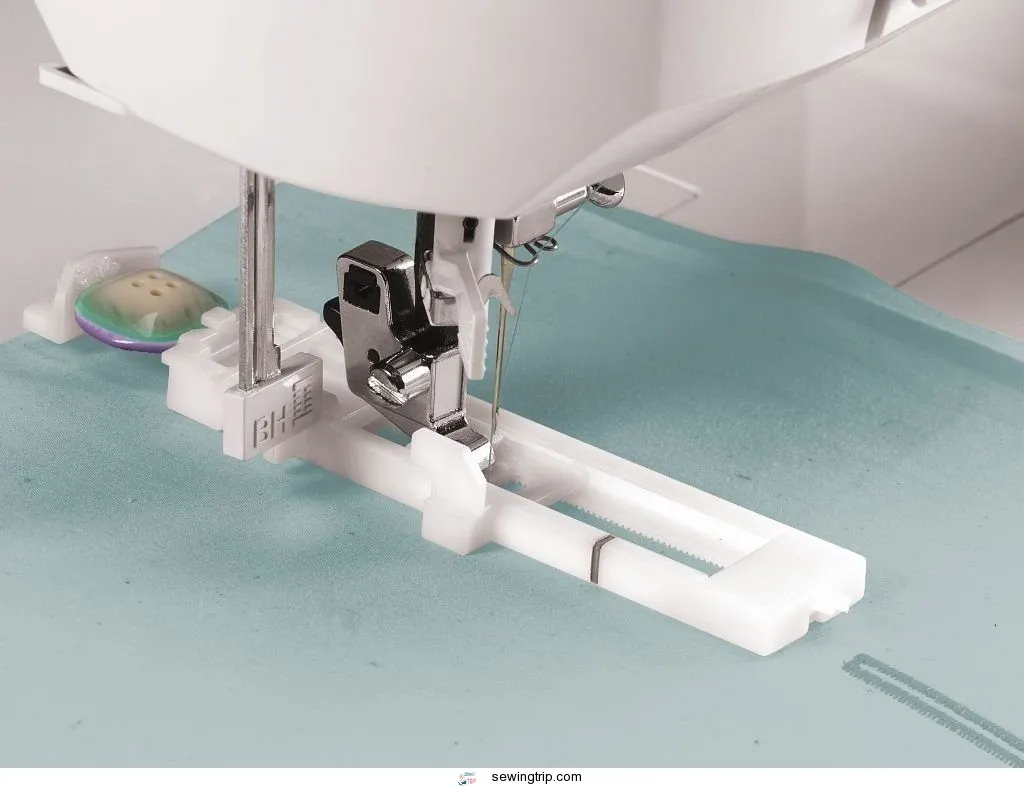 Restricted stitch width
One of the more annoying aspects of the Singer 7258 is that they have limited the width of the stitches to just 5mm.
Most sewing machines go for this price usually up to 7mm so this is a bit irritating. Especially since there are so many other options for adjusting stitches on this machine, they complicate it to limit the stitch with that much.
Other small areas for improvement
]
You cannot adjust the presser foot pressure
The power cord is not long enough for our taste
Overall verdict
Although we have a few niggles, we honestly think the Singer 7258 Stylist Sewing Machine is a fantastic machine — ideal for crafters, tailors and fashion sewers, and easy to use even for beginners.
There is huge potential to do a lot with this machine and it offers a lot of features considering the average price.
If you're looking for a heavy-duty machine or one that likes to tackle denim, this isn't for you. But if you enjoy working on smaller projects and the opportunity to be adventurous in your sewing, it's hard to go wrong with the Singer 7258.
True for sale the Singer 7258
As you would expect from such a popular machine, you'll find the Singer 7258 sewing machine all over the internet, waiting for you to use it. to buy.
And of course you can buy it on Amazon too.

---
What do you think – do you love the Singer 7258?
For more reviews, go to our complete archive of machine reviews.