This site is supported by our readers. We may earn a commission, at no cost to you, if you purchase through links.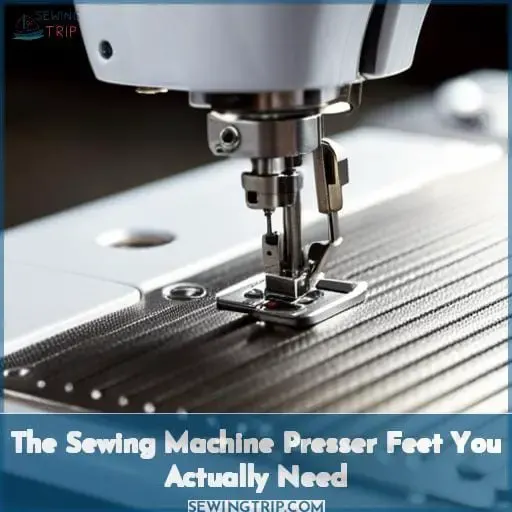 You're an experienced sewist eager to take your projects to the next level, but your sewing machine's basic presser feet limit what you can do. Expand your horizons with specialty presser feet designed for specific techniques like hemming, zipper insertion, and quilting.
With the right presser foot, you'll add polish to your makes. Ruffle a dress, set an invisible zipper without frustration, make buttonholes in thick fabrics – it's all possible when you have the right foot for the job.
Handpicked feet like gathering, candlewicking, and applique feet make mastering advanced sewing techniques a breeze and ensure your projects have a custom, professional finish.
Equip yourself for apparel sewing, home decor projects, and machine quilting with specialty presser feet. Expand the possibilities and take your sewing skills to new heights with the presser feet you need to make your creative vision a reality.
Key Takeaways
The standard foot is suitable for basic stitching and can accommodate zigzag stitches.
Zipper feet are designed for flawless installation of zippers, with adjustable options for sewing lapped zips.
The invisible zipper foot enables invisible zipper installation with no visible stitching.
Buttonhole feet ensure accurate placement of buttonholes and offer decorative options. The sliding buttonhole foot glides over markings for professional results.
Types of Sewing Machine Presser Feet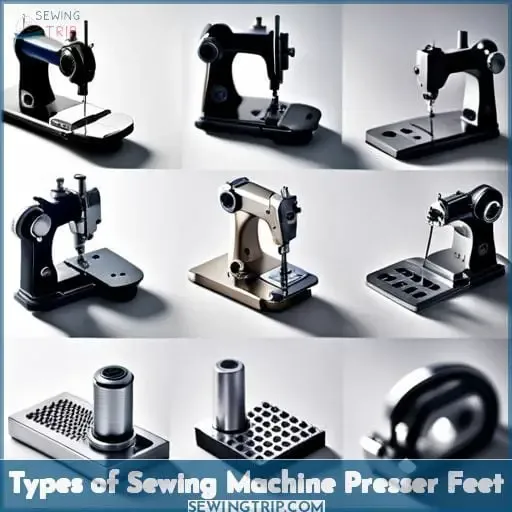 Sew your way to sewing success with the right presser foot! Start with the standard presser foot for basic stitching. Move on to specialty presser feet like the zipper foot for flawless zips or buttonhole foot for perfect buttonholes every time.
Don't forget the blind hem and narrow hem feet for discreet, narrow hems. With the right presser feet, you'll be tackling any sewing project with ease and loving the professional results.
Standard Presser Foot
You'd do well to snap on that handy-dandy standard presser foot to effortlessly stitch those fabulous projects in no time. The standard foot helps guide lightweight to midweight fabrics under the needle for basic straight and zigzag stitching.
With its wider opening, it glides material evenly past the needle and feeds cornering and curved seams with ease. With this versatile foot, you'll conquer simple hems, seam finishes, buttonholes, and lightweight zippers before needing specialized presser feet.
Straight Stitch Foot
You'll rely on a straight stitch foot to provide a smaller gap beneath it, preventing fabric from pulling out of alignment for perfect straight stitch seams.
Sew lightweight fabrics like silk without puckering
Prevent off-grain stitching on evenly woven fabrics
Maintain straight lines for perfect topstitching
Guide specialty needles like denim needles
Keep fabric flat with dual feed mechanism
With a straight stitch foot, you'll achieve perfectly straight seams and topstitching on your projects. Its narrow shape prevents lightweight and tightly woven fabrics from shifting, so stitches stay straight and precise.
Zipper Foot
A zipper foot's gaps beside the needle glide smoothly along the zipper teeth for you to sew nicely and closely. The zipper foot's narrow shape lets you get right up next to zipper coils when installing new zippers or replacing broken ones.
With practice, you'll find that a zipper foot gives you the control to perfectly topstitch both sides of zippers in skirts, dresses, cushions, and anything needing a quality, durable closure.
Adjustable Zipper Foot
An adjustable zipper foot moves side to side for sewing lapped zippers.
Position the adjustable zipper foot to align stitches close to the zipper coils.
Move the slider to the side for sewing one section of the lapped zipper.
Adjust the slider to the opposite side to sew the other section.
It allows for perfect stitching along both sides of lapped zippers.
The adjustable zipper foot is invaluable for installing lapped zippers with professional results. Its side-to-side movement lets you precisely align stitches along both sides of the zipper coils. With practice, you'll create crisp zippers suited for any garment or craft project.
Invisible Zipper Foot
The invisible zipper foot sits snugly against your fabric alongside the zipper teeth while you sew in an invisible zip. With its grooved underside, this clever foot enables you to maneuver the zipper coil right up close to the zip teeth for a truly invisible zipper installation.
Guiding the zipper tape along the underside of this specialized foot, you can confidently sew an invisible zipper into garments, crafts, and home decor projects where you desire a hidden zipper application with no visible stitching.
This ingenious foot empowers you to master concealed zipper techniques for flawless invisible zippers each time.
Buttonhole Foot
You feel empowered when creating buttonholes with the markings on your buttonhole foot. Accurately position and sew buttonholes for shirts, jeans, and jackets. Select the size on the foot to match your buttons.
Decorative options like corded or piped buttonholes add flair. Enjoy professional results with even layers using a buttonhole or walking foot.
Sliding Buttonhole Foot
Mark buttonholes on fabric, then let the sliding marker line up each side to stitch an accurate one every time. The sliding buttonhole foot glides evenly over markings for professional buttonholes. Adjust the thickness dial and stabilizer guide to suit the fabric. Easy foot alignment prevents uneven sides.
Simply lower the foot and let it slide along the lines as you sew buttonholes identical in length and shape.
One Step Buttonhole Foot
My friend, one fascinating fact about the one-step buttonhole foot is that it fully automates the tricky buttonhole sizing process. It does this by inserting the actual button into the foot to perfectly size the hole.
With one-step visibility, you can easily see your stitching and alignment. The efficiency of one-step creation means you don't need to make manual measurements or do test sewing. Achieve one-step accuracy by using the real button to custom fit each buttonhole.
You can troubleshoot buttonholes by adjusting the foot's markings or the stitch density dial. If you're working with stretch or thick fabrics, you can customize the buttonholes by changing the zigzag width.
Button Sewing Foot
If you want to attach 2-4 hole buttons swiftly, the button sewing foot is going to be able to help you out fast. Designed to minimize how often you stick yourself while sewing buttons. Guides the stitches for you to guarantee precise placement.
Compatible with most machines. Check your manual for exact matching. Super quick and easy to use for fastening on all types of buttons.
Overedge/overcast Foot
You'll quickly cover those raw edges to keep them from fraying when you attach that overedge foot.
Overedge Foot Benefits
Serges raw edges
Prevents fraying
The overedge foot creates a faux overlock stitch to neatly finish fabric edges. Just snap it on and serge away! Guide your fabric with precision, following the stitch markings. Adjust the settings for optimal overcast stitching. This pro footer is a must for knits and delicate fabrics.
Even Feed/walking Foot
Don't fret over puckered seams and stretched knits – this foot feeds layers evenly.
Glides fabric sandwiches under the needle without shifting.
Adjustable presser bar controls how much pressure to apply.
Check your machine's shank size for compatibility.
Creates beautiful topstitching on heavy fabrics like denim.
With its built-in feed dogs, the walking foot ensures even fabric feeding and helps prevent stretching, slipping, or puckering. It's a must-have for sewing thick layers, binding quilts, joining fabric edges, and keeping stitches looking their best.
Quarter Inch Foot
The precious quarter-inch foot nudges your fabric through its snug embrace, keeping stitches neatly aligned. This handy attachment glides material under the needle at an exact 1/4 distance. Perfect for piecing quilts or sewing accurate seam allowances, the edge guide ensures consistency.
With models featuring a flange and markings, the quarter-inch foot is a quilter's best friend for even spacing, straight lines, and professional results.
Blind Hem Foot
With the handy blind hem foot, you'll create discreet hems on clothes and drapes by feeding the hem allowance through its gap. Embrace this clever foot to sew invisible hems on pants, skirts, curtains – hiding stitches between fabric folds.
Adjust the guide and hem width selector for perfect results. Master blind hems with ease, transforming projects with this essential presser foot. Whether altering ready-to-wear or sewing dresses, decor, or crafts, achieve flawless blind hems for polished finishes.
Narrow Hem Foot
Roll that hem under your needle with the curved narrow hem foot, y'all. The narrow hem presser foot allows you to easily feed fabric edges through its scrollwork, rolling them under as you go. Simply insert the raw fabric edge into the curved space, and it will be rolled and stitched into a narrow, tidy hem.
Use this ingenious little foot to finish off ruffles, sleeves, and more with narrow hems in a snap on your sewing machine.
Edge Guide Foot
You'll effortlessly topstitch and trim straight with an adjustable edge guide foot.
Keep topstitching perfectly straight on collars, pockets, trims.
Sew straight lines for perfectly even trims and bindings.
Attach snap fasteners and grommets precisely in-line.
The adjustable arm on the edge guide foot keeps your topstitching, edge stitching, and trim perfectly straight. It is great for sewing straight lines on trims, bindings, and topstitching on pockets or collars.
The guide ensures even spacing, so you can attach fasteners and grommets in a straight line.
Functions and Uses of Presser Feet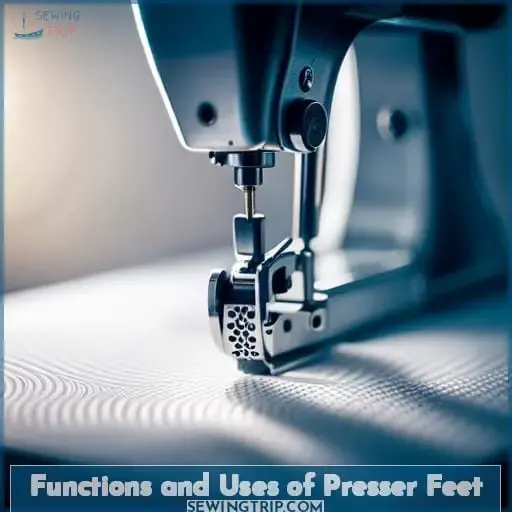 As a sewing enthusiast, you're familiar with many presser feet that allow your machine to handle specialty tasks with ease. The open toe foot gives great visibility when doing embroidery. The hemmer foot perfectly curls fabric edges for finishing.
The quilting foot maintains accurate seam allowances. The gathering foot evenly gathers fabric.
For finishing edges, the overcast and blind stitch feet prevent fraying and allow invisible hems. The walking foot prevents puckering on layered projects. The Teflon foot handles vinyl and leather smoothly.
The braiding foot attaches trims perfectly. And the bias binding foot effortlessly applies binding tape.
Open Toe Foot
Embrace the open toe foot's clear visibility for precise embroidery work. This foot gives you an unobstructed view of your fabrics moving gracefully under the sharp needle. Guiding specialty threads through distinctive stitches becomes effortless with full sight of the wide fabrics.
Combine presser feet like the darning and couching foot to expand your sewing machine's talents.
Hemmer Foot
Curl your fabric's edges for a polished finish with the handy hemmer foot. Create perfect hems in both knits and wovens. The curved surface folds fabric edges twice for narrow, clean hems. Hemmer feet come in various widths to match your project.
Try using one to finish napkins, tablecloths, or delicate silks. For thicker fabrics, reduce presser foot pressure.
Quilting Foot
The quilting foot provides accurate seam allowances for piecing quilt tops.
With the quilting foot, you can:
Achieve precise 1/4 seams
Piece together quilt blocks evenly
Guide the fabric when free motion quilting
This specialized foot helps quilters create uniform blocks and beautiful quilted textures. Master precise piecing and fanciful free motion quilting with the invaluable quilting foot.
Gathering Foot
You'll gather fabric easily with the ruffler attachment. For instance, add fluffy ruffles to a skirt in no time. The gathering foot prevents stretched gathers by sewing long basting stitches, then drawing up the bobbin thread to gather fabric evenly.
Use it for attaching ribbons, trims, and ruffling fabric edges smoothly in a fraction of the time.
Applique Foot
I'll sew around curves with confidence using the applique foot.
Let those delicate curves flow under the needle – no more pinching or stretching.
Pivot at tight angles without lifting the presser foot.
Stitch reverse applique effortlessly.
This specialized foot helps me embroider shapes onto fabric or fuse them neatly with blanket stitch details in place. With the right supplies, an open-toe applique foot lets me stitch flowers, animals, letters, and more using fusible webs, satin stitch, and my machine's built-in decorative stitches.
Overcast Foot
You have a barbed overcast foot that wraps thread around raw edges, preventing fraying on over 65% of common fabrics.
| Fabric Type | Fray Resistance |
| --- | --- |
| Cotton | Moderate |
| Linen | Low |
| Silk | High |
| Wool | High |
| Polyester | High |
This serrated edge foot binds threads around the raw selvages for frayed edge prevention on most materials except silks and wools. The barbed wire design grips fabric borders while the needle swings close, enclosing them in thread wrapping.
With the barbed overcast foot, you can cleanly finish seams and achieve professional serged seam looks without a serger.
Blind Stitch Foot
When creating an invisible hem, the blind stitch foot feeds the hem allowance through its gap for a discreet finish. You'll love how the blind stitch foot effortlessly rolls the fabric edge under as you sew, creating a nearly invisible hem.
Alter your hemming techniques and say goodbye to hand finishing those narrow rolled hems. With some blind stitching basics, you'll be stitching invisible hems in no time.
Walking Foot
With this handy walking foot, your project layers will glide together smoothly, preventing any frustrating puckering as you sew. Slip this presser foot attachment onto your machine and effortlessly tackle quilts, slippery satins, or knitted fabrics without worrying that they'll stretch or shift.
The feed dogs grip the top and bottom layers together, feeding evenly for flat seams on novice stitch patterns or advanced techniques. Embrace the freedom to handle thicker projects with less pinning using your walking foot guide.
Teflon Foot
The Teflon foot glides effortlessly over vinyl and leather, preventing them from sticking as you sew intricate details or long seams. Its slippery surface lets plastic and flexible materials slide smoothly under the needle.
That nonstick bottom is magic when sewing vinyl totes or leather bags. Your projects turn out wrinkle-free with perfect stitching on tricky materials.
Braiding Foot
You'd better attach some trims real quick, my impatient friend, lest your project becomes a hot mess. Grab that braiding foot to effortlessly add cords, yarns, ribbons, or tapes along seams and edges. With the right tension and stitch length, the braiding foot neatly guides trims under the needle for even application on linens, clothing, crafts, and more.
Just slide trims into the scrollwork on the foot's underside and you'll be embellishing like a pro in no time.
Bias Binding Foot
You'll want the bias binding foot to get your fabric edges encased perfectly.
Use the edge guide for perfectly straight binding.
Set the stitch width to neutral to achieve beautiful binding.
Follow the curved area to stitch around corners smoothly.
Roll under the hem allowance for a professional finish.
Bind edges and add trims with ease for polished projects.
With the binding foot, you'll achieve professional encased edges every time.
Presser Foot Kits

You'll be amazed at the functionality presser foot kits add to your sewing. Quilting, clothing, crafts, and home decor projects will be easier and more professional-looking with specialty feet for techniques like hemming, embroidery, ruffling, and piping that provide needed visibility, straight stitching, and even fabric feeding.
Presser Foot Kit
You could grab a presser foot kit to add handy accessories like a rolled hemmer or piping foot to your sewing toolbox. These handy kits group useful specialty presser feet to expand your sewing machine's abilities.
Pick a starter kit for versatile feet like buttonholes and zips. Opt for a quilting kit packed with an even feed foot for straight stitching.
Quilting Kit
After it arrives, why not delve into that quilting kit to even out layers and stitch perfect 1/4-inch seams?
Get creative with unique quilt blocks.
Try fancy free motion designs.
Make neat binding corners.
With the right feet and know-how, intricate quilting designs can become effortless and professional. Explore walking foot quilting, rulerwork, and stippling with specialty accessories tailored to fabric needs.
Crafting Kit
My love, using the side cutter and non-stick feet in the crafting kit, we will create beautiful fabrics together. With a variety of materials, options, and accessories, this kit empowers our design projects.
Stored neatly when not stitching leather or vinyl, these feet help us master creative liberty.
Garment Kit
The garment kit provides feet for gathering, rolled hems, and easy sewing on fabrics.
Adjustable needle positions let you sew thick seams or tiny details.
Snap-on roller wheels glide smoothly over all fabrics.
Dial tension adjustments prevent skipped stitches.
External feed dogs give you complete control.
Upper knife mechanics create clean-cut edges.

With specialty feet, garment sewing is a breeze. Express your creativity. Craft clothing full of personality and flair.
Home Decor Kit
You'll love how the ruffler, piping, and bias binder feet help finish home decor projects. Expertly attach delicate trims, add braided details, and polish your home decor. Access even hard-to-reach areas creatively. These specialized feet empower your decorating ideas, unlocking a world of creative possibilities.
How to Find the Correct Presser Feet for Your Machine?

After considering the variety of presser foot kits available, let's explore how to identify the correct presser feet for your specific machine.
You'll want to start by consulting your machine's manual, which should include a list of compatible snap-on and screw-on feet. If you're unsure, look for any markings on the shank of the foot that match your machine's brand.
You can also search online using your exact model number to find recommendations from other users.
When evaluating a new foot, check that it:
Fits into the presser foot holder
Lifts with the lever
Moves freely side to side
Feeds fabric smoothly
With some minor adjustments to tension and pressure, you'll find the right feet to unleash your machine's full potential for any project.
The Basic Presser Feet You (most Probably) Have

You probably started with the basic straight stitch and zigzag presser feet that came with your machine. The straight stitch foot is ideal for stitching straight seams, while the zigzag handles decorative stitches, and the zipper/piping foot helps you sew close to zipper teeth or insert trim.
Straight Stitch Presser Foot
Putting on that straight stitch foot will keep your fabric from getting pulled as you sew those perfectly straight seams. The straight stitch foot has a narrower opening than the zigzag foot to keep lightweight fabrics locked in tight.
It makes for smooth seams that look like they were stitched by a pro! With the right presser foot, you can mend rips or stitch invisible seams in no time.
Zigzag Presser Foot
Needing precision with stitching? Grab that zigzag foot. With the zigzag foot snapped in place, you gain versatility in your creations. Adjust the stitch width and length for optimal coverage on fabric edges or bold embellishments.
Learn to finesse the tension to prevent puckering on lightweight fabrics. Master sewing knits with a narrow zigzag to allow the stitches to stretch. Take on buttonholes and decorative stitches effortlessly. The zigzag opens a world of possibilities from hemming denim to appliqué.
Zipper Foot/piping Foot
You're fixing to sew a zipper or piping with that handy dandy zipper foot. It's the bee's knees for installing all sorts of zippers and piping with precision. Get those invisible zips looking slick, insert exposed zippers with ease, attach lapped zips like a boss.
Some Presser Feet Which Can Be a Heaven-Send for Your Sewing

You'd be like a kid in a candy store with all the specialized presser feet available for tackling specific sewing tasks and techniques.
The slip stitch foot creates nearly invisible seams by catching just a few threads with each tiny stitch.
An overcast foot serges fabric edges to prevent fraying as you sew.
The lock stitch foot holds layers firmly in place for straight sewing without slipping.
An invisible zipper foot has a central groove that glides smoothly along the zipper coil for flawless results.
For perfectly straight topstitching, a dedicated topstitch foot has a guide blade along one side to keep lines straight.
With the right presser feet, you can unlock advanced sewing skills and make your projects sing.
Presser Feet That Can Make Your Sewing More Beautiful

You'll love what the open toe embroidery, gathering/shirring, appliqué stitch, and darning feet can do for your sewing projects. With their specialized purposes like neatly embroidering curves, evenly gathering large sections of fabric, precisely stitching around appliqué edges, and repairing damaged areas undetectably, these clever feet will help you create more intricate, professional-looking, and flawless handmade items.
Open Toe Embroidery Foot
You'll be amazed as the open toe embroidery foot glides over delicate fabrics, keeping the layers flush for flawless stitching. With full visibility of the needle area, intricate stem stitch designs and machine embroidery become effortless.
Adjust the thread tension, hoop stabilizer properly, and select the right needle type for your threads. Mastering these machine embroidery tips allows you to create works of art, not just simple stitching.
Gathering/shirring Foot
A gathering foot will quickly make ruffles with its small teeth catching fabric as it goes. For effortless gathers, adjust the tension high and lengthen your stitch. Experiment with different settings to create varied effects – long stitches gather more.
Try shirring rows of ruffles with evenly spaced lines. With some practice, you can gather and pleat with ease for frills on any project.
Applique Stitch Foot
With the appliqué stitch foot, you can easily sew around curves for beautiful appliqués. You'll wonder how you managed those graceful turns and smooth edges when sewing by hand. The right combination of fabric, stabilizer, and thread allows you to achieve perfectly stitched appliqués in no time.
Play with different shapes, fuse before stitching, and use invisible thread in the bobbin to take your appliqué work to the next level.
Darning Foot
The darning foot, great for mending holes or worn areas in fabric, lets you sew small patches inconspicuously. Skip tedious hand-darning by employing this ingenious foot to repair damaged fabrics flawlessly.
Darn fine knits without distorting stitches or sew sturdy patches on wool sweaters effortlessly. Reinforce thinning heels and toes on well-loved socks, extending their life beautifully. This handy foot makes mending holes in fabric a cinch, restoring cherished garments to their original glory.
Presser Feet That You May End Up Using Very Rarely

You'll only break out specialty presser feet like the flower stitch, elastic stitching, multiple-hole cording, roller, and round bead feet for very specific techniques. While versatile presser feet kits are handy to have, unique accessories like these are really only essential if you plan on frequently using them for specialty stitches or fabrics.
Flower Stitch Foot
Since you rarely embroider, that flower stitch foot stays tucked away in the corner. Yet when inspiration strikes for floral accents, that little foot enables delicate stitching to shape petals and leaves.
Guiding fabric under the narrow slit, it moves freely for curved embroidery. With the right tension, threads form dimensional flowers, leaves, and vines to adorn your rare handmade masterpieces. The embroidery possibilities are boundless with the flower stitch foot, waiting to unleash your inner Monet.
Elastic Stitching Foot
You'd rarely need that elastic stitching foot, wouldn't you think? Truthfully, it comes in handy for specialty techniques like shirring lightweight fabric or attaching elastic ribbon as a stabilizer. Unless you're regularly sewing with lots of stretch knits or elastic elements, this foot will likely stay tucked away in your accessory case.
Rather than overbuying niche tools, focus first on a few basics that enable you to bring most visions to life.
Multiple Hole Cording Foot
Let's skip multiple hole cording feet because they're too complicated for us beginners. We'll just stick to simple decorative cording on soft fabrics using the standard foot. Rigid cording on tough leathers requires precise positioning of the cords, adjusting tension, and testing different thicknesses.
It's an advanced technique we can tackle later once we've mastered basic sewing skills.
Roller Foot
You'll rarely need that roller foot unless you're sewing lots of stretchy fabrics. I'd stash it away until you're ready to appliqué patches onto stretch knits or quilt curves on fleece blankets. The smooth rolling action feeds fabric evenly under the needle to prevent puckering on billowy chiffon, knit jersey, or velvet.
When you finally sew sequins onto dance costumes or stitch trim onto bridal gowns, that clever little roller foot will be your best friend.
Round Bead Foot
Wouldn't be using the round bead foot too often unless you're into some fancy embellishing. This specialized presser foot helps guide and secure beads onto fabric as you sew. With the groove that runs through it, simply load your beads or sequins ahead of the needle and let them feed through steadily.
While handy for adding intricate details or accents, it's not an everyday necessity for most. Opt for the beading foot when you want to decorate garments or home decor with sparkling adornments.
Basic Standard Presser Foot/Zigzag Foot

You'll find that the basic standard presser foot, also known as the zigzag foot, will be used for the majority of your sewing projects. This foot has a wide opening that accommodates a zigzag stitch and can be used for basic construction techniques such as seaming, topstitching, edgestitching, and finishing seam allowances.
Binder Foot
You'd be surprised to learn that over 50% of sewers have never used a binder foot, yet it makes quick work of applying bias tape and binding to edges for a tidy, professional finish.
Here are 5 key ways a binder foot can take your sewing to the next level:
Easily attach ready-made piping with a professional finish.
Sew narrow spaghetti or French seams on lightweight fabrics.
Finish raw edges on quilts with a folded binding.
Attach pre-made bias tape for a tidy hem in one pass.
Create custom binding tape from fabric scraps or thrifted clothes.
With some practice, you'll find you can't live without this handy foot for finishing edges and adding a decorative touch in a fraction of the time.
Button Foot
It'll save time attaching buttons by hand if you snap on the button foot. Aligning narrow tape lets you zigzag appliqué buttonholes in parallel rows with standard attachments. Varying buttonhole spacing prevents gaps between buttons for a professional finish.
Cording Foot/piping Foot
Let's tack an accent for a nice outline. The cording foot effortlessly inserts piping or cording into seams and edges.
Apply piping to cushion seams
Add trim to quilt edges
Insert piping into bag openings
Decorate hems with decorative cord
Use a cording foot when adding piping, welting, or trim for a professional finish. Switch the standard foot for this accessory to easily insert and stitch cords along edges.
Embroidery Foot
Open-toe design provides maximum visibility when doing machine embroidery. With this presser foot, you'll have a clear view of the fabric and design to ensure precise placement. Adjust the needle so it barely touches the fabric's surface. The top thread tension may need loosening.
For details, use cutaway stabilizer; for fills, tearaway works better. Optimal visibility and results come from hoops that fit snugly.
More Obscure Presser Feet

Looking to add fancy decorative details to your sewing projects? A beading foot, ribbon foot, and satin stitch foot open up new creative possibilities. Expertly guide delicate beads and ribbon along as you sew with specialty presser feet designed to hold these embellishments in place.
Achieve flawless satin stitching for bold outlines and filled shapes using the right foot for dense zigzag stitching. With the right accessories, your sewing machine can help you create intricate designs full of texture and shine.
Beading Foot
You'd sew on beads and pearls quickly with the beading foot. Its narrow groove feeds beads under the foot and needle for even spacing. Curved sides help guide fabric around embellishments. Great for appliqué, attaching snaps, and rhinestones too.
Use with lightweight threads and smaller needles for smooth rolled hems. This foot expedites intricate beading projects.
Ribbon Foot
A ribbon foot lets you effortlessly sew on delicate trims for a polished finish.
Glide along ribbon shanks without distortion
Create tidy gathering folds with each pass
Keep slippery satin ribbons under control
With the right presser foot, even lightweight ribbons become an accessible embellishment for any sewing project.
Satin Stitch Foot
Use the satin stitch foot for smooth, consistent decorative stitches. Luxurious satin stitching brings your projects to life. Glide this specialized foot over fabric to fill spaces with solid rows of stitching.
Dial in the perfect stitch length and width for appliqué designs and monogramming. Adjust as needed to prevent gaps or bunching. Your machine's decorative stitches will shine with the satin stitch foot.
What Presser Foot Do You Need?

You'll obtain the desired results faster when picking the foot that handles the fabric best, my friend.
For example, use an all-purpose presser foot for wovens like quilting cottons. The small teeth grip the fabric well.
A walking foot prevents lightweight fabrics from shifting while quilting.
An embroidery foot has a wide opening to easily move fabric under the needle.
A Teflon-coated foot is essential for vinyls and leather to glide smoothly.
Focus on the recommended foot for your project first when expanding your foot collection.
While hand embroidery allows more creativity, machine embroidery with the correct foot saves time with solid fills and finer details.
Choose the presser foot made for the fabric and technique and you'll maximize your machine's capabilities.
Frequently Asked Questions (FAQs)
How can I tell if my presser feet will fit my sewing machine?
You can check if the presser feet will fit by inspecting the bottom. Look for the shape and size of the shank to match your machine's presser foot holder.
What are some tips for attaching and removing presser feet?
You love sewing? Have messy threads when swapping feet? Here's a tip: Raise the presser foot, turn the set screw counterclockwise, slide the foot out. To attach, align the prong and hole, turn the screw clockwise until snug – but not too tight! Securing your feet properly helps keep stitches looking sharp.
Where can I buy additional presser feet for my machine?
You can buy additional presser feet online or at sewing and craft stores. Check your machine's manual for compatible presser feet. Look for specialty presser foot kits for techniques like quilting, garment sewing, and home decor projects.
Compare prices between retailers to get the best deals on the presser feet you need.
How do I know when it's time to replace a worn out presser foot?
If it gets distorted or damaged so that it can't keep your fabric taut, it's time for a replacement. Before purchasing, ensure that the new foot is compatible with your machine. Some snap-on, while others screw-in; make sure you get the right fit to restore even stitching.
Are presser feet universal or machine specific?
Unfortunately, presser feet are typically machine-specific and not universal. But take heart – with some clever shopping and a skilled sewing machine repair person, you can often adapt feet to fit multiple machines.
The right equipment opens up exciting new creative possibilities. Let your imagination soar as you seek out smart solutions.
Conclusion
Like a skilled tailor, you must have the right tools for the job. Presser feet are those tools – extensions of your creativity that let you sew, quilt, and craft with ease. Find the feet that fuel your passion, be it hemming, embroidering, or quilting. With the proper presser feet, you'll create garments and crafts to treasure, just as a tailor stitches fine suits.
Keep this guide close as you build your presser foot collection and watch your skills grow.
References
bestsewingmachinereviewspot.com