This site is supported by our readers. We may earn a commission, at no cost to you, if you purchase through links.
You're an experienced sewer with some heavy-duty projects in mind, but your current machine just can't keep up. You need real power and speed to sew through thick fabrics and sturdy seams without the jams and skipped stitches.
This commercial-grade machine offers professional features that help you sail through sewing with precision. The CG590 really stands out for its ability to crank out 1,100 stitches per minute – even through heavy materials that would stall lesser machines.
Don't let its silver exterior fool you; this baby has some serious muscle in a compact body.
Once you experience the time savings and frustration reduction of the CG590's power, reliability, and thoughtful engineering, you might feel like you've achieved sewing freedom. Keep reading to learn more about how owners are leveraging this machine's strengths while working around a couple minor issues.
Key Takeaways
The powerful 1100 stitches per minute motor handles thick fabrics like jeans and upholstery.
The built-in stitches include 18 basics, stretch, decorative, and one buttonhole.
Multiple presser feet, needles, and bobbins accommodate any fabric.
The rugged machine encounters recurring issues like thread jams that require patience.
Overview of CG590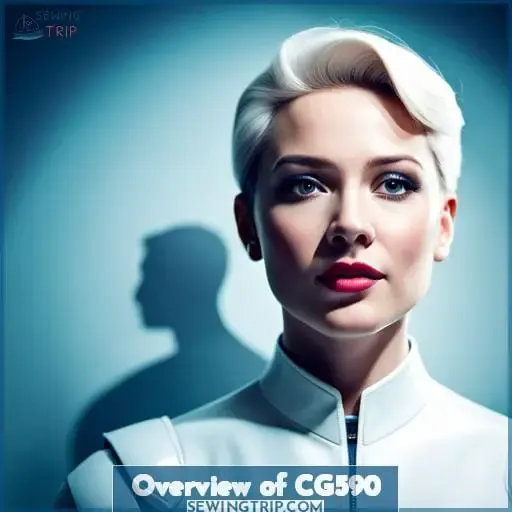 You'll be blown away by this industrial-strength workhorse that chews through heavy projects at lightning speed. The Singer CG590 commercial grade sewing machine makes quick work of thick fabrics with its powerful 1100 stitches per minute motor.
Though noisy, the dependable feed dogs pull layers steadily under the needle for uniform stitches. While the automatic needle threader is hit-or-miss, threading is a breeze thanks to the convenient drop-in bobbin and illuminated needle area.
Adjust the stitch width on the fly with the lever, and utilize the free arm to sew sleeves or pant legs. Reliable and fast, this machine takes the frustration out of sewing heavy fabrics.
Performance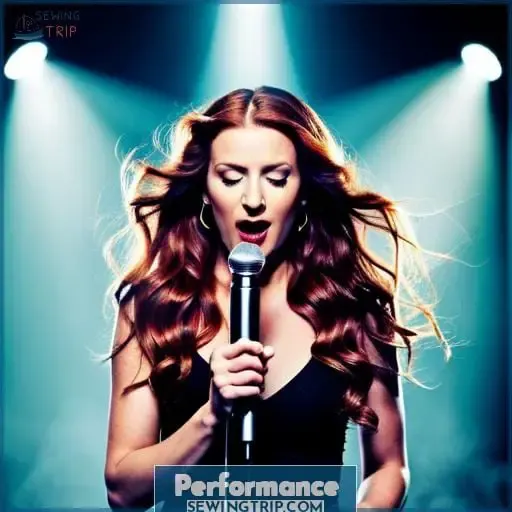 You'll be impressed by the Singer CG590's speed and power as it plows through thick fabrics effortlessly at up to 1100 stitches per minute. However, some reliability issues tend to arise over time with this machine, so prepare to get it serviced periodically.
The Singer CG590 impresses with its speed and power, effortlessly plowing through thick fabrics at up to 1100 stitches per minute. Over time, however, reliability problems can crop up with the machine, necessitating periodic servicing.
Speed and Power
Tis a beast! The 1100 stitches per minute motor devours heavy fabrics without choking – exactly what you need to whip up your heavyweight projects in record time.
Zoom through projects with precision at max speeds.
Count on consistent performance thanks to quality engineering.
Quickly select needle position for rolled hems.
Lower the feed lever for faster sewing speed.
Reach max capacity sewing with its powerful motor.
You'll be amazed at how quickly this machine tackles bulky materials while maintaining consistent, quality stitching. With the CG590, you can achieve your creative visions in a fraction of the time.
Reliability Issues
Unfortunately, the CG590's frequent need for repairs puts a wrench in your productivity.
| Issue | Frequency | Cost |
| --- | --- | --- |
| Thread jams | Weekly | $50 |
| Needle issues | Monthly | $150 |
| Motor repairs | Yearly | $300 |
Multiple breakdowns disrupt your workflow and eat into your budget. Choosing a more reliable model will help you avoid the hassle.
Ease of Use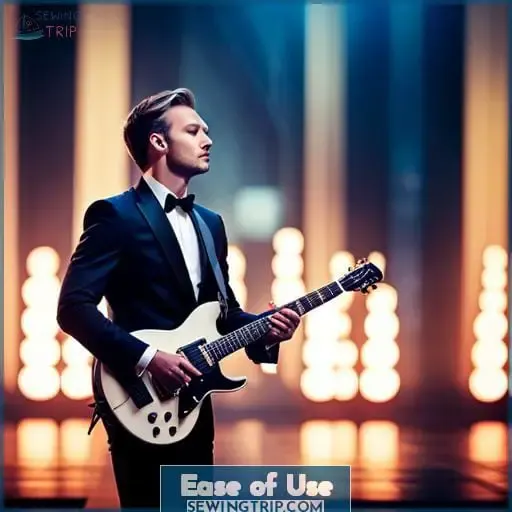 When using the Singer CG590, you'll appreciate the automatic needle threader that saves time and frustration. The tension and length dials allow for precise adjustments to achieve quality stitching. However, the dim LED lighting on the machine can make it challenging to see your work clearly.
The automatic needle threader on the Singer CG590 saves time and prevents frustration. The tension and length dials let you make precise adjustments for optimal stitching quality.
With the Singer CG590, the automatic needle threader saves time and headaches. You can also make exact adjustments with the tension and length dials to get great stitching.
Automatic Threader
The automatic needle threader can be temperamental, acting up and requiring some fiddling to get it working properly again.
The needle becoming jammed or breaking.
The thread slipping out of the needle bar.
Tangled threads under the buttonhole foot.
Skipped stitches from uneven tension.
Having to adjust the thread tension dial and reverse button frequently.
With patience and practice though, you'll get the threader rethreaded and humming along smoothly once more.
Tension and Length Dials
You'll fine-tune your stitches by twiddling the tension and length knobs until the bobbin quilting underneath matches the top thread. Getting the tension just right takes some experimentation and know-how, but you'll soon be stitching creative patterns on multiple fabric types and thicknesses.
The sensitive tension dial offers precision control, while the variable stitch length opens up possibilities. Take advantage of handy features like the drop feed and free arm to tackle your wildest sewing projects with ease.
Lighting
This dim lighting can make detailed sewing tricky. The LED work light on the Singer CG590 isn't the brightest. But with a few cheap upgrades like adding a flexible neck lamp or sunlight bulb, you'll see stitch perfection.
With illuminating innovations, your sewing machine will shine as your creativity is unleashed.
Stitch Quality and Options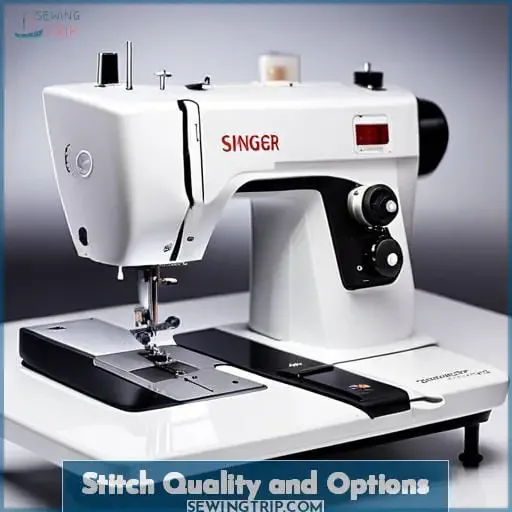 The Singer CG590 comes equipped with 18 built-in stitches, including basics like straight and zigzag, as well as stretch stitches, decorative stitches, and one 4-step buttonhole. With options for both fashion sewing and general mending jobs, you'll have an adequate range to handle most projects.
18 Built-in Stitches
Aren't you thankful this workhorse packs 18 stitches to handle any sewing project that comes your way? From basics to decorative, you'll find the versatility to sew garments, crafts, or home decor. Adjust stitch length and tension with ease for quality results. Avoid distorted stitches and thread breaks with the automatic needle threader, drop-in bobbin, and fingertip controls.
Buttonholes
Test stitches on fabric scraps first to check stitch length and width.
Adjust length and width settings for a custom fit on your project.
Use interfacing on delicate fabrics to stabilize and reinforce buttonholes.
Increase stitch density on thicker fabric layers for clean buttonhole edges.
Select a specialty presser foot designed for sheer fabrics so stitches don't tunnel.
Automated buttonhole features eliminate frustration with this sewing task. With practice, you can achieve durable, attractive buttonholes that withstand washing.
Fabric and Thickness Capacity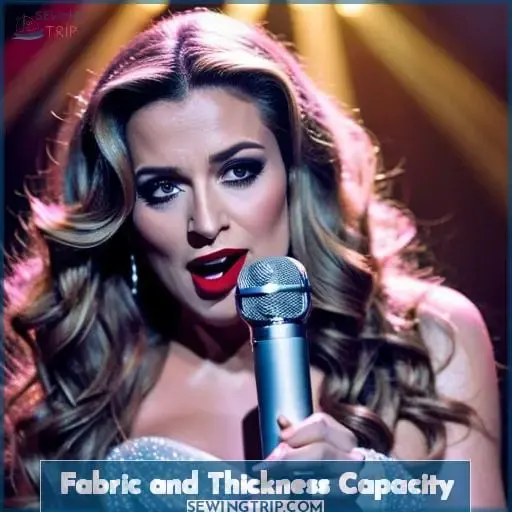 With its powerful motor, you'll whip through multiple layers of denim, canvas, and other heavy fabrics with ease. The Singer CG590 can handle even industrial-strength upholstery projects and thick quilts without jamming or skipped stitches.
The included extension table provides extra surface support for large, layered fabrics and allows for greater visibility while sewing. Whether you're constructing layered jeans, durable tote bags, or even slipcovers, this machine's 1,100 SPM capability and automatic needle threader will save time and hassle.
Just be sure to consult the instruction manual on correct threading and tension settings for different weights. With the cabinet mount and power cord, the CG590 is an ideal heavy-duty machine for avid sewers and small clothing manufacturers.
Accessories Included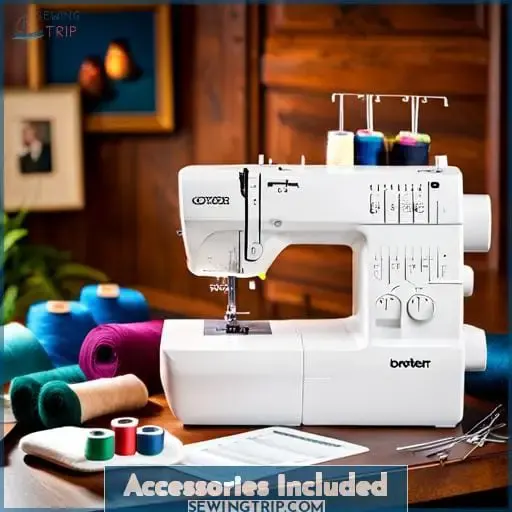 You'd snap-on the multiple feet, needles, and bobbins included to rip through thick fabrics fast as lightning.
Choose from the all-purpose, zipper, buttonhole, blind hem, and button sewing feet to handle any project.
Swap out needles for lighter or heavier fabrics, like the denim needles for thick layers.
Load up lightweight bobbins to feed smoothly and prevent jams on silks.
With the variety of built-in stitches, tension tweaks, and bobbin alternatives, you can finesse fabrics from lace to leather. Upgrade to an LED light kit for bright visibility. Try the jam-resistant bobbin case for skip-free sewing.
Whether hemming jeans or constructing jackets, the accessories maximize the CG590's power on any material.
Customer Reviews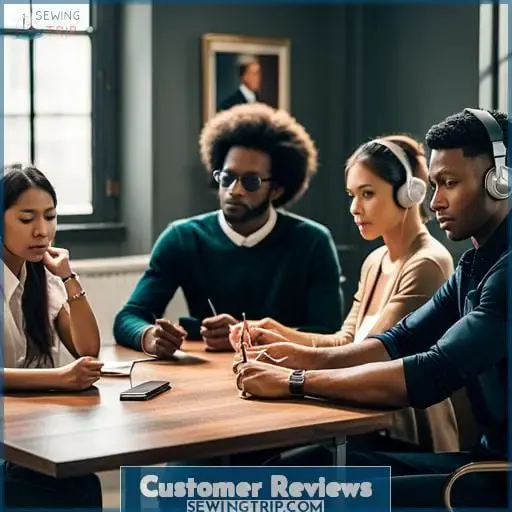 Operating the Singer CG590 elicits polarized opinions. For all its rugged power tackling substantial projects, recurring mechanical issues dampen enthusiasm. Though confident in its robust construction, many plead for design tweaks to improve reliability.
Dissatisfied with certain components yet satisfied with others, reviews expose the give-and-take. Determining whether the CG590's strengths outweigh its weaknesses necessitates examining the pros, cons, and recommendations shared by veteran users.
Pros and Cons
Whoosh, the CG590's speed leaves basic machines in the dust, but those bobbin headaches can grind your progress to a halt. With multiple snap-on feet, adjustable tension, and heavy-duty internals, you're the boss of any fabric.
Dial in ideal stitch length and width settings for leather, zip through truck tarps with a denim needle, or finesse silks with a lightweight bobbin. Sure, the bobbin jams and the LED upgrade stings, but this workhorse can whip up overalls as fast as curtains once you customize it.
The commercial-grade CG590 puts industrial strength stitching at your fingertips.
Recommendations
Lean in close to scrutinize the craftsmanship up top, and you'll glide effortlessly when you troubleshoot underneath. Like any workhorse, this machine needs patience to harness its horsepower. Master fabric compatibility and pedal nuances for responsive high-speed sewing, and finesse the drop feed to freely sew sleeves like a pro.
Reap the reliability over time with quality repairs, and accessorize your creativity with specialty needles.
Frequently Asked Questions (FAQs)
What is the warranty coverage and period for the Singer CG590?
You enjoy a generous 25-year warranty on the sewing machine head and a 2-year warranty on electrical parts when you choose this capable Singer. Craft freely, knowing repairs and replacements stay covered as you master garment construction and quilting projects.
Does the Singer CG590 come with an instruction manual or DVD to help learn how to use it?
Unfortunately, no, the Singer CG590 does not come with an instruction manual or DVD. You'll have to learn how to use it through trial and error, like a pioneer traversing the Oregon Trail. With enough grit and determination, I'm confident you'll eventually get the hang of operating it.
What accessories can be purchased separately that are compatible with the Singer CG590?
You can buy additional presser feet, needles, bobbins, screwdrivers, and supplemental lighting that work with the Singer CG Consider getting the walking foot, zipper foot, and LED light kit to increase your sewing abilities.
Investing in these useful accessories will allow you to take on more sewing projects and expand the functionality of your Singer CG
How noisy is the Singer CG590 when running at full speed?
When running at full speed, the CG590's 1100 stitches per minute create a persistent hum that permeates the room. Like a contained thunderstorm, it rumbles steadily as you guide fabrics and threads through its mechanized needle.
Though not deafening, its workspace presence can't be ignored – be prepared for productivity's audible avatar.
Does the Singer CG590 need regular maintenance and if so, what is required?
Yes, the Singer CG590 does need regular maintenance. Monthly oiling and weekly lint removal are required. Check tension, replace needles, and service annually. Proper care ensures smooth sewing and longevity.
Conclusion
Like a racehorse charging to the finish line, the Singer CG590 powers through projects with authority. Its commercial-grade motor propels fabrics swiftly at up to 1100 stitches per minute. While reliability hiccups occasionally surface, this machine's easy threader, tension dial, and built-in stitches simplify operation.
For small clothing companies, avid sewers, and quilters seeking robust sewing performance on a budget, the Singer CG590 is a solid contender. With the CG590's industrial strength and ample accessories, your sewing ambitions can surge ahead at full gallop.