This site is supported by our readers. We may earn a commission, at no cost to you, if you purchase through links.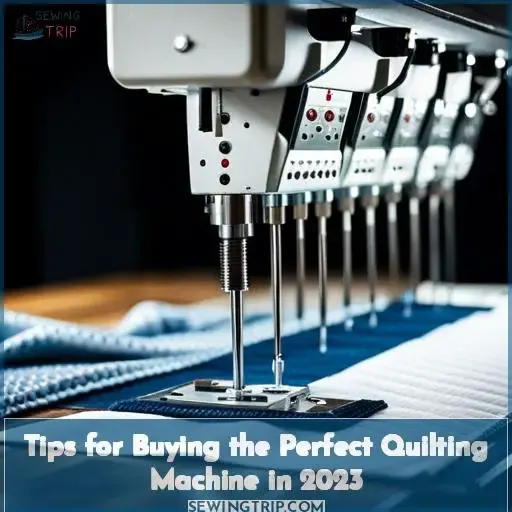 Before you buy, envision your happy place—the hum of your machine, the soft swish of fabric sliding beneath the needle, the glow of satisfaction with each finished project. Whether you're a beginner seeking a machine that won't intimidate or a seasoned quilter ready to upgrade, choosing the right quilting machine takes thought.
Comparison shop to find just the right fit for your skill level, budget, and quilting dreams. With an ideal machine, you'll create lasting memories and treasures for years to come.
Key Takeaways
Adjustable stitch length and width for versatility with different fabrics
Large throat space and extension tables for managing big, thick projects
Built-in walking foot, speed control, and thread cutter for precise quilting
LED lighting and easy-to-read displays for reduced distraction during quilting
Brother Sewing and Quilting Machine CS6000i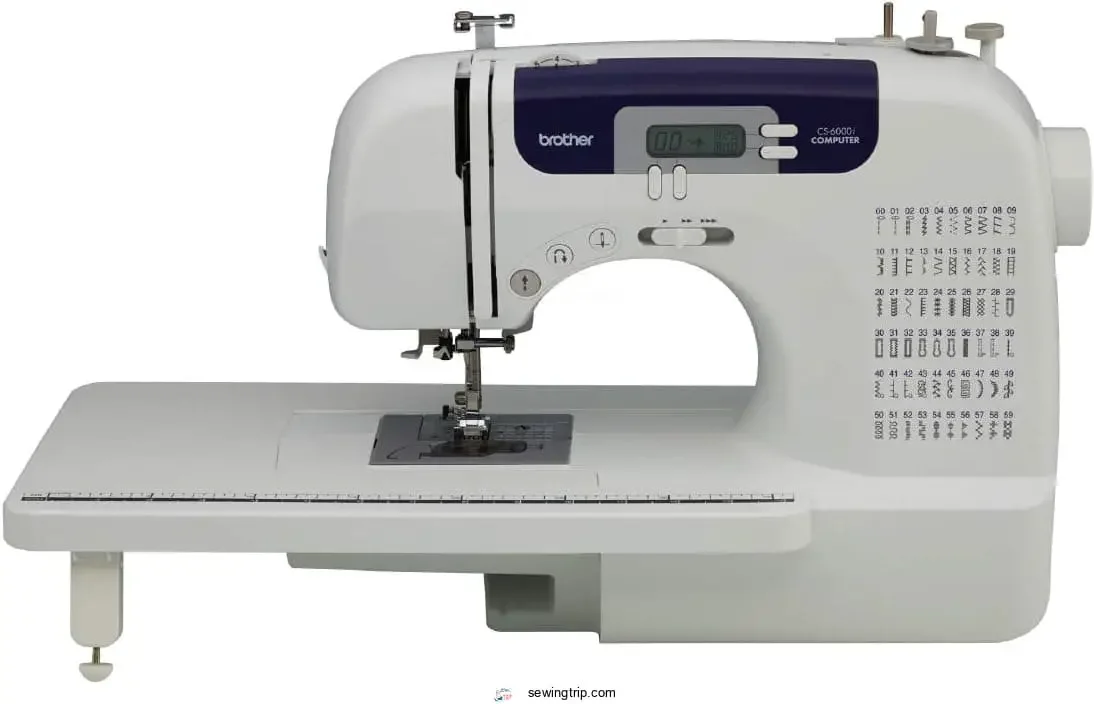 View On Amazon
You'll appreciate how the Brother CS6000i's automatic needle threader and array of accessories make quilting easy for a beginner like you. The LCD screen and simple stitch selection dial allow you to choose from 60 built-in stitches with the touch of a button.
Sew buttonholes, decorative stitches, or utility stitches for piecing quilts. Adjust the stitch length and width for custom settings.
The hard case, wide table, needles, bobbins, and 10 presser feet equip you for quilting projects. Follow the DVD tutorials to learn sewing techniques. The 25-year warranty provides peace of mind that Brother stands behind their user-friendly machine.
With handy features like automatic thread cutting and adjustable speed control, you'll find quilting creative designs is enjoyable and relaxing.
This lightweight, portable model offers versatility whether sewing at home or in a class.
Automatic needle threader
60 built-in stitches
Hard case and wide table included
25-year limited warranty
Helpful for beginners
Noisy compared to similar models
Extension table doesn't attach
Not for heavy-duty use
Some issues with auto threader
Husqvarna Viking Jade 20 Sewing Machine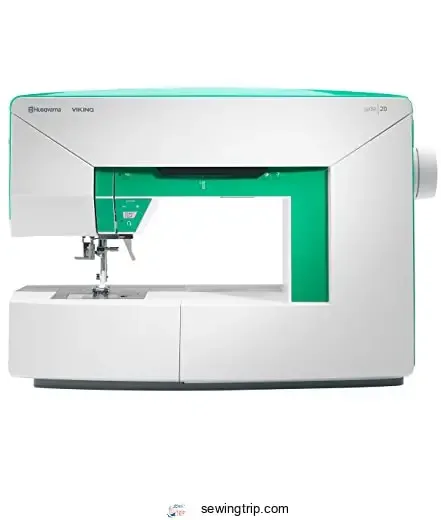 View On Amazon
You'd be crazy not to consider the Husqvarna Viking Jade 20 sewing machine with its buttery 8 work area and 82 built-in stitches for creating your retro macrame wall hangings.
This durable, portable machine provides quality stitches and useful functions at an affordable price point. The extra large work space gives you flexibility for managing your projects. With a stylish modern aesthetic, LED lighting, and an easy-to-read display, you'll enjoy sewing for hours with this machine.
The top-loading bobbin and built-in needle threader make setup a breeze. One-step buttonholes, adjustable presser foot pressure, and a speed control offer the key features any passionate quilter needs.
With the reputable brand Viking behind it, you can trust the Jade 20 will hold up through all your ambitious sewing dreams.
This is the perfect machine for intermediate quilters ready to upgrade from a basic model but not yet ready for the highest price points.
Affordable price given features offered
User-friendly operation
Generous 8 work area
LED lighting
Lacks a thread start lock button
Not as advanced as pricier models
Some struggles reported with auto thread system
Janome 4120QDC Computerized Sewing Machine Purple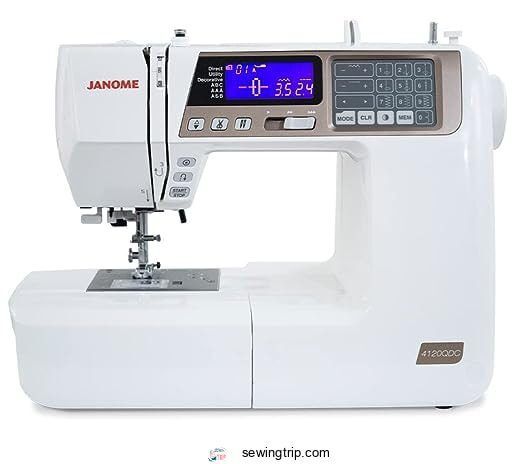 View On Amazon
Experience complete control with the Janome 4120QDC's easy-to-navigate LCD screen. Expertly select from 120 built-in stitches, including 7 one-step buttonholes, using the intuitive LCD display. Adjust stitch length and width at the turn of a dial for precision and consistency.
The machine's functions are clearly labeled, so you'll always know what button does what.
Sewing and embroidery projects require focus. With the 4120QDC, you won't waste mental energy figuring out controls.
This technologically advanced Janome computerized sewing machine boasts additional handy features like a built-in needle threader, superior feed system, memorized needle up/down, and a twin needle setting.
The 4120QDC sewing machine allows avid quilters, sewists, and crafters to effortlessly tackle a wide range of projects. Unleash your creativity knowing this dependable Janome has the modern functions and precision to handle anything you make.
LCD screen for selecting stitches
Adjustable stitch width and length
Built-in needle threader
Automatic thread cutter
Noisy compared to similar models
Cheap extension table not well attached
JUKI MO654DE Portable Thread Serger Sewing Machine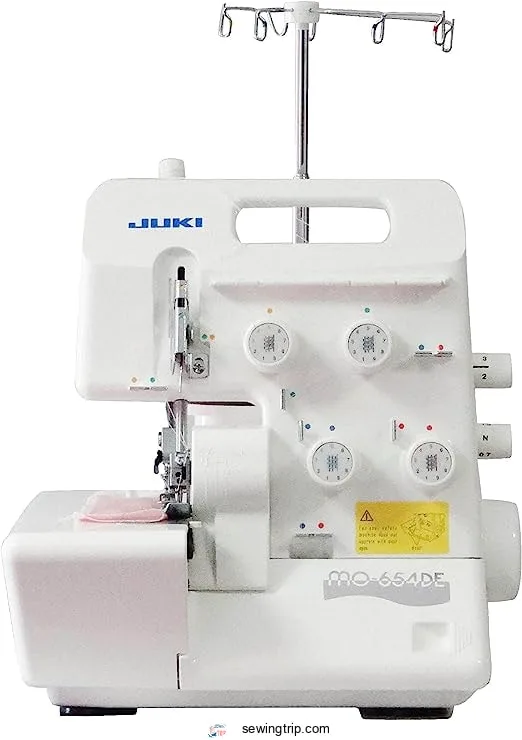 View On Amazon
Moving on from the Janome 4120QDC, let's dive into the JUKI MO654DE. This powerhouse provides professional-quality seams in a compact, portable package designed for home sewers.
Whether you're an avid quilter looking to finish edges quickly or a small business owner sewing everything from apparel to accessories, the MO654DE delivers. Its strong knife system, powered by a dedicated drive mechanism, zips through fabric while producing perfectly even stitches.
With differential feed ratios from 0.7 to 2.0, it expertly handles light to heavy materials without stretching or puckering.
The thoughtful design makes serging almost effortless. Color-coded threading and external stitch length and differential feed adjustments simplify setup. The safety feature prevents accidental starts, and auto thread delivery prevents frustration.
When you're ready to elevate your sewing, the JUKI MO654DE brings exceptional performance without the giant footprint.
Professional quality in a compact size
User-friendly, thoughtful design
Handles a wide variety of fabrics
Cuts and sews in one step
Initial learning curve
Some units do not have a lower looper threader
Non-refundable overseas return shipping
How to Choose the Right Quilting Machine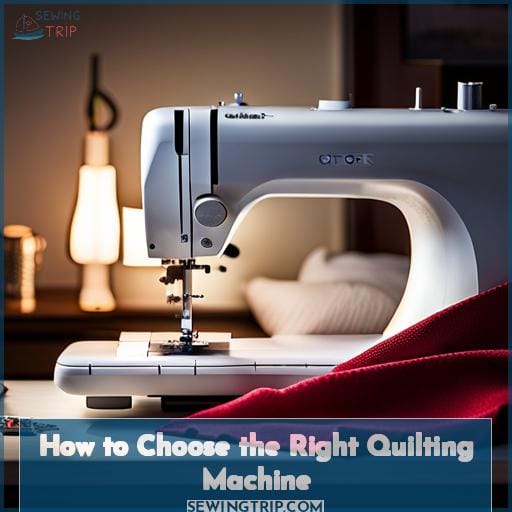 Your heart flutters as you gaze upon the pristine quilting machines, each promising efficient, effortless stitching to bring your visions to life.
Test drive several models with various fabrics to assess stitch quality.
Focus on a machine with basic stitches and features you'll actually use – straight, zigzag, buttonhole.
Ensure adjustable stitch length and width for versatility. Narrow width prevents fabric puckering.
Automatic needle threaders and thread cutters simplify work. Evaluate throat space needed for your projects.
The optimal quilting machine matches your skill level, budget, and projects. Avoid complex computerized options and prioritize features like easy threading, quality stitches, and adjustable settings. Investing time researching and test driving models leads to the perfect machine to unleash your creativity.
Frequently Asked Questions (FAQs)
What is the difference between a sewing machine and a quilting machine?
You'll be stitching through layers like a hot knife through butter if you choose a specialized quilting machine over a regular sewing machine. These sturdy workhorses feature long arms and large tables designed for big projects and continuous quilting.
Built for precision and smooth gliding, they handle thick layers and tricky free-motion work effortlessly.
What features should I look for in a quilting machine?
When selecting a quilting machine, prioritize a large throat space and extension table to easily maneuver thick, multi-layered quilts. Opt for a built-in walking foot, variable speed control, automatic thread cutter, and needle positioner to tame these textured beauties with precision.
What maintenance and care does a quilting machine require?
To keep it running smoothly, care for your quilting machine like a prized heirloom. Clean lint buildup and change needles regularly. Schedule periodic tune-ups with an authorized technician.
Where can I buy quilting machines and get the best deals?
Look for quality sales at reputable dealers. Don't just settle for the cheapest option. Establishing a relationship with a dealer has its perks – discounts, lessons, and servicing.
Are quilting machines worth the investment for a beginner or casual quilter?
Investing in an expensive quilting machine seems essential for quality quilts, yet a beginner's skill truly matters more.
Conclusion
As a sewing machine retailer, I've helped countless quilters find the perfect machine to match their skills and project needs. With so many options available, it can feel overwhelming to choose the right one.
But keeping your quilting goals and budget in mind will help narrow your search.
For instance, Sarah was an avid beginner quilter looking for her first machine. After trying out the user-friendly Brother CS6000i, with its variety of stitches and quilting feet, she felt confident this affordable model would help her learn the basics while making personal quilts.
The right quilting machine is out there for you too. Let your project plans and skills dictate which features you require. And invest the time to test machines from quality brands like Brother, Husqvarna Viking, Janome, and JUKI.
The tips for buying a quilting machine shared here will guide you to the model that best fits your quilting style.