This site is supported by our readers. We may earn a commission, at no cost to you, if you purchase through links.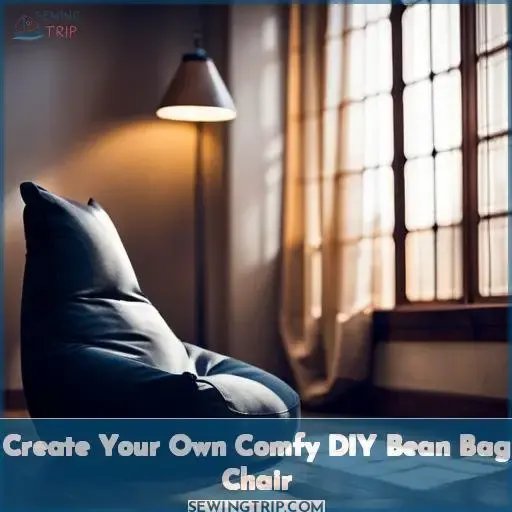 You've got the bean bag chair blues. Tired of plopping down on lumpy cushions filled with lifeless beads? Dreaming of a cozy nest to curl up in at the end of a long day?
Well, it's time to take matters into your own hands and create the bean bag of your dreams. This DIY bean bag tutorial will walk you step-by-step through selecting the perfect fabric, cutting and sewing the shell, leaving a hole for filling, adding the beans, and closing up your creation.
In just a few hours, you'll have a custom beanbag that forms perfectly to your body – your new favorite reading nook! Don't let the cost of store-bought bags weigh you down. Grab some fabric and beans and let your imagination run wild with possibilities.
Key Takeaways
Opt for a washable fabric that complements your decorative theme and room aesthetics.
Take precise measurements of dimensions and utilize a bean bag template for accurately cutting the fabric.
Seam the edges neatly, ensuring to leave an opening for the filling, and reinforce all seams for enhanced durability.
Take into account factors such as the gap for bean filling, select stain-resistant materials for outdoor use, and consider underfilling to prioritize portability.
Selecting Your Fabric and Supplies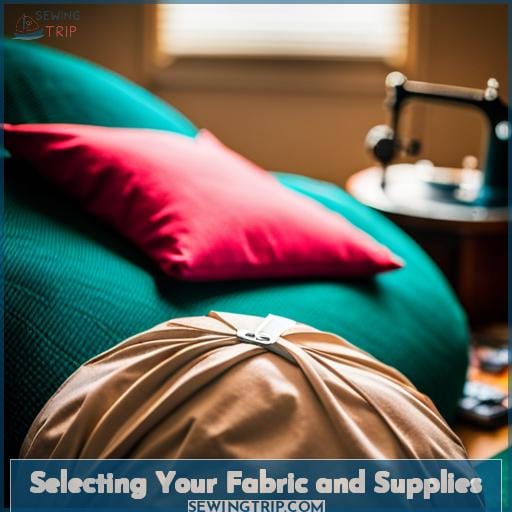 You'll want to choose a durable, machine-washable fabric that can stand up to plenty of use for your cozy bean bag chair.
Quality materials are essential for a long-lasting and comfortable chair. Consider the fabric texture – smooth, plush, or textured – based on your preference.
Opt for a washable cover, like a modern design with a pink cover for a touch of chic.
When selecting the fabric, keep in mind the bean weight it needs to support. If you're planning to move the bean bag around frequently, you might want to opt for a lighter fabric.
Additionally, consider the shape options; some bean bags come with chair legs for added support and style, while others have a more traditional rounded shape.
Make sure the fabric aligns with your desired decoration theme and the overall aesthetics of the room.
Cutting and Sewing the Bean Bag Shape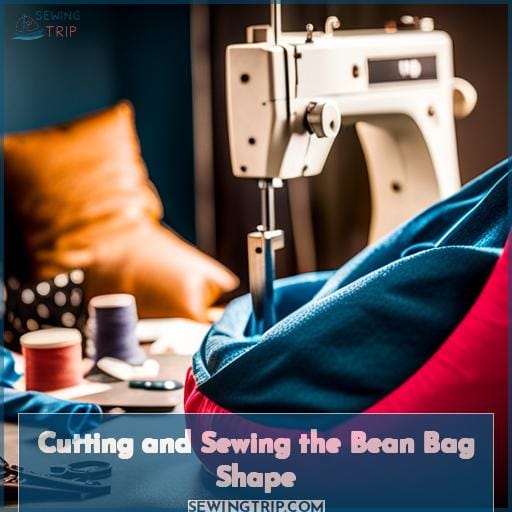 Let's cut and sew that bean bag shape now! This is where your project truly takes form.
Start by laying out your chosen fabric, making sure it's smooth and free of wrinkles.
Securely pin the seams, following the bean bag template to retain the desired shape. Before cutting, carefully measure and mark the dimensions once more – precision matters.
Once you're confident in your measurements, take a deep breath and begin cutting. With the fabric pieces prepared, it's time to sew along the edges. Remember to leave a small opening for filling.
Afterward, press the seams open to achieve a clean finish. Now, for added strength, topstitch carefully around the edges.
Your bean bag shape is starting to emerge, showcasing your mastery of DIY crafting, one seam at a time.
Leaving an Opening for Filling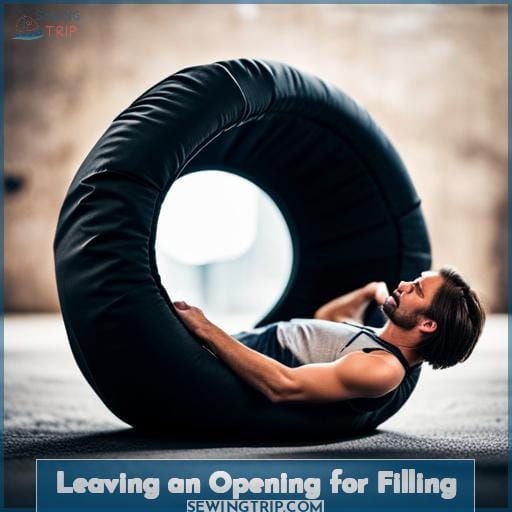 After stitching the seams, it is prudent to leave a gap so that your bean pouch can be st■ as full as a tick. Along the upper side of the soft groove shape, leave some space for beans by keeping the storage pouch unzipped.
This easy-access port allows ample room to pour in beads until the fringe bib is plump. Without a top-side opening, there would be no way to fill the panda tights. Allowing room to stuff the Micuna Ovo ensures a cozy spot for lounging.
Filling Your Bean Bag Chair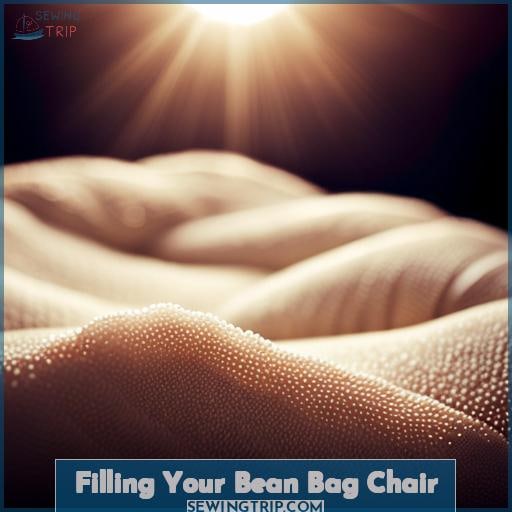 Now slowly sink into your bean bag's comforting embrace.
Carefully pour the filling into the chair through the opening, being mindful not to overfill.
If you have custom shapes in mind, utilize cushion inserts to shape those contours precisely.
For bean bags intended for outdoor use, it's crucial to choose materials that are both stain-proof and weather-resistant.
When dealing with travel-sized bean bags, consider a slight underfilling approach, allowing it to easily fit into a suitcase and be squished down.
To ensure longevity, incorporate extra stitching and opt for durable fabrics, effectively preventing any unexpected rips or tears.
Utilize tutorials from gugu guru to become adept at skillfully stuffing bean bags with just the right amount of filling.
With a bit of patience, your cozy and personalized chair will be primed for endless lounging enjoyment.
Let your DIY creativity flow as the final touches are put on this awesome, handmade bean bag.
Finalizing Your DIY Bean Bag Chair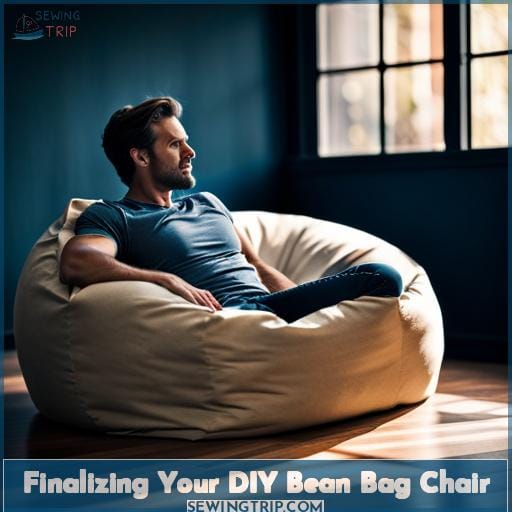 Now that you've filled your DIY bean bag chair, it's time for the fun part – giving your creation its final touches! Choose a removable cover that matches your style and consider various shapes, such as the classic bean or a playful cube.
Don't forget about size; take accurate measurements before making your decision.
To enhance comfort, add a soft fleece liner. You can also personalize your chair with extra features like pockets, cupholders, or even a headrest. With so many possibilities, your bean bag chair will truly be one-of-a-kind, providing just the right balance of cozy comfort and support.
Enjoy the process of adding these finishing touches, and then sink into the comfort of your amazing new chair!
Conclusion
Sinking into the cozy embrace of your freshly crafted DIY bean bag chair feels akin to discovering solace within a cloud. Every stitch and fabric choice contributes layers to your chair, bestowing an extra touch of crafting finesse to your skill set.
Now, while you bask in the plushness and panache of your creation, you can genuinely assert that you've honed the art of forging your personal sanctuary of relaxation.