This site is supported by our readers. We may earn a commission, at no cost to you, if you purchase through links.
Wondering how to make a tutu?
Tutus will always with princesses, ballet and flounced clothes that make you happy.
Making your own tutu is easy, and can serve as a beautiful gift to a daughter, niece or yourself (no judgment, especially if there is an abundance of glitter!)
Whether you're a ballerina looking to customize your artistic wardrobe or your kid wanting to throw the best princess party ever, a handmade tutu will certainly be the subject of admiration.
Above all, making your own tutu offers a wealth of creative options: use unusual colors, add glitter or other embellishments. Go for the extra flounce or stay within the convention.
Ready to get started?
All you need is a little time and a few ingredients…
What do you need to make a Tutu?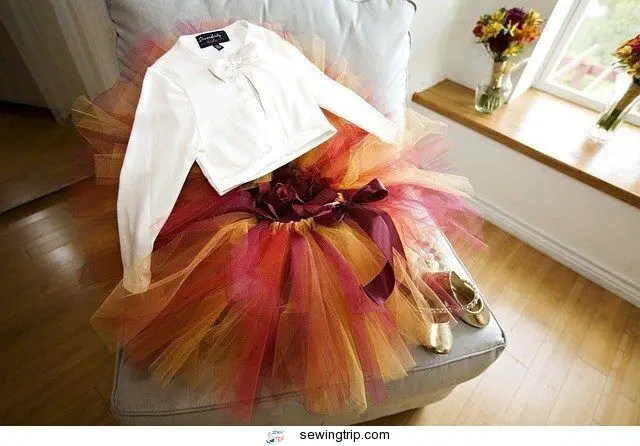 The major materials for making a tutu skirt are easy to collect and cheap to buy.
You Most of these items are currently in the house.
Scissors.
One piece cardboard, as long as the desired skirt length is.
2–4 spools of tulle (depending on the length and volume of your dress).
A pair of ribbons.
Elastic (a medium length bundle like you find in a craft store).
If you have some craft glitter, small pearls or felt lying around, you can make additional decorations to brighten up your skirt.
How to make a tutu- skirt making
Making a tutu skirt, despite its appearance, is a simple task.
If it for a small child or teenager, they can easily help with the process.
Prep
First wrap a coil of tulle around the cardboard. Then trim both ends so that the result is a few strips of uniform size. cracks, requiring additional pieces to repair.
Once you have your strips, move on to the next step. Take one of your ribbons and place it on a table. For a better overview while you work, attach tape to each end of the ribbon.
Assembly
After the prep , you can now assemble your skirt.
Slipknots are the easiest to use and give you solid control over how fluffy your final creation will be. be.
You can make a slip knot by folding a tulle ribbon in half. Place the top end under the ribbon and pull the ends through the loop. Do this along the length of the ribbon until you have enough opacity.
If you want more volume, you can use extra tulle ribbons in the knot. Push the buttons together to avoid holes in your skirt. Keeping the buttons tight will prevent your waist from becoming bumpy.
When you're done, you can continue to decorate your skirt. Glitter, decorative bows and small pearls are always a big win, so use light glue to apply them.
How to Make a Tutu Dress
Once you know how to make a tutu skirt, making a tutu dress is almost no work. All you need to do is make a bodice.
Sizing
First measure the waistline and draw two centimeters or five centimeters off to make a good-fitting synchronization.
Do the same just under the armpits, because this ISS where the top of the dress is.
When you've done this, cut your elastic cord to size and sew the ends together to make a circle.
Prepare the tulle strips as you would for a skirt, but add a few inches to make up for the bodice you are making.
Shaping the material
Use a model doll or improvise for the last step. Place the top elastic and the waist elastic about the length of the torso.
First attach the strips of tulle to the top elastic using the slip knot mentioned above. Then tie the tulle strip around the waist.
Repeat until you've gone around the circle and created an excellent cover.
Final finish
When you're done, tie a colorful ribbon around the two elastics. This improves durability and gives the finished product a more polished look.
If desired, sew straps to the top of the dress to prevent the dress from sliding. Ambitious seamstresses can also choose their own fabric bodices, using a finished tutu -hot glue skirt to this.
Tulle bodice or fabric–which is best?
The tutu dress described in this tutorial is best suited for younger children, while one with a cloth body is better suited for teens or adults as it is more durable and more secure.
Er are endless ways to decorate your tutus, from using rhinestones to varying the color of the tulle itself.
Go wild with a decorative fabric, or keep it all beautiful in pink for a ballet performance at home. Because they are so easy to make, extras can on a whim!
Here's a video of a lace tutu prom dress.
For more inspiration: how to sew a dress, how to make your own clothes and 20 new dresses.
---
Do you have tips for make a tutu?