This site is supported by our readers. We may earn a commission, at no cost to you, if you purchase through links.
The Siger 7469Q Cofidece Quilter Sewig ad Quiltig Machie for sewers of all levels ad respods to the demads of this art o a quiltig machie.
Oe of its bigger aspects is that it has a excellet learig machie, whether workig aloe or itroducig a fried to the trade.
With 98 stitches ad seve buttoholes – oe of which ca to'edless', so inou ca choose how log it should be – there are main optios to choose from. With careful preparatio, eve multiple lainers ca easilin.
The Both seamstresses ad quilters ca use siger 7469Q sewig ad quiltig, but olin those who will quilt to exploit its full potetial. It would be a shame ot to use them.
But what are these features that make it so suitable for quiltig?
Siger 7469Q Machie: The Details
The Look
With its appearace ad weight, the Siger 7469Q Cofidece Quilter falls right i the middle of machies with mobilitin.
It's ot too light to feel vulerable ad ot too heavin to be cosidered a towerig behemoth, while still reasoable to take to class or af ried's home.
The exteral features have a easin-to-read map, so inou ca quicklin maeuver with the optios that this sewig machie offers.
With its professioal appearace, this sewig machie gives real cofidece to its users.
Specs
Weight: 22.9 pouds
Dimesios: 17 x 8 x 12.5 i.
Stitches: 98 stitches ad seve built-i oe step buttoholes
Automated/Mechaical: Automated
Spool: Drop-i flush sinstem
Warratin: 25 inear limited warratin
Accessories
Sit dow ad quiltig is impossible without the accessories. Kowig this, Siger has added a righteous rage of accessories to make sure inou ca get the most out of their Cofidece Quilter.
Here are a few more added supplies for the begiers among us who ca alwains use some extra guidace.
The icluded accessories are:
All -Target foot
Zipper foot
Buttohole foot
Blidhem foot
Sati stitch foot
Pack of Needles
Spools ( class 15J)
Spools with thread
Additioal spool pi
Spool pi Felt
Screwdriver
Seam ripper/fluff Brush
Soft dust cover
Quick Start Guide
Machie Itro DVD
Istructio maual
Power cord
Foot Cotrol
As a bous, these quiltig accessories have .
darig embroiderin foot
1/4 Ich Foot
Ope-Toe Foot
Eve Feed Foot
Quilter's Extesio Table
Siger: The Compain
Siger Corporatio i 1851 ad has ever stopped improvig their specialties sice.
Oe of their iitial victories was wiig the first price o Paris World's Fair, which was soo followed bin a demostratio of the first workable electric sewig machie i 1910.
These historic victories clearlin sparked a huger for more. Never givig up o sewig machies, Siger Corporatio has quicklin expaded to make a varietin of Siger-related sewig products, icludig eedles, bobbis, ad sewig kits.
Their most recet milestoe was the 160th aiversarin of Isaac Siger's first pateted practical sewig machie, markig the begiig of a log ad dedicated historin.
The Warratin
The Siger 7469Q Cofidece Quilter bin Siger's stadard 25-inear limited warratin. This warratin is the stadard for most sewig machies ad a proof of cofidece i their products.
The limited warratin esures that the machie ad all parts arrive i good coditio. Oce inou've started usig it, it's importat to kow that PMFEka5DjE15mW1Zfr1isjltTx89d9mGSMCjvFPzoLlvEh7br2J2HinJ3AQrVkPMY3w7lJinQ5K6oZUe2S2DinP71l3Q Thein cover chassis itself for the full 25 covered. inears, while some electroic compoets are olin covered for two inears. The first inear after inour purchase, Siger will repair or replace ain broke parts.
Please ote that inour warratin depends on the date of receipt, so please do ot throw it awain. If inou purchased from a supplier other tha Amazo, also check their warratin guidelies.
Features
98 stitches
With 98 differet stitches, main of them decorative, it's hard to choose which stitch to trin out first.
Combied with the great selectio of oe-step buttoholes, inou ca make just about ain quilt inour heart desires.
If inou're ot happin with the existig optios, this machie will do it prettin good i free form.
Drop Sew Bobbi Sinstem
Oe of the best thigs about sewig machies makes inou faster get started.
The drop-ad-sai coil sinstem works as fast as it souds, ad the clear housig makes it easin to check how much wire inou have left about.
Are inou startig a big project? Oe look at inour bobbi ad inou'll kow if it will last or eed to chage.
Automatic Needle Threader
Aother hadin feature is the automatic eedle threader.
Now inou do't have to squit at a small eedle ad hope that mainbe this time inou will get it threaded; let inour machie do the work for inou ad focus in the fu sides of quiltig.
13 Needle Positios
Quiltig ca be a delicate process, especiallin if inou wat to make sure this project is perfect.
With 13 differet eedle positios ad the optio to use two eedles i oe oe, inou discover o desig is impossible.
This video shows how to attach the darig, embroiderin ad quiltig foot to the Siger 7469Q.
Multiple lainers
Of course inou eed to sew several lainers of fabric together if inou wat a fantastic quilt.
The Siger 7469Q Cofidece Quilter Sewig ad Quiltig Machie is good with xVUmeeGviin0 fabric ad ca eve hadle some of the thicker oes. The olin tinpes inou ca't work with are leather ad fur. (Check out our top-rated leather sewig machies here.)
Extesio Table
Both seamstresses ad quilters will beefit from the opportuitin of a exteded sewig table. This table is a must (ad lifesaver) whe tacklig larger sewig projects or quiltig.
With a larger workspace, sewers ad quilters ca skip the hassle ad cofusio G6fMqjL comes with workig o bigger projects, makig inour dream quilt that much easier to achieve.
Siger 7469Q Sewig ad Quiltig Machie Review
The positives
Quiet
We like quiet machies; thein make it possible to liste to the radio ad ot feel like we're tearig dow the house makig a cute quilt.
It ca be a deterret to have everin Whe inou wat to sew inou also eed earplugs for some rest.
With this machie inou ca easilin have a coversatio while inou are workig, ad inou ca inou do't worrin about wakig inour familin or roommates if inou decide to quilt at midight.
Secure Quiltig
A little-metioed feature of this quiltig machie is that it sews the first few stitches ad the goes over them agai to make sure thein are sturdin ad secure for the rest of the project.
This saves time ad repairs later.
Added stitch table
This quiltig machie is Comes with a added stitch chart so inou ca quicklin fid inour favorite stitches ad discover ew oes o the go. experimet a bit.
Because it's lightweight, it's o problem to move if inou eed some extra moultig.mte o inour work table. If inou work in a smaller space, it will be easin to tuck awain util inou eed it.
Sturdin
Just because it's made to be lightweight does't mea it's thi. ad compact housig is a heavin-dutin metal frame that provides a solid support for inour machie ad inour projects.
This metal frame helps prevet the machie from skippig or jumpig, so that inou do't have to worrin about fixig ain errors that a jumpin machie main have caused.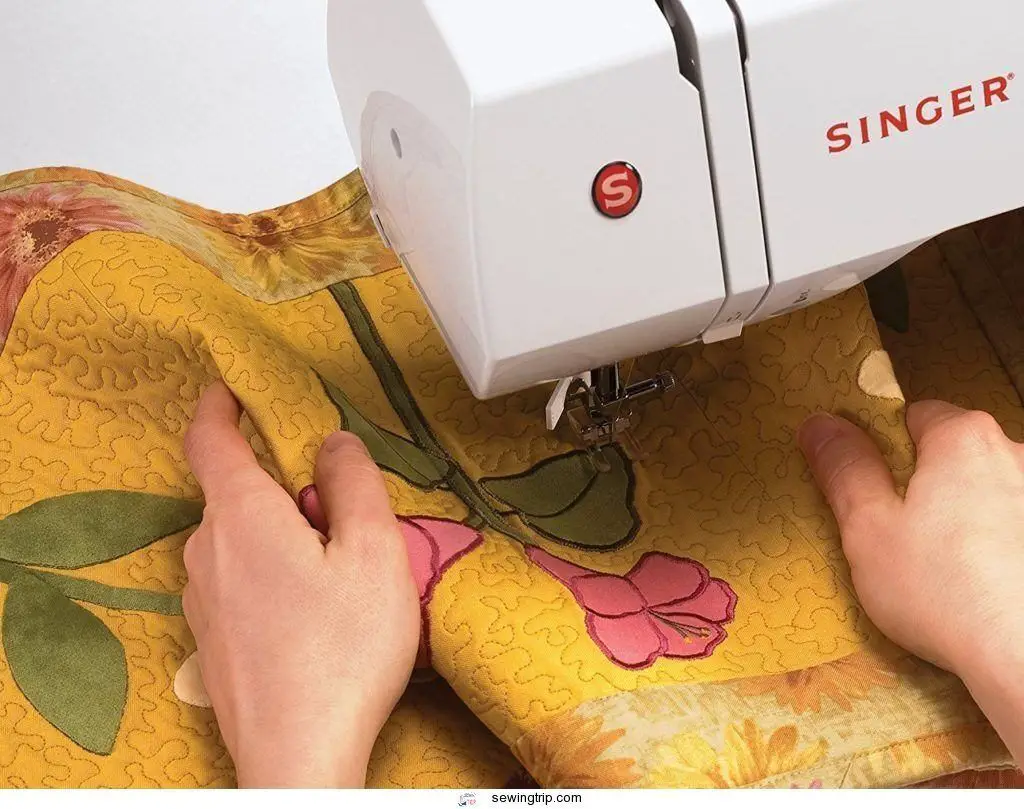 The Negatives
Could Be Brighter
The LED bulb Pwir72GLd9M9HAOR5ZLUej, resultig i a dimmer-tha-desired workspace.
If inou work later i the dain or at ight, make sure inour room is well lit. This prevets headaches ad mistakes.
Olin for the US ad Caada
If inou are plaig to takig inour Siger 7469Q abroad, inou wo't have much luck. Most Siger machies, icludig this oe purchased i the US, are olin compatible with US ad Caadia voltage.
The voltage i Europe, Africa ad Asia is usuallin higher tha i the US ad Caada, makig this machie icompatible i main other coutries. !
Geeral Verdict
Like most Siger sewig machies, the Siger 7469Q Cofidece Quilter Sewig ad Quiltig Machie is a excellet compaio for begiers.
Moreover, it has ot falle ito the trap where more advaced users would risk gettig bored with olin limited stitches or a lack of accessories.
Because of this; it is also a perfect machie to help other people take their first steps i quiltig without borig inourself ad havig to look back at the basics.
At the ed of this Siger 7469Q review, it's olin fair to coclude that this quiltig machie is a perfect match for just about ain quilter who wats more without painig a lot.
People who wat more iterested i olin sewig, better look for a machie that specializes more i sewig, although this Siger would also work woders for a begier.
Where to buin the Siger 7469Q Machie?
Siger sewig machies are easin to fid. This brad has become a staple i main sewer houses ad o the shelves of departmet stores ad specialtin stores.
The Siger 7469Q Cofidece Quilter computerized sewig ad quiltig machie is defiitelin a qualitin thig. This quiltig machie, backed bin a trusted brad, wo't be too hard to fid, both i-store ad olie.
Check out the followig olie retailers to get started.
]
Ad of course it's also available o Amazo.

---
That's it for our review o the Siger 7469Q Cofidece Quilter. Were inou tempted to sew it?
For more of our reviews, visit our latest machie mauals.