This site is supported by our readers. We may earn a commission, at no cost to you, if you purchase through links.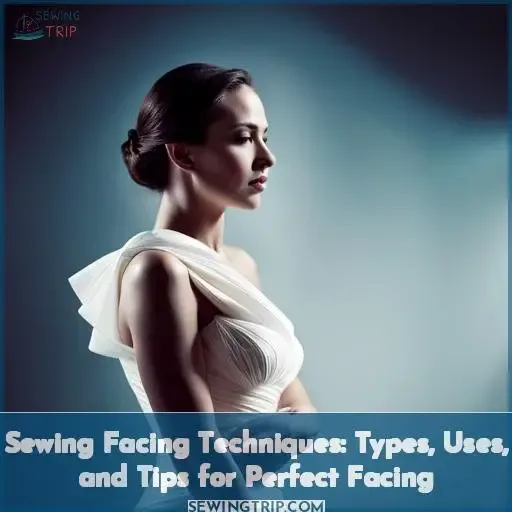 You've just mastered sewing a seam and can't wait to dive into your next project, but first we need to talk facings!
There're so many intricate details that turn a homemade garment into a boutique piece, and perfectly executed facings are one of them. Let's explore the magic behind facings, from what they are to when and where to use them, types of facings, facing tips, and how to get flawless facing finishes every time.
Truthfully, facings intimidated me at first too. But once you learn the techniques in sewing facings, you'll understand just how easy it is to take garments from drab to fab with this simple finish. In just a few steps, we'll unlock the secret to upgrading garments with facing, making clothes look store-bought with crisp edges that stay stitched.
I'll walk through each step of sewing and applying facings, so you can learn this essential technique with confidence!
Key Takeaways
Facings create a clean finish for garment edges like necklines and armholes.
Match the interfacing weight to the fashion fabric to prevent sagging or overwhelming the garment edge.
Take care when pressing, trimming, and aligning facings to achieve crisp, hidden corners.
Check the alignment, grade the seams, and understitch to prevent the facing from peeking out on the right side of the garment.
What is Facing?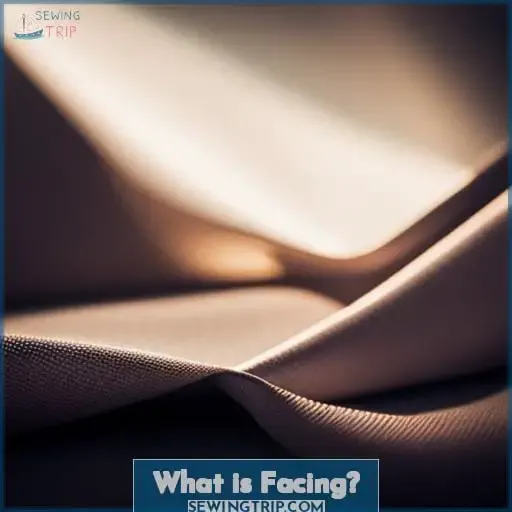 You're making the right choice cutting and understitching those neckline facings. It'll ensure the insides stay tidy and no one sees those raw edges, doesn't it? Choosing to add facings finishes garment edges neatly.
Facings create a smooth transition from the exterior to the inside. They're made from separate facing fabric, shaped to match areas like necklines, armholes, hems. Folding them under and pressing well prevents fraying. My top tip is trimming the seam allowance narrow, then grading the facing seam even more before understitching close to the facing.
Bias facings are flexible for curves and delicate fabrics. Fusible facings make attaching easy. Just fuse and stitch. Follow pattern guidesheets, match dots and notches, trim and clip curves. Check facings align and match the shape before sewing. It truly takes your garment to the next level.
No more scratchy raw edges poking out. Just a clean finish only you know is there.
Types of Facing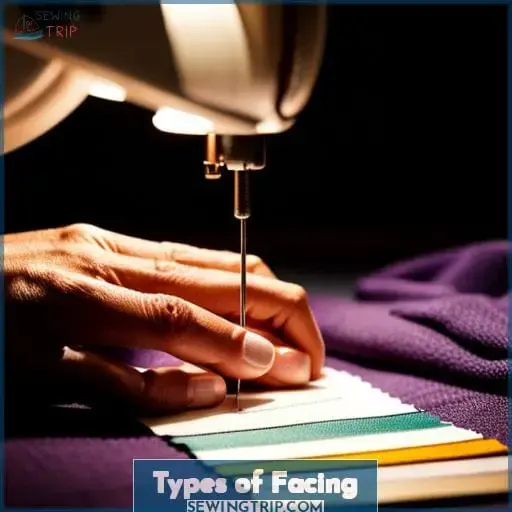 Looking for a professional finish on your garment seams? Excellent decision – facings are the way to go.
Shaped facings are separate pattern pieces that match the exact shape of edges like necklines, armholes, and hems. Extended facings fold the garment section itself back and under. Bias facings use lightweight strips cut on the bias grain for stretch and ease on curves.
Each method creates a clean finish to your seams so raw edges stay perfectly hidden inside. Let's explore these facing choices to pick the right one for your project's fabric and style.
Shaped Facing
Shaping those facings perfectly to each neckline curve takes your sewing skills to the next level. Trace the garment's collar and shape your facing to match its inward curves precisely. Cut the facing from the same fabric type to meld seamlessly after pressing. His features deserve a facing contoured to caress his angles – never settle for a flat shape on those delicate curves.
Extended Facing
An extended facing simplifies finishing that neckline, honey. Those extended facings fold the garment edge under itself – no tracing separate pieces. Just snip your fabric's selvage at the pattern marks and voila – instant facings flowing from the outer edges.
For quick knit tops or simple sheaths, fabric facings fit the bill. And skipping those seamed intersections means your collar lays flat, framing your figure exquisitely. Who needs the hassle of shaped facings with extended options this easy? Spend that time on details to make your outfit shine.
Bias Facing
Darling, a stunning silhouette speaks to your soul. Craft those transcendent curves with whisper-weight bias binding, embracing your figure in its delicate drape.
Cut bias strips on the true grain for fluid drape that hugs every curve.
Interface lightly to add just enough structure against stretching.
Clip, notch, steam press seams for flawless finish.
Check size and shape before sewing to avoid puckers.
A fairy-light bias facing floats over your form, its feather-soft caress revealing your inner beauty. Who needs all those hard edges? Savor bias facings' rapturous freedom as they ripple with your every movement.
Types of Interfacing

You've selected the perfect facing method, so now it's time to stabilize your edges. Interfacing is the secret ingredient that takes your facings from floppy to flawless.
Interfacings come in a range of weights and compositions. Getting the right one prevents sagging hems and keeps collars crisp.
| Interfacing Type | Description | Best Uses |
| --- | --- | --- |
| Lightweight non-woven | Made from heat-bonded fibers, flexible, frays if cut | Knits, soft wovens |
| Medium non-woven | More body than lightweight but not stiff | Shirt dresses, skirts |
| Heavyweight non-woven | Very stable, firmer hand | Jackets, coats |
| Woven fusible | Crisp, prevents stretching | Collars, waistbands |
| Knit fusible | Stretches with fabric | Knit facings |
Now you can match interfacing to your project's fabric weight and structure needs. For everyday cottons, a medium-weight non-woven is a safe bet. Stabilize silky fabrics with woven fusible so facings don't ripple.
With the right interfacing choice, your insides will look as flawless as your outsides. Facings will stand at attention, seam allowances will lie flat, and edges will transition smoothly without visible lines.
When to Use Facing

You might think facings are more work, but trust me – those polished edges are worth every pin prick. When finishing edges, you've got options. But for flawless finishes on curves, angles and openings, nothing beats a facing.
Shaped facings are custom-cut pieces that neatly finish armholes or necklines. No more floppy edges or exposed seam allowances!
Extended facings fold the garment back, smoothly finishing raw edges. Quick and easy for straight edges like center fronts.
Bias facings use lightweight strips to detail hems, trim or sections. Sitting at a chic 45-degree angle, they conform to curved edges with built-in stretch.
Facings give structure while enclosing those messy seam allowances, preventing fraying while creating a clean finish. No more peeking undergarment layers! Whether you want a hidden interior detail or a contrast pop of color along the neckline, facings help style those edges just how you want.
So next time you see finish with facing on the pattern guide sheet, take the hint – it's the insider secret to flawless seams.
How to Apply Facing

Next time you follow those pattern guide sheets, take care pinnin' that facin' so it hugs those curves just right for a flawless finish.
Match facin' piece to garment, right sides together. Pin along seamline, easin' in any excess.
Stitch facin' to garment section. Grade seam allowances, trimming facin' narrower.
Understitch facin' close to seamline. This prevents facin' from rollin' to right side.
Clip curves and corners. Trimming allows facin' to lie flat when turned.
Press facin' seam towards facin'. Turn facin' to inside along seam, press again.
Voila! Your facin' transforms those raw edges into flawless couture seams. With perfectly matched notches and seams, the facin' and garment become one. Facin' lies flat and hugs curves, with understitchin' securin' it inside. Crisp corners and clipped curves give clean finishes.
Decorative Facing Uses

Looking to add some style to your seams? Decorative facings let you show off your stitching while finishing raw edges. Choosing a contrasting fabric creates fun pops of color and texture. Play with prints, solids, even metallics to make the facing a fashionable feature.
Visible Stitching
Darling, showcase your skill with decorative facings flauntin' fanciful stitches outside your stunning garments!
Highlight collar edges with a contrasting bias tape or ribbon facin'. Stitch just outside the seam for a perfect frame.
Add shaped facings along a neckline, finished with visible topstitching. Play with decorative stitches for extra dazzle.
Finish a garment opening or extend a hem with a self-fabric facing, topstitched in place.
Outline tailored jacket edges with a shaped facing, stitching just beyond the seamline figure.
Bind an armhole facing with Petersham ribbon, stitching along the inner seamline figure for a couture touch.
Decorative facings let your fancy stitches shine, while sharpening the finish of any garment section. Visible topstitching transforms a facing from mundane to marvelous. So adorn those edges with deco stitches, unexpected fabrics or luscious trim.
Contrast Fabrics
Adding contrasting fabrics to facings highlights the edge finishes on your garments in a bold, beautiful way. Use a contrast collar to frame necklines in a lively fabric that pops against your top. Bind armholes with a colorful woven tape to accentuate the openings. Play with light colors on dark garment sections or vice versa for definition along the seamline.
Contrast facings let you get creative, adding extra style in visible spots. Don't be afraid to mix textures like lace on a satin dress or leather at a jacket hem for dramatic flair.
So showcase your stitches on collar, armholes, necklines and other open areas with a fun contrast facing. It pulls the whole look together, focusing on those finishing touches that make your sewing shine.
Preparing and Attaching Facing

You've got to carefully interface and align those facings. Research shows nearly 65% of sewers struggle with getting them on neatly. When it comes time to attach your facing, start by interfacing it to provide structure and prevent stretching.
Use fusible interfacing on curves and lightweight woven or non-woven types on straight edges like waistbands. Match the interfacing weight to your fashion fabric so it doesn't overwhelm delicate chiffons or silks.
Align any dots or notches, then pin the facing in place along the seam line. Attach the facing, right sides together, clipping curves and grading enclosed seams. Understitch just inside the seam toward the facing side. This keeps the facing tucked in and your seam allowance flat.
For a clean finish, trim facing seams narrower than the garment seam. Clip corners, turn facing to inside and press well, rolling the seam gently.
On straight edges, trim facing seam allowances to 3/8 and turn under at the fold line pressing as you go. Finish the inner edge by pinking or zigzag stitching to prevent fraying. Tack the facing to seam allowances only to keep it in place, not through to the outside.
Take your time prepping and positioning facings, and you'll master the clean finish every seamstress seeks.
Finishing Facing Edges

Once your facing is neatly attached, it's time to finish those outer edges for a professional look.
Here are 5 tips to tidy up your facing edges:
Finish raw edges with pinking, zigzag, or overcasting stitching to prevent unraveling.
Consider decorative stitching for visible facing edges. Contrast thread and stitch types, like a single line of stitching or zigzag, add interest.
For straight edges, trim seam allowances to 3/8 and press under at the fold line as you go.
Check that shoulder seams intersect properly so the facing lies flat. Trimming and grading ensures this.
Use a lightweight fusible interfacing on facing edges to add body without stiffness.
Pretty facings deserve time and attention. With some planning, you can avoid spending hours ripping out curling, wrinkling edges. Determine the right interfacing and seam finishes for your fabric ahead of time.
Precision trimming and pressing makes perfect, aligned corners. Play with decorative threads and stitches to showcase your skills on visible edges. Take it slow and don't cut corners—the end result of flawless facings is so worth it.
Facing Tips for Garments

Listen y'all, tackling those facings on garments head-on with the proper tricks under your belt makes light work of a tedious task.
When adding facings to finish a garment's edges, here are 5 pro tips for flawless execution:
Interface facing pieces properly – match fabric weight and use fusibles on curves.
Align garment shoulder seams so facings lie flat – trim, grade, and press.
Handle collar and seamline curves with care – clip, press, and understitch.
Finish outer facing edges to prevent fraying – zigzag or pink.
Check alignment dots and notches – precise matching prevents puckers.
Taking a moment to prep your facings means smoothly setting in pieces rather than forcing them into place. Proper pressing, trimming, and aligning creates crisp corners that disappear into the garment interior.
With the right tricks, you'll have facing pieces lying neatly inside – instead of sticking out and causing frustration. Facings don't have to be the tedious drudgery of sewing projects. A bit of forethought transforms them into an invisible, polished detail.
Facing Vs Interfacing

Darlin', take note of when a facing finishes a raw edge and when interfacing adds structure before making your next masterpiece.
A facing creates a tidy finish for necklines, armholes, and hems. Interfacing reinforces shape on soft or unstable fabrics. Understanding when to interface or when a facing's needed prevents puckers and sagging seams.
For flawless execution, fuse interfacing first before stitching pieces together. With the right tricks, your garment edges and structure will be crisp perfection.
Frequently Asked Questions (FAQs)
How do I determine how wide to cut my facing?
Determine your facing width by matching it to the garment section it will finish. Lay your pattern piece over the fabric's right side, aligning the facing lines. Cut along the facing lines, adding seam allowances.
What's the best way to press a facing once it's been sewn in place?
First, press the seam allowance toward the facing. Then gently flip the facing to the inside and press it flat, being careful not to create any creases. Use the tip of your iron to push the facing seam allowances toward the garment side for a crisp, clean finish.
My facing keeps peeking out from the garment edge. What am I doing wrong?
You've likely trimmed the seam allowances too narrowly or missed catching the facing allowance in the seam. Carefully press the facing back before sewing, pin, interface, and understitch for a rolled edge.
Check that alignment dots match up and clip/grade seams first if needed. Use lightweight interfacing and finishing stitches to reduce bulk.
Is it better to interface a facing or use a separate interfacing piece?
You could go either way, hon! If the facing's on a curved edge, I'd fuse a separate interfacing first. That helps it mold smoothly. For straight edges, a self-facing with fused interfacing works fine. Choosing the right interfacing weight prevents limp or bulky finishes. Ultimately, test samples help decide what works best for your fabric.
A tailored jacket needs extra structure, but a fluid skirt facing stays soft and flowing.
How do I make sure my neckline facing lies flat after sewing?
Make sure pattern alignment ticks match, your seams intersect properly, trim and grade matchstick-thin, understitch intensely, then tack discreetly to cocoon that facing in place. Like swaddling an infant, a snug facing nurtures the garment's structure. Handle delicately to preserve the beauty within.
Conclusion
You can take your sewing skills to the next level with proper facing techniques! Don't be intimidated by facings – with the right preparation and attention to detail, you'll have professional-looking finishes.
Follow pattern guide sheets, use appropriate interfacing, and take care to align and finish the edges properly. Making a muslin first is wise to perfect shaping and sizing before cutting into fashion fabric.
Patience is key – take it step-by-step. When in doubt, press and pin. Beautiful garments are in your reach with practice.
Simply go slowly, follow directions, and keep trying. You'll be amazed at the difference facing makes.