This site is supported by our readers. We may earn a commission, at no cost to you, if you purchase through links.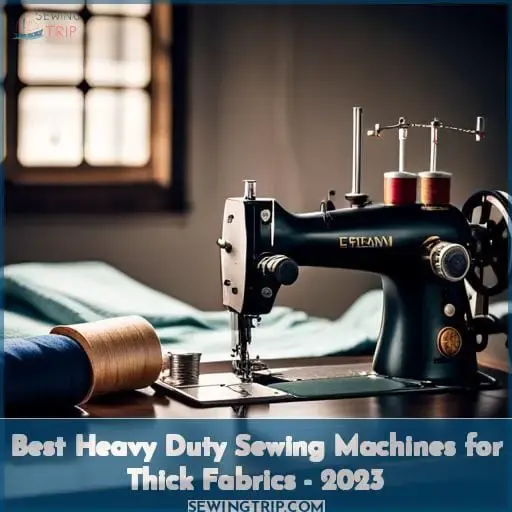 Deciding on a heavy-duty sewing machine is like choosing a loyal pit crew for your racing passions. As you floor the pedal attempting new quilting projects or whipping up thick costume designs, the machine can't conk out mid-stitch.
You need an engine with tenacity to conquer the tough fabrics without breaking needles or popping thread, yet with finesse for handling delicate details.
Let's review the most indefatigable, user-friendly heavy-duty sewing machines that'll have you smoothly sailing over rough fabric terrain like a pro. We'll outline key durability factors from all-metal frames to high piercing power alongside handy features for mastering any material.
With the right heavy-duty sidekick, you'll feel empowered to tackle any sewing vision while the machine hums along steadily at your command.
Ready to rule your sewing kingdom? Let's start your search for a heavy-duty sewing machine that can keep pace with your bold imagination.
Key Takeaways
Heavy-duty sewing machines can handle thick fabrics without straining regular machines.
Durability factors include all-metal frames, high piercing power, and user-friendly features.
Key features to consider are needle size for thick fabrics, low noise, strong thread tension, and a powerful motor.
Specialized features such as walking feet, roller feet, and free arms can handle challenging fabrics.
Importance of Durability and Strength in Heavy Duty Sewing Machines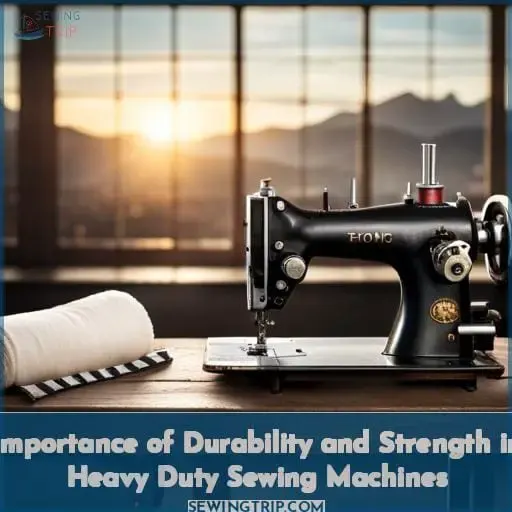 You're stitchin' tough fabric day in, day out, so ya need a sturdy machine that can handle the workload without breakin' down on ya. Opt for a heavy-duty model with a powerful motor that won't lag even at high speeds.
It should have plenty of built-in stitches to handle thick seams, an adjustable pressure foot to glide over tricky material, and easy thread tension and automatic needle threading adjustments. The right settings ensure skipped stitches are a thing of the past. With features for masterin' all fabric types, you'll sail through project after project without hiccups.
Your machine will be a trusty partner in craftin', not a source of headaches. Dependable performance is key when you're crankin' out durable goods.
Key Features to Look for in a Heavy Duty Sewing Machine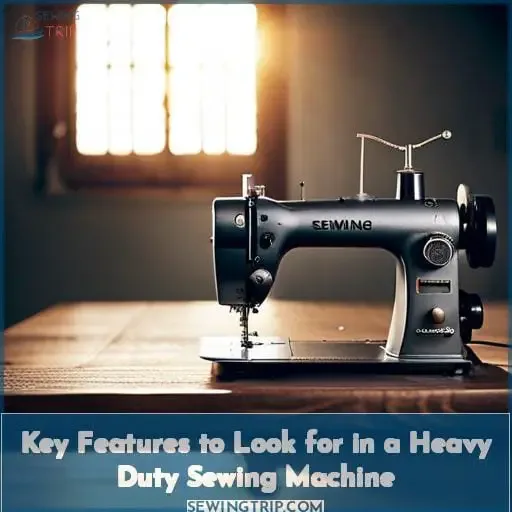 The most crucial elements when choosing an industrial-grade unit are durability, power, and stitch quality.
Needle size should accommodate thick fabrics and threads without breakage.
Operating noise should be low enough for prolonged use.
Thread tension should be strong, even on heavyweight fabrics.
Seam finish should be clean, tight, and durable.
Motor power should handle thick material without slowing or jamming.
When selecting a heavy-duty sewing machine, prioritize durability, reliability, and performance. Choose a model built from metal parts that can stand up to constant use. Seek out strong motors and heavy needles that won't falter.
With the right heavy-duty features, your machine will deliver mastery and control over any sewing project.
Top Heavy Duty Sewing Machines for Thick and Bulky Fabrics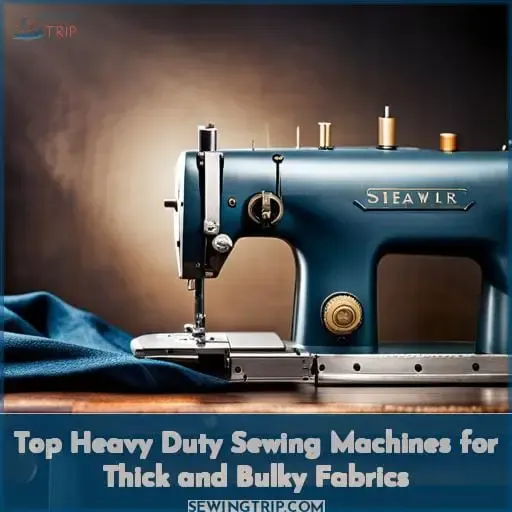 When it comes to sewing thick and sturdy materials, having the right heavy-duty sewing machine is crucial. These industrial-strength workhorses allow you to easily handle tough projects with thick layers and dense fabrics that strain regular sewing machines.
I've rounded up the top heavy-duty sewing machines that can churn through heavy canvas, denim, leather, and upholstery fabric without hesitation.
Reliable power and versatility are key for these sewing machine all-stars. Many feature powerful motors that prevent sewing slow-downs, even at high speeds or on extra-thick seams. Sturdy metal frames and heavy-duty internal components ensure extended durability despite frequent use on bulky materials.
Convenient walking feet, roller feet, and free arms streamline sewing challenging fabrics and large items.
Brands like Singer, Janome, and Juki are known for their well-built, long-lasting sewing machines designed to withstand heavy daily use on thick fabrics for years to come. Investing in one of these heavy-duty workhorse sewing machines will empower you to easily complete any sewing project imaginable.
| Machine | Key Benefits |
| --- | --- |
| Singer Heavy Duty 4411 | Powerful motor, stainless steel bedplate, metal interior frame |
| Janome HD3000 | 18 built-in stitches, automatic needle threader |
| Juki DDL-8700 | 5500 stitches per minute, industrial quality |
| Brother ST150HDH | 70 built-in stitches, jam-resistant bobbin |
Specialized Features for Versatile Sewing Projects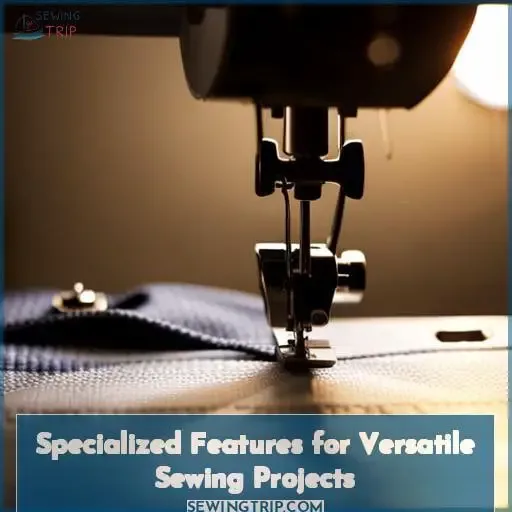 Y'ain't no slouch if your rig's tricked out with whistles and bells for quilting bees, stitching saddles, and the like. The indestructible workhorse powers through layered denim and leather without jamming up.
Its industrial strength motor handles heavy fabrics with ease while the quick-load bobbin keeps the thread flowing steady. Adjustable stitch length and speed control let you dial in the perfect settings for any project.
The hassle-free auto-threader saves time and frustration so you can get right to stitching. With its versatile features and reliable performance, this machine helps you wrangle any sewing job with confidence and skill.
Choosing the Perfect Heavy Duty Sewing Machine for Your Needs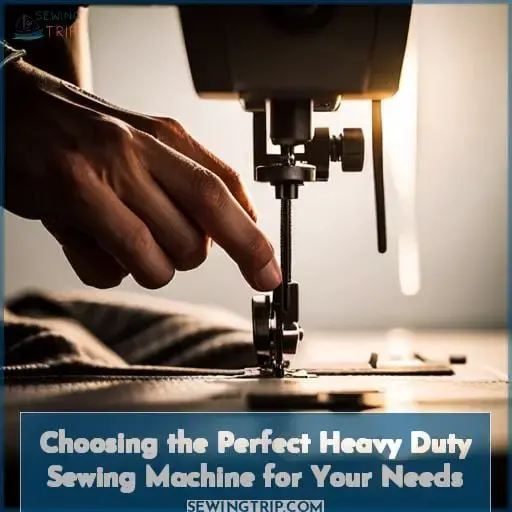 Y'all've gotta decide what heavy-duty sewin' tasks you'll regularly tackle before selectin' the right rugged machine.
Will you be workin' with thick materials like denim or leather? Look for sturdy metal parts and a powerful motor.
Got lots o' sewin' projects in mind? Opt for a machine with a wide variety o' stitches and specialty feet.
Plannin' on projects bigger than a Texas rodeo? Choose a model with a broad bed for bulky fabric width support.
The perfect heavy-duty sewin' sidekick will handle your workload with ease. Choose one with durability, reliability, and options like needle system variety, enclosed bobbin case, feed dog adaptability, and automatic threaders.
Frequently Asked Questions (FAQs)
What are the differences between light, medium, and heavy duty sewing machines?
You need real power in your sewing machine? Want to master any project easily? The differences come down to strength: light-duty handles only thin fabrics, medium can power through most materials, but heavy-duty motors muscle through thick leather and canvas with ease and reliability.
How do I maintain and clean a heavy duty sewing machine?
You'll want to keep your heavy-duty machine running smoothly by cleaning lint buildup after each project. Additionally, oil the moving parts regularly as per the manual's guidelines. Proper maintenance prevents issues down the road, so inspect and service key components yourself for total machine mastery.
What thicknesses of fabrics and materials can heavy duty sewing machines handle?
You can easily sew multiple layers of denim, canvas, and other heavy fabrics with a heavy-duty sewing machine. Their powerful motors and metal frames allow these machines to handle thick materials without straining.
Just adjust tension and pressure for optimal stitch quality when working with heavier fabrics.
Do I need special needles, threads, or other accessories for a heavy duty sewing machine?
You'll need heavy-duty needles to handle thick fabrics. Sturdy polyester thread will also perform better than cotton. A walking foot helps feed fabric evenly. Don't forget the heavy-duty presser foot to keep everything flat.
What warranty and customer support does the manufacturer provide for their heavy duty sewing machines?
You receive a limited warranty covering defects in materials and workmanship. The company stands behind their machines and provides helpful customer service to answer questions and troubleshoot issues.
Their heavy-duty models are built to last, but if something goes wrong, they've got your back.
Conclusion
With so many heavy-duty sewing machines on the market, it can be tricky to find the perfect one for your projects. Focus on durability, reliability, and ease of use – key factors for any heavy-duty machine.
Let your creative spirit soar by choosing a versatile machine equipped to handle even your toughest sewing challenges.