This site is supported by our readers. We may earn a commission, at no cost to you, if you purchase through links.
Eyes on the prize, crafter! Your search for the perfect coverstitch machine is a noble quest that requires patience and wisdom. Like a knight on an epic journey, you'll face decisions that test your resolve. But keep your sights set on sewing victory, and you'll find the machine that's destined to be your trusty sidekick.
This coverstitch buying guide's got your back, unveiling the finest options so you can stitch professional-looking hems and finishes on your garments. We'll compare the top-rated brands' prices and features so you can confidently invest in the right coverstitcher for your budget and projects.
So gird your loins, thread your bobbins, and let's embark on the adventure together to discover your coverstitch soulmate.
Key Takeaways
JUKI 5 Thread Serger offers 2-3 needle cover hem options and can switch between coverstitch and chainstitch.
Brother 2340CV provides 1100 SPM speed, a metal frame, and 2/3/4 thread coverstitch versatility for stretch fabrics.
Janome 1000CPX has a 3-needle wide coverstitch, a heavy-duty build, high speed, and a seam tightening system for quality results.
SINGER SE300 features built-in embroidery but lacks accessories and has durability concerns.
Top 5 Best Coverstitch Sewing Machines
Looking for the best coverstitch sewing machine for your projects? The JUKI 5 Thread Serger provides professional finishes, the Brother 2340CV delivers versatile performance, the Janome 1000CPX enables quality home results, the Cutex 14TU858 offers advanced serging abilities, and the SINGER Legacy SE300 provides sewing, embroidery, and convenience in a portable package.
However, the SE300 may not suit all buyers, with some drawbacks reported relating to design software, accessories, instructions for beginners, and durability concerns in reviews.
JUKI 5 Thread Serger Cover Hem Sewing Machine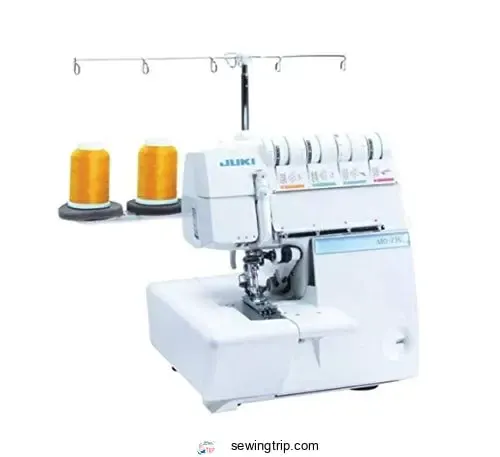 View On Amazon
You'll achieve pro finishes on stretch fabrics with the Juki's 2-3 needle cover hem and chainstitch options! This flexible serger lets you switch between coverstitch and chainstitch modes to handle hems, seams, and decorative edges.
With its 5 threads and easy threading system, you can create durable seams and stretchy trims to give your projects a flawless finish. The snap-on presser foot and multi-function foot make it a breeze to switch between techniques.
Adjustable stitch width, length, and cutting width allow you to customize settings for your fabric.
It does have a learning curve, but the professional results are worthwhile for advanced sewists. This versatile machine can handle specialty seaming and hemming that makes garments look store-bought.
2 and 3 needle coverstitch options
Produces both coverstitch and chainstitch
5 threads for maximum durability
Easy threading system
Adjustable stitch settings
Professional quality finishes
Good for stretch fabrics
Expensive
Steep learning curve
Can be tricky to master settings
Brother Coverstitch Serger Sturdy Metal Frame Stitches Per Minute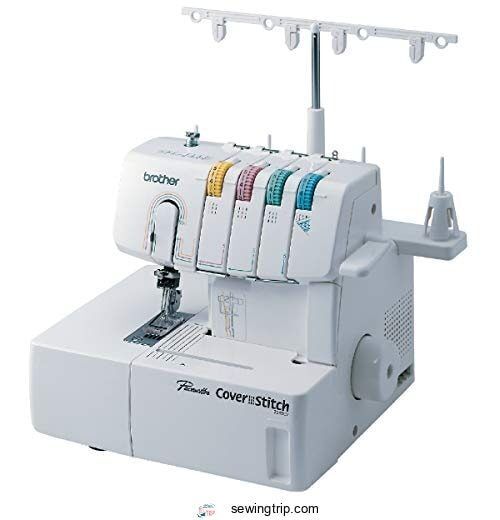 View On Amazon
The 2340CV's sturdy construction and versatile stitch options make it a high-performing Brother coverstitch serger for tackling stretch fabrics and tricky hems. This metal-framed workhorse provides professional finishes with a max sewing speed of 1100 stitches per minute.
Switch between 2, 3, and 4 thread coverstitch functions to achieve durable seams and hems on knits, as well as decorative edges. Adjust the differential feed from 0.7-2.0mm to prevent stretching and puckering on diverse fabric types.
The lay-in threading system and color-coded thread guides make setup a breeze. Enjoy frustration-free threading and get right to your projects. With handy accessories like the hem foot included, the 2340CV empowers sewists to achieve specialty finishing techniques on garments.
Hem knits, attach binding, or add stunning trims with ease using this trusted coverstitch machine.
Sturdy metal frame
1100 SPM for speed
2, 3, 4 coverstitch options
Adjustable differential feed
Learning curve for new users
No free arm
Small harp space
Janome Cover Pro 1000CPX Cover Stitch Machine Accessories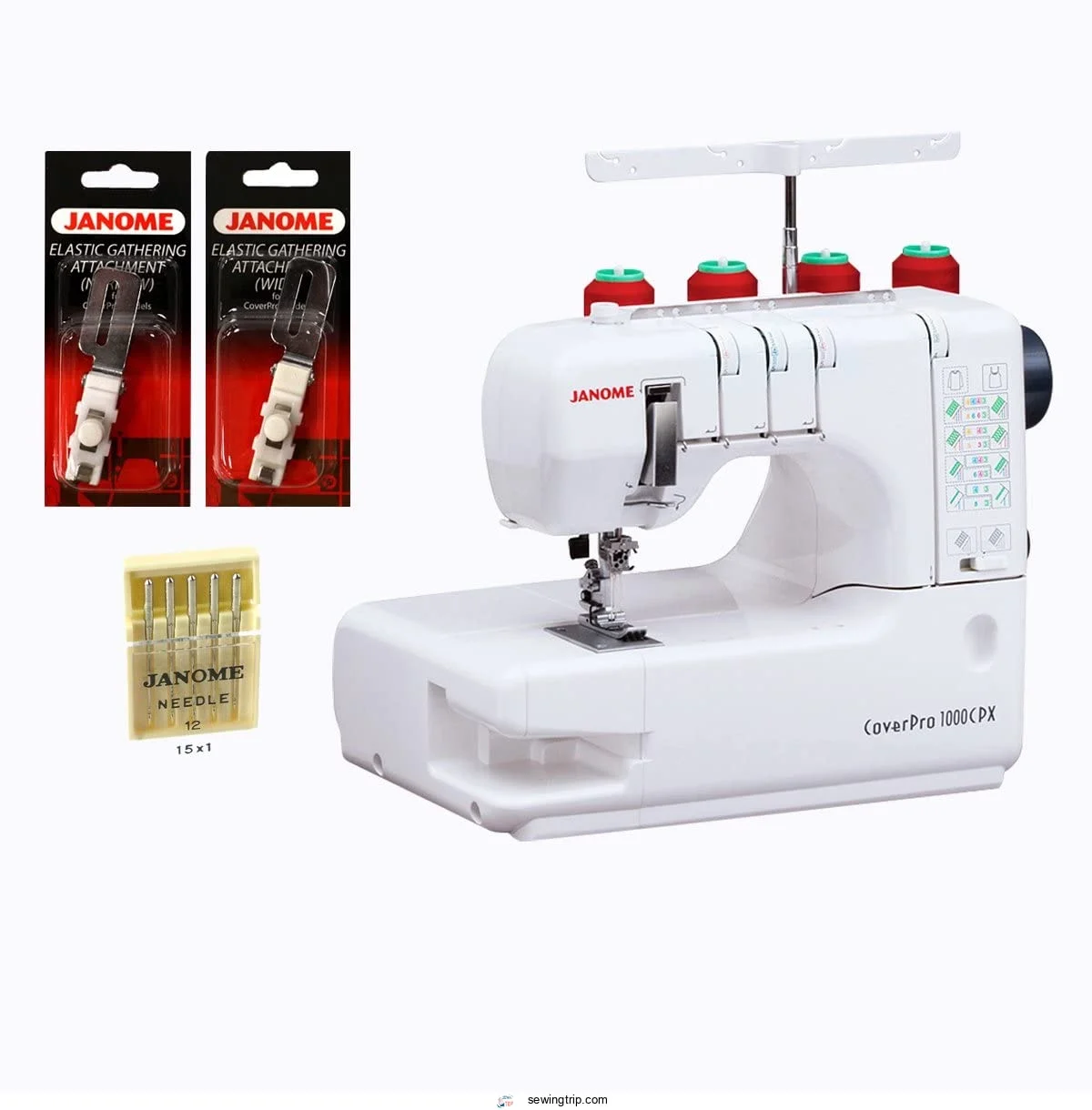 View On Amazon
Step lively, sewing sisters! Janome's jewel justifies jubilation. This coverstitching cuda delivers everything elegant edging enthusiasts crave. Pucker-free professional hems hug your handmade heroics harmoniously, thanks to the streamlined STS.
Its industrial strength and high-speed magic motors through mountains of knits with aplomb. Accessorize abundantly and experiment endlessly – the possibilities prove positively perfect with this free-armed friend.
Adjustable everything empowers your exploration and escalates your skills splendidly. Practice patiently, pamper your projects gently, then watch awestruck as your garments transform before your eyes.
Wide 3-needle coverstitch for versatile finishing options
Free arm allows access for small/tubular items
Heavy-duty build and high speed for efficiency
Seam Tightening System prevents stretching
Industrial capabilities with home user friendliness
Included accessories extend functionality
Significant learning curve to master stitches
No UK voltage compatibility without transformer
Potential stitch quality variability reported
Lacks some convenience features like a thread cutter
Coverstitch Portable Sewing Machine
View On Amazon
Take a deep breath as your creative spirit soars, finally liberated to craft any project imaginable with the power and precision of this masterpiece. No skipped stitches or erratic feed here! With a hefty 1200 stitches per minute, adjustable stitch width and length, and mind-blowing differential feed for pucker-free seams, this serger slices through even the thickest fabrics with silky smoothness.
An LED light illuminates your workspace while auto-features take the guesswork out of threading. Its sturdy build and heavy-duty blade stand ready for buoyant beachwear or cozy sweatpants with equal prowess.
Adjustable foot pressure, soft cover, and storage compartment prove this is no mere machine, but a creative comrade attuned to your needs.
Your fabrics yearn for its confident capabilities – give them the freedom they deserve!
Powerful 1200 SPM motor
Adjustable stitch width and length
Differential feed prevents puckering
LED light for visibility
Auto tension release
Free arm for tubular items
Heavy-duty cutting blade
Initial learning curve
Lacks coverstitch capability
Less household name recognition
Singer Legacy SE300 Embroidery Machine With Built-in Embroideries
View On Amazon
You'd do better seeking a more reliable machine with easier usability despite the SE300's portability and built-in designs. While convenient features like bobbin winding while embroidering come across as nice additions, this machine has some significant drawbacks you should consider.
Reviews indicate the need for separate design software, tension adjustments between modes, and certain handy accessories can frustrate buyers. The instructions and ease of use receive mixed feedback as well, especially for beginners starting out.
Most concerning are the reports of motors seizing up quickly – a clear sign of durability issues.
Before purchasing the SINGER Legacy SE300, carefully weigh its pros and cons against your needs. You may find alternatives like the Brother SE600 offer similar functionality with better reliability at a comparable price point.
Don't settle for difficult usability in a portable package when more user-friendly options exist.
Seek out sewing and embroidery machines that will empower your projects with quality performance and lasting value.
Portable
Built-in designs
Bobbin winding while embroidering
Requires separate software
Tension adjustments needed
Missing handy accessories
Mixed usability for beginners
Durability concerns
What to Look for When Buying a Coverstitch Machine

When shopping for a coverstitch machine, first consider your budget and planned project types to narrow choices, then look at available attachments and brand compatibility features. Also, research stitch options like maximum stitch width and differential feed adjustment to suit your needs, along with speeds to match your skill level.
Budget and Project Types
Consider your budget and intended projects when choosing a coverstitch machine. Entry-level models under $500 suit basic hemming and seams. Expect plastic parts, slower speeds, limited differential feed. Mid-range $500-$1000 offers features like harp space, free arm, and adjustable presser foot pressure.
Allows decorative stitches, elastic techniques on knits and stretch fabrics. High-end over $1000 provides industrial speed, power, and reliability for flawless seams on swimwear and performance fabrics.
Test models' fabric feeding, tension, stitch formation before buying. Your coverstitch machine should match your skill and handle intended fabrics smoothly.
Attachments and Compatibility
Living sewers will soon see the attachment options spark creativity, inspiring casting off toward a new era of inspiring homemade imperfections.
Consider machine and generic presser feet options and compatibility. Choose according to planned projects and fabrics.
Check for specialty feet like hemming, piping, elastic gathering to expand techniques.
Study adjustment options like stitch length, foot pressure, differential feed for irregular fabrics.
Coverstitch machines empower exploring new creative possibilities. With the right attachments, irregular fabrics and settings inspire homemade imperfections full of life.
Stitch Options and Speed
The number of needles allows for creating single, double, or triple rows of stitching, providing flexibility. Consider the stitch types and maximum speed you require. Entry-level models around 1000 stitches per minute are suitable for occasional use.
For professional results on swimwear or sportswear with substantial seaming, look for 1300 stitches per minute or more. Adjustable stitch length and width controls, plus presser foot pressure tuning let you adapt settings for different fabrics.
Quality results come from balanced thread tension, needle compatibility, and suitable stitch density.
How Does a Coverstitch Machine Compare to a Serger?

Have you considered the differences between a coverstitch machine and a serger when looking for equipment to hem and finish garments? While both can produce professional-looking finishes, coverstitch and serger machines have distinct stitch types, specialized features, and ease of use that impact their versatility for specific techniques like hemming knits or finishing edges on wovens.
Differences in Stitch Types
You'll get versatility from choosing between chainstitch or coverstitch.
Chainstitch sews one row of stitches on the underside for hems and seams.
Coverstitch creates two or more rows of visible stitching on the right side for decorative effects.
Coverstitch allows functional stretch for knits and specialized techniques like attaching elastic.
Consider coverstitch for rolled hems, gathering curves, finishing raw edges, or attaching binding.
A coverstitch machine expands your finishing and edge techniques for garments beyond a basic serger.
Hemming and Finishing Techniques
You'd achieve a stretchier, more professional finish by using the specialized hemming and binding techniques that a coverstitch enables.
| Flat Hems | Rounded Hems |
| --- | --- |
| Good for casual knits | Preferred for form-fitting knits |
| Wider stitch widths | Narrower stitch widths |
| Looser thread tension | Higher thread tension |
| Woven interfacing | Knit interfacing |
With practice, you can master both flat and rounded hems for a flawless professional finish on any garment using your coverstitch machine.
Versatility and Specialized Features
You've got specialized hemming machines reaching 1300 stitches per minute. Differential feed and tension controls let you adjust seam stretch and gather. Coverstitch capabilities handle elastic application, binding techniques, and decorative stitches.
Unlike standard sergers, most coverstitch machines lack cutaway waste features or precise handwheel positioning. Still, certain models work wonders finishing stretchy activewear, swimwear, and knits with the right settings, needles, and nylon thread.
With practice, coverstitch mastery means strength and freedom in tackling specialty techniques.
Ease of Use and Learning Curve
After threading the loopers, you position the fabric and start sewing to produce professional hems and finishes on your garments. While a serger focuses on seams and edge finishing, the coverstitch machine specializes in hems and creative effects.
Adjusting the presser foot pressure, thread tension, and differential feed allows mastery of the coverstitch for perfectly finished knitwear. Quality brands like Janome and Brother include accessories and designs friendly for the hobbyist looking to elevate a simple t-shirt.
With practice, the coverstitch gives you professional results and creative possibilities.
What Are the Best Threads for Coverstitch Machines?

When using a coverstitch machine, you'll want to consider the thread type and color for your project. Regular all-purpose thread works well in the needles, while woolly nylon provides more stretch and strength in the loopers.
Match thread colors to your garment, use larger stretch needles for swimwear, and adjust settings like differential feed based on fabric type for the best results.
Regular Thread Vs. Woolly Nylon
Originally, opt for regular thread in needles and woolly nylon in loopers with coverstitch machines, sparking smooth seams.
Match the garment color with the needle thread for a subtle finish.
Choose quality thread to prevent skipping stitches.
Woolly nylon loops add stretch for knits.
Adjust the thread type for the intended project.
Test combinations on scrap pieces first.
Though regular thread and woolly nylon are common choices, experiment to find your perfect thread combo for flawless seams and professional edge finishes.
Matching Thread Color to Garment
Embroider happy faces on your garment by matching the thread color to the fabric! Using threads that closely match the color of your knit or woven garment helps make coverstitching nearly invisible.
For light fabrics like t-shirts or dresses, opt for a thread hue that matches exactly. With darker fabrics like jeans, choose a slightly lighter shade to create a more subtle contrast.
When sewing stripes or prints, pick a dominant color in the pattern. It's helpful to have a range of thread colors on hand to perfectly match your coverstitches and hems to any wardrobe staple.
With the right color coordination, your coverstitch finishing touches blend in seamlessly.
Using Stretch Needles for Swimwear
You'll get great results using larger stretch needles when sewing swimwear on your coverstitch machine. The right needles prevent puckering on stretchy fabrics, allowing smooth seams and hems. When attaching elastic or decorative topstitching, stretch needles glide through Lycra and spandex with ease.
Opt for sizes 10/12 or 14/16 needles for the best performance. Check your manual, as some models require specialized needles, but most accept standard options. Utilize any twin needle capabilities as well to give your swimwear extra strength and visual appeal.
Adjusting Settings for Different Fabrics
You can adjust the differential feed to prevent stretching or puckering when sewing different fabrics. Adjust the differential feed upward to prevent lightweight fabrics from stretching. Lower it to ensure that thicker fabrics feed evenly without puckering. For stretchy projects like swimwear or elastic attachment, increase the differential feed to allow the fabric to stretch properly.
Also, match the presser foot pressure and tension to the fabric. Consider using fine threads for lightweight fabrics and thicker threads for heavy materials like denim.
Frequently Asked Questions (FAQs)
How difficult is it to thread and operate a coverstitch machine?
You'll find most models quite easy to thread and use once you get the hang of it. With helpful features like lay-in threading, auto tension release, and color-coded guides, it's a breeze after some practice.
Adjustable foot pressure and differential feed give you mastery and flexibility.
What maintenance does a coverstitch machine require?
Make a habit of cleaning your coverstitch machine after each use. Wipe away lint and dust, and keep the looper area free of fabric snippets. Apply a small drop of oil to the needle, looper, and other key moving parts regularly.
Don't over-oil. Check your owner's manual for lubrication tips specific to your machine model. Following proper maintenance keeps your coverstitch machine running smoothly for years.
Can I find replacement parts and service for my coverstitch machine?
Yes, you can find replacement parts and service for your coverstitch machine. Check the manufacturer's website or contact an authorized dealer to order specific parts. Local sewing machine repair shops can also provide maintenance and repairs if you encounter any issues.
With proper care and maintenance, your coverstitch machine should provide years of reliable service.
What projects are not well suited to a coverstitch machine?
You will find that this machine struggles on heavier woven fabrics. The key is using it for its specialty – knit hems and stretchy seams for activewear. But if you try to sew a chambray skirt with it, the multiple needles can't penetrate densely woven fabric.
Coverstitch machines shine on lightweight, flexible knits where you want professional, stretchy finishes.
How long does it take to learn to use a coverstitch machine proficiently?
You'll need to put in consistent effort learning to thread and set the tensions properly before those professional hems start flowing from your machine.
Conclusion
Getting the right coverstitch sewing machine is key to achieving professional garment finishes at home. You'll master specialty seams and hems on your homemade clothes like a seasoned sewer with the right features for your projects, budget, and skill level.
Follow the breadcrumbs to find your perfect coverstitch companion. With practice, you'll advance from a novice to a sewing wizard, conjuring up custom creations with magical finishing touches. Just like Dorothy's ruby red slippers taking her home, a coverstitch machine opens up a world of sewing possibilities in your home workshop.
Your sewing dreams can become a reality with the power to transform simple fabric into polished fashions at your fingertips.