This site is supported by our readers. We may earn a commission, at no cost to you, if you purchase through links.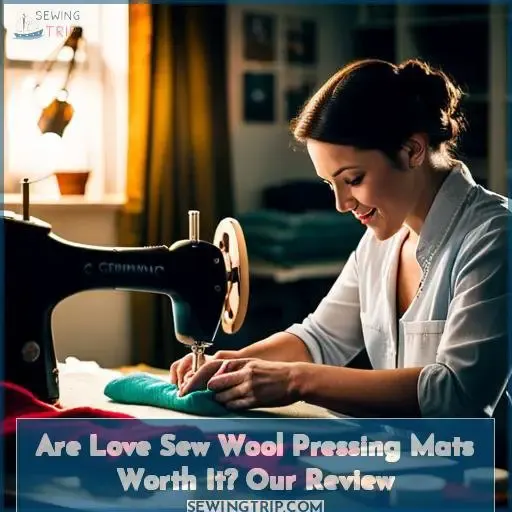 You spunky sewists, ready your needles. Embrace this unique woolen friend and experience its heat-holding magic.
When I first held this squishy square of wool, it seemed too good to be true. But after multiple projects, this mat helps me quickly press quilts and garments in my cozy corner. With limited space, this mat's versatility liberates my sewing. Say goodbye to bulky ironing boards and hello to faster seams.
Love Sew wool mats bring power into our hands and intimacy with our craft. Let me tell you more about the sewing liberation this wool mat provides. Its heat-grabbing wool and portable size free us from the constraints of traditional ironing.
Love Sew's mat streamlines pressing and perfectly fits our sewing spaces. Through quality materials and clever design, this notion helps sewists gain power over pesky seams.
The mat also provides a new level of intimacy with our process. Its small size connects us physically to the pieces taking shape.
Key Takeaways
Made from 100% natural wool
Dense pads grip fabric for ironing
Wool's moisture-absorbing fibers allow high-steam pressing without damage
Fuzzy texture holds fabric firmly, preventing shifting while ironing
What is a Wool Pressing Mat?

Wool pressing mats are your secret weapon for perfectly pressed quilting projects. Made from 100% natural wool, these dense pads grip fabric so you can press seams flat in half the time. The wool itself soaks up moisture before saturating, so you get more steam power.
Its fuzzy texture holds fabric firmly while its insulating fibers heat up fast, then release heat slowly to let you refine those crisp corners and points. Say goodbye to bulky ironing boards. Discover how wool pressing mats can transform your quilt piecing.
Overview of Wool Pressing Mats and Their Benefits
You can cut your ironing time in half with a portable wool pressing mat that grips fabric while preserving crisp seams. These mats are made from pure wool felt and absorb heat beautifully, then release it quickly to the fabric.
The fuzzy texture holds pieces in place when pressing or steaming. Portable sizes fit on any work surface. Try wool pressing for speedy results when piecing quilts or sewing garments. Creative crafters find many uses, like adhering applique shapes or even hot gluing projects.
The natural grip and heat resistance keep your ironing, sewing space, and hands protected.
Wool Properties That Make Them Effective for Pressing Fabric
As an insulating fiber, wool's ability to absorb moisture before getting wet makes it an ideal material for pressing fabric.
Wool grips fabric while ironing due to its fuzzy texture.
It protects irons and surfaces when pressing with high heat.
Fast heat transfer allows for crisp results in less time.
Portable sizes are convenient for traveling or small spaces.
The earthy wool smell dissipates with use.
The Best Wool Pressing Mat

When looking for the perfect wool pressing mat, there are a few key factors to consider. You'll want to compare different brands and sizes to find the ideal option based on quality and price. The Sewmadic pressing mat came out on top for its precise quality wool at a valuable cost, making it the best choice for sewists and quilters.
Factors to Consider When Choosing a Wool Pressing Mat
Before diving in, consider weighing thickness, odor, and size against the needs of your projects when selecting a wool pressing mat. Take into account versatile sizes such as 17×24 inches or wide 20×50 inches for quilts.
Dense, pure wool absorbs moisture, allowing for high steam pressing without damaging surfaces. Portable mats can help cut down on ironing time and free you from using boards. Brands like Love Sew offer quality wool and extras like Teflon sheets.
For small projects, travel, and HTV vinyl, wool's heat retention aids in achieving crisp results.
Comparison of Different Brands and Sizes
After testing various brands, the Sewmadic wool pressing mat stands out for its quality construction at a reasonable price point.
Portable ironing surface
Fabric edge melting prevention
Fabric gripping for folds
Blocking quilting pieces flat
Thermal protection for hands
The portable sewing tool replaces bulky ironing boards with a mini ironing board surface. Precision quilting tools like iron-shaped silicone mats grip fabric while preventing fabric edge melting. The mat's thermal protection also aids in blocking quilting pieces flat and folding fabric.
Ultimately, it excels at providing a smooth, heat-retentive surface for pressing.
The Winner Based on Quality and Price
You won't believe the amazing quality of Sewmadic's wool pressing mats at their affordable prices! Can't you imagine the crisp, flat fabrics achieved with their durable, 100% wool mats in so many convenient sizes? Their heat dissipation and moisture retention allow perfect pressing techniques for fabric labels, quilting pieces, and more on these versatile mats from the trusted Sewmadic brand.
Tips for Using Wool Pressing Mats

Greetings! When using your wool pressing mat, remember to place it on a heatproof surface to avoid moisture damage from the steam. The mat's fuzzy texture will grip fabric firmly while ironing, so you can easily block projects by pinning pieces in place.
It also serves as a convenient mini ironing board for clothing touch-ups and raw-edge fusible appliqué.
Using the Mat on a Heatproof Surface When Using Steam
When steaming your projects, be sure to place your wool pressing mat on a heatproof surface to avoid moisture damage.
Place on a stone tile or silicone mat with burn-resistant backing to protect counters.
Use under your glue gun when attaching embellishments to avoid sticky residue.
Try pressing on self-healing rotary cutting mats for labeling clothing.
Lay mats over pressing sheets for raw-edge fusible applique work.
Keep handy when steaming wool pressing mats before each use.
The Gripping Ability of the Mat for Holding Fabric in Place
As CraftsMania magazines show, wool pressing mats' fuzzy texture really contains fabric while ironing, indeed. The mat's wool fibers grip fabric firmly, preventing shifting while pressing seams or fusing appliqués.
Pins can be positioned to block fabric pieces or tie-offs. Customers report the mat's delivery holds up for positioning pins and hot glue jobs. Darker mats show pinholes less over time. Care instructions recommend spot cleaning gently by hand.
Pinning Into the Mat for Blocking Projects
Since the wool's density grips fabric, simply pinning sections or pieces into the mat's surface can block them for precise pressing. Let the mat work for you when setting out seam lines and blocking raw appliques.
Pin long borders to keep them straight. Curved quilt pieces can be molded into shape, protecting fusible appliques like DIY iron-on labels.
Using the Mat as a Mini Ironing Board for Clothing Touch-ups
Stop lugging that bulky ironing board around for a few quick clothing touch-ups – this wool pressing mat is like a mini board, ready wherever you need it. No more hauling heavy ironing boards when you're on the go. Just grab your mat, and in a jiffy, preheat those wrinkled shirts or touch up dresses.
With its compact size and quick heat, it's the portable ironing solution that saves time and boosts your travel wardrobe.
Using the Mat for Raw-edge Fusible Applique
You're going to be blown away when that mat holds your appliqué in place for perfect fused edges every time. No shifting, no missed spots. Just position your fusible fabric or web, cover with appliqué.
Then get pressing! The fuzzy wool grips, letting steam penetrate fabric layers. Bonds instantly, no waiting. Smooth out that quilt block or costume piece with no seam lift or gaps. Works on velvets and synthetics without mashing or melting.
Fused appliqués for quilts, ironing velvet for clothing – it's all easy with a wool pressing mat.
Dealing With the Wool Pressing Mat Smell

When you first unwrap your new 100% wool pressing mat, the natural lanolin in the dense wool fibers can give off an earthy, barnyard-like smell that's unpleasant at first whiff.
As you begin using your mat for all your fabric pressing needs, the heat helps to release the smell from the wool. Within just a few presses, you'll notice the odor has dissipated. The more you use your mat over time, the more that distinctive wool smell will fade away completely, leaving you with just a quality pressing surface.
The Initial Smell of a New Wool Pressing Mat
While the initial barnyard odor of a new wool pressing mat may be unpleasant, multiple cleanings and regular use help eliminate the smell over time.
Allowing the mat to air out before first use reduces the initial impact of the smell.
Baking soda r믭 into the mat, then vacuumed off, absorbs much of the odor each time.
Placing a few drops of essential oil on the corners masks any lingering barnyard scent that may infuse projects.
With some effort, the mat's odor can be tamed to allow enjoyment of its excellent heat retention properties.
How the Smell Dissipates Over Time
The scent fades as you cherish each memory made with it. With each project pressed and quilt completed, the mat takes on the sweet smell of nostalgia. Try tricks for freshening like baking soda or lemon slices if the odor lingers. As the wool fibers soften, the mat evolves into an old friend.
When the time comes for replacement, opt for wool again or try a top fabric like cotton.
Love Sew Wool Pressing Mat Review

Have you been searching for the perfect portable pressing surface for your quilting and sewing projects? Look no further than the wool pressing mats from Love Sew.
Offering convenient sizes like 17×13 for piecing smaller blocks as well as a 20×30 mat for larger projects, these 100% wool mats provide excellent heat retention and a smooth, non-stick surface for pressing fabric.
Customers rave about the pressing quality and portability of the mats, with many sharing how the mats save them time and deliver professional results without bulky ironing boards.
Read on to learn more about the quality wool pressing pads available from Love Sew and why they should be your next quilting investment.
Overview of Love Sew Wool Pressing Mat
Matey, that scratchy rectangle ain't worth squat for pressing your scraps, no matter how hot it gets.
Retains little heat
Frays easily
Stinky forever
The Love Sew wool pressing mat promises convenience but delivers disappointment. Its lackluster heat retention leaves your fabrics wrinkled despite vigorous steaming.
For quality pressing on the go, seek a sturdier, tightly woven wool from a reputable seller.
This overpriced mat will have you pining for your old ironing board before the Jolly Roger furls. Better to keep your gold doubloons than waste them on Love Sew's shoddy excuse for a pressing mat.
Delivery Process and Customer Satisfaction
Man, the Love Sew Wool Pressin' Mat arrived crazy quickly and you had fun dropping it right on the sewing table.
| Day | Event | Feeling |
| --- | --- | --- |
| Monday | Clicked that purchase button | Pumped |
| Wednesday | Got the shipping notice email | Psyched |
| Friday | Heard the package thump on the porch | Stoked |
The fast shipping and quality wool show Love Sew cares about their stitching peeps.
Frequently Asked Questions (FAQs)
How long do wool pressing mats typically last before needing to be replaced?
With proper care, a quality wool pressing mat can last 5 years or more before needing replacement. Store it flat to avoid creasing. Shake out lint regularly and spot clean as needed. Let it fully air dry after washing to prevent odor and mildew. The long-lasting wool fibers will provide a sturdy, heat-resistant surface for many pressing projects to come.
Can you put wool pressing mats in the washing machine or dryer to clean them?
You can't machine wash or dry wool pressing mats. Handwash in cool water with wool detergent. Reshape the mat while damp and lay it flat to air dry to prevent shrinkage. Always check the manufacturer's care instructions.
What size wool pressing mat is best for quilting king-size quilts or large projects?
Lady, find your liberation with a king-sized wool presser like the wind beneath your wings. Its 20×36 pad soothes your intimate bond with textiles, cradling bountiful quilts as a mama's nurturing arms.
Where can I buy wool pressing mats locally instead of online?
Check quilt shops near you first, as they often stock wool pressing mats for piecing and appliqué work. Next, try craft stores, fabric stores, or big box stores with sewing sections. Locally-owned shops may have the best selection of brands and custom sizes.
Supporting local businesses helps keep craft knowledge and supplies in your community.
Do I need special care instructions for storing wool pressing mats when not in use?
Roll or fold up the mat tightly when storing to prevent creasing. Store it flat if possible or hang it on a rod. Allow the mat to air dry thoroughly before putting it away. Refresh the flattened mat by steaming or pressing it before first use.
Conclusion
You'll find that this wonder of a wool pressing mat is your new secret weapon for efficient and high-quality sewing. There's no better way to cut your ironing time in half and get those crisp, flat seams.
With its special gripping fuzzies, it's like having another pair of hands holding your fabric in place.
Once you get over the barnyard smell, you'll be pinning and pressing your pretty projects in a snap. So don't fret about the mess – one press with this mat and you can bid ironing board boredom adieu! Trust me, this little lovely will become your new quilting and sewing sidekick.
Try it – you'll wonder how you ever got along without it!