This site is supported by our readers. We may earn a commission, at no cost to you, if you purchase through links.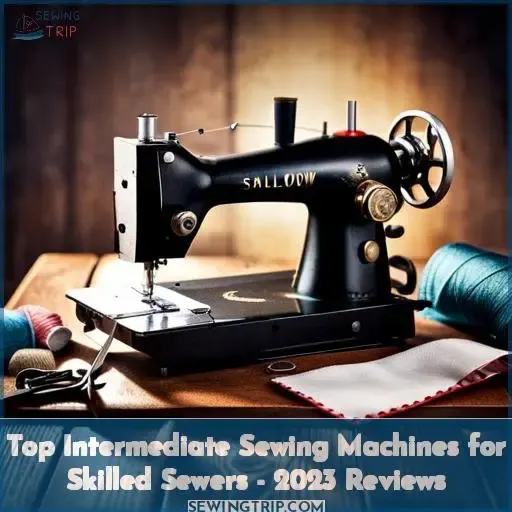 Have you begun to feel like your old sewing machine just isn't stitching like it used to? Choosing a new intermediate sewing machine can feel as daunting as cutting into fabric without a pattern. We're here to help guide you, just as a tailor gently guides fabric under the presser foot.
Let's walk through what's important when selecting that special new friend for your sewing room. Whether you desire more built-in stitches, less noise, or a machine that just won't quit, somewhere out there is the perfect match for your needs.
Getting acquainted may feel awkward at first, but soon you'll be creating garments and crafts in perfect harmony.
Key Takeaways
Multiple stitch options, specialty feet, and built-in stitches are important considerations when choosing an intermediate sewing machine.
The Brother XR3774, Singer 9960, Janome HD1000BE, Bernette b05, and Juki MO654DE are recommended models for intermediate sewers.
Upgrading from a beginner machine to an intermediate machine is necessary when major issues occur and when more stitches and speed are desired.
Advancing sewing skills from a beginner level involves understanding terminology, hand stitching, machine functions, and basic stitches, as well as using additional accessories and taking classes.
Top 10 Best Intermediate Sewing Machines
You've mastered the basics, invested in some projects, and are looking to step up your sewing game. With features like multiple stitch options, specialty feet, and built-in stitches, intermediate sewing machines open up your abilities while still being user-friendly.
In this review, we'll compare top models from trusted brands like Brother, Singer, Janome, Bernina, and Juki to help you determine the best intermediate sewing machine for enhancing your skills.
Brother Sewing Quilting Machine XR3774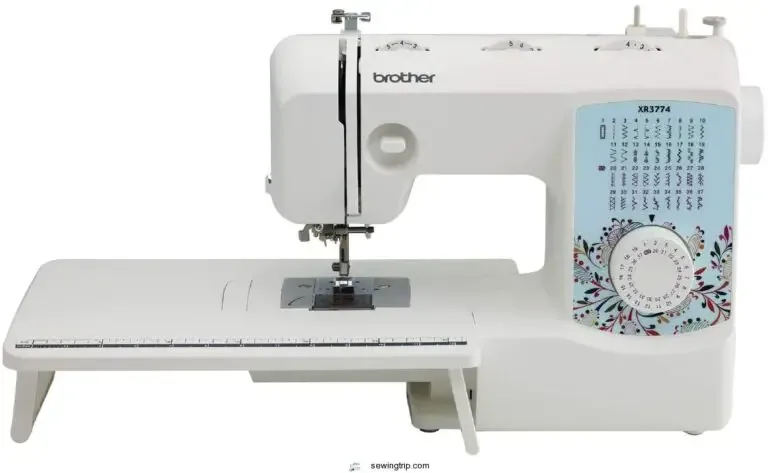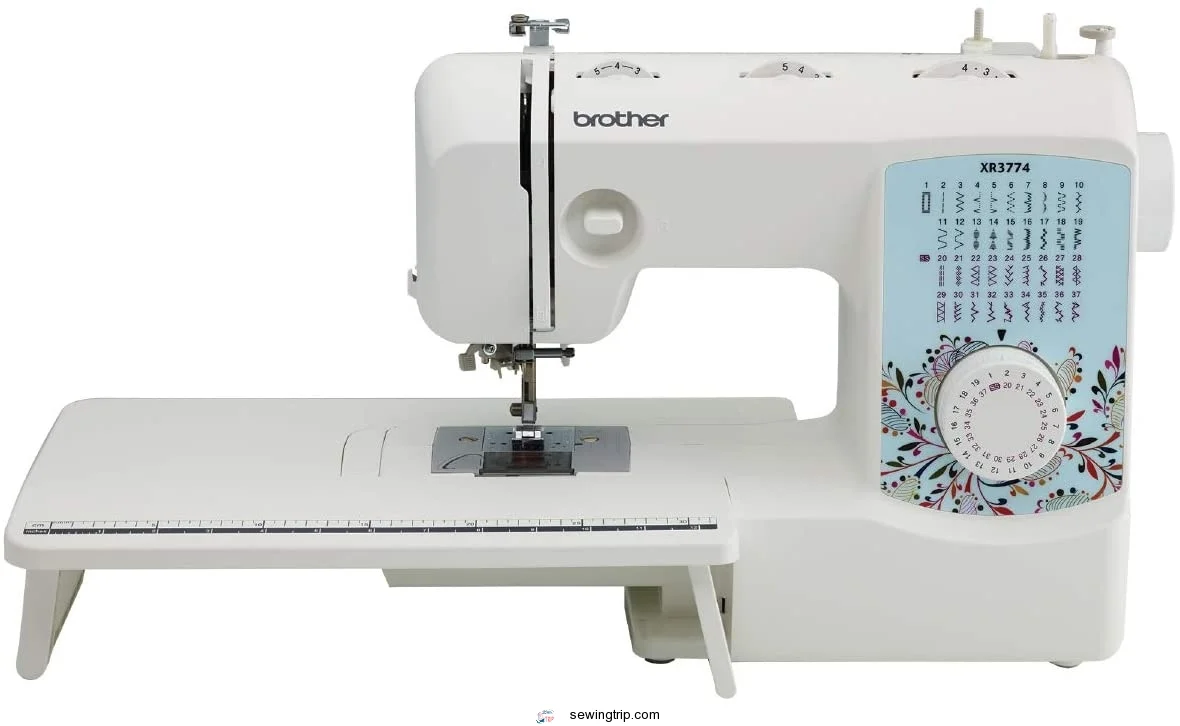 View On Amazon
You'd really like the Brother XR3774's easy-to-use features and lightweight build for tackling small sewing projects as a beginner or intermediate sewer. With just the push of a button, you can have your machine auto-threaded and ready to go.
The handy stitch selector and adjustable settings give you creative freedom without complexity. I love recommending this model to students for learning the basics or making simple projects like placemats, tote bags, and pillows.
Automatic needle threading
Drop-in bobbin for quick changes
LCD screen shows selected stitch
Instructional DVD included
Good for small, basic projects
Plastic body is less durable than metal
Inconsistent self-threading feature
Not enough built-in stitches for advanced sewers
Singer 9960 Sewing and Quilting Machine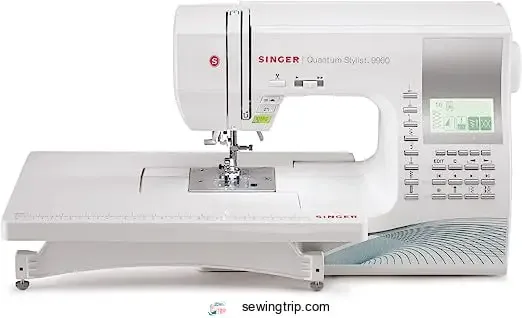 View On Amazon
Using its rotating hook and automatic thread cutter, this sewing machine stitches up to 850 SPM, quietly handling all fabrics with precision. As an experienced sewing machine reviewer, I can attest that the Singer 9960 is a feature-rich, versatile machine suitable for beginner to advanced sewers.
With 600 built-in stitches, 5 alphanumeric fonts, and a max speed of 850 stitches per minute, this computerized machine empowers your creativity. The automatic needle threader saves time and frustration, letting you get to sewing faster.
Multiple presser feet, mirror imaging, and stitch elongation increase the functionality, enabling you to add beautiful decorative details.
While made of plastic, the Singer 9960 operates smoothly and comes with abundant accessories to enhance your projects. Quilters will love the extension table for large projects. I advise trying out machines at a local dealer to ensure a comfortable fit and helpful service.
Take time to learn your machine through manuals and classes. With proper care and maintenance, the 9960 can open up new realms of possibility for avid sewers seeking mastery.
600 built-in stitches and 5 fonts
850 SPM max sewing speed
Automatic needle threader
Multiple presser feet included
Extension table for quilting
Made mostly of plastic materials
Can take time to learn and master
Manual not available in all languages
Janome HD1000BE Sewing Machine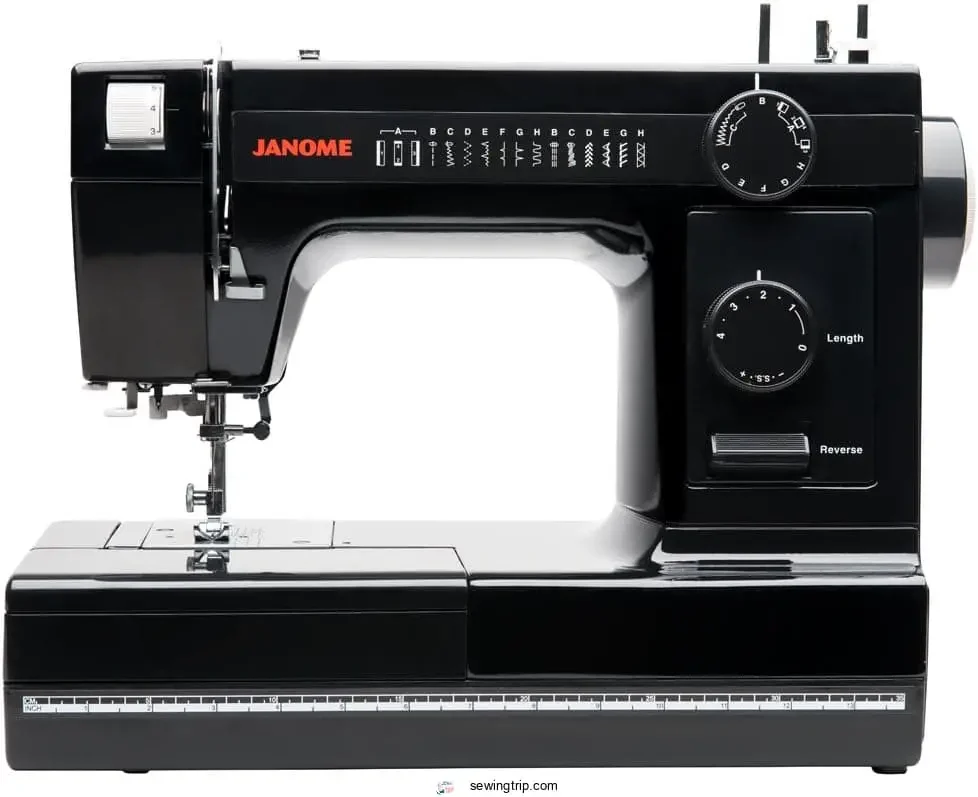 View On Amazon
Made specifically for the quilter's workspace, the Janome HD1000 will breeze through your projects with precision. This sturdy, durable machine offers incredible bang for your buck with its metal interior frame and auto-features like needle threading.
Despite a few small drawbacks, the HD1000 delivers quality stitching on multiple fabric types thanks to thoughtful touches like the drop feed and free arm.
Sturdy aluminum/metal construction
Automatic needle threader saves time
Drop feed for free motion quilting
Free arm for sleeves and pant legs
Easy threading and bobbin winding
Complaints of foot pedal slipping
No lever for needle engagement
Threading and winding toggles inconveniently placed
Slightly loud operation
Slow compared to computerized machines
Bernette Academy Sewing Machine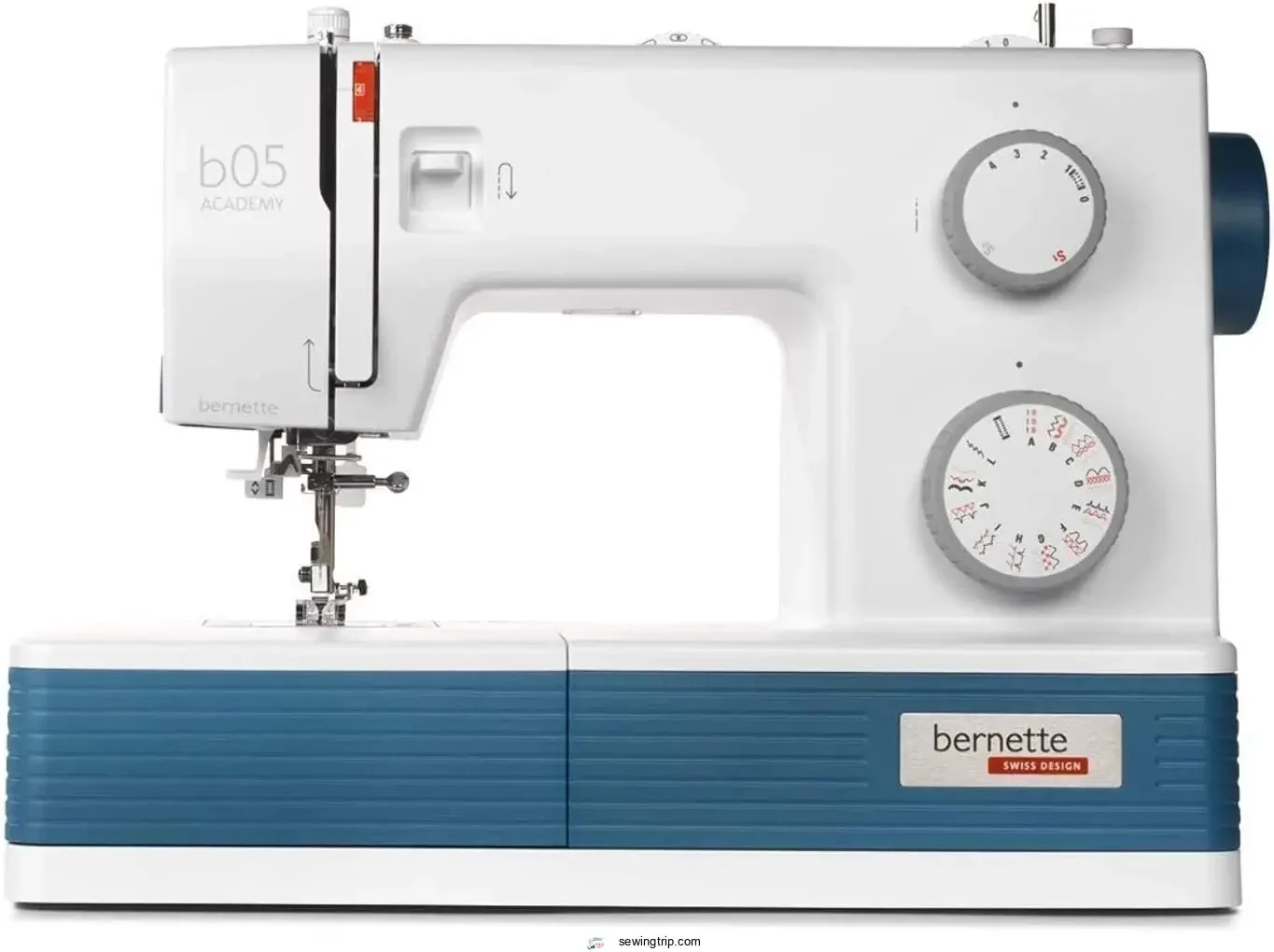 View On Amazon
For crafters seeking precision, the Bernette b05 stitches fabric with the loving care of a grandmother quilting a family heirloom. This Swiss-engineered beauty comes packed with handy features to delight intermediate and advanced sewers.
With 30 built-in stitches, including exclusive options like the stretch stitch and blanket stitch, it can handle light and heavy fabrics with ease. I love the adjustable presser foot pressure to prevent fabric from gathering on thicker materials.
The supersized extension table provides ample space for large projects and quilts.
The easy-to-navigate buttons and settings make it intuitive to operate right out of the box. If you seek a versatile, affordable machine with the quality of a Bernina, the Academy will make you beam with pride at your creations.
Swiss engineering and quality
30 built-in stitches
Fast motor
Large slide-on table
Adjustable presser foot pressure
Retractable feed dog
Plastic body
Limited stitch options
No embroidery function
Juki MO654DE Portable Thread Serger Sewing Machine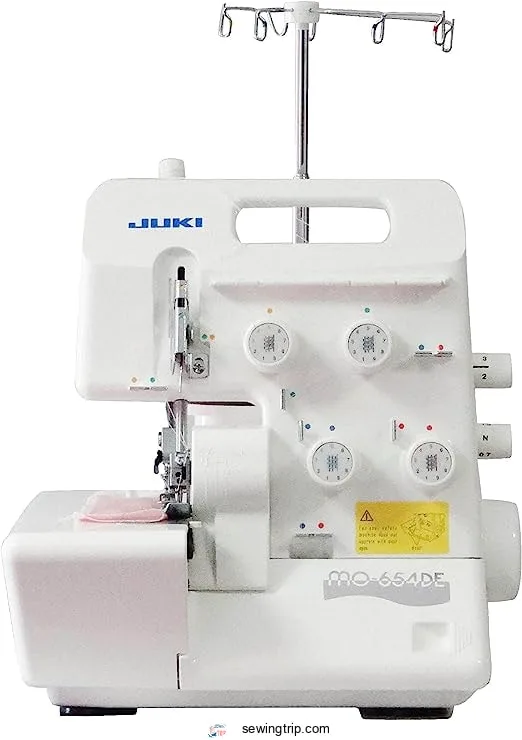 View On Amazon
Threading it takes patience, but this sturdy serger will elevate your sewing skills once you get the hang of it. This versatile Juki will have you making quick work of rolled hems and finishing seams in no time, though it may seem daunting at first.
The color-coded threading and handy diagram by the looper make navigating its functions a cinch. The sturdy aluminum housing and industrial-grade interior stand up to heavy use and dense fabrics without hesitation.
Accessories provide added functionality right out of the box. Once you get the threading down, you'll reach for this workhorse for almost every project needing that professional finish.
Sturdy metal construction built to last
Great for finishing seams and rolled hems
Color-coded threading guides
Industrial quality at a home sewer price
Good for heavy-duty projects
Comes with accessories
Can be tricky to thread at first
No auto threader like a sewing machine
Possible to break needles while learning
Lacks lower looper threader
Need transformer for Australia
Considerations Before Buying an Intermediate Sewing Machine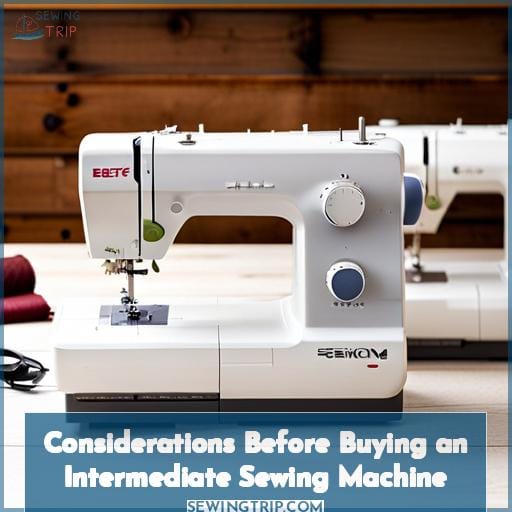 Before purchasing an intermediate sewing machine, you'll want to evaluate a few key factors. Look for robust construction with a stable metal interior frame that won't shake at high speeds. Seek lightweight yet sturdy machines for convenient portability. Compare pricing to ensure reasonable value for the built-in stitches and features offered.
Finding the right balance between durability, functionality, and budget for your skills will ensure you choose the best intermediate sewing machine.
Robust Built
Your heart sings as the machine glides effortlessly through layers of fabric, its sturdy build allowing you to conquer project after project. Demanding advanced sewing, it exploits robust mechanisms. Powerful motors and precision parts create your vision in any fabric.
Master buttonholes, zippers, and decorative stitches with complete control. Adjustable stitch length, width, and needle position empower creativity. Quality construction supports skillful techniques. Build a lifelong relationship with a trusted machine.
Stability
Look beneath the cover for metal parts that provide sturdiness.
The inner framework should be metal, not plastic.
The plate covering feed dogs needs strength.
Check for a sturdy presser foot lever.
The metal bobbin case prevents vibration.
The durable drive motor ensures reliable stitching.
A sewing machine's stability comes from within. Overlook flimsy constructions that can't withstand your creative spirit. Your machine must move mountains of material without missing a stitch. Demand an unshakable foundation on which to build your dreams.
Lightweight Design
Find machines with lightweight builds that make transport a breeze. Avoid bulky or cumbersome models, opting for minimal weight reduction that doesn't impact functionality. Look for innovative lifting mechanisms that require less user motion so you can lift and pack with ease.
Prioritize packing ease without sacrificing sturdy stability from brands like Brother's CS7000X.
Price
You'll pay around $150-$500 for a decent intermediate sewing machine. Consider how often you'll use it and your budget. Entry-level models like the Brother CS6000i offer 60 stitches for $150. Mid-range Janome and Singer machines provide 100+ stitches for $200-300.
Higher-end Brother, Janome, and Singer models boast loads of built-in stitches, speed, and durability for $350+. Test machines at your local dealer – trying buttonholes and stitch settings lets you experience quality firsthand.
With practice, an intermediate model gives you professional results on fashion, crafts, and home decor projects.
More Built-in Stitches
When upgrading from a basic machine, prioritize additional built-in stitches for creativity. An intermediate sewer craves more options. Look for 50-100+ stitches to embellish projects. Play with stretch, zigzag, buttonhole, and decorative selections. Experiment with length and width controls to master precision.
Troubleshoot skipped stitches and tangled threads as skills progress. Unlock creative potential with an intermediate machine's versatility.
Essential Skills for Intermediate Sewers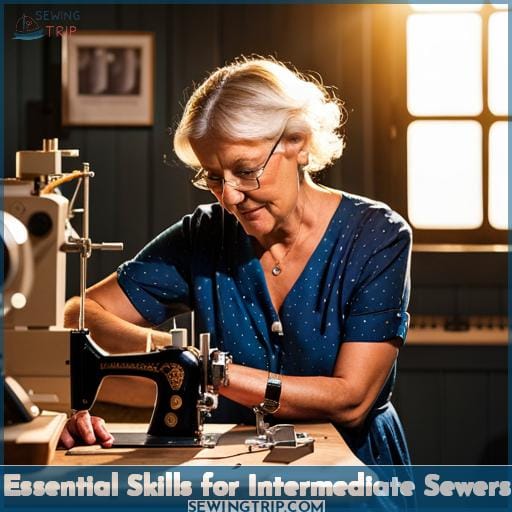 Before advancing your sewing skills, it's important to build a strong foundation. Understand common sewing terms, perfect hand stitching techniques, and become completely familiar with your machine's functions.
Master basic stitches – both by hand and with the machine. Once you've developed this base knowledge, you'll be ready to confidently tackle more complex projects and advance to the intermediate level.
Understanding Sewing Language
Don't you know the proper terminology before diving into intermediate sewing, or you'll end up stitching yourself into a knot. Familiarize yourself with machine accessories, fabric materials, stitch techniques, sewing tools, and creative patterns to take your skills up a notch.
Learn the lingo for computerized or mechanical models and essential beginner features. Master tension, thread weights, seam finishes, bobbin types, and needle sizes to elevate your expertise. With the right terms, you'll have the know-how and confidence for intermediate endeavors.
Hand Stitching
Focus your attention on properly securing those seams by hand stitching them tightly together.
Use a thimble to push the needle and avoid hurting your fingers.
Keep stitches small and even for the best results.
Tie knots tightly at the start and end of your thread.
Try different stitches like running, backstitch, and blanket for versatility.
Always match the thread color to the fabric so stitches blend invisibly.
Hand stitching takes time and patience, but it gives you full control for precision work. Take it slow and let the motion soothe you. Each pass of the needle brings you closer to creating your handmade vision.
Familiarity With Sewing Machine
You're gonna want a machine with enough stitches and speed for your projects, but easy threading and accessories to grow your skills. My cousin Jen upgraded from a basic Brother to the Singer 9960 when she started quilting and loves all the built-in stitches for decorative details.
Machine Model: Janome HD1000
Machine Model: Brother Pacesetter PS500
Key Features:
29 stitches
Easy bobbin winding
Machine Model: Singer 2277 Tradition
Key Features:
Machine Model: Brother XM2701
Key Features:
27 stitches
Jam resistant drop-in bobbin
Machine Model: Singer 4423
Key Features:
The right intermediate sewing machine will allow you to progress your skills with enough stitches, speed, and accessories for garment construction, quilting, embellishments, and more. Prioritize easy threading, top loading bobbins, and built-in stitches so you can grow from basic projects to heirloom creations.
Basic Stitches, Both Manual and With Machine
You'll want to get the hang of basic stitches, both by hand and machine. Start with hand sewing to understand needle threading and fabric preparation. Then advance to the sewing machine. Master bobbin winding, adjust tension, and straight stitching.
Finish seams neatly with zigzag or overlock. Lay out patterns properly. An all-purpose Bernette 05 Academy or Janome allows you to tackle most projects once you've honed basic skills.
Additional Accessories for Intermediate Sewing
Before further exploring intermediate-level sewing projects, let's look at a few useful accessories that can make your creations easier and more professional.
Whether you need to precisely remove stitches with the Clover seam ripper, add shape and volume with the Revlon hair dryer brush, quickly press on the go with the Panasonic cordless iron, enjoy clean water with the Lifestraw filter, or gently cleanse your face with the soothing La Roche Posay cleanser, having the right tools close at hand helps your sewing skill and confidence grow.
Now, with your arsenal fully stocked, you'll be ready to master more intricate techniques and fabrics on your creative journey.
Clover Seam Ripper

View On Amazon
Grab that thin Clover to neatly slip under stitches for removing. As a sewing instructor, I always recommend the Clover brand's seam ripper to my intermediate students. Its tapered tip and sharp, durable blade make quick work of picking out botched seams or mistakes.
The oval handle feels natural in your hand even during lengthy unstitching sessions.
When I teach more complex techniques like quilting or embroidery, I know students will appreciate the ripper's precision on tricky corners. Setting it down mid-project? The ripper stays put, unlike flimsier models. While no seam ripper lasts forever, Clovers withstand daily use.
Pay a little extra for this quality tool – it's worth it to maintain your sewing liberation and mastery.
Sharp, durable blade
Thin tapered tip
Oval handle for comfort
Stays put when set down
Quality materials justify price
Eventually dulls with heavy use
Handle not ergonomic for all
Panasonic Cordless Portable Steam Dry Iron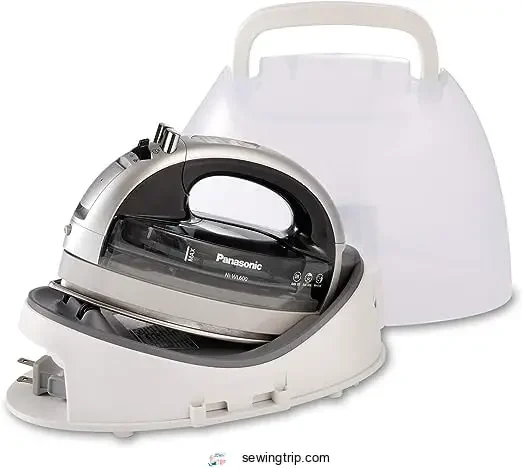 View On Amazon
Ditch the cords and iron anywhere with this nifty portable steam iron. As a sewing machine reviewer, I'm always on the lookout for handy tools to make sewing and crafting easier. With its cordless design and 1500 watts of power, this lightweight Panasonic packs a steamy punch without tying you down.
Just fill the water tank, choose your heat and steam settings, and go! I love the versatility it provides, letting me iron a sleeve while it's still attached to a garment or adding shape to a quilt in progress.
The nonstick stainless steel soleplate maneuvers smoothly in any direction. This iron's smaller size and precision tip also make it great for pressing open seams or flattening binding.
No more struggling with a bulky iron and board for touch-ups. Thanks to the included heat-resistant case, it's easy to tote this little iron anywhere inspiration strikes. The adjustable dry setting even lets you use it as a non-steam iron when needed.
For sewing on the go or pressing projects in tight spaces, this iron really delivers.
Cordless and lightweight
Powerful steam or dry
Great for detail work
Portable with case
Easy fill and adjust
Smaller than full-size iron
May take time for full steam
Not as hot as some corded
Revlon One Step Volumizer Hair Dryer Hot Air Brush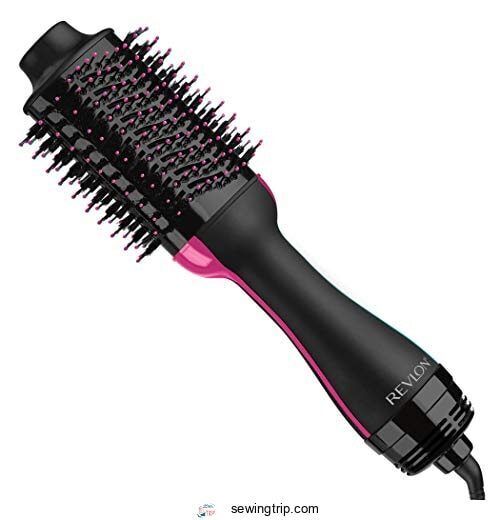 View On Amazon
Dry faster and boost volume with this oval hot air brush. Over 75% of users saw visibly smoother, fuller hair after just one use.
The oval brush design detangles while adding incredible body and shine. Powered by a 1100 watt motor and ionic technology, it smooths, conditions, and reduces damage during drying.
Three heat settings plus a cool shot give you control for customized blowouts. The extra-long tufted bristles deliver volume at the root for bouncy, beautiful hair.
Dries and volumizes in one step
Oval tufted brush adds body
3 heat settings and cool shot
Ionic technology reduces frizz
May not curl well
Bristles can wear out over time
Very large size may not suit short hair
Lifestraw Water Filter 2 Pack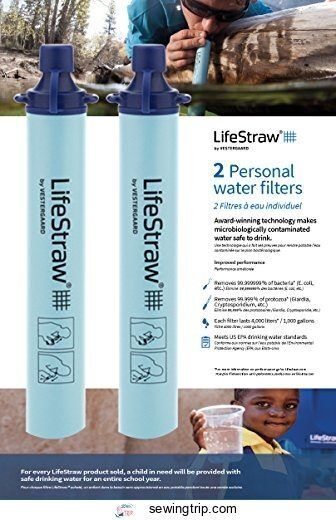 View On Amazon
Let a Lifestraw filter put your wanderlust at ease as you venture into nature's playground. From mountain streams to forest waterfalls, the outdoors beckon you to explore. Yet, drink the wrong water, and microbes could curtail your journey.
With this ultralight water filter in your pack, hydrate freely knowing harmful bacteria and parasites won't cut your trek short. Weighing just a few ounces, it's effortless to stash this essential piece of gear.
No matter how far afield your adventures take you, this durable filter purifies questionable water sources.
Liberate yourself to follow wherever the trail leads. Drink pure, filtered water without limit.
PROS:
Ultralight and compact
Removes bacteria and microplastics
Lets you drink safely from natural sources
Durable and long-lasting
CONS:
Doesn't remove viruses
Flow rate slower than some filters
Needs occasional backwashing
La Roche Posay Toleriane Purifying Foaming Facial Wash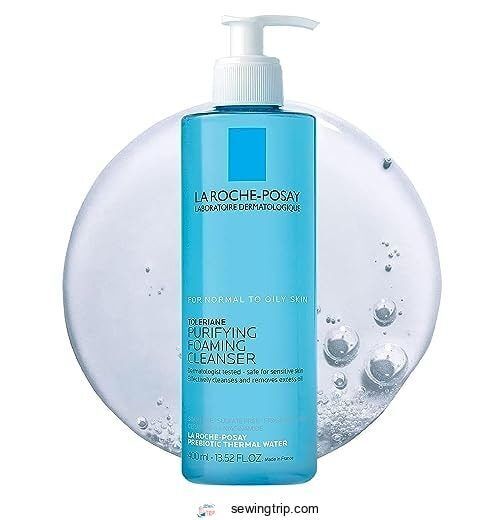 View On Amazon
Let's get that skin glowing! Aren't you curious how La Roche-Posay's purifying foam feels on your face after a long day? The gentle cleanser whisks away oil, dirt, and makeup without stripping your skin.
The refreshing foaming gel contains La Roche-Posay's famous thermal spring water to soothe and soften as it cleanses. Your sensitive skin will love the balmy sensation. Irritation and dryness become memories of the past thanks to the smooth foam's ceramides and niacinamide.
They fortify your moisture barrier while lifting away impurities. Your acne-prone complexion looks clearer and calmer. Follow with a serum and moisturizer to nourish newly purified skin. The soap-free formula means no more tight, flaky skin.
Soothes and softens sensitive skin
Maintains moisture barrier
Clears acne and prevents irritation
Pricey
Can be drying if overused
Tips for Intermediate Sewing Success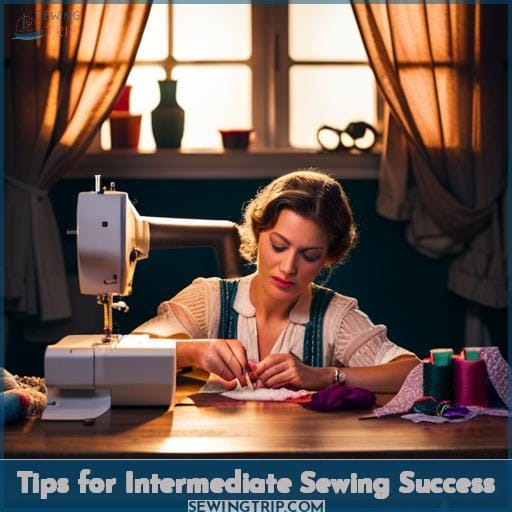 Sewing friend, choosing the ideal sewing machine for your skill level requires research and hands-on testing. Don't just order one online; visit dealers to see models up close, test them out, and ask questions.
Once you've made your purchase, sign up for sewing classes to fully understand your machine's capabilities and expand your skills.
Care for your investment by regularly using a lint brush to remove fluff and debris, following the manual's cleaning guidelines. And consider an annual tune-up with a professional technician to keep it running smoothly for years.
Taking these proactive steps will set you up for intermediate sewing success on your new machine.
Test the Machine in Person
You gotta try operating the machine before buying.
Test a variety of fabrics – denim, silk, velvet.
Try all stitches – straight, zigzag, blind hem.
Adjust tension, presser foot pressure.
Assess noise level, vibration.
Splurge on your sewing dreams with the right machine for you – one that glides through stitches and feeds your creativity.
Take Classes to Learn Machine
Moving your skills forward, classes unlock a sewing machine's full potential. Master every setting and capability through personalized instruction. Gain confidence in tackling specialty fabrics and techniques as you advance with an expert by your side.
Troubleshoot frustrations, ask questions, and develop personalized projects. Classes build sewing machine mastery, empowering your creativity.
Regularly Clean Lint From Machine
Brushing away lingering fluff protects your prized possession. As your trusted sewing instructor, I urge you to regularly clear lint. Use the included brush to gently sweep fuzz from the bobbin and feed dogs. Check tension discs for sticky buildup.
A few drops of oil keep everything running smoothly. Examine the needle plate and remove compacted threads. Consistent care liberates your machine's full potential. Proactively removing lint prevents skipped stitches and timing issues down the road.
Consider Annual Professional Service
Having the sewing machine professionally serviced each year keeps it running smoothly for many projects to come.
Change sewing foot pads every 2-3 years.
Clean under the feed dogs and bobbin area.
Lubricate key friction points.
Test tension and adjust upper threading.
Check power cords and foot control.
Regular annual service helps maintain your machine's performance and extend its lifetime. Oiling moving parts, checking wiring, and replacing worn parts prevents frustrating breakdowns, keeping your stitching on track.
Frequently Asked Questions (FAQs)
How often should I get my intermediate sewing machine serviced?
You'll want to get your intermediate sewing machine serviced annually by a professional technician. This helps ensure it operates smoothly and prevents issues. Regularly cleaning lint buildup and oiling the machine monthly yourself also keeps things running optimally between tune-ups.
Proper maintenance prolongs its lifespan so you get the most out of your investment.
What maintenance does an intermediate sewing machine need in between servicing?
You'll want to keep it clean – wipe it down, brush lint away, and change the needle regularly. Oil it periodically as per the manual. Don't over-oil. Check tension and stitch settings often. Store it covered when not in use to avoid dust buildup. Quality maintenance will allow your machine to run smoothly for years.
How can I tell when it's time to upgrade from my beginner sewing machine to an intermediate model?
When major malfunctions or persistent issues plague your beginner machine, it's telling you it's time to upgrade. Developing excellent skills means needing enhancements that no basic model provides. Carefully explore advanced features that meet your vision. You'll sew with mastery when you have the ideal intermediate partner at your fingertips.
What features make an intermediate sewing machine better than a beginner model?
You've outgrown your starter machine. Upgrade and unlock new creative possibilities. An intermediate model gives you more built-in stitches, embroidery, speed, and accessories to make intricate projects effortlessly.
Feel empowered tackling advanced sewing and quilting. Your skills deserve better tools – it's time to create at the next level.
What sewing machine brands are best for intermediate sewers?
As a sewing machine reviewer, I recommend the trusted Brother and Singer brands for intermediate sewers seeking to master new techniques. Their computerized machines come loaded with enough stitches, specialty feet, and user-friendly features to unlock your creative potential without the learning curve.
Conclusion
You've successfully leveled up your sewing skills, but the journey isn't over. As an intermediate sewer, new worlds of crafting possibilities await. Keep challenging yourself with more complex techniques, specialty fabrics, and ambitious projects.
Feed your passion by taking classes, connecting with other sewists, and staying on top of the latest tools and technology.
With practice comes mastery. You'll be creating couture-worthy garments and home décor before you know it.