This site is supported by our readers. We may earn a commission, at no cost to you, if you purchase through links.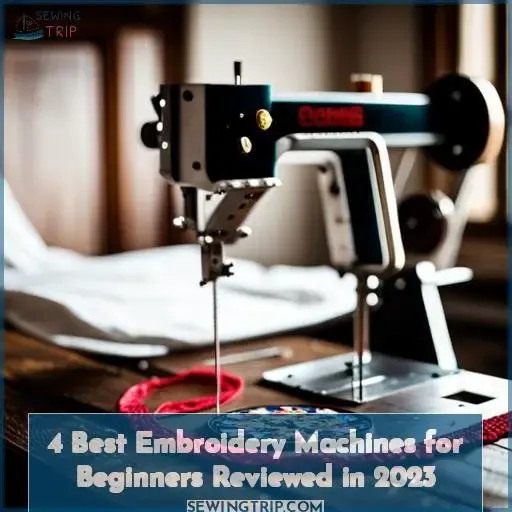 You're craving the thrill of turning a blank canvas into a work of art. As you trace your fingers over soft fabrics, visions of intricate floral bouquets and cascading vines dance in your mind's eye. The gentle hum of an embroidery machine whispers of new beginnings. Your palms tingle at the thought of guiding needle and thread across fabric for the first time.
But selecting the best embroidery machine for beginners feels daunting. The array of options overwhelms your senses. Take a deep breath. This is just the start of an exciting journey into the world of embroidery.
With the right beginner embroidery machine, your creativity will flourish as you master this gratifying craft.
Let your imagination run free and your inner artist will shine. The perfect embroidery machine for beginners awaits you.
Key Takeaways
Embroidery-only machines are convenient and affordable options for beginners.
Sewing/embroidery combo machines offer versatility in one machine.
Multi-needle machines are efficient for businesses with multiple color changes.
Beginner considerations include user-friendly features and hoop size for projects.
Top 4 Best Embroidery Machines for Beginners Reviewed
When starting embroidery, choosing the right machine matters. Highly-rated options like the versatile Brother PE800, feature-rich Janome Memory Craft 12000, budget-friendly Singer XL400, and Disney-themed Brother Innov-is NQ3600D provide quality and capabilities fitting beginner needs.
With so many models available, carefully comparing key factors like size, built-in designs, accessories, and ease of use helps you select a machine that best fits your budget and projects.
Brother Embroidery Machine PE800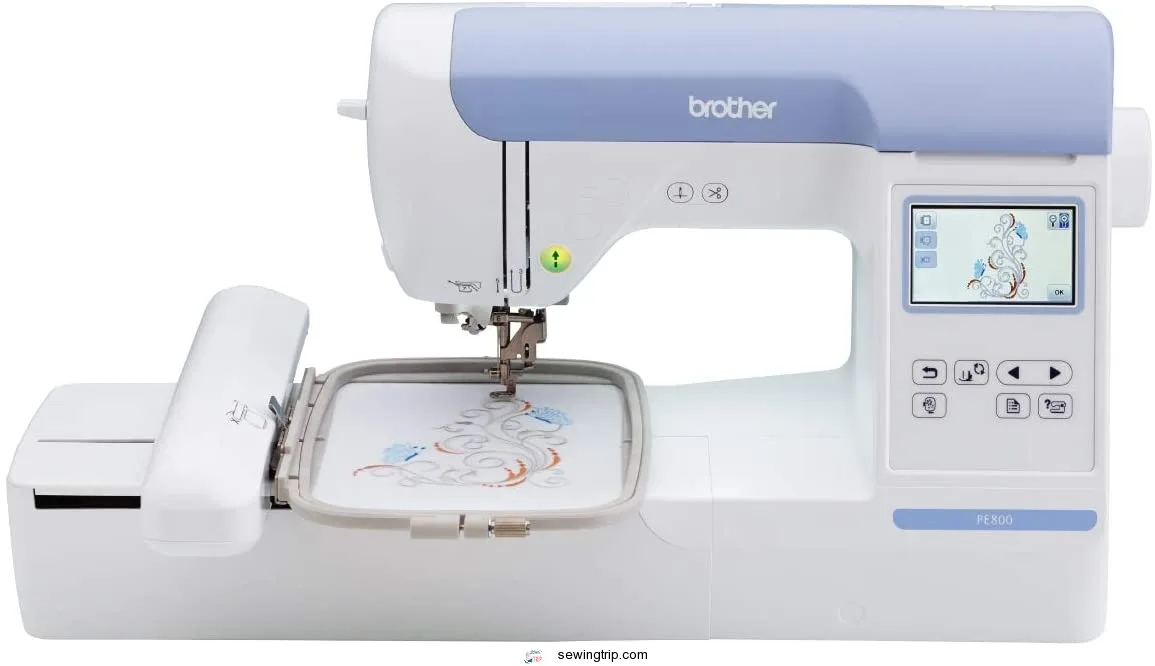 View On Amazon
You'd kickstart embroidering with the user-friendly Brother PE800 and its built-in designs. The LCD touchscreen simplifies selecting from 138 built-in embroidery designs and 11 lettering fonts. You can import extra designs via the USB port. Editing features like resizing and rotating allow you to customize your projects.
The generous 5 x 7 inch hoop is suitable for apparel, quilts, home decor, and more. While there are more advanced machines available, the PE800 hits the sweet spot of user-friendliness, built-in designs, and features to help you grow your skills without breaking the bank.
The LCD touchscreen interface is intuitive for beginners.
There are 138 built-in designs that offer variety for your projects.
You can easily import additional designs through the USB connectivity.
The editing features help you customize your projects.
The 5 x 7 inch hoop is great for starting out.
The machine has more limited features compared to advanced machines.
The embroidery area is smaller than premium models.
Importing designs requires a computer.
Janome Horizon Memory Craft 12000 Embroidery Sewing Machine
You betcha, the Janome Memory Craft 12000 is a high-quality, versatile machine with programmable memory and stitch editing to delight advanced embroiderers. This feature-rich electric sewing and embroidery machine embodies excellence with 71.
6 pounds of white and black metal. Though one reviewer's expected accessory bundle disappointingly went missing, the MC12000 provides exceptional sewing performance. Replacing a Brother machine, its advanced quilting capabilities and large embroidery field will unleash your creativity.
With multiple accessories, a USB port, and embroidery proficiency, this Janome stands ready to turn your ambitious visions into embroidered reality.
Singer Futura XL400 Sewing Embroidery Machine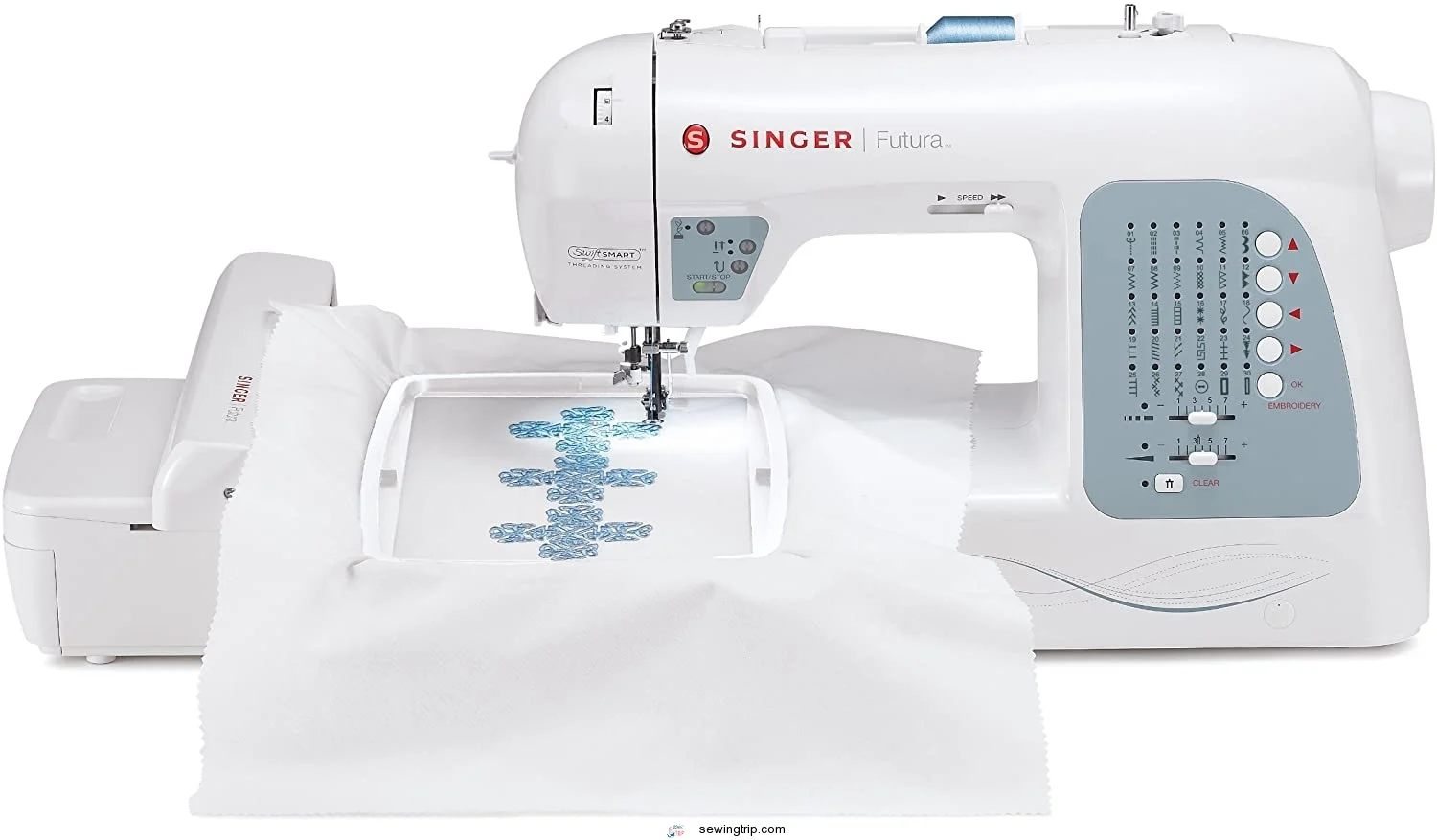 View On Amazon
Step into a new world of creative possibilities with the Singer Futura XL400. This versatile machine opens up advanced embroidery features like multi-hooping and connecting to a PC for endless customization.
The LED-lit workspace and large 10×6 embroidery hoop let you take on big, intricate projects with ease.
As a first embroidery machine or an upgrade, you'll appreciate the built-in tutorials and intuitive controls. With 125 designs and 5 fonts, you can embellish everything from apparel to quilts. Existing sewists found this machine a nice step up from previous models. Import custom designs or use multi-hooping to create extra-large 12×20 pieces.
Some wished for more included designs or cheaper add-ons. But overall, the XL400 hits a sweet spot of quality and capabilities without the price tag of high-end machines.
Good value compared to expensive machines
Intuitive for intermediate sewists
Large hoop and multi-hooping capabilities
LED lighting and built-in tutorials
Learning curve for beginners
Limited built-in designs
Add-on software and designs can be pricey
Brother Innov-is NQ3600D Disney Embroidery Sewing Machine Grand Slam Bundle
Advisedly, add accessory peripherals and software separately after evaluating the machine's innate capabilities. Enthusiasts report frustration with the nonfunctional Disney bundle despite the machine's satisfactory embroidery performance.
Assess the inherent design count before purchasing unvetted third-party packages, which may disappoint. Digitizing software empowers importing personalized motifs and alphabets. Investigate specialty needles for trickier fabrics.
What Are the Different Types of Machines?

Looking to buy your first embroidery machine? Embroidery-only machines focus solely on embroidering, while sewing/embroidery combos offer versatility. Multi-needle machines can be a smart investment if you're interested in starting an embroidery business.
Embroidery Only Machines
Dedicated embroidery machines offer convenience without needing to change settings between sewing and embroidery projects. They can be an affordable option if you're happy with your current sewing machine.
Here are 5 key things to consider when purchasing a dedicated embroidery machine:
Number of needles – More needles allow for efficient thread color changes.
Maximum hoop size – Larger hoops enable bigger designs.
Built-in designs – More options are available right away.
Customization – Ability to upload your own designs.
User interface – Easy-to-navigate screens for selecting designs.
An embroidery-only machine provides focused functionality. Evaluate your budget and project needs, then select one with ideal features to start embroidering skillfully.
Sewing and Embroidery Machines
You'll love combining sewing and embroidery in one versatile machine.
Embroidery Capabilities:
Built-in embroidery designs
Varying maximum hoop sizes
Automatic thread trimmers
Embroidery editing features
Connects to embroidery software
Sewing and embroidery combo machines open up unlimited creative possibilities. Visit sewing machine dealers to test drive models with features like LCD touchscreens and built-in tutorials to simplify the quilting design process.
With the right embroidery project ideas and quality fabric selection tips, you'll be creating stunning personalized pieces in no time.
Popular multipurpose models from leading brands like Brother, Singer, and EverSewn make embroidery accessible for beginners, but advanced enough for businesses.
Embroidery Machines to Start a Small Business (Single & Multi-needle)
To start a small embroidery business on a budget, the Brother PE800 is a reliable home embroidery machine with a 5×7 field and built-in designs to get up and running.
Having your own business can seem daunting, but starting small and investing in quality equipment will set you up for success. The PE800 allows you to create customized designs even if you're just beginning.
With practice and persistence, you'll gain confidence in your skills. Don't be afraid to start small – your customer base will grow as your abilities improve! The satisfaction of nurturing your own business makes the effort worthwhile.
What is Essential for a Beginner to Consider When Purchasing an Embroidery Machine?

When purchasing your first embroidery machine, there are a few key considerations to keep in mind as a beginner. Focus on finding a user-friendly model with features that simplify the embroidery process, like automatic thread cutting and easy bobbin winding, and invest in a machine with enough hoop size to accommodate your planned projects.
Also, look for built-in designs, tutorials, and other educational resources to help you get started. Choosing an embroidery machine that balances simplicity, size, and useful features will set you up for embroidery success as a novice.
Type
Choosing an embroidery-only machine lets ya focus solely on embroiderin' without switchin' settings between sewin' and embroiderin' projects.
| Machine Type | Pros | Cons |
| --- | --- | --- |
| Embroidery-only | Specialized for embroidery, no need to change settings | Can't sew, less versatile |
| Combo embroidery & sewing | Versatile, seamlessly switch between sewing & embroidery | More expensive, more settings to manage |
A dedicated machine's convenience might make sense if ya don't need advanced sewin' capabilities. But combo machines allow explorin' both hobbies without compromisin' quality for either.
Use
Embrace the mistakes; they become your teachers on an entry-level machine. Focus on models with easy threading and spacious workspaces to start. Quick design selection and clear LCD displays are ideal when learning. Seek automatic functions that simplify fabric handling, design digitizing, and thread cutting.
Manual controls teach computerized embroidery fundamentals. Master the fabrics, threads, and designs before upgrading.
Size
Riveting your gaze on each design's finished measurements will cast the spell of needle, thread, and raw materials transforming fabric into artwork. Pondering the maximum hoop dimensions and how that guides thread and fabric combinations is pivotal.
Comparing stabilizer options for various fabrics and projects prevents puckering disappointments. Selecting the right hoop size for your envisioned designs and projects is elemental for beginners before digitizing, embroidering, and filling bobbins.
Features
Weigh which embroidery machine capabilities fit your needs without overwhelming. As a beginner, prioritize user-friendly mechanical and programming features. Seek models with automatic thread tension and cutting to avoid common stabilizing issues.
Experiment with different needle types and stabilizer placements when starting out. Simple interfaces and large maximum hoop sizes suit large projects and basic embroidery skills. Advanced programming can wait as skills progress. Focus first on fundamental ease of use.
How Are Embroidery Machines Different From Sewing Machines?

You'll find embroidery machines use specialized threads and needles to embellish fabrics with decorative stitches, while sewing machines join fabrics together.
Automated embroidery allows for more intricate designs than manual.
Proper thread tension prevents puckering or breaking.
Matching stabilizer to fabric type reduces distortion.
Digitizing own designs requires graphics software knowledge.
Correct hooping keeps fabric taut during stitching.
Specialty presser feet grip fabric while embroidering.
Rotating between multiple hoops allows for larger designs.
Varying stitch patterns and thread colors create depth.
Understanding the embroidery process improves technique.
The key differences make embroidery machines ideal for embellishing finished projects with custom designs quickly and precisely. Their advanced features expand creative possibilities beyond basic sewing machine functions.
Why Are Embroidery Machines So Expensive?

Advanced computerization makes embroidery machines pricey, but the sophisticated tech yields professional-quality speed and customization worth the splurge for businesses or avid embroiderers. Embroidery machines require advanced technology like built-in designs, digitizing software, automated threading systems, and accessories to enable intricate designs and quality stitching quickly.
Key factors driving costs:
| Large Embroidery Field | Expands design capabilities |
| --- | --- |
| High Stitch Resolution | Enables detailed designs |
| Automated Functions | Easy threading, tension adjust |
| User-Friendly Interface | LCD screens, tutorial guides |
Brands like Brother incorporate user-friendly features like LCD screens and tutorial guides to simplify learning. But the automated tools, sizable embroidery fields, and compatibility with intricate designs necessitate sophisticated engineering.
For hobbyists happy with smaller projects, more affordable options exist. But businesses or enthusiasts wanting pro-quality and maximum customization get efficient production from high-end models.
Why is Brother So Popular?

You chose wisely going with Brother for your first embroidery machine. Their reputation for quality and innovation spans over a century. Brother continually advances their technology to improve machine performance, pioneering features like touchscreen displays and automatic thread cutters that simplify the embroidery process.
Their extensive product line provides options for any budget or skill level so you can find the machine that's right for you. Whether you're looking to embroider intricate designs with fine detail or just perform basic maintenance, Brother machines have the reliability and capabilities to meet your needs.
Their longstanding dedication to helping crafters create has made Brother the trusted name in embroidery.
How to Shop for Embroidery Machines Like a Pro

When shopping for an embroidery machine, zero in on the features that matter most for your skill level and project plans.
Evaluate your current skills and how quickly you want to advance. Beginners need user-friendly machines with automatic features. Intermediate sewers will utilize more customized options and advanced settings. Consider investing in a machine offering room to grow as your talents progress.
Determine the types of fabrics and projects envisioned. Sturdier machines can embroider a wide variety of fabrics like denim and leather versus only lighter weight cottons and silks.
Carefully inspect build quality and components. Long-lasting machines from trusted brands like Brother allow realizing your embroidery ambitions over many years. Durable high-tech metals and premium parts withstand extensive use without breaking down.
Don't feel rushed or overwhelmed when choosing your first embroidery machine. Take time finding the ideal match for current skills and future embroidery goals within your budget. The right machine empowers unlocking your creative potential through this rewarding craft.
Frequently Asked Questions (FAQs)
What supplies and accessories will I need in addition to the embroidery machine itself?
Quality fabric, stabilizer, thread, needles, bobbins, embroidery hoops, and scissors or shears.
How difficult is it to learn how to digitize and create my own embroidery designs?
You can start digitizing simple designs in an hour and more intricate ones in a day or two. Choosing user-friendly software and taking an online class helps shorten the learning curve. With practice, you'll be creating unique embroidery artworks to showcase your creativity in no time.
What kind of maintenance and cleaning does an embroidery machine require?
Embroidery machine care is like caring for a prized rose bush. Gently wipe clean after each use, regularly lubricate, and change needles often to avoid snags.
Is an embroidery-only machine better than a combination embroidery/sewing machine for a beginner?
For a beginner, an embroidery-only machine is often a better choice than a combination machine. Focusing on just embroidery allows you to master one skill at a time. The controls stay the same between projects instead of having to switch settings.
You can fully utilize all the embroidery features without getting overwhelmed. An embroidery-only machine also tends to be more budget-friendly for a beginner wanting to start small.
What software is compatible with different embroidery machine brands and models?
Research machine-specific software compatibility. Popular multi-machine options are PE-Design, Embird, and Stitch Era Universal. Download free trials first. Test digitizing and editing capabilities before purchasing a perpetual license.
Subscription plans are also available. Prioritize user-friendly interfaces and tutorials when evaluating.
Conclusion
So in summary, as a novice embroiderer looking to buy your first machine, the key is finding the right balance of size, features, and cost to suit your needs and budget. Don't feel obliged to spend a fortune on an overly advanced model when a more basic, affordable machine will allow you to learn the ropes and create beautiful designs.
Focus on usability and quality rather than getting hung up on extra bells and whistles. Do your homework, set a budget, and take your time deciding. That way, you can embark on your embroidery journey with confidence, starting out on the right foot without breaking the bank.