This site is supported by our readers. We may earn a commission, at no cost to you, if you purchase through links.
Let's be honest – using scissors to cut fabric gets old fast. Don't you wish you had a fabric cutting machine that could effortlessly slice through multiple layers with perfect precision every time? Now you can!
From electronic cutters that connect to your computer, to manual rotary cutters, we'll highlight the six best fabric cutters that'll save you time and take your sewing skills to the next level.
These game-changing tools will unleash your inner quilting master, with the ability to cut specialty shapes and letters, as well as straight lines and curves.
Plus, we'll cover key factors like cutting capabilities, portability, and ease of use to help you select the best fabric cutter machine for your needs and budget.
Key Takeaways
Fabric cutting machines offer precision, time efficiency, versatility, and ease of use.
They cater to crafting enthusiasts, sewing professionals, quilters, and DIY crafters.
These machines translate designs into precise cuts, elevating the quality of crafts.
Fabric cutting machines have revolutionized crafting and sewing by providing enhanced precision, time efficiency, material versatility, and ease of use.
6 Best Fabric Cutter Machines
Looking to upgrade your fabric crafting tools? The Big Shot Express electric die cutter, Ultimate Quilting Starter Kit, and Cricut Maker 3 offer motorized precision cutting to boost your efficiency and creativity.
The ScanNCut SDX85S, Silhouette Cameo 4, and Hercules 5-Speed Rotary Cutter provide electronic and manual options for versatile material cutting needs.
1. Big Shot Express Electric Die Cutter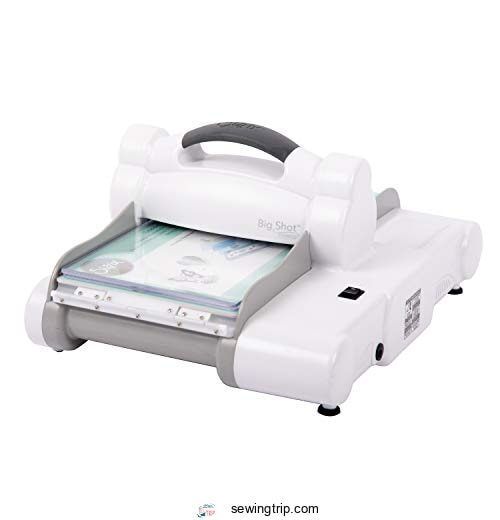 View On Amazon
You'll love the effortless operation and versatile capabilities of Sizzix's Big Shot Express Electric Die Cutter, allowing even beginners to achieve precise cuts and intricate embossing with the push of a button.
This revolutionary crafting tool merges cutting-edge technology with creative possibilities.
Unlike traditional manual crank machines, this automatic die-cutting and embossing marvel eliminates the need for manual effort. It empowers crafters to delve into a wide array of projects, from cards, invitations, and scrapbook pages to home decor, fashion pieces, and quilting designs.
The machine's compatibility with Sizzix's expansive product library, including Bigz, Thinlits, Framelits dies, Texture Fades, and more, opens the doors to limitless artistic expressions.
Effortless motorized operation sets it apart from manual crank machines.
Accommodates various materials and intricate designs with precision.
Seamless integration with Sizzix's extensive product library.
Ideal for both beginners and experienced crafters.
Quieter and more efficient compared to traditional machines.
Valuable for those with joint pain or mobility challenges.
Initial concerns regarding packaging and occasional motor durability issues.
Limited power compatibility to the United States and Canada.
Not compatible with Bigz Plus and Bigz Pro dies.
Reports of occasional breakdowns after prolonged use.
Some users noted issues with scratches and damage upon delivery.
Continuous motor operation without holding the button could be improved.
2. Ultimate Quilting Starter Kit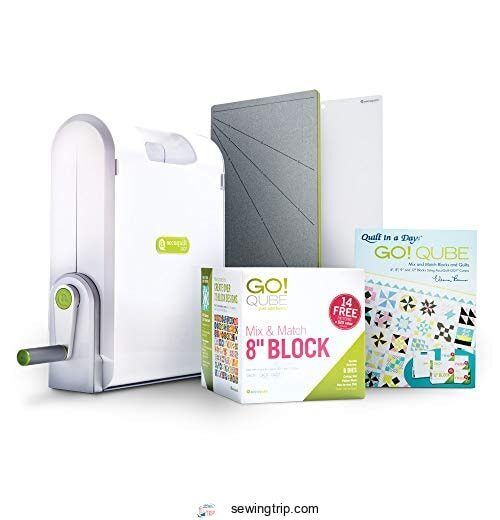 View On Amazon
The revolutionary AccuQuilt Ultimate Quilting Starter Kit transforms your quilting journey with unmatched speed and precision. This game-changing innovation caters to quilting and sewing beginners, offering a seamless fusion of efficiency and artistic finesse.
The heart of this kit is the GO! Fabric Cutter, which effortlessly slices through a variety of fabrics, from delicate silk to rugged denim. Accompanied by the GO! Qube 8 Mix & Match Block Set and GO! Strip Cutter-2½, this kit propels your creativity into uncharted territory, enabling you to craft an infinite array of quilt designs.
The value-packed bundle includes essential tools and guides for a tailored quilting experience, along with substantial savings compared to purchasing items separately.
Unparalleled speed and precision in quilting and sewing.
Extensive material compatibility, from silk to denim.
GO! Qube 8 Mix & Match Block Set unlocks infinite design possibilities.
Effortless and accurate cuts for quilt blocks, reducing time and enhancing uniformity.
Accessibility for beginners, minimizing the learning curve.
Valuable cost savings through the bundled kit.
Some concerns about the long-term durability of the cutting mat.
Potential challenges with removing plastic packaging around dies.
Learning curve associated with new techniques and tools.
3. Cricut Maker 3 – Cutting Revolution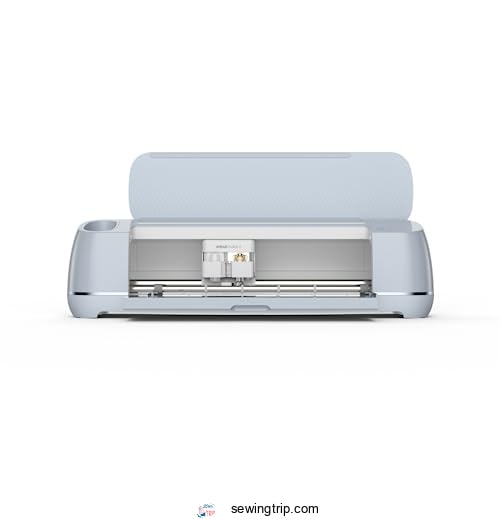 View On Amazon
Well, look who's cutting through creativity like a hot knife through butter – the Cricut Maker 3! This isn't your grandma's crafting tool; it's a modern marvel that turns your artistic dreams into reality.
With its debut in 2021, the Cricut Maker 3 revolutionized the world of smart cutting machines. Its sleek design and substantial weight signify its capacity for heavy-duty creativity. Offering compatibility with over 300 materials and more than 13 tools, this machine empowers creators with an array of options – from cutting to scoring, writing to engraving.
The Cricut Maker 3's Bluetooth connectivity ensures wireless control across different operating systems, while the intuitive Design Space app simplifies material and tool selection. It's not just about cutting; it's about transforming materials like card stock and fabric into works of art.
The machine's Smart Materials feature eliminates the need for a mat, allowing for continuous cuts of up to 12 feet.
The included Cricut Access subscription expands the horizon with a vast content library.
Versatile compatibility with a wide range of materials and tools.
Smart Materials feature enables long cuts without a mat.
Intuitive Design Space app aids beginners and experienced creators alike.
Extensive content library and Cricut Access subscription for unlimited inspiration.
Sleek design and sturdy build ensure reliable performance.
Bluetooth connectivity offers wireless control and convenience.
Some users reported issues like dust accumulation, cracks, and connectivity hiccups.
Learning curve for utilizing specific tools and materials may exist.
Challenges with small letter cutting reported by some users.
4. ScanNCut SDX85S Cutting Machine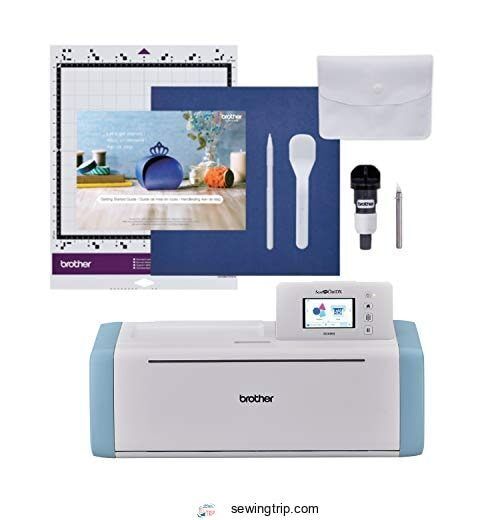 View On Amazon
Experience a leap forward in creative possibilities with the ScanNCut SDX85S Cutting Machine – a seamless blend of cutting-edge technology and intuitive design. Unleash your artistic potential with this compact powerhouse that combines an integrated scanner with automatic cutting capabilities.
The machine's 3.5-inch touchscreen LCD display offers effortless project customization, while the 251 built-in designs and USB port allow you to expand your creative library.
The auto blade with material sensor technology eliminates manual adjustments, enabling you to cut through a variety of materials up to 3mm thick, from paper to fabric. Its compatibility with Brother sewing machines for combined applique designs further enhances its versatility.
Integrated scanner for quick conversion of drawings to cut files.
No manual blade adjustment required, thanks to the material sensor technology.
Compact size and touchscreen display make it user-friendly and space-efficient.
Wide range of compatible materials, including paper, vinyl, and fabric.
Additional designs can be imported via the USB port, enhancing creative options.
Some users have reported missing or damaged accessories upon delivery.
Limited power supply of 100-120V might not be suitable for all regions.
High cost of accessories and replacement parts could impact long-term use.
Lack of clear instruction booklet might be challenging for some users.
Non-interchangeability of accessories across models could pose difficulties in sourcing parts.
5. Silhouette Cameo 4 Black Edition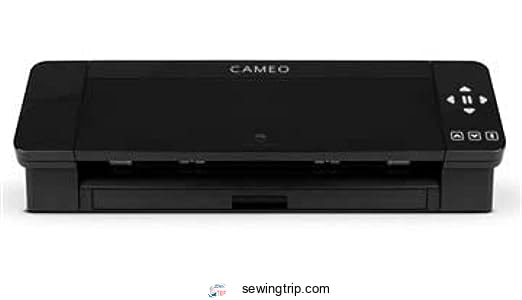 View On Amazon
Discover the sleek silhouette and endless creative potential of the Cameo 4 Black Edition – a crafting companion that seamlessly merges technology and artistic expression, allowing you to bring your visions to life with effortless precision.
With its compact dimensions and a weight of just over 11 pounds, this machine packs a punch of power and versatility, making it an indispensable tool for both beginners and experienced crafters alike.
Pros:
Cutting Mastery: The Cameo 4's dual motor system sets it apart, offering both high-speed cutting and remarkable power. Experience unparalleled cutting force, up to 5,000 grams, and cutting speeds up to 30 cm/second.

Material Diversity: Unleash your creativity across a vast range of materials. Whether you're working with vinyl, cardstock, fabric, or even thicker materials up to 3mm, the Cameo 4 handles it all with ease.

Wireless Convenience: Embrace the liberation of wireless cutting with Bluetooth connectivity. Say goodbye to cluttered workspaces and hello to freedom of movement.

Smart Tangential Mode: Enjoy the thrill of cutting fabric without a stabilizer, thanks to the innovative Smart Tangential technology. This mode, powered by the optional Rotary Blade, ensures precision even with challenging materials.

Print & Cut Magic: The PixScan compatibility allows you to turn printed images into precisely cut designs. Achieve perfect alignment and maximize material usage.

Effortless Handling: The built-in roll feeder and crosscutter make working with rolled materials a breeze. Trim and feed materials smoothly for an uninterrupted creative flow.
Cons:
Software Learning Curve: While the Silhouette Studio software offers limitless design possibilities, mastering its features might take some time, especially for beginners.

Registration Marks: Achieving accurate registration marks for print and cut projects can be a bit challenging initially. Practice and adjustment are key.

Visibility Issues: The LED light over the machine can aid visibility, but there might be situations where additional lighting is required for optimal precision.
Elevate your crafting experience with the Cameo 4 Black Edition – a tool that empowers you with the mastery, versatility, and convenience you crave.
6. Hercules 5-Speed Electric Rotary Cutter
View On Amazon
Imagine effortlessly gliding through layers of various materials with a 5-speed electric rotary cutter that fits comfortably in your hand – the Hercules HRK-100. This sleek and cordless tool offers quiet precision and convenience for quilters, sewers, and crafting enthusiasts alike.
The Hercules HRK-100 boasts a powerful 4-inch high-speed octagonal blade with a built-in sharpening stone, ensuring clean and efficient cuts through light to medium weight fabrics such as cotton, silk, synthetic fiber, and even leather.
Its carbide-tipped spring-loaded lower blade prevents fabric jamming, maintaining a smooth cutting experience.
The cordless design, powered by a rechargeable 110 Volt AC battery, grants you the freedom to move around without being tethered by cords, making it ideal for versatile crafting tasks.
Effortlessly cuts through multiple layers of various fabrics.
Cordless and rechargeable design adds convenience and portability.
Quiet operation compared to handheld rotary cutters.
Octagonal blade design with carbide-tipped lower blade prevents fabric jamming.
Provides relief for users with wrist and thumb issues.
Suitable for quilters, sewers, and hobbyists.
Not recommended for heavy industrial use.
Some users find it challenging to replace the blade.
Some units may arrive with scratches or non-functional LED lights.
Cannot be used with a ruler for precise piecing.
Not intended for heavy industrial use.
Limited suitability for heavy-duty materials.
What is a Fabric Cutter and Why Do You Need One?

Step into the world of crafting efficiency and precision with your very own creative sidekick—an innovative tool that takes the hassle out of shaping and resizing fabrics, allowing you to bring your sewing and quilting visions to life with a breeze.
Fabric cutting machines are more than just tools; they are gateways to a realm of liberation, power, and mastery in the world of crafting.
Here's a look at the benefits of fabric cutting machines:
Enhanced Precision: Fabric cutting machines offer unmatched precision, ensuring every piece is cut exactly as intended.
Time Efficiency: Say goodbye to tedious manual cutting. These machines streamline the fabric cutting process, saving you valuable time.
Versatility: From intricate quilt patterns to custom clothing designs, fabric cutting machines can handle a wide range of fabric cutting techniques.
Ease of Use: With user-friendly interfaces and automated features, these machines are designed to simplify the cutting process.
Maintenance and Accessories: Proper maintenance and the right accessories can extend the life of your fabric cutter and enhance its performance.
Discover the world of fabric cutting technology, and choose the right cutter that aligns with your crafting goals. Unleash your creativity and master the art of quilting with these advanced quilting tools and equipment.
Factors to Consider When Purchasing a Fabric Cutter

Exploring fabric cutter options involves delving into the nuances of cutting capabilities, the perennial debate between manual and electronic machinery, and the practical aspects of portability and ease of use.
Analyzing how these factors align with your crafting needs guides you towards the fabric cutter that best suits your projects and preferences.
Cutting capabilities comparison
Explore the capabilities that set these fabric cutting tools apart – each offering unique advantages for your crafting journey.
Delve into the cutting precision analysis, comparing how accurately AccuQuilt, Sizzix Big Shot, and Cricut Maker execute intricate designs.
Assess material compatibility, considering which machine suits your preferred crafting mediums.
Evaluate crafting speed, recognizing the efficiency of each tool.
Examine user-friendly features that enhance your experience.
Uncover the versatility and design capabilities that these machines bring to your creative endeavors.
| | AccuQuilt Go! Ultimate Fabric Cutter | Sizzix Big Shot Plus | Cricut Maker 3 |
| --- | --- | --- | --- |
| Cutting Precision | High precision with dies | Accurate with various dies | Exceptional accuracy across materials |
| Material Compatibility | Specialized for fabric | Cuts various materials | Wide range including fabric, paper, and more |
| Crafting Speed | Efficient for quilt shapes | Moderate speed | High-speed cutting and writing |
| User-Friendly Features | Requires die usage | Easy manual operation | Intuitive touchscreen and app |
| Versatility & Design | Quilt-focused designs | Versatile for different crafts | Diverse capabilities for intricate designs |
Manual vs. electronic machines
Consider weighing the benefits of manual control against the convenience of automation when deciding between manual and electronic options. Both types of fabric cutting machines have their own advantages and disadvantages, catering to different needs and preferences.
Advantages of Manual Machines:
Precision control over cuts.
Ideal for intricate designs.
No motor or electronic components that might malfunction.
Typically more affordable.
Can be more compact and portable.
Advantages of Electronic Machines:
Automation saves time and effort.
Consistent and repeatable results.
Suitable for larger and complex projects.
Integrated features like scanners and design software.
Can handle a wider range of materials.
Your decision should align with your crafting frequency, desired precision, and whether you prioritize the hands-on control of a manual machine or the efficiency of an electronic one. Keep in mind factors like the size and portability of the machine, as well as the specific features that align with your creative goals.
Portability and ease
For effortless crafting on the go, imagine yourself wielding a compact tool that dances between your fingertips, gracefully rendering intricate designs on a myriad of materials. Portability considerations, cutting precision, and ease of use are pivotal when selecting a fabric cutter.
The AccuQuilt Go! Ultimate Fabric Cutter embodies convenience with its manual operation, while an electric rotary cutter like the Hercules HRK-100 offers the freedom of cordless use. Manual cutting machines provide control, while electronic options prioritize automation, catering to various crafting needs.
Size and weight influence portability, seamlessly integrating into your craft room.
Types of Fabric Cutting Machines

Transitioning from the factors to consider when purchasing a fabric cutter, let's delve into the world of fabric cutting machines themselves. Your journey towards cutting precision and crafting efficiency begins with selecting the right machine for your needs.
The diversity of materials, cutting machine features, and fabric-cutting capabilities opens up a realm of possibilities. From the AccuQuilt GO! models tailored to quilters' dreams to the versatile Cricut Maker 3's innovative smart technology, the landscape of types of fabric cutting machines is vast.
Consider the machine's material compatibility, quilting innovation, and ease of use as you navigate this realm. Each machine, like the ScanNCut SDX85S with its built-in scanner or the Silhouette Cameo 4's design software integration, offers a unique path to mastery in your crafting domain.
Explore these options to liberate your creativity and embrace the power of precision in every cut.
Who Can Benefit From a Fabric Cutting Machine?

Step into the world of crafting like a painter embracing a blank canvas – the creative liberation offered by these precision tools is a tapestry awaiting your artistry. Crafting enthusiasts, sewing professionals, quilting hobbyists, and DIY crafters alike stand to gain immeasurably from the prowess of fabric cutting machines.
For beginner quilters, these machines mean a smoother initiation into the world of quilting, while experienced quilters can relish the time saved and the precision achieved. Seamstresses and fashion designers find their visions effortlessly translated into reality, while general crafters revel in the mastery these machines provide.
The ability to transform intricate designs into precise cuts empowers every user to elevate their craft, turning their creative dreams into tangible, breathtaking pieces.
Conclusion
Amidst the vibrant tapestry of crafting, where threads of imagination and fabric of creation intertwine, lies the quest for the perfect tool. Delve into the realm of fabric cutting machines, where innovation stitches together efficiency and creativity.
The landscape reveals six contenders: the Big Shot Express Electric Die Cutter, the Ultimate Quilting Starter Kit, the Cricut Maker 3 – Cutting Revolution, the ScanNCut SDX85S Cutting Machine, the Silhouette Cameo 4 Black Edition, and the Hercules 5-Speed Electric Rotary Cutter.
Each holds a piece of the crafting puzzle, from the motorized finesse of the Big Shot Express to the precision of the ScanNCut.
In this vibrant world, where threads meet technology, your journey to find the best fabric cutter machine unravels.