This site is supported by our readers. We may earn a commission, at no cost to you, if you purchase through links.
Are you a sewing or quilting enthusiast looking for a machine that supports your ever-increasing creativity? The Brother CX155LA Limited Edition Laura Ashley Sewing and Quilting Machine Might Be The Kit You Need.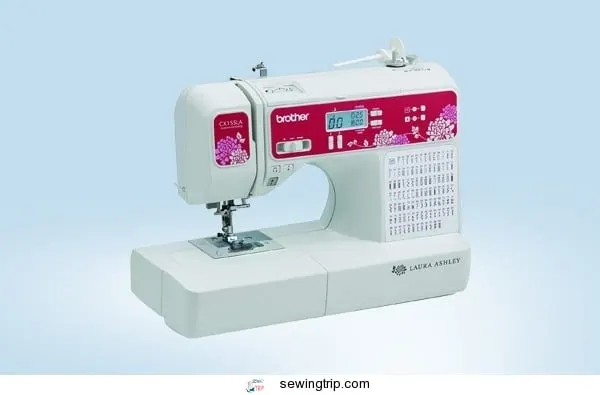 With over 100 stitches and nearly a dozen accessory feet, this machine strives to match the creativity of its users with a tool for every occasion, although some users report their machine is difficult to operate with thicker fabrics.
Still wondering if this is the best sewing and quilting machine for you?
Take a look at the details, both positive and negative, below.
Brother CX155LA Limited Edition Machine: The Details
The Look
This Brother Laura Ashley Sewing and Quilting Machine
has a modern, attractive look, with a smooth and curved yet sturdy chassis.
The red and pink floral design around the clearly labeled buttons and the view screen contrast with its overall white exterior, providing an extra dose of inspiration for embroidery projects and making it a fashionable addition to any room makes, besides a practical one.
Eleven pounds, this sewing and quilting machine is easy to move from location to location. The lightweight is surprising given the larger than average work area, but it is of course a welcome surprise.
Specs Weight:
11, 02 lbs (18 lbs shipping weight) Dimensions:
12.48 x 8.03 x 17.32 inch Stitches:
155 built-in stitches, including 8 one-step automatic size buttonhole styles and 55 alphanumeric stitches for standard monograms Speed:
Maximum 850 stitches per minute Adjustable Speed Control
and Start / Stop Button 7-Point Conveyor
for smooth fabric feed Automated / Mechanic:
Automated Spool:
Brother Exclusive, Jam Resistant, Quick-Set Top Drop-In Spool Warranty:
25 years limited
Accessories
This model comes with a full set of accessories, suitable for a wide variety of projects and users. This set includes:
Extra wide table
Large back-lit LCD screen
Advanced Needle Threading System
Buttonhole Foot
Button Seam Foot
Overcasting Foot
Zipper Foot
Monogram Foot
Blind Hem Foot
Zigzag foot
Quilting foot
¼ " Quilting Foot
Quilting Guide
Accessory Bag
Needle set
Twin needle
Ballpoint pen needle
]
Cleaning brush
Screwdriver
Auxiliary Spool Pin
Spools
Spool Clip
Eyelet Puncher
Instructional DVD
Operation manual
Brother: The Company
Brother International Corporation, founded in 1954, has long been and leading supplier of household and business products.
Brother, a US subsidiary of Japan-based Brother Industries Ltd., prides itself on providing revolutionary quality products and service to its customers.
Brother also provides over 1,000 jobs to employed Americans and has won PC Magazine's Readers'Choice award seven years in a row.
The Warranty
The Brother CX155LA and included accessories by a 25-year limited warranty.
This warranty guarantees that the machine and its accessories are free from manufacturing defects when used under normal conditions.
Does not cover physical damage caused by improper installation, maintenance or improper use.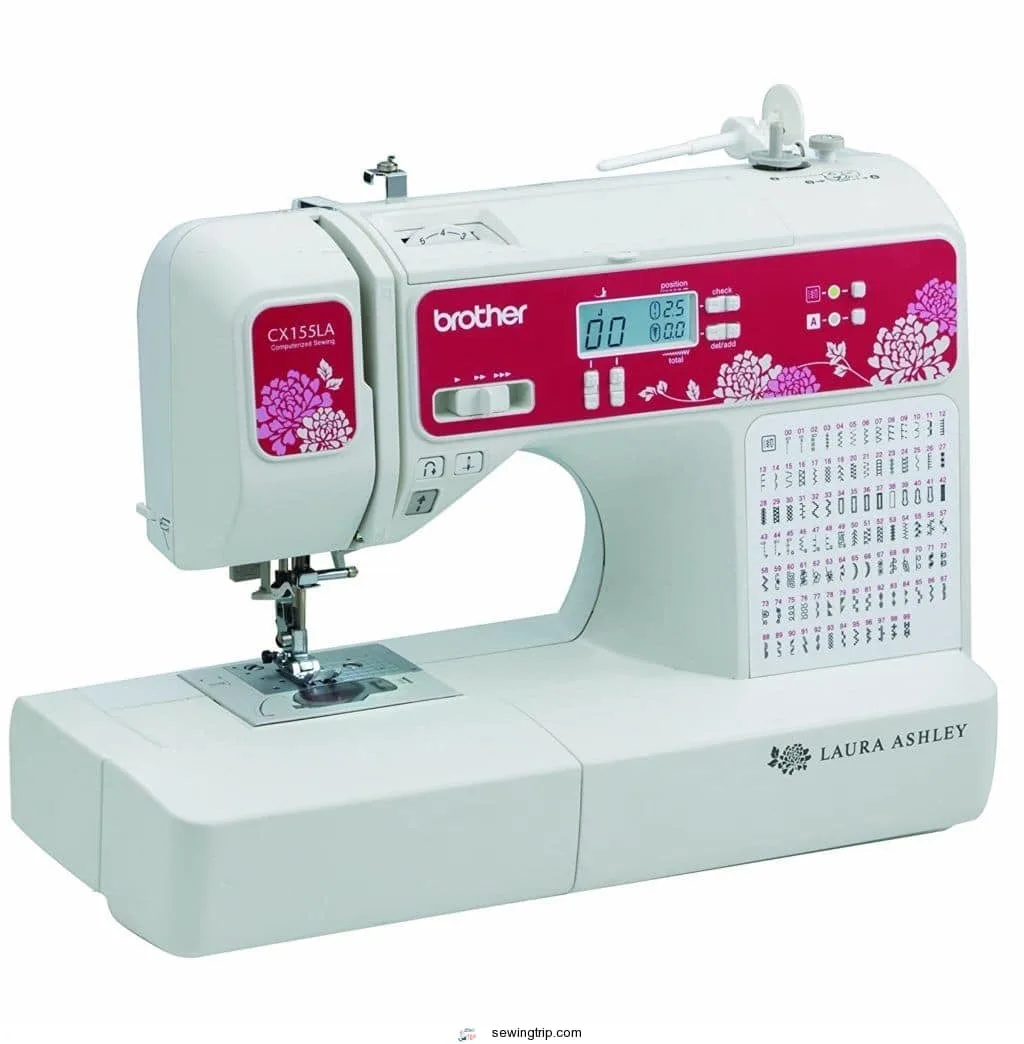 The warranty period for parts, labor, and accessories is one year from the original purchase date
The warranty period covering electronic components covers and boards, but does not cover replacement labor, lasts five years from the original purchase date.
The warranty period covering the chassis of this sewing and quilting machine is twenty-five years from the original purchase date.
Brother recommends that you keep the receipt for this machine because the original purchase date from the original purchase receipt.
Users may need to deliver manually or send the machine to the allowed service center, and the user remains responsible for shipping charges.
Features
This They equip sewing and quilting machine with several features that enhance the crafting experience for users of all skill levels.
Incredible variety of built-in stitches You can read that directly in the specifications section – the Brother CX155LA
has 155 stitches built into his computer system!
These stitches contain 55 alphanumeric stitches for simple monogram projects, as well as 8 one-step automatic buttonhole styles.
These buttonhole stitches include stitches suitable for lighter or heavier fabrics based on the needs of a specific project.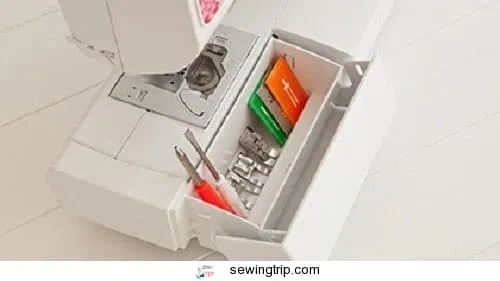 With so many stitches, all clearly labeled on the outside of the machine, you are well on your way to your own unique style as an interior designer!
Adjustable speed control and extra large workspace
On its fastest way and the quilting machine is running at 850 stitches per minute.
Also, the workspace on this machine is thirty-three percent larger than average and includes an even wider table for larger projects.
That's super fast and super big – and both variables are adjustable to allow users to maneuver and shape their projects as needed.
One foot for every occasion
This brother Laura Ashley machine includes eleven sewing and quilting feet, we can easily interchange each for each other. With this variety of tools in one machine, users can work quickly and creatively with custom designs and a wide variety of project types, from zippered shirts to monogrammed quilts.
Automatic functions
To your life a little easier, and to introduce beginners to the world of sewing, Brother adds features such as their easy needle threading system and the drop-in bobbin winding system to help with tricky and easily frustrating tasks.
This makes it easy to adapt to a new machine, or for sewing and before you know it, these little things will be hard to live without.
See Easier
This may seem like a minor feature to address, but those who see poorly or regularly working in dimly lit areas will be grateful for both the back lit LCD screen and the brightly lit work area.
You don't need to make risky guesses, and it will be easy to keep track of your projects by actually seeing what you are doing.
You can watch the LCD screen if you get lost, and you don't have to move too much to see to thread your needle.
Brother CX155LA Limited Edition Sewing Machine Review
The positives
Perfect for Beginners
This machine is super easy to use, with features aimed at making your sewing experience straightforward.
But this does not mean that it omits the possibility of being versatile thanks to the number of stitches and accessories on offer.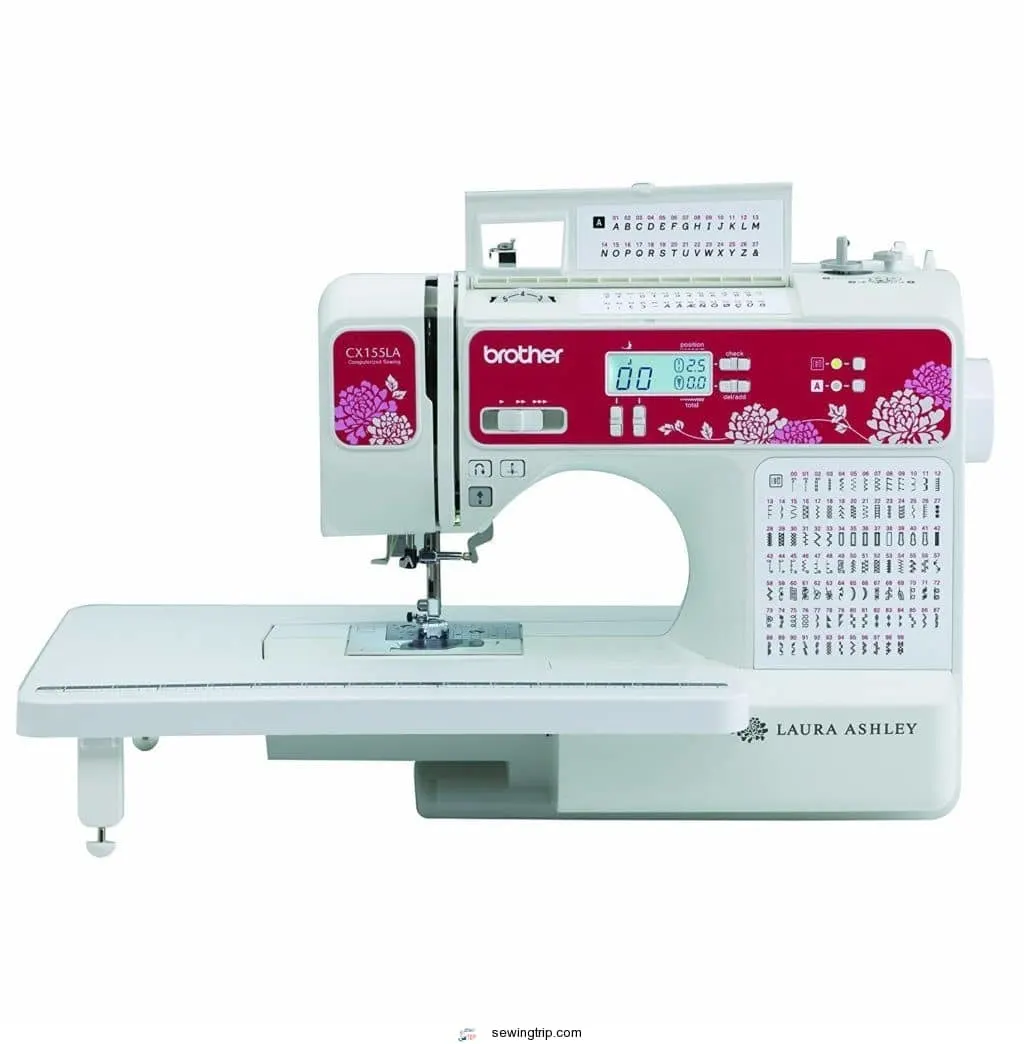 From setup to first use, this machine will not slow you down as you grow in this craft and is patient enough to help you learn the ropes.
Wide, strong workspace table
One might that a workspace this large might not be sturdy enough to support the weight of the fabric of an equally sized project.
Don't worry – the workspace table included with this sewing and quilting machine is tough enough for piles on piles of thick fabric, and ready for any project you take on your pad throws!
We love the wide workspace, also on the Brother CX155LA. This leaves more room to tackle larger products without hassle and hassle.
Light and Mobile Despite its robustness, this Brother CX155LA
remains lightweight and easy to move from one place to another.
This makes it the perfect machine for a budding quilter or sewing hobbyist who does not have a room dedicated to such projects and who needs to reorganize frequently.
For those who are fighting for more space, thanks to its weight and size, you can store this Brother sewing machine in a closet or closet nearby to keep it out. when you need it.
Has all the stitches and feet you could need
Experienced sewing enthusiasts know that there is an incredible variety of of possibilities is for creative tinkering.
This gives beginners the opportunity to try out new designs, and regular users will not be short of options.
This Brother Laura Ashley sewing and quilting machine clearly strives to accommodate that variety of possibilities with a variety of stitches and interchangeable feet, providing the tools to help users pursue their wildest and unique craft dreams.]
Here's a video showing how to use a monogram on the Brother CX155LA.
https://www.youtube.com/watch?v=Fc2NPU-K3CA
Customer Service
You don't hang around when you buy this sewing machine.
Customers have reported that the customer service team responds to questions and concerns. and efficient.
If you have a problem, just contact customer service and they will certainly handle your concerns.
The negatives
Design causes lack of visibility
While the curved design of this sewing and quilting machine is attractive to look at, the top portion of the machine quite low from the work area.
This could allow users to see what the needle and foot are doing and therefore make it difficult errors.
Struggles with thicker materials
This Brother Laura Ashley machine to be suitable for projects with fabrics of all sizes, weights and thicknesses.
But some users report that the needles and feet have difficulty working well with thicker or more layered materials. This may limit the capabilities of quilting projects.
You may need to switch to a slightly heavier needle depending on the fabrics you are using.
Smelly Lubricant
Some users have discovered when using this machine that the lubricant in the machine has an unpleasant odor issue.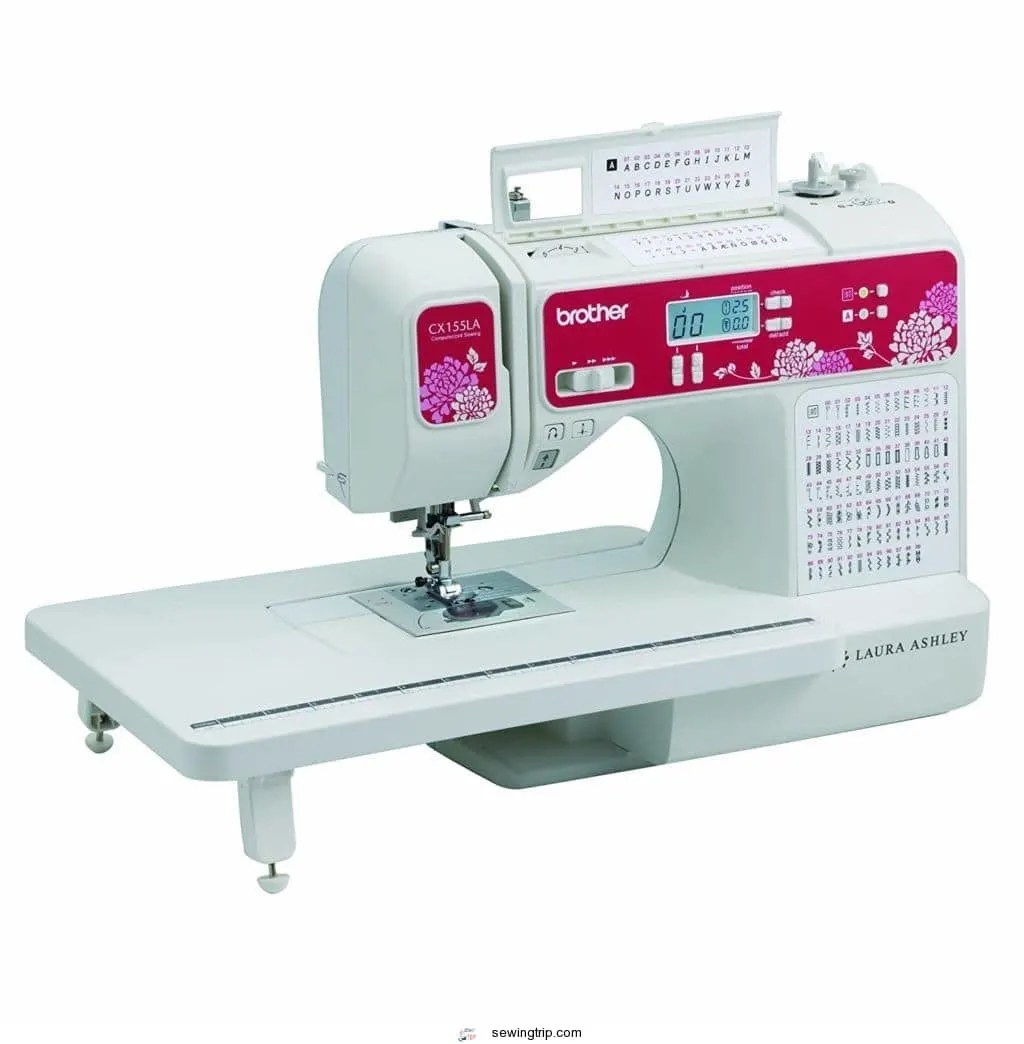 While this does not appear to be a common problem, it is an important consideration for users with sensitive noses or allergies.
Overall Judgment We recommend the Brother CX155LA Limited Edition Laura Ashley Sewing Machine
to anyone looking to expand their growing sewing hobby and add a kit that supports creativity and a wide variety of project designs.
Experienced quilters and those who sew or quilt for a living may want to find a machine with a heavier treatment of thicker fabrics.
Where can I buy the Brother CX155LA machine
Because Brother is such a dominant company on both the sewing and the office department, it has become the norm to see how their products on the shelves around the world. it is difficult to find in the store and online.
To get started, check out the following online stores.
And of course we can also find the Brother CX155LA on Amazon.

---
That's our review of the Brother CX155LA. Tempted to give it a'sew'?
Not sure if this is the model for you? Browse through the other reviews of our sewing machines.