This site is supported by our readers. We may earn a commission, at no cost to you, if you purchase through links.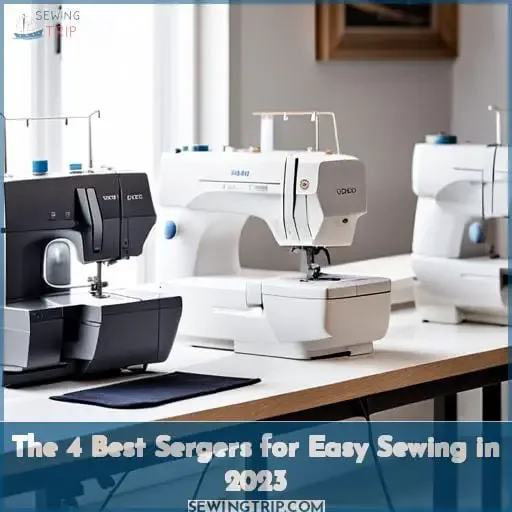 Oh, you poor, oppressed home sewer. Forced to toil away on that rickety old sewing machine, stitching garments together with mere thread and needle like some medieval peasant.
Let me introduce you to the serger, your gateway to sewing mastery and professional-quality results right from your own home. With the serger's quick serging stitches and raw edge finishing, you'll cut your sewing time in half while trimming and enclosing seams like an industry expert.
Bid adieu to frayed, unsightly hems and say hello to the sleek, polished look of store-bought apparel.
Join the revolution, take hold of the best serger, and unleash your inner sewing sorcerer! With the sergers reviewed here, you'll soon be churning out creations faster and better than ever before.
Key Takeaways
Serger features include trimming and encasing fabric edges, using 2-5 threads, and having a faster stitch speed compared to regular machines.
Quality brands for sergers under $400 include Singer, JUKI, Brother, and Janome.
Learning and using a serger involves taking photos of threading paths, noting tension settings, using quality serger thread, cleaning with a lint brush, and regularly changing needles.
Sergers empower home sewers to achieve a store-bought finish, handle various fabrics better than regular machines, and are ideal for making garments and home decor.
Top 4 Best Sergers Reviewed
Looking to add a professional finishing touch to your sewing projects? When choosing a serger, key models to consider are the Singer Professional 14T968DC for its versatility, JUKI MO654DE for portability, Brother Serger DZ1234 for power and ease of use, and Janome 8002D for quality construction.
With options ranging from basic to fully-featured, one of these highly-rated sergers will help you achieve a store-bought look right at home.
Singer Professional 14T968DC Serger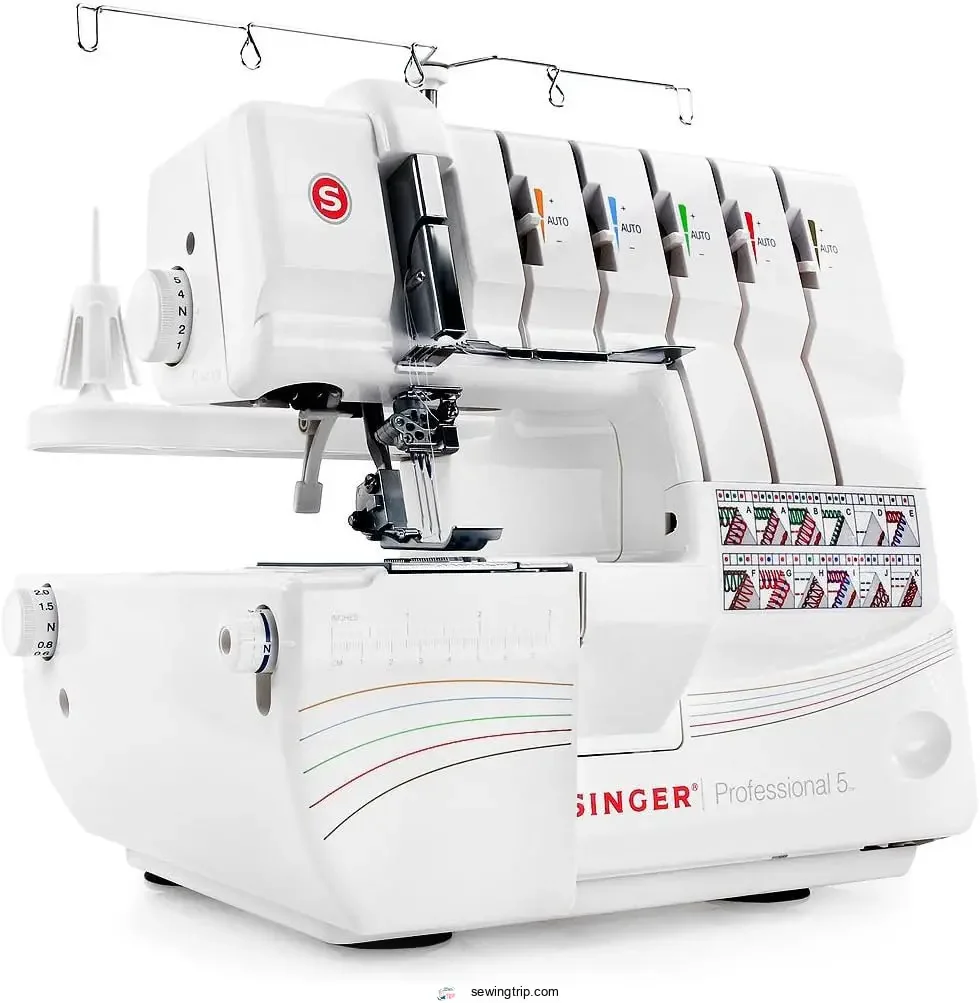 View On Amazon
A standout performer in its class, the Singer Pro 14T968DC offers advanced features like a 5-thread system, self-adjusting tension, and a max speed of 1300 stitches per minute that equip you to achieve a tailored finish across a range of fabrics.
With its sturdy metal frame and powerful motor, this feature-rich serger enables you to confidently tackle rolled hems, cover stitches, seams, edges, and hems on everything from delicate silks to heavyweight canvas.
The auto-adjusting tension takes the guesswork out of setup, while the adjustable stitch width finger lets you easily serge varying fabric weights and seam allowances.
While daunting initially, once mastered, this versatile machine can handle an immense workload with precision and ease.
5-thread capability provides versatility
Self-adjusting tension for convenience
Max speed of 1300 stitches per minute
Higher initial learning curve
No decorative stitches
Only for 110V use
JUKI MO654DE Portable Thread Serger Sewing Machine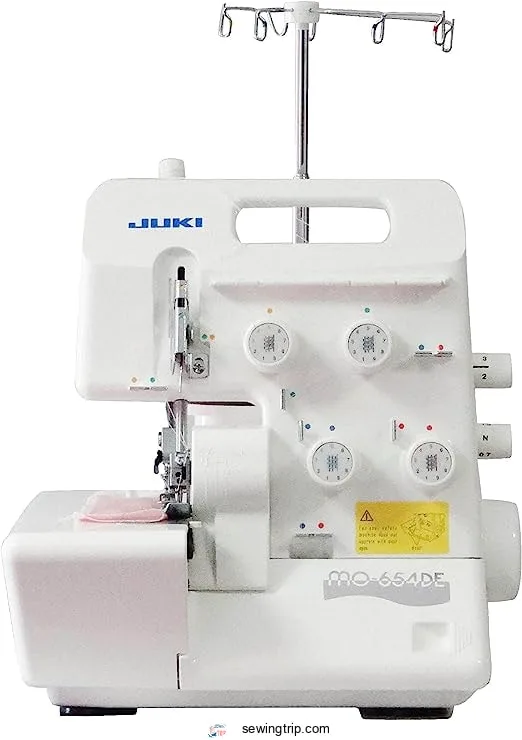 View On Amazon
You can craft professional hems and seams on-the-go with this nifty new JUKI serger that'll sew circles around those old Singer machines. The MO654DE weighs under 13 pounds, making it a cinch to toss in your bag for portable serging anywhere.
It zips through edges, prevents fraying, and encases them neatly with speeds up to 1500 stitches per minute across 2, 3, or 4 threads. The adjustable stitch length and width settings help adapt this workhorse for any project.
This popular and affordable serger will elevate your sewing game. It's portable, lightweight, and offers a fast sewing speed. With a variety of stitch options and trusted JUKI brand, it's a great choice for any sewing enthusiast.
Portable and lightweight
Fast sewing speed
Variety of stitch options
Safety features
Affordable price
Trusted JUKI brand
Can be tricky to thread initially
No decorative stitches
Limited warranty
Brother Serger DZ1234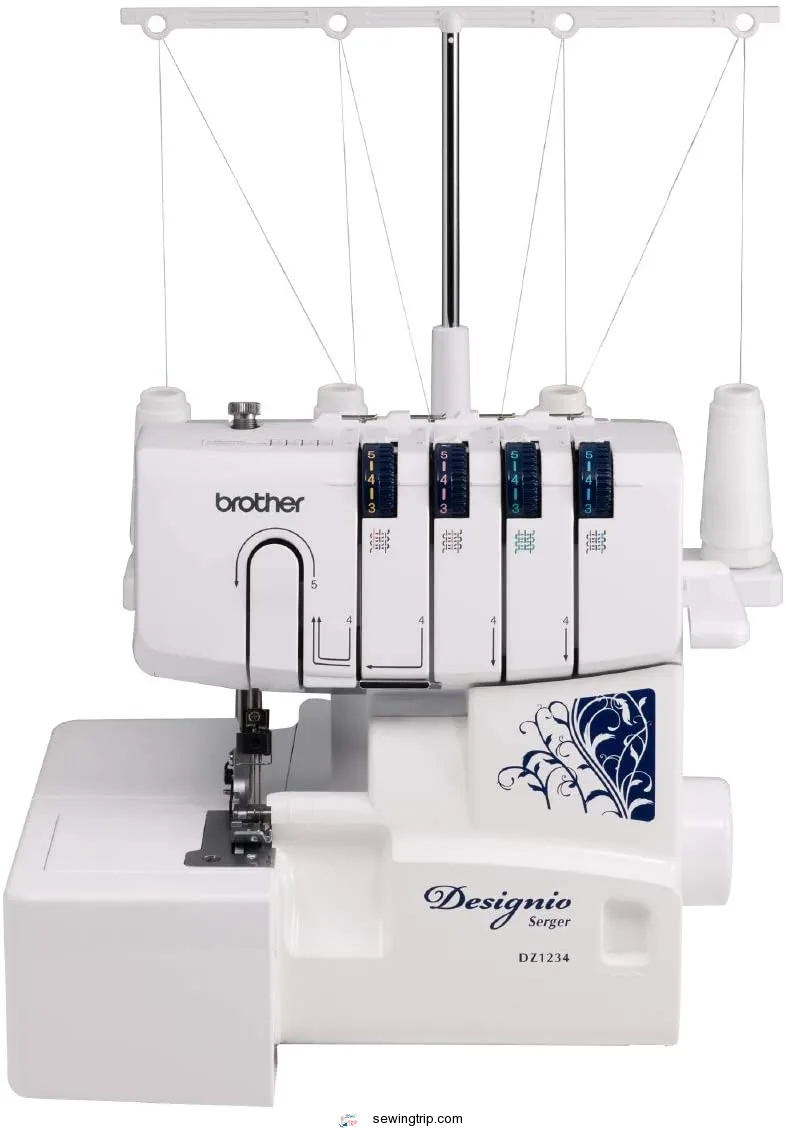 View On Amazon
Next up is the Brother Serger DZ1234, a USA-made 3/4 thread serger that's easy to use yet sturdy thanks to its metal frame. It has adjustable stitch width, can sew up to 1300 stitches per minute, and features color-coded threading.
This corded electric serger is perfect for both beginners and experts who want to neatly finish edges and seams quickly.
Released in 2013, the Brother Serger DZ1234 comes with specialty feet, starter thread sets, a video, and a manual. It is ideal for garment making and home decor projects, providing a professional edge to your creations.
However, please note that the warranty will be void if the serger is used outside the US, as it is specifically designed for 120V home use.
Sturdy metal frame
Fast sewing speed of 1300 stitches per minute
Adjustable stitch width
Color-coded threading
Suitable for beginners
Includes instructional video
Made in the USA
Can only be used in the US at 120V
Warranty will be void if used elsewhere
May be intimidating initially
Janome 8002D Serger Includes Bonus Accessories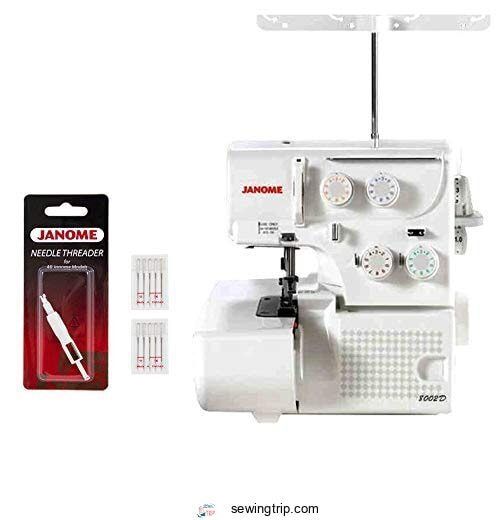 View On Amazon
The 8002D glides along edges like a teacher guiding students, folding and finishing fabrics with practiced ease to impart wisdom upon your projects. Offering four-thread serging, this Janome model provides a professional finish with its durable metal interior.
While threading the loopers takes focused effort initially, the 8002D rewards perseverance. Once mastered, it runs smoothly to produce clean seams. New sergers appreciate the included accessories and instructional materials, which accelerate the learning curve.
Comes with bonus accessories like tweezers and needles
Sturdy metal interior for smooth operation
Can start sewing right away if experienced
Creates professional finished seams
Good quality for the price point
Lower looper threading is challenging at first
Can be intimidating for beginners to thread
Need to look inside the machine during threading
No cover or case included
How Serger Machines Differentiate From a Traditional Sewing Machine

Unlike regular sewing machines, sergers use multiple threads and an overlocking stitch to join seams and encase raw edges for a professional finish.
Sergers trim the raw edges of the fabric as they stitch, preventing fraying and giving a tidy look.
They utilize 2-5 threads to form stitching that stretches with knits and prevents seams from popping open.
Sergers sew much faster than regular machines, up to 1500 stitches per minute vs 100-800, speeding up projects.
Sergers empower sewers to achieve a high-end finish. Mastering thread tension and differential feed expands possibilities from apparel to home decor. Their specialized abilities complement standard machines for increased efficiency.
Who Are Serger Machines For?

You're thinking sergers are just for pro sewers? Think again! Aren't those store-bought finishes calling your name?
From neatly finishing seams to rolled hems, sergers empower any ambitious home sewer. Sergers lend confidence by swiftly handling stretch, knit, and woven fabrics that regular sewing machines struggle with.
Their prowess neatly encases raw edges, preventing fraying on any sewing project. Their professional edge effortlessly hems and seam allowances with precision and speed. Sergers fuse flatlock and overlock stitches for durability, replacing tedious hand-finishing.
From garments to home decor, their versatility and efficiency will unleash your inner pro sewer. Quality serger brands under $400 like Janome and Brother now put boutique finishing well within reach.
It's your time to masterfully finish edges with flair using a serger's secret powers.
Expert Tips for Beginners on How to Use a Serger

Take the time when first threading your new serger to take pictures of the threading paths. This will give you an invaluable reference when you need to rethread. Note the tension dial settings that work on different fabrics so you can easily adjust when switching between materials.
And be sure to use quality all-purpose serger thread; regular sewing thread can snag in the loopers.
Take a Picture
Take a photo of the threading diagrams for handy reference as you learn to thread your new serger. The differential feed, color-coded threading, and small knives will help you achieve fast seam finishing and professional results.
Tension Adjustment
Carefully finesse the tension dials like a sculptor chiseling marble to achieve balanced stitches with your serger as you sew different fabrics. Test tension on scraps. Note settings. Make small turns. Adjusting tension requires patience, but mastery grants liberation.
Different fabrics require different settings. Quality thread prevents snarls. Clean lint from the machine regularly.
Choose the Right Thread
Make sure to use high-quality thread on your serger, not cheap spools that may snag or knot. Purchase serger-specific cones over standard sewing spools. Polyester thread works for most fabrics. Use cotton-wrapped polyester on delicates to prevent cut threads. When adjusting tension, begin testing with quality all-purpose serger thread appropriate for your fabric.
Match lightweight thread to light fabrics. Use thicker thread on heavy knits and denim to finish seams cleanly. Having the right thread is key for skipping stitches and balanced tension. Quality thread prevents frustrating thread breaks and enhances your serging.
How to Clean Your Serger?
Regularly cleaning your serger keeps it running smoothly and prevents frustrating breakdowns. Use a lint brush to sweep away lint buildup. Unplug first. Avoid compressed air, which blows debris into crevices.
Gently wipe with a dry cloth. Apply a small drop of sewing machine oil on moving parts. Never submerge in water. Check tension discs and change needles often. Proper serger care maintains performance.
What is a Serger and Why You Need One

You'd be well advised to get yourself a serger to speed up your sewing and give a store-quality finish. Assembling seams with a standard sewing machine leaves raw edges. A serger uses multiple spools of thread to encase the fabric edge as it sews, preventing fraying.
Sergers whip through tasks much faster, some up to 1500 stitches per minute. With 2-5 threads available, you can produce various overlock, rolled hem, and coverstitch styles. Differential feed handles stretchy knits too. Don't shy away, thinking sergers are too complex.
Master threading by taking photos and noting tension settings per fabric. Invest in a quality serger like the Singer 14T968DC or Juki MO654DE to expand your capabilities. Pair it with your regular machine, and you'll impart professional results to all projects.
Which Serger is Best?

When considering which serger is best for your projects, the key factors are stitch options, ease of threading, speed, portability, and warranty coverage to get the most versatility and value for your needs.
The Singer Pro 14T968DC offers versatile 5-thread stitch options with a powerful motor, capable of up to 1300 stitches per minute.
The JUKI MO654DE is lightweight and portable, with handy 2-3-4 thread capabilities.
The Brother DZ1234 provides quality 3/4 thread serging, with a sturdy metal frame.
For beginners, the Janome 8002D comes pre-threaded, so you can start serging immediately.
Evaluate serger life, brands, features, and reviews to find the right match. Choose one with sufficient stitch options, threading aids, speed, and warranty protection to empower your sewing projects with flawless finished seams.
Frequently Asked Questions (FAQs)
What accessories and feet come with sergers? Most sergers include basic accessories like tweezers, needles, screwdrivers, spool caps, lint brush, etc. Extra feet for rolled hemming, piping, blindstitching may be included or sold separately.
Different presser feet let you make rolled hems, piping, and blindstitching. Tweezers help you grasp threads. Screwdrivers adjust tensions and needles. Brushes keep lint away so stitches glide smoothly.
Spool caps hold threads taut. You'll have the tools for professional, finished seams.
How do I maintain and clean my serger? Regular cleaning keeps sergers running smoothly. Brush lint after each use. Oil following manual guidelines. Replace needles regularly. Don't use canned air. Have it serviced annually.
To maintain your serger, clean the lint after use, oil it as the manual says, and replace the needles regularly. Don't you want it to run smoothly? Have it serviced yearly for optimal performance. Use proper tools only – no canned air! Proper serger care keeps it humming for years.
Can I sew knits, stretch fabrics, and lightweight silks on a serger? Yes, sergers are ideal for stretchy knits. Adjust differential feed and use a stretch needle. Lightweight silks can be delicate, use lower stitch length and slower speed.
You can absolutely serge silks and knits. Just be sure to choose the right needle – use stretch or ballpoint needles for knits and sharp needles for delicate silks. Set the differential feed between 0-2n Stitch carefully on a scrap first to check tension.
What thicknesses can a serger handle? Most home sergers can sew light to medium-weight fabrics 2-8 oz. Industrial sergers are needed for heavy canvas, denim, upholstery.
You can tackle light to midweight fabrics with most home sergers. Like a tailor's shears, they'll finesse wovens up to 8 oz with ease before needing a commercial workhorse for heavyweight stuff. An inexpensive serger empowers home sewers to elevate everyday projects to crisp perfection.
Is a coverstitch machine better than a serger? A coverstitch creates a professional hem finish, but doesn't trim fabric. Most home sewers don't need one. A serger provides versatility for finishing seams, edges, hems, and more.
Conclusion
And there you have it. Serger machines unlock endless possibilities for finishing projects and bringing your creations to life with professional edge perfection.
The models reviewed represent the finest options to start your serging journey on the right foot. Whether you're making soft baby blankets, chic clothing, or elegant home decor, sergers like the JUKI MO654DE allow crafters to sew faster and achieve clean finished seams worthy of boutique quality.
Mastering the art of serging takes time and patience, but the rewards are well worth the effort. Embrace these modern sewing workhorses and see your sewing skills transformed to new heights.