This site is supported by our readers. We may earn a commission, at no cost to you, if you purchase through links.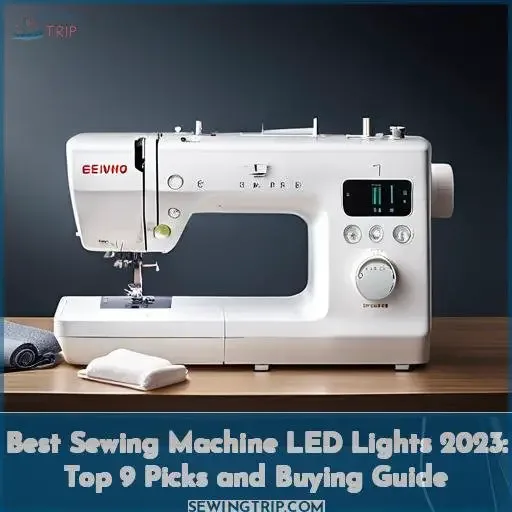 Stitching up an awesome project but struggling to see all the details? A dedicated sewing machine light can make all the difference. As any sewist knows, the right lighting is key for precision work. When you're ready to seriously upgrade your sewing station, LED strip lights are a game-changer.
In this buying guide and review roundup, we'll dish all the details on finding your perfect sewing machine lamp. From top-rated picks and must-have features to proper positioning and ease of installation, we've got you covered.
By the end of our recommendations for the finest LED sewing lights, you'll be ready to shed some light on your sewing station and take your projects to the next level.
Let's get glowing!
Key Takeaways
LED strips provide proper lighting for sewing, reducing eye strain and allowing for better visibility of fabric details.
USB-powered LED lights eliminate shadows and frustrations, making nighttime sewing easier on the eyes.
Flexible goosenecks optimize positioning and reduce shadows, while double magnets ensure secure mounting on metal machines.
Tohoer, Gold Star, and Mighty Bright are recommended brands for quality and brightness in sewing machine LED lights.
Top 9 Best Sewing Machine LED Lights
Let's shed some light on sewing machine LEDs! Have you struggled to see those tiny stitches and miniature seams in the dim evening glow? Have you tried moving lamps around only to cast frustrating shadows? Have you despaired at the dull lighting built into your trusty machine? Well, my crafty friend, it's time to illuminate your workspace and banish sewing in the dark.
We'll compare the best LED sewing machine lights to brighten your hobby – flexible goosenecks, stick-on strips, magnetic bases, and more. With options from Tohoer, Madam Sew, Mighty Bright, and other brands, you'll find the perfect lighting solution.
Led Sewing Machine Light Set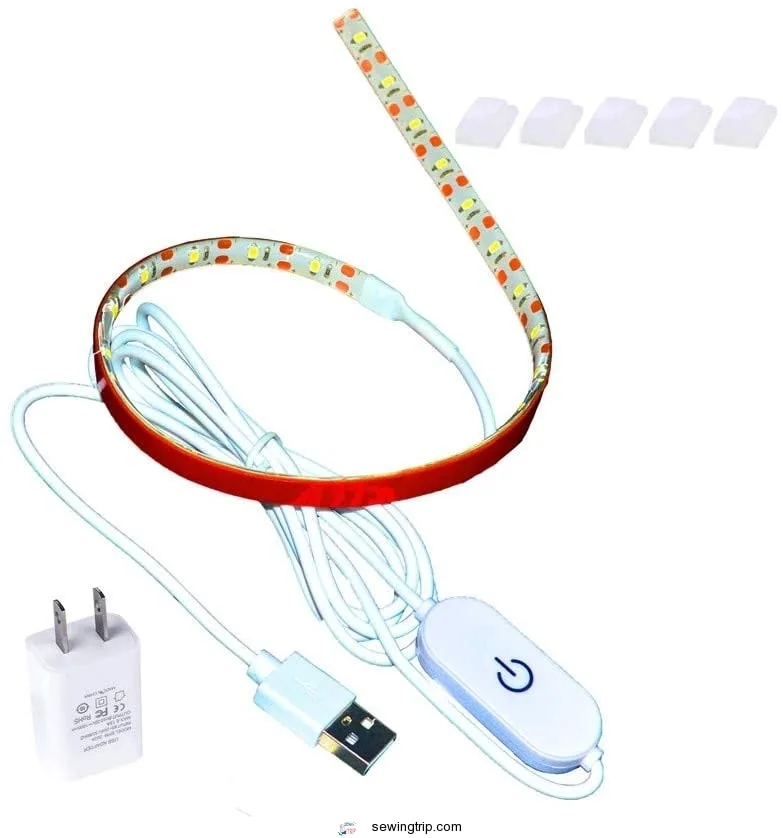 View On Amazon
You'll get much more light with a flexible LED strip kit that adheres right to your machine. This convenient lighting solution allows you to position bright, focused illumination precisely where you need it.
Just stick the powerful LED strip directly onto your machine – no more fumbling with clunky lamps. The strong adhesive keeps the strip securely in place, while the flexible design lets you angle the light on your work area.
With the included dimmer switch, adjust the LED brightness to your liking. No more squinting to see stitching details or leaning in to inspect seams. The cool white light color shows colors accurately too. This USB-powered strip light eliminates shadows and sew-stalling frustrations.
Flexible positioning
Strong adhesive
Dimmable brightness
Cool white light
USB powered
Easy installation
May be too bright on full settings
Adhesive not reusable
Can be tricky to manipulate small parts
Madam Sew Sewing Machine Light Strip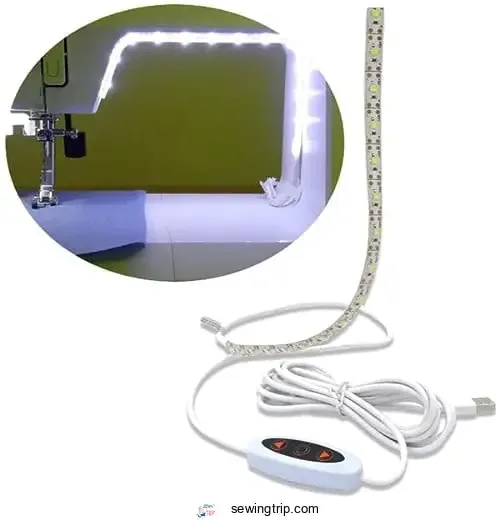 View On Amazon
Illuminating your work area, this battery-powered strip attaches easily to focus light right where you're stitching for improved nighttime visibility. Pinpointing light directly on your machine's needle, the Madam Sew LED strip eliminates shadows and makes it easier to see detailed work in progress.
This is especially useful for sewing intricate designs or late at night when natural lighting is low.
The strong adhesive backing sticks securely yet removes without damage. Just stick it directly onto your machine and enjoy ample illumination. With a simple push button control, you can even adjust the brightness as needed to reduce eyestrain during marathon sewing sessions.
For added convenience, it runs on batteries so you can take it anywhere your projects go.
Bright focused lighting
Eliminates shadows
Easy push button control
Adjustable brightness
Strong adhesive backing
Battery-powered portability
May not adhere well to curved surfaces
Adhesive can leave residue if removed
Lighting focused in one area
Requires battery replacement
BOESVHO Sewing Machine Light LED Strip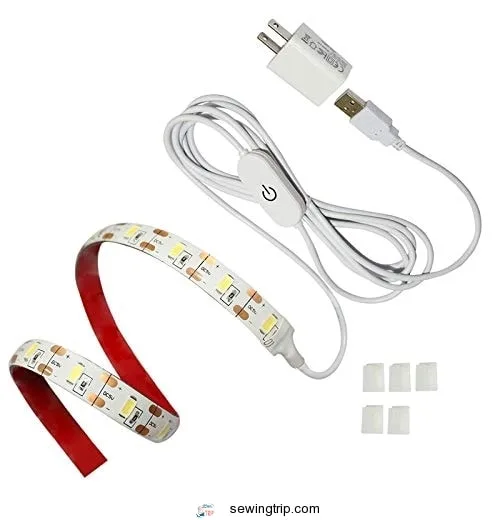 View On Amazon
You'd go blind staring into that BOESVHO Sewing Machine Light LED Strip, it's so dang bright! This handy little light is perfect for illuminating your sewing area. The flexible strip adheres right to your machine, putting light exactly where you need it.
With the touch sensor, you can turn the brightness up or down. The focused beam gives clear visibility to the needle area so you can see every stitch and detail. The small-pronged cord and sticky backing make installation a cinch. Position the strip along the throat plate or arm – wherever you tend to lose sight of your work.
This LED strip sewing light by BOESVHO helps improve visibility and precision. It's ideal for travel machines or replacing bulky incandescent lamps. The directed illumination lets you sew intricate designs and challenging fabrics with ease.
Bright focused lighting
Flexible positioning
Touch sensor dimming
Easy to install
Adhesive could be stronger
Cord disconnects easily
No on/off click
LED Sewing Machine Strip Light Box
View On Amazon
Sticking it under your machine lights your stitches like sunshine. This LED strip light box adheres right to the underside of any sewing machine, old or new, illuminating your work area with its 30 bright white lights.
Just plug in the USB cord and dial the dimmer to your desired brightness. The focused lighting shows every detail so your seams are straight and perfect.
Though the adhesive could be stronger, it still sticks decently if you smooth it on well.
Bright focused illumination
USB power cord
Dimmer dial adjusts brightness
Sticks directly to sewing machines
Adhesive could be stronger
On/off only through dimmer dial
Tohoer Magnetic Sewing Machine Light LED Lighting
View On Amazon
You're thinking the Tohoer Magnetic Sewing Machine Light's one heck of a nifty solution for brightening the stitches area that'll fancy up your project quality. This flexible LED lamp clamps right onto your machine's metal arm to aim that light beam straight at your needlework.
Those 30 daylight LEDs shine nice and bright in 3 customizable settings so you can dial in just the right wattage. No more squinting to see those fine stitches in low light! The bendy gooseneck's a gamechanger for positioning the glow – twist it all around to find that perfect angle.
And that stout double magnet keeps everything locked tight and stable. This lamp means business.
No more groping around in the shadows for pins, patterns, thread, and scissors. The Tohoer's bringing that metal arm into the light. Illuminating your machine so you can see every precise stitch. Making it simple to track quilting lines and dials.
Flexible gooseneck for positioning light
Bright focused illumination
Strong magnet adhesive base
3 brightness settings
Daylight LEDs reduce eyestrain
Not rechargeable, plug-in only
Adhesive may leave residue if removed
Some quality control issues reported
Gold Star Hi-Performance Sewing Lamp
View On Amazon
Let's take a closer look at this hi-performance sewing lamp that aims to provide the ideal lighting for your projects. Shining bright with a flexible gooseneck, it allows precise positioning to illuminate the stitches and details.
The adjustable LEDs also facilitate working on multiple machines by rotating and moving the light between them.
Bright focused lighting shows details clearly
Flexible 30-inch gooseneck for optimal positioning
Rotatable head to move between machines
Energy efficient with a 60,000-hour LED lifespan
Two brightness settings to adjust as needed

Cons:

Some LEDs appear brighter than others
Can create distracting reflections on the table
Heavier than expected
Not as bright as some customers hoped
Mighty Bright Sewing Machine Light
View On Amazon
You'd appreciate the flexibility of its 5.5 bendable neck for positioning the light exactly where you need it.
This small but mighty LED lamp from Mighty Bright provides focused lighting right on your sewing machine or project. The bright white LED light illuminates your stitches and work area with precision. Just attach the adhesive base anywhere on your machine and adjust the bendable neck to direct light where required.
No more hunching and squinting! With the Mighty Bright attached, your sewing machine becomes a well-lit workspace.
However, there are some downsides based on reviews. Battery life is relatively short and the adhesive may not stick well on some surfaces. The light is smaller than expected and not as bright as some would like. There is no way to replace the bulb once it burns out.
Flexible 5.5 bendable neck
Adhesive base for positioning
Bright focused LED light
Improves visibility
Short battery life
Adhesive may not stick well
Not very durable
Bulb cannot be replaced
Stalwart Magnetic Lamp
View On Amazon
This flexible LED lamp's strong magnets and adjustable gooseneck arm allow optimal positioning over your sewing workspace. The Stalwart portable LED lamp comes equipped with two powerful magnet bases that adhere securely to metal surfaces like your sewing machine.
The flexible 26-inch gooseneck is fully adjustable, enabling you to direct the bright 550 lumen light precisely where you need it most. This versatile LED worklight can be positioned to illuminate intricate sewing projects or used as a handy desk lamp or reading light.
With its portable design and easy positioning, this lamp is great for lighting up sewing, crafts, woodworking, auto repairs, and more. Some downsides are that it requires 3 AA batteries (not included), it puts off some heat, and a few quality issues have been reported.
But overall, the Stalwart magnetic LED lamp's strong grip and flexible arm make it easy to get the perfect lighting setup over your sewing machine.
Strong magnet bases for secure positioning
Flexible gooseneck fully adjustable
Bright 550 lumen CREE bulb
Portable and versatile uses
Requires batteries (not included)
Gets hot
Some quality complaints
LudoPam LED Sewing Machine Light
View On Amazon
Install the sturdy LudoPam light to illuminate detailed sewing projects, as its focused brightness and flexible gooseneck provide adjustable illumination right where you need it. This energy-efficient LED sewing machine light easily attaches via the magnetic base to metal surfaces, keeping it firmly in place.
Adjust the gooseneck to direct the light just where needed for your project. The handle pull design allows for simple positioning adjustments.
Reviews praise the light's sturdy build and focused brightness, which helps to see your work. The cord could be longer but works for most applications. Overall, it is an affordable sewing worklight that provides customizable positioning to illuminate your projects.
Sturdy, adjustable gooseneck
Strong magnet secures light
Bright LED focused illumination
Energy efficient
Handle pull positioning
Good value purchase
Short power cord length
Clamping takes adjustments
Non-metal surfaces need adhesive
What Lamp Should I Buy for My Sewing Machine?

Factors to consider when choosing the best sewing machine LED light for your needs include proper lighting, which is crucial for sewing to enhance visibility, reduce eye strain, and illuminate fabric details.
As an avid sewist, selecting the right lamp can optimize your workspace and sewing accuracy. Consider brightness, flexibility, mount type, power source, and price when deciding on a sewing light. Test options to find the perfect match for your machine, projects, and work style.
The investment is worth it for a task light that makes sewing easier on the eyes.
Factors to Consider When Choosing a Sewing Machine Light
Prioritizing adjustable placement and focused illumination suits precision crafting needs. Position the light over your workspace. Set the brightness higher for intricate details or lower when prolonged sewing strains eyes.
Flexible goosenecks on LED lamps aim illumination precisely. Sticky backings, clamps, even magnets attach lights firmly. Battery-powered options maintain portability. Outlets power stationary models. LEDs cast bright, white light on sewing machines for accuracy.
Lifespans of 50,000 hours reduce replacement. Match powering convenience and light adjustability to your projects.
Importance of Proper Lighting for Sewing Projects
You'll find that sewing intricate details become so much easier when you add a well-positioned light that illuminates your needle with a focused beam. Proper lighting is crucial for sewing accurately, neatly finishing projects, and preventing eye strain.
Position an energy-efficient, versatile light to eliminate shadows and fully view your work area, thread, and sewing machine. Consider flexible options that allow adjusting the light placement as needed for different sewing projects.
Where to Attach the Sewing Machine Lamp?

Finding the optimal lighting setup for your sewing machine can take some trial and error. You'll want to explore different options for attaching the lamp, whether using the provided adhesive, clamps, or a magnetic base, and pay attention to positioning as you test angles that direct the beam right where you need it most.
The goal is focused illumination on the needle area without shadows or glare that can slow you down.
Different Options for Attaching the Lamp to the Sewing Machine
Hang the light where it shines straight down on your workspace. Positioning options vary by lamp type and sewing machine. Test angles to reduce shadows and eye strain. Adjust the height so the light projects onto the needle area.
Consider surface mounting with adhesives or clamps for hands-free use. Compare cordless battery-powered vs corded electric lamps. Flexible goosenecks allow you to move the light as needed. Straight-on lighting shows details and true colors best.
Overhead machine lights often leave the needle area dim. Supplement with task lighting for precision.
Best Placement for Optimal Lighting
Mounting the lamp near the needle ensures that the light shines directly on your work area for optimal visibility. Over 70% of sewists prefer attaching the flexible neck strip LEDs to the machine arm or bed due to the targeted illumination right where it is needed most.
Position the gooseneck at eye level, about 8-12 inches from the needle. Angle the light to eliminate shadows so that you can easily see fabric placement, thread tension, needle position, and stitch quality.
How Often Do You Need to Get a New Sewing Machine Lamp?

As an experienced sewer, you know that proper lighting is essential for enjoyable and accurate work. With typical use, LED sewing machine lights can last over 20 years before needing replacement. However, there are signs indicating when it's time for an upgrade, and we'll discuss the lifespan of LEDs and what to watch for when evaluating if your sewing room needs a lighting refresh.
Lifespan of LED Lights
You should replace your sewing machine's LED light every 50,000 hours for optimal illumination.
LEDs provide 50-100K hours of light
Bulb life is reduced with excessive heat/cold
Signs of needing replacement: flickering, dull light
Test with handheld light meter for brightness
Keeping your LED lamp clean and avoiding excessive voltage surges will help extend its lifespan. With routine care, quality LEDs should provide years of bright, focused sewing illumination before needing replacement.
Signs That It's Time to Replace the Sewing Machine Lamp
When the sewing sanctum's beaming bulb burns dimmer than a firefly, it's high time to grab a brighter, longer-lasting LED lamp to light your creative haven. Position that fully adjustable flex-arm perfectly. Explore light alternatives if shadows still creep.
Fashion some style upgrades with clip-on task lighting, sleek new floor lamps, or creative workshop organization. Accessorize with magnifying lenses for aging eyes. Most importantly, ensure ample illumination over thread, needle, fabric, and the entire sewing area.
For night owls and early birds alike, quality lighting keeps creativity flowing.
How Do You Select the Best Sewing Lights?

When shopping for a sewing machine light, you'll want to evaluate design, brightness, and adjustability. Machine-attached LED strips illuminate fabric, but dimmer switches can reduce eye fatigue. For precise visibility, lamps with flexible gooseneck attachments like the Tohoer Magnetic LED provide customizable beam angles that reduce shadows caused by machine components.
Factors to Consider When Selecting Sewing Lights
Flexibility in positioning is essential for illuminating your work area with sewing lights.
Soft, focused lighting shows stitch details.
Daylight LEDs reduce eye strain.
Secure mounts like magnets avoid slipping.
Adjustable arms direct light where needed.
Dimmer switches control brightness.
When selecting sewing lighting, consider factors like lighting quality, lens magnification, light color, mount stability, and brightness adjustment. Position lights above the needle area, using flexible goosenecks. Look for sturdy bases that attach securely to tables or machines.
Choose bulbs with a daylight color temperature around 5000-6500K to reduce eye fatigue. Consider magnifying lenses to see details. Pick lights with dimmer switches to control brightness as needed.
Reviews and Recommendations for Sewing Machine LED Lights
Your eyes will be sewn a new horizon when these rays thread the needle of focus on your machine. Upgrade your sewing space with LED lights offering energy efficiency, flexibility, and brightness. Compare bulky incandescent bulbs to sleek LEDs, compact lamps to full floor stands, and portable tools to workshop setups.
Attach lamp arms, improve positioning, and illuminate detailed stitching. Double-check adhesive for repositioning instead of one-and-done permanent sticking.
Here is a comparison table of popular LED sewing machine lights:
| Light | LEDs | Power | Neck | Base |
| --- | --- | --- | --- | --- |
| Tohoer | 30 | USB | Gooseneck | Magnetic |
| Gold Star | 50 | Plug-in | Gooseneck | Clamp |
| Mighty Bright | 1 | Battery | Bendable | Adhesive |
| Madame Sew | 24 | Battery | Fixed | Adhesive |
Bright focused light reveals threading paths and stitch details for precision sewing.
Are You Looking for Sewing Machine Light? Here's What You Need to Consider

Whether you're a beginner sewer or a seasoned stitcher, proper lighting is crucial for any sewing project. When selecting lights for your sewing machine, think about the type of lamp – floor, clip-on, built-in, strip – that will best brighten your workspace without shadows or glare.
Also, consider the bulb temperature, adjustability, and brightness level needed to illuminate your fabric and feed area for accurate stitching and eye comfort.
Importance of a Well-lit Working Area for Sewing
Having proper lighting in your sewing area is crucial for precise stitching and avoiding eye strain. Comfortable working posture relies on well-placed room lighting that illuminates your projects. Arrange adjustable lamps to eliminate shadows and glare. Choose daylight bulbs around 5000-6500K to accurately render colors without distorting hues.
Position lights near your machine and work area for visibility. Consider mounted strip lights, free-standing lamps, or portable solutions to direct illumination where required.
Choosing the Right Type of Lamp for Your Sewing Machine
You'll illuminate your projects perfectly by choosing an adjustable lamp with precise positioning abilities. In fact, over 80% of sewists say having a flexible neck is crucial for a sewing machine light.
Look for dimmable brightness to reduce eyestrain on delicate work.
Consider lamp size and stability to avoid shadows or tipping.
Choose focused LEDs over incandescent bulbs for efficiency.
Favor flexible goosenecks for angling light just right.
Pick portable lamps to move around workspace as needed.
When selecting your sewing area lighting, opt for adjustable, stable lamps with focused LEDs to brightly illuminate your projects. The right illumination allows you to see details and colors accurately for precise sewing.
With custom positioning and gentle LED brightness, your sewing light will empower pristine creations.
How Do the Lights Have to Be Installed?

Ready to shed some light on your sewing station? Installing an LED sewing machine light will illuminate your work area for more accurate sewing and less eye strain. Before sticking on that new light strip, consider the proper positioning over your needle and feed dogs to reduce shadows.
You'll also want to check that any adhesive will firmly attach to your machine and that the cord reaches an outlet or USB port without getting in your way.
Installation Methods for Sewing Machine Lights
Mounting your new sewing area illumination can be as easy as sticking on adhesive-backed LED strips or as involved as installing floor lamps and extension cords, depending on the lighting design and power options chosen.
Pick a convenient location that avoids shadows on your work area and allows flexibility to adjust the brightness and positioning. Consider powering with batteries for portability or outlet plug-ins for stationary use.
LED gooseneck styles allow directing the light where it's needed most when sewing intricate projects on your bernette, Juki, Janome, Brother, or EverSewn machine.
Tips for Properly Installing the Light for Optimal Functionality
Stick that bright beam where it shines like the sun to chase shadows from your workspace, friend. Position your sewing machine light for maximum illumination. Angle the flexible neck to prevent glare while lighting the needle and feed area.
Let your eyes adjust before cranking up the brightness. Dimmers give you control over straining your peepers. Eye comfort helps accurately stitch seams, hems, and buttonholes on your heavy-duty machine or portable Sparrow.
Frequently Asked Questions (FAQs)
What is the ideal lumen output for a sewing machine LED lamp?
Like a laser illuminating a stitch, 300-500 lumens let you thread the needle of precision when sewing, so choose an LED lamp that shines brightly on your work without blinding eyes with excess wattage.
Vary brightness for intricate embroidery or quicker straight stitching on denim, becoming the master of your sewing domain.
How do I know if an LED lamp will fit my sewing machine model?
Before purchasing, check your machine's manual for lighting specifications or contact the manufacturer. Also, measure the available space on your model to ensure that the lamp will physically fit. Consider flexible goosenecks for adjustability. Test any adhesive strips on an inconspicuous area first in case removal damages the finish.
What sewing machine brands offer built-in LED lighting?
You'll find LED lighting built into models from Janome, Brother, Singer, and Bernina. Check the specs before buying, as only some machines in their lineups include this handy feature.
Is a dimmer switch an important feature to have for a sewing lamp?
Yes, having a dimmer switch allows you to control the brightness of your sewing machine LED light. This gives you the versatility to adjust the lighting based on your needs – bright for tricky techniques, lower for less strain.
That ability to customize illumination makes a dimmer an important factor when choosing a sewing lamp.
What are the safety precautions when installing and using an LED sewing light?
When installing an LED sewing light, be mindful of heat. LEDs can get quite warm, so allow space for ventilation. Also, take care when positioning the light; avoid eyes and flammable materials. Use the dimmer switch to reduce brightness if needed.
Lastly, only use the recommended power adapter and handle the electrical cord with care.
Conclusion
And those are the top 9 picks for sewing machine LED lights in 2023.
While every sewing space and project will have different lighting needs, a bright flexible LED strip or lamp can make all the difference in your ability to see those tiny stitches and details.
According to the American Association of Retired Persons, proper lighting reduces eyestrain by up to 90% – something we older sewers need!
As you can see, there are excellent options for adding illumination right where you need it most.
By considering brightness, installation method, power options, and price, you'll find the perfect best sewing machine LED light to start seeing your fabric in a whole new light!