This site is supported by our readers. We may earn a commission, at no cost to you, if you purchase through links.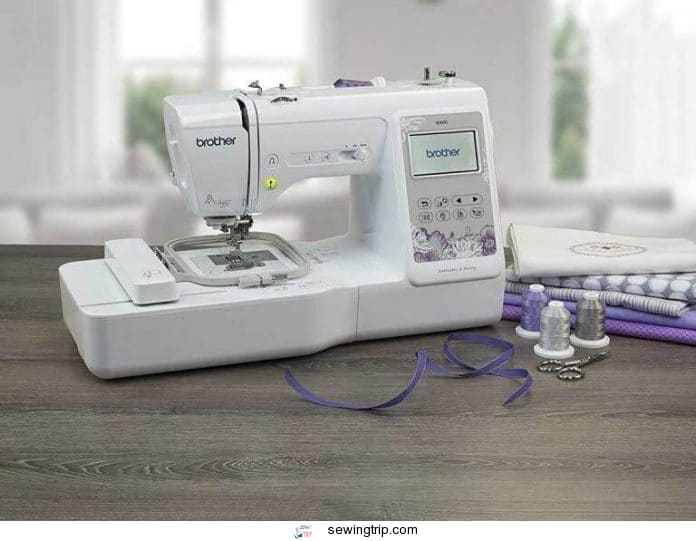 If you decide to drop by this page, you are probably looking for a sewing machine that can powerfully speed through the fabrics of your choice, as well as some chic, decorative crafts. Brother SE600 is one of the most popular options on the market today, and you can branch out and develop your craft like a pro.
In 2018 it the Women's Choice Award, with 9 out of 10 customers recommending it to others. . stomers on Amazon have given it 4.3 out of stars, with 77% claiming their experience is excellent. And it didn't fall out of the blue. Brother is one of the leading sewing machine manufacturers, known for decades for their excellence and innovation.
Many seamstresses are still reluctant to replace their mechanical workhorses with computer-controlled machines, as they do not want to rely on software and digital systems that can easily go wrong. But times are changing and more and more people are realizing the importance of making the sewing process easier and more elegant with automation. The Brother SE600 is a perfect example of a machine with bells and whistles that doesn't take weeks to master.
So I'll give you an in-depth discussion of helping you consider whether you need this machine. But before we get into the reasons you should or shouldn't get one, let's take a quick look at the machine's highlights.
Main Features of Brother SE600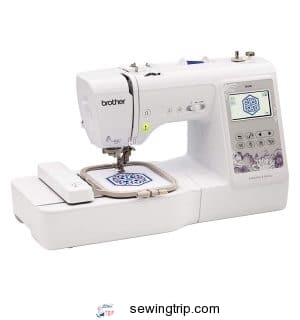 Click here to view price on Amazon
This Brother machine is computer controlled which means it has many automatic functions are supposed to make your life a lot easier. a large 3.2 inch smart color LCD screen it is easy to choose your designs and show your edits before actually making the first stitch.
The 103 built-in stitches, 80 built-in embroidery designs and 6 built-in embroidery fonts are not the end of your life. possibilities – you can import even more designs via a USB port. Until now, computer connectivity has been a feature reserved for advanced machines. With this model you don't have to pay an arm and leg to get endless creative possibilities.
A series of decorative stitches represents an extra opportunity for your craft. Choose from Greek key, decorative scrolls, waves, stars, hearts, feathers, scallops and more. As for the characters, you can also customize them by choosing from small, medium and large.
Other automatic functions include 4 x 4 embroidery patches, start and stop button sewing, automatic needle threader and thread cutter, needle up / down so that the fabric can without lose the stitch, speed control so you can sew at different speeds for different work, as well as a drop feed if you enjoy free-motion sewing.
Quilters will appreciate extra space in the workspace from needle to arm, although it is still far from being enough for larger quilting projects. Seven presser feet feature spring action zigzag, buttonhole, overcasting, monogramming, zip fastening, blind stitch and button sew-on feet.
According to the product description, the machine sKcYnW6DhogXBVG cut through thicker fabrics thanks to the longer zigzag foot and 7-point conveyor, so that the fabrics can move faster without clumping together.
As you unpack the package, you will also find a twin needle, a stopper plate, 2 bobbins, 3 EUwtF clips, a 6-piece needle set, a screwdriver, a set of spool caps, scissors and a cleaning brush. There is no hard cover – just a dust cover. But again, it wouldn't be typical for machines in this price range.
Compared to its awful predecessor Brother SE400, this beauty is much easier to handle oIB3J the larger LCD screen which is colored so you can see details better. They also improved the number and variety of built-in stitches and embroidery designs, plus SE400 did not have the USB port. However, both models have the same sewing speed of 710 stitches per minute – not enough for industrial sewers, but satisfying when done on a smaller scale. Their embroidery speed is 400 stitches per minute.
If you often work on embroidery projects, keep in mind that you can edit and manipulate the embroidery designs by positioning and changing them. their colors on the touch screen and see what it all looks like before you leak your fabric for the first time.
Finally, in case you're wondering what the warranty is, you get a 2-year limited warranty on chassis casting. Rssu7oN7a6R0USE7MoDja0qaPADcGsnDstG for 1 year, while vnY7SVyg3OCiIe3mMmTYiz7mVasSCRjJHH for 2 years.
Advantages
Beginner Friendly. Switching between sewing and embroidery is a breeze and shouldn't take more than a few minutes, even if you're just learning – just switch the foot and base. Use the LCD screen for the most benefit: when you select your stitch it will tell you which foot to use with it. Even customers who have never sewed found it easy to set up and complete their first projects within days. Built-in tutorials are easily accessible on the smart screen, eliminating guesswork during the initial setup. If you've never used a sewing machine, there will of course be a learning curve. But it won't be as steep as most other machines.
Top drop-in coil resists jamming. Bobbins can be a nightmare, especially when loaded to the side and get stuck easily. With this model, the top drop-in spool with a transparent sheath, so you can always monitor the wire feed and don't PTO8Q3vVRXd3WR running out of wire during a project. This coil technology is one of Brother's hallmarks, present in all of their newer models.
The stitch length and width are adjustable on the touch screen. By adjusting these parameters you can control the tightness of your seams. It will be of great help if you are working with thicker fabrics or with several layers of light fabric, which are better off with a looser stitch.
Adjustable Speed Control is a crucial feature for many a seamstress – at least I know I couldn't live without it. Of course every machine has a speed control system in the foot pedal, but it is often very difficult to apply just the right amount of pressure. That's why this slider is so great – it offers consistent speed, which can be the difference between ruining your fabric and doing a beautiful, accurate and neat job.
The USB port is an enormous advantage as it doesn't limit you to the number of built-in designs. You can easily download thousands of them for free or buy them from some specialized websites like 7 Embroidery, Amazing Designs for really cheap (only 2 ¢ per design), or create them in Stewart or embed software, save them in the. pes- and. dat formats and transfer them to your computer. Prior to this model, Brother only implemented this feature in their advanced models. Now it is available at a fraction of those prices.
The price / quality ratio is great. Also 's certainly not one of the cheapest options, it's many and versatile features make this a great buy considering what you're getting. The stitch quality and automatic needle threader equate this machine with too many high-end solutions, which would cost you over $1000.
The LED lamp illuminates the work area enough so that your work will not suffer if it is not enough light in the room.
Free Arm Option can when removing part of the base. It is a great asset for parts that are difficult to access, such as collars, sleeves, cuffs.
A lot of automatic options will reduce your time and effort. Almost everything at the touch of a button, making the sewing experience seamless. As if the automatic needle threader wasn't useful enough on its own, the smart screen will even tell you step by step what to do. The start / stop button and speed controller eliminate the need to use a foot pedal unless you're used to doing it the old-fashioned way.
There is many built-in embroidery designs, but even that's not the end of your options. Import as many designs and fonts as you want via the USB port. There are even built-in Japanese characters, which is a pretty cool option for uniforms and costumes.
The machine is quiet enough for each apartment. Your neighbors won't protest, even if you're in the habit of burning midnight oil.
It is lightweight and portable. While industrial sewing machines boast of stability (because of its weight) and sturdiness, this little device is very handy and you can move it anywhere, or even take it to your sewing classes without breaking a sweat.
Disadvantages
Some customers report needle breaks. It may have happened because of poor thread tension.
The 4 x 4 hoop is not big enough for larger projects. Although this is a combination machine, people who mainly use it for embroidery will miss it in some ways, so keep this in mind.
The throat space is too small for large or even average quilting projects. It can only handle tiny things. If you are a regular quilter, you definitely need a bigger machine.
There is no change of the presser foot pressure. It would be very helpful when sewing through multiple layers so they would move smoothly and the fabric wouldn't slip.
The walking foot is not included. If you've ever tried working with leather or similar thick fabrics, you know it's a mission impossible to handle without a walking foot. Leather will stick to a regular presser foot. Smooth fabrics glide, interrupting the smooth feed of the fabric and turning your sewing experience into a nightmare. Although this machine is not heavy duty and therefore will not do an excellent job at sewing leather, they could have equipped it with a walking foot to better handle thin, slippery materials. However, it is not a major problem. Amazon and other retailers offer many walking foot options at reasonable prices, and most are compatible with Brother digital machines.
Embroidery stabilizer supplied in the package is too thick, so you will probably need another purchase. Some users report that a coffee filter will work perfectly.
Bobbin winding can be simpler. One of the selling points is that the machine is easy to use, so they could have made this better.
Like all other computerized sewing machines, Brother SE600 can sometimes show a error message out of the blue. It can look pretty intimidating, as the machine won't do anything until you find and fix the problem. The thread may have become tangled or the bobbin may not EQB0dobMXFvb3s9l or installed. If the problem persists or cannot identify you, please contact customer service.
Final Verdict
All things considered, Brother SE600 Sewing and Embroidery Machine seems like a great bargain for sewers who use the embroidery function occasionally. It has a wide variety of very useful features that make sewing a breeze, even if you've never done it before. Even though it's an entry-level machine, experienced seamstresses have little to complain about unless it's boutique owners who should focus on productivity and efficiency – in which case you should ditch this or any other household machine and get an industrial one.
If embroidery is your primary activity, Bex0jjlyVKCHF8Olook for a better solution. As I noted above, the work area is very limited and cannot handle larger projects. Although in combo machines one function is usually at the expense of the other, I think this is the key problem in this case. Brother could certainly attempt to resolve this issue in the future.