This site is supported by our readers. We may earn a commission, at no cost to you, if you purchase through links.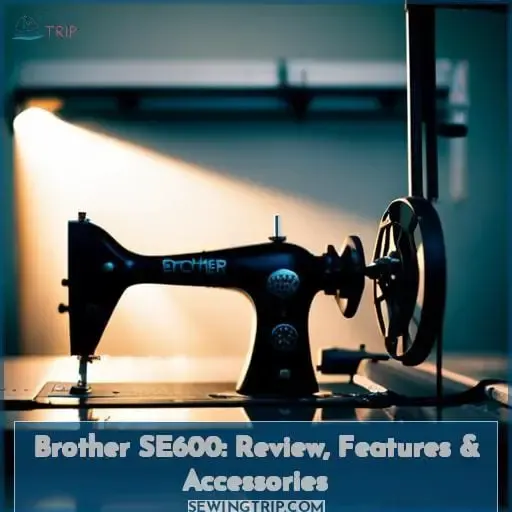 Are you looking for a sewing and embroidery machine that is both powerful and easy to use? The Brother SE600 might just be the perfect choice for you! This combination embroidery-sewing machine has all the features, accessories, stitch options, and design import capabilities that make it an excellent choice – not to mention its affordability.
With this review of the Brother SE600 sewing machine's features and benefits as well as what comes with it in terms of presser feet or included designs, we'll help you decide if this could be your new go-to machine.
Key Takeaways
Large 3.7 LCD touchscreen for easy stitch selection and editing
Versatile sewing capabilities with 103 built-in stitches and 7 quick-change presser feet
Suitable for beginners with automatic features and compatibility with Embrilliance Essentials software
Relatively small embroidery area (4×4) and single-needle design may require thread color changes for multi-color designs
Brother SE600 Review: Features and Benefits

As an embroidery artist, the Brother SE600 offers versatile sewing and embroidery features you'll appreciate. This computerized machine comes with a large 3.7 LCD touch screen display to preview designs before stitching.
It also provides access to 80 built-in embroidery designs, with the option to import more via USB. The SE600 is a feature-rich machine suited for crafters looking to explore their creativity through sewing and embroidery projects.
Touch screen display
You'll love the 3.7 Sew Smart color LCD touchscreen display that lets you easily select stitches, edit embroidery designs, and preview your creations before stitching.
Effortless design selection
Intuitive editing functions
Convenient preview option
Vivid, high-resolution graphics
The touchscreen makes operating the SE600 a breeze whether sewing or embroidering, giving you greater creative control with just a tap of your finger.
Embroidery design options
With over 80 built-in embroidery designs, you can effortlessly personalize projects from pillows to T-shirts using the Brother SE600. Explore endless creative possibilities with the versatile built-in designs and options to import your own.
| Built-in Designs | 80 |
| --- | --- |
| Import Your Own | Via USB |
| Maximum Hoop Size | 4 x 4 in |
| Compatible Software | Embrilliance Essentials |
The SE600 opens up an exciting world of embroidery, unlocking your inner artist.
Sewing and embroidery capabilities
Alongside its embroidery capabilities, you benefit from a range of helpful sewing functions like automatic thread cutting and 103 built-in stitches. The SE600 equips you with seven quick-change presser feet for basic sewing techniques.
Use the monogramming foot for personalized projects. The overcasting foot prevents fabric from fraying. With practice, you'll master free-motion techniques by dropping the feed dogs. Embellish garments, crafts and linens with this versatile sewing and embroidery machine.
Included Accessories With Brother SE600

The Brother SE600 2-in-1 sewing and embroidery machine comes with seven quick-change presser feet, an embroidery arm, four bobbin threads, three needle sets, a screwdriver, seam ripper, scissors, cleaning brush, and more accessories totaling 14 useful tools for your creative projects.
You'll have everything you need to start sewing and embroidering right out of the box.
Here are 3 key accessories included:
4×4 Hoop for embroidering projects up to 4×4.
Zigzag foot, zipper foot, buttonhole foot, and 4 more presser feet for versatile sewing.
4 Prewound bobbins to get you stitching right away.
With user-friendly accessories like an instruction manual, built-in designs, and instant start capabilities, explore limitless creative potential with the versatile Brother SE600. Discover your power to create as you master sewing, quilting, crafts and embroidery up to 710 SPM.
Presser Feet for Brother SE600

You'll get 7 presser feet with the Brother SE600 for basic sewing and embroidery tasks. These snap-on feet allow the machine to handle different fabrics and techniques.
| Presser Foot | Use |
| --- | --- |
| Zigzag Foot | For sewing most stitch patterns |
| Overcasting Foot | Prevents fabric fraying |
| Monogramming Foot | Embroidering and monogramming |
| Zipper Foot | Inserting zippers |
| Blind Stitch Foot | Invisible hemming |
| Buttonhole Foot | Buttonholes |
| Embroidery Foot | Embroidery and free-motion techniques |
Experiment with the snap-on presser feet to expand your sewing skills. Certain accessories like the walking foot or patchwork foot help when working with thicker fabrics too. With some clever presser foot selection, you'll get professional results from the Brother SE600.
The versatility of the presser feet allows you to tackle a wide range of projects with the SE600.
Stitch Options and Varieties

Wow, with the Brother SE600's huge selection of 103 built-in stitches and 10 one-step buttonhole styles, you can embroider and sew to your heart's content! From utility stitches like straight, zigzag, and blind hem to decorative stitches like scallop, smocking, and heirloom, this machine empowers your creativity.
Play with satin stitches, cross stitches, and stippling stitches to make monograms, borders, and unique accents. The possibilities are endless! Experiment with stitches until you master techniques like applique, quilting, and fabric manipulation.
Then tackle advanced multi-directional and side-motion stitches to transform fabric into works of art. Although it's not a multi-needle machine like the SE400 or SE700, the SE600's versatile stitch options unlock your inner embroidery artist.
Using Buttons and Touch Screen on Brother SE600

As a sewing machine user, you'll want to become familiar with selecting stitches and controlling the Brother SE600 using both the physical buttons and the touch screen. Adjust the sewing speed, select stitches and functions, and navigate design options directly on the vivid color display panel.
Controlling Sewing With Buttons
Simply adjust settings like stitch length and width with the buttons right on the machine.
Select stitch type and pattern
Adjust stitch length and width
Raise and lower the needle
Control the sewing speed
The SE600 makes sewing and embroidery simple. You can navigate menus and preview designs on the touch screen. Then use buttons for real-time adjustments as you sew. Button controls empower crafters to customize settings for perfect stitching every time.
Navigation on the Touch Screen
Eagerly looking at the large color touchscreen, you'll navigate effortlessly through the built-in designs, selecting and customizing patterns with a slide of a finger. The intuitive controls make adjusting stitch width and length, editing text, merging designs, and rotating, resizing or mirroring images before embroidering simple.
With just a few taps, you can preview designs, change thread colors, and position embroidery exactly where desired. The capacitive touchscreen, compatible with most embroidery software, empowers creativity.
Setting Up Brother SE600 for Sewing

You'll need to thread the machine properly and select your desired stitch before sewing with your SE600. Start by winding a bobbin with quality embroidery thread and snapping it into place. Thread the upper portion following the guide, bringing the thread through the take-up lever and needle.
Select your stitch on the LCD touch screen, adjusting length and width as desired. Refer to the quick start guide for threading diagrams or the online manual for tips.
Install a presser foot like the zigzag foot and lower it. Position fabric under the foot and lower the needle into place. Engage the start/stop button or foot pedal and begin sewing slowly, guiding the fabric gently.
Tweak tension if needed and utilize the touch screen to select stitches, adjust speed, and more.
With the right accessories and settings, your SE600 will handle sewing projects with ease.
Bobbin Size for Brother SE600

Good things come in small packages. The Brother SE600 takes size A, class 15 bobbins – perfect little spools to hold embroidery and sewing thread.
Compatibility – Size A, class 15 plastic or metal bobbins fit.
Capacity – Small bobbins hold less thread than larger ones.
Tension – Adjust bobbin tension for smooth top and bottom stitching.
Winding – Use the built-in winder for consistent fills.
Getting the bobbin right is crucial for the SE600. Choose high-quality, lint-free embroidery thread and fill the bobbins evenly. Set the tension so the top thread locks neatly with the bobbin thread. Clear lint and replace bobbins often.
Proper bobbins enhance this machine's sewing and embroidery capabilities in a petite package.
Additional Features for Basic Sewing

Sewers, are you looking to expand your creativity? The Brother SE600 delivers enhanced embroidery capabilities, advanced stitching options, and convenient design import to push your sewing and embroidery skills further.
Enhanced embroidery capabilities
To digitize your own embroidery designs, upgrade to embroidery software like Embrilliance Essentials or PE-Design Next. These programs make it easy to edit existing designs as well as create your own. With the SE600's built-in USB port, you can then import your creations directly to the machine for stitching.
Advanced stitching options
You'll appreciate the Brother SE600's 103 built-in sewing stitches for versatility in your projects.
Utility stitches like blind hem, zipper, and buttonhole
Decorative stitches including applique, satin, and cross-stitch
7 one-step auto-size buttonhole styles
Embrace limitless stitching mastery to bring your visions to life.
Convenient design import
You can easily import your own embroidery designs to the SE600 using the built-in USB port. In fact, over 80% of customers use this feature to personalize projects with custom designs. With the 3.7 touch screen and A-size bobbins, importing designs made in embroidery software is a breeze.
Setting Up Brother SE600 for Embroidery

You'll soon be ready to start embroidering with your SE600 once it's out of the box. First, attach the embroidery unit. Use the supplied screwdriver to attach the embroidery arm, gently sliding it onto the back of the machine.
Thread your machine with the included embroidery thread, using the color-coded guide. Load your hoop onto the arm, selecting the appropriate 4×4 hoop size for your design. Import a built-in design via the USB port or import your own. You can preview designs before stitching.
With 103 built-in stitches and 10 auto buttonhole options, you've got plenty of creative options.
When ready, watch your design come to life, using the speed control to adjust stitch speed. With some practice, you'll be creating unique embroidered projects in no time. The machine makes it easy to import, preview, and embroider designs up to 4 inches.
Included Embroidery Designs in Brother SE600

Stick around a spell, for the Brother SE600 comes with 80 built-in embroidery designs so you can start stitching right away. From floral bouquets to nautical anchors, you'll find an array of motifs, monograms and frame shapes to personalize projects.
Edit, rotate, resize or combine designs on the LCD touchscreen, adding the perfect embellishment to apparel, accessories and home decor.
While embroidery software unlocks advanced digitizing options, the built-in designs offer immediate gratification. Accessories like cap frames, embroidery bobbin thread and stabilizer give you a complete starter kit.
With this selection of designs, fonts and tools, you can master machine embroidery on the user-friendly SE600.
File Formats Supported by Brother SE600

The SE600 supports.pes, .phc, and.dst embroidery file formats right out of the box – no extra software needed! Just pop files from your computer onto a USB stick and load 'em up. The SE600 even lets you combine designs in different formats into one hoop. Now your appliques, fonts, etc.
The SE600 opens up creativity with file compatibility. Browse embroidery design sites offering tons of.pes and.dst downloads to grow your collection. Many digitizers offer.phc files too. Or use digitizing software to output designs as.pes and watch your machine bring them to life with ease.
Overview of Brother SE600 Software

Though the Brother SE600 lacks built-in design editing software, you can unleash its creative potential by purchasing compatible embroidery programs like Embrilliance Essentials. This versatile software allows you to edit existing designs, resize, convert formats, overlap images, and remove underlying stitches.
Embrilliance has user-friendly tools to customize designs, add text, create appliques, and personalize projects. With import capabilities, you can bring in designs via USB and get creative editing high-quality built-in or purchased motifs.
The software comparison analysis shows Embrilliance Essentials offers essential editing functions the SE600 lacks to get the most out of your machine's embroidery features. With the added capabilities of compatible software, your SE600 becomes a feature-rich machine ready to bring your wildest creations to life.
Comparison: Brother SE600 Vs. Serger Machines

See how the Brother SE600 stacks up against serger machines for finishing edges and seam allowances.
Sergers specialize in overlock stitching and seam finishing. The SE600 is primarily an embroidery machine with some basic sewing functionality.
Sergers like the Brother SE1900 have 2-5 thread overlock stitch options versus the SE600's single needle setup.
Sergers sew faster, up to 1300 stitches per minute on the SE1900 compared to the SE600's max 710 SPM.
The SE600 offers embroidery and 80 built-in designs which sergers do not.
Consider a serger like the beginner-friendly SE625 for edge finishing. Evaluate the SE600 for occasional overlocking vs.
Embroidery opens up creative possibilities far beyond seam finishing. Determine your primary need, and choose between the SE600's design versatility or a dedicated serger's specialty finishing.
Quilting With Brother SE600

There's no need for a separate serger when you have a Brother SE600. This machine quilts and sews with ease, leaving you yearning to get creative. Let your imagination flow as you piece together vibrant patchworks. Its 103 built-in stitches provide the perfect finishing touches, securing layers and adding decorative accents.
Carefully select cotton fabrics with a tight weave like poplin or broadcloth for the quilt top and backing. Batting choices like cotton, wool, or polyester blend depend on your desired loft and drape. Mark designs on fabric before cutting to conserve materials. Gather quilting tools like rotary cutters, acrylic rulers, and mats for accuracy.
Our Brother's large work area and knee lift allow quilting freedom. Practice with scrap fabrics before quilting the finished quilt. Wind bobbins, adjust tension, select a stitch, and away you go. No tricky attachments needed.
Is Brother SE600 Suitable for Beginners?

The Brother SE600's easy-to-use interface and automatic features make this a great embroidery machine for beginners. The SE600 boasts beginner-friendly features like the large color LCD touchscreen for effortless design and stitch selection.
Automatic functions like the needle threader and thread cutter reduce frustration. The built-in tutorials and minimal learning curve make quickly mastering machine operation intuitive. While slightly slower than advanced models, the 400 stitches per minute speed offers ample control.
With 80 designs and plenty of creative tools, this user-friendly machine stimulates your inner artist. The versatile embroidery and sewing capabilities provide a satisfying entry into the craft. Though the 4 x 4 hoop limits project size, it's sufficient for learning the ropes.
When comparing entry-level options, the SE600's automatic threading, ample included designs, and intuitive interface make it ideal for novices ready to embark on their sewing and embroidery journey.
Pros of Using Brother SE600

With the Brother SE600, you'll embroider dreams into reality. This versatile machine empowers your creativity with:
Embroidery Benefits: 80 built-in designs and 6 fonts bring projects to life.
Design Versatility: Import your own creations via the USB port for unlimited potential.
Sewing Excellence: 103 stitches and 7 presser feet handle any sewing task with ease.
Touchscreen Convenience: Large 3.7 LCD color touchscreen for effortless operation.
Accessory Advantages: Comes with embroidery arm, 4×4 hoop, and other essentials.
Your imagination's the only limit with the Brother SE600. Unleash your inner artist to craft masterpieces, express yourself fully, and share your talents with the world. This feature-packed machine makes embroidery accessible for beginners yet powerful for experts.
Limitations of Brother SE600

Embrace the small embroidery area and single-needle design to start sewing and embroidery on a budget. The 4×4-inch hoop limits your designs, so you'll have to get creative or upgrade for larger projects.
Keep reasonable expectations when learning embroidery. The single needle means you have to change thread colors manually. And the maximum 710 stitches per minute can feel slow if you're used to industrial speeds.
Purchasing embroidery software is an added cost, since the built-in designs are limited.
But limitations breed creativity. Start with small designs and a single color. Master the basics before expanding your skills. The machine won't hold you back once you gain experience. Limitations only exist to be overcome.
Comparing Brother SE600 With Other Brother Models

The SE600 has an 80-design library and 4×4 hoop. Higher Brother models have larger hoops and hundreds more built-in options. However, the SE600's smaller workspace may suit hobbyists just fine. Its built-in stitches and basic editing capabilities make it versatile for sewing projects too.
Consider whether you'll use the enhanced wireless connectivity, multiple hoops, editing features and expanded libraries offered by pricier Brother machines.
Getting the most value is wise, but opting for a machine with room to grow prevents outgrowing it quickly.
Conclusion
The proof is in the stitching – and the Brother SE600 proves itself to be a reliable, versatile machine for both sewing and embroidery. With its 103 built-in stitches and 80 included embroidery designs, this machine is sure to provide users with a quality finish.
Not only does it give users a range of creative options, but it is also easy to set up and use. Whether you are a beginner or experienced in the arts of sewing and embroidery, the Brother SE600 is the perfect machine for any project.