This site is supported by our readers. We may earn a commission, at no cost to you, if you purchase through links.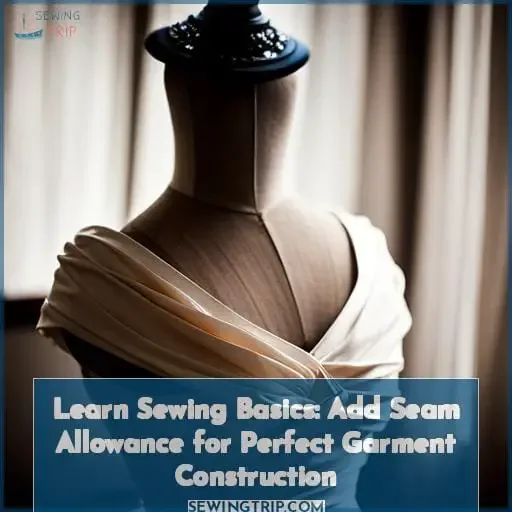 Step lively into summer! You've got designs on a breezy shift dress or relaxed pants, both perfect for carefree days. Silk is your secret ingredient, elevating casual looks with luxe shine and drape. We're here to walk you through prepping, cutting, and sewing silky seams like a pro.
Whether you're stitching by hand or machine, allow a little extra at the edges. That wiggle room prevents puckering when pieces join up. How much to add depends on the fabric – go slim with lightweight silk, wider with something structured.
With the right tools and techniques, silk is no longer intimidating. Have fun playing with color and pattern as you create garments that flow and feel fantastic.
Key Takeaways
Focus on precision when cutting silk, understanding grain lines.
Use seam finishes such as pinking, zigzags, or bindings to prevent fraying.
Employ sewing techniques like allowing extra seam allowance and trimming and notching seam allowances.
Consider finishing techniques for hemming silk, as hem allowances can shrink for sheers like chiffon.
Seam Allowance Basics

You've got this – don't overthink those seam allowances! When using commercial patterns, pay close attention to the specified seam allowances, often 1.5 cm. Prepare your zippers, match your threads, and focus on precision when cutting.
Understanding the grain lines keeps pieces aligned and prevents puckering. Repair mistakes immediately and you'll master clean finishing. With practice, you'll achieve the perfect seam allowance for any project, creating garments with clean lines, professional darts, and crisp center fronts.
Adding Seam Allowance Techniques

Grab your transparent ruler or ordinary ruler to add seam allowances. Mark your even seam allowances with a sharp pencil first before cutting fabric. Then press those new seam lines in the correct direction for your project – usually open or to one side.
Press in order from darts and pleats outwards. A zigzag seam finish prevents fraying. Take care when pressing the top of a dart so it lays flat. Precise pressing order and direction result in crisp, professional seam lines without puckers and pulls.
For flawless garments, never underestimate the value of proper pressing techniques.
Recommended Seam Allowances by Fabric Type

Match silk's delicate drape with narrow 5/8 seam allowances, taking care not to stretch the fabric as you sew. Allow extra at interfacings or draped areas. Hem allowances can shrink for sheers like chiffon.
Consider your finishing techniques, as silks fray readily. When sewing a silk top, reinforce stressed seams and clip curved seam allowances. Adjust allowances on each pattern piece according to the handling and drape. With care, your silk creation will have clean finished seams to complement its luxurious hand.
Finishing Techniques for Seam Allowances

After choosing your seam allowance width, comes finishing those raw edges. Hand rolling skinny seam allowances prevents fraying and adds invisible structure in silks. Match the thread weight for hand stitches. Topstitching with a short zigzag creates a subtle pattern that prevents raveling too.
An overlock seam neatly trims and encases silk's raw edge in one pass, though the stitching shows on the right side. For sheers, try a narrow rolled hem foot to fold and stitch silk's allowance invisibly.
Whatever finish you choose, keep silk seam allowances tidy for a clean, professional look inside and out.
Essential Sewing Preparation Steps

Before cutting your fabric, take a moment to properly prep your workspace and materials. Get your iron plugged in and give your pattern pieces and fabric a quick press – this helps everything lie flat and true for more accurate cutting and sewing.
Choose the right thread for your fabric and test your machine's stitch length on scraps. Trim the seam allowances and notch curved edges to ease sewing. Mark all pattern pieces, cut precisely on the lines, and transfer any essential markings.
Prepare the pattern by tracing off your size onto cardstock and assembling the pieces. With your materials prepped and workspace organized, you'll be set up for sewing success.
Frequently Asked Questions (FAQs)
What type of needles should be used for sewing silk?
You want effortless seams when sewing silk, don't you? Choose fine, sharp sewing needles for your project.
How can you prevent silk fabric from slipping when sewing seams?
You struggle to keep slippery silk fabric under control? Before you start sewing, lightly mist the fabric with spray starch. This adds just enough grip so that your fabric layers stay put when stitching seams.
Simply spritz, let it dry, and then start your project. Your silk will thank you for taming its slippery side.
Is silk fabric best sewn by hand or with a sewing machine?
Sew silk by hand for the best control. The machine's fast movement can shift the slippery fabric. But go slow with a microtex needle and tissue paper backing for machine success. Either method works if you're patient, precise, and committed to mastering this luxurious material.
What thread works best for sewing silk – cotton, polyester, or silk threads?
You'll get the best results using 100% silk thread when sewing silk fabric. Unlike cotton or polyester, it has a similar sheen and drape that blend right in. The fine diameter minimizes holes from the needle and creates nearly invisible stitches that won't snag or pucker the delicate material.
How do you clean finished silk garments or fabric pieces?
Handwash silk in cool water with a gentle soap. Roll garments in a towel to remove excess moisture. Line dry flat, shaping as needed. Use a steam iron on the low setting if wrinkles persist.
Conclusion
You've gained essential sewing insights to elevate your creations. 'Twas garments well-constructed that sealed fates in eras past. Yet timeless techniques empower even novices to craft excellence. Master additions of seam allowance first.
Experiment with diverse fabrics to polish this foundation. Then build upon your skills through each step – from preparation to finishing. Let intuition guide your path. Honor textiles with patience and care. May your sewing journey stir imagination and bring joy.
With practice, your abilities will blossom so your handiwork rivals that of artisans.