This site is supported by our readers. We may earn a commission, at no cost to you, if you purchase through links.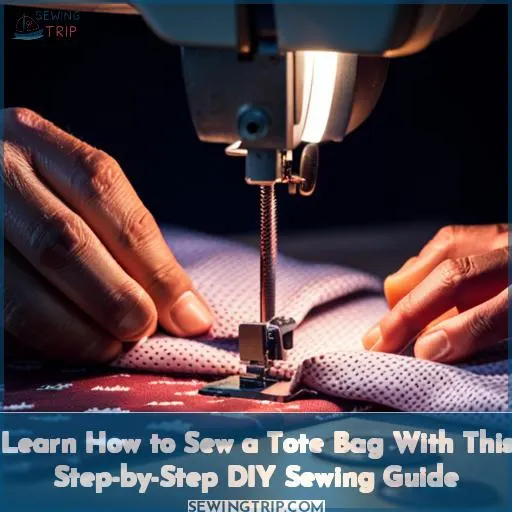 You're gonna love sewing this super handy tote bag with this easy step-by-step guide. Making your own bag isn't as hard as you think. I'll show you my tricks for sewing up a durable, customizable tote in no time.
The best part is you can personalize it to match your style. We'll start by cutting our fabric and interfacing to size. Then it's just a matter of stitching up the straps, sides, and base. I'll walk you through sewing the pocket and attaching it before showing you how to shape the bottom into a box corner for extra stability.
With a few simple techniques, you'll have a polished tote you can proudly carry around town.
Key Takeaways
Use heavyweight, tightly woven canvas or duck cloth for durability.
Cut pieces according to the pattern and use pinking shears to reduce fraying.
Sew and attach straps, pocket, and lining before assembling the bag.
Personalize the bag with fabric paint, embroidery, sequins, or decorative accents.
Best Fabric for Tote Bags?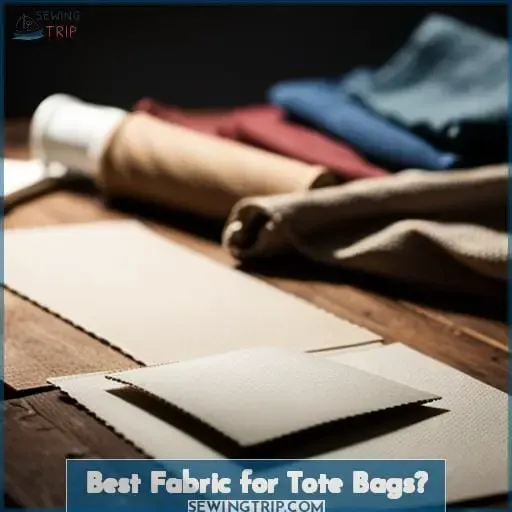 Since durability's a must for your daily haul, choose a heavyweight fabric like canvas or duck cloth to craft your custom tote. These tightly woven textiles withstand abrasion and stay strong when loaded. For hand sewing, use waxed linen or polyester thread.
Adjust your machine tension and stitch length for canvas – a longer stitch stops skipped stitches. Prewash fabric so it doesn't shrink after sewing. Finish raw edges with zigzag or pinking shears to prevent fraying.
Insert a pocket to stash small items. Strap styles range from self-fabric ties to adjustable webbing. With the right preparation, a sturdy canvas tote carries your daily essentials in style.
Large Tote Bag Measurements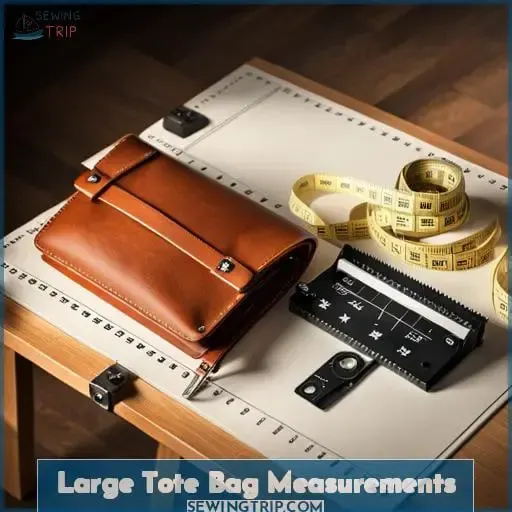 Now that you've selected a durable fabric for your tote, it's time to think about the size. When sewing a roomy, oversized tote, plan for dimensions around 18 wide x 20 tall x 6 deep. This will give you a bag with plenty of space to toss in books, beach towels, produce from the farmer's market, and more.
Cut your main fabric 36 x 38 to account for seams and boxed corners. Play with sizing to find proportions you love, adjusting width, height, and depth.
With an expansive interior, your custom tote will become your go-to bag for carrying all of life's essentials in style.
How to Sew a Tote Bag Pattern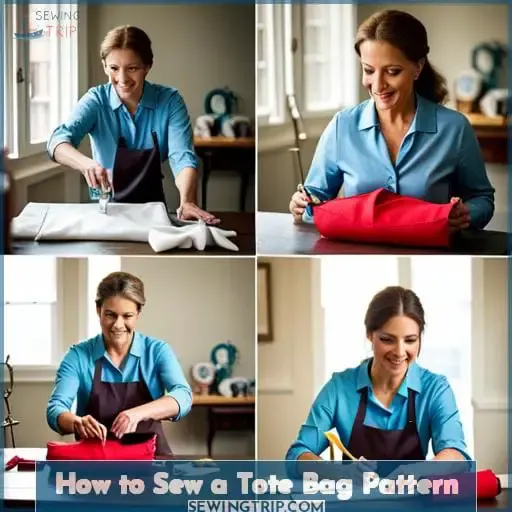 Let's truly envision this bag taking shape as you move your nimble needles to manifest the fabric. With a sharp pair of fabric shears, carefully cut your outer canvas and lining to size.
Align the fabrics and pin the sides before stitching up the side seams with a 1/4 seam allowance. Carefully box the bottom corners and trim away excess. Turn the bag right-side out and admiringly run your hand along the clean exterior lines.
Add a pop of color with a bright removable insert or line the pocket in a fun print. Stitch on leather straps or colorful canvas ties for the perfect finishing touch. Together we'll create a stylish, customizable tote bag you'll use for years to come.
Supplies Needed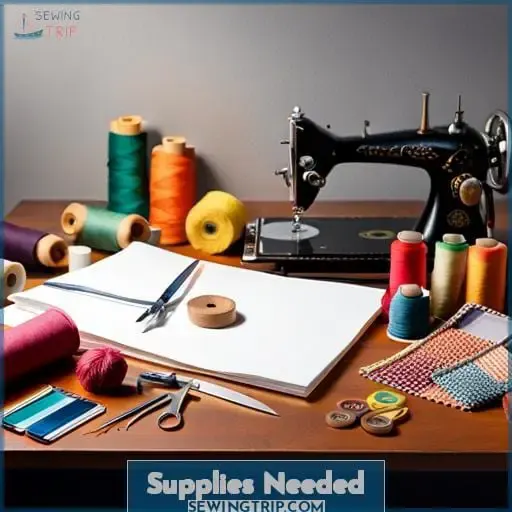 Measure fabric and cut pieces before gathering your sewing supplies. Choose a durable fabric like canvas or denim for the outer bag. Cotton works well for linings. Use all-purpose polyester thread that matches your fabric.
Select needles suited for your fabric weight – try sizes 70/10 to 90/14. Have hand sewing needles available too. Don't forget pins, scissors, rotary cutter, and mat, measuring tape, and fabric marker.
Purchase stabilizer to reinforce strap ends or other areas prone to wear. Opt for pre-made straps or cut your own according to pattern dimensions. Finally, coat raw edges with fray preventer. With quality materials in hand, you'll be ready to start sewing strong, finished bags.
Cutting the Pattern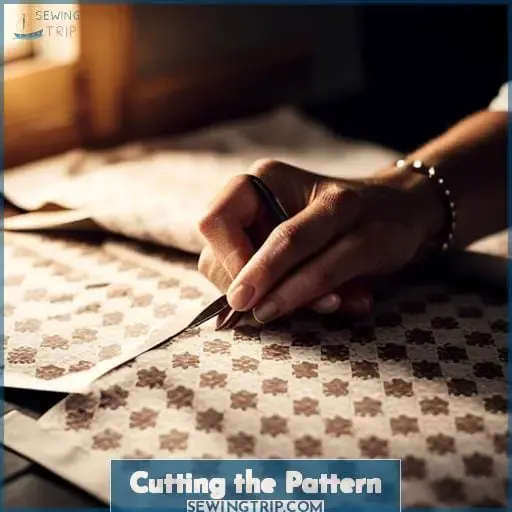 With scissors ready, carefully trace your templates onto fabrics, snipping the corners to form the bag's base.
Mark fabric with tailor's chalk for crisp lines.
Align ruler horizontally for straight cuts across the grain.
Use pinking shears on seams to prevent fraying.
Gripping sharp cutting blades, position templates and firmly trace outlines onto your bag and lining fabrics. Take care when orienting parts along the grain to maximize durability. Snip pre-cut 2×2 corners on each piece, which will later form the flat bag base.
Trace gently to avoid shifting the fabrics. For perfectly straight edges, securely butt a clear ruler to chalked lines before cutting. With all sections cleanly cut, add finishing touches like pinking certain seams to prevent fraying stitches when sewing.
Steps for Sewing DIY Tote Bag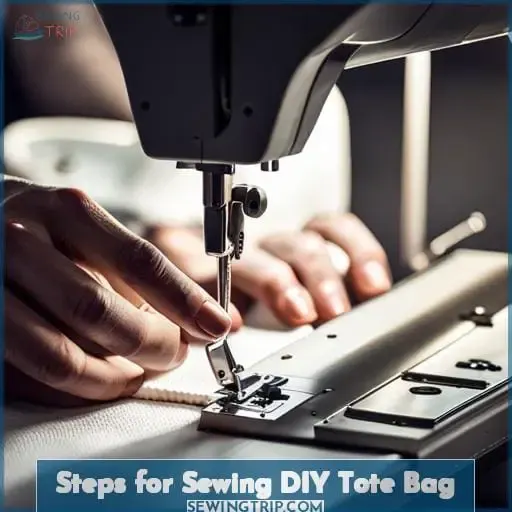 Grab your sewing machine and thread, it's time to transform fabric into a functional tote! We'll start by sewing the straps and pocket before attaching them. Then, we'll sew the bag sides separately and box the corners to create the bag structure.
Sewing the Straps
After positioning the strap ends under the outer hem, you'll stitch them into place four inches from the sides to attach the straps. Align and pin the strap ends before sewing for accuracy. Try different strap styles like webbed, braided, or decorative patterns.
Stitch creatively embroidered straps make your bag unique. For stability, reinforce strap stitching lines and points where they attach to the bag.
Sewing the Pocket
You're lined up to stitch that handy pocket inside now, keeping essentials tucked away while retaining a clean exterior. Position and pin your pocket piece to the lining. Sew three sides with a 1/4 seam allowance, leaving the top open for access.
Finish the raw edges or reinforce corners for durability. Choose a closure like Velcro or snaps. Match pocket and lining fabrics or make the pocket decorative. Topstitch visible edges for a polished look.
Attaching the Pocket
Pin the pocket to the lining before you set sail. Anchoring it early prevents drifting and waves of frustration later. Align the pocket piece on the lining, right sides together. Make sure it is straight and centered.
Measure and mark pocket placement
Pin or clip the pocket in position
Check alignment and centering
Sew the pocket to the lining on 3 sides
Sewing the Sides of the Tote
Align the outer and lining fabrics with pins, then stitch the side seams together using a 1/4-inch seam allowance on the outer fabric and 1/2-inch on the lining fabric. Take care to precisely match up the side seams. Reinforce the side panels with an additional row of stitching to prevent stretching when the tote bag is loaded.
For extra reinforcement, insert gussets at the base before sewing the side seams.
Creating Boxed Corners
To avoid bulk, mark a 3.5-inch corner box, then sew along the lines before trimming the excess fabric. For example, measure and draw the box carefully on each corner of the outer and lining fabrics to get crisp, professional-looking corners for the tote bag.
The boxy corners create structure, keeping your bag's shape when loaded up. Take your time stitching the marked lines to get clean edges. Trim closely inside the corner seams. Finished boxes strengthen the bag and enhance its polished style with minimal added weight.
Decorating Your Tote Bag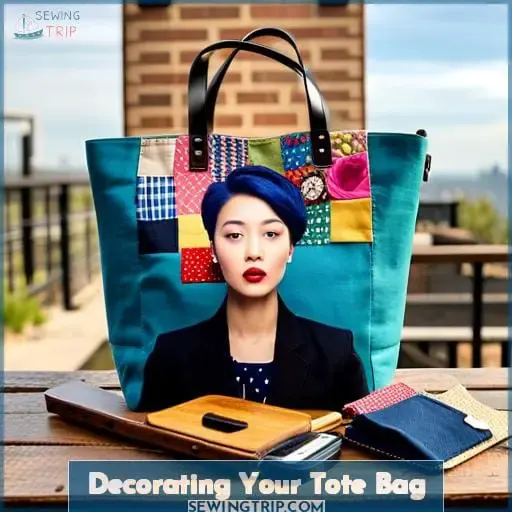 Personalize your handmade carryall with fun accents! Appliqué a floral design using fabric scraps or try fabric paint to make a bold geometric pattern. Add character by sewing on patchwork squares or an embroidered monogram. For a touch of glam, attach a sequin appliqué.
The options are endless when decorating your makeup bag, tote, travel bag, or travel toiletry bag. Make it unique with fabric, embroidery, paint, patches, ribbons, buttons, charms – anything that reflects your style.
The right embellishments will make your hand-sewn bag truly one-of-a-kind. Just take care not to overdo it. A little decoration goes a long way in making your custom creation feel special.
Snip Corners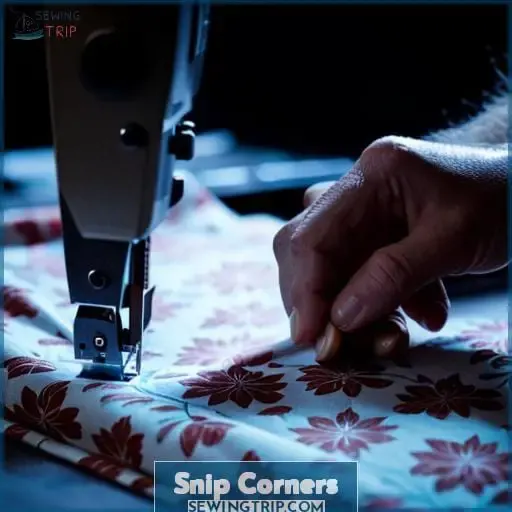 Snipping those corners'll really help your bag take shape, hun. Trimming off those little squares at the bottom corners is a must for getting a nice flat base so your bag'll sit up proper.
Just measure in a couple inches from the seams and slice away. This'll let the fabric spread out when you sew up the bottom.
With the bottoms all squared up, your carry-all bag, cooler bag, drawstring bag, pretty much any bag'll stand up nice and sturdy. Careful snippin' leads to beautiful bags, so take it slow and you'll be stylin' in no time.
Add Interfacing and Sew Sides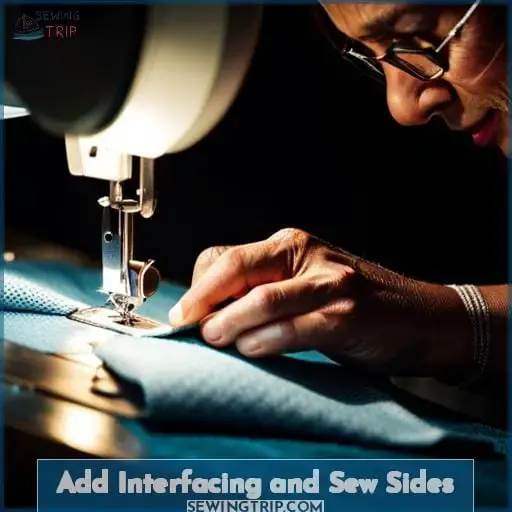 Before inserting the lining, fuse lightweight interfacing to the outer fabric's wrong side for added body and structure.
Next, sew the outer fabric and lining sides separately with 1/4 inch seams. Make sure to leave an opening in the lining's bottom seam for turning later.
Match up the outer and lined pieces, right sides facing. Pin along the edges and sew the outer and lining side seams together this time using a 1/4 inch seam for the outer fabric and 1/2 inch for the lining.
Trim the seam allowances and clip inside curves. Use pinking shears on the raw edges. Turn the bag right side out through the lining gap. Push out the corners and edges with a turning tool.
Create Corners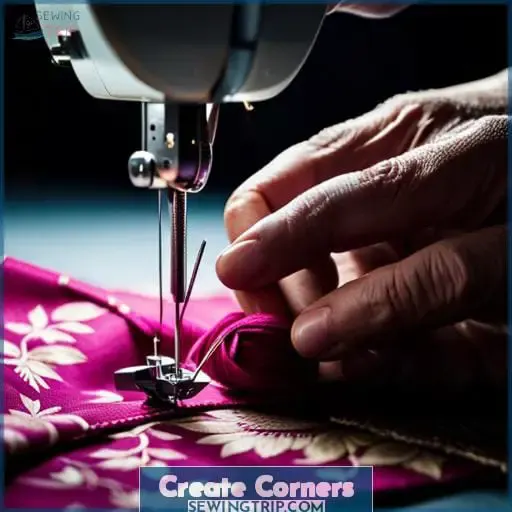 You're ready to shape the bottom of the bag after sewing the sides. This is an important step for giving your bag structure. Start by marking a square in each bottom corner that is 3.5 inches from the side seams.
Sew along the marked lines to box off the corners. When finished, trim the excess corner fabric outside the stitched squares.
Turning the bag right-side out, you'll now have a flat bottom to help your tote stand up properly. With the corners squared away, move on to sewing up the bottom seam. Your homemade bag is really taking shape.
Frequently Asked Questions (FAQs)
How do I sew straps and attach them to my tote bag?
After sewing strap ends under the tote hem, center the straps 4 inches from the sides and topstitch them securely. To ensure durability, fold the straps in half lengthwise with the right sides together before sewing.
A helpful tip: Adding interfacing to the straps will provide them with body and structure. It is important to keep the straps flat to prevent any awkward twisting later on.
What type of thread works best for sewing canvas tote bags?
Polyester or nylon thread works best for sewing durable canvas tote bags. These stronger threads withstand repeated washing and wear without breaking or fraying. Pick thread in a color close to your canvas for a subtle look. A slight sheen on polyester thread helps it glide smoothly through the thick canvas material.
Always use a sharp needle matched to the thread thickness to prevent skipped stitches or snags.
My tote bag corners are bunching when I turn them right side out. How can I get crisp corners?
To get crisp corners on your tote bag, reinforce them with extra stitching. At each corner, sew across the seam allowance 1/4 inch from the raw edge. This will strengthen the 90-degree angle so it holds its shape when turned right side out.
For best results, clip to (but not through) the stitching to reduce bulk before turning.
What's the best way to make sure my tote bag is durable and can hold heavy items?
When sewing heavy-duty totes, opt for thicker, sturdier fabrics and reinforce stress points. Prewash canvas or denim to prevent shrinking. Use multiple layers or interfacing at the straps, handles, and bottom.
Box and zigzag stitch seams for strength. Insert steel purse feet on the base to prevent wear.
I want to add a zipper closure to my tote bag. Where should I insert it and how do I sew it in?
You'll need to insert the zipper along the top edge before sewing the side seams. Pin the zipper to the lining and outer fabric pieces with the right sides together. Sew the zipper in place using a zipper foot. Take care when stitching over the zipper teeth.
Finish by topstitching along both sides of the zipper opening for a clean finish.
Conclusion
You've reached the end of this sewing tutorial, energized and empowered, your custom tote bag symbolizing the creative spirit within. Like threading a needle, you started with scraps of instructions and stitched them into a unique design – your hands capable, your mind focused.
Now, when you sling that bag over your shoulder, you'll feel the satisfaction of crafting something beautiful and practical with your own two hands. Sewing brings out our inner artisan; follow the inspiration wherever it leads, let your imagination soar, and take pride in sewing a bag that's all your own.