This site is supported by our readers. We may earn a commission, at no cost to you, if you purchase through links.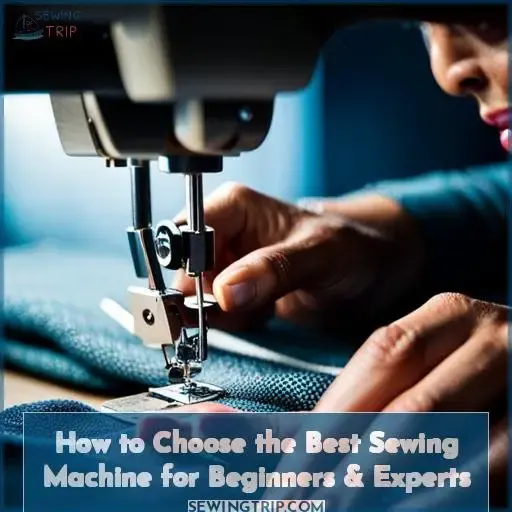 Introduction 1:
You're not alone in feeling overwhelmed when shopping for a sewing machine these days – there are literally hundreds of models to choose from! Here's a crazy stat: the sewing machine market is expected to reach $5.
9 billion globally by 2025. But don't panic. I'm here to help you cut through the clutter and find the best sewing machine for your needs and budget, whether you're a total beginner or a seasoned expert.
The trick is figuring out what types of projects you want to make, then matching your machine's capabilities and features accordingly. For instance, do you need a workhorse that can handle thick fabrics like denim? Or are you looking for stitch variety and an automatic buttonholer? I'll walk you through the key factors to consider and offer my tips for choosing the right sewing machine so you can get stitching with confidence.
Introduction 2:
Buying a sewing machine is like finding a new best friend – you want one that 'gets' you and fits your lifestyle perfectly. With so many options out there, the choice can feel overwhelming. But I've got your back.
Drawing from my own trial-and-error machine adventures, I'll explain the features that matter based on what you want to sew.
Want to whip up clothes? Look for specialty stitches and an automatic buttonholer. Just doing repairs and hems? A basic mechanical model will do the trick. Embroidery your thing? Make sure your machine has a hoop and built-in designs.
Whatever you envision creating, I'll help you find a machine to bring your sewing dreams to life.
Let's get started – your next sewing BFF is waiting!
Key Takeaways
Consider machine capabilities and features based on project plans and skill level
Test stitch quality on fabrics before making a purchase
Evaluate convenience features such as threaders
Budget for accessories, potential repairs, and extended warranty
Top 3 Sewing Machines for Beginners and Experienced Sewers
Hello there! As a sewing enthusiast, I've got some great recommendations based on your experience level and project plans.
The Bernette Sew Go is a perfect starter machine that's portable and easy to operate.
When you're ready for computerized options, the Juki LB5020 has built-in stitches, automatic threading, and special feet for techniques like zippers and buttonholes.
The Janome bundle comes with accessories to begin sewing right away – great for learning the basics.
Once you decide on key features, visit a dealer to test some models with your own fabrics.
With the right machine, you'll be stitching up creative projects in no time!
Bernette Sew Go Swiss Design Sewing Machine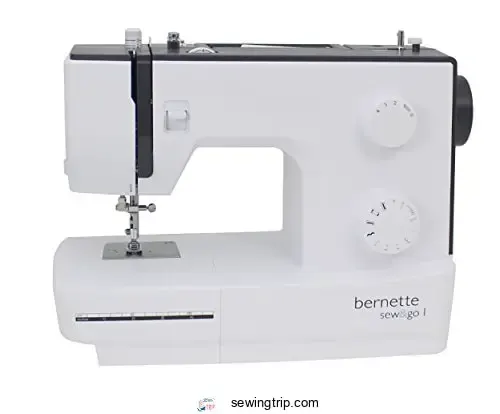 View On Amazon
You'll love how this lightweight Bernette neatly stitches your projects with its simple operation. This quiet 15-pound electric sewing machine offers easy threading and bobbin winding to get you sewing fast.
The straightforward controls let you select stitches and adjust settings without frustration. The Bernette Sew Go puts down even, quality stitches whether you're hemming curtains or crafting placemats.
It's a great beginner's machine, yet versatile enough for experienced sewers tackling basic projects. You'll appreciate how this accessible sewing machine simplifies your sewing so you can create with confidence.
Easy to use right out of the box
Lightweight and portable
Consistent, quality stitches
Affordable price point
Limited built-in stitches
Not suitable for heavy fabrics
Potential issues like needle hitting metal
Juki Computerized Sewing Machine HZL LB5020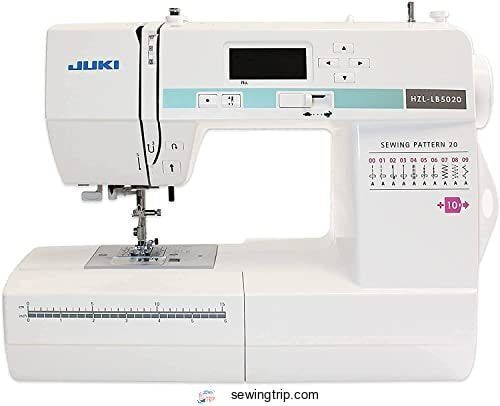 View On Amazon
The Juki HZL-LB5020's simple design and sturdy build make it a fan favorite for quilters and sewers alike. With just 20 stitches, this computerized workhorse strips sewing down to the basics.
Load the bobbin hassle-free by dropping it in, then let the auto threader do its thing. Sturdy aluminum housing and a 7-point feed dog system team up to neatly sew fabric layers without bunching or slipping.
Crank up the variable speed when you want to motor through thick seams. Flip the switch for a perfectly spaced buttonhole every time.
I appreciate the free arm and array of presser feet catered to techniques like applique, zigzag, and blind hemming. Though instructions read like a foreign language, the manuals and DVD provide all the guidance needed to start sewing stat.
When you want a fuss-free, versatile sewing machine with the power to handle heavy projects, the Juki LB5020 delivers.
Powerful enough for heavy fabrics
Straightforward stitch selection
Smooth fabric feeding
Wide range of presser feet
Limited built-in stitches
Manual not beginner friendly
Can be backordered/hard to find
Janome Sewing Machine Bundle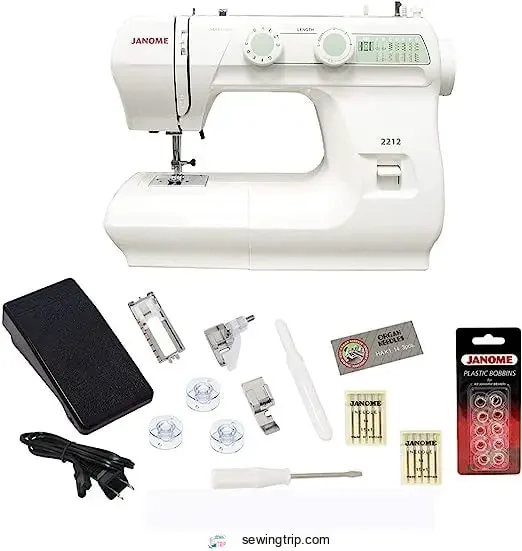 View On Amazon
Y'all'd love this easy-to-use Janome for basic sewing tasks. With its mechanical design and simple controls, this sturdy white metal machine makes hemming pants and taking in shirts a cinch. Just turn the dial to select one of its 12 built-in stitches, including 4 buttonhole styles, then easily adjust the zig-zag width and stitch length settings.
The free arm helps with sleeves, and dropping the feed dogs allows free-motion techniques. Threading the bobbin and needle is smooth sailing. While it lacks an automatic threader, its no-fuss operation lets you avoid frustrating electronic issues.
This dependable workhorse will have you effortlessly finishing projects for years to come.
Very easy to set up and use
Good for beginners and experienced sewers
Simple mechanical operation with no electronics to fail
Inexpensive option suitable for basic tasks
Dependable and long-lasting
Limited built-in stitches
No automatic needle threader
Not suitable for heavy duty or decorative projects
Types of Sewing Machines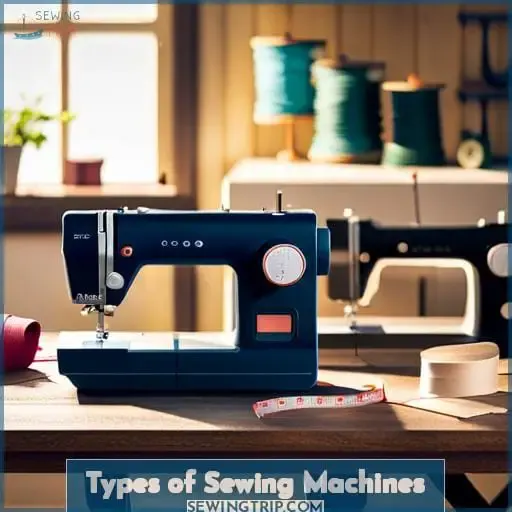 Ya ain't restricted to basic stitches if ya splurge on a computerized machine with fancy embroidery options.
Accessory storage for all yer feet and bobbins
Serger machines fer professional seams and edges
Motor speed/power to sew thicker materials
Machine upgrades as yer skills progress
Quilting functions like knee lifts and extensions
Mechanical machines operate by gears n' levers without electronics. They're basic, durable, n' easy to maintain yerself.
Electronic models control stitches n' settings digitally but still need manual adjustments.
Fully computerized machines automate stitch selection, thread tension, speed, n' more.
Manual models are completely human powered but give ya full control.
Consider yer skill level, projects, n' budget when choosin' between mechanical, computerized, manual, n' electronic machines.
Extended warranties provide peace o' mind too.
How Sewing Machines Work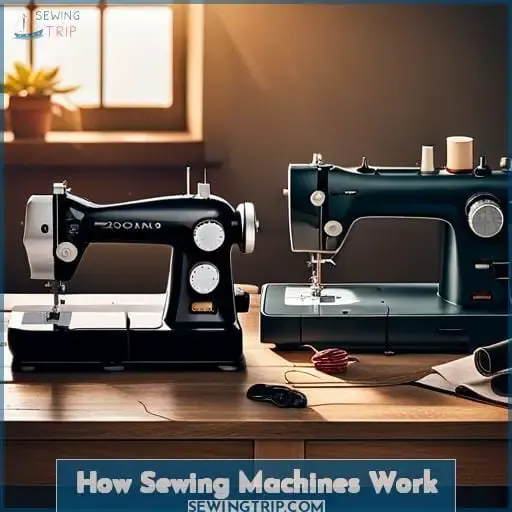 Imaginatively learn the inner workings – those feed dogs smoothly move fabric, the bobbin spins thread up and down as the needle pierces fabric precisely following your lead, motor humming along steadily stitching dreams to life.
Bobbin winding ensures smooth, tangle-free thread supply.
Thread tension dials balance tightness top and bottom.
Needle types suit fabric weight, stretch, and texture.
Stitch settings like length and width customize projects.
Presser feet grip fabric for techniques like zippers and hemming.
Feed dogs move fabric; some drop for free motion quilting.
Knowing your machine from bobbin winding to stitch settings equips you to master precise sewing. Experiment with specialty feet to expand your repertoire. Let those feed dogs glide fabric as the needle dances.
Choosing a Brand of Sewing Machine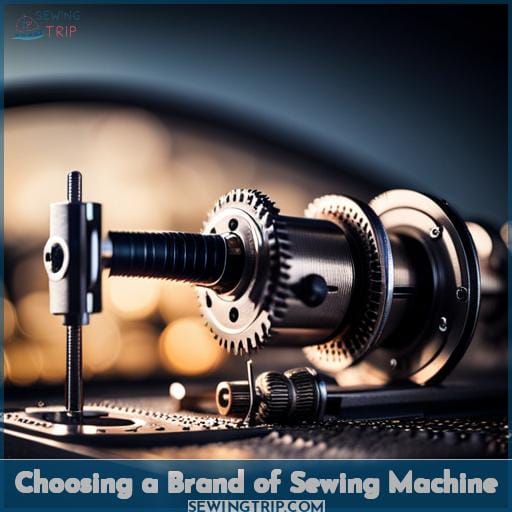 With hands caressing multiple models, test your fabrics' glide across each machine's stitching before committing to your investment.
Examine tension settings to prevent frustrating thread breakage and uneven stitching.
Try out added convenience features like automatic needle threaders to save frustration.
Ensure buttonholes, both length and width, are adjustable for professional results on any project.
The right machine empowers your creativity through mastery of its features. Before buying, scrutinize stitch quality across stitch settings on your materials. Evaluate handy additions suiting your skills and projects. Budget for necessary accessories like extra needles, feet, bobbins, plus potential service costs.
The machine joining your creative journey must fit both your fabrics and your needs.
Features to Consider When Choosing a Sewing Machine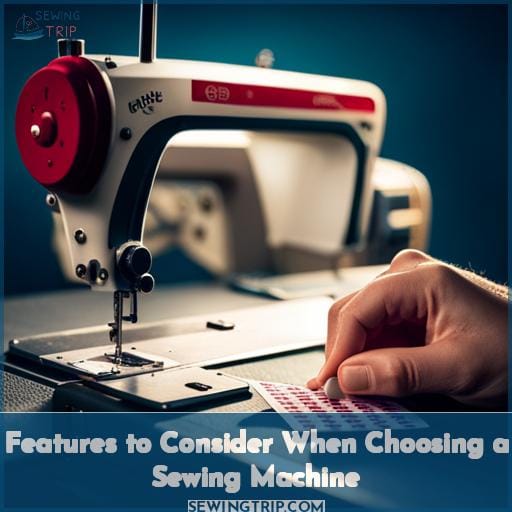 Consider the presser feet, stitches, and accessories included to expand your creative potential. Choosing a sewing machine with versatile features allows you to unlock your full creative potential.
Interchangeable presser feet for specialty techniques like zipper insertion, hemming, and button sewing.
Built-in and downloadable stitch options from basics to decorative designs.
Included accessories like an extension table, needles, bobbins, seam ripper, and more.
Having features that support your planned projects means you can keep learning new skills without outgrowing your machine. Test drive models with your fabric to see options in action. Then enjoy customizing settings like stitch length and width, needle position, thread tension, and feed dog height for beautiful results on your sewing adventures.
Recommendations Based on Sewing Goals and Experience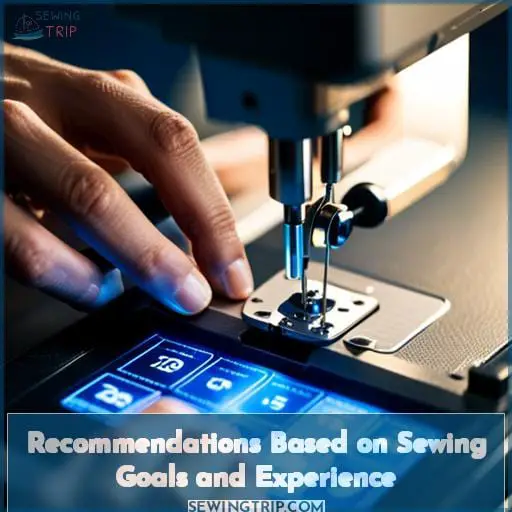 For the seasoned crafter, go for the Singer Heavy Duty 4452 and its powerful motor that sews 1100 stitches a minute – 60% faster than standard machines!
If you're just starting out, choose an entry-level model like the Janome SVD2212BONUSBUNDLE. Its simplicity and durability make it a great first machine for basic sewing tasks.
The Juki HZL-LB5020 has handy features for beginners but can also satisfy experienced sewers with its versatility for various techniques.
When selecting your machine, consider your sewing goals and previous experience to choose features you need.
Maintaining your machine well will ensure a smooth sewing journey as your skills progress.
Budget Considerations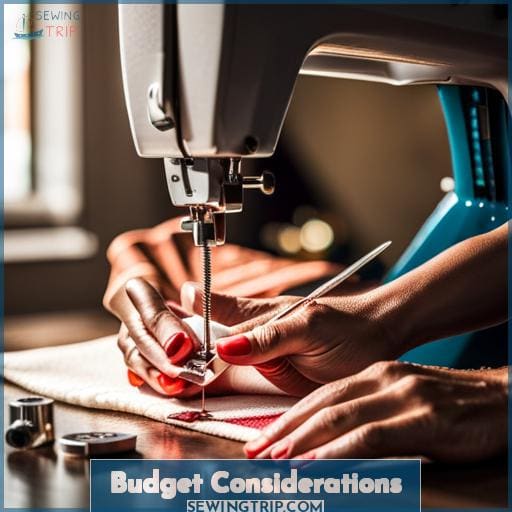 You'll want to set a realistic budget that fits your skill level and project plans before shopping.
Make a project cost plan estimating fabric and notions too.
Consider quality vs affordability. Cheap machines may frustrate.
Save up for upgrades as skills improve. Start with used.
Budget for tune-ups and repairs. Older machines need more care.
Buying used initially allows you to invest more money in a quality machine later. Look for brands known for reliability. Test drive machines using your own fabrics if possible. Avoid flimsy plastic machines that vibrate and make uneven stitches. Be patient finding one in your budget that feels solid and makes nice seams.
Extra Considerations for Specialized Tasks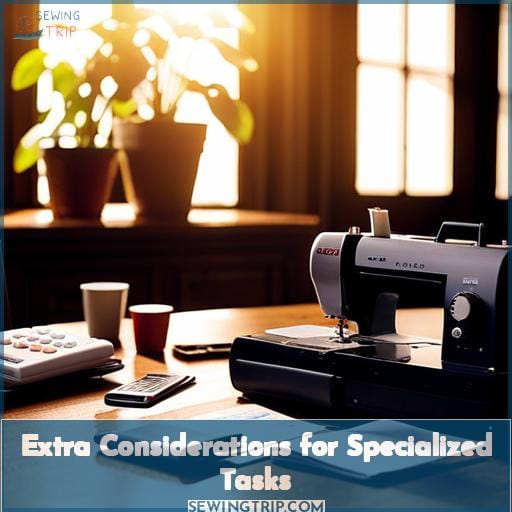 You'd think with all those fancy stitches, your machine could sew itself. But when you want to tackle special techniques like embroidery, quilting, or sewing knits, your trusty basic model may not cut it.
Look for machines with an extended workspace and knee lifter to easily maneuver thick quilts. Adjustable stitch width and specialty feet allow for even feeding on slippery fabrics like silks or stretchy knits.
A sewing machine that offers built-in monogramming fonts, automatic buttonhole stitches, and specialty threads will excel at embellishing your creations.
For machine embroidery, make sure to use interfacing and stabilizers to support the fabric. Investing in a high-end machine tailored to your interests provides the power and precision to master advanced sewing skills with ease.
New Vs. Used Sewing Machine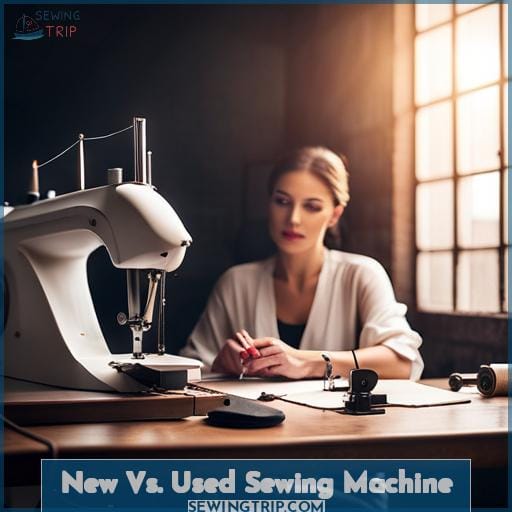 Consider hunting down a vintage gem instead of springing for something shiny and new. With some TLC, a sturdy old workhorse can stitch circles around flimsy models. Inspect stitch quality, test buttonholes, and listen for abnormal noises.
Check that tension adjusts properly for varied fabric thicknesses. Assess convenience features like bobbin thread indicators and needle down functions. Vintage all-metal interiors far surpass most plastic components. Plus, vintage dealers often service what they sell.
Just make sure critical parts like foot pedals and cords are original. If scouting garage sales, preview and plug in before purchasing. With minimal maintenance, a well-built classic machine could sew for decades. For timeless quality on a budget, go vintage.
Tips for Choosing the Right Sewing Machine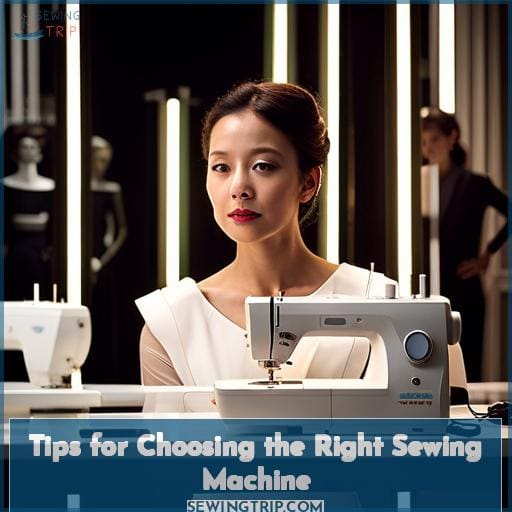 Nabbin' stitches superb as silk calls for test-drivin' a bevy o' machines with your fabrics in tow, lest you wind up saddled with a clunker.
Consider what handmade projects you want to create. Research which features suit those needs so you don't overspend on unnecessary bells and whistles.
Try foot pedals to ensure smooth speed control. Make sure lighting is bright enough for delicate work without eye strain.
Examine bobbin types and how to insert/remove them. Can the machine handle multiple thread weights? Test with your chosen fabrics.
When starting out, don't get overwhelmed comparing all the options. Focus on finding a quality starter machine with the minimum functions required for your projects. Then you can always upgrade as your skills progress. Wise research leads to lifelong sewing success.
Frequently Asked Questions (FAQs)
What accessories come with the sewing machine? Things like extra needles, bobbins, screwdrivers, seam rippers, etc. can add value to the initial purchase.
You'll often receive starter packs of needles, bobbins, screwdrivers, seam rippers, and more with your machine. Handy accessories help you start sewing right away without needing to make additional purchases.
Make sure to carefully review the included accessories before making a purchase as they add value.
Where can I get my sewing machine serviced/repaired? Knowing your options for maintenance and service can help make the buying decision.
Visit an authorized dealer for tune-ups and repairs. Their technicians specialize in your make and model. Getting to know the staff builds trust, ensuring proper care of your machine over time.
Are there warranty or return policies? Understanding the retailer's policies around returns, repairs, and parts replacement is useful when making a purchase.
Look for at least a 1-year warranty covering parts and labor. Ask about an extended service plan. Ensure you can easily return or exchange within 30 days if dissatisfied. Read the fine print on what's covered for repairs.
What are the dimensions? Knowing the physical footprint of the machine is helpful when figuring out where to set it up.
When checking dimensions, do not just note the machine's length and width. Also measure how much clearance you will need to fully raise the presser foot and remove projects.
Does it have adjustable settings like speed control and presser foot pressure? Being able to customize settings based on your experience level and comfort is handy.
Look for speed control to start slowly and work up as your skills improve. Adjustable presser foot pressure lets you sew delicate to heavy fabrics well. Check for adjustable stitch length and width to get the right look. Test needle position options for specialty techniques like zippers or topstitching.
Conclusion
You got this! Choosing the right sewing machine can seem daunting, but breaking it down into manageable steps makes it doable. Focus on your goals and experience level so you can narrow down the options. Test drive models in your price range to see what feels best.
And don't forget – investing in a quality machine built to last is always the wisest choice, even for beginners.