This site is supported by our readers. We may earn a commission, at no cost to you, if you purchase through links.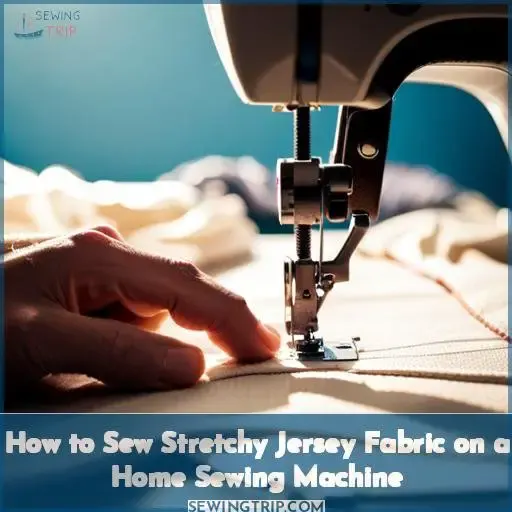 Want to sew with jersey fabric but don't know where to start? You're not alone. Many sewers find jersey intimidating at first. But have no fear – with the right tips and techniques, you'll be sewing silky soft knits in no time.
Here's the scoop on working with stretchy yet forgiving jersey fabric, from calculating stretch percentage to machine settings and garment construction.
We'll walk through sewing a poncho and other garments so you can put your skills into practice. Soon you'll feel empowered to make activewear, loungewear, t-shirts, and more with this extraordinarily comfortable fabric.
Let's unlock the magic of sewing jersey!
Key Takeaways
Calculate the stretch percentage by measuring the unstretched and stretched lengths.
Set the machine to a narrow zigzag stitch to allow for stretch.
Use ballpoint needles and ballpoint pins for smooth sewing.
Pre-wash the jersey fabric in cool water to preshrink it before cutting.
Calculating Stretch Percentage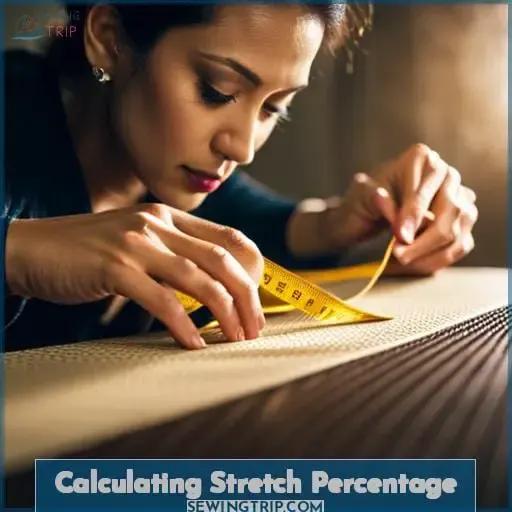 When working with jersey fabric, using the right equipment and machine settings is key to success. To calculate the stretch percentage, start by measuring 10cm of unstretched fabric. Mark this section, then gently stretch it to full capacity and re-measure for the stretched length.
This stretch percentage will determine the stitches, needle size, and other adjustments needed for sewing. Set your machine to a narrow zigzag stitch to allow the seams to stretch with the fabric. Always test settings on scraps first. Ballpoint needles glide smoothly without snagging to prevent damaging runs.
Making garments with jersey requires planning and testing to achieve an end result that is comfortable, durable, and retains its shape.
Equipment to Use
Follow the winding bobbin path with your patient hands, and let the dance of needle and thread guide you through the undulating garden of fabric.
Ballpoint needles – Slide size 70/10 jersey needles into your machine for smooth stitches.
Ballpoint pins – Use to pin knits without damage. The rounded tips glide between yarns.
Sharp scissors – Clean cuts prevent dragging; use bent-handled shears for best control.
Rotary cutter – An essential for accurately cutting multiple layers of knit fabric.
Pressing cloth – Protects knits when ironing.
Machine Settings
Set the machine tension and stitch length appropriately for lightweight knits to keep the fabric from stretching as you sew. A too-tight tension causes puckering; too loose, looping seams. Use a narrow zigzag; the give allows natural stretch.
Ballpoint needles glide smoothly without snagging. Reduce presser foot pressure to minimize dragging.
| Stitch Type | Length (mm) | Tension |
| --- | --- | --- |
| Straight | 1.5-2 | 2-3 |
| Zigzag | 0.5-1 | 2-4 |
| Lightning | 1-1.5 | 2-3 |
Making Garments With Jersey
Wow, measuring just 10cm of jersey reveals its incredible stretchiness, guiding your fabric choices! When constructing with jersey, interface edges first. Use zigzag stitches and ballpoint needles for flexibility. Match seams precisely before pinning.
Apply bindings neatly by pressing, pinning, then topstitching. Hem knits by turning under and topstitching from the right side.
Top Tips for Sewing With Jersey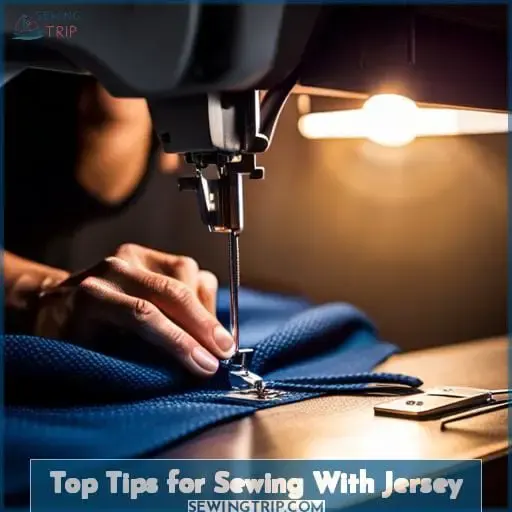 When sewing with jersey fabric, use a ballpoint or stretch needle to glide smoothly between the knit fibers without piercing them. Cut the fabric on a rotary mat with a rotary cutter to prevent stretching and maintain the grain.
Opt for quality polyester or cotton-wrapped polyester thread that has some stretch and won't break. You'll achieve the best results using a narrow zigzag stitch, which allows the seam to stretch with the fabric.
Use the Correct Sewing Machine Needle
You'll be amazed at how smoothly the ballpoint jersey needles glide between loops for flawless seams. 1) Choose the right needle for your fabric – a 10/70 or 12/80 for medium-weight knits. 2) Adjust tension looser for lighter knits, tighter for heavier ones. 3) Lengthen the stitch a tad for stability.
4) Reduce presser foot pressure to prevent stretching. 5) Try a twin needle for visible hems on sleeves or necklines.
Cut With a Rotary Cutter and Cutting Mat
Cut squares on a large mat, sliding the sharp blade effortlessly across that neon green border. Pinning those layered squares keeps the jersey from stretching and shifting. Stabilize shoulder seams with fusible interfacing first.
Then sew slowly, easing the fabric as you go. Always cut jersey on the exact grain or pieces will twist. Test your machine settings on scrap fabric first to check tension, stitch length, and pressure.
Use the Correct Thread
To smoothly sew jerseys, match the thread weight by selecting a fine thread for lighter knits. A polyester thread provides strength without bulk. Choose a zigzag stitch and increase tension slightly. Always test stitch on a jersey scrap first to check tension settings. The correct needle size prevents skipped stitches.
When hemming jersey knits, turn under the seam allowance and topstitch using a straight or zigzag stitch for stretch.
Use a Stretch Stitch
Embrace the gift of zigzag when synchronizing jersey's dynamic spirit. A stitch with stretch prevents popped seams in fluid knits. Lower presser foot pressure while lengthening stitch length to prevent tunneling.
Ballpoint needles glide smoothly between loops, preventing snags. Knits can distort, so always cut on grain. Mark directional stretch lines before cutting. Pin the pattern securely. Steam press from the inside when finishing to avoid imprints.
Gently tug the fabric back to shape while steaming. Celebrate the drape and movement unique to knits with wise construction choices.
How to Make a Poncho

Let's dive right in and discuss how to make a poncho using jersey fabric. You'll need jersey fabric, matching thread, sharp fabric scissors, pins, and a sewing machine. When working with jersey fabric, know that it can be tricky to handle because of how stretchy it is.
Take care when cutting to not stretch or distort the fabric. Mark any pattern pieces on the fabric, pin them in place, and cut with sharp scissors. Make sure to leave seam allowances. Once your pieces are cut, we'll go over assembling the poncho.
You Will Need
Wow, did you know that over half of all clothing produced worldwide contains some percentage of stretchy jersey knit fabric?
Invest in a variety of jersey knit swatches to understand stretch capacity and recovery.
Mark seam allowances directly on pattern tissue with an erasable fabric marker.
Cut and interface the neckline prior to construction for added structure.
Check fit early and often, allowing extra wearing ease.
Finish raw edges with zigzag stitching or binding tape.
With some foresight and planning, sewing jersey knits can be enjoyable. Simply focus on fabric prep, fit, and edges.
Notes
Pre-wash your jersey in cool water to preshrink it before cutting. This will prevent uneven shrinking later. Pin pattern pieces on the grain to avoid distortion. Use ballpoint pins and needles for smooth sewing.
Reduce foot pressure to prevent stretching. Always stabilize edges and seams first. Hem by turning under and topstitching from the right side with a twin needle for stretch.
Cutting Out
Follow the grain as you piece the fabric. With sharp shears, carefully cut each pattern piece on the lengthwise grain of the viscose jersey for drape and recovery. Use tissue paper under the fabric to control shifting. Compare knit types like viscose to cotton jersey to see how the stitches behave and handle differently.
Making the Neck Opening
Fold over the neck opening, then use a needle and thread to secure it like a lifeless patient on life support.
Use ballpoint needles to pierce the jersey without snagging.
Press under 1/4 twice and pin.
Backstitch with polyester thread for stretch and strength.
Trim extra fabric near seams to reduce bulk.
Hemming the Poncho
Pin your poncho and use enough steam when pressing the hem so it lays flat without distortion. Carefully slice the jersey, ensuring the cut follows the exact grain to prevent distortion. Measure the fabric's stretch percentage first. Swap your machine's needle for a ballpoint stretch one, adjusting as needed.
Reinforce corners before sewing hems. Consider clean finishes like zigzag or binding; jersey rarely requires serging. Your poncho's hem is now complete, showcasing your mastery of jersey's unique properties.
How to Sew Stretch Jersey

Let's discuss how to work with stretch jersey fabric for sewing projects. We'll start by understanding the properties of jersey material, then review the best tools and equipment for handling this fabric.
Next, we'll go over techniques for sewing jersey successfully on a standard sewing machine. And if you're still struggling, we'll share some alternate methods to try. With the right knowledge and tools, you'll be ready to tackle any project using stretchy jersey knits.
Part 1: What is Jersey Fabric?
Jersey holds you tenderly like a summer breeze across your skin. Calculating the stretch percentage is key. Lay your fabric flat, measure 10 cm before stretching, then re-measure after stretching. The percentage difference indicates stretch. When cutting, use weights and pins to prevent distortion.
Sew seams with a narrow zigzag and always stabilize edges. Press from the wrong side. Finish by hemming with a twin needle or zigzag stitch. Play with placement prints, stripes, color blocking for dynamic looks.
Part 2: the Best Tools and Equipment for Stretch Jersey Fabric
Grab your Omnigrid quilting ruler, ballpoint jersey needles, Fiskars cutting set, Niagara spray starch, Even Feed walking foot, and HeatnBond adhesive for stitching knits without restriction. Having the right tools for handling stretchy jersey fabric makes sewing knits foolproof.
Mark and cut fabric with minimal distortion using a rotary cutter, self-healing mat, and acrylic quilting ruler. Stitch smooth seams and hems with jersey needles, an adjustable presser foot, and zigzag stitch.
Part 3: How to Sew Stretch Jersey on a Standard Sewing Machine
Don't get discouraged if your usual gear doesn't make stretch jersey behave – it's a tricky fabric for veterans and newbies alike. Knits require special handling. Ballpoint needles glide smoothly without snagging loops.
Narrow zigzag stitching adds stretch and flexibility. Adjust presser foot tension to limit stretching. Staystitch necklines first. Hemming knits? Try a twin needle for invisible reinforcement. With care in cutting and sewing, you'll stitch knits perfectly and finish edges neatly.
Part 4: Still Stuck? Try These Alternate Methods
Even breathing easy, stash the stress with stitch-free shortcuts that have moved the needle without shredding it.
Baste seams by hand before machine stitching. Saves adjusting tension a thousand times.
Fold and press pre-made knit binding before pinning. Perk up necklines pronto.
Tricky overlocking? Just zigzag seam allowances together if your machine can't handle knits.
Try a twin needle for professional hems on your home machine.
Alter seam allowances wider at shoulders and armholes. Prevents droopy seams in stretchy spots.
What is Jersey Knit Fabric?

You can really get wrapped up in jersey's stretch and comfort, hugging your curves like a cozy sweater. Jersey is a knit fabric that has natural stretch and recovery. To calculate the stretch percentage, measure 10cm of unstretched and stretched fabric.
Knowing the stretch percentage helps determine fit. Always test machine tension on scraps first when sewing jersey. Adjust the tension and stitch length for smooth sewing without skipped stitches. Making custom knit garments allows freedom of fit and movement. However, knits require specialty tools like ballpoint needles.
Take care not to stretch or distort jersey when cutting. The advantages of sewing jersey are comfort, stretch, and ease of construction. The disadvantages are potential runs and distortion. With some know-how, you'll create garments with the perfect custom fit.
Frequently Asked Questions (FAQs)
What type of thread works best for sewing jersey fabrics?
You'll need a stretch needle and polyester or nylon thread when sewing jerseys. These slide smoothly through the fabric without snagging the loops or creating runs.
How can I prevent my jersey fabric from stretching out of shape when sewing?
You'll need to pin your jersey to pattern paper or a stabilizer while cutting and sewing. This prevents the knit fabric from stretching and distorting the garment shape. Use plenty of sharp pins close together.
What kind of fabric scissors or rotary cutter blades should be used when cutting jersey?
Using ballpoint blades or extra-sharp scissors is crucial when cutting jersey; 70% of puckered necklines result from poor cutting technique. Opt for scissors with micro-fine teeth that cleanly slice each thread, rather than tearing through with blunt shears.
Remember to always cut knits on-grain while anchoring with pins or weights to prevent stretching and distortion.
Is it necessary to finish the raw edges of seams when sewing with jersey knits?
Inner goddess, finishing seams is unnecessary with jersey's forgiving nature. Simply zigzag or use an overlocker for added structure, but allow her easy stretch and drape to move freely, material flowing against skin, unencumbered and wild.
Your power lies in surrendering control, finding liberation in fabric's sensual softness.
What sewing machine needles work best for avoiding skipped stitches when sewing knits and jerseys?
For smooth sewing in knits and jerseys, use stretch or ballpoint needles. Their rounded tips glide between fabric yarns instead of piercing them. Select needles sized for your fabric; thinner jerseys need finer needles. Match needle type to fabric to prevent skipped stitches.
Conclusion
You've learned how to confidently sew with stretch jersey fabric. Like a graceful dancer, it moves with you as you glide through each step. Pinning, cutting, stitching – from start to finish, treat the fabric with care and it will drape smoothly across your body.
The right tools allow you to maneuver with precision; a sharp needle pierces cleanly, quality scissors cut true. Adjust tension thoughtfully, minding the balance. Move slowly, deliberately, and the jersey will follow your lead.
Now put on your jersey creation and dance! How to sew jersey fabric is a learned skill, but with care and patience, you can make garments that flow.