This site is supported by our readers. We may earn a commission, at no cost to you, if you purchase through links.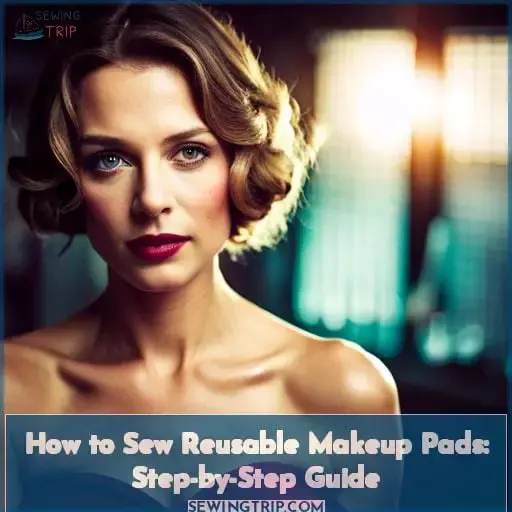 Ready to make a difference in the world? If you're looking for an easy way to help reduce your environmental footprint, reusable makeup pads are a great option. In this step-by-step guide, we'll show you how to sew your own set of reusable makeup pads from cotton fabric squares.
Making this simple switch to reusable makeup pads is achievable and will go a long way towards making our planet more sustainable. We'll also discuss the best fabrics for these projects as well as tips on caring for and washing them so they last longer.
So get ready – let's start learning how to sew reusable makeup pads! First, you'll need to gather your supplies. Good fabric choices for reusable makeup pads include cotton, bamboo, hemp, and microfiber cloths.
Next, cut your fabric into squares or rounds. The size you cut will determine the size of your finished pad – aim for around 4 to 6 inches across. Now, sew the edges with a zigzag or overlock stitch to prevent fraying and give a decorative accent.
If you want to add a layer of waterproof fabric to one side, cut a second smaller square of PUL fabric and sew it onto one face of the pad.
That's it! Now you have beautiful reusable makeup remover pads to use instead of disposable wipes. Be sure to wash them regularly in gentle detergent and air dry or tumble dry on low.
Key Takeaways
Choose materials like cotton, bamboo, hemp, or microfiber for the fabric.
Use a zigzag or overlock stitch to prevent fraying of the fabric.
Consider adding PUL (polyurethane laminate) fabric as a waterproofing layer.
Get creative with different fabric shapes such as hexagons, triangles, or circles for the pads.
How to Sew Reusable Makeup Pads
For your next quilting or sewing project, consider using this pack of 50 floral cotton fabric squares to add beautiful patterns and prints. The 10 x 10 inch soft cotton squares come in a variety of floral designs perfect for incorporating into quilts, bags, cushion covers, and anything else you'd like to sew.
Cotton Fabric Squares Quilting Sewing Floral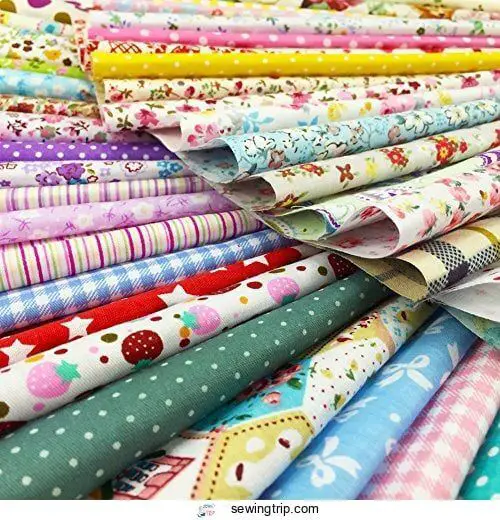 View On Amazon
Surprise yourself and add a pop of pattern with these assorted floral cotton squares for your makeup pads! The Flic flac pack offers a fun set of 50 unique 10-inch cotton squares—perfect for bringing vibrant style to your homemade removers.
From polka dots to gingham, you'll discover an array of playful prints. Embrace your creative spirit by incorporating different motifs in each pad. Despite some variation in fabrics, these machine-cut squares provide soft, quality cotton well-suited for cosmetic use.
Nice coordination of colors and patterns
Suitable for creative makeup pad designs
Affordable price point
Thinner than quilting-weight fabric
Some quality variation in prints
Can seem rough before pre-washing
Greatex Mills Solid White Flannel Fabric Four Yards
View On Amazon
Go ahead and grab that 4 yards of soft white flannel from Greatex Mills. You'll love working with this 100% cotton fabric that's both cozy and durable. It's the perfect material for sewin' winter loungewear and blankets that will keep you warm all season long.
This pre-cut yardage makes startin' projects fast and efficient. Just throw it in the wash on cool before sewin' for optimal results.
While it may not be the most excitin' fabric purchase, this versatile cotton flannel is essential for any crafter's stash. When makin' reusable makeup pads, it provides the perfect soft, absorbent layer against skin.
Soft and breathable 100% cotton
Pre-cut into 4 yard lengths for convenience
Machine washable for easy care
Versatile for many sewin' projects
Lacks visual interest or patterns
Requires washin' before use
Can shrink if washed/dried improperly
Turquoise Sewing Thread Cones Polyester High Tensile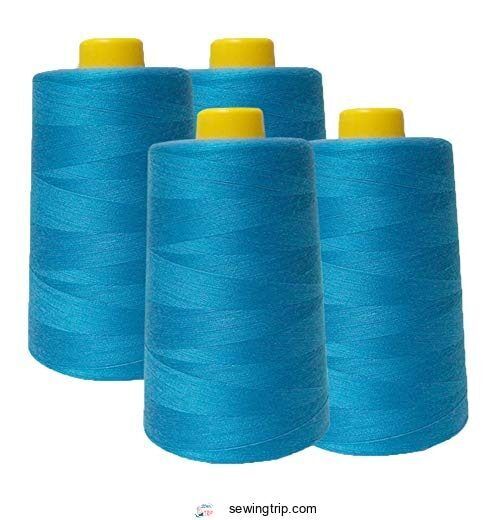 View On Amazon
Embrace the eye-catching turquoise hue to elevate your project with the vibrant Turquoise Polyester Sewing Thread Cones from AK TRADING CO. The quality polyester's high tensile strength and reduced lint make it suitable for stitching your eco-friendly makeup remover pads.
Sew the cotton and flannel squares together with this all-purpose thread. Its superior strength minimizes breakage while the anti-looping design provides smooth, precise stitching.
Vibrant turquoise color
High tensile strength
Reduced lint
Occasional thread breakage
May not work with some machines
Limited color options
Amazon Basics Multipurpose Comfort Grip Scissors Office 3 Pack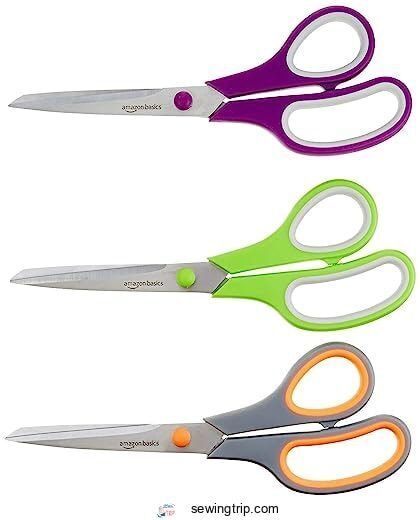 View On Amazon
Keep those multipurpose Amazon Basics scissors handy for effortlessly cutting your fabrics and threads as you're crafting reusable makeup pads. The PVD coated stainless steel blades will stay sharp through countless snips and cuts – perfect for precision work.
Handle multiple materials with ease using the comfort grip and dedicated pairs for different fabrics.
Long-lasting sharp PVD coated blades
Comfortable soft grip handles
Sturdy and durable construction
Versatile – can cut various materials
Ambidextrous use
Expensive compared to basic scissors
Not ideal for very thick materials
Need care to avoid dulling blades
Fiskars Rotary Fabric Cutter Set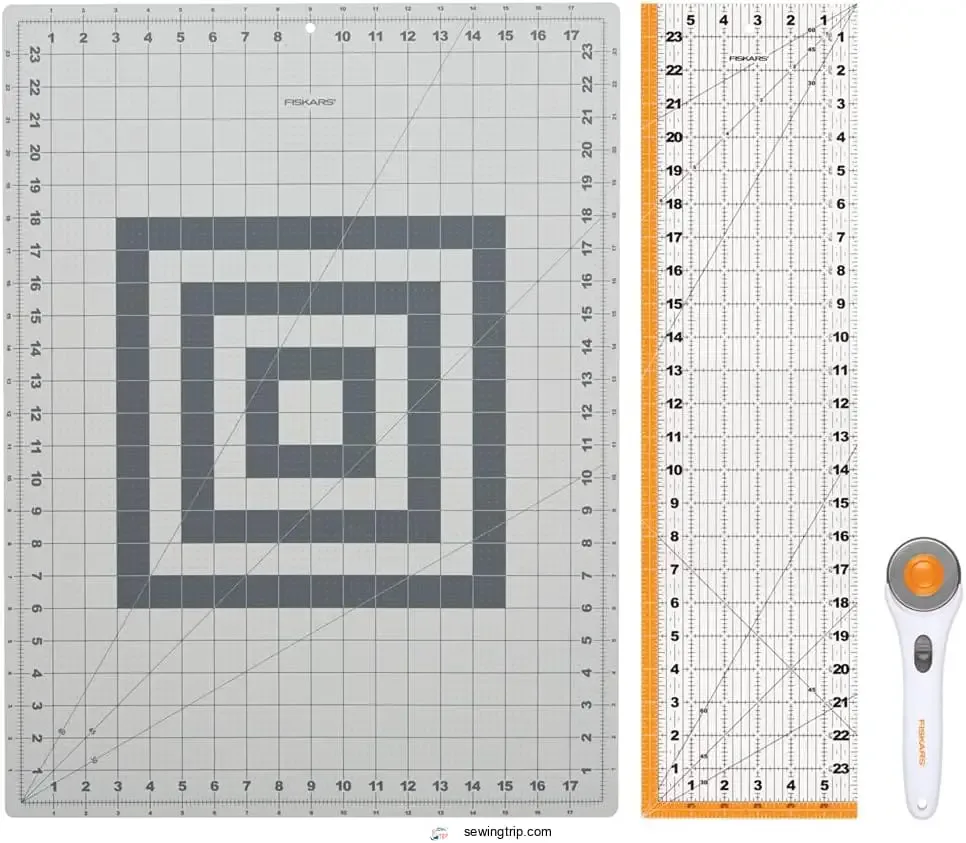 View On Amazon
Grab your Fiskars rotary fabric cutter set for precision snipping of your cloth. This handy trio simplifies cutting fabric with pro-grade tools. The lightweight cutter allows you to slice through material with ease. Snap it open for quick access, then rotate the circular blade as you hold down your fabric.
The cutting mat catches the blade to protect your work surface with its self-healing surface. Its grids and angle guides empower accurate pattern cutting. The clear quilting ruler completes your fabric snipping arsenal.
This durable set is essential for cutting quilt chunks, patterns, and craft material minus hand cramps.
Sharp cutter blade provides clean cuts.
Portable set for sewing on-the-go.
Cutting mat protects work surfaces.
Ruler allows cutting straight lines.
Cutter blade requires replacement.
Smaller sized cutting mat.
Mat surface can warp over time.
Ruler difficult to see through.
Singer Pearlized Straight Pins Size 24 White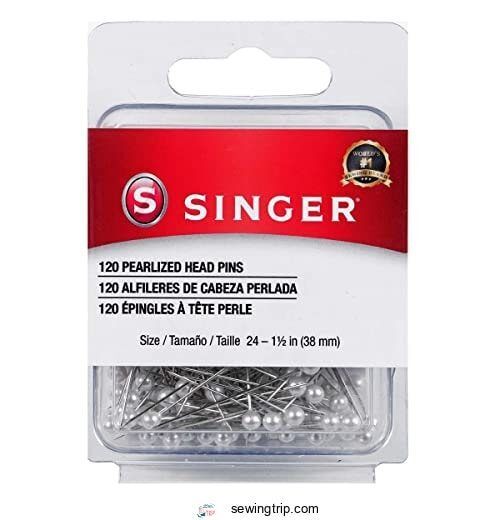 View On Amazon
Use the size 24 nickel-plated Singer pearlized straight pins for extra strength when tacking your layers. The pearlized heads make these pins easy to spot while the rust-resistant steel provides durability.
Though some report issues with dull tips, these 1 1⁄2 inch pins work beautifully for hemming and other light duty sewing tasks.
Rust resistant nickel-plated steel
Sturdy for light duty sewing
Pearlized heads for visibility
Pins can bend
Tips may be dull
Not ideal for stretchy fabrics
Clover Wonder Hair Clips Pack Colors Vary
View On Amazon
Fan fabric's layers with wonder's wide embrace. Holding fabric firmly for sewing takes dexterity. Clover's clips grip fabric without pinching or slipping. The easy slide base helps position multiple layers precisely.
Maneuver intricate designs and patterns with ease using the calibrated guide scale. These clips enable flawless alignment each time. Their colorful plastic construction withstands repeated use.
Sturdy, durable plastic material
Wide opening fits many fabric layers
Calibrated guide helps align layers
Slightly more expensive than basic clips
Limited color selection
Can leave impressions on delicate fabrics
What is the Best Fabric for Reusable Makeup Pads?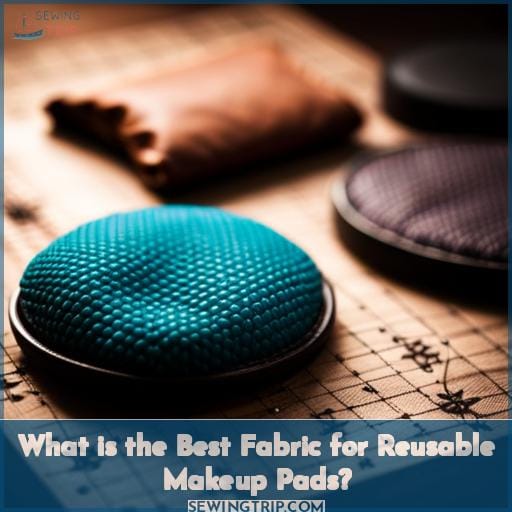 Treasure your skin by choosing the softest fabrics for your homemade pads.
Here are the 4 best fabric options for reusable makeup pads:
Organic cotton jersey – This super soft knit fabric feels gentle on skin. It's breathable and absorbs liquids well.
Bamboo terry cloth – Naturally antibacterial bamboo fabric is sustainable and extra soft.
Flannel – Washable cotton flannel has a soft nap. It's budget-friendly and comes in many cute prints.
Upcycled fabrics – Repurpose old t-shirts, flannels, or scrap fabrics. This eco-friendly option reduces waste too.
When selecting fabrics, prioritize softness and absorbency. Natural fibers like cotton and bamboo work great. Having multiple layers provides more absorbency. For added durability, choose thicker woven fabrics over thin knits.
With some thoughtfulness, you can create reusable makeup pads that pamper your skin while reducing waste.
Selecting the Right Size for Reusable Makeup Pads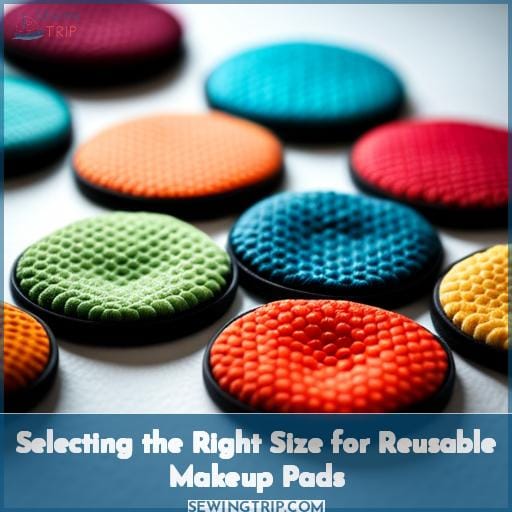 When choosing fabrics for reusable makeup pads, go for organic options. The ideal material is 100% organic cotton, preferably jersey knit for its softness and gentleness on skin. Next, pair the cotton with either bamboo terry cloth or organic flannel to make double-sided pads that gently remove makeup without irritation.
For convenience, opt for pre-cut 3-inch squares, which simplify the DIY process.
The soft organic cotton ensures the pads feel smooth against skin while efficiently removing makeup. Meanwhile, the bamboo terry cloth or organic flannel provide gentle scrubbing power to lift off stubborn products.
Together, these natural materials offer a reusable, eco-friendly alternative to disposable makeup remover pads. The pre-cut squares make it easy to sew custom pads in the size you need. Ultimately, organic cotton paired with either terry or flannel offers the ideal balance of soft, irritation-free cleaning power.
Choosing fabric materials
Lay your eyes on the softest organic cotton jersey for those makeup pads, darling. For skin-sensitive sweethearts, treat yourself to gentle bamboo terry toweling or printed organic cotton. Mix and match fun fabrics for a unique look. Choosing eco-friendly, sustainable materials benefits the planet while pampering your pretty face.
Explore different fabrics like soft jerseys or terry cloth for a custom creation.
Determining ideal dimensions
When determining the ideal dimensions for your reusable makeup pads, my dear, the sweet spot is around 3 inches for manageable sizes with bulk.
Cotton squares
Flannel backing
Hexagons and circles
Fun shapes too
Fabric selection and shape considerations bring creativity. Sewing techniques let us repurpose fabric waste.
Considering alternative shapes
You could also experiment with shapes like hexagons or even triangles for a unique look for your reusable makeup pads. Hexagons provide a fun honeycomb effect while triangles make for a more angular design.
Circles create soft rounded pads, or try a star shape for a celestial vibe. Diamond shaped variations offer a stylish flair. Mixing and matching shapes allows for eclectic multi-patterned pads. Get creative with the shapes to make these DIY makeup removers your own.
Why Square Shape is Preferred for Reusable Pads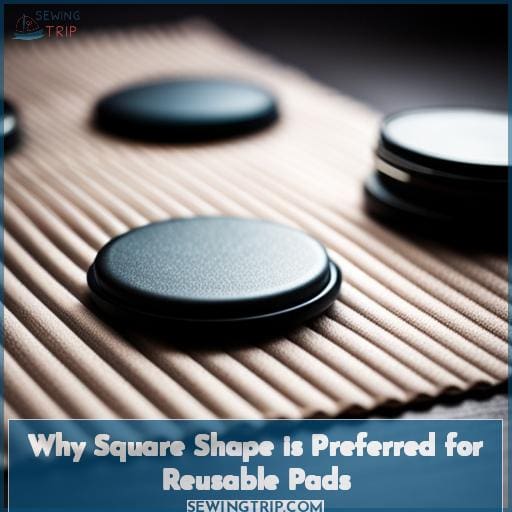 When it comes to shape preference for reusable makeup pads, the square shape reigns supreme for a number of compelling reasons. First, the square shape maximizes surface area, allowing the pad to wipe a larger portion of skin with each swipe.
The 90-degree angles also make squares easier to sew than circles. For beginners, straight seams simplify construction.
Squares also conserve fabric better than circles, reducing waste for eco-friendly designs. Of course, feel free to experiment with different shapes and sizes in your homemade pads. But remember the square's winning combination: more coverage, easier sewing, and sustainability.
Ultimately, the simple square delivers on convenience, ease, and eco-consciousness – everything you need for a homemade makeup pad.
Caring for and Washing Reusable Makeup Pads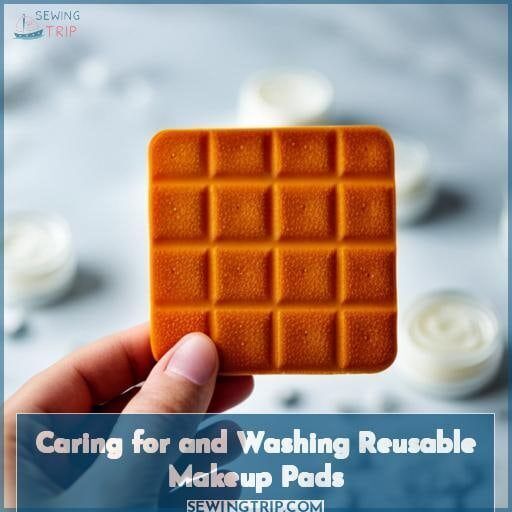 Gently slip those pretty pads into a mesh laundry bag before tossing into the wash. This prevents snags so your handmade creations keep their shape wash after wash. When stains happen, spot clean with your favorite natural soap, then launder as usual in cold water on a gentle cycle.
Low temperatures prevent color bleed, and eco-friendly detergents do their work without harsh chemicals.
For longevity, line dry or use low heat. With a little care, your homemade pads will serve you well for years to come. Choosing reusable over disposable is an empowering shift toward an eco-conscious lifestyle that lessens environmental impact.
What creative ways can you make mindful changes?
How to Make Reusable Makeup Pads Using a Sewing Machine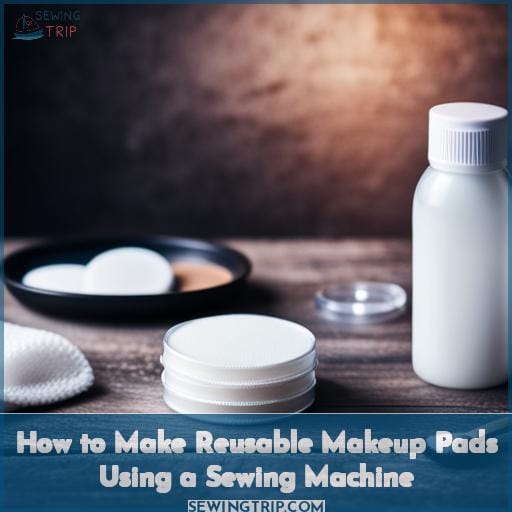 Gather your chosen materials and let's start sewing some eco-friendly makeup pads! Select your fabrics – cotton, bamboo, or organic jersey work well. Thread your sewing machine and attach a 1/4 presser foot for best results. Layer your fabrics with right sides facing and pin in place.
Sew around the edges using a 1/4 seam allowance, leaving a 1 opening. Clip corners, turn right side out and press. Topstitch closed. These quick sewing techniques allow you to transform fabric scraps into sustainable makeup remover pads.
Cotton for softness
Jersey for stretch
Bamboo for absorption
Looking for More Sewing Ideas?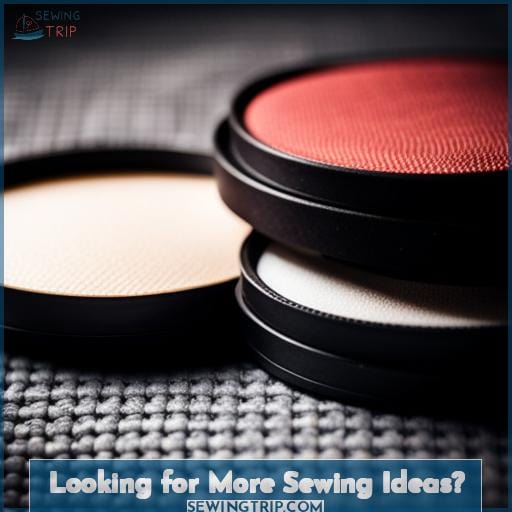 Now that you've discovered how to sew reusable makeup pads, expand your sustainable sewing skills further! Explore creative ways to upcycle old clothes into new fashions. Give t-shirts new life as market totes or pillow covers. Turn vintage dresses into aprons or curtains.
Get inspired by eco-friendly blogs and videos on recycling fabrics. Host a clothing swap to share pre-loved pieces. Start your own eco Etsy shop featuring upcycled creations. Grow an organic dye garden for natural, plant-based dyes.
Promote mindful consumption by making use out of discarded materials. Let this sewing tutorial spark even more ideas for sustainable living and creative reuse.
Conclusion
With the right materials, tools, and steps, anyone can create their own reusable makeup pads in no time. By following the simple instructions outlined in this guide, you can craft your own set of reusable makeup pads quickly and economically.
On average, these pads cost around $10 and take only an hour of your time—making them a great choice for eco-friendly, sustainable beauty.
So why not give it a try today and start enjoying the benefits of reusable makeup pads?