This site is supported by our readers. We may earn a commission, at no cost to you, if you purchase through links.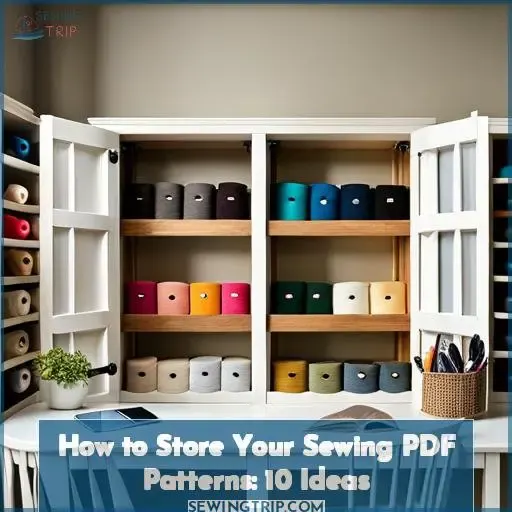 Here are some interesting statistics and some clever and affordable options to help you save time when searching for your digital sewing patterns.
The average sewist is estimated to have 20-30 PDF patterns in their collection, but without proper storage, it can quickly become overwhelming! We've all fallen for a 99 cent pattern sale and bought an unholy amount of patterns.
I get it, some things are too good to pass up. When stored properly, digital PDF patterns enable ease and power at your fingertips.
Let's get a handle on organizing your patterns and defuse your clutter bombs with these sewing pattern storage ideas. I'll share my 10 favorite ways to store PDF sewing patterns so you can feel like you have a new pattern library and find the motivation for your next project.
Key Takeaways
Organize PDFs in clearly labeled folders on a computer or cloud storage.
Use apps and digital wishlists to catalog and manage the pattern library.
Display PDFs on labeled hooks for quick identification and access.
File printed patterns in labeled envelopes; flat storage allows for easy grabbing.
Option 1: Pattern Hooks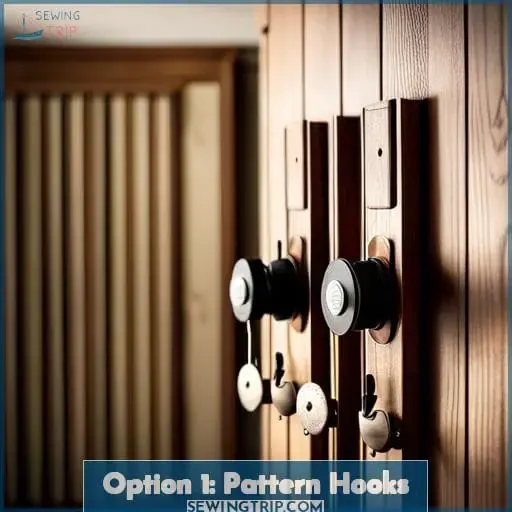 You'll love displaying those printed PDFs on sturdy hooks with images for quick reference. Choose sturdy metal hooks with screw holes to securely mount them on the wall. Print a thumbnail image of each pattern and tape it to the hook for easy identification.
Hole punch the corner of each PDF pattern printout and slide it onto the matching hook.
Group the hooks by garment type or style for efficient access when starting projects. Having patterns displayed makes it a cinch when you need to grab one for measuring seam allowances, marking alterations, tracing seam lines, or cutting corners.
Plastic sleeves protect the PDF printouts from rips, stains, and fraying at the punched holes. Invest in quality hooks so patterns don't slide off, especially larger or multi-page prints.
Displaying sewing patterns on labeled hooks keeps your PDF print collection neatly organized.
Option 2: Clip Hangers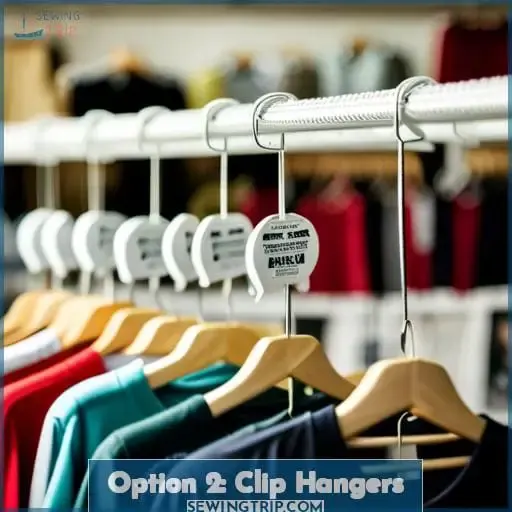 Print pattern pieces and use clip hangers to conveniently hang them, speeding up pattern prep and keeping info pages attached. Clip hangers allow you to print patterns on regular paper, punch holes to hang, clip pattern pieces and info pages together, and hang them on nails, hooks, or magnetic strips on the wall.
The lightweight plastic hangers neatly align patterns, maximizing wall space. Simply grab pattern pieces off the wall when needed, keeping them organized and easy to find. When finished, clip the pieces back on the hanger and return them to the wall until next time.
Clip hangers are an affordable way to creatively display and access your PDF patterns.
Option 3: Clear Files and Folders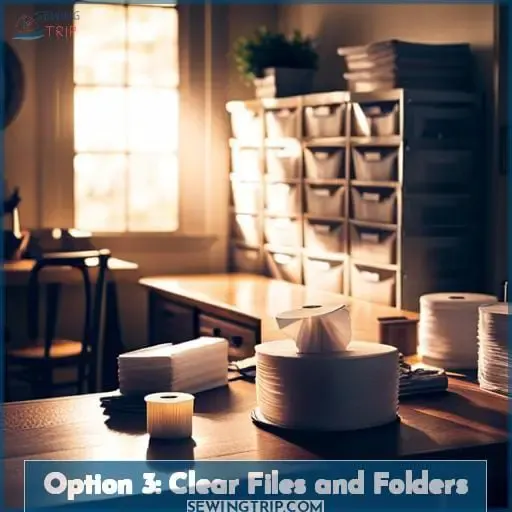 Gathering gaggles of grouped garment graphics in clear plastic keeps clothing creators collected. Storing printed PDF patterns in transparent poly folders reinforces pages and provides durable storage.
Fill filing cabinets with poly folder sections. Use file dividers to separate pattern types. Plastic filing cubes neatly contain folders. Printing costs make digital filing smart. Clear files display images, identifying patterns. Fold printed patterns neatly into labeled see-through folders.
File alphabetically in plastic binders on shelves. Sections by garment type keep categories clear. Durable poly pages prevent rips. Transparent storage eases finding folded patterns.
Option 4: Large Envelopes

Label and file printed patterns in large envelopes for easy grabbing and sorting. Envelopes keep patterns flat and contained while providing quick identification when organized and labeled appropriately.
Look for sturdy, reinforced envelopes at least 12×16 inches to accommodate most pattern widths. Use permanent markers or labels to tag envelopes with pattern names/numbers for instant recognition when filed.
Punch holes to store in binders sorted by garment type or designer. For magazine patterns, tape the pattern photo to the front of the envelope for visible identification. Envelopes stand up for visibility when filed in magazine holders or bins. Group current working patterns in one or two envelopes for convenience.
Large envelopes neatly file flat printed patterns for fast access and sorting.
Option 5: Pattern Storage Boxes or Baskets

Box your newly purchased patterns inside customized hatboxes for safekeeping until it's time to make that 1940s-inspired frock. Decorative boxes and baskets provide smart storage for PDF sewing patterns, allowing quick access to printed project pieces and protecting delicate tissue paper.
Use sorted boxes to organize patterns by type like dresses or pants. Label them with tags or stickers for easy identification. Baskets with handles make it easy to tote projects around. You can also use smaller matching boxes to corral scraps, thread, and notions.
To keep track of box contents, create a digital spreadsheet. This way, you can easily find the patterns you need. Sorting patterns by brand or era will keep related designs together, which is helpful for themed projects.
The boxes stack neatly on shelves, helping to contain messes and maximize space. And the best part is that your vintage patterns and supplies now have their very own designer boudoir.
Option 6: Manila Folders

Fit patterns snugly into labeled manila folders secured with clips, then neatly file 'em in sturdy storage boxes.
Manila folders keep printed patterns organized and protected. Simply print sewing patterns, fold to fit manila folders, and clip closed.
File folders containing patterns stand upright in sturdy plastic storage boxes with lids. Stack and store boxes on shelves, in closets, or under beds. The cardboard folders shield patterns from wear.
File folders containing patterns can also be tucked in decorative baskets or bins for a tidier look. With a little time and energy, it's easy to neatly file paper patterns so they're accessible yet secure.
Option 7: Concertina File Box

If short on space, try folding printed patterns accordion-style and filing 'em in a cute container you can carry around. Simply fold each sheet back and forth into a compact concertina. Then pop your printed patterns in a portable box or tote with dividers, labels or pouches to separate.
Look for plastic boxes, fabric caddies, and zippered pouches that suit your style. Accordion folds can get messy with wear, so consider paper quality. If digitally savvy, scan originals for backup. For the best print results, invest in a quality home printer or printing service.
With printed patterns organized in a portable file box, you'll have convenient access to project instructions and pattern pieces anywhere inspiration strikes.
Option 8: Roll Your Patterns Up

Heavens, your heart must flutter as you gently roll those precious patterns and lovingly secure them with satin ribbons, cherishing each creation as a timeless treasure. As your collection grows, consider cataloging with a simple spreadsheet to track details like sizes and fabric types.
This prevents losing digital files and helps when planning purchases. Invest in quality storage materials like acid-free tissue, archival tubes, and specialty ribbons to protect delicate prints. Display favorites in your studio for inspiration or share with fellow sewists. Though our passions fill our bins and crowd our shelves, those dreams wrapped in tissue endure.
Option 9: Zip Lock Bags

You'd benefit from zipping up labeled bags for portability when sorting your PDF sewing patterns.
Use gallon or quart-sized bags for your patterns.
Label bags with the pattern name, size, and number.
Stack bags in storage cubes or boxes.
Portable for transport to the sewing room or class.
Ziplock bags keep your patterns clean, dry, and wrinkle-free. The see-through plastic provides visibility to identify patterns at a glance. Securing the bags prevents ripping, damage, and loss of pieces over time. Stacking the bags allows you to neatly sort and organize your expanding pattern inventory.
Option 10: Magazine Holders

Looking for a way to store and organize your print-at-home PDF sewing patterns? Plastic magazine holders or paper sorters are a great option. Simply print your patterns, fold them up, and file them into plastic folders labeled by pattern name or type.
Slide these folders into the magazine holders upright, making your patterns visible and easy to pull out when needed.
You can also take your patterns to a copy shop for printing. Have them printed on cardstock, then fold and file right into your labeled plastic folders. Storing PDF patterns this way keeps them protected and makes it a breeze to find what you need.
Plastic Folders for Print-at-home PDF Patterns
Throw your print-at-home patterns in plastic file folders to keep 'em tidy and easy to find later. These transparent pockets are perfect for storing patterns printed on regular paper. File them in binders or boxes using dividers labeled with garment types. The see-through design makes identifying patterns a breeze.
Here's a handy table with folder and binder options for filing printed PDF patterns:
| Folder Type | Ideal For | Binder Options |
| --- | --- | --- |
| Sheet protectors | Multi-page patterns | 3-ring binders |
| Top-loading sleeves | Single sheets | Boxes or crates |
| Side-loading pockets | Large pattern pieces | Magazine holders |
These stylish storage solutions empower seamstresses to enjoy print-at-home freedom with organization.
How to Store Your Copy Shop PDF Patterns
Girl, fit those copy shop PDF patterns in sturdy magazine holders to keep 'em tidy.
Use thick cardboard to support the weight.
Make sure they are wide enough to fit large sheets.
Ensure they have sturdy construction that won't tip.
Make sure they are stackable for compact storage.
With some handy magazine holders, you'll have those paper patterns neatly filed and ready to sew.
Frequently Asked Questions (FAQs)
How do I organize my PDF patterns on my computer?
Organize PDF patterns in folders on your computer or cloud storage. For example, create folders like Dresses, Tops, and Pants to easily find the pattern you need.
What is the best way to identify and label PDF patterns for storage?
When organizing your PDF patterns, create a simple labeling system. Print small photos of each garment and tape them to manila envelopes or plastic sleeves. Store folded patterns inside, filed alphabetically in boxes. This allows you to quickly identify and access the patterns you need.
How can I protect my printed PDF patterns from damage?
You can protect those precious printed patterns, crafter! Simply slide each page into archival-quality sheet protectors to shield against spills or rips. They will be preserved as neatly as your grandma's antique doilies, ready for your next whimsical creation.
What technology or apps help manage my pattern library and wishlists?
Let your eyes light up like a child's on Christmas as technology untangles your pattern library. Mobile apps – neatly cataloguing and accessing those files anywhere. Cloud storage – keeping your treasured collection safe if disaster strikes.
Digital wish lists – organizing future makes like an expert chef gathering ingredients.
What is the most compact way to store my patterns for limited space?
With limited space, pack printed patterns in zippered binders. Organize them by garment type, folded with the facing outward. Hole punch each sheet for portability. Your customized mobile library empowers sewing adventures anywhere.
Conclusion
Like beauty products neatly organized in a vanity, you'll find your sewing inspiration when your patterns are tidy. Sorting your collection into bins, files, or envelopes makes for smooth sewing. No more rummaging to start a project.
Test methods until you discover the way that clicks. Then watch your sewing room transform into a sanctuary, and your hands craft creations.