This site is supported by our readers. We may earn a commission, at no cost to you, if you purchase through links.
If you are looking for an embroidery machine that can handle a variety of embroidery projects, from clothing and accessories to home goods, then the Janome Memory Craft MC350E is a machine to consider. Not only is it an excellent monogramming machine, but its ease of use also allows you to make your personal style statement, however complicated it may seem at first glance. Unlike most other machines on the market, this is just an embroidery machine, with no sewing options. With that in mind, if you want nothing other than an embroidery machine, this just might be for you. Everyone wants to buy the best embroidery machine, but with everything on the market, it may not be that easy. Although the Janome Memory Craft 350E claims to be one too, we will try to establish that through review, by discussing what this Janome embroidery machine offers, what its pros are as highlighted by several user reviews – and ultimately, if you like it.
In the box, the Janome Memory Craft 350e comes with three standard accessories. These accessories include:
A special bobbin
Embroidery hoop A, with dimensions 125 x 110 (mm)
Embroidery Hoop B, with dimensions 200 x 140 (mm)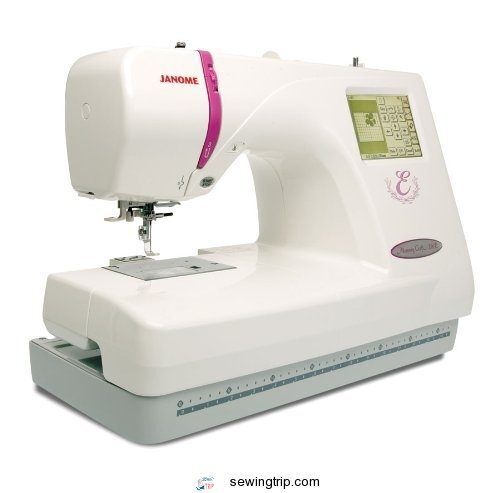 Now let's analyze the key features of the Janome Memory Craft 350th Embroidery Machine Making It a Worthy Purchase:
Built-In Designs
To the Beginner To help you get started with your embroidery while creating great results the machine has over 100 built-in designs that can right outside the box. Apart from that, it also offers 3 different fonts along with 2 and 3 letter monograms.
Large embroidery board to ensure the convenience of most projects
The machine can embroider from all sizes up to 5.5 " x7.9 ".
Simple design transfer and compatibility
The machine also allows you to upload your own designs to it, allowing you to bring your creations to life. We can do this via an ATA PC card or via USB, where the supported format / extension is. jew.
Easy editing and setup of designs
If you compare it with other embroidery machines, the Janome 350e certainly stand out for its ease of use. The LED back lit screensystematically guides you through everything you need to do. It also has on-screen editing functions that allow you to resize / enlarge, convert, drag, drop, zoom and rotate your designs to best fit them.
High embroidery sewing speed and built-in threader
The embroidery sewing speed you get with it is about 650. It has also an automatic thread cutter as a needle threader built in to make things even easier.
Maintenance
As you would expect with any quality home embroidery machine, the Janome 350 e does not require much maintenance. Once you have bought this machine you don't have to worry anymore as it automates most tasks and does not require special care.
Most They can purchase direct replacement parts for this machine from the manufacturer, Janome. These are available from a reputed Janome retailer or wholesaler, at Emerson on the manufacturer's website. I recommended you check the quality and authenticity of the spare / replacement parts you install in
Janome Memory Craft 350E]to ensure that the warranty remains valid and performance does not deteriorate. Any non-genuine part could not only prevent the machine from working properly, but would also invalidate the warranty, as stated below.
Advantages
Some of the main advantages of this embroidery machine, as gathered from customer reviews all over, are:
Ease of use and simplified operation
One of the main reasons to buy electronic embroidery and sewing machines is how easy they are to use, and the Janome 350E is a true example of that. The illuminated panel provides you with all the instructions in the most simplified way, while the on-screen controls make adding and editing your own designs simple and effective.
Add, edit and customize your own designs
In the Janome 350E all you have to do is add your own design, upload it via a USB or via an ATC PC card.
High sewing speed with excellent quality to save you time
The machine has an embroidery sewing speed that is around 650 ppm, so precision stitches also save time and deliver quality results faster. You are getting the best stitch quality that no other embroidery machine can match.
Precision Automatic Needle Threader
There are many machines that only have an automatic needle threader, but with this will work every time. Add to that the automatic thread cutter and your embroidery project has just become a fun activity!
Pay only for what you want
No need to buy an embroidery sewing machine combination if you don't need it has. With the 350E, you only pay for what you want – a high quality embroidery machine that delivers great results every time you use it!
Disadvantages
With all those features and advantages mentioned so far in this review, it may seem as if the Janome Memory Craft 350E is a perfect embroidery machine without drawbacks. However, it is not, and this is what we will cover in this section. Here are some drawbacks to expect if you go for the 350E.
Low coil and associated problems
Users have reported that the low coil function does not always work with the best results. This is mainly because they only displayed the displayed message for a short time – something you might miss in between a serious embroidery project.
Pre-loaded designs
Although there are several pre-loaded designs in the machine, another one is asked how useful they actually are. The designs that come with the machine are simple and don't cover a wide variety as you might expect.
Display screen and corresponding quality change
LED screen quality and brightness change frequently during use automatic, which is annoying as you may have to reset it in between your embroidery project.
Lack of support for design files
Although design files can to the machine, it can only be accept. def files.
As we mentioned earlier in this review, the Janome Memory Craft 350E embroidery machine is quite easy to use. It works great with many clothing and materials, and the user just has to switch threads to work with it. Any of the pre-installed designs can right out of the box with the machine. We can add any new design via a ATA-PC card or transferred via USB.
With everything we've said about the machine so far, it's pretty clear that the Janome Memory Craft 350E is a machine that delivers on its promise. If you are looking for nothing but an embroidery machine that delivers all the required features and performance, this is the model to go for. A separate embroidery machine means you can focus on two things at once, which is one of the biggest advantages of the 350E.
Warranty Information
The machine has a warranty of 25 years after the original date of purchase. This warranty only covers defects in workmanship or materials, not applicable to the electronic and electrical equipment in the machine. In the first year of purchase, any replacement and labor costs are free and borne by the manufacturer. After the first year, the parts are free, but the user has to pay the labor costs. The user must pay any postage and / or transport that may . This warranty is for non-commercial use of the machine only. Users to review this information and register the Janome Memory Craft 350E on the Janome website after purchase to stay informed about the warranty and get the most out of Janome.
With all those great features, solid warranty and a good reputation, it's clear that the Janome 350E is a great value for money product. This product gives you everything you'd expect from a trusted embroidery machine manufacturer, and despite its hefty price tag, it justifies it all very well. While it may not include a sewing machine, it will probably prove to be to your advantage, especially since it allows you to perform both tasks at the same time.
So at the end it would be good to say that the Memory Craft 350E delivered what you expected from a Janome product. This easy-to-use embroidery machine offers you a versatile set of functions that make it possible to complete a range of embroidery projects with ease and with the best results. If you want an embroidery machine that is durable, produces significant results time after time and has a host of features that will help you with even the most complicated of projects, the 350E is definitely the right choice.