This site is supported by our readers. We may earn a commission, at no cost to you, if you purchase through links.
Are you looking for the best leather sewing machine to add to your arsenal? With so many options available, it can be difficult to know which one will suit your needs. Whether you're an experienced sewer or a beginner just starting out with leather crafting, having the right machine is essential for producing quality work.
In this article, we list our top 10 picks of 2023 and discuss what features you should look out for when buying a leather sewing machine.
So get ready as we dive into finding the perfect fit for your creative endeavor!
Key Takeaways
Singer Heavy Duty is the top leather sewing machine with its durable metal frame and high stitching speed.
Janome HD3000 is known for its sturdy metal construction and powerful motor.
Juki DDL-8700H offers fast stitching with a long stitch length, but it has been discontinued.
Brother ST371HD is a versatile option with multiple built-in stitches and a heavy-duty motor.
Top 10 Best Leather Sewing Machines
As an experienced leatherworker, you understand the importance of investing in the right tools for your craft. The best leather sewing machines allow you to easily bind edges, seam pieces, and complete durable repairs on leather goods, ranging from garments to furniture.
From heavy-duty Singers to industrial Jukis, top choices like the Janome HD3000 and Rex Walking Foot model can make quick work of thick hides using the proper needles, threads, adhesives, and accessories.
1. Singer Heavy Duty Sewing Machine Stitch Applications Beginners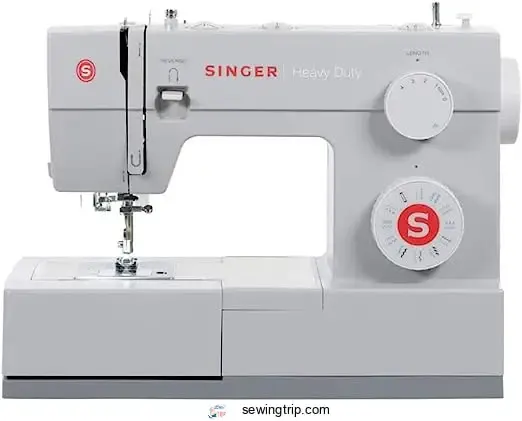 View On Amazon
Mate, this workhorse can chew through leather like a buffalo grazing on prairie grass, yet its user-friendly design makes it smooth sailing for sewing newbies to take the wheel. With 23 stitches, strong metal construction, and a 25-year warranty, this machine is built to last.
The automatic needle threader saves your fingers, and its 1,100 stitches-per-minute speed leaves other machines in the dust.
While some users report tension troubles, adjusting the presser foot pressure and feed dogs optimizes performance.
Heavy-duty metal frame built to handle thick materials
High sewing speed at 1,100 stitches per minute
Automatic needle threader for easy threading
Variety of 23 built-in stitches, including decorative
Some users report inconsistent stitch tension
Lacks a paper instruction manual
Older models may have quality control issues
2. Janome Heavy Duty Sewing Machine Stitches Hard Case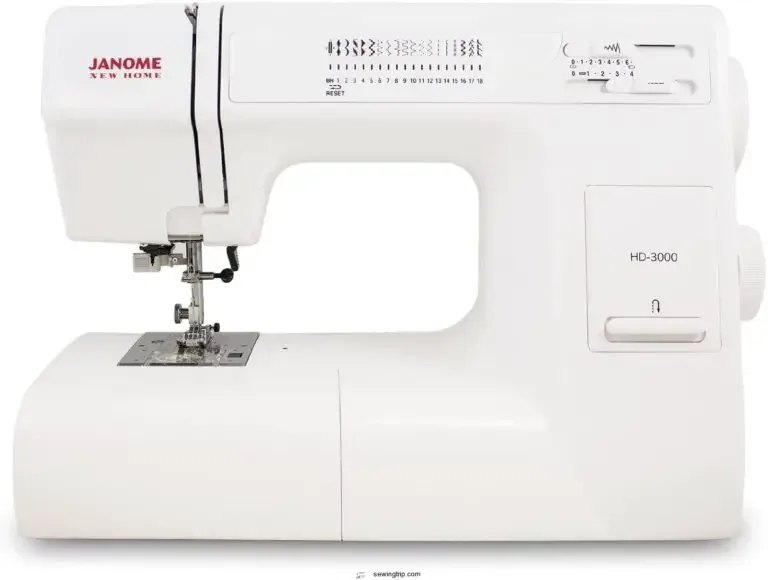 View On Amazon
You'll appreciate the Janome HD3000's sturdy construction and its ability to handle heavy fabrics like denim and leather for your sewing projects. The machine's quality metal housing withstands heavy use, providing durability. It offers eight simple stitches that provide versatility for home décor, garments, and crafts.
With a manual threader and winder, you have control over the process. You can adjust the presser foot pressure and stitch length to find the sweet spot for leather thickness. This Janome sewing machine offers the power to punch through fabric layers with its 1.
0 amp motor. Whether you're a quilter stitching intricate patterns or a garment maker finesse delicate fabrics, this machine can tackle rugged materials without hesitation.
Sturdy metal construction
Powerful 1 amp motor
Handles thick fabrics like denim and leather
Versatile for heavy-duty sewing tasks
Easy-to-use manual controls
Limited to 8 basic stitches
Needle threader operates differently than other Janome models
No automatic thread cutter
3. Juki Lock Stitch Sewing Machine Heavy Material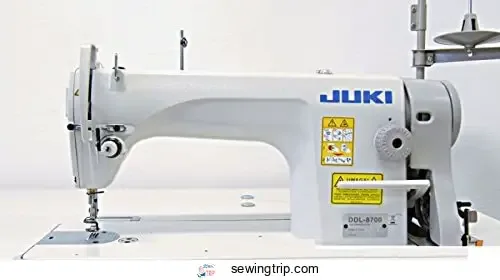 View On Amazon
Your dreams of heavy leather and canvas sewing projects will be effortlessly achieved with Juki's discontinued yet still coveted DDL-8700H lockstitch machine.
Peering through his workshop window, a lonely bowtie maker envisioned shirts and ties dancing in the wind as he imagined the masterpieces he could craft if only he had this discontinued darling.
Hands down, this single-needle workhorse, built like a tank, seamlessly stitches canvas, denim, and the thickest hides with its 25mm long stitches at up to 4,000 RPM.
The auto-oiling hooked bobbin and integrated thread stand epitomize smart design and trouble-free sewing.
Powerful motor for fast stitching
Long 25mm stitch length
Heavy-duty construction
Auto-lubrication system
Discontinued model may be hard to find
Table and motor not included
No walking foot
Only single needle
4. Brother Sewing Machine ST371HD 37 Stitches 6 Feet Free Arm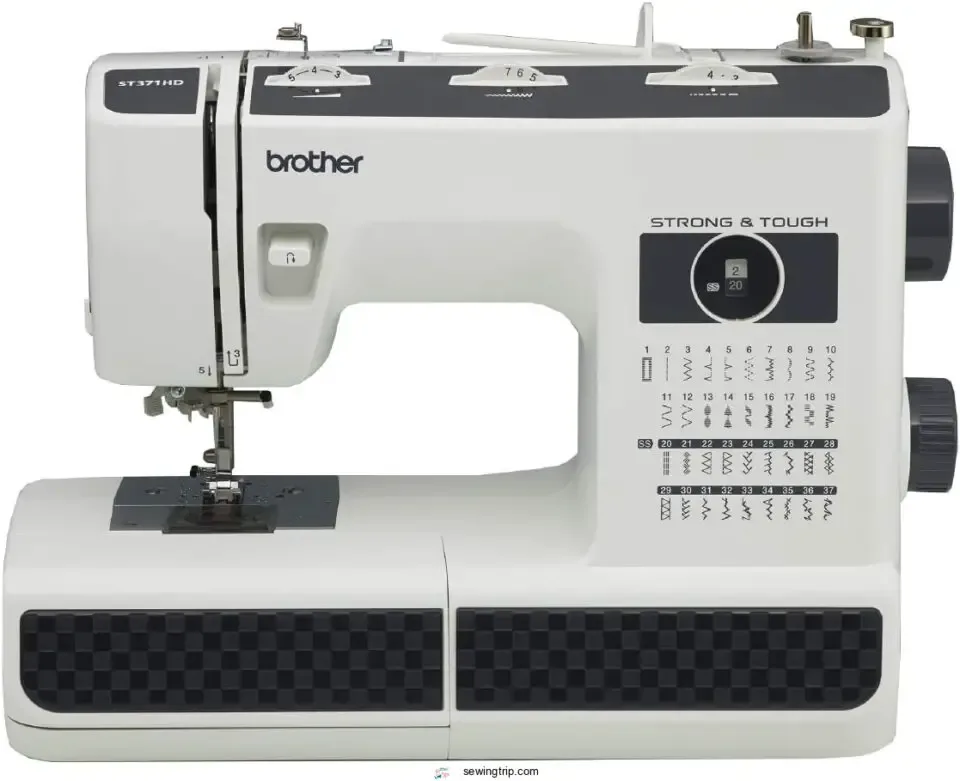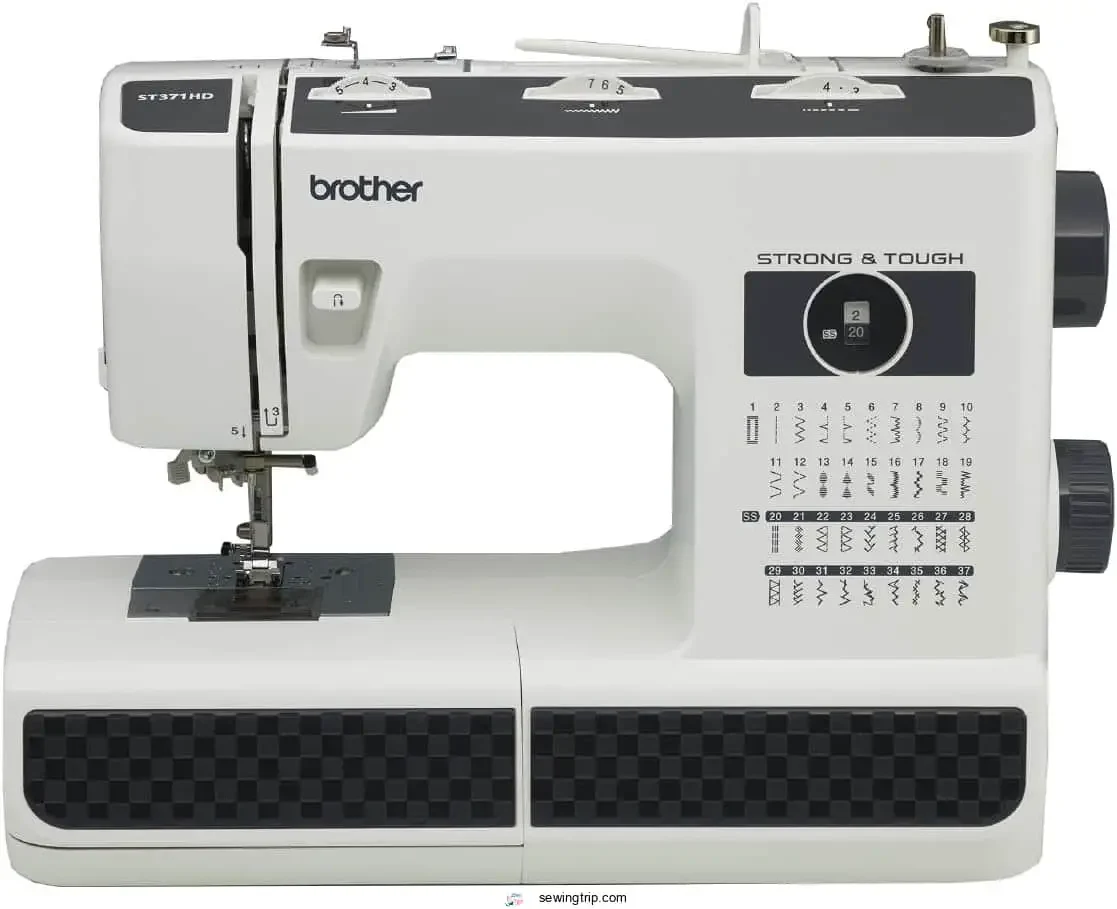 View On Amazon
After Juki's heavy-duty lockstitch machine, try this versatile Brother sewing machine for general sewing, hemming, and quilting. As an experienced sewer and leather crafter, I can appreciate the ST371HD's sturdy metal construction and 37 built-in stitches for handling thick fabrics like denim and leather.
The automatic needle threader saves time, while the drop-in bobbin and multiple presser feet add convenience. Customers praise this Brother model's reliability, ease of use, and smooth stitching. It's a quality mid-range machine suitable for novices yet satisfying for more advanced sewing needs.
The heavy-duty motor powers through layered and heavy materials without hesitation.
While occasional maintenance is required, handy features like free arm sewing make garment construction a breeze. This Brother machine hits that sweet spot between budget options and expensive high-end tools.
Heavy-duty metal construction
Smooth feeding with metal needle plate
Handy automatic needle threader
Versatile decorative and utility stitches
Not as durable as industrial machines
May require occasional maintenance
Noise level bothers some users
5. Portable Walking Foot Sewing Machine Rex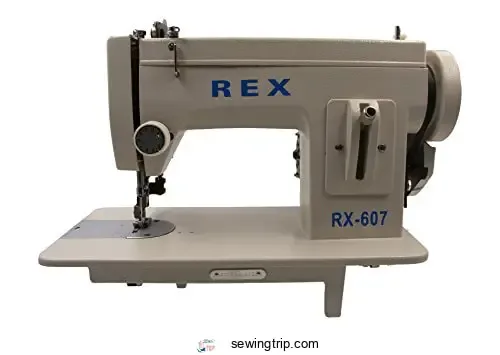 View On Amazon
Considering your sewing needs for heavy materials like denim and canvas, the Portable Walking Foot Sewing Machine Rex, made of sturdy cast iron metal, has proven its capability to handle challenging projects with positive customer reviews highlighting its performance on thick upholstery materials and its ability to tackle materials that other walking foot machines struggle with.
The Rex's full cast iron construction provides the durability and power needed for heavy-duty sewing jobs. Customers praise how it sews multiple upholstery layers and two layers of velvet with ease.
This portable machine ships with a sewn leather sample, demonstrating the Rex's prowess for leatherwork straight out of the box. With proper technique, you'll find it excelling at canvas, denim, and other heavy fabrics too.
This vintage-style Rex does have some downsides. The plastic foot pedal has quality issues, while speed control takes practice. But for those seeking a heavy-duty workhorse, the Portable Walking Foot Sewing Machine Rex empowers your creativity.
Sturdy cast iron construction
Comes with sample leather stitchout
Sews thick upholstery well
Cheap plastic foot pedal
Speed control difficulties
6. Schmetz Leather Sewing Machine Needles Size 100/16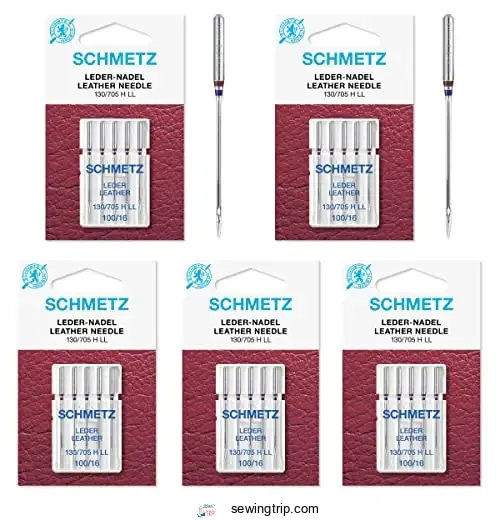 View On Amazon
You'd be wise to purchase a 25-pack of German-made leather needles for all domestic sewing machines, giving 5 cards with 5 needles each for long-lasting sharpened durability. These Schmetz Size 100/16 needles are designed specifically for leather with their sharp cutting points and sturdy 130/705 H LL system.
Sliding smoothly through thick hides, they create clean, attractive seams while standing up to heavy use. Five needle cards provide bulk savings and a constant supply for all your leather projects. Compatible with most household brands, these needles bring quality stitchwork to Singer, Brother, Janome, and more.
While size specifics are lacking, the needles prove high-grade, delivering the even, durable stitches leatherwork demands. Any crafter would value these reliable, precision tools that bring masterful results with leather's challenges.
Specifically designed for leather
Sharp cutting points
Sturdy construction
Bulk savings
Compatible with major brands
Quality stitching on leather
Durable and reliable
Lack of size specifics
May require exchanging for the right fit
7. Coats and Clark Dual Duty XP Heavy Thread Black 3 Spools
View On Amazon
Get strong, durable threads for your heavy-duty sewing projects with this pack of 3 black spools from Coats & Clark. Made of high-quality polyester, this heavyweight thread is ideal for upholstery, denim, canvas, leather, and more.
The dual-trap system provides secure storage for this lint- and snag-free thread that's designed to hold up to the demands of hand and machine sewing.
Suitable for quilting, blanket-stitching, and rag rugs, these versatile spools deliver reliable performance and long-lasting seams.
Durable polyester material
Provides strength for heavy fabrics
Dual-trap system prevents tangles
Ideal for leatherwork and denim
Snag-free performance
Only available in black
Need heavy-duty needles
Bulk packaging not ideal for small projects
8. Copydex Glue Bottle
View On Amazon
You absolutely gotta have this Copydex Glue Bottle for any leather project. It's super strong and flexible bonds will amazingly repair or create any leather item you can imagine!
As an experienced leather crafter, this glue is my secret weapon for flawlessly constructing and mending leather goods of all kinds. With just a squeeze, it creates the strongest bonds to hold layered leather together or patch holes and tears while remaining flexible.
I've used it on everything from leather jackets, boots, purses, belts to even upholstery repairs. Once it dries, the bond is so tough, I haven't had any of my leather projects come apart yet.
The handy bottle makes precision gluing a breeze. Just be warned, the built-in brush may clog when exposed to air between uses.
Creates super strong and flexible bonds
Works on leather, fabric, paper, plastic, wood
Precision bottle applicator
Long history and popularity
Brush may clog between uses
Can leave residue if overapplied
9. Fiebings Leathercraft Cement Leather Glue
View On Amazon
Fiebing's Leathercraft Cement is ideal for bonding leather and other materials with its super-strong, permanent adhesion and quick-drying, clear finish. As an experienced leatherworker, I can attest that this glue provides reliable performance for crafts and repairs.
On leather surfaces roughed-up for maximum adhesion, Leathercraft Cement delivers flexible and long-lasting seams. Its fast drying time allows me to move quickly from gluing to the next steps of my projects.
For exotic leathers or smooth finishes, I sand surfaces to ensure proper bonding. While any contact cement requires careful application, Fiebing's quality and strong tack make it my go-to for leather bags, shoes, jackets, and more.
Strong, permanent bond
Quick drying time
Non-toxic and low odor
Small 4oz bottle
Requires roughening smooth leather
Care needed in application
10. Leather Press Edge Roller and Smoother
View On Amazon
The versatile Leather Press Edge Roller and Smoother's sturdy construction smooths fabric edges while its comfortable wooden handle lets you customize your grip. This roller effortlessly glides along leather edges for clean folds without unintentional creasing.
Laying symmetrical adhesive lines becomes intuitive with the roller's sturdy wheel and smooth rolling action. Quilters rejoice in its ability to maintain fabric shape as you stitch. With some conditioning oil on the wheel, you'll find it glides across leather and fabric alike.
Sturdy yet lightweight at just 9 ounces, your forearm stays fresh during long crafting sessions. While one side appears a bit rough, the TIHOOD roller's solid construction provides the heavy-duty performance expected from quality leatherworking tools.
Smooth rolling for clean leather folds
Sturdy metal wheel stays true
Comfortable wooden handle
Lightweight at 9 ounces
Symmetrical glue lines
Maintains fabric shape
One side is a bit rough
Groove may form in soft leather
What is the Best Leather Sewing Machine?

That durable Janome HD3000 handles thick fabrics easily! With its powerful motor, all-metal interior, and superior stitch quality, it's a workhorse for leather.
Master leather stitching with these pro tips:
Use topstitch needles up to size 18 for clean pierces.
Lengthen the stitch to 4mm for durability.
Employ a roller or Teflon-coated foot to feed smoothly.
Adjust tension so the thread locks tight in leather.
Caring for leather takes patience. But the right heavy-duty machine empowers your creative vision in leathercraft to shine through.
What Do I Need to Sew Leather?

You'll need a heavy-duty needle suited for leather and tough thread, like bonded nylon, to prevent needle breakage and skipped stitches when sewing thicker hides on a machine.
Proper tools are key for quality leatherwork. Consider the leather thickness and choose an appropriate needle size and thread. Adjust stitch length longer than normal. Prepare leather edges with an edge beveler first.
Use binder clips instead of pins. Walking foot attachments can help feed leather smoothly.
With care and the right gear, your machine can handle leatherwork with ease.
| Tool | Purpose |
| --- | --- |
| Leather needles | Prevent needle breakage |
| Bonded nylon thread | High strength for leather |
| Walking foot | Helps feed thicker leather |
| Edge beveler | Prepares leather edges for sewing |
| Binder clips | Holds leather pieces without holes |
| Stitch length | Adjust longer for cleaner look |
| Leather scraps | Test settings before starting project |
You'll need the right needles, thread, attachments, and techniques to successfully sew leather on a standard machine. Investing in specialty leathersmithing tools helps ensure quality results on your projects.
With practice and patience, your home sewing machine can become an essential tool for custom leather goods.
Can You Use a Regular Sewing Machine for Leather?

Make leather crafts affordable by using your regular sewing machine to get started. Many standard sewing machines can handle basic leather projects with the right accessories.
Use the correct needle – choose a sharp leather needle to pierce the material cleanly.
Adjust tension settings – increase the tension slightly to account for leather's thickness.
Use a Teflon foot – prevents sticking for smooth sewing.
Go slowly – work the leather through the machine methodically.
Use longer stitches – 3-4mm stitch length prevents puckering.
With some adjustments and the right accessories, a regular sewing machine opens up leathercraft to beginners affordably. Experiment with scrap material to get the settings right before starting your project.
What Type of Sewing Machine Do I Need to Sew Leather?

Choosing a heavyweight industrial sewing machine, like the 74.8-pound discontinued Juki capable of 4,000 stitches per minute, will help you effortlessly sew through thick leather.
Look for machines with a powerful motor and sturdy metal frame to handle leather's thickness.
Select the right needle, like a sharp leather needle, and high-quality thread to prevent skipped stitches.
Adjust the tension so the stitches don't pucker.
Lengthen the stitch size for a cleaner look on leather's surface.
Go slow and steady as you sew to ensure straight seams.
Invest in a walking foot, Teflon foot, or roller foot attachment.
Proper tools and techniques make sewing leather manageable.
With the right heavy-duty machine, you can create durable and stylish leather goods.
What to Look for When Buying a Leather Sewing Machine

When purchasing a leather sewing machine, prioritize a robust motor, heavy-duty construction, and specialized accessories.
Consider stitch quality – Clean, even stitches are important for professional results.
Research brand reputation – Established brands often have better quality control.
Determine your price range – Prices vary widely based on features.
Read user reviews – Learn from other buyers' experiences.
A machine built for leatherwork will have the power, durability, and right components to handle thick hides. Investing in the proper equipment will give you professional-looking results on leather projects.
How to Sew Leather

You're selecting the proper needle and thread before adjusting the tension and stitch length on your machine.
When sewing leather, start by choosing the right supplies:
Use a leather or denim needle for thick fabrics.
Opt for polyester thread to avoid breaking.
Set the stitch length to 4mm or longer.
Test on scraps first to check tension. Make any needed adjustments before sewing your project.
Work slowly and deliberately as leather can be tricky. With the right preparation and sewing machine, you'll achieve professional results on your leathercraft projects.
Take your time, follow key techniques, and your leather pieces will turn out beautifully stitched.
How Do I Choose the Best Sewing Machines for Leather?

Choosing a sewing machine that can handle leather requires evaluating power and motor strength, foot controls and comfort, and presser foot compatibility. You'll want to ensure your machine has a sufficiently powerful motor to sew through thick leather materials and that the foot control and platform provide extended-use comfort for intensive projects.
Different presser foot types like walking feet, Teflon-coated feet, and roller feet are essential accessories for quality leather stitching.
Power and Motor Strength
Your mighty machine's powerful motor must muscle through miles of tough hides. Seek substantial stopping power from robust rotary motors rated to routinely tackle the rugged materials that challenge viral machines.
Judge potential models not by the decibels they deliver, but by the depth their durable drives can drill into dense and durable fabrics. Let leather slide smoothly under the mechanical might of your mini manufacturing marvel.
Match materials and motors for mastery over your medium and materials. Just as wool is to scissors, leather is to sewing machines; make sure your metal mate is up for the challenge.
Foot Controls and Comfort
Foot controls on heavy-duty leather machines make extended sewing sessions comfortable.
Large, easy-to-use foot control pedal platforms.
Adjustable speed settings for precision control.
Comfortable, non-slip pedal surfaces.
Sturdy construction that can handle repeated pressing.
Larger foot platforms provide you space for your whole foot, reducing leg and foot fatigue. Adjustable speed and high-quality construction let you focus on your leatherworking, not fiddly foot controls.
Presser Foot Types
Rollin' down the leather road, a Walkin' Foot keeps your fabric neatly tucked while a Teflon Foot glides smoothly across the surface.
A Walking Foot prevents layers from shifting, ensuring uniform stitch length. The Teflon Foot is nonstick, so it glides smoothly over leather without sticking. An Open Toe Foot gives you visibility on each stitch. For heavyweight leather, a Roller Foot prevents it from getting stuck.
Choosing presser foot types for leather depends on your project and sewing machine.
Conclusion
You've done your research and now you know: the best leather sewing machines are the ones that meet your needs. Whether you're a beginner or a professional leather crafter, there's a machine for you.
From Singer Heavy Duty to Juki Lockstitch, Brother ST371HD to Coats & Clark Dual Duty XP Thread, these top 10 leather sewing machines will help you create strong, durable pieces that will last for years to come.
With the right machine, you can sew thick fabrics like leather, canvas, and denim with ease.
References
bestsewingmachinereviewspot.com