This site is supported by our readers. We may earn a commission, at no cost to you, if you purchase through links.
The Oakome household mini sewing machine is a compact and lightweight sewing device, perfectly suited to accompany novice seamstresses on their way to mastering a new hobby.
With a friendly look and easy control, it's easy to gain confidence in your sewing, which can make all the difference if you're serious about your craft.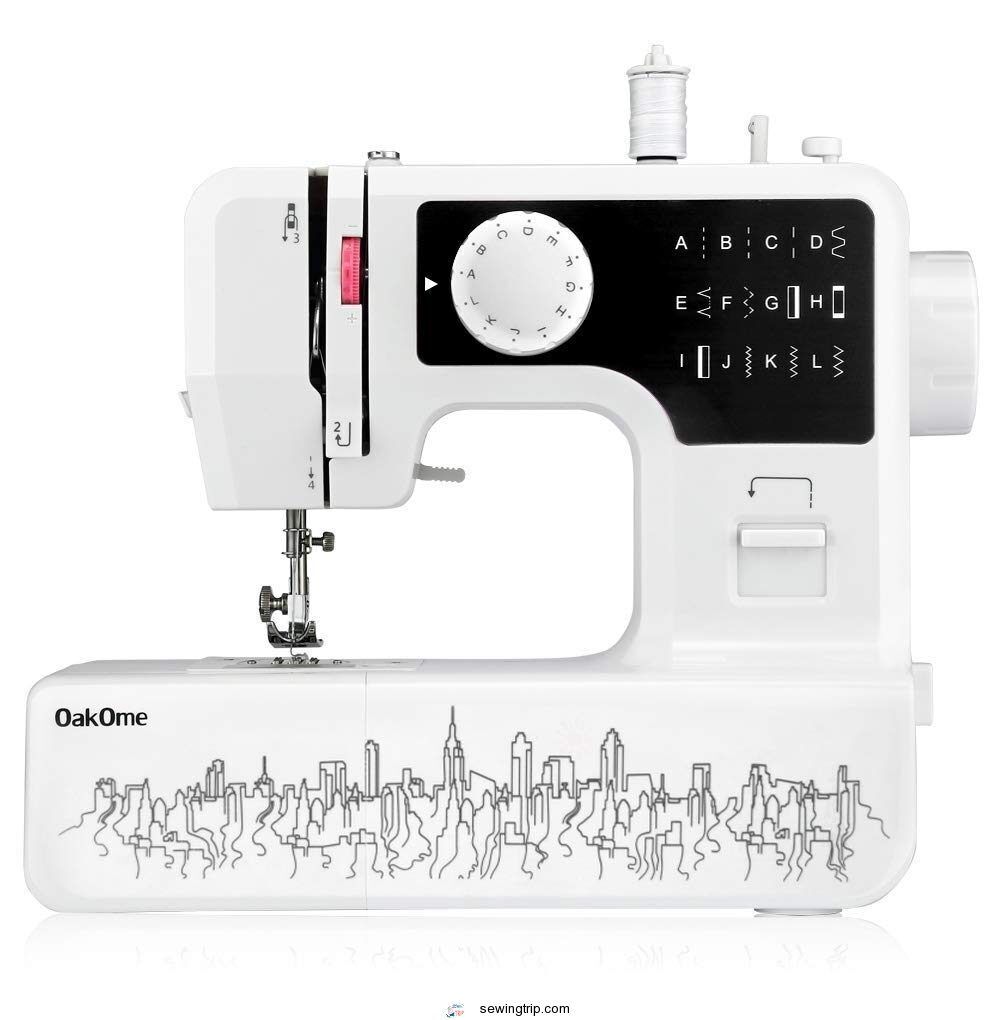 The 12 built-in stitches are ideal for covering your base, give you the reach you need, but no over complications. As a feature it shares with all mechanical sewing machines, this mini device will last a long time.
With all these features, it is still important to remember that this is a sewing machine which is mainly intended for beginners. If you're already an advanced sewer, you probably want something with more varied capabilities. Machines, there are still plenty of reasons to get excited about this sewing machine.
We've listed them all here, so be sure to read on and find out why these mini sewing machine is a winner for any beginner.
Oakome household mini sewing machine: the details
The Look
The Oakome Household Mini Sewing Machine is on the small side, with great portability and several built-in storage components.
As a mini design, it is easy to pack and take to a friend, or straight to lesson, with no extra effort.
The white exterior makes this sewing machine one that fits in any workspace. You will find all the information and buttons on the front of the machine, making this design even more attractive.
The only thing that can stop someone from loving the machine looks of this product is the black-lined decoration on the bottom of the device.
If you want something to break up the whiteness of a typical sewing machine, come as a great additional. However, if you're more into a pure white machine, this added decoration can distract, but this is purely aesthetic.
Specs
Weight: 6 lbs.
,mensions: 13.78 X 11.81 X 6.5 inches.
Stitches: 12 different built-in stitches.
Speed: Both low and high speed settings are available.
Computerized/Mechanic: Mechanic.
Coil: Standard top coil charging system.
Accessories
The Oakome Household Mini Sewing Machine at beginners or experienced seamstresses who are looking for a basic model can lighten some of the workload of their other machines.
As such, the included accessories are suitable for those who start out in the craft, without drowning yourself in optional accessories.
Included in the delivery package are:
1 x sewing machine.
1 x USB adapter.
1 x foot pedal.
]
1 x needle.
1 x buttonhole presser foot.
2 x coil.
2 x coil.
1 x English user manual.
Oakome: The Company
Oakome isn't one of the big names in the sewing machine world yet, but that could change them all soon as they continue to offer us sewing machines like the Oakome Household Mini Sewing Machine.
In their short existence they have certainly shown a passion for all kinds of machines., ranging from kitchen appliances to washing machines.
If there's one thing we've been able to discover, it's that Oakome hopes to become a true family brand.
]
They already have quite several sewing machines available, but with the Oakome Household Mini sewing machine they have really put a lot of effort into continuously monitoring their quality standards, as well as taking care of the wishes from their customers.
Features
12 Built-in Stitches
With the added 12 stitches, you'll find that the basics are almost self-explanatory.
All it takes to use one of these presets is to use the pattern selection dial on the front of your machine. Once you've selected the pattern you want, it's just a matter of turning on your machine and letting it take charge.
It couldn't be easier, and we appreciate it in beginner machines – especially these small ones!
Two different sewing speeds
There's no time to lose fiddling with speed switches, and too few options will cause accidents or poor quality results. However, with this machine, you have precise options.
The slow sewing speed is ideal for beginners who are just sewing, or for those times when you have a very intricate piece of work that you need. requires full attention.
The high speed setting is great for when you're more experienced and want you've mastered your craft.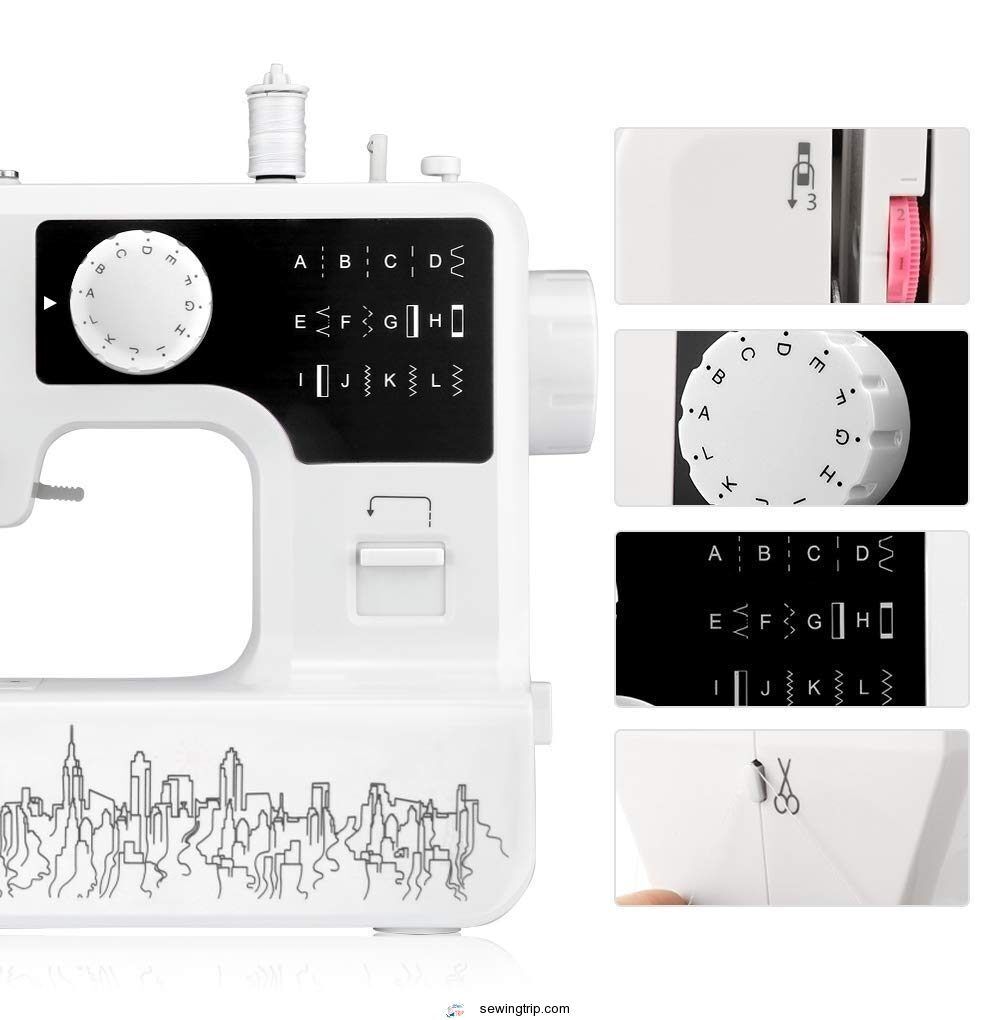 Safe Bobbin Winding
While the bobbin winding system will be familiar to anyone who has seen older sewing machines, you find that working with the bobbin on the Oakome Mini Sewing Machine is easier than with your grandmother's.
The bobbing automatically detaches from the needle bar and winds itself, making this difficult job off your hands.
Light bulb for safe sewing
The included light bulb to relieve your eyes from effort. By illuminating your workspace, the added light will prevent you from making mistakes or hurting yourself.
It may seem like a throwaway feature, but it's undoubtedly crucial for you and your crafts.
Oakome Household Mini Sewing Machine Review
The Positives
Portable
If you are a beginner in a craft, you might sign up for some late night classes. You may even have a family member who would like to give you some tips.
In either case, you want to transport your sewing machine easily. Thanks to its smaller size and lightweight, this machine is very easy to carry.
Even when you're not using it or in between classes, it's built so compactly that you can easily store it in an odd nook or cranny.
If you choose to leave it on a counter or table, it will ' Take up all the space, leaving room for your other tools to keep within reach.
Ideal learning machine
With easy-to-find preset sewing patterns and two easy-to-activate speeds, this machine is effortless to use even for younger seamstresses.
Many users commented. how helpful the instructions are, and commend the company for including such a detailed guide. can sew with fewer delays.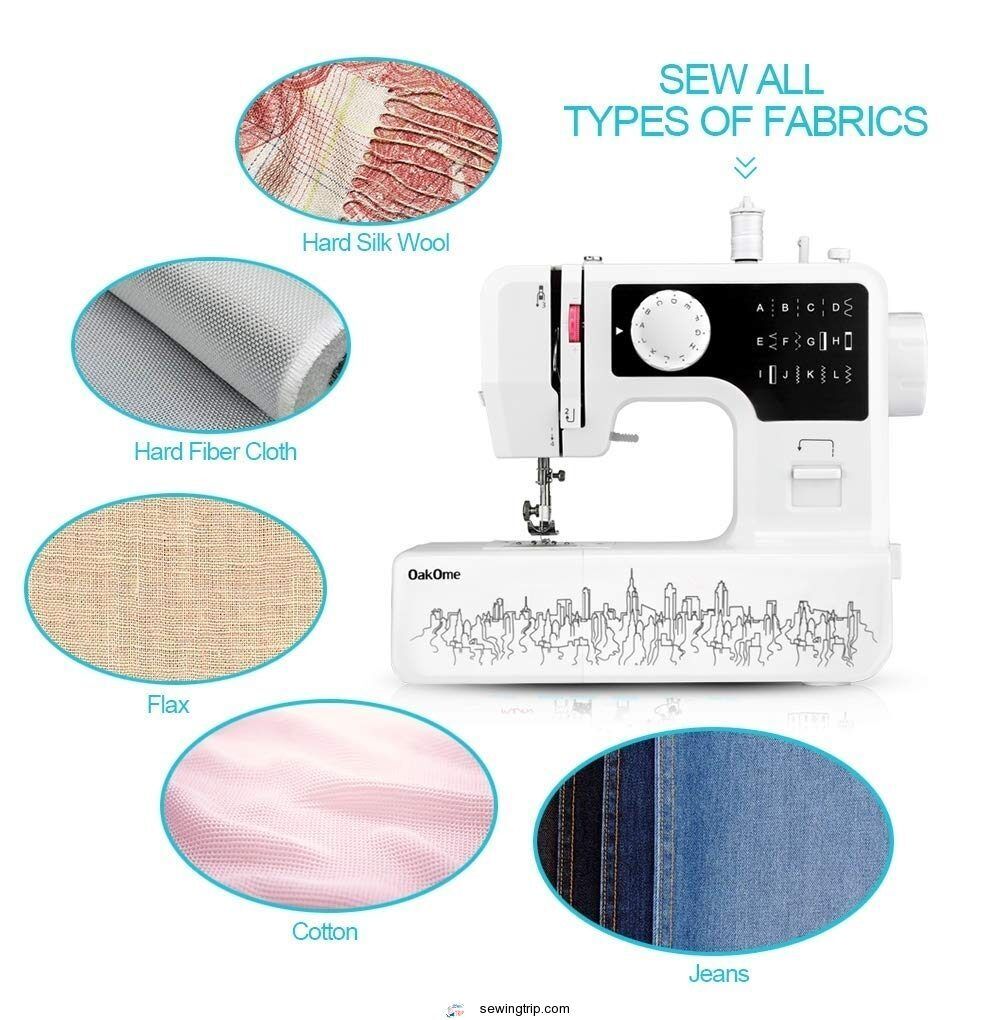 For beginners, this is the ideal learning machine, or or you are going the self-taught route, taking a class or learning from a friend.
Once you graduate from a more complex machine, you can either save it for more routine tasks or gift it to a beloved novice.
Versatile
While we say it's a machine that's compact and great for beginners. That doesn't mean it can't handle a variety of materials. lightweight options, but it can also handle denim, leather and fur, allowing users to experiment with a variety of materials.
This is great for the burgeoning sewer that is that want to hone their craft before moving on to a more advanced machine. You'll have all the basics to grow your skills in no time.
Users also pointed out that it handles fabrics well and runs smoothly through the machine with little effort hassle.
Affordable
One of the best things about the Oakome household mini sewing machine is the price. Starting a sewing hobby can be an expensive task, but this machine makes it easy to get your feet wet without breaking the bank.
It includes all the basics you'll need to get started, and you probably have money to spend on fun materials to test out.
The price also makes this machine a great option for those on a budget, casual users or those who want a secondary machine to hand.
Don't let the price and size fool you, this machine is durable and sturdy, making the Oakome Mini a lot!
The negatives
Lightweight
What makes this sewing machine so great may annoy to some users.
Although its lightweight and smaller size make it an ideal machine for traveling with. It lacks the overall stability of a heavier machine.
That's not a big disadvantage, but it means that you want to supervise. any younger family members using it as it could tip over.
Maybe needles need to be upgraded
Although this machine is ready to tackle heavier materials, the included needles may burst under the pressure.
Some users noted that when quilting or patching with heavier materials, the supplied needles bent while sewing.
This is not to say that those who want to sew heavier projects should avoid this machine; you just need to buy heavier needles to get the job done.
This isn't exactly the end of the world, but it can increase the overall cost.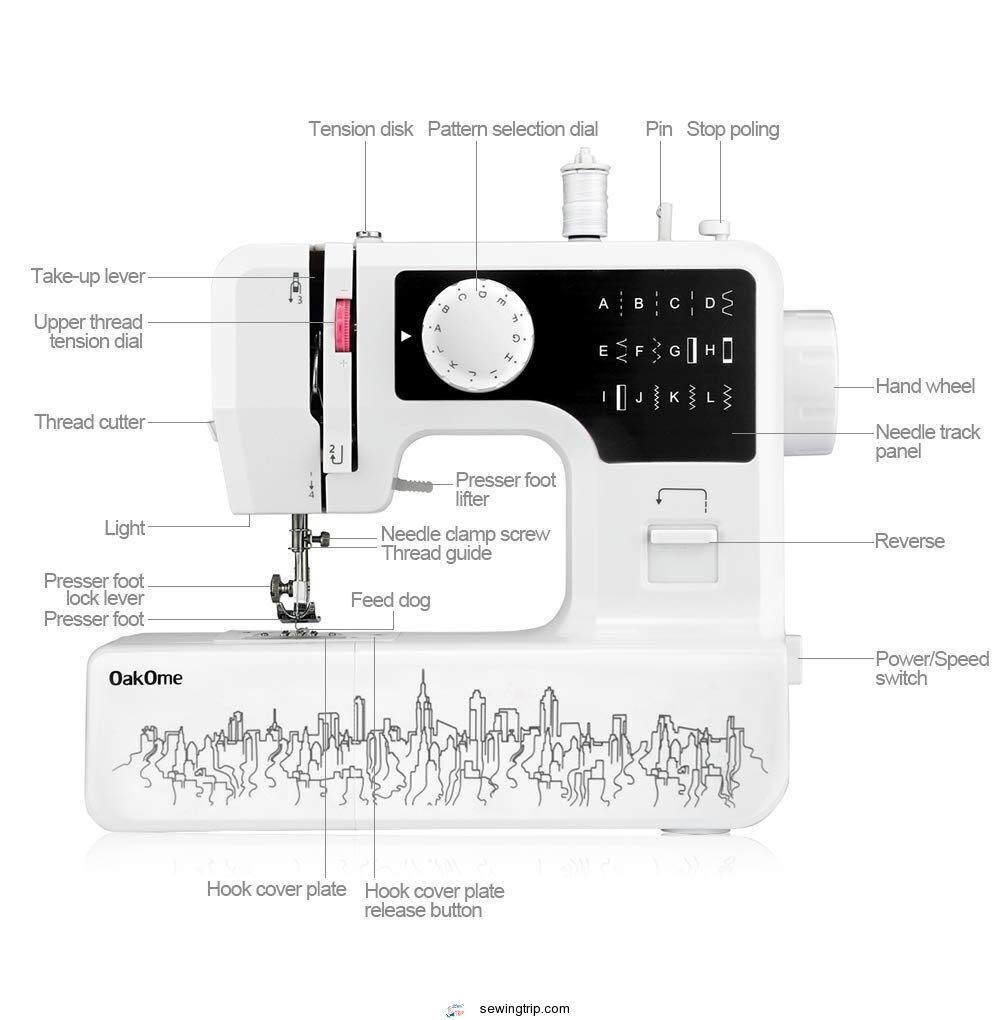 General opinion
Finally of our Oakome mini sewing machine review, we can safely say that this machine will be a delight for any sewer novice.
Easy-to-navigate controls inspire confidence, while the two-speed settings can to suit your current skills.
The included accessories are perfect for helping you on the road without being too much.
It is an ideal beginner and leather sewing machine, but will be too simple for the more advanced sewing machine. If you already have a few years of experience, this machine will not convince you.
However, there are other mini models that can. provide you with the features you need; just browse!
Where to buy the Oakome Household Mini Sewing Machine
This is not a decades-old machine, and Oakome is not an old brand either, but they have certainly proven their place in the sewing machine game with the Oakome Household Mini Sewing Machine.
There are few other products under this brand, but we hope to see more of what they offer in the future. or specialty stores, chances are you won't be able to find this sewing machine in store or online.
For now, you can find this machine on Amazon.

---
That's all for our Oakome Mini Sewing Machine review. Curious to give it a try?
For more machine reviews, visit our dedicated review portal.