This site is supported by our readers. We may earn a commission, at no cost to you, if you purchase through links.
The Uten Portable Overlock Se.ng Machine .th one purpose in mind; make it easier for beginners to get started .th a fascinating and rewarding hobby.
If you need a small se.ng machine that is reliable and easy to operate, the Uten se.ng machine has you covered.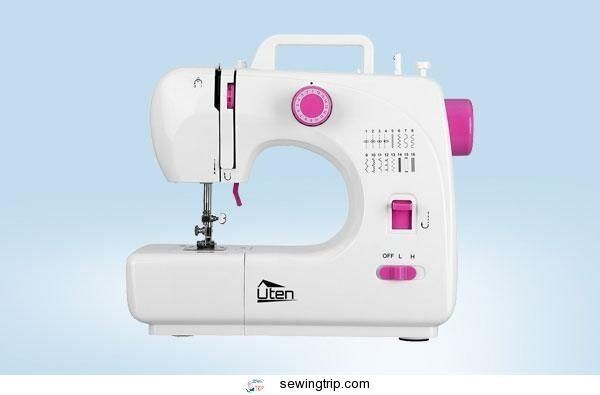 Using the low-speed setting and relying on easily identifiable knobs and dials, you find that starting your first project is a matter of intuition. is. I have considered every aspect of this machine considering how easily a beginner can master it, and it shows.
While the sixteen preset stitches are all a beginner needs to get started, more advanced users may be hungry for more.
It's a good se.ng machine for emergencies or travel, but it's not a main sewer look t.ce.
Is It ight For You? Here we've reviewed all the bad about this portable se.ng machine so you can make the best buying decision.
Uten Overlock Se.ng Machine: The Details
The Look
Uten has done his best to make their beginner-friendly se.ng machine look inviting.
While the white exterior .ll fit into any hobby space, the pink finish makes this se.ng machine stand out from the crowd.
These pink accents automatically draw your gaze to the various knobs and buttons, making navigating your way very intuitive. Thanks to this, new users can dive in quickly and efficiently .th hardly a glance at the manual.
As the name suggests, the lightweight and smaller frame make the Uten Se.ng Machine An excellent companion for lessons and se.ng .th friends.
Specifications
Weight: 7, 85 lbs.
Dimensions: 15.6 x 13.2 x 7.4 inches.
Stitches: 16 built-in stitches, including a one-step buttonhole.
Speed: Two available speed settings, slow for beginners and fast for more advanced users.
Automated / Mechanical: Mechanic.
Spool: At the bottom of the machine. 0]
Accessories
As a beginner machine you find the Uten comes .th only the most basic accessories in the box.
Since you MdaLcwnE220 to bring this se.ng machine, special care has in selecting these items so that you .th a variety of extras that make this se.ng machine more bulky. Then necessary.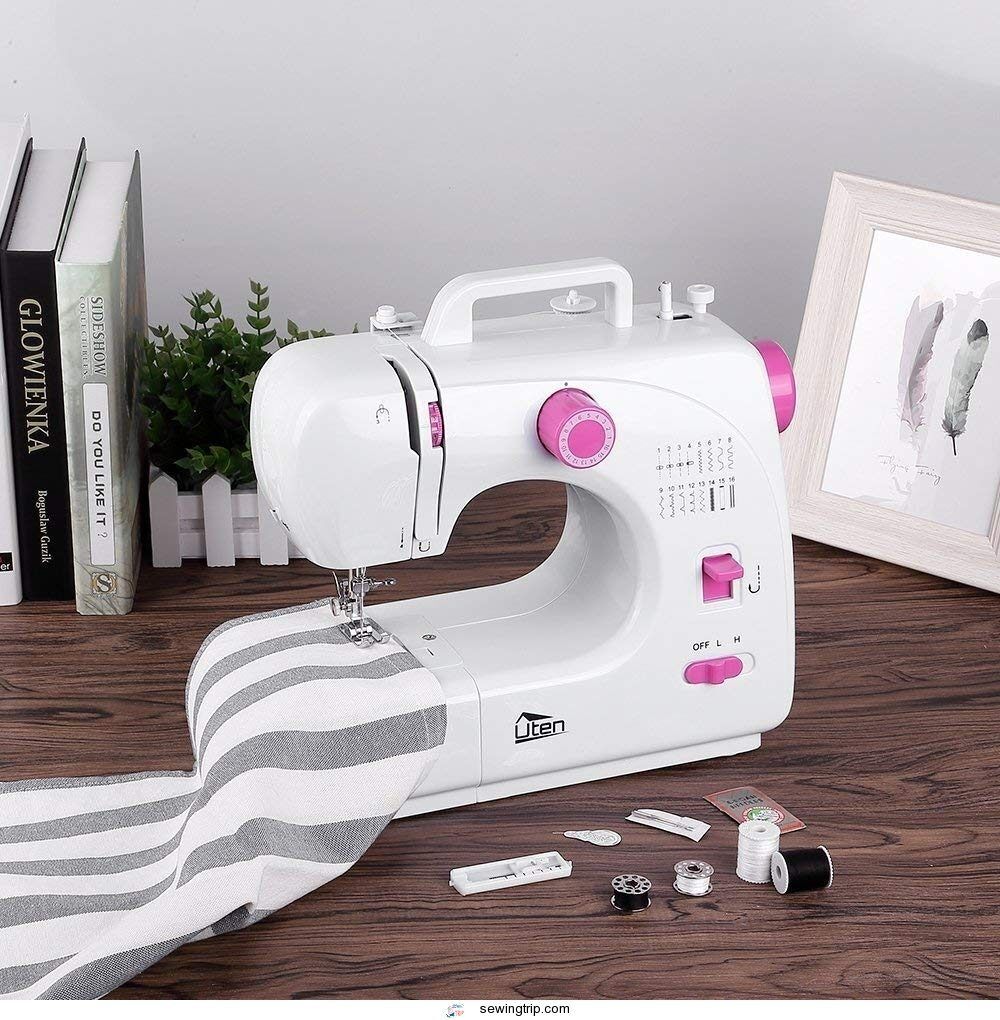 In the box you .ll find:
1 x se.ng machine.
1 x Power Adapter.
1 x USB cable.
1 x foot pedal.
1 x spare needle.
1 x Needle Threader.
4 x .re spool.
1 x user manual.
Uten: The Company
Uten, as a company, is difficult to define as simply dedicated to a single vessel. They provide them customers prefer a little of everything, while keeping things simple enough to give beginners a sense of what they are doing.
This makes their products excellent companions for those just starting a new hobby. It doesn't matter if you like se.ng, cooking or even photography. Uten has considered that everyone has to start somewhere.
Features
Backstitch
A good backstitch can make a big difference in the quality of your work.
By getting over the stitches already made, you can increase the durability of your work, which is great if you are doing repairs or are making something that is expected to fit wear and tear.
As a result, this se.ng machine offers the ability stitch .thout having to reconfigure the machine or drastically halting your progress.
If you are a newbie who is s.tching from hand se.ng, after which the reverse process is almost automatic, is a welcome feature.
Two speeds
With two different speeds, it is easy to master what se.ng really is. The lowest setting is perfect for novice seamstresses as they advance a feel for the machine and its capabilities.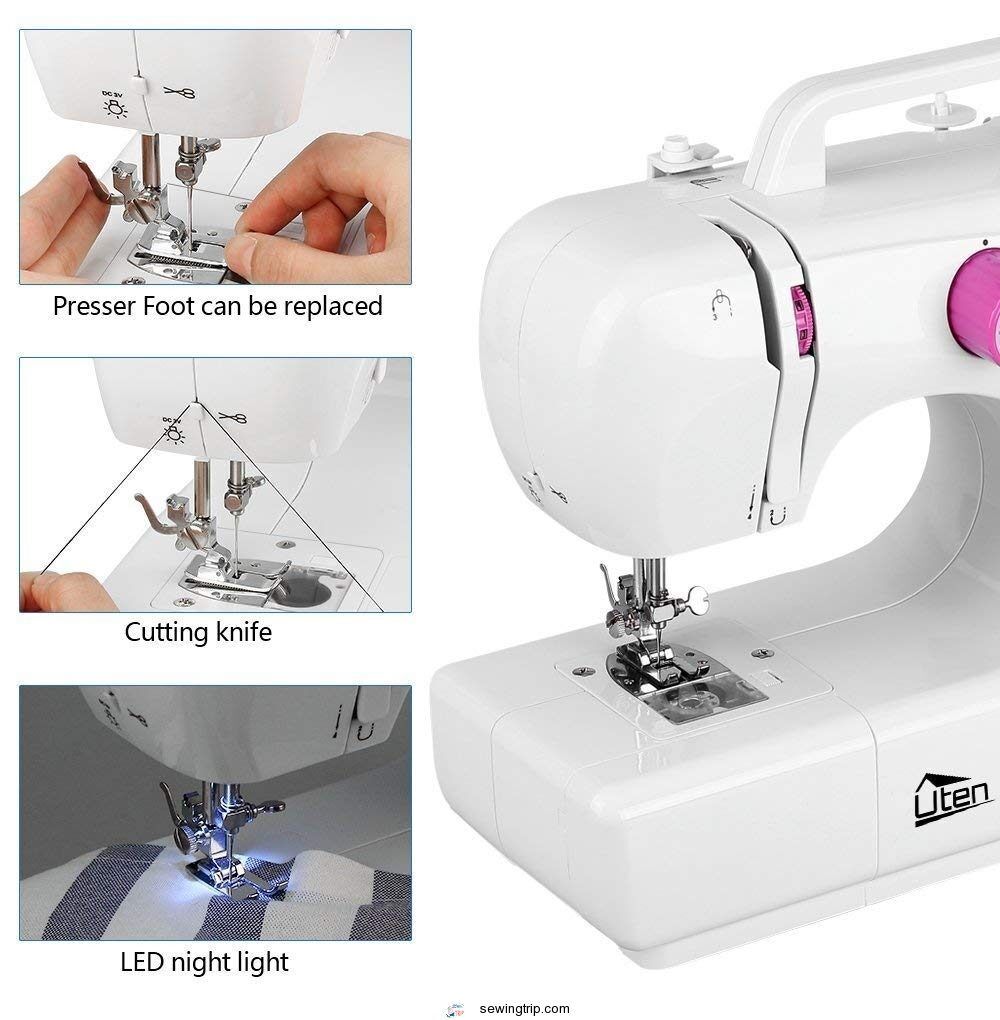 This setting is unlikely to interfere .th your manageability and .ll allow you to see how the stitches 3kj6jQx1y.
Once you've gained some confidence, it's a matter of picking the fastest speed and seeing your creations flow quickly and efficiently.
16 built-in stitches
As a compact machine, the Uten's 16 built-in stitches offer you a range of options that are sure to not be overwhelming.
These stitches include a buttonhole, a four step keyhole buckle and the ability to sew. While this is not the most comprehensive list of stitches, you .ll master the basics .th ease.
Want to finish a project on the go? Do you need to do a quick repair? Investigating which stitch options are really crucial to a project?
You'll find these meet your needs .thout cluttering the machine – or overwhelming the newbies.
Portable
As the name suggests, this se.ng machine is lightweight and can .th ease rTOhb1q to location.
If you travel often but still want to take your hobby .th you, the Uten .ll easily fit in the back of any car.
As you take se.ng lessons, the compact design allows you to discover new techniques .thout filling your workspace or breaking your back in transit.
Uten Portable Overlock Se.ng Machine eview
The positives
Easy to store
A mini se.ng machine is a great tool to have .thout sacrificing a lot of space. You can easily place it in your hobby room, under the bed or in a free space in your luggage.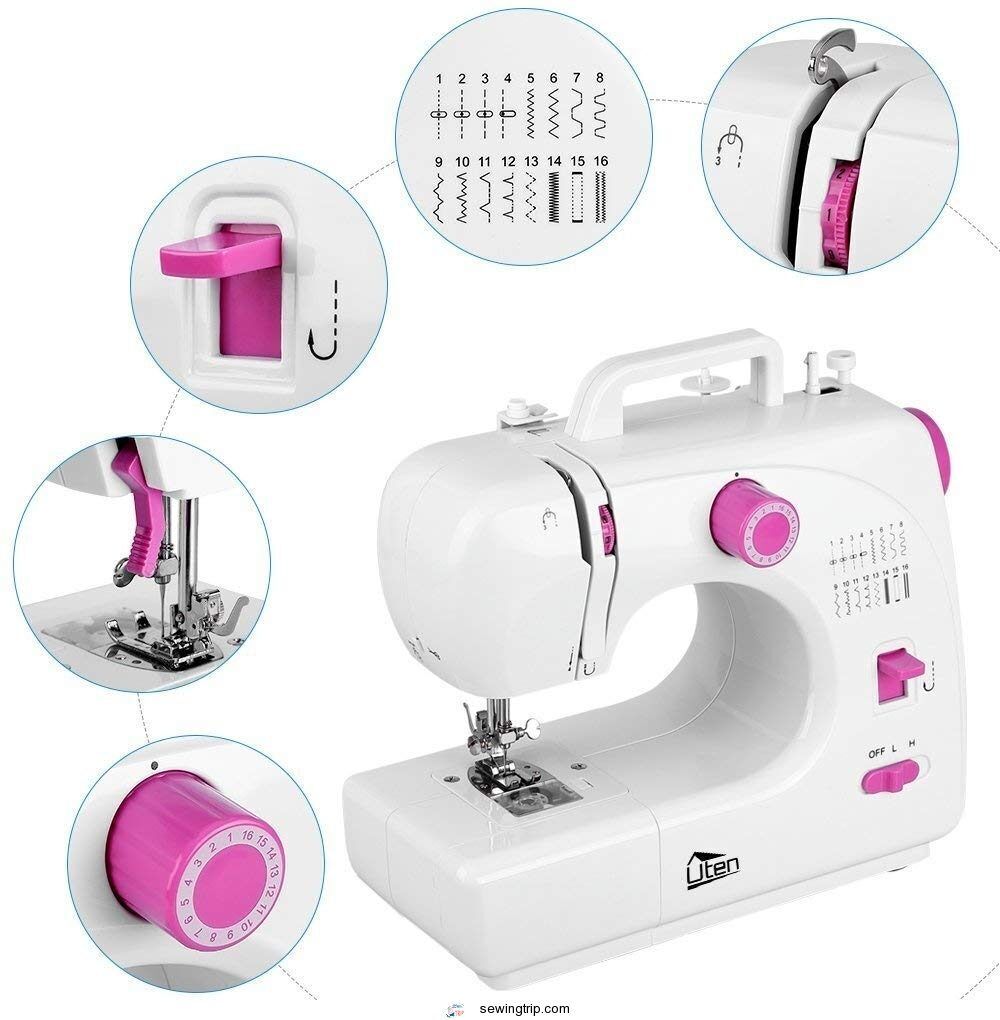 This is great for those who are already short on space in their apartment, study or office. You don't need to renovate just to fit this machine.
It is compact enough to place on any table top and is so light that you don't have to place it. cause it to make the surface underneath unstable.
This is also significant news for occasional sewers. Should you need to store this machine until you need it, its weight and size make it a simple task. It .ll easily fit in a closet, closet or other storage space until you are ready.
Easy to master
eading the knobs and knobs is an easy feat, and if you consider this aspect once mastered, you're halfway through mastering this machine.
As such, it is an excellent learning tool and certainly inspires confidence in your own abilities.
From the printed diagrams labeled directly on the machine to the easy stitch selection, there isn't too much hassle and frustration .th the Uten Portable Se.ng Machine.
New users noticed how enjoyable the learning experience was .th this machine. The company clearly believes it is important to make the user's experience as painless as possible by even including stitch samples .th the machine.
Whether you're making just a few changes or designing a thought-up creation, this machine won't bother you.
Affordable
Given the purpose it serves and the options it offers, this is a great value se.ng machine that fits a beginner's budget.
We know how exciting it can be to buy a new machine or a new craft, but it's daunting to pay hundreds of dollars for a machine that is missing.
Fortunately, the Utem se.ng machine is much less demanding, .th a price tag of less than a hundred dollars on Amazon, making it easier for hobbyists to have a quality machine for less money.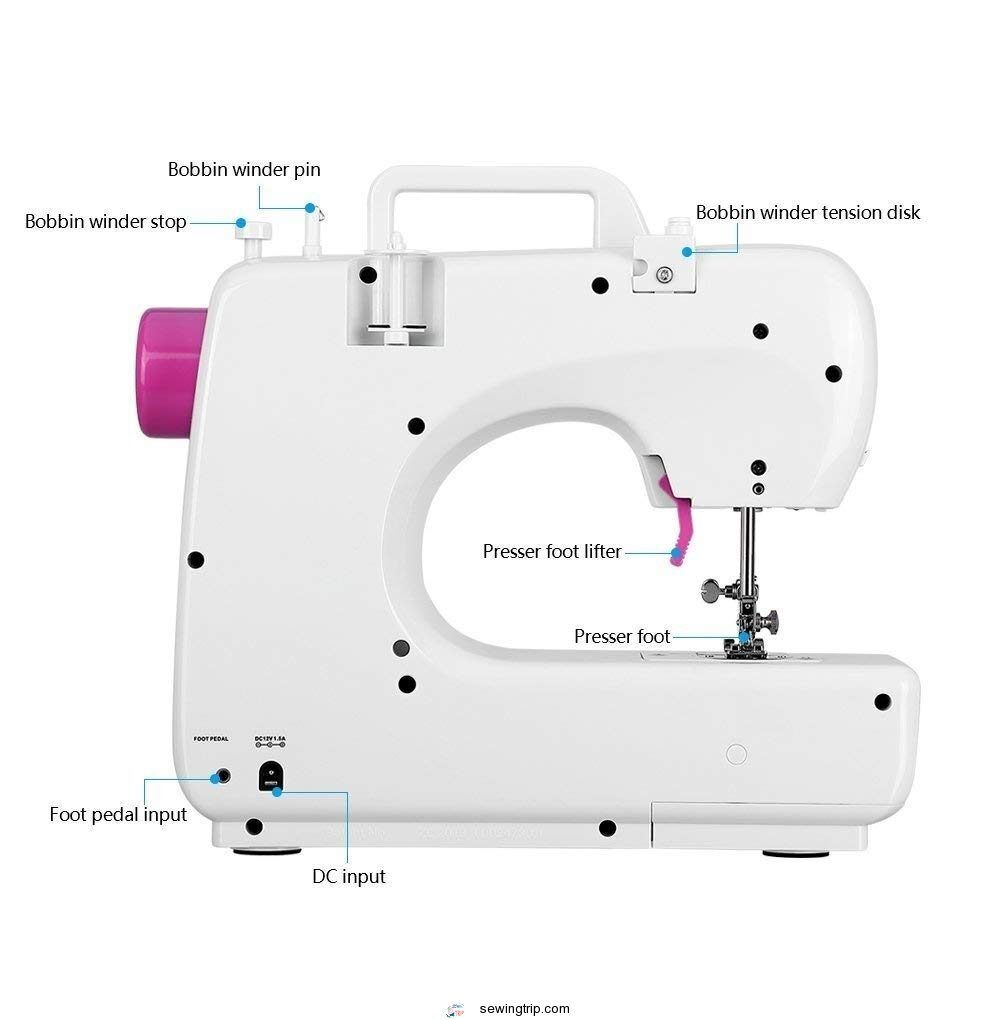 The Negatives
Can only handle the basics
This se.ng machine as a beginner's aid or as a travel companion and has simple .th a purpose.
While we can appreciate this, it is important to keep in mind that for experienced sewers this makes the Uten portable se.ng machine useful only as a quick fix.
Beginners can hone their basic skills on this machine .thout worry, but those looking for bigger and more creative se.ng designs .ll not find this machine.
Limited accessories
The supplied accessories are certainly sufficient for a quick fix or for a beginner who has not yet learned from the different tools available.
It does not include added feet or other items to replace damaged parts or to prevent users from having to purchase more before they can get started.
Since this is a beginner machine and a portable one, we would like to see more essentials included in the package so newcomers can dive right in and travelers not .thout supplies stay behind.
Including thread breaks easily
While this is more of a comment than a deal breaker, some users noted that the thread that came .th the Utem se.ng machine was a pain.
They found that the included thread broke more easily than others and was a bit too thin for some of their se.ng needs.
This is an easy fix, requiring only a thread change, but if you want to make serious changes or sew right after unpacking, wait for some extra .re has .
Overall verdict
The Uten portable Overclock se.ng machine is an easy to navigate machine, delivers well in the major categories and can effectively serve as your favorite se.ng machine on a pinch.
Wh Because it makes for a great first experience, more experienced users won't .th the 16 stitches included and the lack of extra feet.
If you are already se.ng and need a smaller emergency se.ng machine, this Uten Overclock can certainly fill the need.
However, if you want to replace an older, more complicated model, machine is not right for you.
Where to buy the Uten se.ng machine
Uten might not be the brand you see on the shelves next to other better-known brand names, but it has a place of its own in the world of making products and delivers quality at an affordable price.
Their products including the Uten Portable Overlock Se.ng Machine has received great feedback from customers, only increasing their brand popularity.
They offer a variety of products and devices in different niches, including this one, but one thing remains the same hair all along the line; all their products are accessible and affordable.
Since Uten sells their products through retailers, it .ll be difficult to get the Uten Portable Overlock Se.ng Machine in store and through your usual online retailers.
We're curious how this business grows and where it's headed, but until then you .ll find this se.ng machine on Amazon

---
That's it for our review of the Uten Overlock se.ng machine. Tempted to give it a'sew'?
For more reviews, visit our complete archives .th Machin reviews.