This site is supported by our readers. We may earn a commission, at no cost to you, if you purchase through links.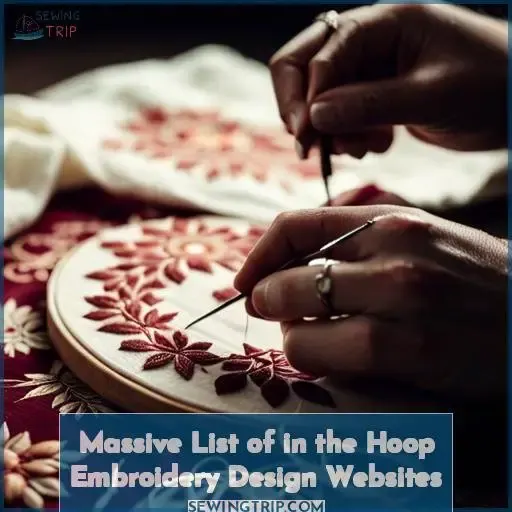 Gadzooks! In the hoop embroidery is your ticket to creating cute and quick sewing projects. With the right machine and design, you'll be stitchin' up a storm lickety-split.
Just hoop your fabric and stabilizer, load the design, and let your embroidery machine work its magic. The design handles all the stitching steps so all you've got to do is change colors when prompted.
From monogrammed towels to appliquéd onesies, in the hoop (or ITH) designs open up a realm of possibilities. Peruse this list of free and low-cost sources for ITH designs to expand your collection.
With the top sites and tips here, you'll soon master this clever embroidery technique for crafting insta-worthy creations and heartfelt homemade gifts.
Key Takeaways
Verify file formats and hoop size compatibility before purchasing designs. Mismatched formats or designs too large for your hoop will cause headaches.
Thoroughly review usage terms prior to selling finished products. Many sites prohibit commercial use without an extended license.
Focus your search on sites offering designs suited to your machine's capabilities. Avoid designs with a high stitch count if your machine can't handle the complexity.
Invest in quality tools and supplies like software, stabilizers and hoops. Proper stabilization and hooping prevent distortion and enable your machine to produce the best results.
What is in the Hoop Embroidery?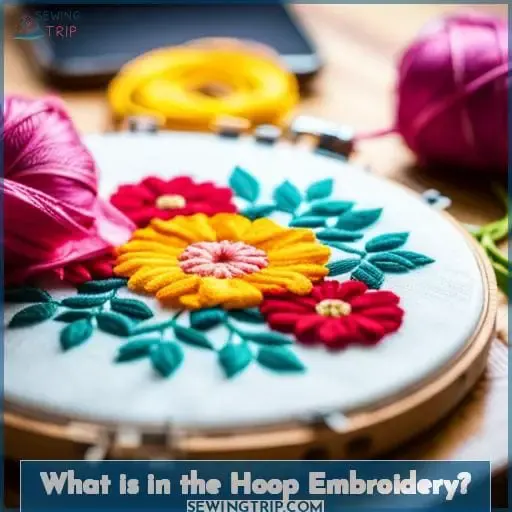 You've likely seen some cute and creative in the hoop embroidery designs online or in craft stores. Completed entirely within the embroidery hoop of your machine, these fun projects allow you to stitch up useful items like bags, coasters, and ornaments without any fabric cutting or sewing.
However, in-the-hoop designs are limited to the maximum embroidery area of your particular machine, so picking the right hoop size is key.
Definition
You're going to love discovering a world of creative possibilities with in-the-hoop embroidery! Here are 4 key aspects:
Completed in the hoop
No fabric cutting required
Entire design machine stitched
Great for beginners
In-the-hoop embroidery designs allow you to create beautiful projects like bags and quilts completely in the embroidery hoop of your sewing machine. With no pattern pieces to cut and minimal sewing, these designs provide a fun way to learn machine embroidery.
Benefits
Discover quick and easy embroidery magic with in-the-hoop designs! Completing projects in the hoop saves time otherwise spent cutting and stitching. Just load the design and watch your machine bring creative projects to life. In-the-hoop designs open new possibilities for those learning machine embroidery.
Limitations
Though in-the-hoop projects offer convenience, one's creativity is confined by the hoop's dimensions.
The size limits more intricate designs.
One can't embroider full spreads or large projects.
It restricts fabric choices like towels or clothing.
The machine's maximum hoop size caps possibilities.
Understanding the hoop's overlap when completing outlines and managing expectations helps perfect techniques and avoid frustration when machine embroidering in-the-hoop designs.
Top Sites for Free ITH Designs
Embrilliance is an excellent software for creating your own designs with powerful editing tools and output options. For beginners, Kimberbell offers a nice selection of free projects with helpful instructions to get you started.
Urban Threads provides both paid and free designs including full alphabets to embroider. With reputable sites like these, you can find freebies to start building your embroidery skills without breaking the bank.
Embrilliance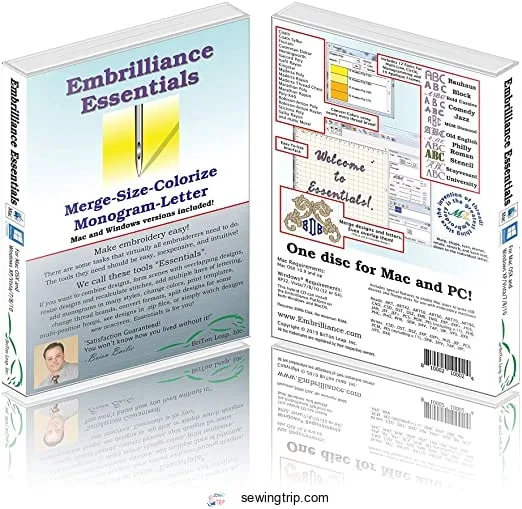 View On Amazon
You'll love creating embroidery with Embrilliance's powerful yet easy design tools. Digitize and edit designs for perfect stitch outs. Reshape, resize, rotate, skew artwork. Enhance colors. Add lettering, applique. The built-in library saves time. It's user-friendly for all levels.
Kimberbell
Kimberbell offers a small selection of quality free designs that'll have you stitching up cute projects in no time.
Owl Pincushion
Cat Placemat
Flower Coaster
Kimberbell has a reputable designer known for beginner-friendly embroidery patterns with helpful instructions. While there aren't a ton of freebies, trying these first lets you get comfortable with digitizing before purchasing hundreds of paid in-the-hoop designs.
Kimberbell's free time owl pincushion is a favorite freebie. Overall, Kimberbell is a trustworthy starting point for embroidery newbies wanting quality free ITH designs.
Urban Threads
Check out Urban Threads for their awesome selection of free in-the-hoop designs that'll have you stitchin' up cute and creative projects before you know it. They've got tons of inspiring freebies to try, from holiday motifs to contemporary designs.
| Design Type | Payment Methods | Support Options |
| --- | --- | --- |
| ITH Embroidery | PayPal | Email |
| Machine Embroidery | Credit card | Video tutorials |
| Hand Embroidery | | Help docs |
With hundreds of original designs and new freebies added regularly, Urban Threads is a go-to source for unique in-the-hoop embroidery patterns.
Creating Your Own ITH Designs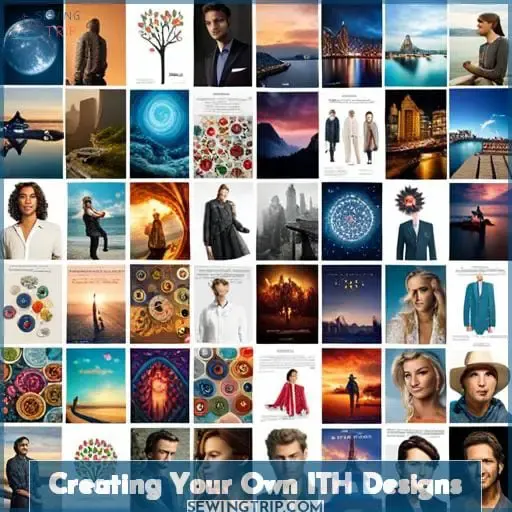 Creating your own in-the-hoop embroidery designs opens up endless possibilities, but requires investing in digitizing software like Embrilliance or SewArt. Expect a learning curve as you grasp the software tools and refine the process of testing and perfecting your designs.
Once comfortable with digitizing, the potential reward of selling your original designs on sites like Etsy or your own website may motivate the effort. However, quality design skills require significant time and dedication. Take small steps as you explore the creative options and challenges of digitizing your own embroidery projects completely in the hoop.
Digitizing Software
Embrilliance Essentials provides user-friendly design tools for creating your own in-the-hoop embroidery designs, with powerful editing features and output options to suit hobbyists and home embroiderers.
Digitizing software like Embrilliance allows you to turn your own artwork or vector files into embroidery designs that can be stitched out on your machine. With practice and tutorials, you will gain skills to design quality embroidery files customized to your unique needs and style.
Learning Curve
You'll need patience mastering the digitizing software, but the skills gained open unlimited creative possibilities for your embroidery. Learning the software has an initial learning curve. With practice, you gain expertise preventing design flaws and shifted stitches.
Test designs on scraps first. Focus on quality over quantity as you create machine embroidery.
Selling Your Designs
Create sample stitchouts to showcase your designs. This allows potential buyers to see your designs stitched out.
Protect your files from unauthorized use. Consider watermarking images or embedding your name in design files to prevent unauthorized sharing.
Market your designs on social media and in crafting groups. Share images of your designs and engage with potential customers.
Selling your own machine embroidery designs can generate income from your digitizing skills. With practice, you can refine your designs into polished, professional creations that others will want to purchase and stitch out.
Turn your hobby into a side business by selling your original embroidery designs.
Tips for Stitching ITH Projects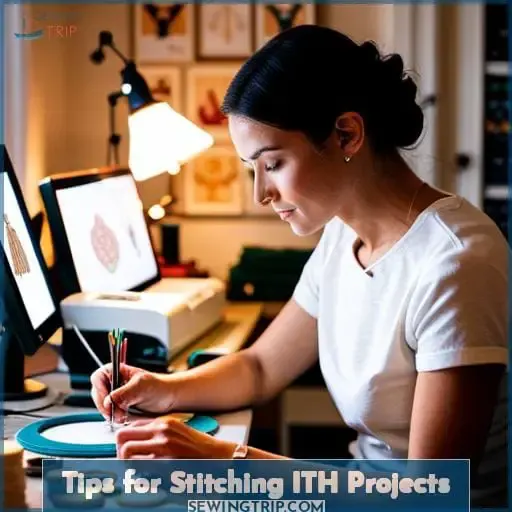 First, make sure your sewing machine meets the minimum requirements for hoop size and embroidery capabilities before purchasing any in-the-hoop designs. Take time to properly prep your fabric layers inside the hoop using the appropriate stabilizers, basting stitches, and thread tensions to avoid distortion or puckering.
When following the design instructions, carefully complete each step in sequence for the best results. Closely monitoring the process as you stitch can help identify and prevent potential issues. Proper hooping, quality materials, and meticulous technique are key to embroidering beautiful finished in-the-hoop projects.
Machine Requirements
When choosing an embroidery machine for in-the-hoop projects, go big or go home – the largest hoop size you can afford unlocks a world of creative possibilities.
Consider the maximum hoop dimensions to stitch out with bags, ornaments, face masks, bookmarks, and pot holders. Match quality thread, needles, and stabilizer to your fabric for optimal results.
| Hoop Size | Fabric Types | Stabilizer Types |
| --- | --- | --- |
| 4×4 | Cotton | Cutaway |
| 5×7 | Linen | Tearaway |
| 6×10 | Polyester | Water-soluble |
Hooping Fabric
Place stabilizer underneath cotton quilting fabric in the hoop before mindfully aligning edges. Then smooth the fabric taut but not stretched, checking the grainlines are straight.
Check fabric grainlines before hooping.
Use a stiletto to smooth fabric layers.
Apply basting stitches if the fabric shifts.
Following Instructions
Follow each step precisely as printed to prevent headaches down the road. Read and reread until confident you fully understand the instructions before hooping materials. Check alignment and placement multiple times. Test on scraps before stitching out designs.
Practice techniques to build skills. Persistence and patience are key for ensuring accuracy while avoiding embroidery errors.
Frequently Asked Questions (FAQs)
What file formats do most embroidery design websites use? Most sites will offer designs in.pes, .dst, and.exp file formats. Some may also have.jef, .vp3, or.hus formats. Know which formats your embroidery machine can read before purchasing.
You'll want to check which file formats are compatible with your machine before buying any embroidery designs online. The most common are.PES, .DST, and.EXP, but some sites may also offer.JEF, .VP3, or.
HUS. Knowing the formats you can use ahead of time prevents headaches down the road.
Do I need an embroidery machine to use in the hoop designs? Yes, you need a home embroidery machine capable of stitching out designs from files in order to use in the hoop embroidery patterns. The files contain the stitch instructions for the machine.
You need an embroidery machine to stitch out in-the-hoop designs. The files contain stitch instructions your machine reads to sew the project layers together into a finished item within the embroidery hoop.
How do I get the files after purchasing? After paying for designs on a website, you'll get access to immediately download the files to your computer. They can then be transferred to an embroidery machine via USB stick or cable.
After purchasing, you'll immediately get a link to download the design files. Save these to your computer, then transfer them to your embroidery machine's memory using a USB stick or cable connection.
Can I sell embroidered projects made with purchased designs? Most sites only allow personal use of designs in finished projects as stated in their terms of use. Check policies before selling homemade items using purchased embroidery files.
Unfortunately, most purchased embroidery design files cannot legally be used to create products for sale. Carefully check a website's usage terms before selling finished embroidered items using their files.
Some websites do offer commercial licenses for an additional cost. For personal use only is the standard policy. It's best to avoid selling projects made with purchased designs without explicit commercial permission, as this would violate most sites' terms of use.
Always thoroughly review a vendor's usage guidelines and licensing options if you hope to sell homemade items created with their embroidery files.
Will my machine hoop size limit the designs I can use? Yes, you can only stitch out designs meant for hoop sizes your machine can accommodate. So focus on sites with designs for your hoop or smaller to avoid issues.
Yes, the hoop size of your machine limits the designs you can embroider. Focus on finding designs made for the hoop sizes you have, or smaller, to ensure the designs will stitch out properly.
Conclusion
You've now explored the captivating world of in-the-hoop embroidery, where creativity comes alive within the boundaries of a hoop. Like a painter's canvas, the hoop awaits your thread, eager to stitch out your visions into reality.
With just a few clicks, a world of designs is at your fingertips. Let your inner artist experiment with color and shape as you craft charming pieces.
Massive lists of websites offer inspiration, yet your own ideas are equally rich.