This site is supported by our readers. We may earn a commission, at no cost to you, if you purchase through links.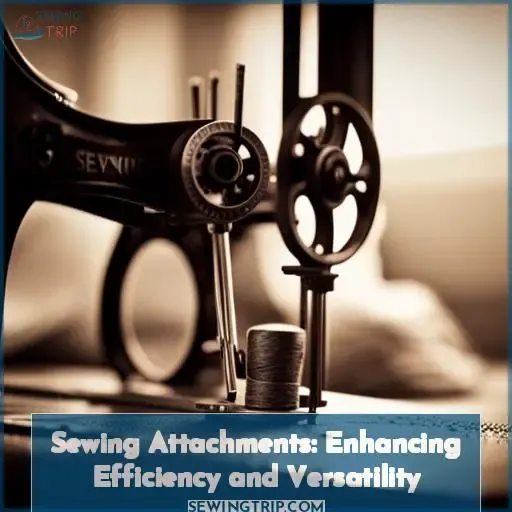 The devil is in the details, and this couldn't be more true when it comes to sewing attachments. From presser feet to circular sewing attachments, these tools are essential for achieving professional-looking results while also improving efficiency in the process.
In this article, we will explore what sewing attachments are, how they can enhance your projects with their versatility, and, more importantly, how you can choose ones that best suit your needs from GoldStar Tool—a trusted source of quality stitching supplies.
Sewing attachments are accessories that can be added to your sewing machine to expand its capabilities and allow you to achieve specialized techniques like zipper insertion, buttonholing, and embroidery.
The most common types of sewing attachments include presser feet, hem guides, binders, zipper feet, buttonhole attachments, and embroidery attachments.
Presser feet, for example, come in a wide variety to best suit different fabric types and techniques. A Teflon foot easily glides over slippery synthetics, while a walking foot ensures uniform feeding on layered projects.
Other handy presser feet include those for zipper insertion, piping, and rolled hemming. Using the appropriate foot for your project helps prevent mistakes and frustration.
Circular sewing attachments open up options for creative sewing projects. A bias binder neatly wraps and stitches bias tape around edges with perfect mitered corners. An adjustable hemmer creates precise double rolled hems in a snap. With the right circular sewing accessories, you can add a professional finish to tablecloths, curtains, clothing hems and more.
When selecting sewing attachments, consider your skill level, machine model, and types of projects you make most often. High-end computerized machines accommodate a wide variety of accessories, while basic mechanical models have more limited capabilities.
Focus on attachments that will be useful for your needs and easy to understand. With the versatility they provide, sewing attachments are a worthwhile investment for sewists looking to expand their repertoire.
Key Takeaways
Sewing attachments enhance the capabilities of sewing machines.
Presser feet are essential for sewing different fabric types and using various techniques.
Circular sewing attachments add creative options for sewers.
GoldStar Tool is a top choice for purchasing sewing attachments in North America due to their high-quality products.
The Importance of Sewing Attachments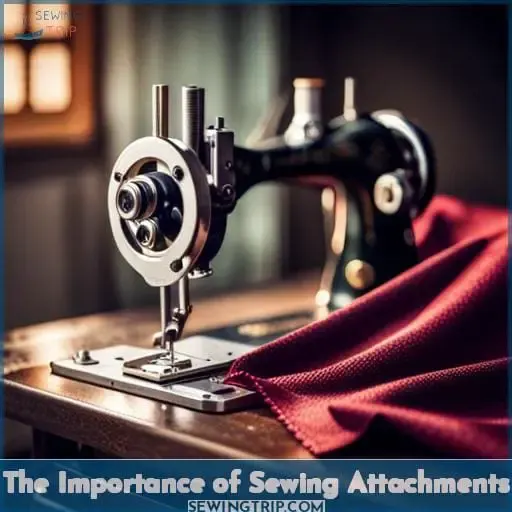 Sewing attachments are the secret weapons that take your projects to the next level. Designed for specific techniques, these snap-on accessories make sewing tasks more efficient, expanding your machine's capabilities and unleashing your creativity.
The attachments optimize stitching for different fabrics and techniques, saving time and effort while producing professional results. From zipper feet to hemming attachments, the options allow sewers to quilt, embroider, sew buttonholes, and more with ease.
Investing in quality attachments tailored to your needs can transform the way you sew. With the right accessories, you'll sew faster, get even seam allowances, achieve intricate stitches, and add decorative embellishments.
Your sewing machine has untapped potential just waiting to be unlocked with innovative attachments. It's time to transition from sewing amateur to sewing expert by equipping your machine with the tools to take on any project imaginable.
What Are Sewing Attachments Used For?
You snap on specialized presser feet to handle tricky sewing tasks like zippers and ruffles. The right attachment transforms your sewing machine for particular techniques. Circular sewing attachments like the Brother SACIRC1 open creative options for embellished stitching in perfect circles.
With the proper presser foot, you can install zippers, sew buttonholes, make ruffles, and more. Sewing attachments allow you to expand your skills and tackle projects requiring specialty methods.
How Sewing Attachments Improve Sewing Efficiency
Simply adding the right sewing attachments makes sewing tasks infinitely easier, swifter, and more professional. Presser feet like the walking foot or special attachments like the circular sewing accessory open up exciting possibilities.
With the proper tools, perfection is within reach. Decorative stitches align precisely, fabrics feed evenly, and circles stitch flawlessly.
Try an embellishment foot for texture, a cording foot for couching, or a braiding foot for ribbon work.
Contact GoldStar Tool for personalized recommendations on attachments to maximize sewing success. Their specialists simplify selection from 100+ snap-on feet for any sewing endeavor.
Understanding Presser Feet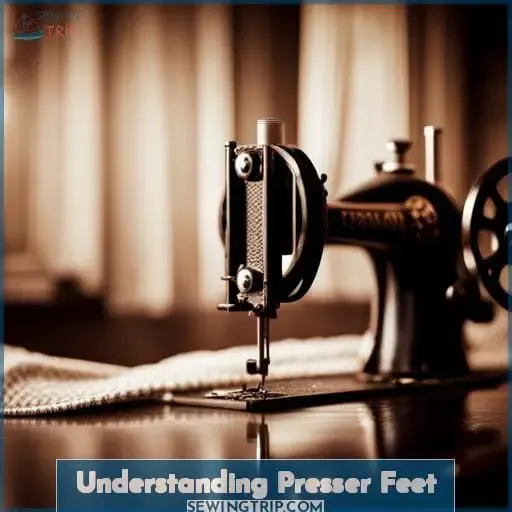 Understanding presser feet is an important part of getting the most from your sewing machine. Using the right presser foot for your project will give you better stitch quality and make sewing easier. There are many types of presser feet that provide benefits for specific techniques like installing zippers, sewing buttonholes, quilting, and more.
A few common presser feet include the zipper foot, buttonhole foot, walking foot, and overcast foot. The zipper foot has a narrow shape to allow sewing close to zipper teeth. The buttonhole foot has markings and guides to help sew uniform buttonholes.
A walking foot feeds fabric evenly and prevents shifting when sewing multiple layers. An overcast foot stitches over edges to prevent fraying. Taking the time to use the optimal presser foot for your sewing task will elevate your projects.
Reading your sewing machine's manual to understand the capabilities of included presser feet is a great place to start.
Different Types of Presser Feet
There's a presser foot for virtually any specialized sewing technique you'd like to try. Whether it's quilting, embroidery, zipper insertion, or basic hemming, having the right foot makes the job easier and the results more professional.
Machines use high shank, low shank, or slant shank presser feet. Snap-on feet are common for ease of switching between tasks. Shank adaptors allow using various universal snap-on feet with your machine's shank size.
Walking feet assist thick fabrics in feeding evenly. A zipper foot sews close to zipper teeth.
The possibilities are endless with presser feet types designed for specific sewing functions. With some research and practice, you can expand your skills and complete exciting new projects using the perfect presser foot.
Benefits of Using Presser Feet for Sewing Projects
Savor quality time crafting perfect circles with your circular sewing attachment.
Open your projects and let your presser foot attachment take you on an inspiring journey.
Effortlessly control any fabric composition.
Seamlessly navigate curved paths.
Freely experiment with intricate designs.
Unleash unlimited creative potential.
Your circular sewing attachment allows efficient fabric manipulation for decorative embellishments, elegant appliqués, and inventive trims. Explore innovative techniques as your presser foot guides material exactly where intended.
How to Choose the Right Sewing Attachment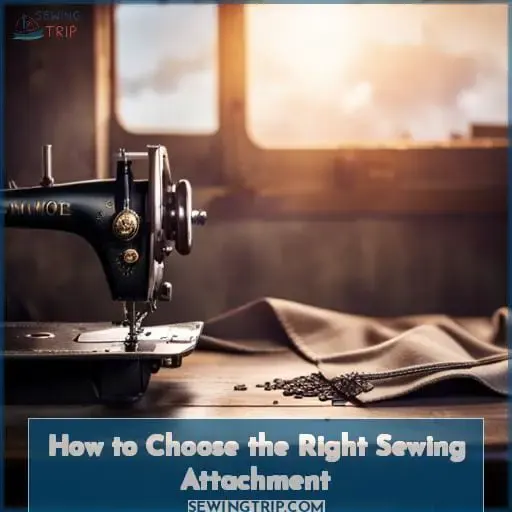 When targeting your sewing project needs, choosing the perfect attachment goes hand-in-hand. Attachments serve a specialized function for accurate stitching, whether for sewing buttonholes, hems, zippers, decorative edges, and more.
Considerations for Selecting Sewing Attachments
Consider your project needs before evaluating compatible options for attaching specialized accessories to your sewing machine. Prioritize to narrow styles fitting your goals. Assess features like presser foot shank size, adaptability for universal snap-on feet with adaptors, and specialized benefits like free-motion quilting, zipper stitching, and perfect circle sewing.
Verify compatibility with your machine model and needle limits. Seek dealer guidance to match the right attachments to your creative sewing aims.
Where to Find a Wide Range of Sewing Attachments
You'll find a wide variety of sewing attachments at specialized sewing stores. Such stores offer a huge selection of feet, plates, hoops, and attachments compatible with most machine brands and shank types.
Experience the benefits of embroidery, quilting, and serging attachments that simplify sewing tasks and enable creative edge finishing.
Explore presser feet for hemming, zippers, buttons, walking foot motion, free motion work, and other techniques.
Knowledgeable staff can recommend the right attachments to match your machine model and sewing projects.
With the variety available, your machine will quickly transform into a creative powerhouse.
The Versatility of Circular Sewing Attachments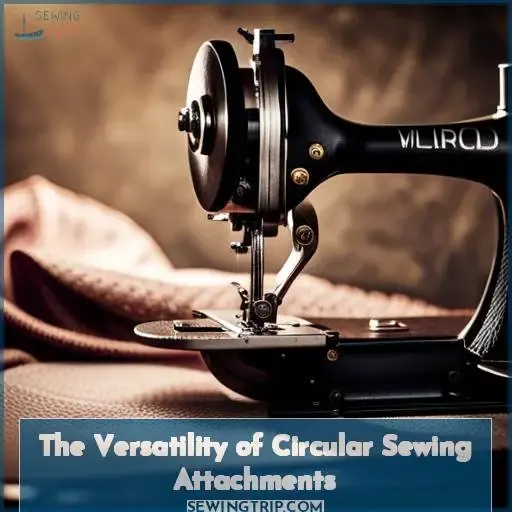 Circular sewing attachments open up a wide range of creative possibilities. With these versatile tools, you can embellish fabric with perfectly stitched circles, arcs, and curves for decorative edges, applique shapes, lace motifs, and more.
The attachments allow sewers to effortlessly stitch precise curves, bringing new dimension to projects. With the right foot, sewers can make circles in various sizes – from tiny bullion knots to large scalloped edges.
More advanced circular attachment feet have multiple grooves to stitch concentric circles or parallel rows of stitching in one pass. Using these novel sewing feet eliminates the difficulty of maneuvering fabric around tight corners.
The accessories make short work of finishing edges with rounded corners on placemats, napkins, or patchwork pieces. Circular embroidery is easy by following a template or drawn pattern. The sewing attachments fluidly handle elegant swirls, rings, and radiating sunburst designs.
With some practice, sewers can create flowers, vines, and other organic motifs freehand. The sewing possibilities are limited only by the crafter's imagination when accessories can quickly transform flat fabric into flowing, curved, three-dimensional forms.
Exploring the Uses of Circular Sewing Attachments
From embellishing garments to crafting home decor, circular sewing attachments open a world of creative possibilities for you. With a circular attachment, you can make decorative stitching, concentric circles, and unique sewing projects.
Decorative Stitching – Try different stitches like satin stitch, heirloom hemstitch, and character stitching.
Circular Sewing Projects – Sew circles on bags, make circular appliques, and create rosettes.
Brother Attachment Tips – Check out tutorial videos for tips on adjusting the pivot point, securing threads, and maintaining alignment.
Circular sewing attachments offer an infinite array of embellishment options to unleash your creativity.
Examples of Circular Sewing Attachment Projects
Once you've mastered circular sewing, personalize shirts, skirts, and bags with your own unique embroidered designs. The Brother circular attachment bundle opens up creative possibilities for decorative stitching.
Try scalloped edging on collars and sleeves with the embellishment foot. Mark fabric at equal intervals for precise alignment. The measuring slide and seam gauge assist with consistent sizing. Stitch flowers, spirals, and circles using the protractor for even spacing.
Practice on scraps first when experimenting with new techniques before beginning projects. The results will be eye-catching embellishments to show off your circular sewing skills.
Why GoldStar Tool is Your Go-to Source for Sewing Attachments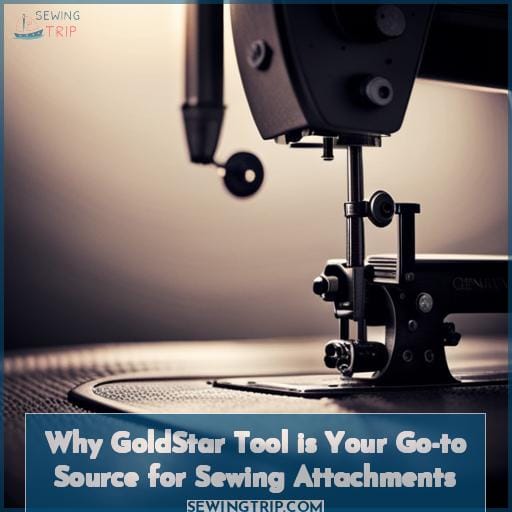 When looking for the perfect sewing attachments to help unlock your creative sewing potential, relying on GoldStar Tool is the smart choice. This trusted industry leader offers over 100 high-quality snap-on presser feet for both high shank and low shank machines, and their customer service can help you find the right accessories for your unique projects.
The wide variety of specialty feet expands your abilities, enabling you to easily make buttonholes, install zippers, stitch hems, and much more. GoldStar's presser feet work with most major brands and seamlessly snap on for quick changes.
Experienced sewers and beginners alike appreciate how GoldStar attachments upgrade their machines and inspire their imagination. With the company's user-friendly shopping tools, responsive support team, and 100% satisfaction guarantee, GoldStar has become sewers' top choice for unlocking their machines' full creative capabilities.
Benefits of Buying Sewing Attachments From GoldStar Tool
By partnering with GoldStar Tool, you expand your sewing capabilities. As the largest independent supplier of sewing machine attachments in North America, GoldStar Tool offers an unmatched selection of high-quality presser feet, attachments, and accessories for all major brands.
Finding the right attachments for your projects
Optimizing your sewing efficiency
Unlocking new techniques
With over 100 snap-on feet, GoldStar Tool has every attachment you need, from walking feet to circular attachments. You can contact their team at 1-800-868-4419 for personalized recommendations. Their dedication empowers your creativity.
How to Get Assistance in Selecting the Right Sewing Attachments
You'll love working with the experts at GoldStar Tool to find just the right accessories for your creative sewing projects. Their specialists will help you select the perfect attachments for your machine's model, shank system, and capabilities.
With a vast selection of presser feet, walking feet, zipper feet, hemming feet, and more, GoldStar Tool has the accessories you need to expand your sewing skills.
Their product specialists provide recommendations based on your sewing goals, guiding you to the right attachments for special techniques like sewing straight lines, securing stitches at start/stop points, following etched lines on presser feet, and creating locked stitches for strength.
Conclusion
Sewing attachments are a must-have for any seamstress looking to take their craft to the next level. From presser feet to circular sewing attachments, these tools can make any project easier and more efficient.
With a range of features and options, GoldStar Tool is the go-to source for all your sewing attachment needs. Their extensive selection of snap-on presser feet, walking feet, zipper feet, and more makes it easy to find exactly what you need to take your projects to the next level.
So if you're looking to enhance your sewing efficiency and versatility, look no further than GoldStar Tool for all your sewing attachment needs!