This site is supported by our readers. We may earn a commission, at no cost to you, if you purchase through links.
If you like working with heavy fabrics and a lot of those fabrics, you should really check out the excellent Janome HD3000 Heavy Duty Sewing Machine.
This is a hands-on machine that comes with a wide range of accessories. And an incredibly easy-to-use interface. Sure, it's on the expensive side, but we think it might just be the best heavy-duty sewing machine on the market right now.
The set of eighteen stitches of the Janome HD3000 combined With its sturdy exterior and extendable body, you can hem, quilt and create however you want.
You can completely immerse yourself in sewing with this machine.
It may not be a perfect machine, but it's not too far away.
Let's see can decide if it suits you.
Janome HD3000 Heavy Duty Sewing Machine: The Details
The Look
At first glance, the Janome HD3000 presents itself as a machine with charisma.
Where other sewing machines sometimes look like they are from the year 3000. The Janome Heavy Duty Sewing Machine looks approachable with its square housing and simple design.
The white cover is littered with stitch choices and speed levers, but otherwise it looks exactly as it : a simple, easy-to-use sewing machine.
It is sleek, white and sturdy. It looks reliable – and it is.
Specs
Weight[19459012)

: 18.7 lbs

Dimensions: 10 x 19 x 15 inch
Stitch: 18
Speed: 860 stitches per minute
Computerized/Mechanic: Mechanic
Spool: Auto-declutching bobbin winder
Warranty: 25 years limited
Accessories
Simple and reliable doesn't mean standard, however.
Here are the huge number of accessories that come with the Janome HD3000:
Snap-on presser feet
Ultra Glide Foot
2 packs of leather needles
1 pack of universal needles
Blindzoo m foot G
Roll, etc. Hem foot D
Zipper foot E
Buttonhole foot B
Buttonhole foot R (Automatic)
Hemmer foot 2 mm D
Overedgevoet C
]
1 pack of bobbins
Felt
Fluff brush
Quilter bar
Screwdriver (large)
Screwdriver (small)
Seam ripple
Needle set
Spool cap (large)
Spool cap (small)
Spool pin
Foot control/power cord
Hard case
Warranty
Instruction manual
Phew!
Janome doesn't skimp on the accessories they give you, and the HD3000 Heavy Duty Machine allows you to explore your sewing options without sweat.
Janome: The Company ]
But a little more about Janome. Janome began his illustrious career as a sewing machine supplier in 1954, formerly known as The Pine Sewing Machine Factory.
Janome, based in Tokyo, Japan, now has international reach and sells machines that allow you to sew as well as embroider and quilt.
The I know japanese for producing some of the best sewing manufacturers in the world, and Janome keeps that legacy more than standing.
Their middle Market machines are always of high quality, reliable, easy to use and well priced.
The most recent coil design released by Janome is a playoff of their name, which translates, in English, to "snake's eye."
The Warranty
The Janome warranty ensures we can use the Janome HD3000 for up to 25 years after purchase. serviced.
Electronic components can and repaired under warranty for up to five years after purchase at no additional cost to you; janome provided general labor free for up to one year after purchase.
After that, it will charge labor for Janome employees extra.
For more information about the Janome warranty, view the full spread here.
Janome HD3000 Features
Stitches
The Janome HD3000's eighteen different stitches allow you to do a variety of work without being overwhelmed with choices.
You have to remember that this is a heavy duty machine, not something delicate to tinker with. They come equipped with a range of stitches you need for heavy work, including a one-step buttonhole.
Anyway, 18 stitches are quite generous for a heavy machine, which usually has less than 10 different stitches to play with.
There is a flip-up insert panel you can refer to if you are wondering which one to choose.
Automatic Push-Pull Bobbin Winding
Want to save time and not manually wind your bobbin? Well, maybe not you, but we sure do.
The Janome HD3000's automatic bobbin winding system saves a lot of time and keeps all your thread tidy without you having to ask for anything.
The bobbin winding system also resists seizing, so it's great for both beginners and more experienced seamstresses.
Built-in needle threader + thread tension adjuster
Continuing on the theme of "making things easier," the Janome HD3000 has a built-in needle threader that is determined to save you time on your sewing projects.
Instead of spending five minutes trying to thread your thread through the eye of your needle, you can be up and running with your project in no time.
However, monitor the thread tension – the Janome HD3000 comes with a thread tension regulator you can adjust to your liking.
Ideally, t The thread tension should being automatic – finding out what works for your project can be tricky for beginners or those who are not yet confident in their sewing.
Reverse stitch lever
]
Want to step back?
No problem, just pull the reverse sewing lever on the front of the machine. Easy!
Foot Pressure Adjustment
Experienced sewers will appreciate being able to regulate foot pressure themselves according to needs of the material.
Foot We supplied control with the machine.
Other functions
Heavy duty aluminum housing
Free arm
Light
Extra High Presser Foot Lift
Janome HD3000 Heavy Duty Sewing Machine Review
These are the statistics of the Janome HD3000 Heavy Duty Sewing Machineit comes under scrutiny as the best heavy-duty sewing machine duty sewing machine on the market?
Well, every machine has its advantages and disadvantages. Here's what we thought.
The positives
Seriously Heavy Duty
Do you want to get started with complex projects? The Janome HD3000 lives up to its "heavy duty" title – it can handle over six layers of the thickest fabric, so to speak, without blinking.
This is probably one of our favorite things about the machine – it really is a wor.orse and it will hold up without faltering on some of your more ambitious projects.
In addition, it just feels sturdy: the aluminum housing stays on your worktop and the motor is seriously strong.
As a bonus, Janome has supplied 2 packs of leather needles with the machine – leather workers with this heavy duty sewing machine.
Silent and Smooth-Running
Not to mention it's quiet too.
Instead of making you deafening in the middle from your work, the Janome HD3000 purrs like a kitten. Compared to some of the cheaper heavy-duty machines we've tested, this is a real godsend.
For those of us who to do our sewing in the middle of the night — or just sharing a house with others — not worrying about the noise your machine makes can only be a good thing.
The softer sound of the machine makes elaborate projects more fun to complete – you don't have to go out and buy industrial earmuffs.
The Janome HD3000 also has a reputation for running smoothly. Your machine is unlikely to trip over itself, adding all the more to the ease and enjoyment of the project you are working on.
Smooth and even sewing is the message name of the game here.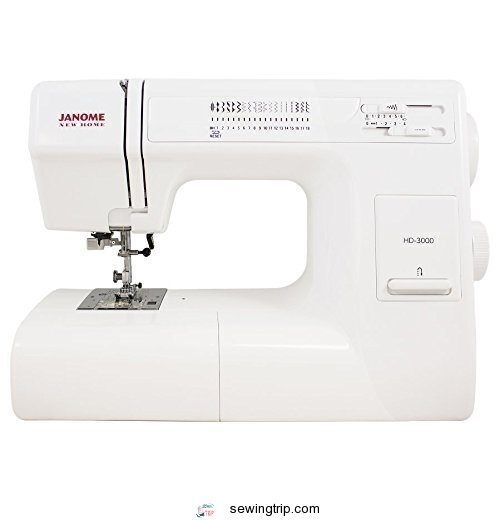 No substance restrictions
You don't have to withhold the substances you use, either; the Janome HD3000 can handle them all.
Do you work with denim, nylon or sturdy furniture fabric? You may not use them all at once, but the Janome HD3000 can handle them all without ruining the quality of the fabric.
Excellent stitch quality
It should go without saying with a Janome machine, but you can rely on exceptional stitch quality with the Janome HD3000 — it's incredibly consistent.
Whether you're sewing clothing or a quilt, your finished piece will look fantastic, with hardly any work from you.
Here's a quick look at the machine in action:

The negatives
We wish this machine was perfect, but there are some drawbacks worth noting.
Take it easy
Don't try to push your Janome HD3000 through abrupt changes in fabric thickness — it may not end well for you.
While the heavy sewing machine all s. can handle Pieces of cloth, easy, reduce your speed as you move from one to the other to make sure nothing gets snagged along the way.
Not So Sleek
Although the Janome HD3000 is wonderfully sturdy, it is not the prettiest machine on the sewing machine market.
A little boxy, it may seem out of place in a modern sewing room.
This comes down more to aesthetics, but if you want a machine that looks just as sleek if the projects you have undertaken, this machine may not be for you.
Overall verdict
The Janome HD3000 is definitely one of our top picks for the best heavy-duty sewing machine on the market today.
It's strong, supple and a total wor.orse – what more could you want?!
It's a beast, ideal for working on c complex projects.
Although it is not the most beautiful machine in the world old, or the cheapest, it will work on a variety of fabrics and make your work so easy and enjoyable is possible.
Where can you buy the Janome? HD3000 Sewing Machine
With such an excellent reputation, it will come as no surprise that the Janome HD3000 is a popular machine, available in many home improvement stores, both in person and online..
Check out these online shops for starters:
And, of course, it's available on Amazon.

---
Do you think the Janome HD3000 is the best heavy-duty sewing machine?
Not sure if this is the model for you? Browse the rest of our sewing machine reviews.