This site is supported by our readers. We may earn a commission, at no cost to you, if you purchase through links.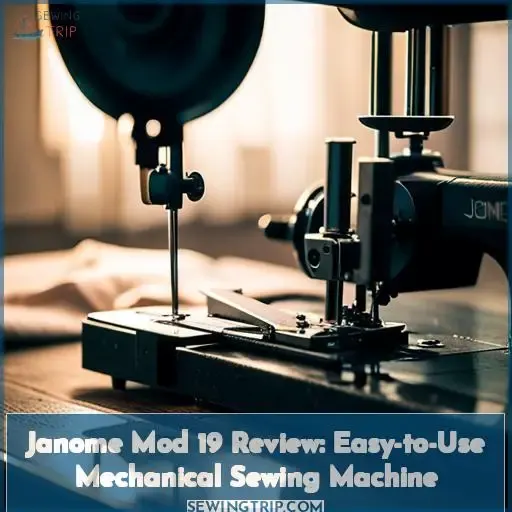 Impressed by the Janome Mod 19? Considering the purchase of this versatile and easy-to-use mechanical sewing machine? You've come to the right place.
Here, we present an in-depth review of the Janome Mod 19, allowing you to assess its suitability for your sewing requirements. With its smooth stitching, lightweight portability, and quiet operation, this model is exceptionally well-suited for acquiring sewing fundamentals or accomplishing uncomplicated projects.
In comparison to other machines available in the market, the Janome Mod 19 stands out. Its key features set it apart and make it an attractive option for both beginners and those with more experience. We will guide you through these features, providing insights that will help you make an informed decision.
Furthermore, maintenance tips and accessory options will be outlined, ensuring that you can keep your sewing machine in top-notch condition and explore its full potential.
Embark on this journey of exploration to unravel everything you need in order to decide confidently regarding this much-talked-about Janome model. The Mod 19's budget-friendly nature, coupled with its performance and versatility, will be evaluated, enabling you to make a choice that aligns with your creative pursuits.
Key Takeaways
A versatile and user-friendly mechanical sewing machine with smooth stitching and quiet operation.
19 built-in stitches for different fabric weights; customizable stitch length and width.
Positive user experiences highlight easy set-up and reliability for sewing enthusiasts.
Lightweight design suitable for various projects, complemented by specialty presser feet options.
Janome Mod 19 Sewing Machine Review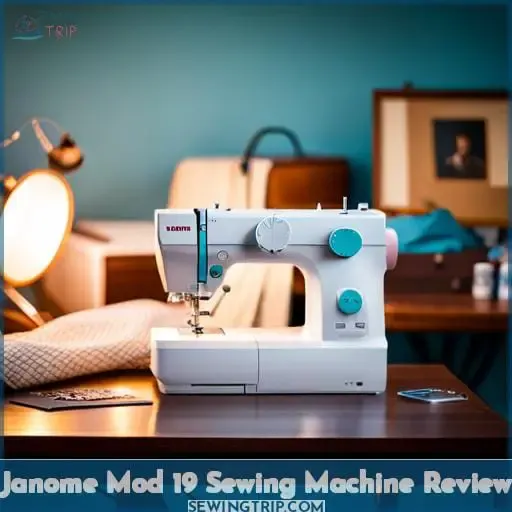 You'd love the Janome Mod 19 for its easy threading and tension adjustments, ensuring smooth stitching. Unlike the user who returned theirs due to improper stitches, you can enjoy the benefits of these features.
The machine comes with nineteen built-in stitches, allowing it to adapt well to various fabric weights.
Before you begin your projects, it's important to test different fabrics to find the appropriate tension settings. This step will contribute to the overall quality of your stitching. Remember, regular cleaning of the machine is essential.
As you clean, be sure to inspect for loose screws or lint buildup that could potentially lead to stitch issues.
If you encounter problems that troubleshooting the tension doesn't resolve, you might want to consider upgrading the presser feet. Upgrading can be especially beneficial if you're aiming to use specialty techniques in your sewing projects.
In terms of its design and performance, reviewers have consistently praised this Janome model. Its lightweight design makes it easy to handle, and the stitch quality it delivers is particularly noteworthy.
This makes the machine suitable for quilting and home decor projects. The best part is that all these features come at an affordable price point.
However, if you're looking to expand its creative potential, think about acquiring additional presser feet. This can open up a world of possibilities for different sewing techniques and styles.
In summary, the Janome Mod 19 sewing machine offers a range of features that make it a great choice for sewing enthusiasts. Its user-friendly nature, combined with its ability to produce high-quality stitches, makes it well-suited for various projects.
Whether you're into quilting or home decor, this machine provides both affordability and performance. Just remember, with a few additional presser feet, you can take your creativity even further.
Janome Mod 19 Overview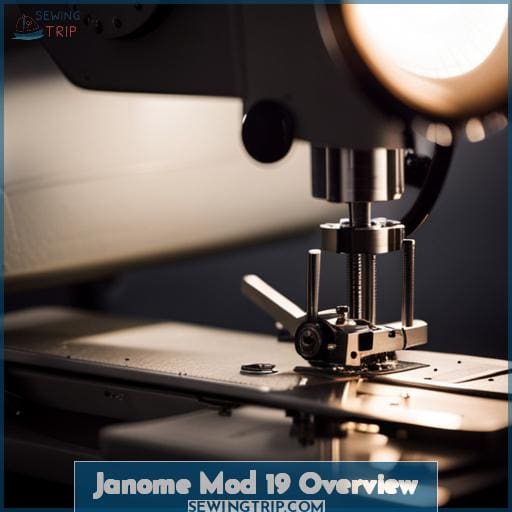 You can achieve excellent results with the Janome MOD-19. It's a user-friendly electric sewing machine with 19 built-in stitches and a top-loading bobbin. This machine is perfect for various tasks like quilting, heirlooming, and home decor projects.
The convenience of the top-loading bobbin allows for quick winding and threading – just drop your bobbin into its casing. For decorative stitches, you can adjust the stitch width, with options up to 7mm.
Easily snap on the presser foot that best suits your specific project. You also have the flexibility to select the needle position, ensuring precise stitch placement. To enhance stitch quality, the thread tension dial enables you to adjust tension based on the fabric type.
If you're in the market for a budget-friendly option, the Janome MOD-19 is a worthy contender.
When making your decision, it's wise to read sewing machine reviews. This will help you compare the Janome MOD-19 to other models like the Janome MOD-15, which is particularly well-suited for beginners.
Additionally, take the time to evaluate comparable starter models from brands like Brother and Singer.
Janome Mod 19 Features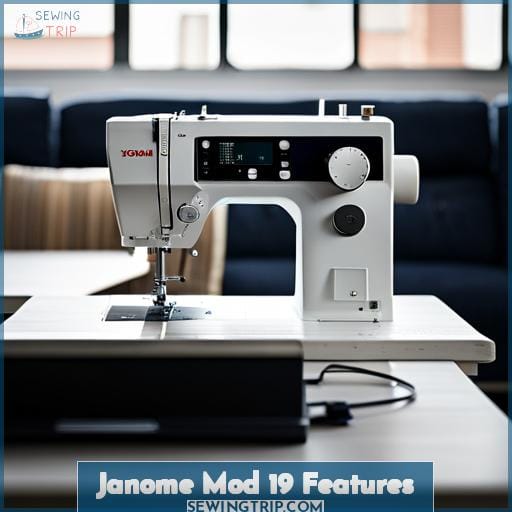 Plain and simply, the Janome MOD-19's 19 built-in stitches open creative avenues for you, while its adjustable presser feet tread nimbly through various fabric projects.
The MOD-19's key features include:
Top-loading bobbin for quick changes between thread colors.
One-hand needle threader for hassle-free setup.
Speed control slider to set the optimal pace on any material.
With the MOD-19, guiding fabric under the presser foot is smooth and snag-free, thanks to the free arm design. Adjusting tension is a cinch, whether sewing lightweight cotton or heavy denim. Leveraging built-in stitches like zig-zag or buttonholes saves time compared to manually adjusting stitch length and width.
Bottom line, the Janome MOD-19 gives sewists freedom and flexibility to explore their wildest creative visions.
The Janome MOD-19 offers sewists the features they need to bring any project vision to life. With 19 built-in stitches, adjustable presser feet, and intuitive controls, creative freedom awaits.
Performance of Janome Mod 19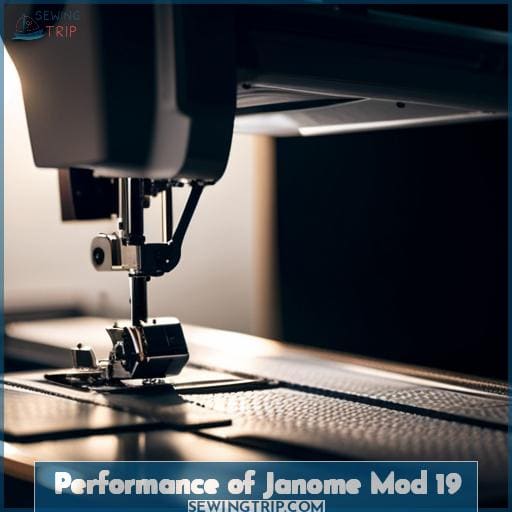 Delight in the effortless usability offered by Janome's Mod 19. You can smoothly navigate through various fabrics by adjusting the thread tension and foot pressure. Cultivate practices such as threading needles, oiling the bobbin, and stabilizing your sewing surface, which effectively ward off frustration and keep your creativity unblocked.
Your entry-level Janome excels with finesse, whether you're hemming, embroidering, or quilting.
User Experiences With Janome Mod 19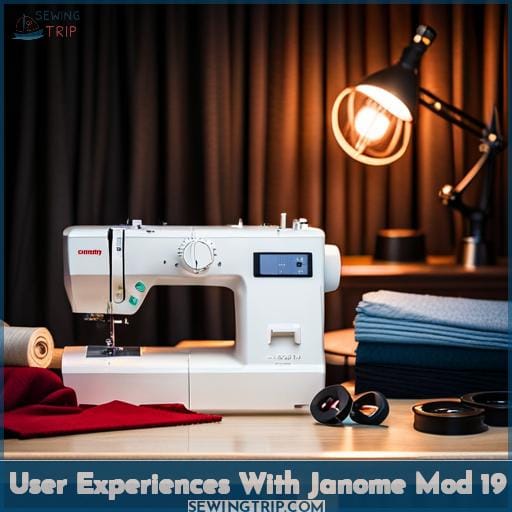 Getting your hands on a Janome MOD-19 feels like Christmas morning. Reviewers highlight its easy setup and intuitive controls right out of the box.
Experienced sewers and beginner enthusiasts alike rave about the MOD-19's straightforward operation and smooth sewing capabilities. The machine provides accessible dials and instructions tailored to all skill levels, from needle alignment to tension adjustments.
Small touches such as an automatic needle threader and topstitching foot take the frustration out of tricky tasks. The built-in stitches have exceeded expectations on varying fabric weights while maintaining precision in stitching.
Of course, users mention a learning curve, as with any new machine. Following the manual and watching online tutorials helps new users become comfortable with settings. With just a bit of learning, happy reviewers report the MOD-19 fulfilling their sewing needs, from light garments to home decor projects, with its versatile features.
Comparisons: Janome Mod 19 Vs. Alternatives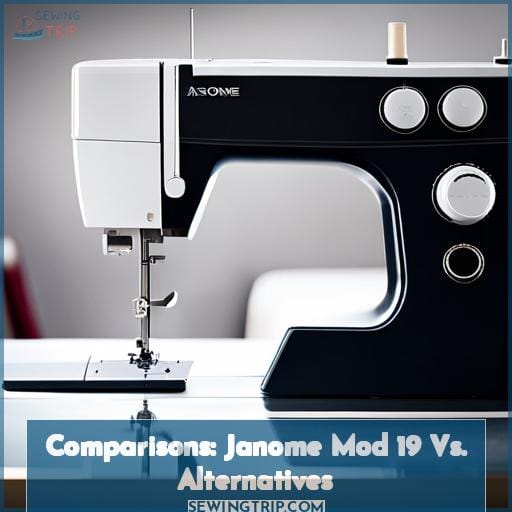 When comparing the Janome Mod 19 with other sewing machines, take into consideration the Singer Making Cut kit, which includes the beginner-friendly M3330 machine, and the Brother CS5055 computerized machine, renowned for its functionality and performance on basic fabrics.
Both alternatives provide features such as built-in stitches, adjustable settings, LED lighting, and accessories to assess in comparison to the Janome model.
Singer Making Cut Sewing Machine Kit
Appreciate the Singer Making Cut Sewing Machine Kit for its user-friendly design and convenient accessories. The kit comprises the compact M3330 sewing machine, ideal for both novices and experts, offering 97 built-in stitches, adjustable settings, LED lighting, and reverse sewing.
It arrives with useful accessories such as presser feet, a guide, needles, and bobbins, aiding in the seamless completion of projects. The lightweight machine garners praise for its simplicity, functionality, and versatility across various fabrics.
Brother Computerized Sewing Machine White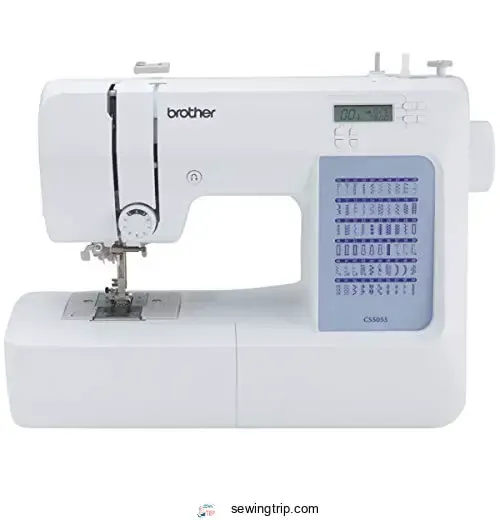 View On Amazon
After checking out the Singer kit, you'd do well to consider the Brother CS5055 computerized machine in white for its user-friendly interface and versatility across projects. It acts like an extra pair of hands for both new and seasoned sewers. Its easy-to-navigate LCD screen simplifies stitch selection, while the durable metal interior provides the stability needed, even for large quilts or home decor.
Seven presser feet and a needle set are designed to accommodate anything from buttonholes to zippers. The machine comes with bright LED lighting and a specialized needle threader, eliminating frustration from the process.
The feedback verifies its simplicity for amateurs. However, it also offers convenience features like quick bobbin winding and jam protection, aiding productivity for experts tackling mending or fitting adjustments.
Intuitive LCD screen
Durable metal interior
7 presser feet for versatility
Needle threader and LED lighting
Suitable for beginners and experts
LCD screen does not light up
Limited feedback on performance with complex fabrics
Maintenance Tips for Janome Mod 19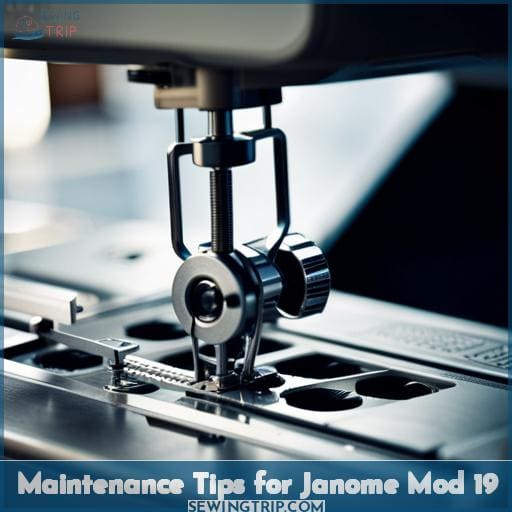 Life's too short to let a rickety machine ruin your creative flow.
Adjust the presser foot pressure based on fabric thickness. If there's too much pressure, it causes distortion; if there's too little, it leads to skipped stitches.
Tighten the thread tension if your stitching is loose or if threads bunch up on the underside.
Don't delay in replacing the light bulb as soon as it burns out. Proper lighting is essential to prevent eye strain.
Over time, the feed teeth may shift out of place. Make sure to align them properly.
If your sewing platform wobbles, stabilize it with rubber stabilizers. Wobbling can result in crooked stitching lines.
Caring for your Janome Mod 19 will allow you to keep creating for years to come. With some simple maintenance, this machine will continue to satisfy all your sewing and quilting needs.
Accessory Options for Janome Mod 19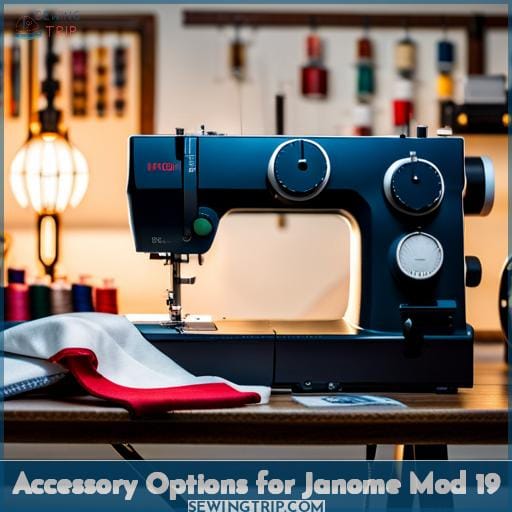 Expand your creativity with the wide variety of presser feet compatible with the Janome Mod 19. Elevate your sewing projects with the right accessories. Consider an embroidery foot for intricate stitching and quilting.
Sewing vinyl or leather becomes effortless with a rolling foot. Gain flexibility in hard-to-reach areas with a free-motion foot. Achieve applique perfection using an open-toe foot. Ensure even fabric feeding with a walking foot.
Dive into heavy materials with upholstery thread for superior strength. Conquer tough fabrics like denim with industrial needles.
Effortlessly switch techniques with interchangeable snap-on feet. Tackle challenging seams using specialty pressing tools. The Mod 19 transforms into a versatile powerhouse for any sewing project with the right accessories.
Other Mechanical Sewing Machines You May Like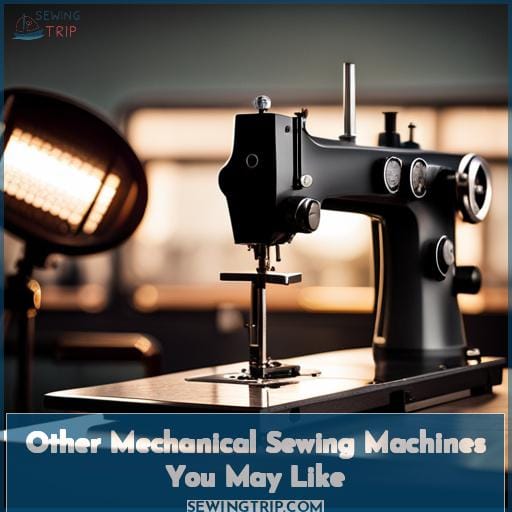 Transitioning from accessory options for the Janome Mod 19, let's explore other mechanical sewing machines that might catch your interest. These alternatives offer a range of features and capabilities, providing you with various options to consider.
Take a look at the comparison below to better understand their pros and cons, as well as user reviews on their performance. Delve into the world of sewing machine technology and options, allowing you to make an informed decision aligning with your needs and preferences.
Brother XM2701 Sewing Machine:

Singer Simple 3232 Sewing Machine:

32 built-in stitches, catering to various sewing projects.
Automatic reverse stitching for reinforced seams.
One-step buttonhole for professional-looking closures.
Sturdy metal frame ensures durability.
Users appreciate its straightforward operation and reliable performance.

Janome Arctic Crystal Sewing Machine:

15 built-in stitches, suitable for basic sewing and crafting.
Front-loading bobbin system for easy thread changes.
Compact and lightweight, making it great for beginners.
Transparent bobbin cover for monitoring thread supply.
Users find it to be a reliable and uncomplicated option.

Brother GX37 Sewing Machine:

37 built-in stitches for versatility.
Wide table attachment for larger projects.
Automatic needle threader and drop-in bobbin for convenience.
Well-suited for both novice and experienced sewers.
Users appreciate the assortment of stitches and smooth operation.

Singer Heavy Duty 4411 Sewing Machine:

11 built-in stitches, designed for durability and strength.
High sewing speed for quick project completion.
Robust metal frame for heavy-duty sewing tasks.
Adjustable presser foot pressure for different fabrics.
Positive user reviews highlight its power and reliability.
As you explore these sewing machine options, consider their features, user reviews, and overall performance to find the perfect fit for your sewing endeavors. Each machine brings its unique strengths to the table, empowering you to achieve your sewing goals with confidence and control.
Conclusion
Summing it up, the Janome Mod 19 serves as your reliable companion in the realm of sewing. Featuring a user-friendly design and versatile attributes, it caters proficiently to both novices and experienced sewers.
Its mechanical precision guarantees that each stitch is impeccable. Nevertheless, while contemplating alternatives such as the Singer Making Cut Sewing Machine Kit or the Brother Computerized Sewing Machine White, bear in mind that the Mod 19 establishes itself as a robust choice independently.
Therefore, whether you're engaged in quilting, crafting, or fashion creation, the Janome Mod 19 proves to be a dependable partner throughout your sewing journey.