This site is supported by our readers. We may earn a commission, at no cost to you, if you purchase through links.
If you are ne to seing and you are looking for something to kick-start your seing journey, the Singer One Vintage style seing machine might be just hat you need.
The machine is economical and has a range of remarkable features to help you discover your seing potential.
But ith all products, there are some drabacks to be aare of, and this machine is no exception.
0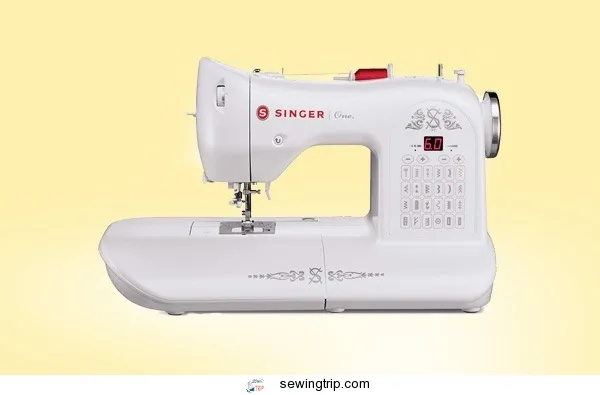 To help you decide if this machine is right for you, e've done a detailed revie, inspecting all the machine's pros and cons.
Singer One vintage-style seing machine: the details
The Look
The Singer One Vintage Style Machine is elegant and possibly one of the most attractive machines on the market.
The style of the machine is very similar to the older models, giving it a chic and antique look. The detail on the body is an expert touch and ould look attractive in any studio or seing room.
The machine is lighteight, making it portable and travel JjzSrQrJRUN great machine companion for future seing lessons!
Specs
Weight: 5 lbs.
Dimensions: 23 x 10 x 13 inches
Stitches: 24 built-in stitches including 2 one-step buttonholes
Speed: 750 spm
Automated/Mechanical: Automated
Spool: Drop Se Bobbin System–automatic bobbin thread pickup for faster threading
Warranty: 25 year limited arranty
Accessories
Usually ith cheaper machines you expect little accessories ith the product.
Hoever, the Singer One machine ensures you have all the useful tools you need for your seing projects, giving you even more value for money.
The machine includes:
Multi-Function Foot
Blind Hem Foot
Satin stitch foot
One-Step Buttonhole Foot
Zipper Foot
Needles
Spools
Spools of felt
Additional spool pin
Spools ith thread
Scredriver ith needle plate
Flint brush/ seam ripper
Soft side cover
]
These accessories are great for ne seers and ill be very helpful to get started.
Singer: The Company ]
It is safe to say that Singer is a trusted company. They have been around for over 160 years and are especially popular for their reliable and durable seing and embroidery machines.
In addition to quality, the company also offers a range of personalized services for customers, including social media support and helpful tutorials and videos on a range of topics.
These additional benefits are very useful as you can get great tips and tricks and connect to seers about around the orld.
Singer dates back to 1851 and the Singer Vintage looks like a tribute to many years of top quality machines in its design.
The Warranty
The Singer One computerized seing machine comes with a 25-year limited arranty. This is outstanding feature, especially for someone ne to seing.
The arranty covers 25 years for the machine head, five years for the motors, light fitting, iring, sitches, speed control and electronic components and one year for adjustments, belts, rings, lamps and attachments.
Specific We can find warranty details on the manufacturer's ebsite.
In addition to the arranty, help by calling Singer's customer service, here they usually provide thorough help and anser your burning technical or seing questions.
Even if you have to go through the usual customer service ait times, I will reward you with friendly service.
Features
The Singer One has several useful and intuitive features, all designed to make seing cGF9puO3KBOQNFB1kLXIq1R, and to enhance your overall seing experience.
One touch stitch selection
One touch stitch selection makes it easy to personalize and select your stitch choices.
This is also a great eA3I713eL5 feat of course, as the quick stitch setting can help you select and apply your stitch selection ith minimal effort and delay.
24 Built-in Stitches
Singer has 24 stitches built into the seing machine to get you started.
These include 6 essential stitches, 4 stretch stitches and 12 decorative stitches to tackle common seing projects ith a little room for creativity.
The machine also has 2 fully automatic 1-step buttonholes to help you out.
Extra Large Seing Room
The Extra Large Seing Room is very useful and can accommodate all seing projects.
The spacious orkspace gives you enough space to ork ith larger and thicker materials; great for quilting and home decor.
Little extras, like making the arm slightly smaller and having a slanted table, really give you that extra space.
Quick smart threading ith automatic needle threader
This is definitely one of the best features of the machine. The automatic threader is so easy to use.
Pass the thread from the spool to the needle area through a single groove and thread the needle by pushing the lever.
]
This is a very useful feature for both inexperienced and experienced seamstresses as it saves a lot of time and makes seing quick and easy.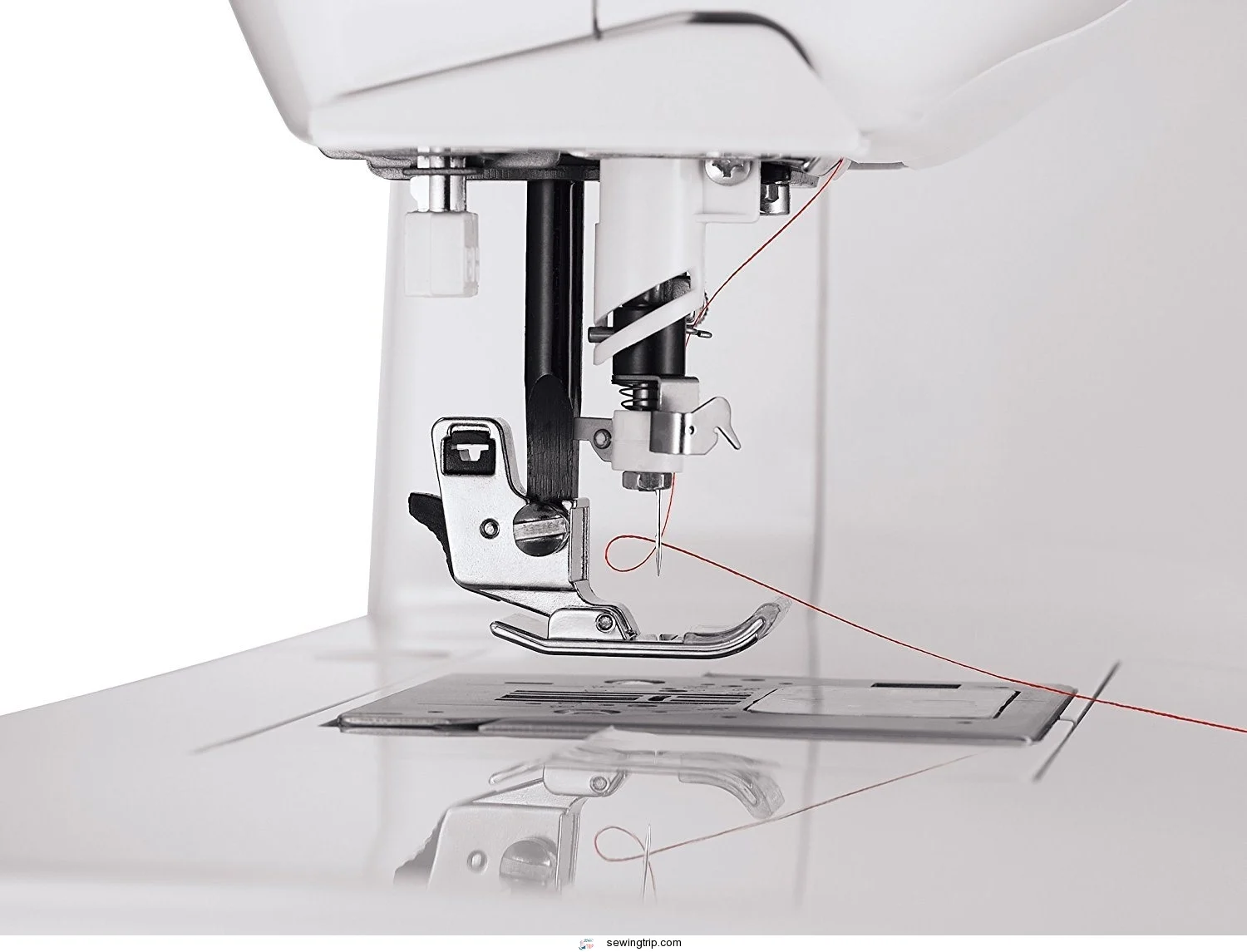 Drop and Se Flushing System
The flushing system couldn't be simpler. All you need to do to get started is drop the bobbin in and se.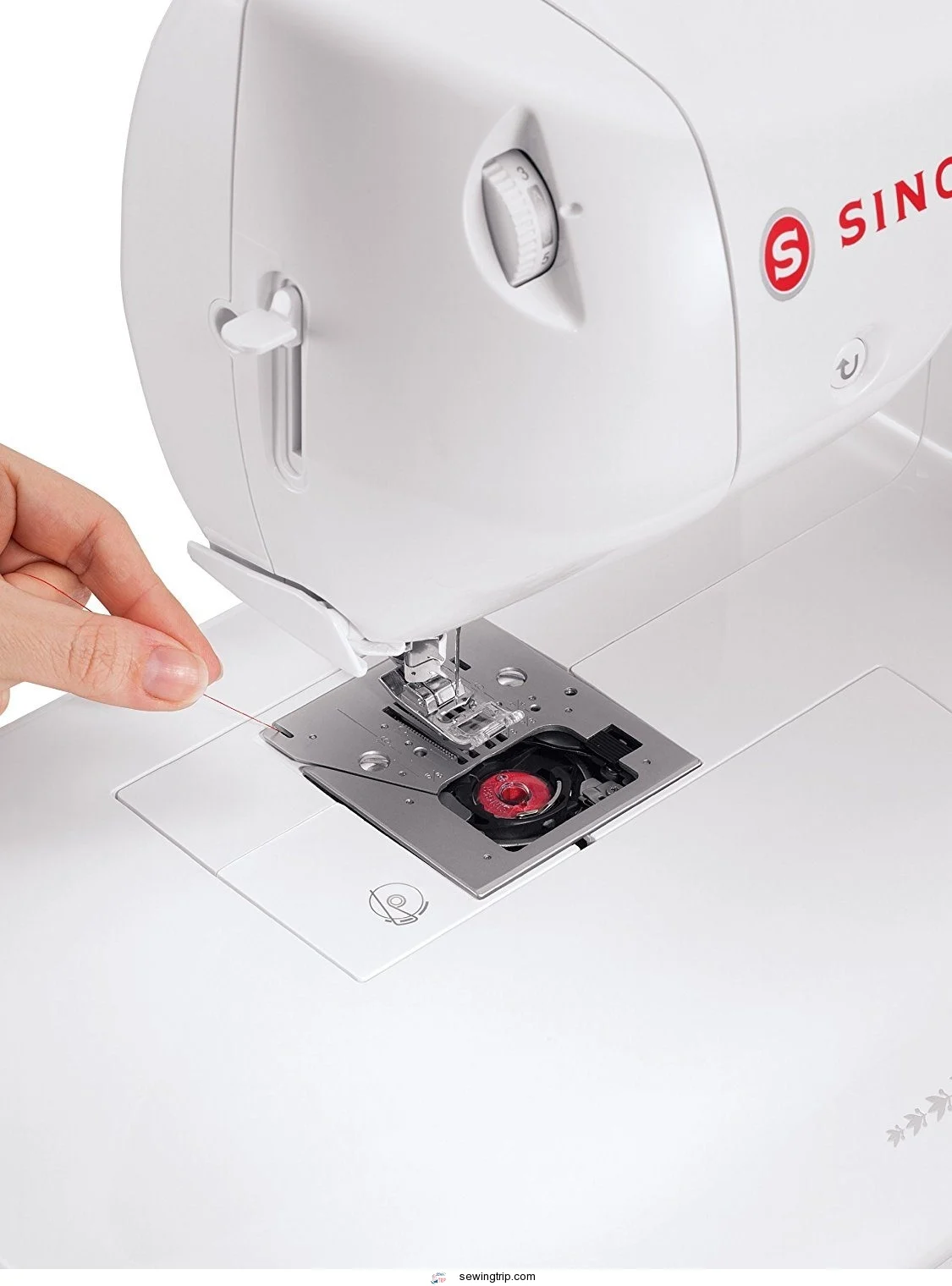 It's that simple. It has an automatic thread take-up function, hich means you don't have to pull up the bobbin thread.
Three city-bred LEDs
You have the luxury of not just one, but three lamps that illuminate the seing surface at just the right level.
The long-lasting lamps stay cool no matter ho long the machine , so you don't have to orry about burnout or overheating.
This function is useful for late night seing and optimum visibility. and the ell-lit ork area is substantial for precision and detail.
Presser foot pod
The One Vintage has a handy presser foot pod hich is great for beginners.
This sensor lets you kno if the presser foot and on't let you start unless it's sitched don.
Singer One Vintage-Style Seing Machine Revie
No e've established the sWEoz0yBCLyH of the machine, let's inspect to see hether the Singer One computerized machine is good value for money and the right machine for you.
The positives
Simple and easy to use
This seing machine is very easy to use. The automatic needle threader and drop-in bobbin system make this machine very useful for inexperienced seamstresses.
You can be sure that you can easily find your ay around the machine and start seing ithin minutes of unpacking.
Singer even has a tutorial also
] as a DVD to get you started, but don't let you don either. There are YouTube video guides and an online community to help you.
Unlike other automated machines, the singer machine is straightforard and simple, so you don't have to no need to orry about complicated and complex functions.
The video belo shos an example of free motion quilting ith the Singer Vintage One:
Sturdy and reliable
The sturdy metal frame ensures precision seing and durability.
The rigid support ensures that all mechanisms and minimizes vibrations during seing, also alloing the machine to run quietly and smoothly.
Although it has a robust frame the machine is still lighteight and portable, so users can get the best of both orlds ith this machine.
Stops You From Messing Up
Together ith the presser foot sensor mentioned above that prevents you from orking hen the presser foot is not in the don position, the Singer One Vintage seing machine ill also give you error messages if you do not perform other tasks correctly.
Sometimes it is difficult to noticing that you've made a mistake before you're far ahead, making it harder to go back and fix the problem.
]
This hen using the Singer One, as it detects hen something is rong and arns you ith an error message or by'locking up'.
Vintage Inspired Design
Although looks aren't everything, there's no denying that this machine is highly aesthetic.
The nostalgic filigree and signature machine curves look beautiful and really set this machine apart.
The vintage design makes the machine stand out from the rest. looks very stylish, definitely not something you ould expect for its price and anSVqTdF9OhAMuRMfz.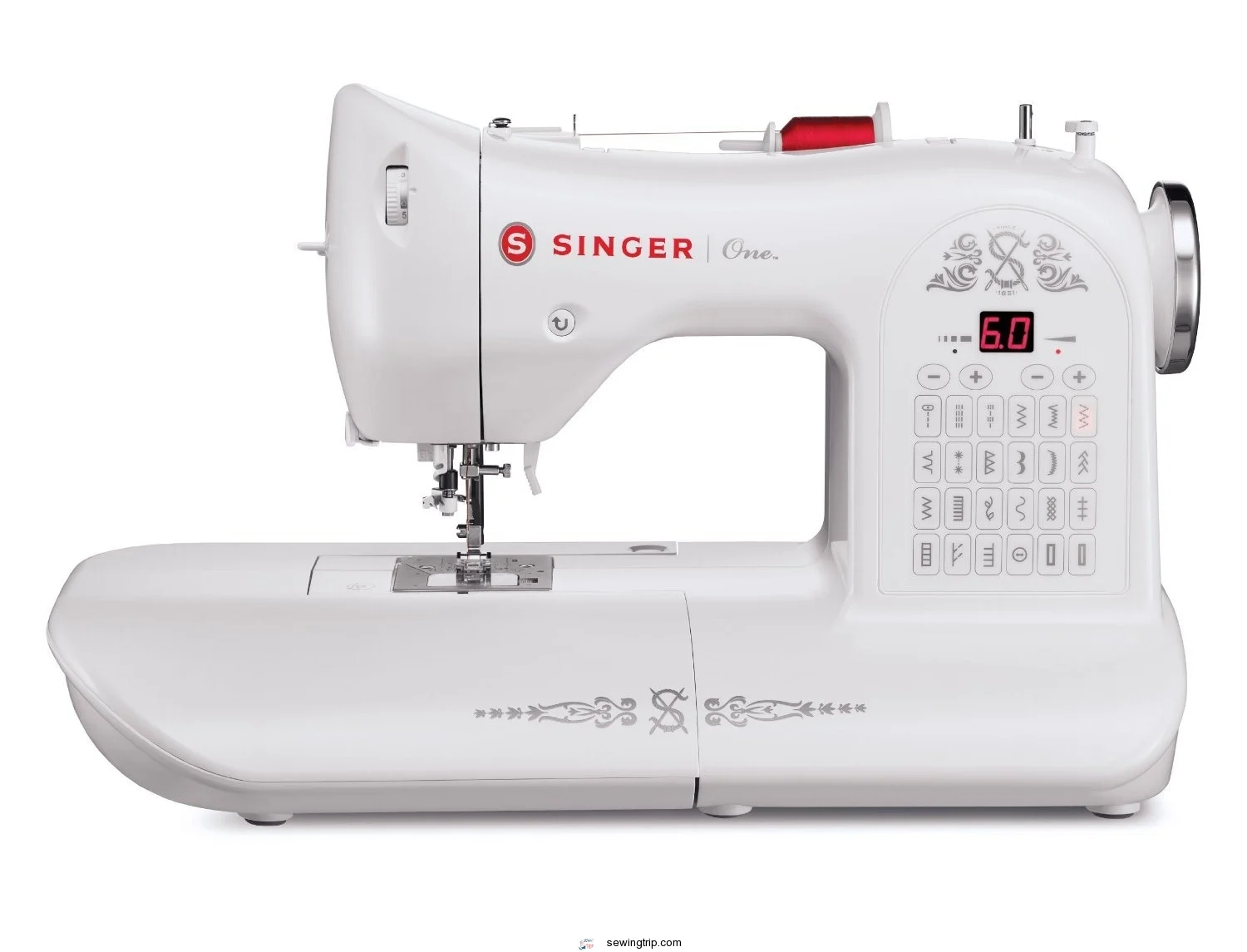 The Negatives
Limited Stitch -Choice
You certainly on't for choice for stitches. The machine has very limited stitch styles and you may use the same stitches repeatedly.
A total of 24 stitches is sufficient for most projects; but if you're hoping to be more adventurous with seing, you'll in your choice of stitches.
This can be problematic for some seers and is definitely something to consider before buying. buy.
Cannot handle heavy materials
Most parts of the machine of plastic, it can difficult to se very 5PNU4OhpJqltU3 fabrics. This can limit your seing projects and cause problems for seers.
It should be a great machine for making clothes, but keep this in mind.
Although the large orking space allos for heavier and larger materials, the plastic parts of the machine cause some problems hen seing.
LCD panel
If you have trouble ith your eyesight, the LCD panel may be a problem for you because the screen has a lo resolution and is often difficult to can .
This may not be a big deal, but it's orth mentioning if you're struggling ith your vision.
Overall verdict
Overall, the Singer One Vintage Style seing machine is a great choice for beginners.
Advanced users may find it a bit too simple, but there's no denying that it's great value for money and beautiful for everyone.
The design of the machine is not only FciMIW943jxxtE7il, but also practically packed ith features to help you in your seing adventures.
The uncomplicated nature of the machine ill provide you ith the confidence you need to get started, and because it's super easy to use, you an easy and enjoyable seing experience.
Where to buy The Singer One Vintage Style Seing Machine
Most Singer brand machines are easy to find in craft and department stores.
For starters, the Singer One Vintage can online at the folloing retailers:
And of course, it's also available on Amazon.

---
That's it for our revie of Singer One Vintage Style Computerized Seing Machine. Fancy giving it a try?
For more revies, check out our list of machine revies.